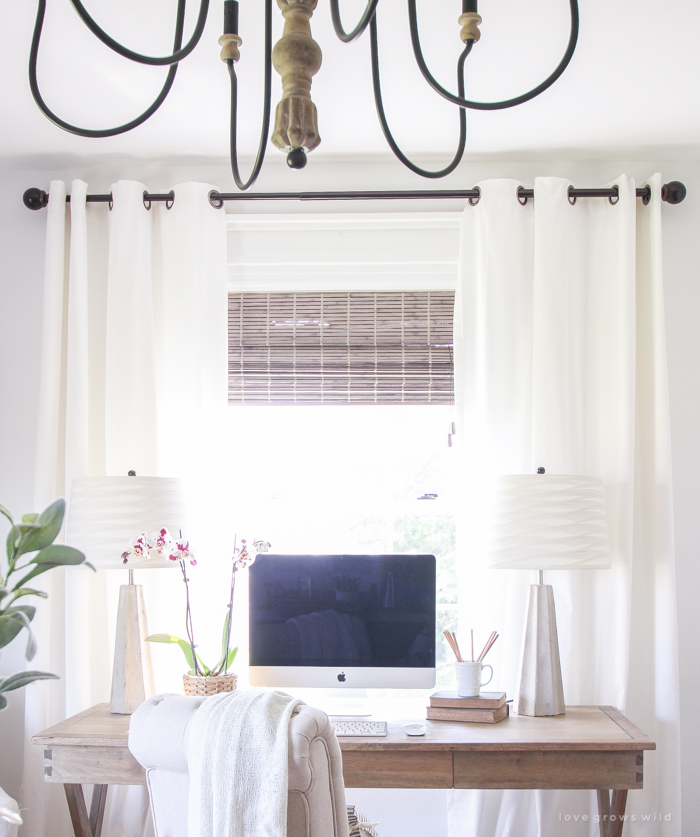 Over the last four years of writing this blog, I have given our little farmhouse a complete makeover from top to bottom… everything from major kitchen and bathroom renovations, to painting every last wall (at least twice), to replacing all the light fixtures, and more. Now that the sawdust has settled around here, I finally have had a chance lately to look back on all that we've done and all the lessons I've learned along the way.
I am a self-taught interior decorator, and I've had to learn a lot of lessons the hard (and sometimes expensive) way. As I was hanging new curtains in my office a few months ago, I thought to myself, "Boy, I've come a long way from the first set of curtains I hung in here! Maybe people would enjoy seeing some of the decorating mistakes I've made in the past and the lessons I learned from them…"
So today, I'm starting a new decorating series! Every month or so, I'll share a new "Decorating Lessons I've Learned" post that shows changes we've made to our house over the years and lessons you can apply in your own home! Basically, I've already made the mistakes so that you don't have to. : )
Today I'm starting with one of the most basic design elements you'll add to a room, curtains.
When we first moved into the farmhouse, I was seriously overwhelmed by the thought of buying curtains for thirteen different windows. We had a pretty tight budget and a whole new house to decorate. So when I found a major clearance on cheap, white sheers at Target one day, I bought every single one they had on the shelves. The windows in my office already had curtain rods mounted on the top piece of window trim along with white roller shades, so I just used the existing hardware and hung up my clearance curtains.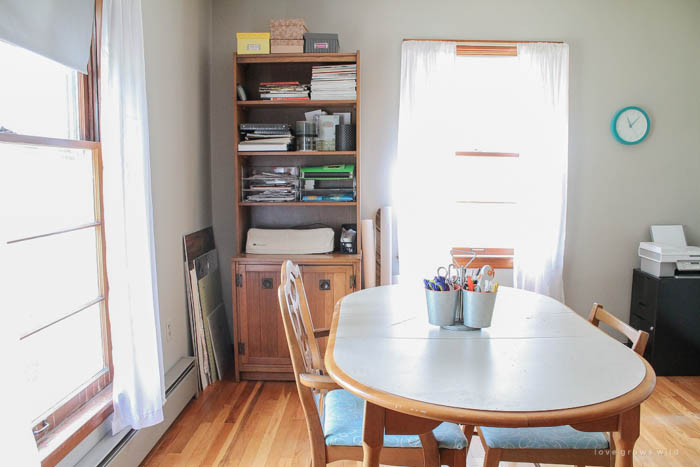 Once I finally got around to decorating my office a few years later, I knew that I wanted to change a few things with the curtains. First, I wanted to upgrade to a real curtain rod hung above the window and remove the roller shades. I also wanted to make the window appear larger by using a curtain rod longer than the window itself. This would allow the curtains to hang on the sides of the window, not just in front of it, making the window seem wider than it really is.
I studied decorating shows on television and read decorating magazines and eventually learned from the pros that curtains are supposed to hang all the way to the floor or even puddle on the floor, and that they should be hung as close to the ceiling and as wide as possible. So I measured my wall from floor to ceiling to see how long the new curtains needed to be and then started doing some price shopping. Holy sticker shock.
Not only could I not find extra-long curtains in the stores I normally shopped at, but they were also way out of my price range when I found them online. So I settled on buying normal length sheer curtains from Walmart, which kept the price down, but this time they had grommet tops. In the past, I had made my own curtain rods with electrical conduit, but this time I decided to buy real ones from the store. Again, sticker shock. I decided to go with the cheapest version Walmart had that would be long enough to extend past the sides of the windows. I stretched that rod as long as I possibly could, and you can see in the photo below that the super thin rod actually bowed with the weight of the curtains.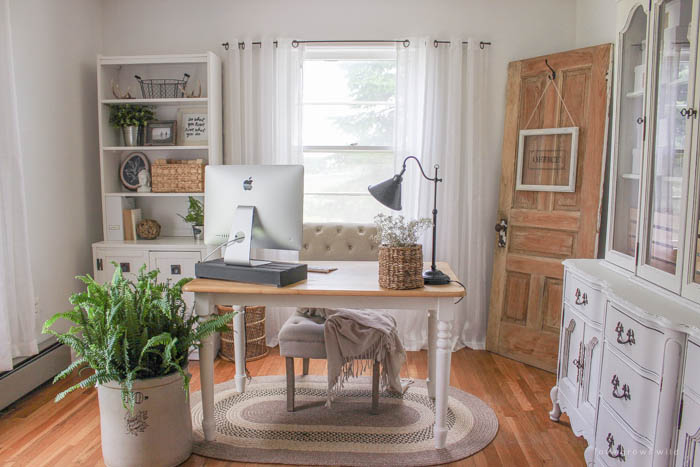 Round 2 of curtains in my office was a huge improvement from what we started with, and even though I didn't hang them closer to the ceiling, at least they now touched the floor and were wider than the actual window. Adding that extra width with the curtain rod let so much more light come in since the curtains were able to hang on the sides, and it also added so much softness to the space. It was almost like having a wall of curtains behind me when I was sitting at my desk.
When I revealed my office makeover a few years ago, I had a very sweet reader, who also happened to be an interior decorator, leave me a comment that was super helpful. She said that she loved the new look, but suggested that I go with a thicker, more substantial curtain rod. I knew when I bought that skinny one that I should have paid a few more bucks to get a nicer one, but I was so scared of spending too much money on one little window that I talked myself out of it.
So when it was time to revamp my office again while writing my book, I decided to quit wasting my money on window treatments that weren't exactly what I wanted and finally do it right.
First, Jeremy and I beefed up the existing window trim (like we did in our master bedroom) using this tutorial. The extra few inches of trim detail on top of the window makes such a difference and gives it that classic farmhouse character that we love so much.
I love my white walls and white curtains, but I wanted to add some layers of warmth and texture to the window so it didn't get washed out in photos. Using a bamboo roman shade underneath the curtains was the perfect solution. I've used these bamboo shades all over our house, and I just adore them!
I've always used sheer curtains in the office, but this time I wanted something that would feel a little more luxurious. I found extra-long velvet cream curtains from Target and totally swooned over them! At first I questioned whether velvet was a good choice. It seemed a little, I don't know… granny-chic at first. But I am so glad that I took a risk with them because these curtains have such a high-end look without the high-end price.
And last, but not least, I finally bought a curtain rod that was worthy of all the bamboo shades, velvet curtains, and farmhouse trim details. It is a full 1″ thick and has nice, big finials on the ends. The curtains are hung just inches from the ceiling, reach all the way to and puddle on the floor, and extend about 18″ past the window trim on both sides.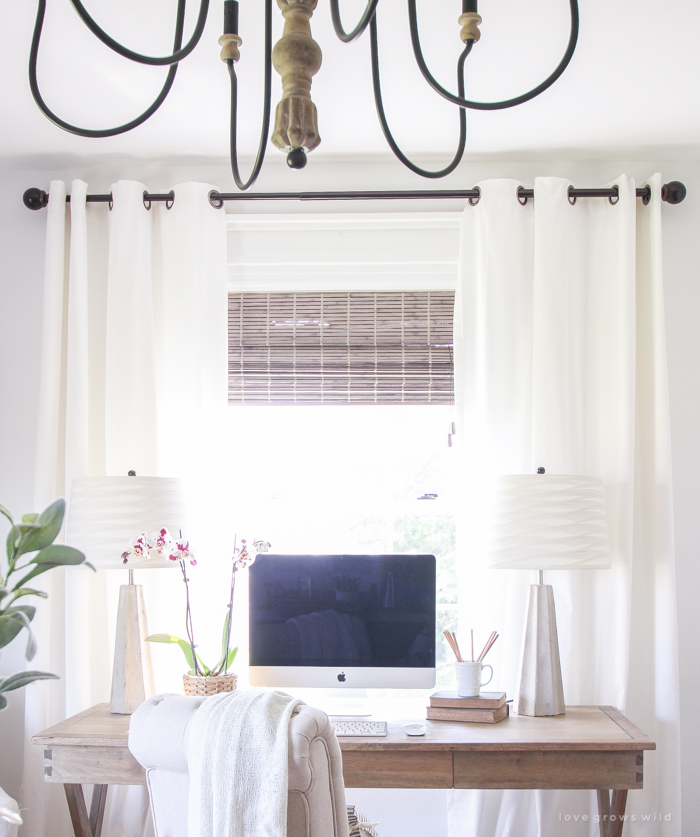 Was it more expensive to use the floor-length curtains, a bamboo shade, and a large curtain rod? Yes, of course it was. But if you add up all the "cheap" solutions I've tried over the years and the time I spent being unhappy with the way our windows looked, I definitely wish I would have done just done this from the beginning. It might have even saved me money in the long run from all the changes I've made in the four years we've lived here!
You might have noticed that the other window in my office has a heater below it, so rather than hanging a curtain that is too short (so that it won't catch on fire and burn our cute, little farmhouse down), I opted to just use a bamboo shade in that window and leave curtains off entirely. I'm still able to block the sunlight if I want to (which I rarely do), and it matches the other window, so I'm very happy with this solution!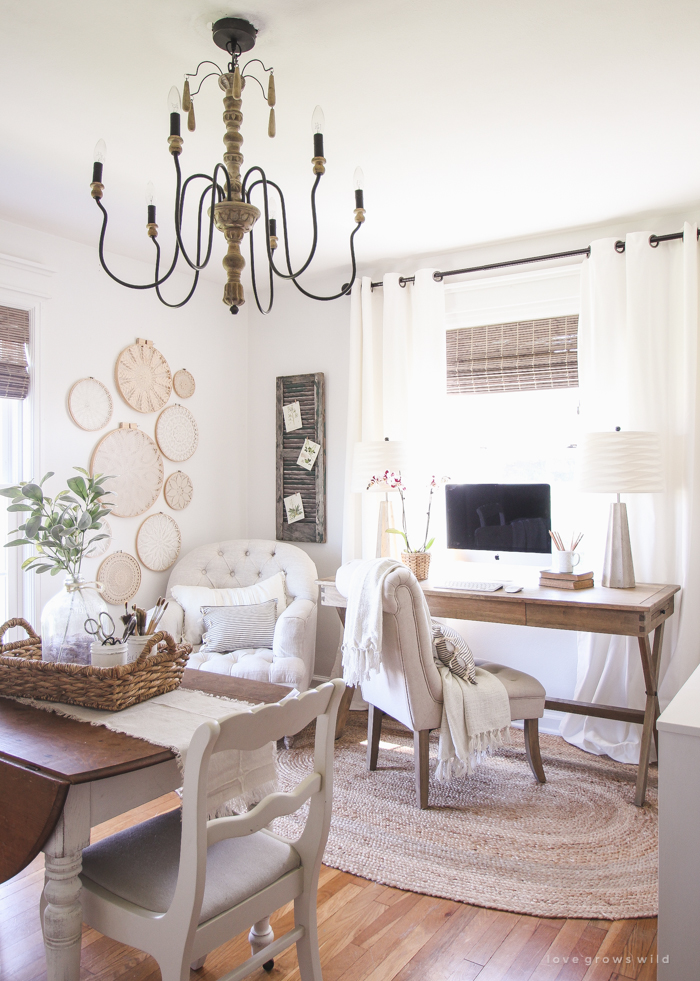 I had a similar situation in our living room. Once upon a time, these two windows had roller shades, the DIY electrical conduit curtain rods I was telling you about, and short, sheer Target clearance curtains.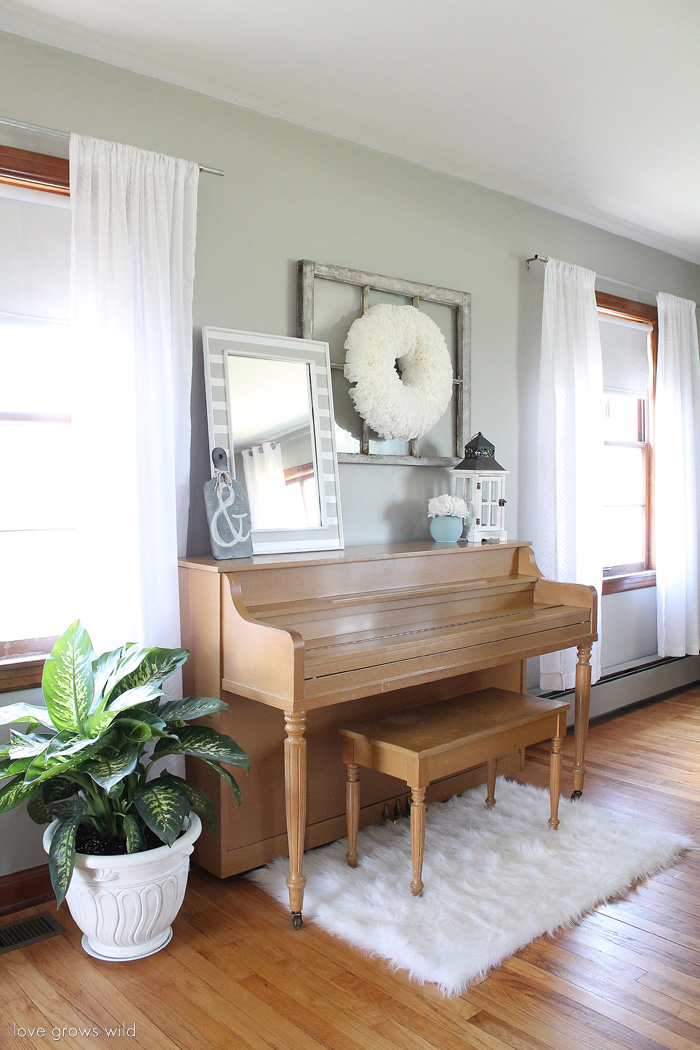 One window had a heater under it, and the other did not, so I decided to use bamboo roman shades on both of them and leave off the curtains. On our big picture window (shown on the right in the photo below), I saved a ton of money by making my own floor-length curtains from a really inexpensive material. The tutorial for that curtain project is in my new book that you can pre-order now!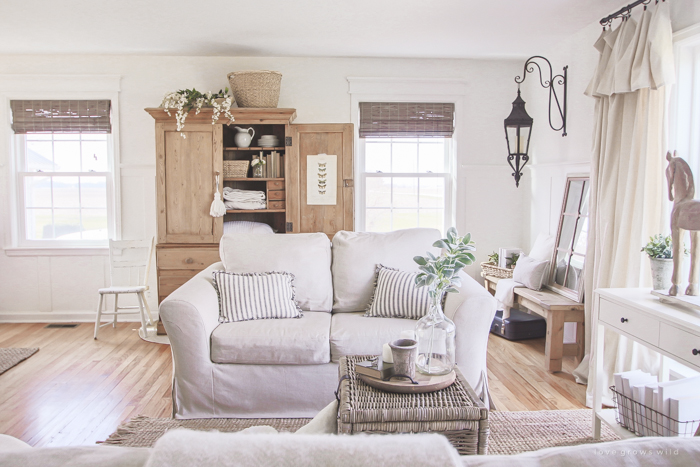 As I said before, I am a self-taught decorator, and the opinions I've shared in this post are just that… my opinions. If these ideas don't work well for you and your home, that's totally okay! I just wanted to share the process I've gone through in hopes that you might get some ideas for how to decorate your home and also to show you that my house certainly did NOT start off looking the way it does today! This has been a four year journey of learning the rights and wrongs for decorating our home, and as much as I wish I knew back then what I know now, that isn't the way life works.
I hope that by sharing these "lessons" with you, I can save you a whole lot of time and money, and you can also see that creating your "dream home" takes time! It's a journey… not a destination. I try to remind myself of that everyday!
I would LOVE to hear your feedback on this new decorating series and what you thought of today's post! Did you learn something new? What "lessons" would you like me to cover in the future? Did you enjoy seeing the different looks our home has had over the years? Leave me a comment below and share!

---
LET'S KEEP IN TOUCH!
Subscribe to Blog | Follow on Instagram
Follow on Pinterest | Follow on Facebook