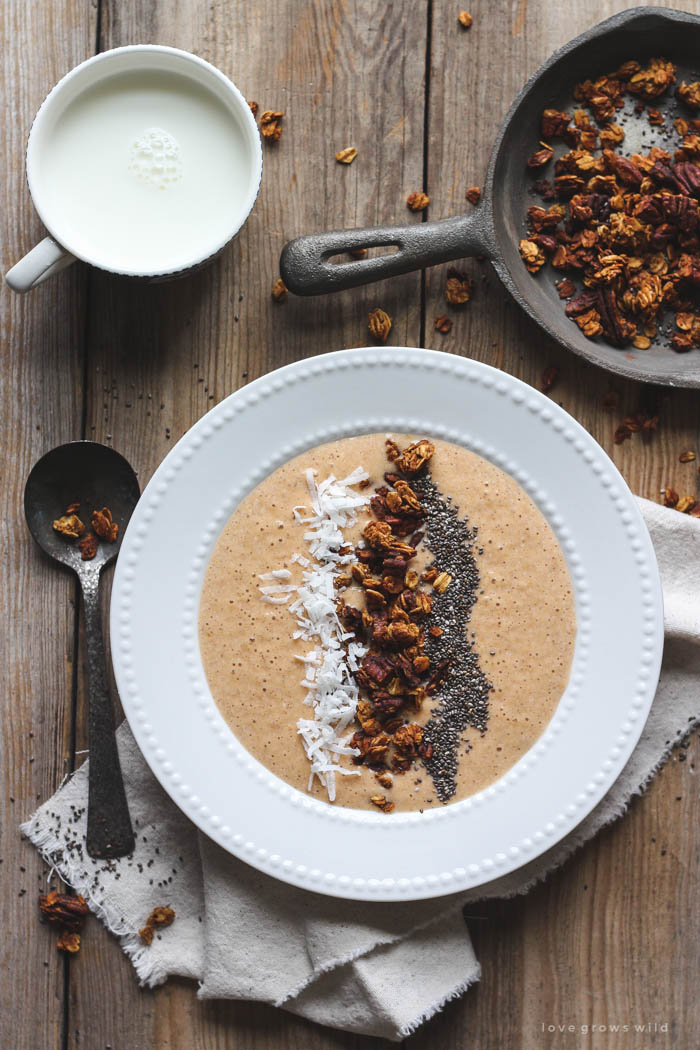 Start your morning with a pumpkin-inspired breakfast bowl topped with homemade pumpkin spice granola!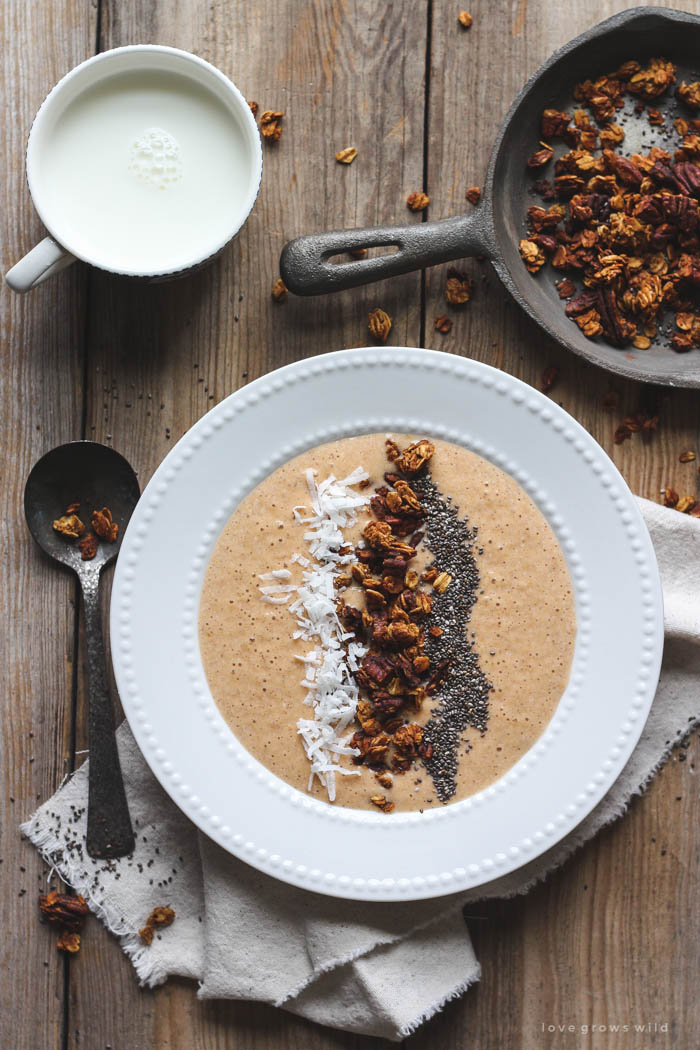 Alright, I know I'm the last person on the planet to jump on the whole "breakfast bowl" train, but… better late than never, right? I've always sipped my smoothies out of a boring, old cup until the last year when I started seeing everyone with these beautiful bowls full of smoothie + topping yumminess. I wondered what all the fuss was about, but now… NOW I get it.
I love whipping up a quick smoothie for breakfast or even for lunch when I'm swamped with work, but sometimes I just need to CHEW something. Something with texture. Something with crunch. That's when a breakfast bowl comes in handy… it's the same nutritious, delicious smoothie you've always had, just poured into big bowl, topped with whatever yummy toppings your little heart desires, and eaten with a spoon. Yay!
In honor of the beautiful fall weather we're having here in Indiana this week, I'm making my first breakfast bowl on the blog a pumpkin-flavored one. A simple, healthy, pumpkin pie-inspired smoothie with homemade pumpkin spice granola. Okay… that's actually TWO firsts for today. This is the first time I've made granola at home, and oh my gosh… why did I try this sooner? Super easy, way more delicious than the stuff you buy at the store, and you can customize it with whatever flavors you like. You can bet there will be a giant container of homemade granola sitting in my pantry at ALL times now. It's so delish!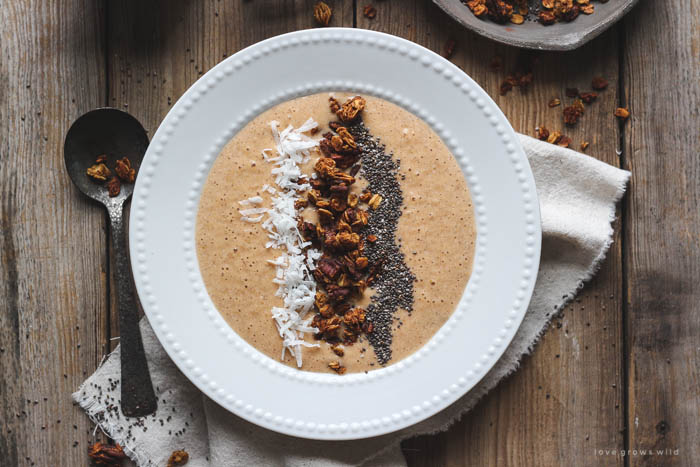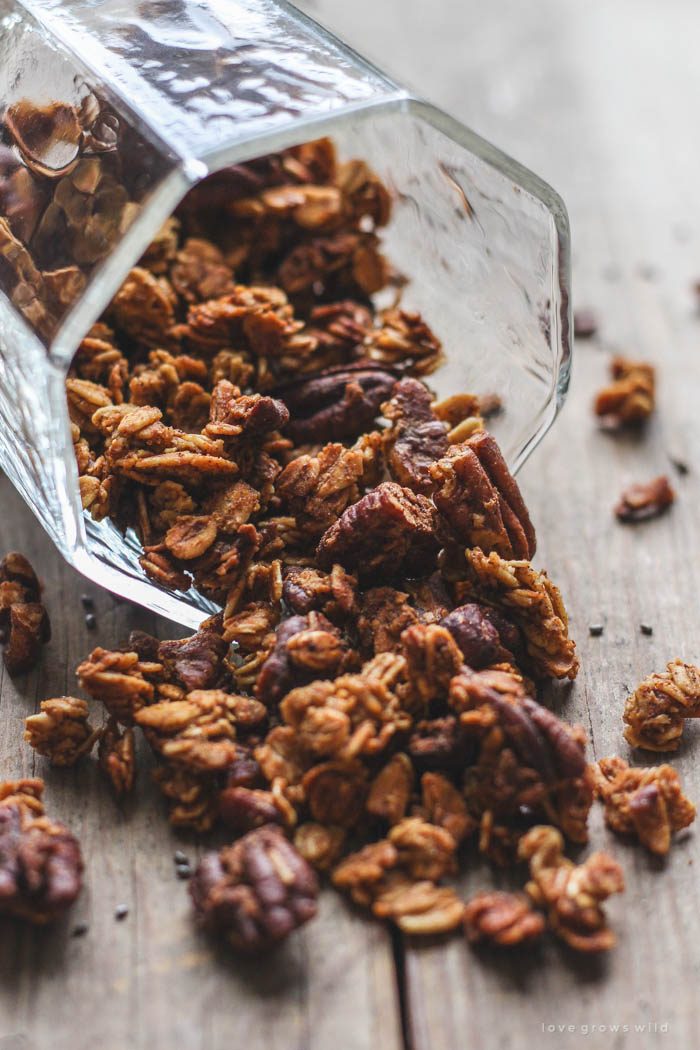 As you guys know, I'm partnering with the American Dairy Association Mideast this fall to share some dairy-inspired recipes here on the blog, and I'll also be with them at the BlogHer Food Conference in Chicago later this week! ADA Mideast represents dairy farming families in Ohio and West Virginia, and they will have a booth in the Exhibition Area at BlogHer Food where you can learn more about milk's amazing journey from the farm to your refrigerator.
We'll also be serving some REALLY yummy snacks at the booth, so be sure to stop by, say hello and grab a few! Samples are limited, so don't miss out! Here's what we'll have:
Dessert Pizza Pinwheels on Nov. 6th from 4 – 4:30 p.m.
Hot Ham and Swiss Dip + Honey Brie Bites on Nov. 6th from 6 – 7:30 p.m.
Cauliflower Mac and Cheese Bites on Nov. 7th from 4 – 4:45 p.m
In addition, we'll have samples of Ohio's best Swiss cheeses (did you know Ohio is the no. 1 Swiss cheese producing state in the nation?), AND you can leave your business card for a chance to win a Go Pro! Be sure to connect with ADA Mideast on Facebook, Twitter and Instagram for updates!
I still have no idea what I'm wearing to the conference and found a giant zit on my face this morning, BUT… I'm really excited to head to my home state on Thursday and catch up with lots of my blogger friends at the conference! Say a little prayer for me that I don't trip and fall or say something completely embarrassing… it's bound to happen, I'm sure!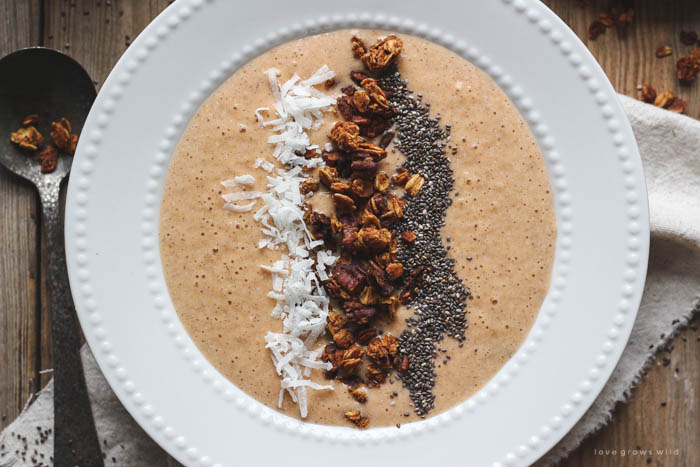 Pumpkin Breakfast Bowl with Pumpkin Spice Granola
Start your morning with a pumpkin-inspired breakfast bowl topped with homemade pumpkin spice granola! Nutritious and so delicious!
INGREDIENTS
For the breakfast bowl:
1 cup milk
½ cup pumpkin puree
½ cup Greek yogurt
1 banana, peeled and frozen
½ tablespoon maple syrup
1 teaspoon pumpkin pie spice
6 ice cubes

optional: coconut shavings and chia seeds for garnish

For the granola:
3 cups rolled oats
1 cup pecans, chopped
½ cup maple syrup
¼ cup brown sugar, packed
¼ cup olive oil (or coconut, canola, etc.)
¼ cup pumpkin puree
1½ teaspoons pumpkin pie spice
¼ teaspoon salt
INSTRUCTIONS
For the breakfast bowl: Add all the ingredients to a blender and process until well combined and smooth. Pour into a bowl and serve immediately topped with pumpkin spice granola, coconut shavings, and chia seeds.
For the granola: Preheat oven to 325ºF. In a large bowl, combine the oats, pecans, pumpkin pie spice and salt. In another bowl, mix the maple syrup, brown sugar, oil and pumpkin puree. Pour the wet ingredients into the dry and stir until fully combined. Spread the oat mixture onto a baking sheet in an even layer and bake for 45 minutes, stirring every 15 minutes. Allow the granola to cool completely and store in an airtight container.
adapted from Minimalist Baker
---
More breakfast recipes you'll love:
---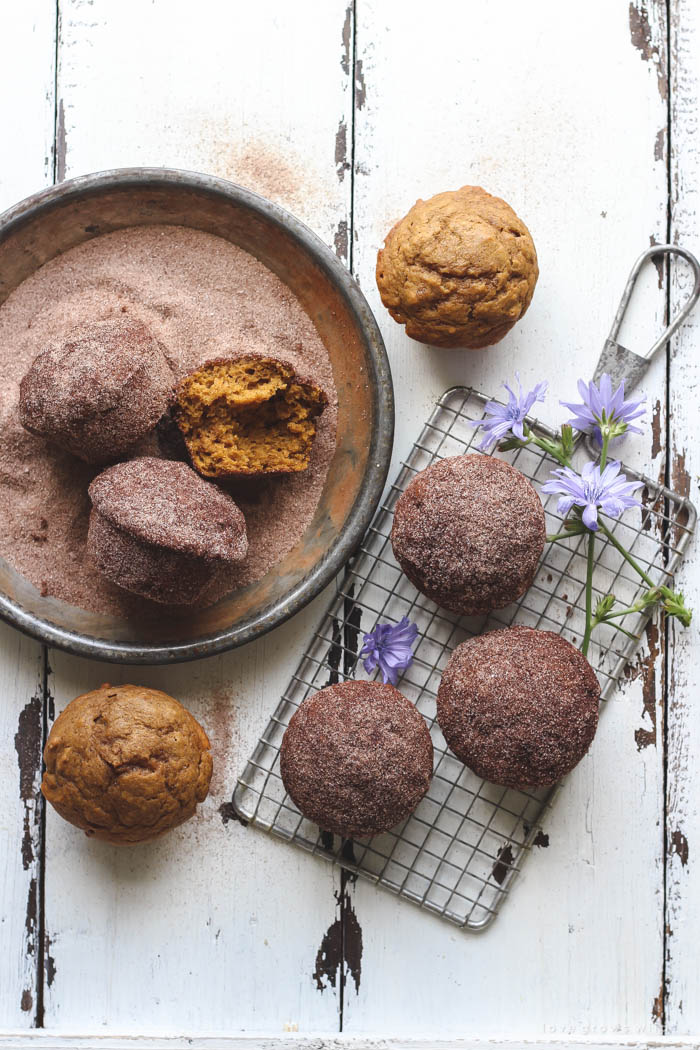 Cinnamon and Sugar Pumpkin Muffins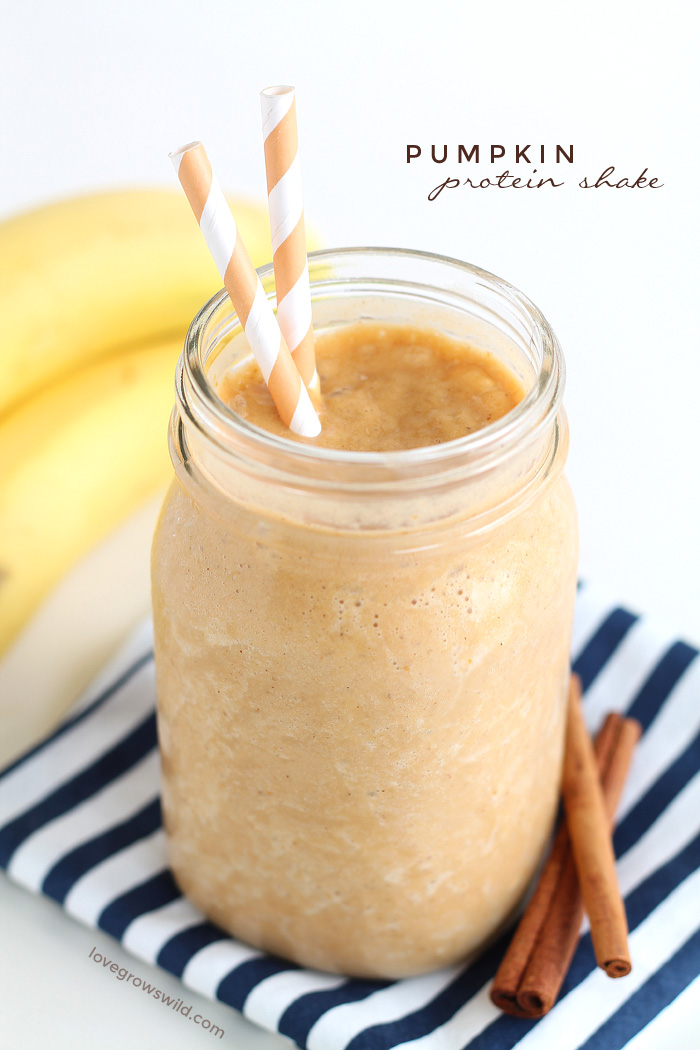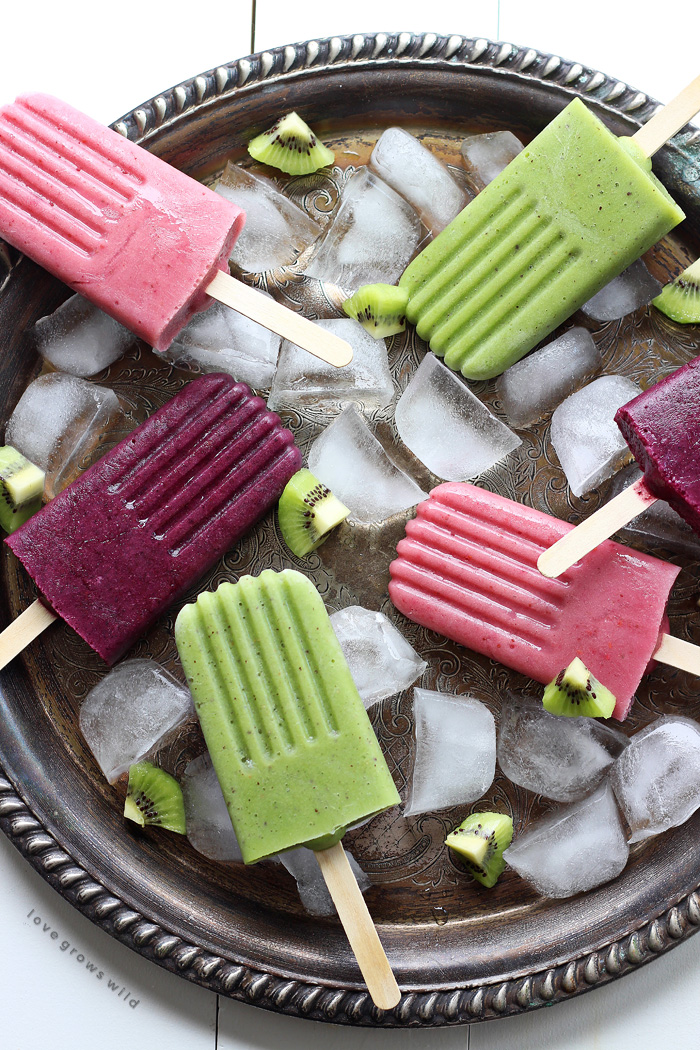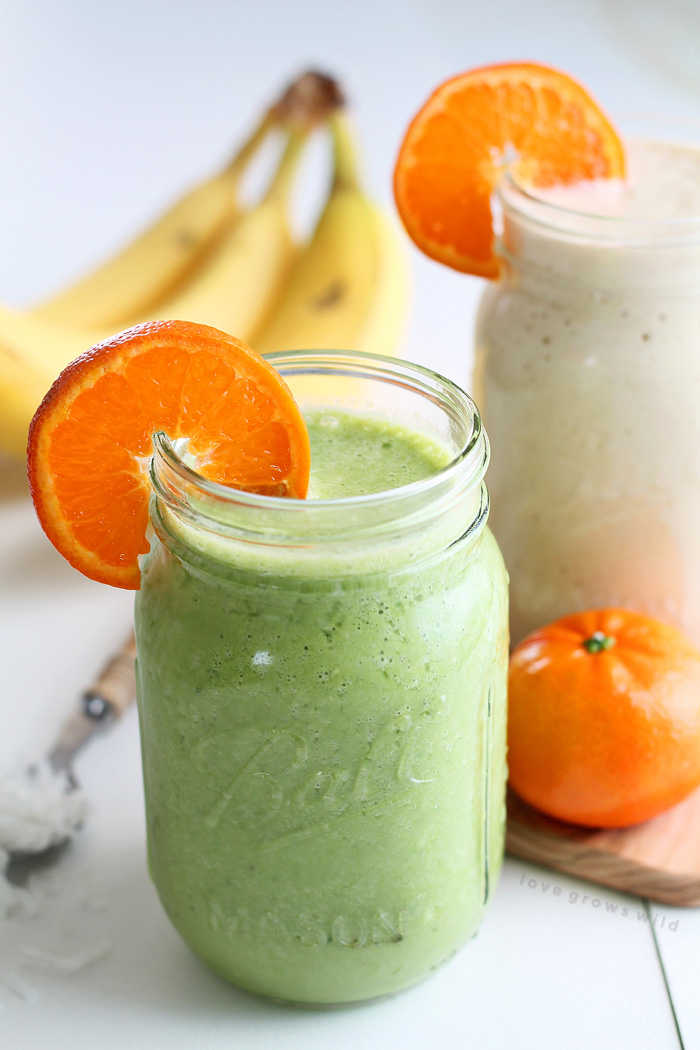 ---
LET'S KEEP IN TOUCH!
---
Subscribe to Blog | Browse my Shop | Follow on Facebook | Follow on Twitter
Follow on Google+ | Follow on Pinterest | Follow on Instagram
This post is sponsored by the American Dairy Association Mideast, but all thoughts and opinions are 100% my own. Thank you for helping support the brands that make this blog possible!