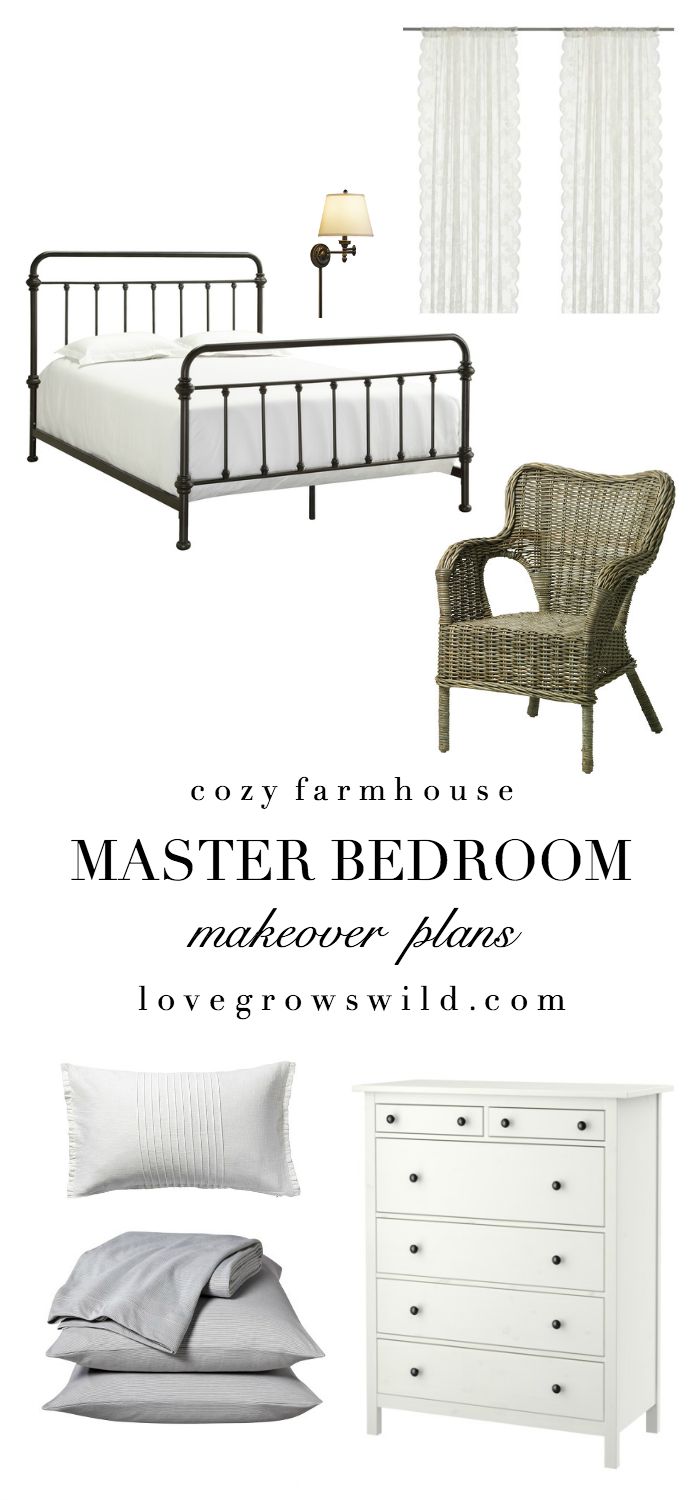 I've been hinting towards this for weeks and weeks now, but it's finally official…
We're starting a HUGE makeover on our master bedroom today! (cue the confetti!)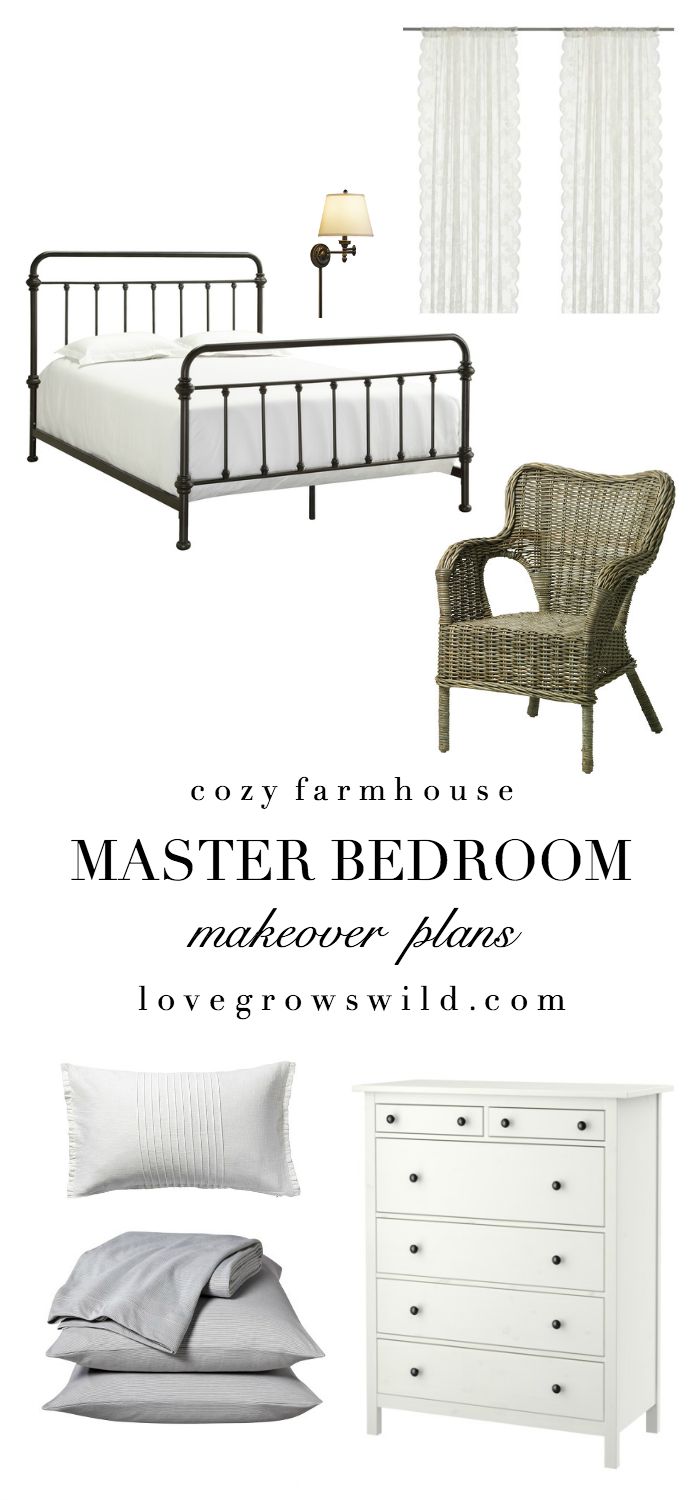 Jeremy and I have actually been hard at work on this room for over a month now, but I wanted to have a chance to finish sharing projects from our home office makeover before I kicked off the bedroom stuff here on the blog. I needed a chance to get a little ahead of the game first! To my knowledge, our bedroom has never really been seen on the blog before. The upstairs of our house was originally just an unfinished attic space, so Jeremy spent a few months turning it into two bedrooms and a small hallway for us before we moved in. New drywall, new carpet, new windows, white trim, electric outlets that actually work… compared to the rest of our old farmhouse, this space was a dream!
But we quickly found out that our steep, narrow staircase made it impossible to get our old bed and boxspring upstairs (we BARELY were able to shove the mattress up here), so the mattress just went on the floor until we could figure out a better solution. Three years later, that dang mattress is STILL sitting on the floor! And not only are we sleeping on the floor, but that mattress belonged to a grandmother, great-grandmother, great great-grandmother… who knows. It's old, it's uncomfortable, and my back is starting to pay the price for it. Jeremy and I are self-employed small business owners raising a family, so spending money on a new mattress just seemed like too big of a splurge for us. It felt a little bit selfish when that money could go towards so many other better things. But after awhile, you start to realize how important a good, quality night of sleep is, and a new mattress went up on the priority list. We work so hard everyday… we deserve it, right?
So a new bed and new mattress became the starting point for our bedroom makeover. When we first moved in, I wanted to focus on the main living areas downstairs because that's where we spend the most time, and because they are the most visible rooms when people come over to visit. So any furniture that didn't find a home downstairs came up to our bedroom and got shoved where ever we could find a spot. At one point, we had our mattress on the floor, two side tables from our old living room furniture set, a bookshelf, two cheap, broken dressers, a recliner that looks like it belongs in a hospital room, and the rocking chair from my childhood all shoved in here. It was a hot mess, guys!
But at the time I didn't have a clear picture of what I wanted in this space, so I just left everything right where it sat. Because this room is an attic space, all the walls are short and slanted or have a window, closet, or door on them. Also, just like our downstairs, we have baseboard heaters in the bedrooms, so that adds another layer of difficulty to the equation. Now that I've given you a little background on where we're starting with this room, I'll give you the grand tour so you can see for yourself what we're working with. In the sake of full disclosure, I obviously cleaned A LOT of stuff out of the room before taking these photos. I was about halfway done emptying the room so we could start painting and realized I hadn't snapped any photos yet!
Here's our bedroom "before":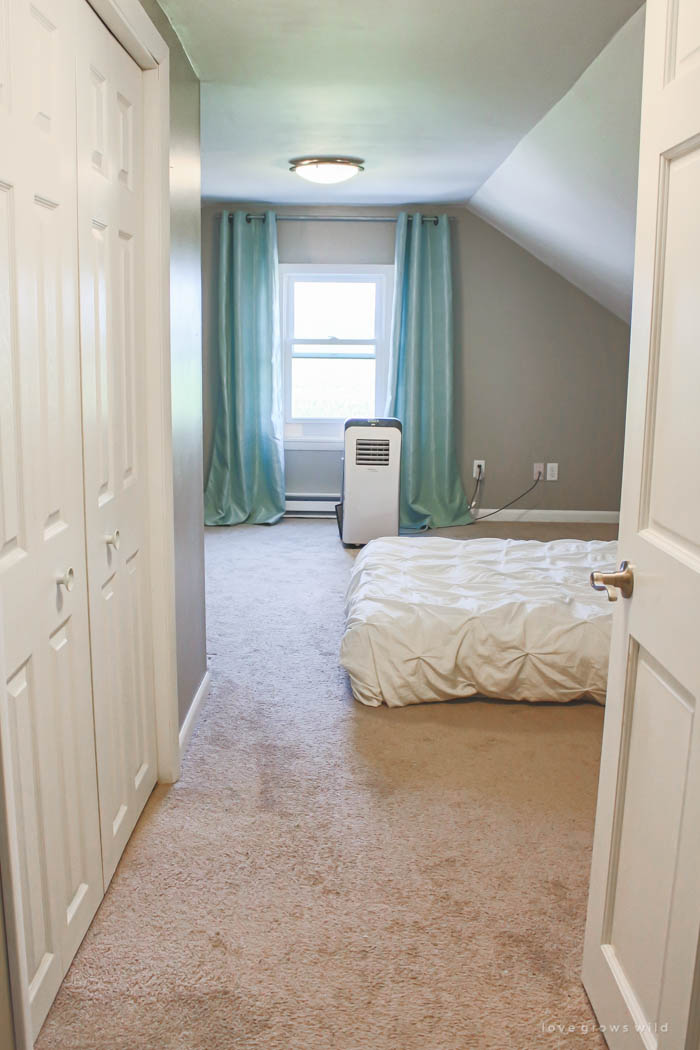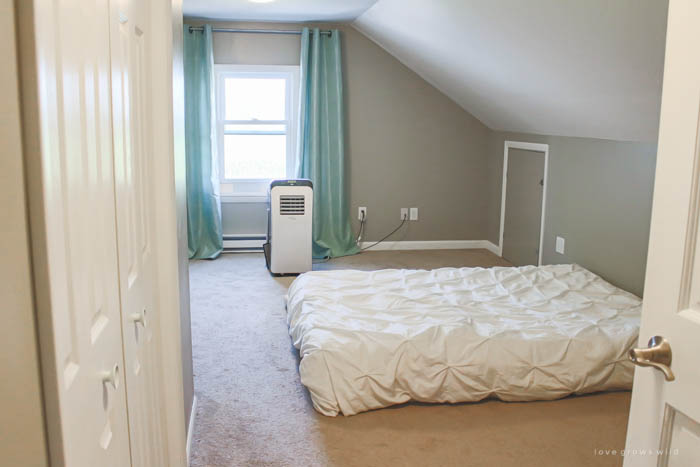 Our closet is on the left, and you can see that we added little doors to the knee walls on the right. We wanted to utilize the space behind the knee walls for extra storage, so these doors give us easy access to that space. The machine in front of the window is our air conditioner unit. The downstairs has central air, but the upstairs doesn't, so this ugly thing keeps us cool during the hot Indiana summers. And yes, those long curtains that hang in front of the heater are coming down… we've always been very careful with them, but I'd rather eliminate the fire hazard.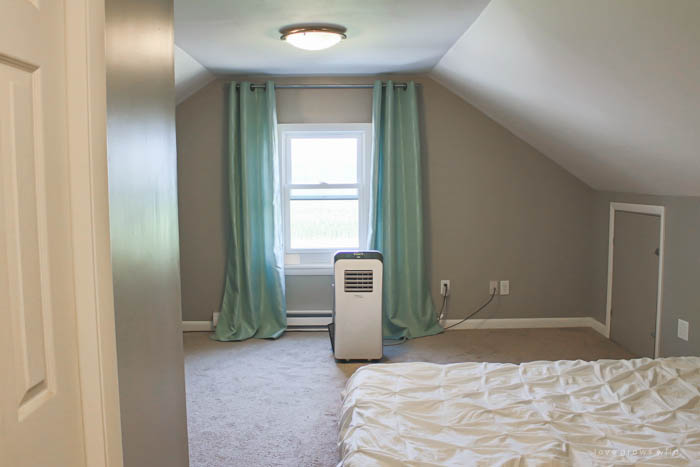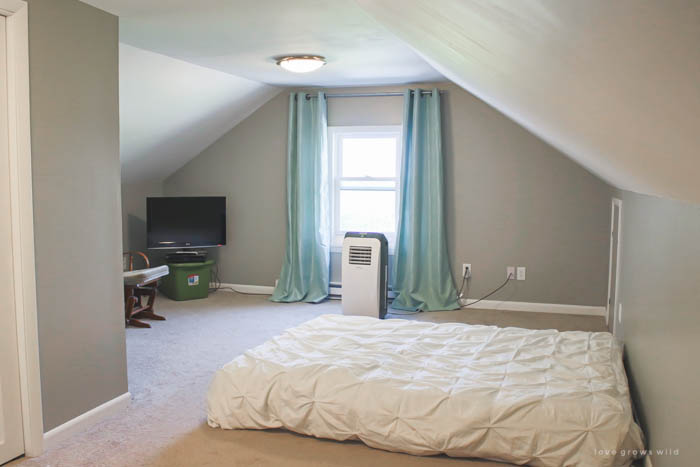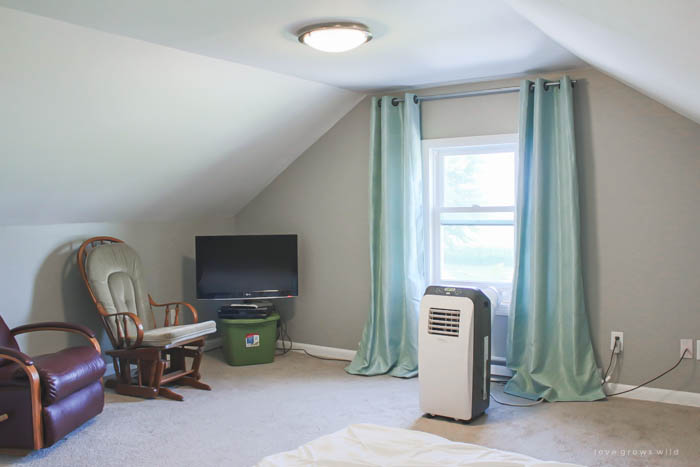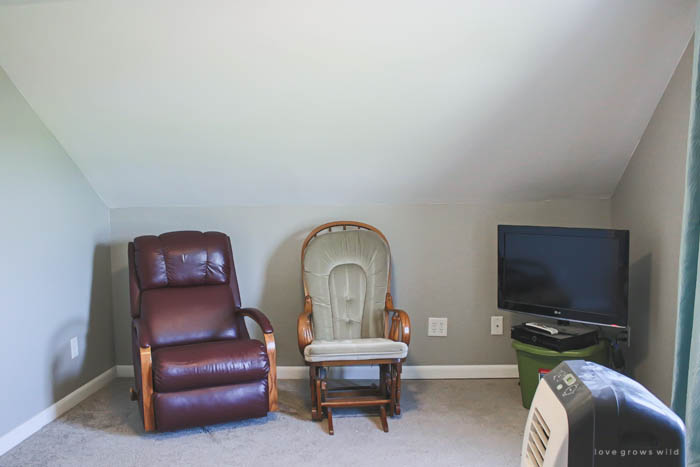 See what I mean about the hospital recliner? Yikes!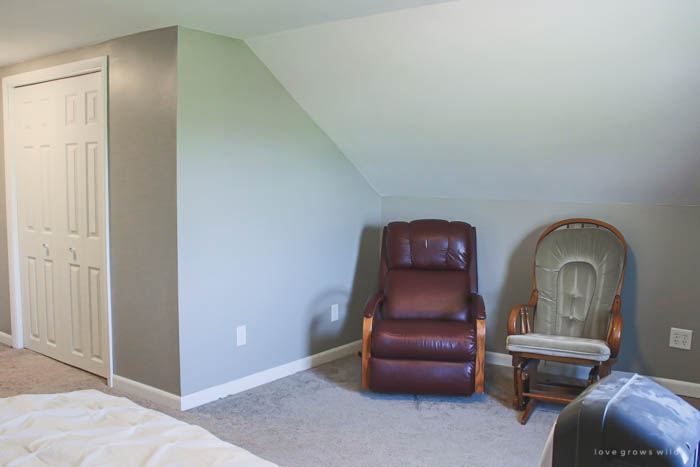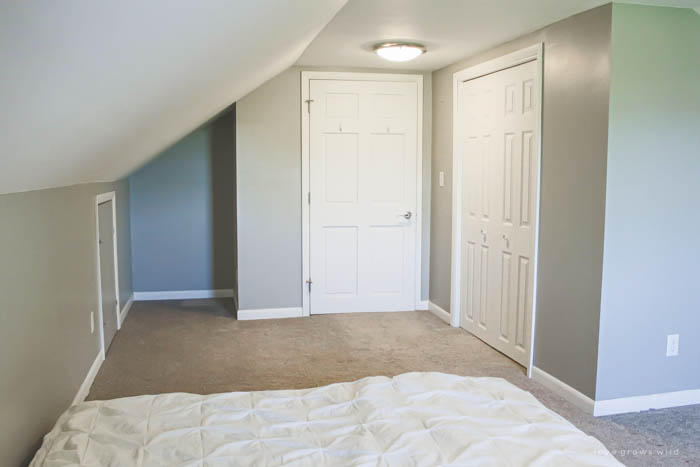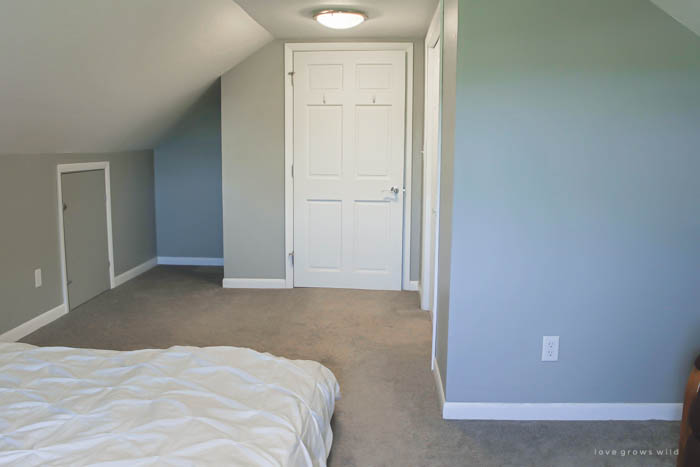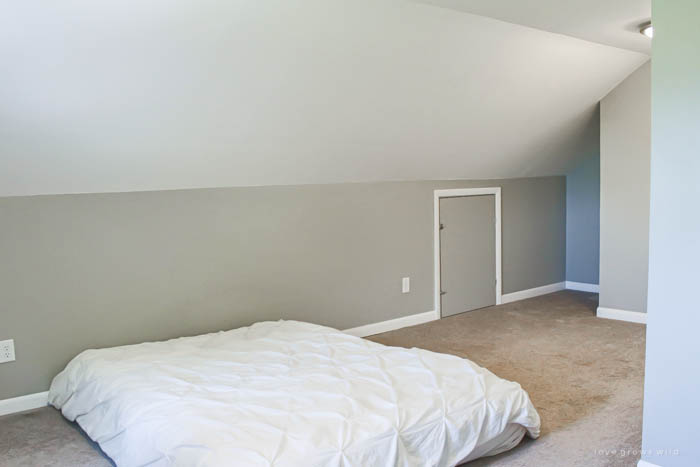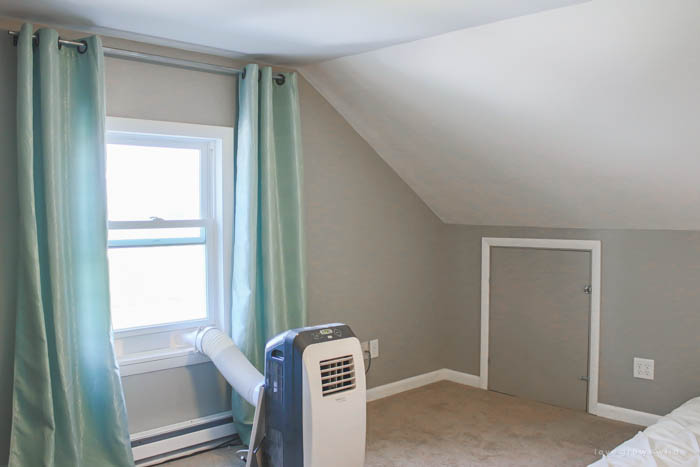 We did the best we could designing our upstairs to give us the most space and storage room, but attics are just plain hard to work with. Awkward angles, short walls, low ceilings… this will definitely be a challenge! But I'm excited to show you guys my plans for this space and turn our bare, boring attic room into a cozy, farmhouse-style retreat!
Here's my to-do list for this makeover:
– new bed and mattress
– planked walls
– nightstands
– dressers
– media console for TV
– desk space for Jeremy (since I've taken over the office)
– seating (if space allows)
– all the decorative elements like lighting, bedding, and curtains
– and a few special surprises I have up my sleeve… stay tuned!
Here's how I want this room to feel:
I want our bedroom to be the place where we come to rest, relax, and rejuvenate ourselves at the end of a long, hard day. I want our room to be cozy and inviting with a bed so plush and comfortable that you have to force yourself to leave every morning. I want our room to feel like it was originally part of the old farmhouse with white planked walls, lots of beautiful wood, and plenty of vintage elements. I want our room to feel romantic and sexy. I want a place where I can lock myself away from the kids and binge watch Real Housewives when I'm too lazy to do housework. But most of all, I want a room that makes Jeremy and I both smile every time we walk into it.
Are you ready to follow us along on another makeover? Be sure to subscribe to our email updates and follow on Instagram for behind-the-scenes sneak peeks!
Any questions on our room or plans for the makeover? Ask away! Just leave a comment below… I'd love to hear from you!
Check out the rest of our bedroom makeover posts:
Master Bedroom Planked Walls
Wood Beam and Lace Curtains
Farmhouse Window Trim
---
LET'S KEEP IN TOUCH!
---
Subscribe to Blog | Browse my Shop | Follow on Facebook | Follow on Twitter
Follow on Google+ | Follow on Pinterest | Follow on Instagram