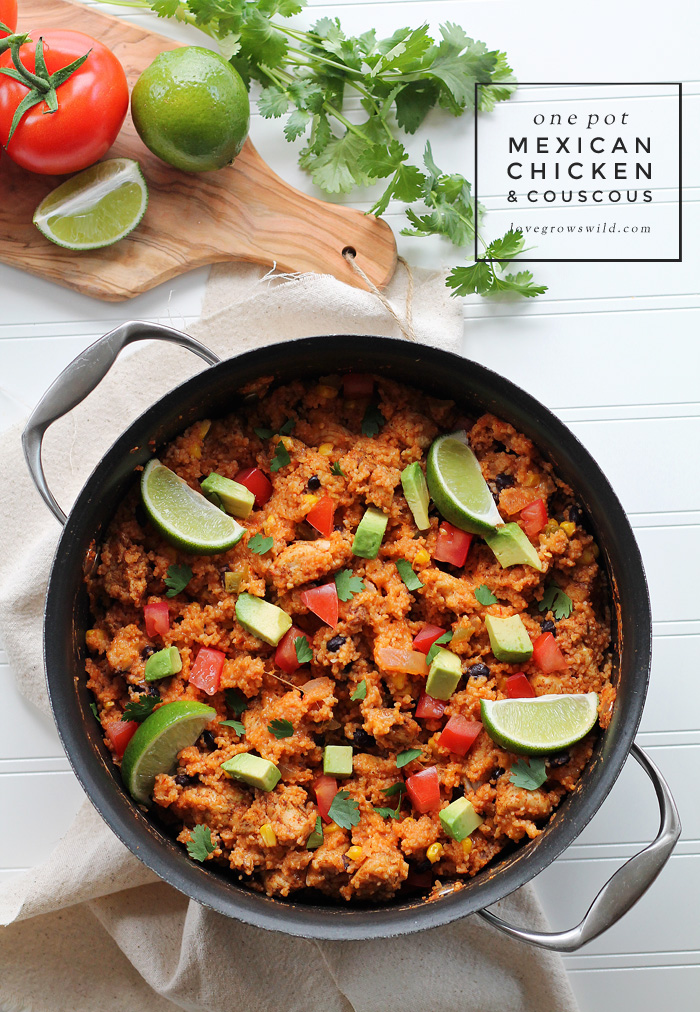 Try this tasty one-pot meal next time you're in the mood for Mexican! Cheesy, flavorful couscous, seasoned chicken, and all your favorite toppings!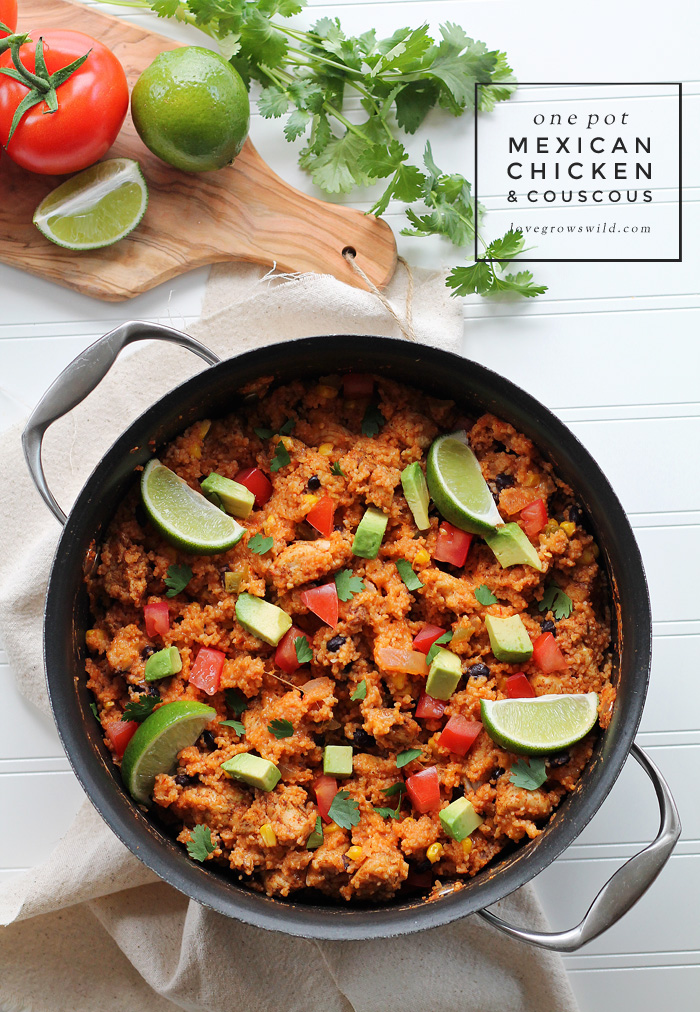 I am a cooking show junkie. If I didn't have any kids or responsibilities, I could lay around in my pajamas all day, sipping on coffee and watching foodie shows. Granted, I'd probably be about 100 pounds heavier because drooling over all that food makes a girl HUNGRY, but it would be fun for a little while anyway.
Today's recipe is actually inspired by one of my FAVORITE food shows, Chopped. Sargento® is hosting a "Chopped at Home" contest and wants to invite everyone to show off their cooking skills with a Chopped-inspired dish featuring Sargento Shredded Cheese. It's easy, fun, and you can win $10,000! That's a whole lot of cheddar right there. 😉 For contest details, click here.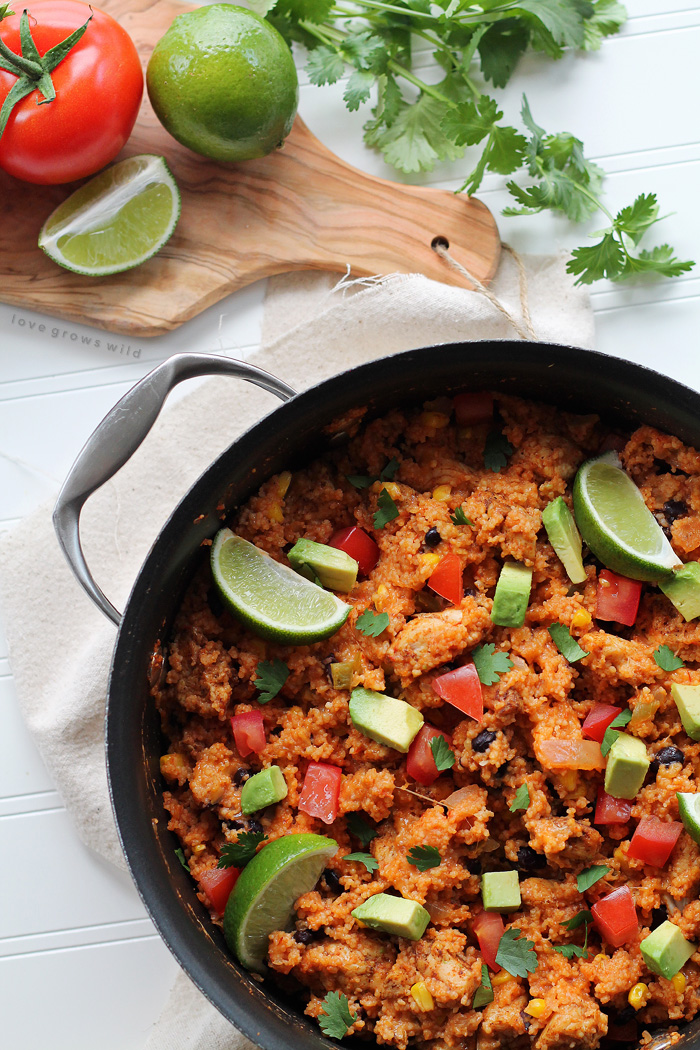 For my Chopped at Home entry, I had these four ingredients to work with:
Sargento® Off the Block 4 Cheese Mexican
Boneless chicken tenders
Couscous
Salsa
I came up with an easy one-pot meal of flavorful, cheesy couscous, spicy seasoned chicken, black beans, corn, and LOTS of yummy toppings! Anytime I can make an entire meal using just one pot, I'm definitely a happy camper. The chicken goes into the pot first and is seasoned with a mix of chili powder, cumin, garlic powder, and salt. Once the chicken is cooked, remove it from the pot and add some chopped onion to soak up all that chicken goodness that was left behind. Then you add the couscous and "toast" it briefly before adding in the salsa, chicken broth, black beans, corn, and cooked chicken. The mixture simmers gently and cooks the couscous while blending all the delicious flavors together. After about 8-10 minutes, add in a handful of cheese and stir until melted.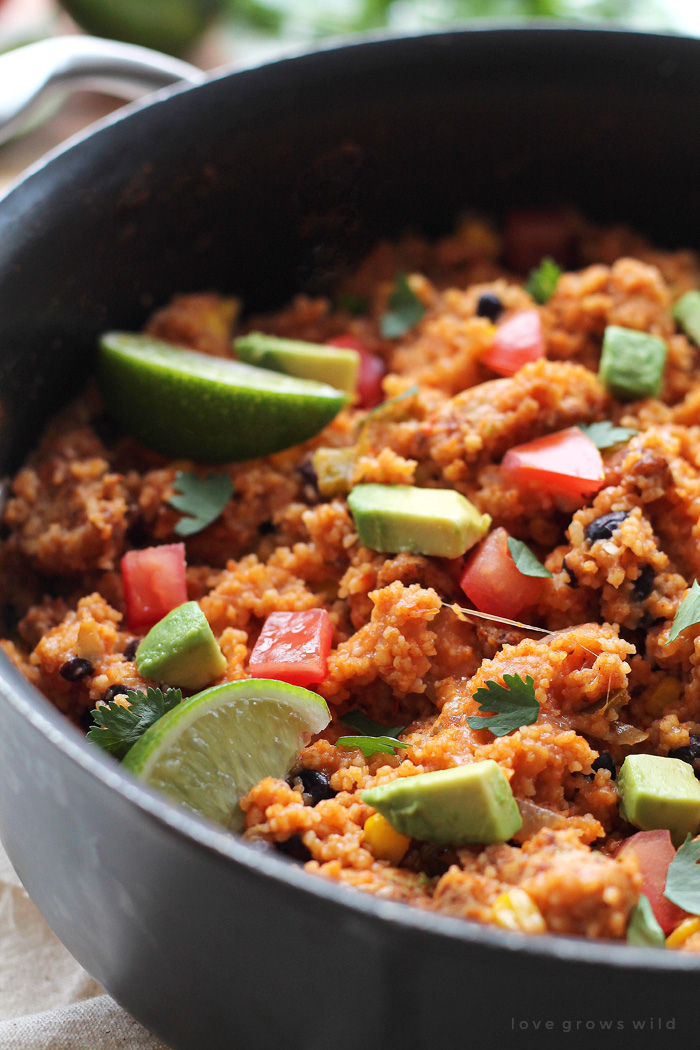 Then it's time for the toppings! No matter what type of Mexican dish I make, the toppings are always my favorite part. For this recipe, I went with diced tomatoes, avocado, a squeeze lime juice, and fresh cilantro. Next time I make this, I think I'll add a side of pico de gallo, guacamole, and homemade baked tortilla chips!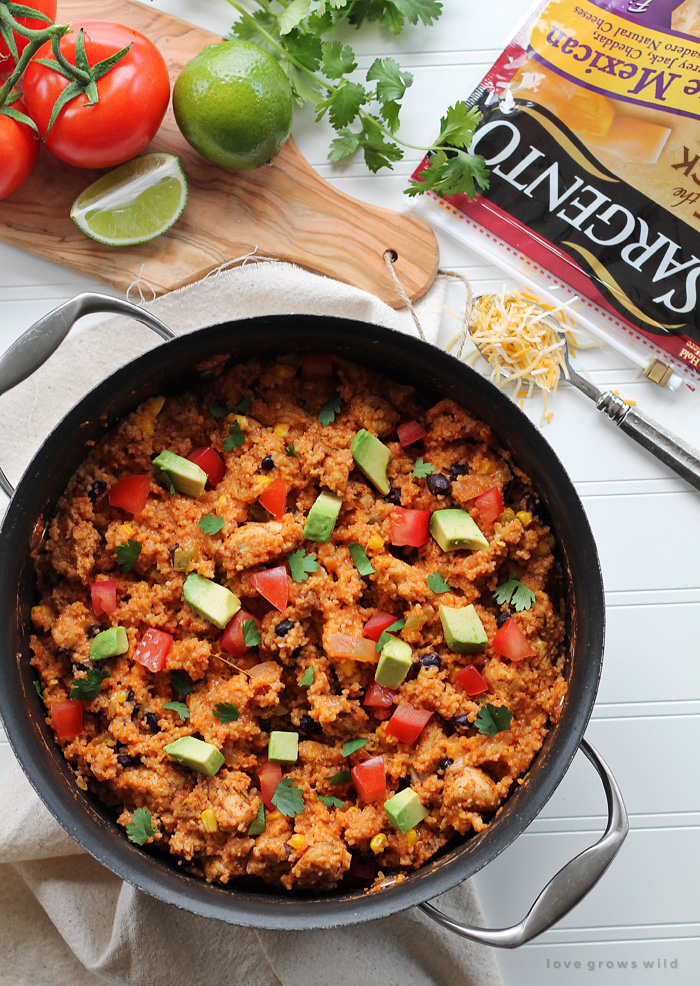 Like what you see? Subscribe to Love Grows Wild so you'll never miss a post!
Follow along on Pinterest, Google+, Instagram, and Facebook for more fun!
One Pot Mexican Chicken and Couscous
Ingredients
1 tablespoon olive oil
1 pound boneless chicken tenders, cut into bite-size pieces
1 teaspoon chili powder
½ teaspoon cumin
½ teaspoon salt
¼ teaspoon garlic powder
½ cup onion, diced
1 cup couscous
1½ cups salsa
1½ cups chicken broth
½ cup black beans, drained and rinsed
½ cup frozen corn
1½ cups Sargento® Off the Block 4 Cheese Mexican

Optional toppings:
diced tomato
diced avocado
lime wedges
fresh chopped cilantro
Instructions
Heat oil in a large deep-sided skillet over medium heat. In a small bowl, mix together the chili powder, cumin, salt, and garlic powder. Season the chicken with spice mixture and add to the skillet. Cook 4-5 minutes, stirring occasionally, until chicken is browned and cooked through, then remove to a plate.
Add onions to the same skillet and cook for 2-3 minutes, then add the couscous. Cook, stirring frequently, for another minute, then add the salsa, chicken broth, black beans, corn, and cooked chicken. Cover with a lid (or tightly cover with foil) and reduce the heat to medium low. Cook for 8-10 minutes until heated through, then fluff the couscous with a fork. Add the cheese and stir until melted. Serve topped with fresh cilantro, a squeeze of lime juice, diced tomato and avocado, if desired.
---
Are you making this recipe? I'd LOVE to see it! Post a photo of your creation on Instagram and use the hashtag #MyLGWRecipe. It may just get featured!
---
Available in 30 versatile varieties, unique blends and distinct cuts, Sargento Shredded Cheese is always cut from blocks of 100% real, natural cheese. For more inspiration, check out the Sargento Pinterest page Pinterest.com/sargentocheese/ or visit Sargento.com for more information. The Chopped at Home Challenge gives viewers a chance to create their best recipe using the selected basket ingredients, including Sargento Shredded Cheese, for a chance to win $10,000!
---
LET'S KEEP IN TOUCH!
---
Subscribe to Blog | Browse my Shop | Follow on Facebook | Follow on Twitter
Follow on Google+ | Follow on Pinterest | Follow on Instagram
This is a sponsored conversation written by me on behalf of Sargento. The opinions and text are 100% mine. Thank you for supporting the brands that make this blog possible!