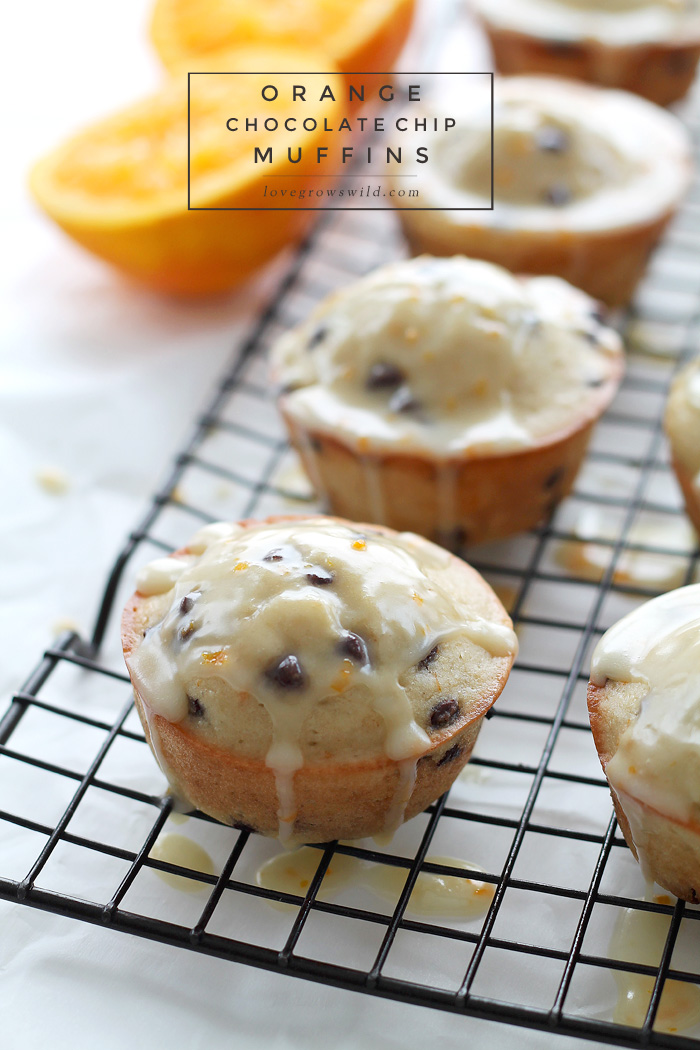 Sweet orange muffins loaded with chocolate chips and drizzled with a delicious orange glaze. The chocolate-citrus combination is so yummy and perfect for breakfast or snack time!
So the other day I was grabbing a stack of junk mail out of the mailbox and discovered a letter from my oldest son, Alec's, principal. "Hmm… that's unusual…" I thought. My worried fingers quickly tore open the envelope and unfolded the letter. I scanned the page faster than I think my brain could actually read the words, so I went back and read it again.
Alec was just nominated as Student of the Month for his school, and we were invited to attend the next school board meeting where Alec would receive a plaque for his achievement. I'm pretty sure my mouth hit the floor. "Alec has been nominated for this award for his citizenship, respect, responsibility, and character." The tears flooded my eyes.
We watched Alec walk in front of the entire school board to accept his award and listened his teacher commend him on his willingness to help others and his fierce passion for reading books. Then his principal read off a little interview they had earlier in the week where she asked him questions like "What's your favorite food?" and "What do you want to be when you grow up?" He said, "I love my mom's orange scones, and I want to be a farmer just like my dad." I'm pretty sure my heart was in a puddle on the floor by this point. We were so proud of him!
I decided to celebrate Alec's big accomplishment with a big batch of his beloved orange treats, but this time with a special twist. Hey… we're celebrating, right? And what better way to celebrate than with a whole bunch of chocolate chips added into the mix?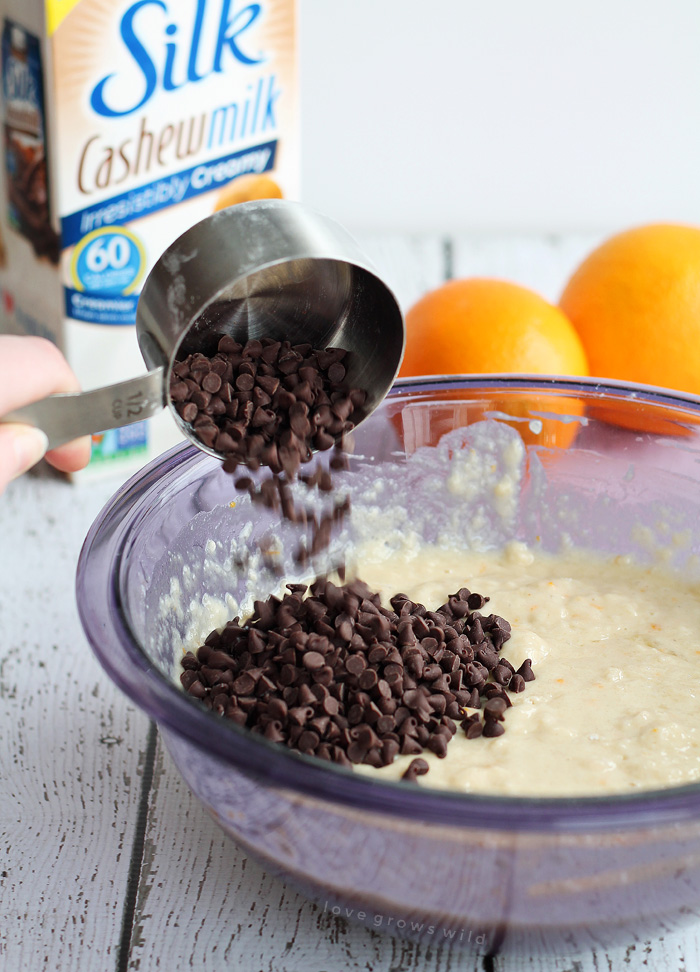 And so, my friends, these delicious, little orange chocolate chip muffins were born! They start with the same base as my blueberry muffin recipe, and then I added in a fresh squeeze of orange juice, a sprinkling of orange zest, and a heaping handful of sweet mini chocolate chips. As if that wasn't already delicious enough, then I topped the muffins with a generous drizzle of orange glaze for an even bigger citrusy punch. Bright, tart, fresh orange flavor + sweet, creamy chocolate chips = the perfect combination!
The muffins turned out perfectly moist and tender, with just the right amount of sweetness from the chocolate chips and a fresh fruit flavor that will brighten even the dreariest of winter mornings. Spring is almost here, you guys… I am SO ready for it to arrive!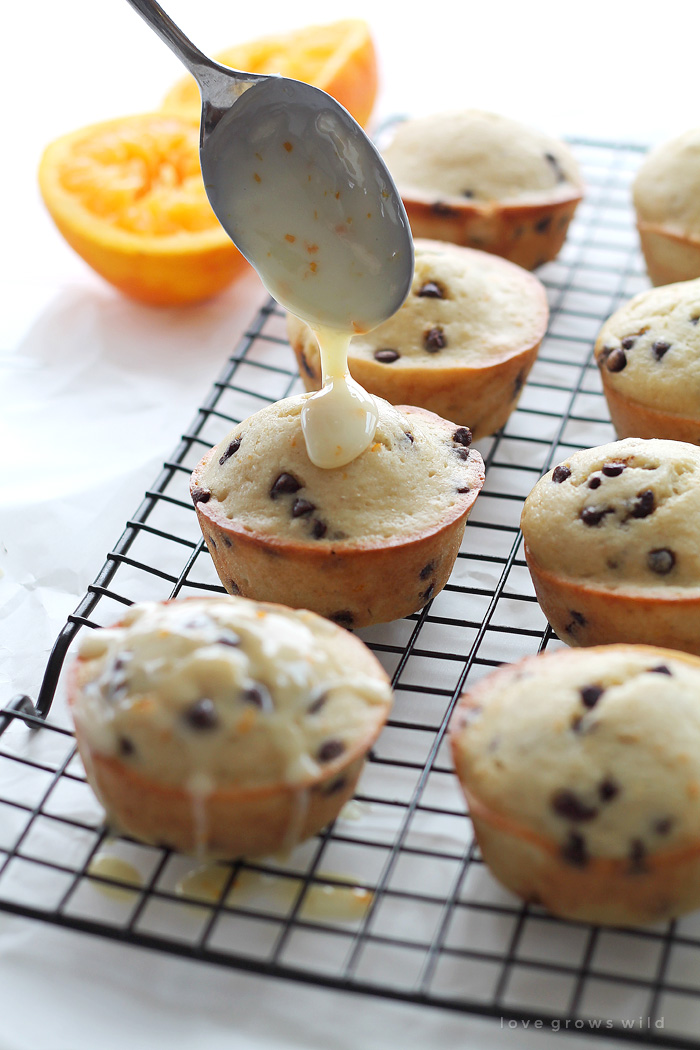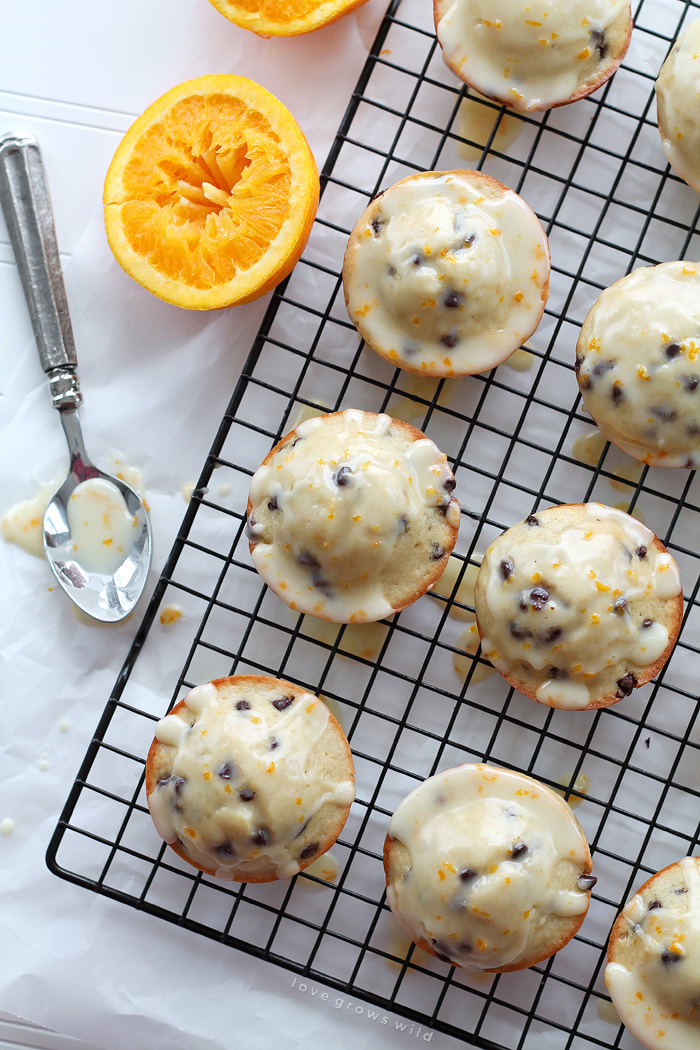 I also lightened up the original muffin recipe a bit by subbing in applesauce for the oil and Silk's new Cashewmilk for the regular milk. I saw the Cashewmilk in the store the other day, and after the cashier told me how much she loved the creaminess of it, I just had to try it out for myself. And she was definitely right… super creamy, tons of calcium, and only 60 calories per serving! It's the perfect match between creamy, delicious taste and fewer calories.
Alec loved the muffins, I loved rewarding him for all his hard work, and I am definitely head-over-heels in love with this amazing pairing of chocolate and orange! I hope you all enjoy it too. 🙂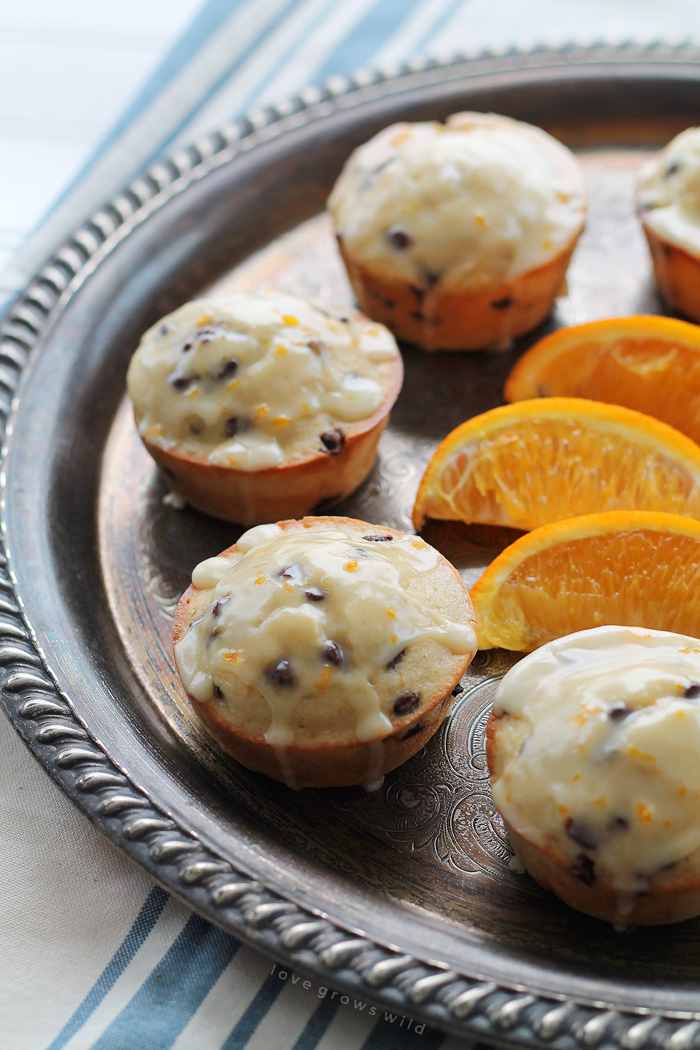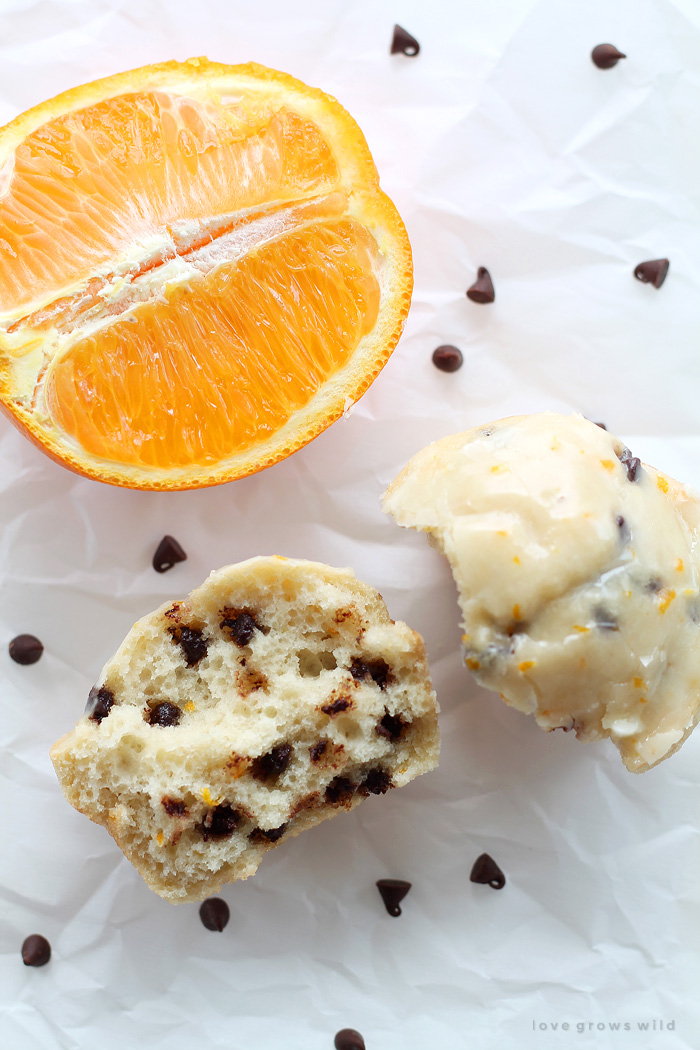 Like what you see? Subscribe to Love Grows Wild so you'll never miss a post!
Follow along on Pinterest, Google+, Instagram, and Facebook for more fun!
Orange Chocolate Chip Muffins
Sweet orange muffins loaded with chocolate chips and drizzled with a delicious orange glaze! The chocolate-citrus combination is so yummy and perfect for breakfast or snack time!
INGREDIENTS
1½ cups all-purpose flour
¾ cup granulated sugar
2 teaspoons baking powder
½ teaspoon salt
1 cup milk (I used Cashewmilk)
1 large egg
⅓ cup applesauce
¼ cup fresh-squeezed orange juice
1 teaspoon vanilla
zest of 1 orange
½ cup mini semi-sweet chocolate chips

Glaze:
1½ cups confectioners' sugar
¼ cup fresh-squeezed orange juice
1 teaspoon orange zest
INSTRUCTIONS
For the Muffins: Preheat oven to 350ºF and spray 12 muffin cups with nonstick spray or line with paper liners. In a large bowl, combine the flour, sugar, baking powder, and salt. In another bowl, add the milk, egg, applesauce, orange juice, vanilla, and zest and mix until combined. Add the milk mixture to the flour mixture and stir until just combined, then stir in the chocolate chips. Fill the muffin cups about ¾ full and bake at 350ºF for 22-25 minutes. Allow muffins to cool for 10 minutes, then drizzle with glaze (see recipe below).
For the Glaze: Combine the confectioners' sugar, orange juice, and zest in a small bowl and stir until completely smooth. Spoon glaze over the cooled muffins.
Are you making this recipe? I'd LOVE to see it! Post a photo of your creation on Instagram and use the hashtag #MyLGWRecipe. It may just get featured!
---
Would you like to try Silk? Sign up for a newsletter! All new subscribers will receive an instant member coupon!
When you register, you can also look forward to:
– Member-only giveaways with new prizes all year long
– Offers, recipes, life hacks and more!

Still hungry? Try these recipes: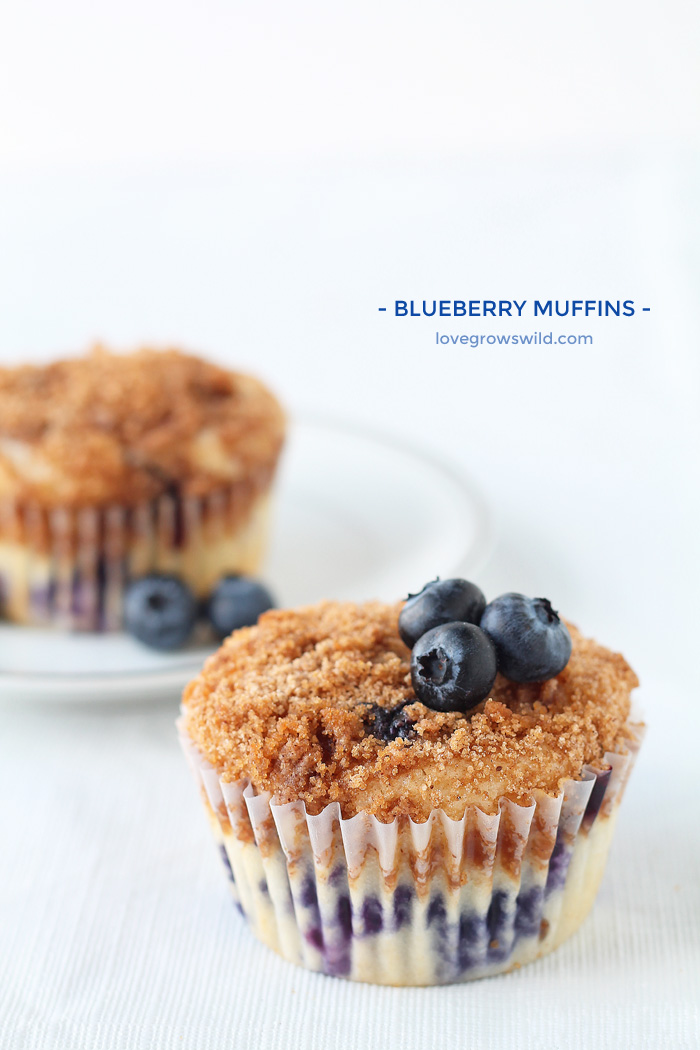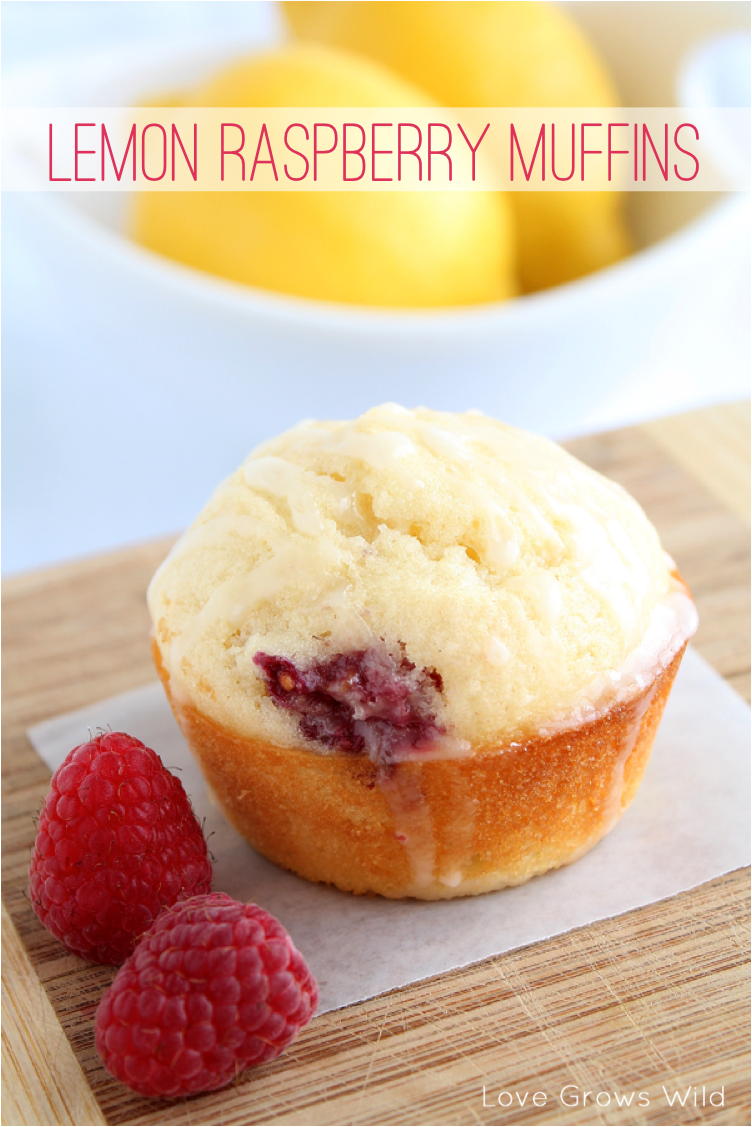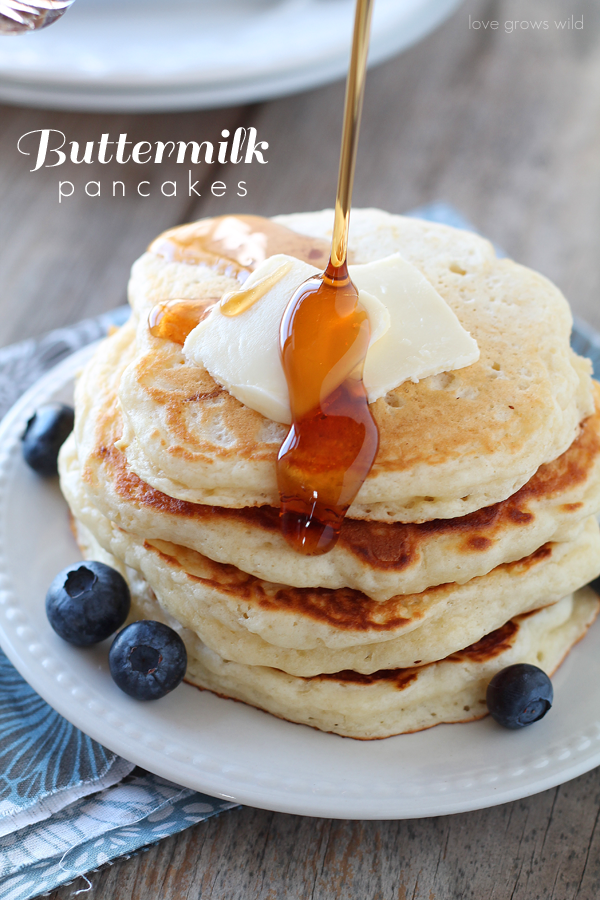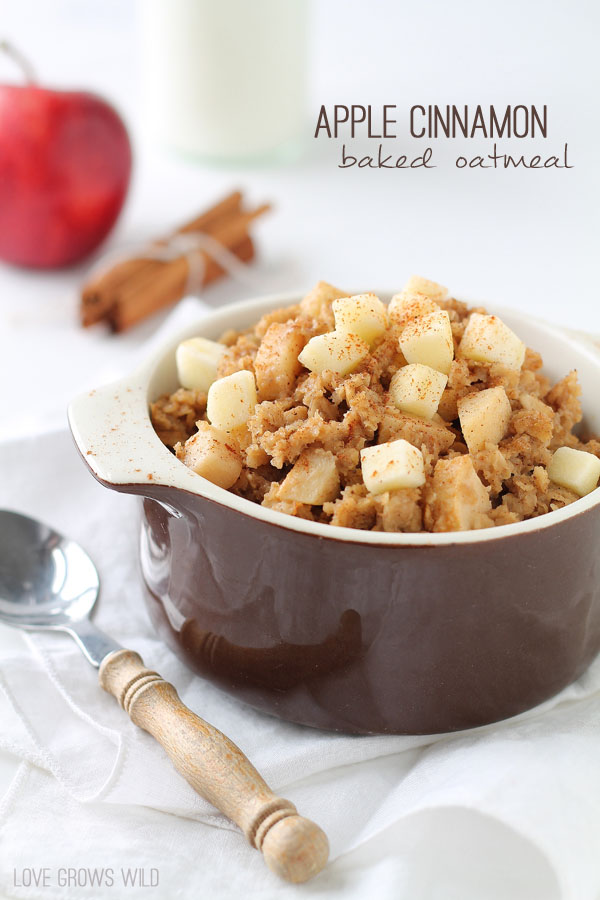 ---
LET'S KEEP IN TOUCH!
Subscribe to Blog | Browse my Shop | Follow on Facebook | Follow on Twitter
Follow on Google+ | Follow on Pinterest | Follow on Instagram
This conversation is sponsored by Silk, but the opinions and text are 100% mine. Thank you for supporting the brands that make this blog possible!