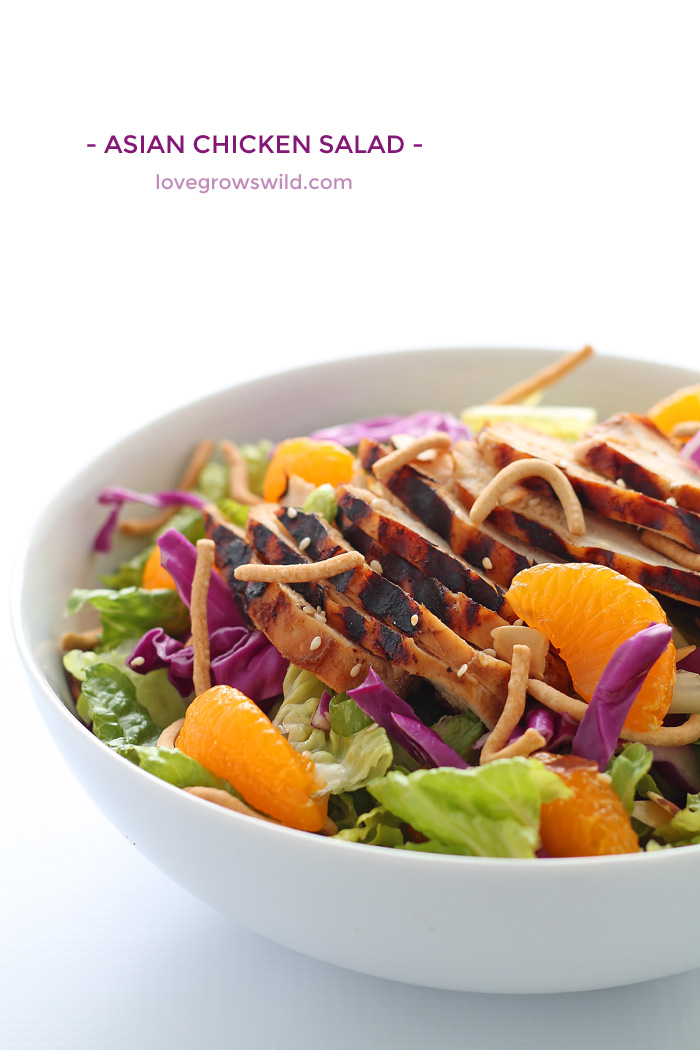 I'm finding it way easier to eat healthy now that we're out of hibernation season. When the weather is cold outside, all I want to eat is cheesy pasta and creamy soups and all those wonderful stick-to-your-ribs kind of meals. But in the summer, it's so easy to eat light and fresh meals like salads, taking full advantage of all the fresh produce that's in season. But do you get tired of the same old boring salads all the time? I know I do!
If it was up to my family, salad would only consist of two things: lettuce and ranch dressing. Maybe some cheddar cheese and crispy bacon if we're feeling extra decadent. But I've been making this crazy delicious Asian Chicken Salad lately that gets RAVE reviews from my ranch-loving family, which means this salad is a MUST-try, people. The cute, little 4 year old in my house said it was very important that I tell you all that!
So what's this salad all about? Here's the scoop: a mix of romaine lettuce and red cabbage, tender grilled chicken slices, and a delicious sesame dressing that is absolutely out of this world. But the real kicker is the toppings for this salad… crunchy chow mein noodles, toasted almonds, and juicy mandarin oranges! This salad reminds me of Panera's Asian Sesame Chicken Salad that I love so much, and if you love it too, you're definitely going to want to try this!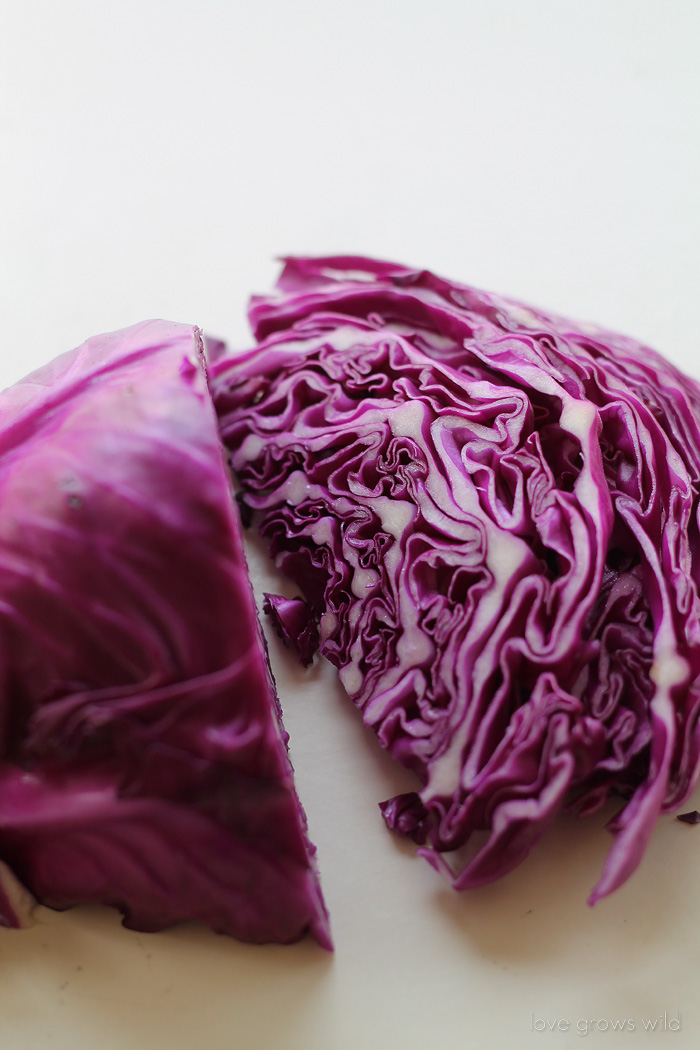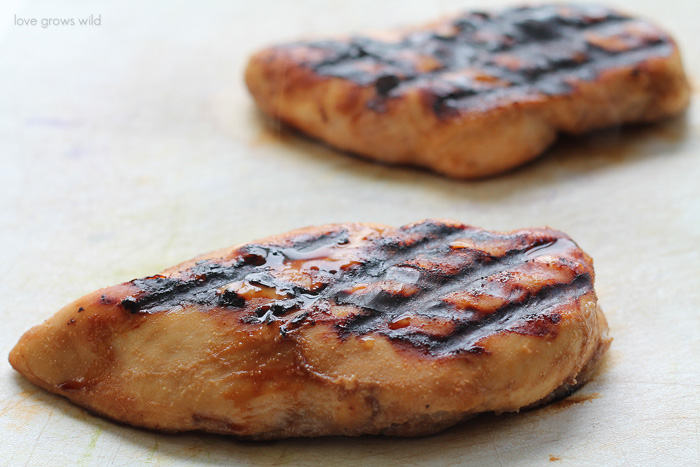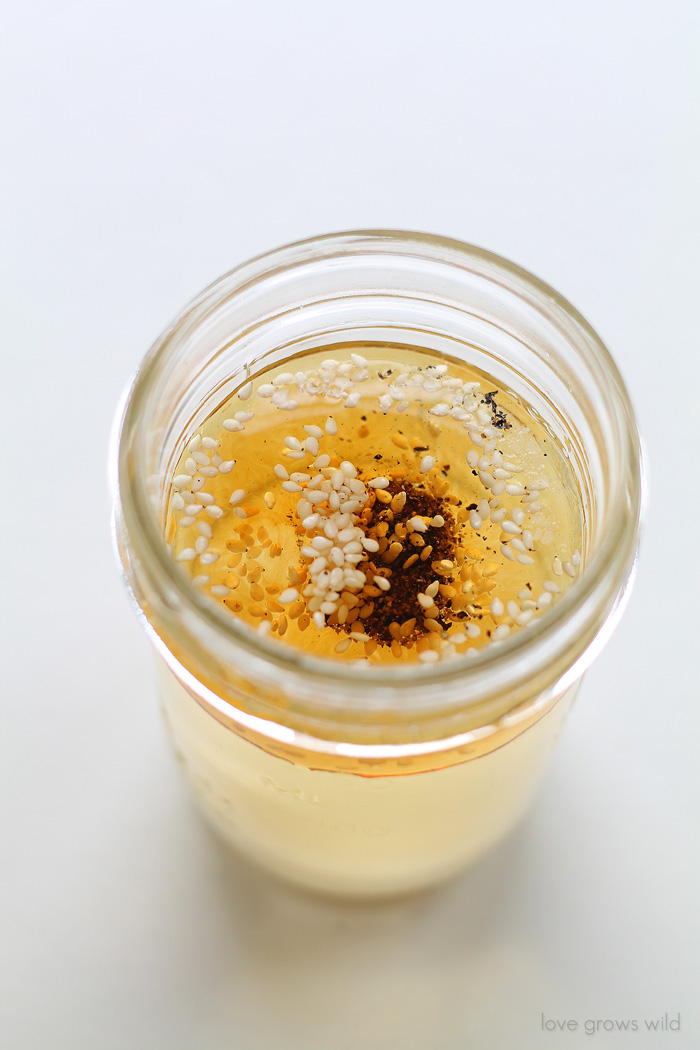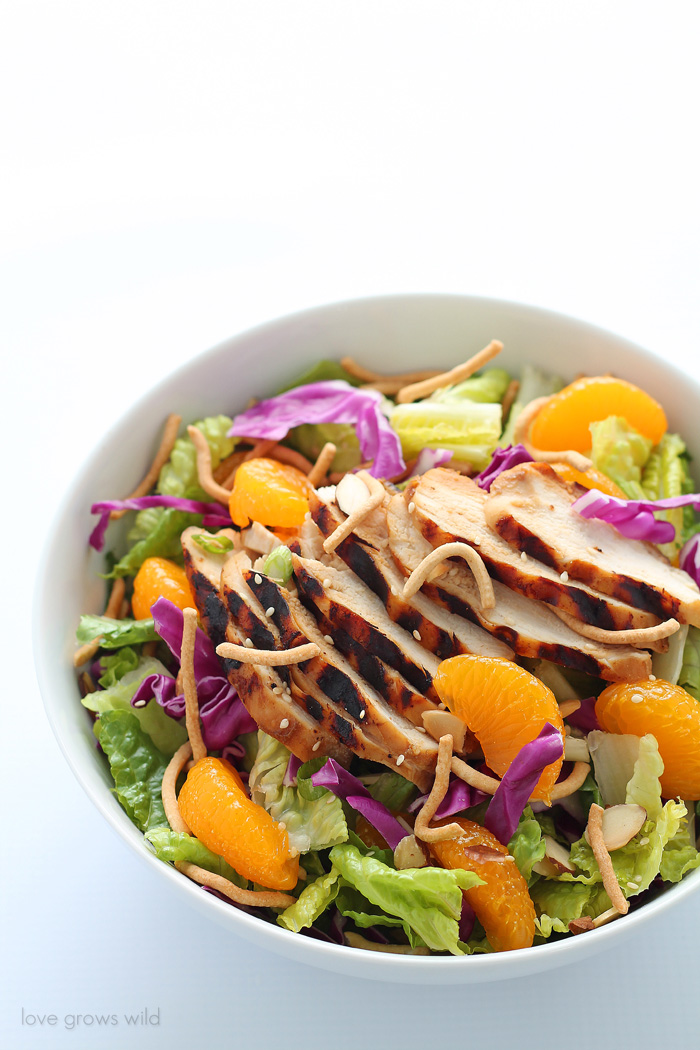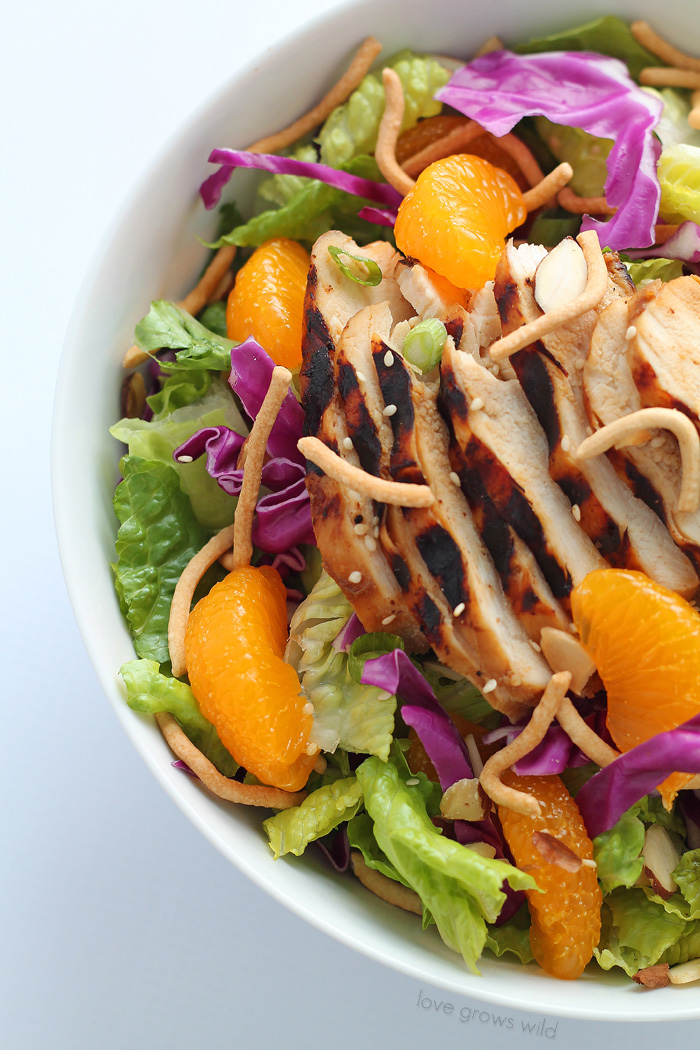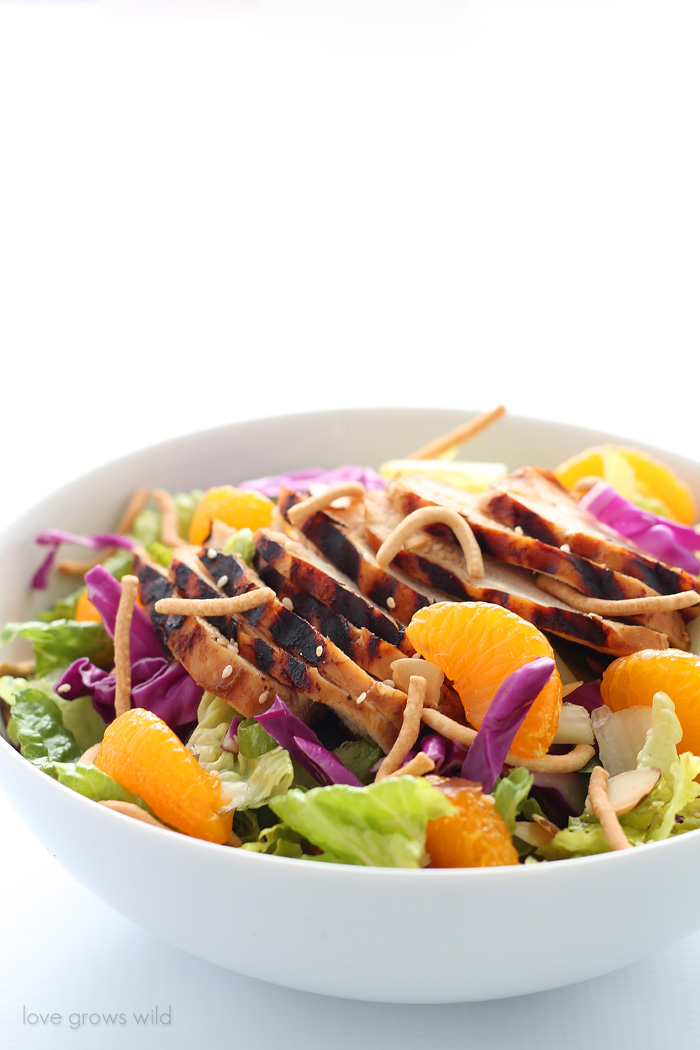 Like what you see? Subscribe to Love Grows Wild so you'll never miss a post!
Follow along on Pinterest, Google+, Instagram, and Facebook for more fun!
Asian Chicken Salad
INGREDIENTS
6 cups romaine, chopped
1 cup red cabbage, chopped
2 chicken breasts, boneless and skinless

Chicken Marinade:
3 tablespoons soy sauce
2 teaspoons honey
1 teaspoon sesame oil
½ teaspoon ground ginger
½ teaspoon garlic powder

Dressing:
½ cup rice vinegar
3 tablespoons granulated sugar
2 tablespoons canola oil
1½ teaspoons sesame oil
½ teaspoon sesame seeds, toasted
½ teaspoon salt
⅛ teaspoon pepper

Salad Toppings:
11 ounce can mandarin oranges
sliced almonds, toasted
crunchy chow mein noodles
sesame seeds
green onions, chopped
INSTRUCTIONS
For the chicken: Place chicken breasts in a gallon size zip-top bag. Combine the marinade ingredients and pour over the chicken. Let chicken marinate 15 minutes, then grill or cook in a skillet until cooked through. Let chicken rest 5 minutes, then cut into thin slices.
For the dressing: Toast the sesame seeds by heating them in a skillet over medium heat for 3-5 minutes until they darken slightly and become fragrant. Combine all the dressing ingredients in a mason jar, add the lid, and shake vigorously. Give the jar another good shake right before serving.
For the salad: Divide the romaine and cabbage evenly between 4 plates. Top with sliced chicken, dressing, and desired toppings.
NOTES
- Look for mandarin oranges that are packed in water. If using oranges packed in syrup, lightly rinse them in water before using.
– Adapted from Iowa Girl Eats and The Recipe Critic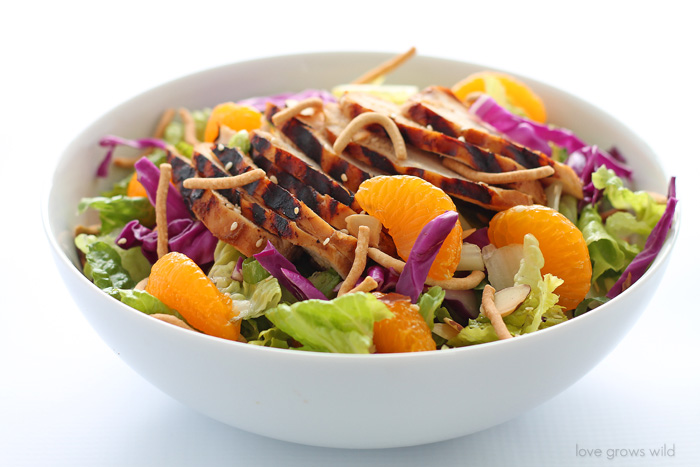 ---
Want more delicious meal ideas?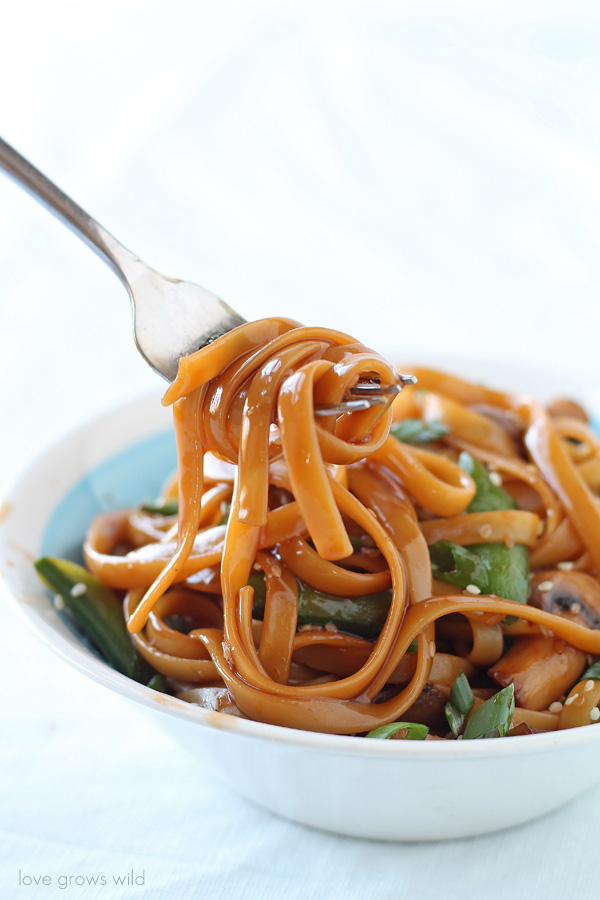 Asian Noodles with Mushrooms and Snow Peas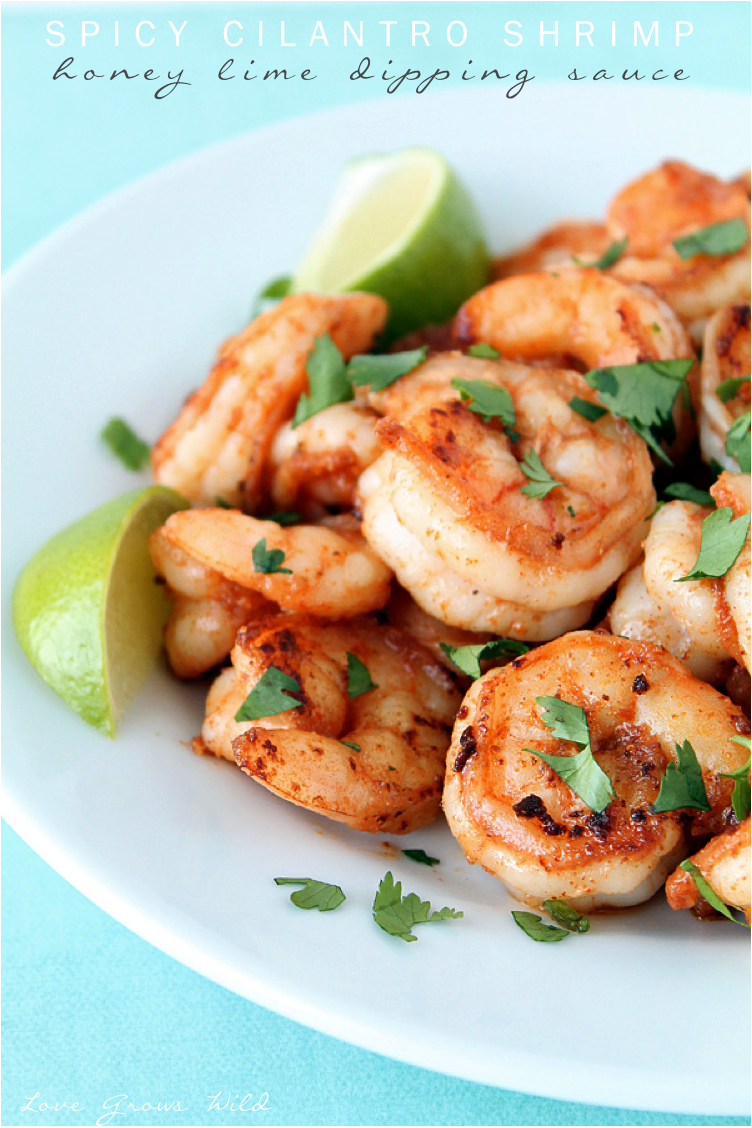 Spicy Cilantro Shrimp with Honey Lime Dipping Sauce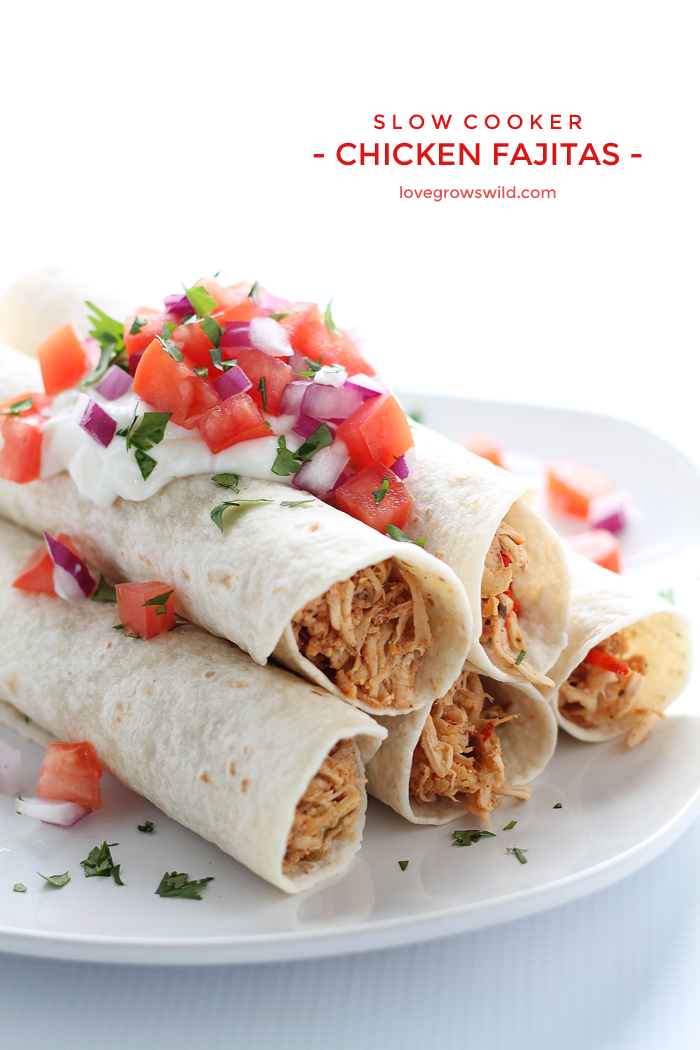 LET'S KEEP IN TOUCH!
Subscribe to Blog | Browse my Shop | Follow on Facebook | Follow on Twitter
Follow on Google+ | Follow on Pinterest | Follow on Instagram