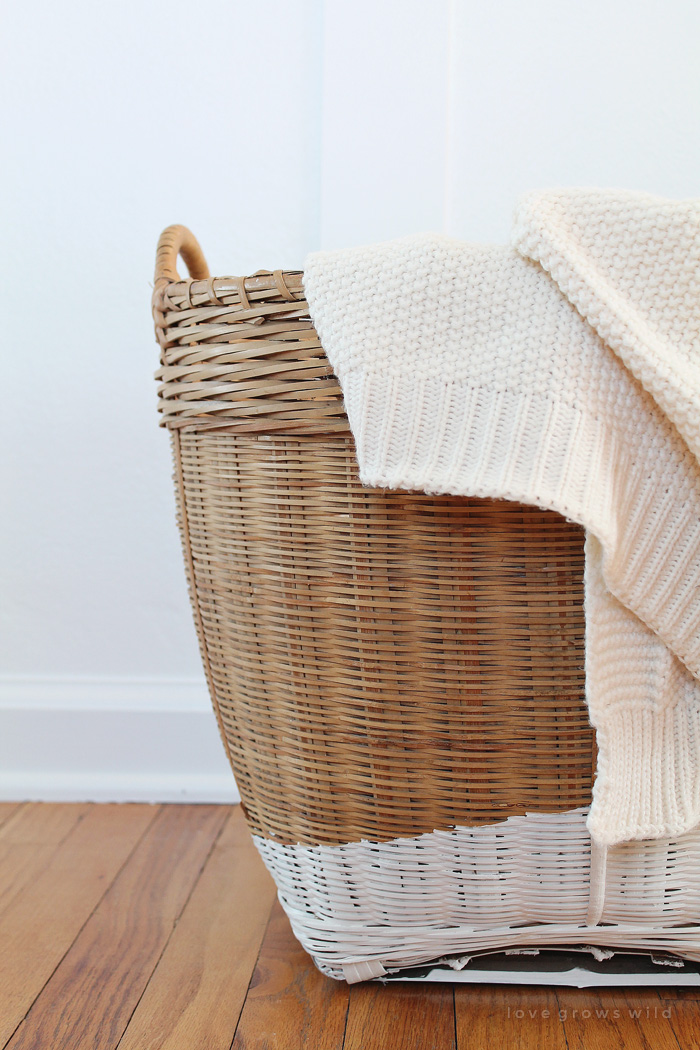 The EASY way to get the paint-dipped look! These stylish baskets are perfect for storing blankets, magazines, toys, and more.
This DIY is what I like to call "sweet, stylish, simple". You take a plain basket that's laying around the house (we all have at least a couple, right?), slap on some painter's tape, paint it with your favorite color, and call it done! With all the crazy makeover chaos going on in our living room right now, a quick and simple project like this was exactly what I needed after our board and batten marathon. (You can find lots of pictures of our makeover progress on Instagram.)
My grandmother gave me this basket a few years ago, and the other day I decided to freshen it up with some paint. I love the paint-dipped look, but because this basket is HUGE, it would be tough to find a big enough container or enough paint to dip this big beast into. So I went with Plan B and made it MUCH simpler. This basket probably only took me about a half hour from start to finish with just a couple supplies:
basket
painter's tape
paint
paint brush
First things first… you'll want to clean your basket with a damp rag. The tape won't stick and the paint won't adhere well if it's full of dirt and dust.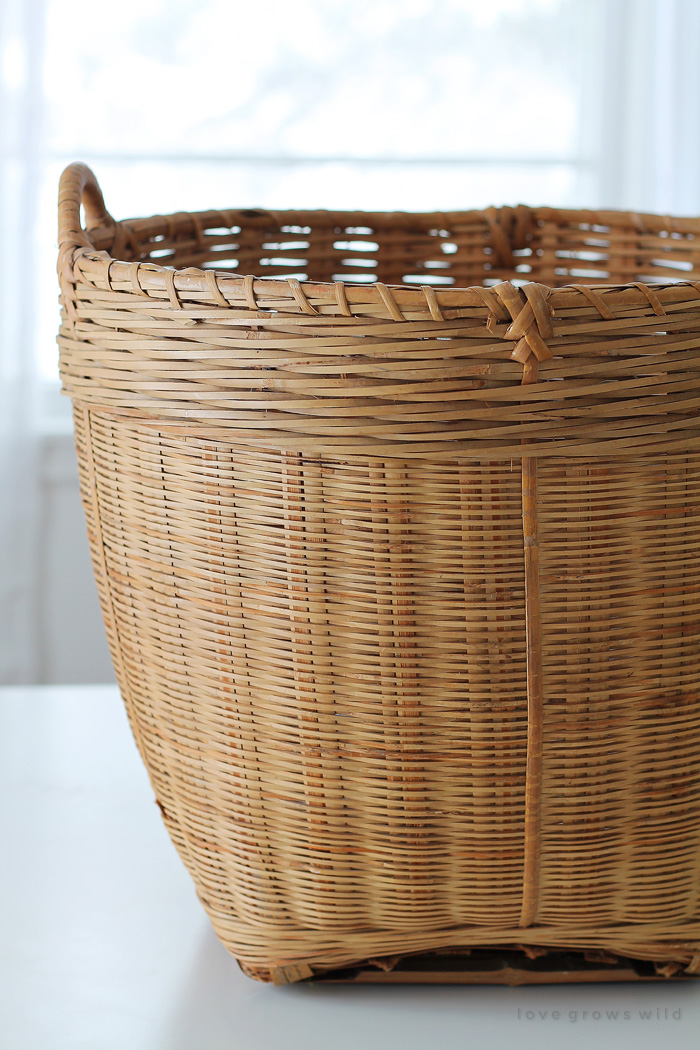 Now grab a roll of painter's tape and tape a slanted line all the way around the basket.
P.S. If you don't love the asymmetric look, feel free to do a straight line too.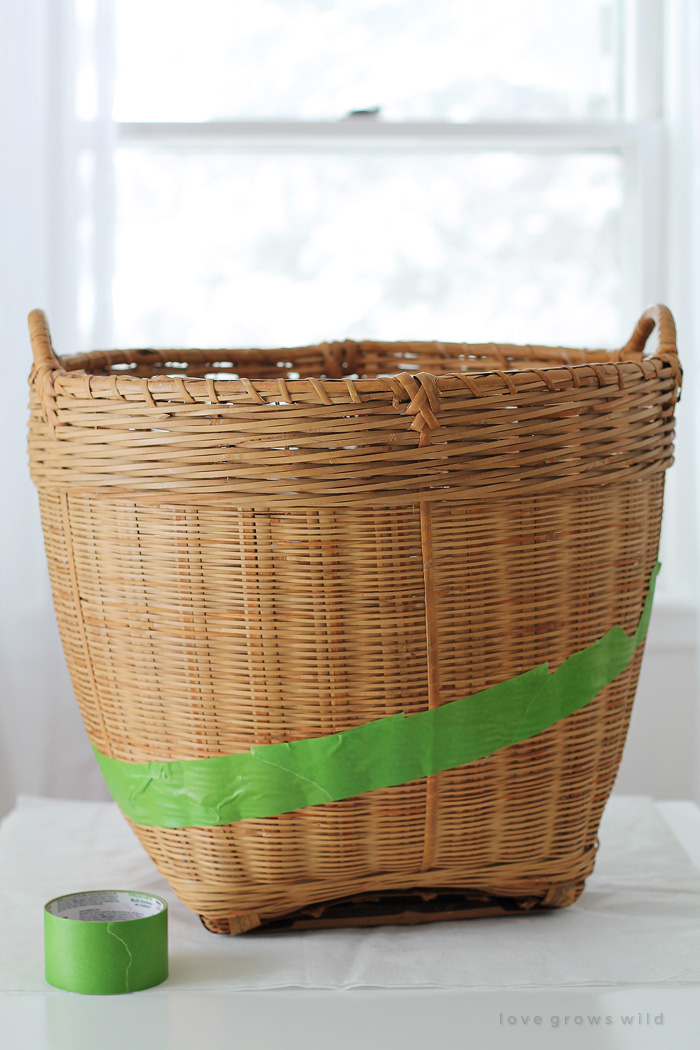 Now paint the basket below the tape line in your color of choice. I went with white (shocker, I know) so I can move it to any room of my house, but a pop of color would be fun too. You'll need to apply the paint pretty thick so it goes into all the little nooks and crannies.
Note: I didn't bother painting the very bottom of the basket so that the paint wouldn't chip off on the floor. No one will see the bottom anyway, so save yourself the time and extra paint.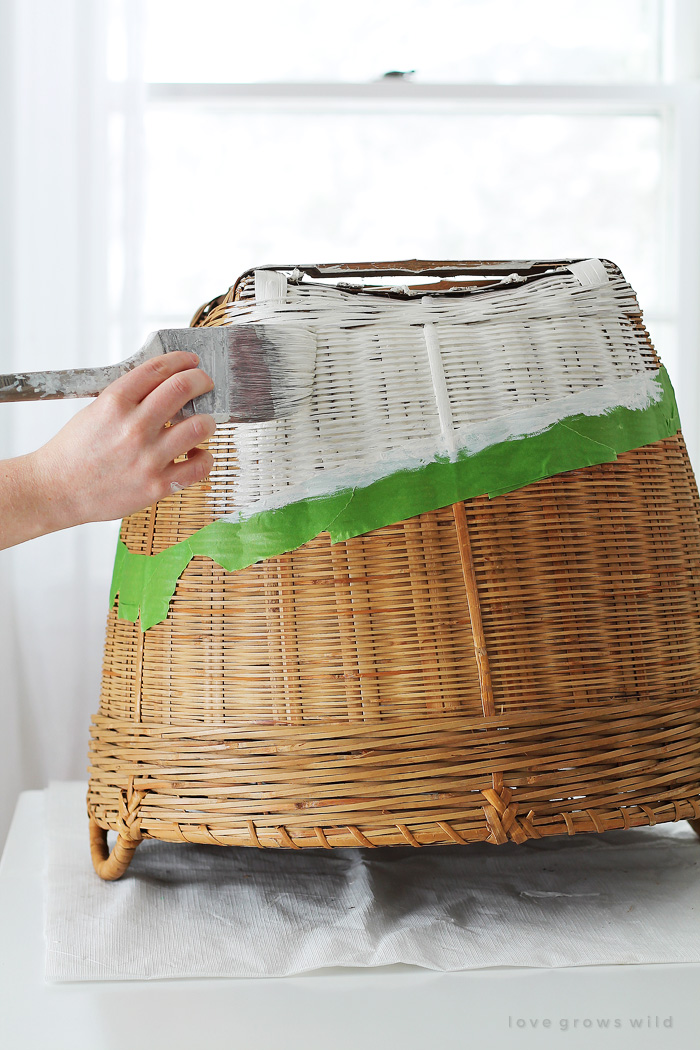 Once you're finished painting, pull the tape off and let the paint finish drying completely.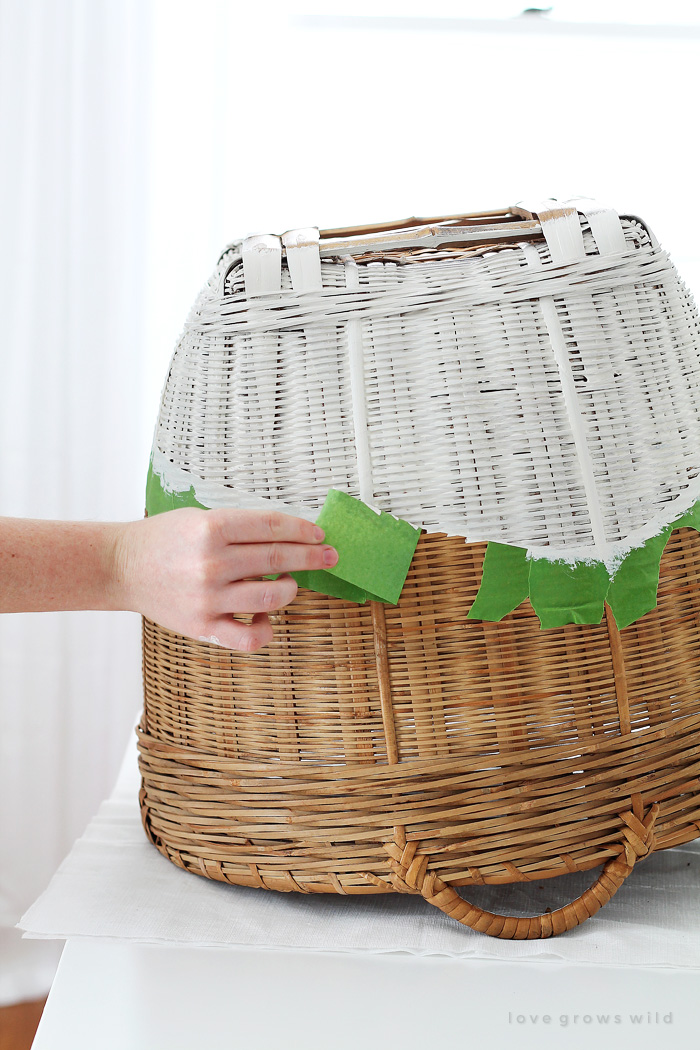 I'll mostly use this basket to store the hundreds of blankets we have in the living room… we loooove to snuggle up all cozy on the couch…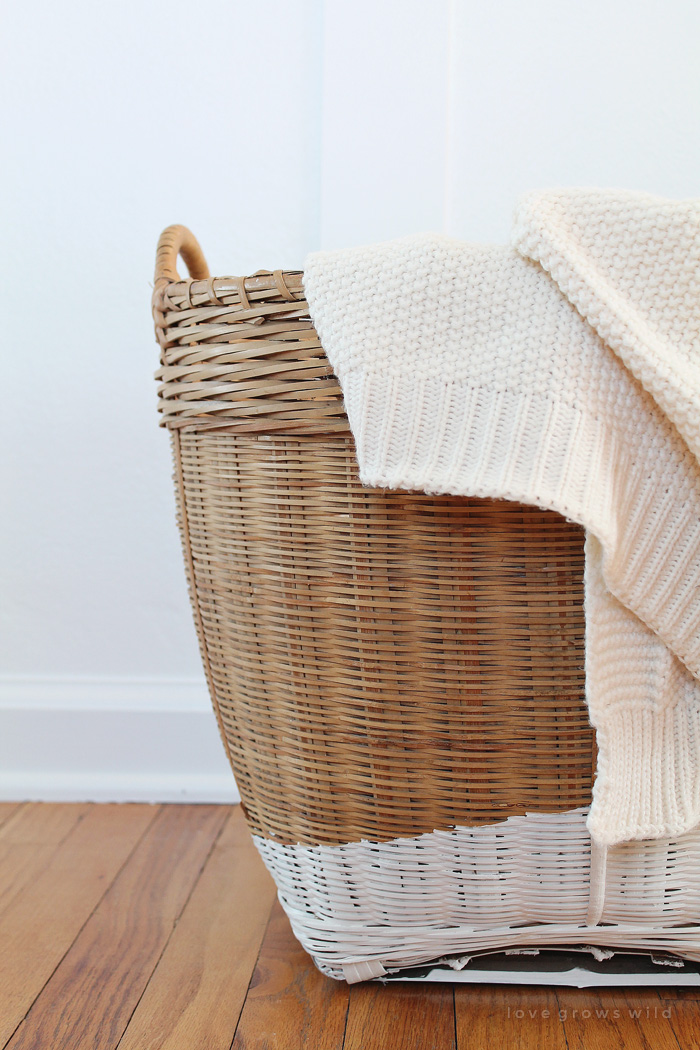 But it would be perfect for storing magazines, books, toys, clothes, towels… you name it! I think you can never have too many storage baskets around the house, and I absolutely love the new paint-dipped look I gave this one. Natural woven texture + milky white paint = one happy Liz.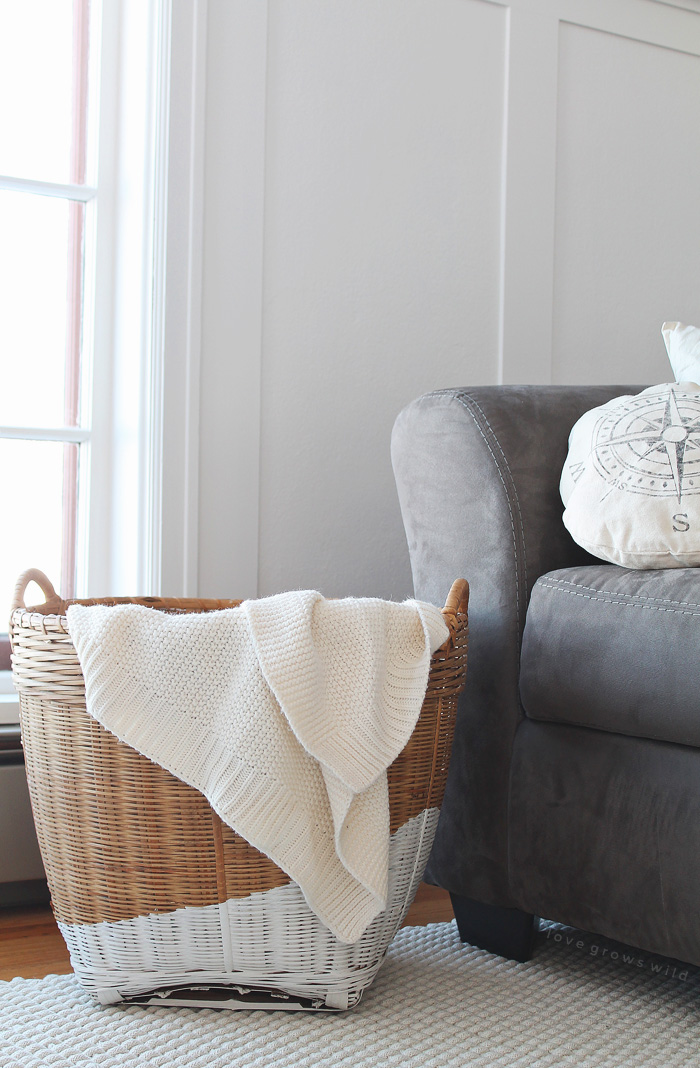 So tell me what you think! Where do you use storage baskets in your home? Do you like the paint-dipped look? I'd love to hear your thoughts!
Are you making this project? I'd LOVE to see it! Post a photo of your creation on Instagram and use the hashtag #MyLGWProject. It may just get featured!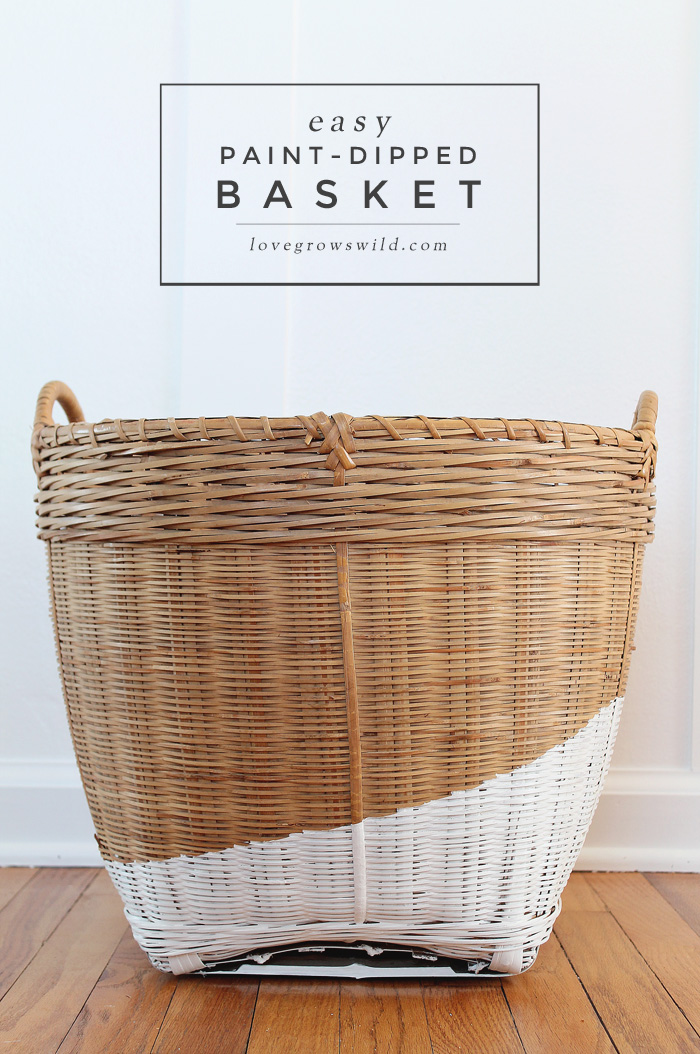 Like what you see? Subscribe to Love Grows Wild so you'll never miss a post!
Follow along on Pinterest, Google+, Instagram, and Facebook for more fun!
More DIY decor ideas: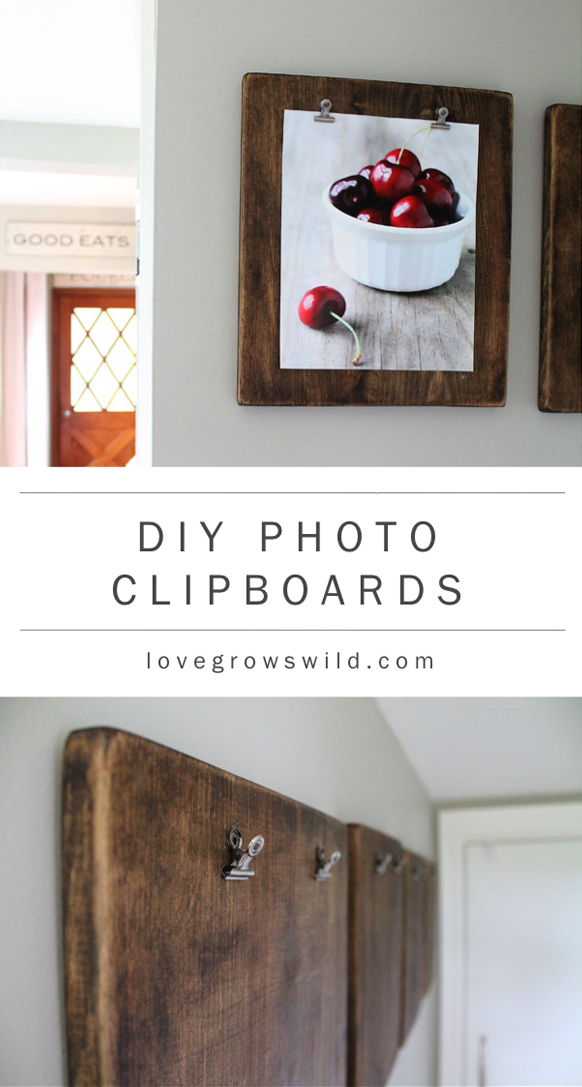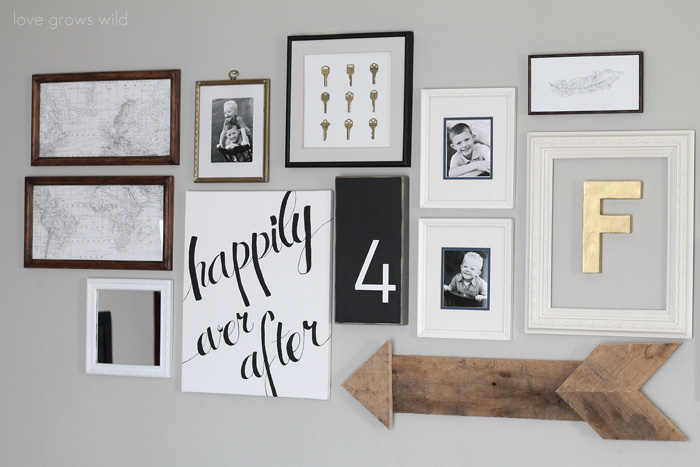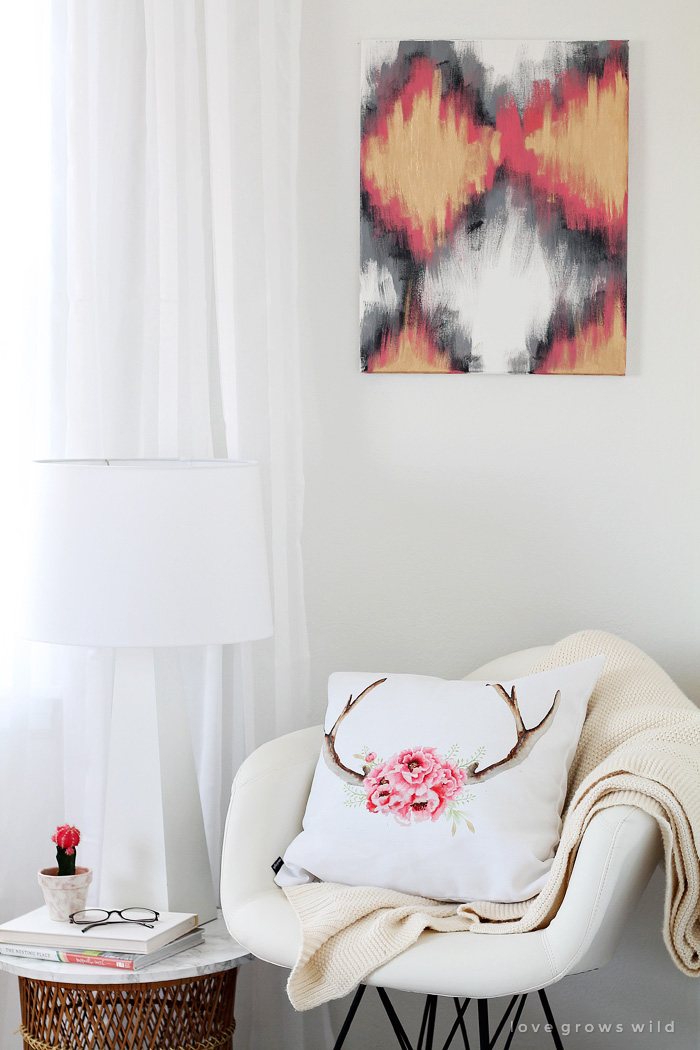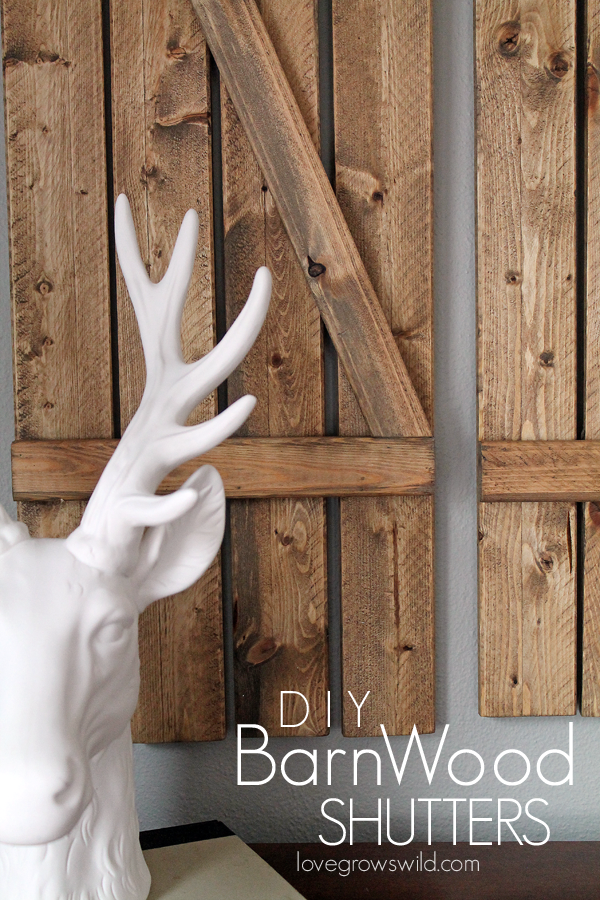 ---
LET'S KEEP IN TOUCH!
Subscribe to Blog | Browse my Shop | Follow on Facebook | Follow on Twitter
Follow on Google+ | Follow on Pinterest | Follow on Instagram