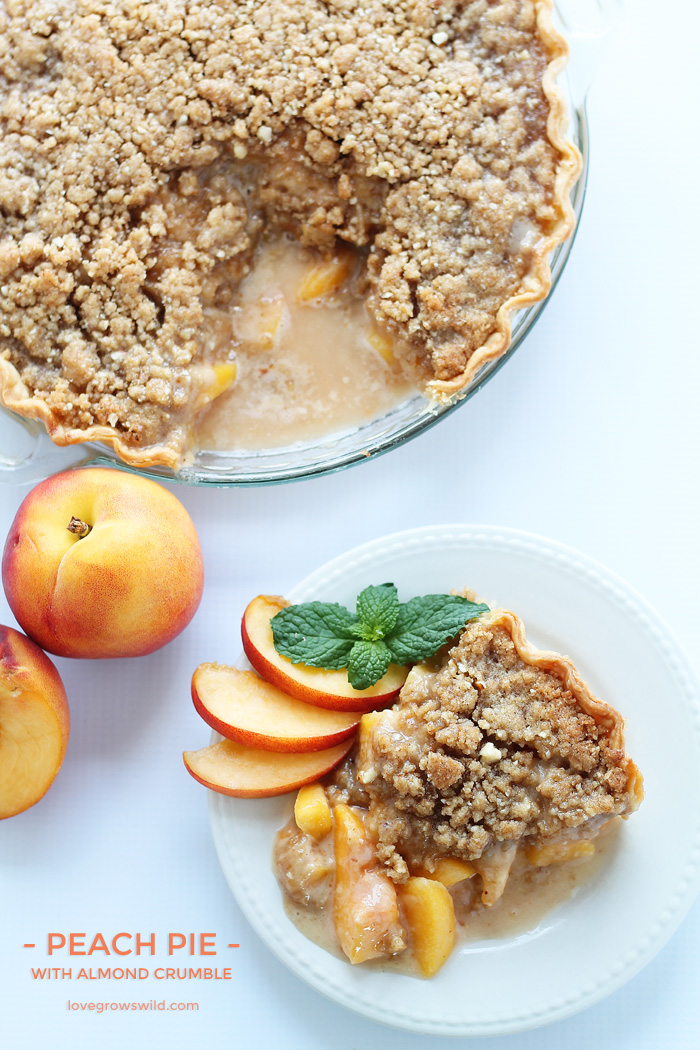 You look like you could use a slice of pie right about now. Am I right? As I sit writing this post, I couldn't help but cut myself another slice of this perfect peach pie with a delicious almond crumble topping, and I'm willing to bet you're going to want to pop one of these pies in the oven by the time you're done reading this post! So please excuse my mouth full peaches and the crumble crumbs on my keyboard as I tell you about this amazing pie!
A few years ago when we lived on a farm in Illinois, we had a big, beautiful apple tree in our yard that seemed to produce endless amounts of fruit year after year. We had relatives that would come pick a lot of the apples because we simply couldn't keep up with finding ways to use them. I remember seeing dozens of gallons of fresh apple cider being delivered to family and neighbors and freezers full to the brim with sliced apples for fruit pies to come later in the year. I love apples, but we had a LOT of apples, people. A boat load to be exact.
And as much as I loved baking apple pies (especially with homemade salted caramel sauce… yum!), there was nothing that compared to fresh peach pies in the summertime. Every year, there was this peach farmer (from Tennessee, I believe) that traveled through our little town each summer selling the freshest, most amazing peaches I've ever eaten. Word would travel though the church grapevine when he'd be arriving in town, and everyone would get their orders ready for how many dozens of peaches they wanted from him. It was kind of a big thing for this very small town we lived in.
We would eat as many fresh peaches as we could and freeze the rest for making pies later in the year. Baking a peach pie was, and still is, a beautiful summer memory for me. And a very welcome change form all the apple pies I've baked!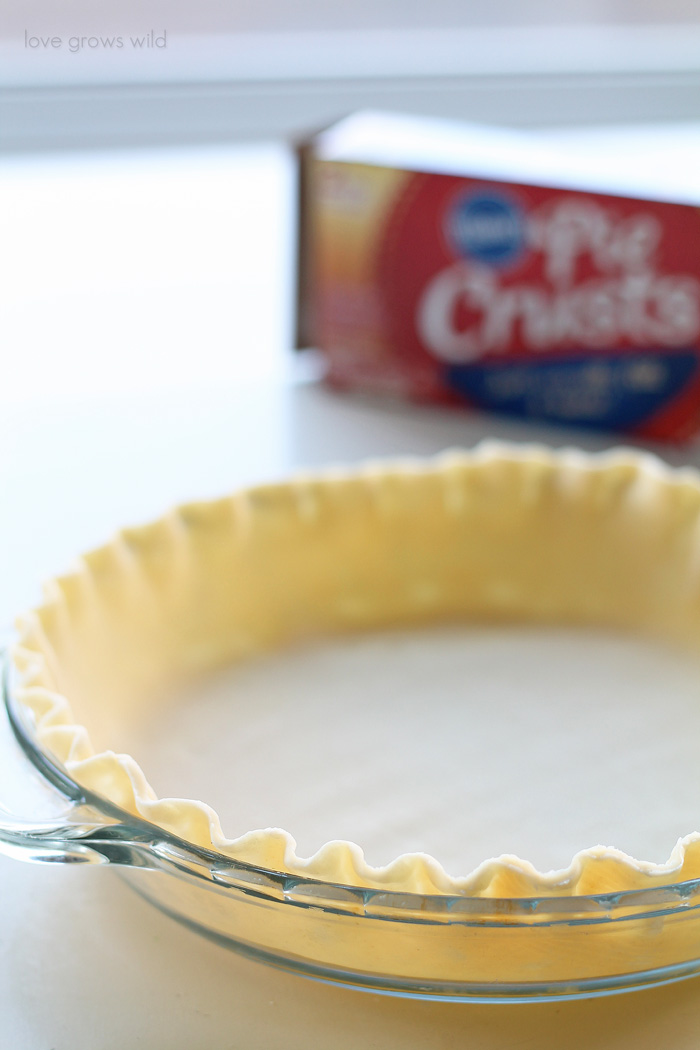 If you've never made a fruit pie before, don't let it intimidate you. It can be very easy! I'm a big fan of using the Pillsbury refrigerate pie crusts, which saves me the hassle of making my own crust from scratch. Homemade is totally doable and definitely delicious, but I just like the convenience of store-bought crusts!
You can use fresh OR frozen peaches for this recipe, which means you can enjoy a warm slice of peach pie during any season. Fresh peaches, of course, taste amazing, but again, I love the convenience of picking up a bag of frozen peaches from the grocery store and not having to peel and slice them myself. It's totally your call!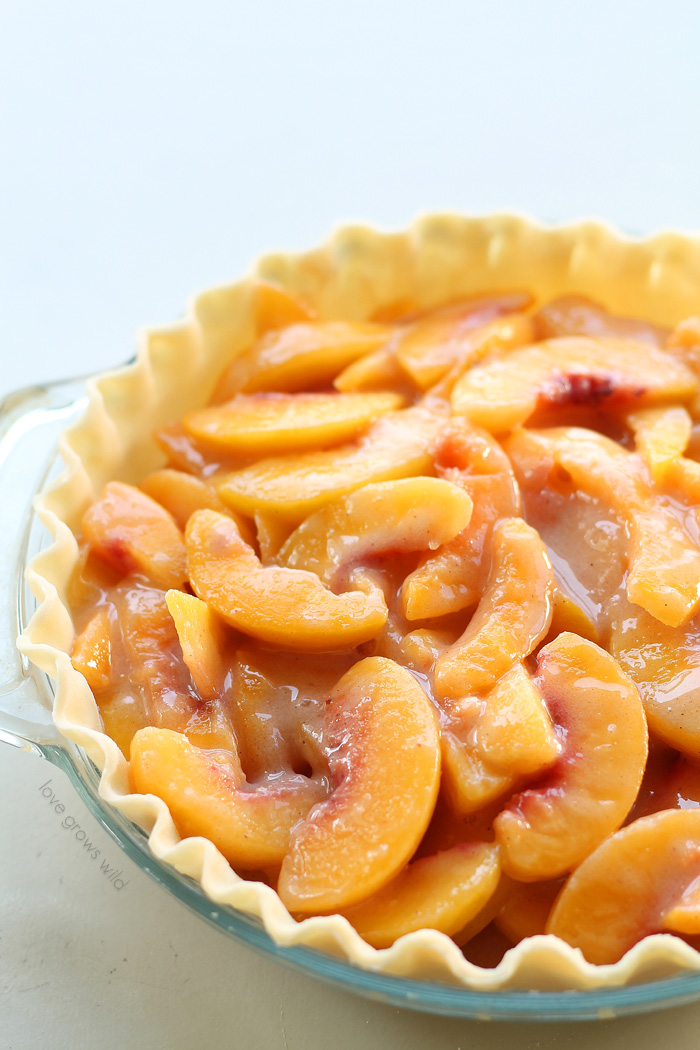 Can we just talk about this almond crumble for a second? Oh man, is it good. I'm a sucker for a crumble topping on anything, especially these muffins, but adding almonds to the mix adds an extra crunch and nutty flavor that makes this peach pie something truly special.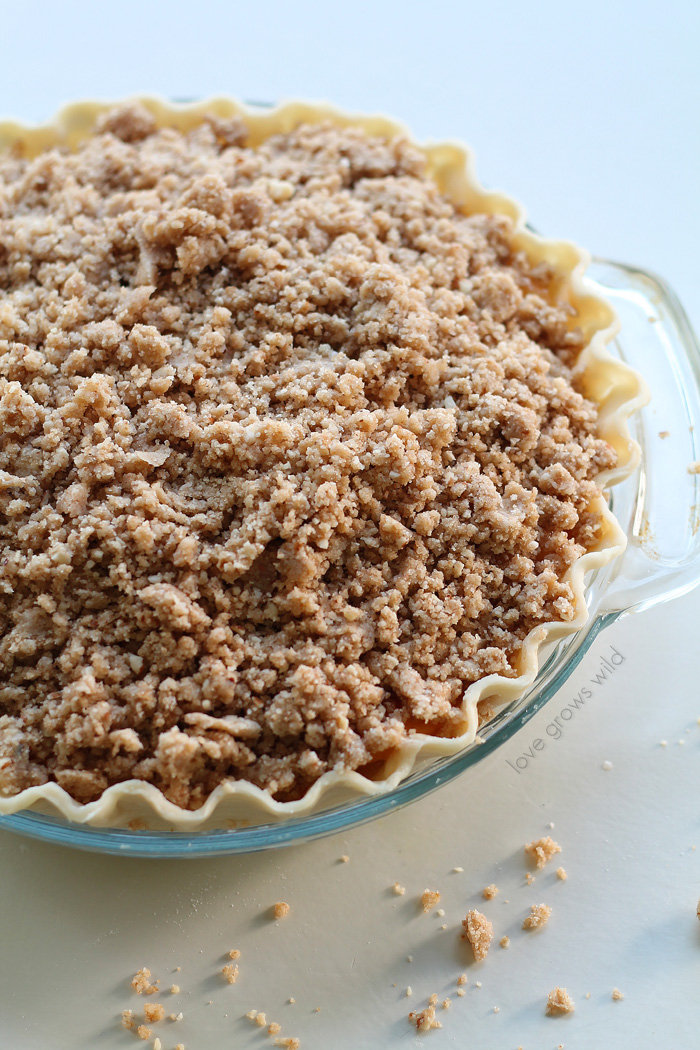 I bake the pie for about a half hour covered with foil to give the peach filling a chance to cook and thicken, then I remove the foil for the last 15 minutes to allow the pie crust and crumble topping to develop a nice, golden brown color. Now comes the hard part…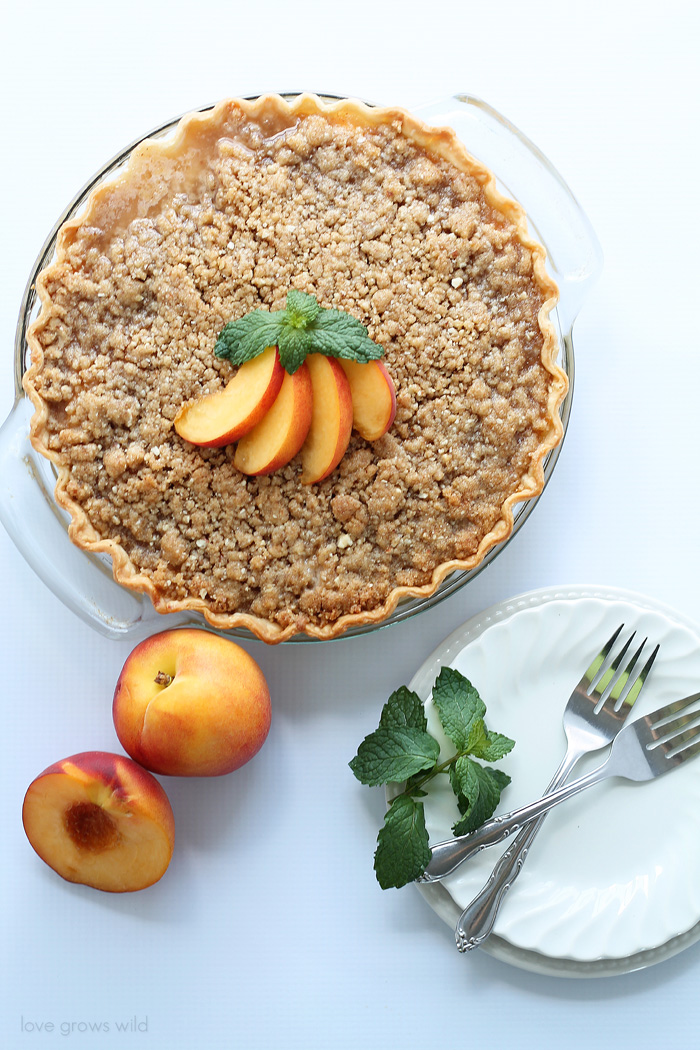 … letting the pie cool for 2 hours before diving in to serve that first slice.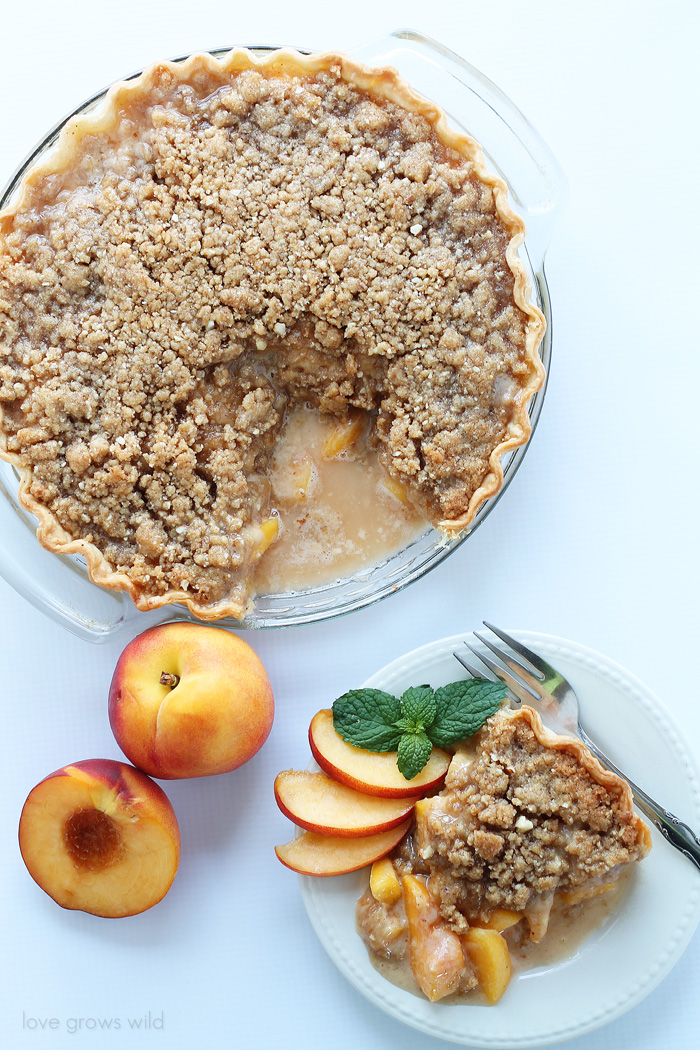 This pie takes full advantage of the sweet flavors of summer, and I know you're going to love it as much as I do. Serve it warm with a scoop of vanilla ice cream for an extra special treat!
– Tell Me: What's your favorite pie flavor?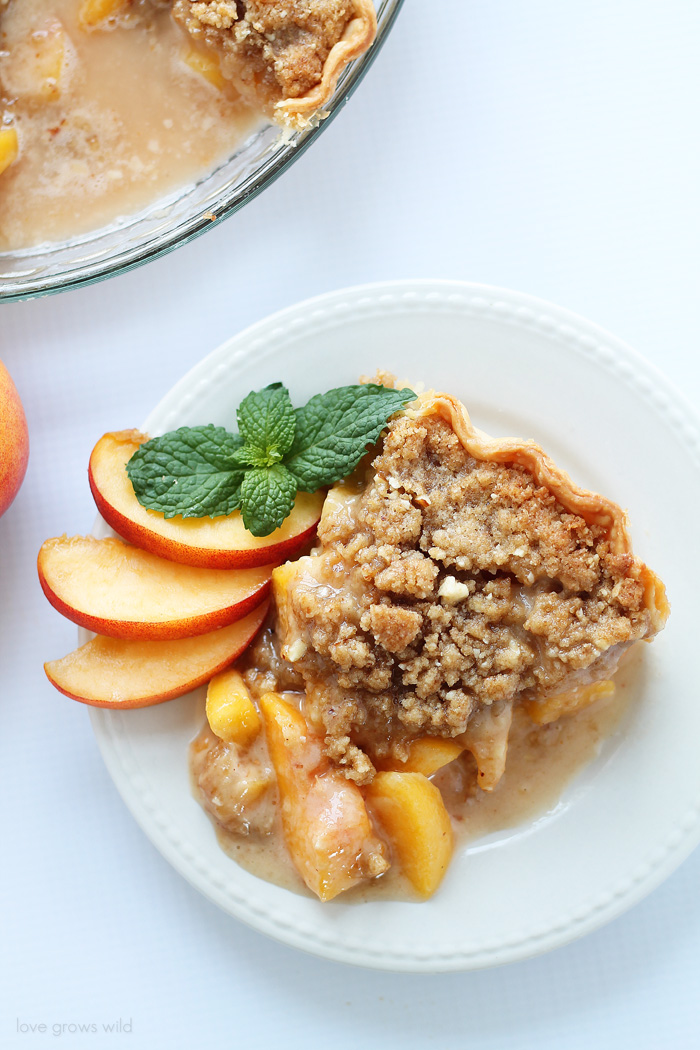 Like what you see? Subscribe to Love Grows Wild so you'll never miss a post!
Follow along on Pinterest, Google+, Instagram, and Facebook for more fun!
Peach Pie with Almond Crumble
Enjoy the best flavors of summer with this perfect peach pie topped with a delicious almond crumble!
INGREDIENTS
Pie:
1 refrigerated pie crust (I use Pillsbury)
⅔ cup granulated sugar + 2 tablespoons
⅓ cup all-purpose flour
¼ teaspoon ground cinnamon
6 cups peaches, peeled and sliced (see notes below)
1 teaspoon lemon juice

Crumble:
1 cup flour
¼ teaspoon salt
½ cup brown sugar
1 stick cold unsalted butter, cut into cubes
¼ cup almonds, whole
INSTRUCTIONS
For the Pie: Place peach slices in a large bowl and sprinkle with 2 tablespoons of sugar. Gently stir until peaches are evenly coated and let sit for 10-15 minutes. Drain any juices that have collected and toss peach slices with lemon juice. In a large mixing bowl, combine the remaining ⅔ cup sugar, flour, and cinnamon. Add peach slices and stir until evenly coated in the sugar mixture.
Heat oven to 400ºF. Line a pie pan with the refrigerated pie crust and flute edges, if desired. Spoon peaches into the pastry-lined pie pan and add the crumble topping over the peaches. (see crumble instructions below)
Loosely tent pie with foil and bake on the middle oven rack for 45 minutes, removing the foil for the last 15 minutes. Cool pie on a wire rack at least 2 hours before serving.
For the Crumble: Add flour and salt to a food processor and pulse until combined. Add brown sugar, butter, and almonds and process again until well combined. Sprinkle almond crumble over the peaches before baking.
NOTES
- You can use fresh OR frozen peaches in this recipe. If using fresh, you'll need about 6-8 medium peaches, peeled and sliced. If using frozen, thaw the peaches completely and drain any liquid before using. I prefer to use frozen for convenience purposes, but fresh peaches in season taste the best!

- Letting the peaches sit coated in sugar for 10-15 minutes draws the juices out of the fruit, which is called maceration. By draining that excess liquid before baking the peaches into a pie, you'll have a fruit filling that is thick and syrupy, not thin and watery.
– Adapted from Martha Stewart and Betty Crocker recipes
Enjoy! xoxo Liz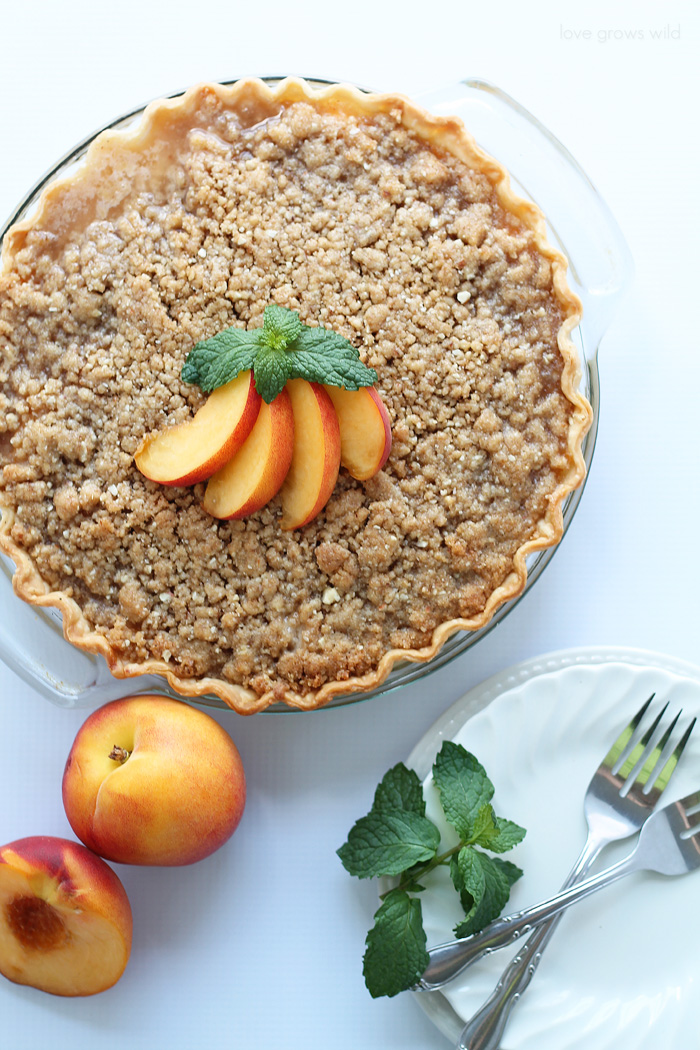 ---
More Summer Dessert Ideas: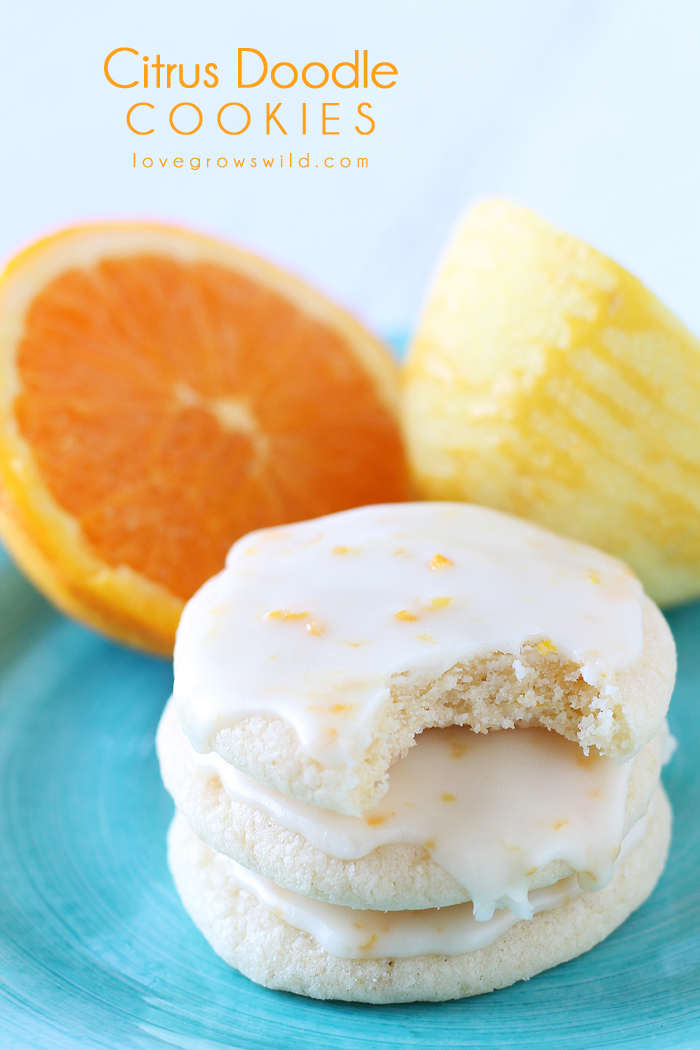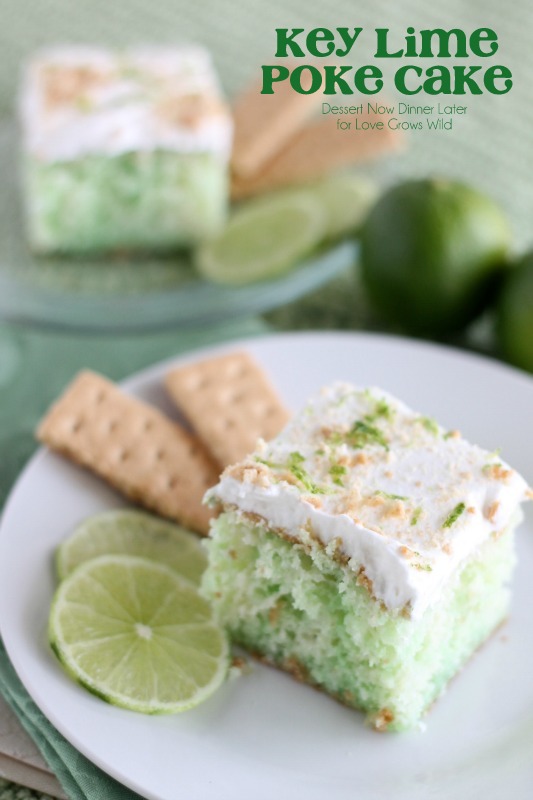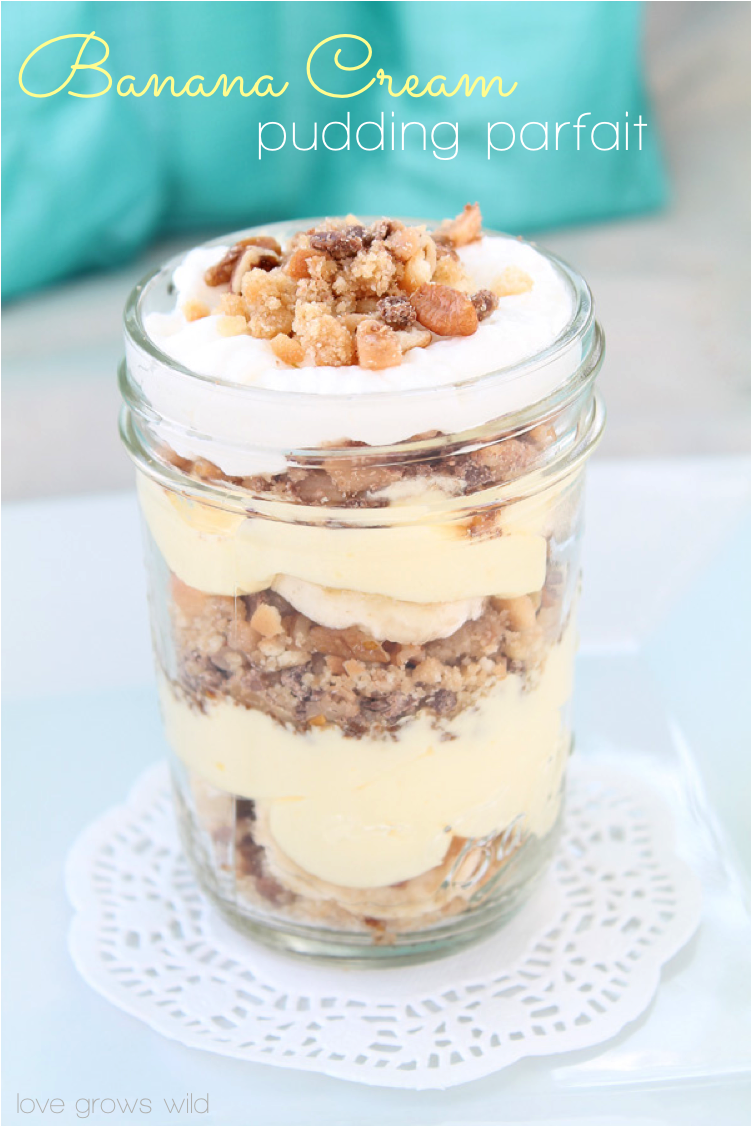 ---
LET'S KEEP IN TOUCH!
Subscribe to Blog | Browse my Shop | Follow on Facebook | Follow on Twitter
Follow on Google+ | Follow on Pinterest | Follow on Instagram