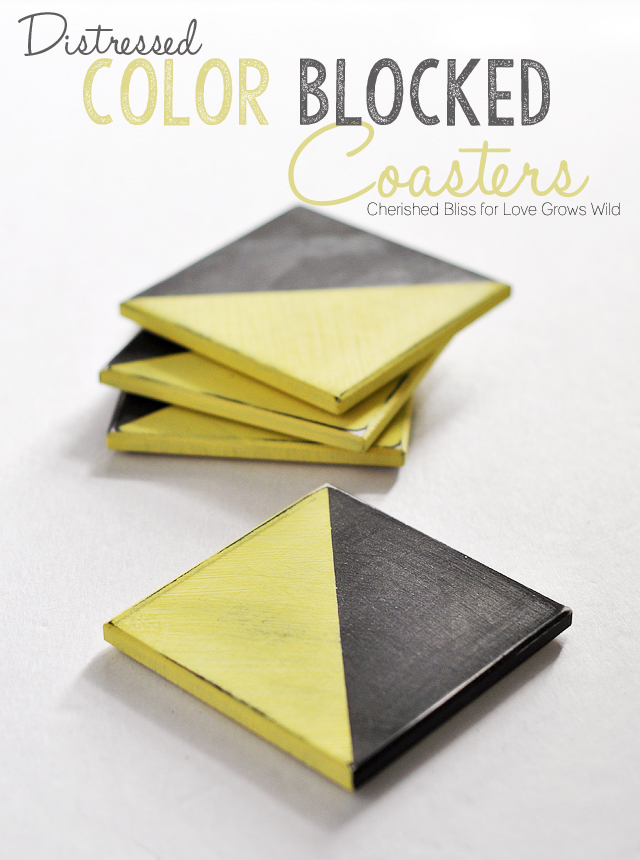 By Ashley of Cherished Bliss
Hello there Love Grows Wild Readers! It's Ashley from Cherished Bliss and I'm so excited to be back again this month sharing another tutorial with you! I just finished my living room reveal, and I've been working tirelessly on redoing my kitchen, so it was nice to do a quick project that I could finish in one day! : ) Nothing like a sense of accomplishment to give you a little boost to finish out those longer projects! Today I am sharing how I made these Distressed Color Blocked Coasters!
I actually got these coasters from a friend who thought I could use them for something.
Not so pretty huh? I fixed that! You only need a few things to turn any coaster into something pretty! You can use any color combination you wish, but I'll share with you how I did mine!
Supplies:
– Cheapo coasters
– Spray Paint Primer
– Oil Rubbed Bronze Spray Praint
– Yellow and White Acrylic Paint
– Painter's Tape
– Fine Grit Sandpaper
Tutorial:
To get started, I spray painted the coasters with a coat of primer first. Then I added on the Oil Rubbed Bronze Spray Paint. I love the oil rubbed bronze because it has a little bit of shimmer to it without screaming glitter! That is why I went with this instead of just choosing like a black or really dark brown. This was a nice contrast to the flat acrylic paint.
Once this is completely dry, tear off a piece of painter's tape and put it on your coaster diagonally making sure to line it up with the corners. Press down firmly to make sure it is fully sealed! Then paint one half with your acrylic paint. I actually mixed the yellow and white because without the white the yellow was a little to primary for me. I wanted it to be a little more muted. So just mix until you get the color you are picturing in your head ; ) Remove your painter's tape while the paint is still wet, then let dry.
After it is fully dry, take your sandpaper and just distress it. I focused on the edges and trying to blend the yellow in.
Now just grab a drink and use those coasters! No more water rings on my furniture! : )
Do you have any old coasters lying around you would love to "upgrade"?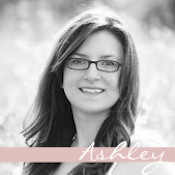 Connect with Ashley:
Blog | Facebook | Twitter | Pinterest
I hope you enjoyed this little tutorial! If you want to see what I've been up to over on my blog, I'd love to have you stop over and say hi! : ) Here's a little sneak peek! : )
Eclectic Cottage Living Room


DIY Succulent Planter

---
LET'S KEEP IN TOUCH!