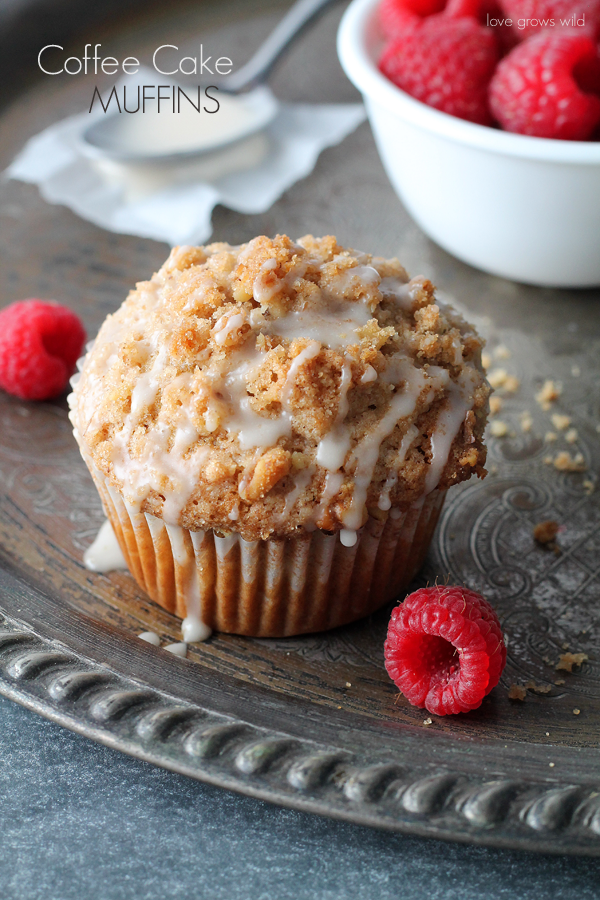 Okay, so it's the start of a new year, and I'm currently in a full-on, madly in love, inseparable relationship with healthy breakfast smoothies! I seriously can't get enough of them. I've been trying out different ingredients and variations, and I've almost gotten it down to a science for delicious, vitamin-rich, protein-packed smoothies. Should I share some of the recipes here on the blog? Are you up for the whole "green smoothie" thing? Cause I can tell you right now, I've never had more energy or felt so good!
BUT until I send you on the path to green smoothie Heaven, you need to try these Coffee Cake Muffins! I'm a big fan of regular coffee cake, and these muffins are right on point… The muffin itself is flavored with plenty of cinnamon and of course, some strong brewed coffee. Coffee = Good, in my book! I also add a delicious fruity filling in the middle that is super easy with the help of a handy kitchen shortcut. Every good coffee cake has a thick layer of crunchy cinnamon sugar topping, and this one is even better with the addition of chopped walnuts! The icing on the cake, quite literally, is a sugary sweet vanilla glaze drizzled all over the muffin tops (wait… don't say muffin top!), the TOP of the muffins, that completes the perfect coffee cake, muffin-style!
Bottom line, these muffins are the bomb.com! Yes, I just said that. They really are every bit as delicious as classic coffee cake, but in cute, little individual portions. See, portion control! I'm always looking out for ya. 😉
To view this recipe, click here!
I'm sharing this delicious breakfast treat over at The Recipe Critic today, so head on over to check it out! There's plenty more pictures to drool over and a recipe you won't want to miss!
What do you usually eat for breakfast?
Let's Keep in Touch!
Subscribe to Blog | Browse my Shop | Follow on Facebook | Follow on Twitter
Follow on Google+ | Follow on Pinterest | Follow on Instagram