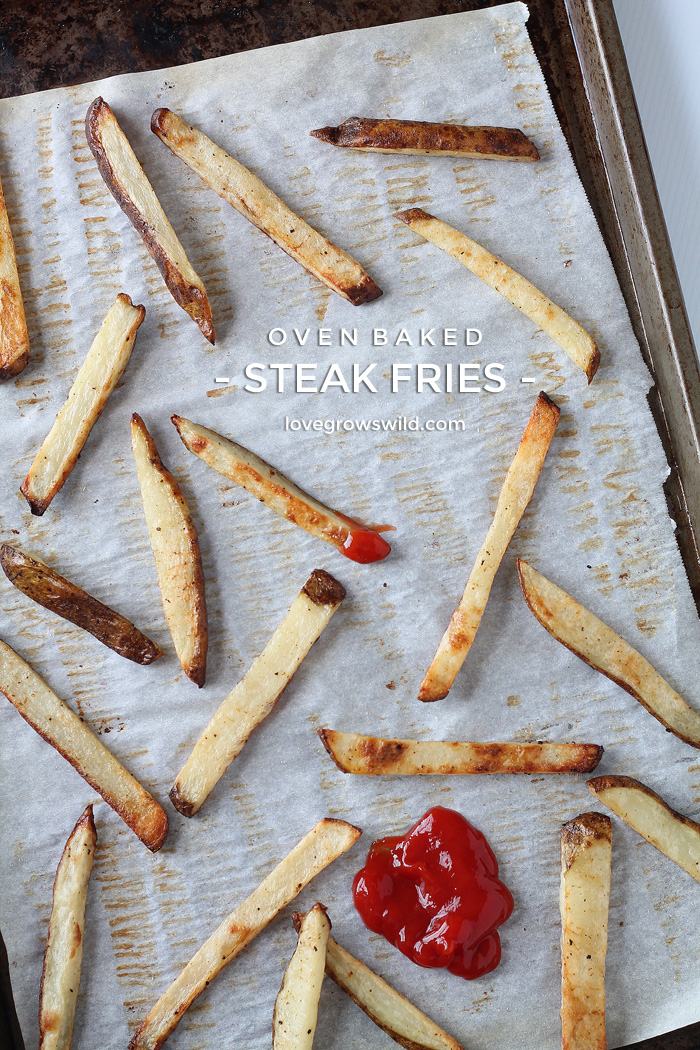 Oh, french fries. How I love thee. Curly, seasoned fries… thin, crispy, shoestring fries… and definitely sweet potatoes fries with chipotle lime aioli. Mmmmhmm. As much as I love a sinfully delicious fried potato, if I'm making fries at home I always opt for these easier and MUCH healthier Oven Baked Steak Fries. They're thick cut, extra crispy, and perfect for dipping. Did I mention how ridiculously delicious they are?? Go ahead and try to eat just one of these bad boys… I dare ya!
Here's one very important trick I've learned for making the perfect batch of french fries: Soak 'em. Soak 'em good!
Soaking your potatoes will help remove a lot of the starch, which allows them to crisp up on the outside while keeping a soft potato texture on the inside. If I'm in a hurry, I'll just soak them for an hour, but I generally like to let them sit for several hours to overnight if I'm smart enough to plan ahead that day. Which rarely happens, but hey, I try!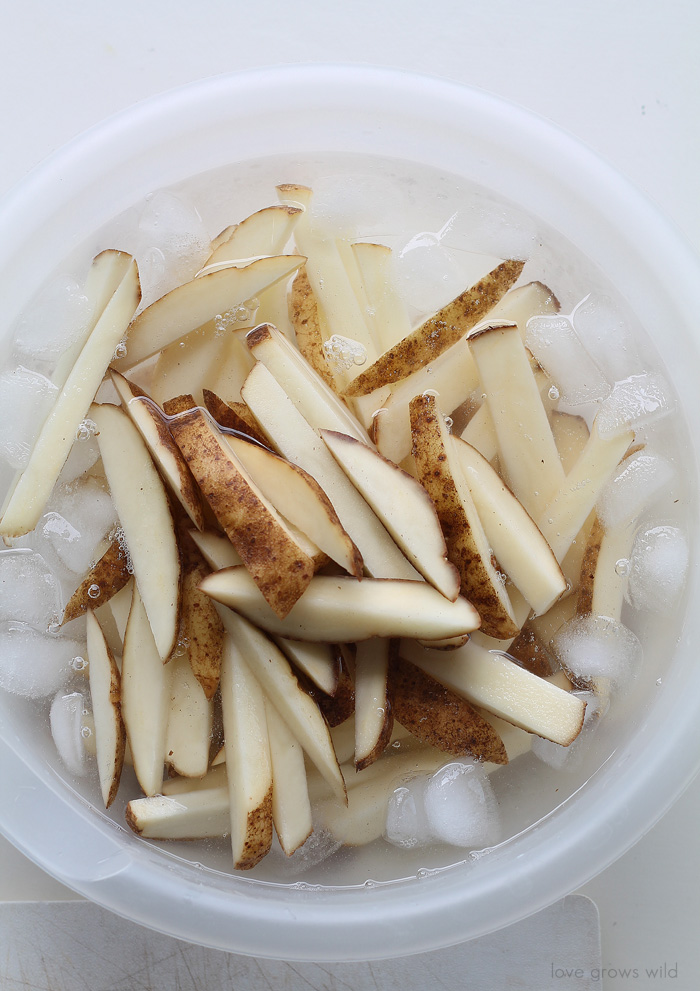 A little bit of oil and a simple seasoning mixture are all you need for delicious baked fries that will go with just about any meal. Burgers and fries, for sure. Italian beef sammies and fries, oh yeah. Spaghetti and fries… um, why not?
Sometimes I like to jazz up my fries with a little extra spice, some garlic, or a sprinkle of cheese, but this is a great basic recipe that I promise you and your family will love. Make sure you have plenty of ketchup or your favorite dipping sauce on hand, and you might even want to make a double batch… they will disappear quickly!
Like what you see? Subscribe to Love Grows Wild so you'll never miss a post!
Follow along on Pinterest, Google+, Instagram, and Facebook for more fun!
Oven Baked Steak Fries
These Oven Baked Steak Fries are thick, crispy, and ready for dipping! Much healthier than fried and SO addicting!
INGREDIENTS
3 large or 4 medium russet potatoes
2 tablespoons canola oil
1 tablespoon cornstarch
1 teaspoon seasoned salt
½ teaspoon salt
¼ teaspoon black pepper
INSTRUCTIONS
Cut potatoes lengthwise into ½" thick slices. Then cut each slice lengthwise into ½" sticks. Fill a large bowl with cold water and soak the potato slices for at least 1 hour. Drain the potatoes and pat them dry with paper towels.
Preheat oven to 425ºF. In a large bowl, toss the potatoes with canola oil to coat. Mix the cornstarch, seasoned salt, salt, and pepper in a small bowl, and add to potatoes. Toss until potatoes are evenly coated in the seasoning mixture.
Place potatoes in a single layer on parchment-lined baking sheets and bake for 45 minutes, flipping the potatoes halfway through. Check the potatoes and continue baking another 5-15 minutes until desired crispness is reached. Serve with your favorite dipping sauce and enjoy!
NOTES
- Bake time will depend on your oven, how thick you slice the potatoes, and how much you crowd the baking sheets. Keep a close eye on the potatoes after 40-45 minutes, as they can burn quickly!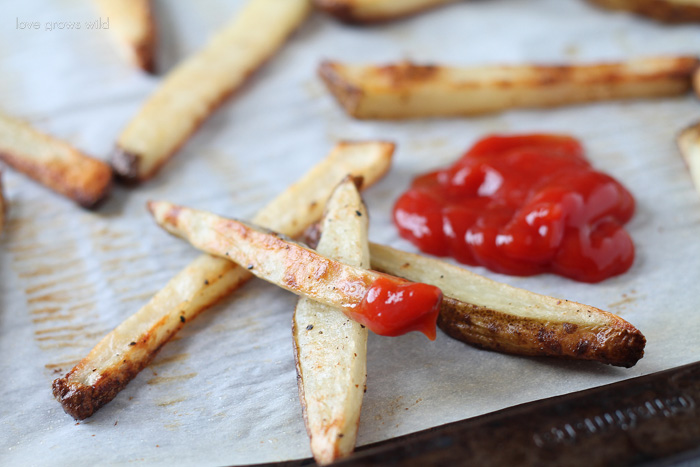 ---
More Delicious Side Dishes: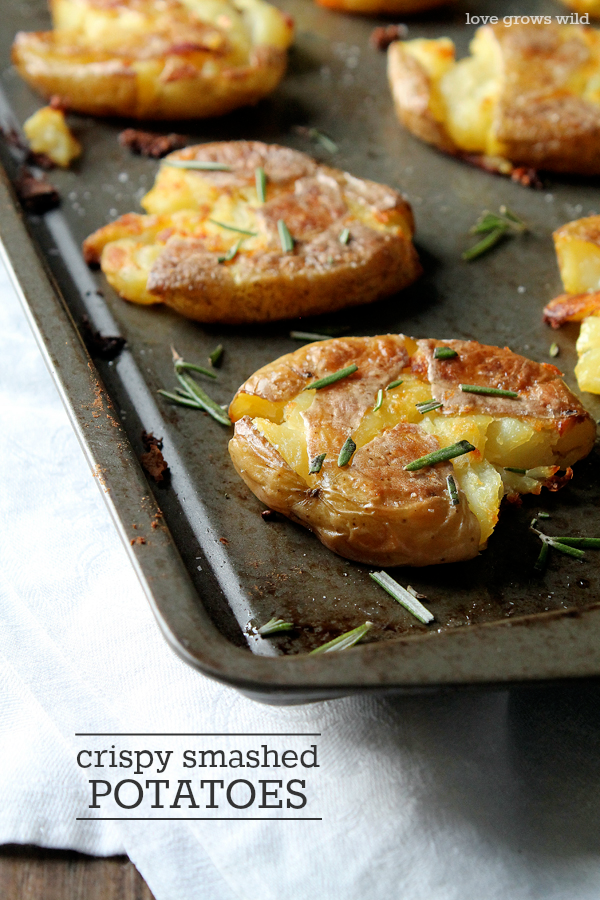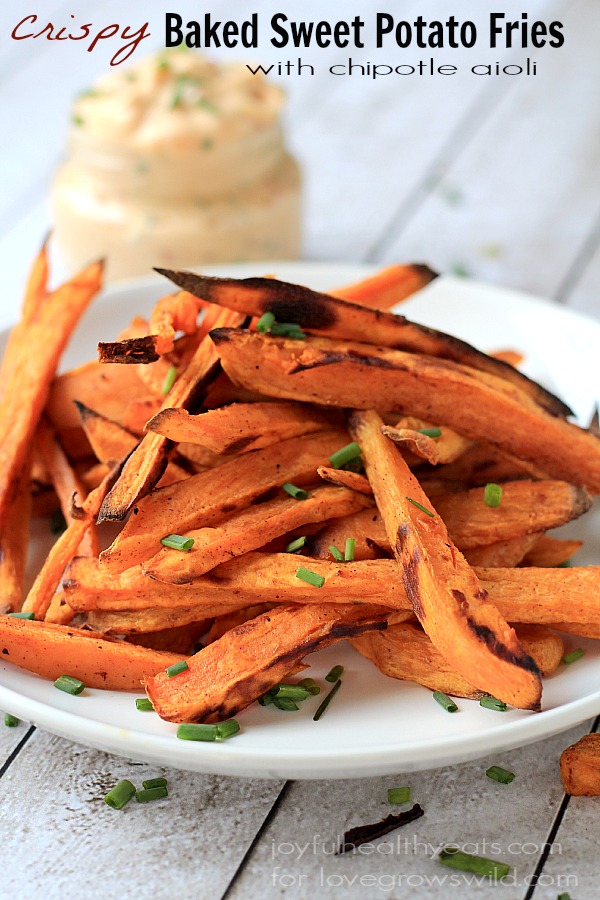 Crispy Baked Sweet Potato Fries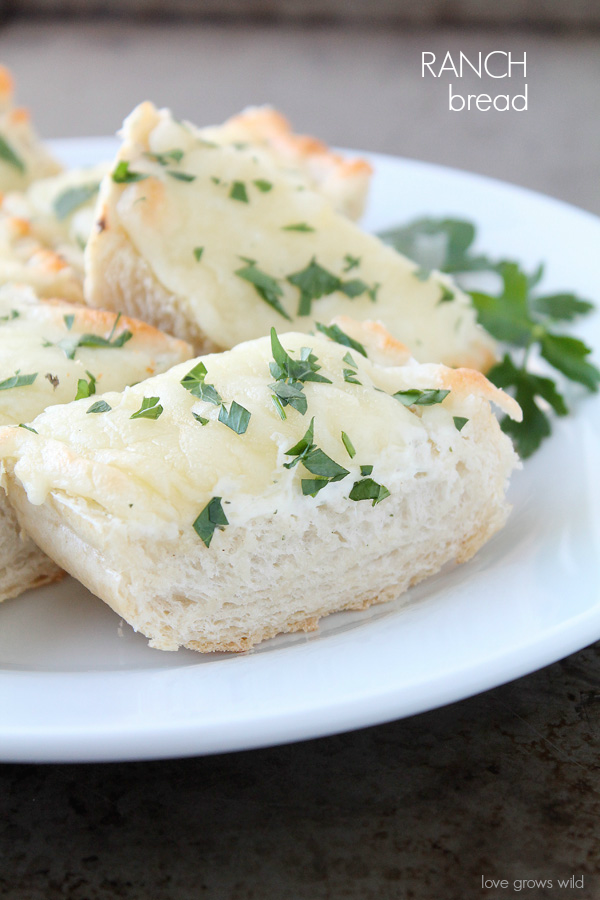 ---
LET'S KEEP IN TOUCH!
Subscribe to Blog | Browse my Shop | Follow on Facebook | Follow on Twitter
Follow on Google+ | Follow on Pinterest | Follow on Instagram