Fresh Pineapple Margaritas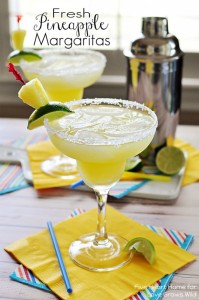 Author:
Samantha of Five Heart Home
1 cup fresh (or frozen - thawed) pineapple chunks
1 ounce (2 tablespoons) fresh-squeezed lime juice
1 ounce (2 tablespoons) fresh-squeezed orange juice
⅛ to ¼ cup superfine sugar (*see Notes)
2 ounces (1/4 cup) good-quality tequila (preferably silver)
1½ ounces (3 tablespoons) orange liqueur (such as triple sec or Cointreau)
Ice
1 tablespoon Kosher salt
1 tablespoon coarse/sparkling sugar
Lime wedges & pineapple chunks for garnish, if desired
Using a blender or food processor, blend pineapple chunks into a smooth purée. Pour purée into a shaker or pitcher along with lime juice, orange juice, sugar, tequila, and orange liqueur. Add about a cup of ice and shake or stir vigorously for 1 minute until mixture is well chilled.
Squeeze a little lime juice on one plate and sprinkle salt and coarse sugar on another plate in an even layer. Prepare two glasses by dipping the rim of each glass into the juice and then into the salt/sugar mixture until well-coated. Fill glasses with fresh ice and strain margarita mixture into glasses. Garnish with lime wedges and pineapple chunks, if desired.
- Superfine sugar quickly dissolves into cold liquids, but if you can't find it at the store, you can easily make your own by pouring an equivalent amount of granulated sugar in the food processor and processing for 30 seconds.

- If you are using fresh pineapple that is particularly sweet, you may want to start with ⅛ cup sugar and adjust, to taste. Frozen pineapple is not usually as sweet and will probably require the full ¼ cup sugar.
Recipe by
Love Grows Wild
at https://lovegrowswild.com/2014/04/fresh-pineapple-margaritas/