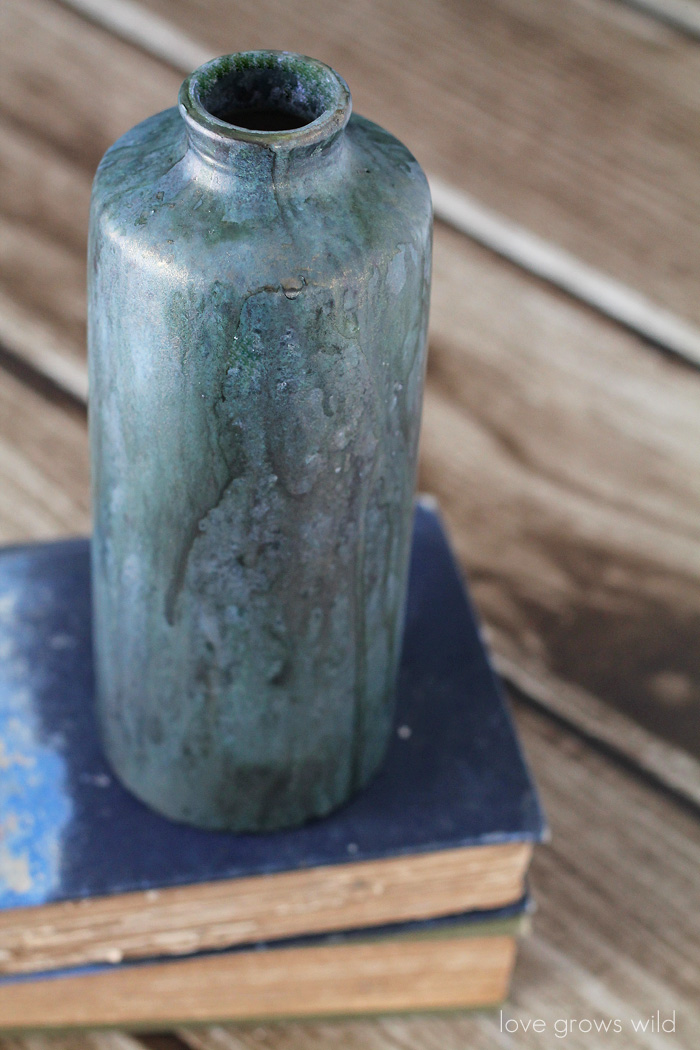 Isn't it funny how your style evolves over the years? When I first had my own apartment, I didn't have a dang clue how to decorate a home. I took my tiny, little paycheck from the tanning salon, went down to the local country-style decor boutique, and bought as many candles, vases, and knick-knacks as my bank account would allow. There were a lot of those country-ish stars involved in my purchase. It wasn't pretty.
Then I thought my style was UBER modern. I still love that style, but in my home full of rowdy, messy little boys, it just doesn't work. The clean, white, perfectly styled home I envisioned quickly changed into more of a rustic, comfortable mix of wood tones and cozy neutrals with plenty of old, weathered elements thrown in. And it totally works for us. Has your style changed over the years?
All of that brings me to today's project: a gorgeous bronze patina vase… DIY style, of course! Keep reading to find out how you can re-create this look in your home!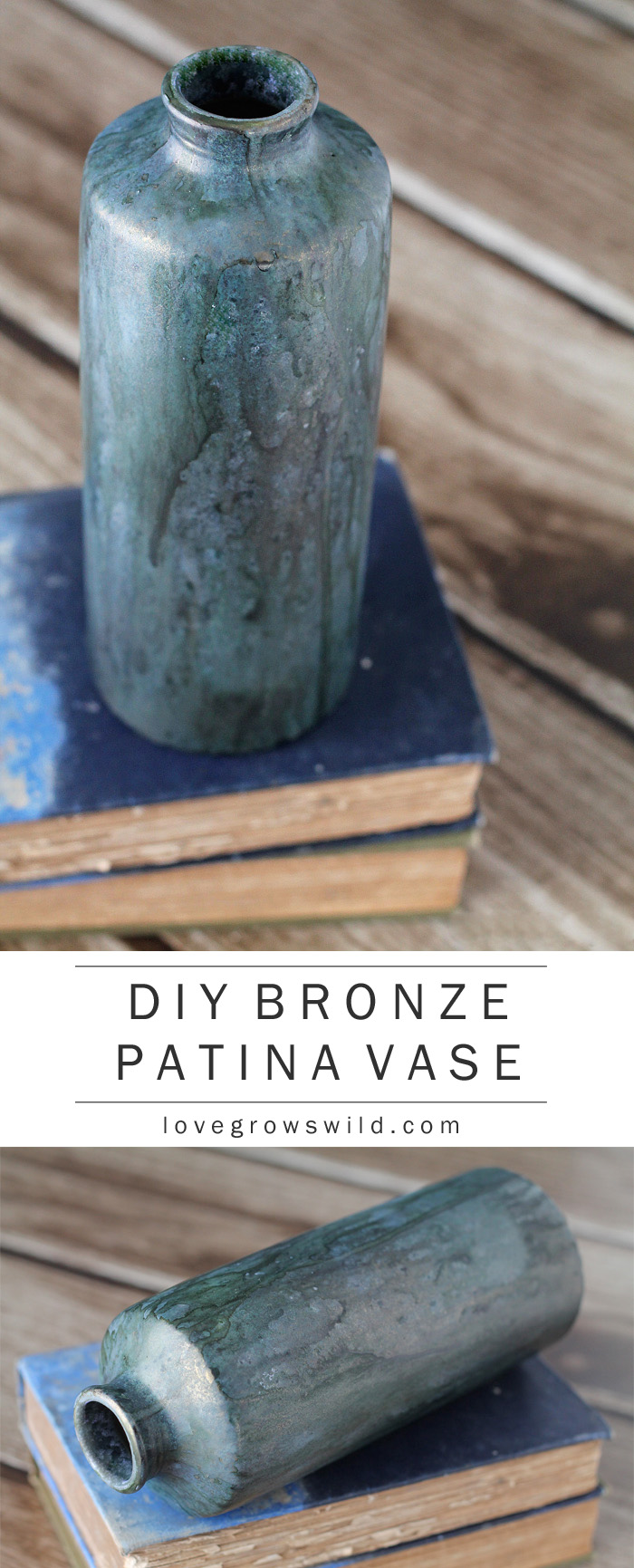 This vase started out its life olive green and very country. Remember that country boutique I told you about? Yeah, I've held onto this vase for a long time! I thought a fresh coat of spray paint in a fun color would make it look less country, and for some strange reason, I thought lavender sounded like a good idea. Do I have anything lavender in my house? No. I have no idea where that color choice came from!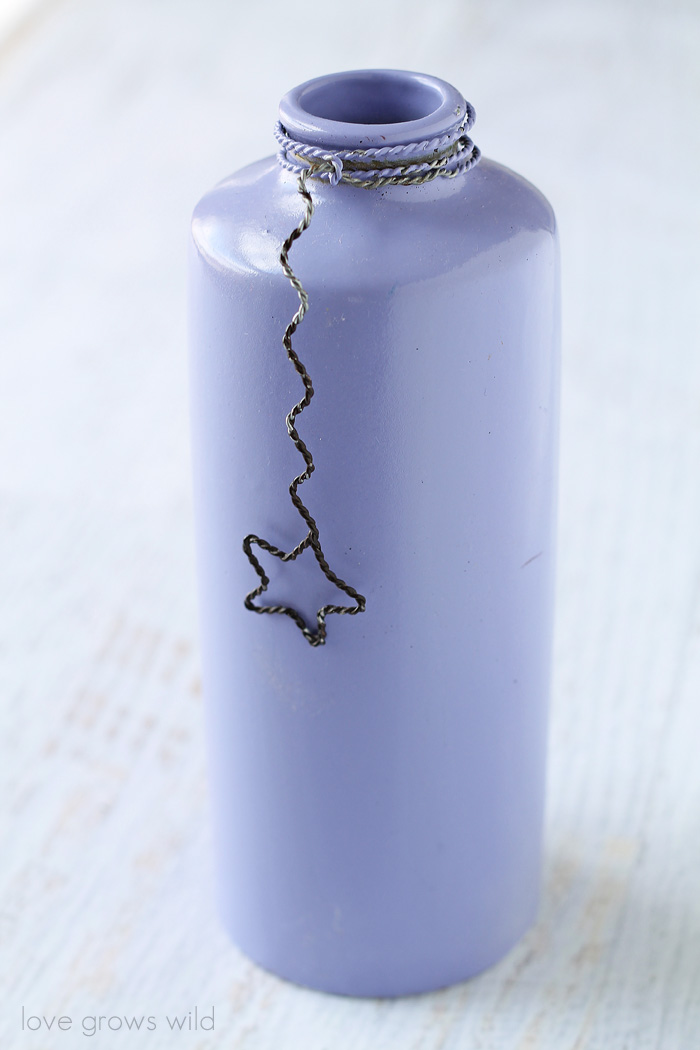 So the poor vase with a serious identity crisis has been sitting in my closet for quite some time now. Time for another makeover? I think so! Here's how I created this gorgeous patina look:
Rather than giving the vase a flat coat of spray paint like last time, I decided to use some paints and mists from Tattered Angels to create a multi-dimensional, layered look.
First I started with the Simply Sheer Matte Mist Watercolor in Soft Black to cover up some of the lavender.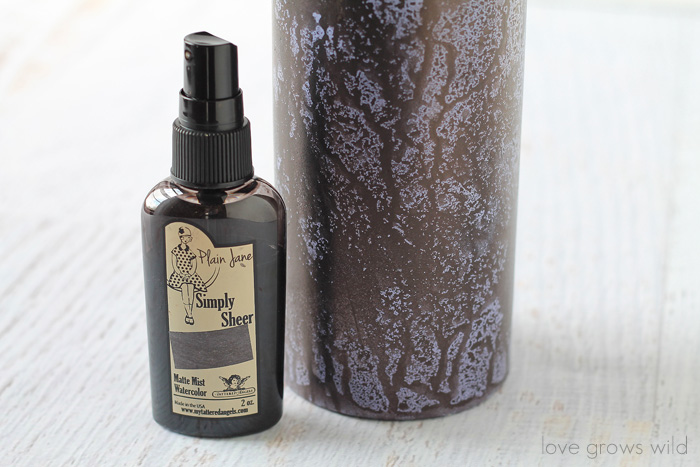 I sprayed the vase quite a bit until a good portion of the lavender was gone and a few drips started to form. Allowing the paint to drip gave it an interesting look that wasn't so perfectly uniform, which was exactly what I was going for. (Be sure to lay down newspaper or you'll have a very paint-covered table!)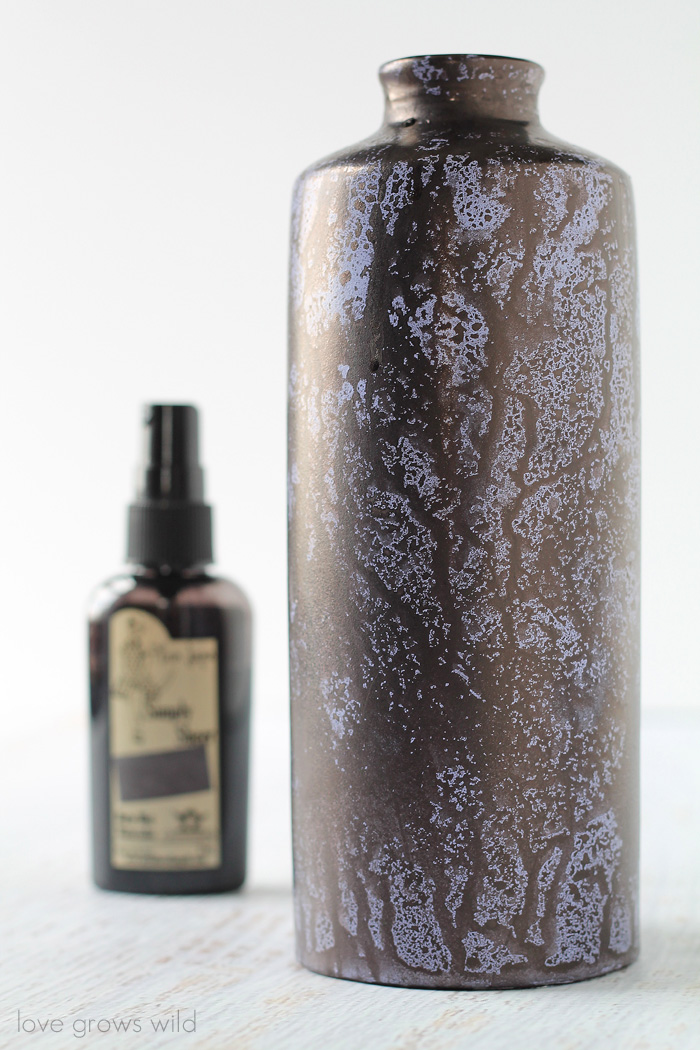 Feeling a little impatient, I used a hair dryer to dry the paint in between coats. Who knew a hair dryer could have so many great uses?
Once dry, I layered on other paint colors until I had the perfect aged patina look. First the Kiwi Glimmer Mist to add color and luster…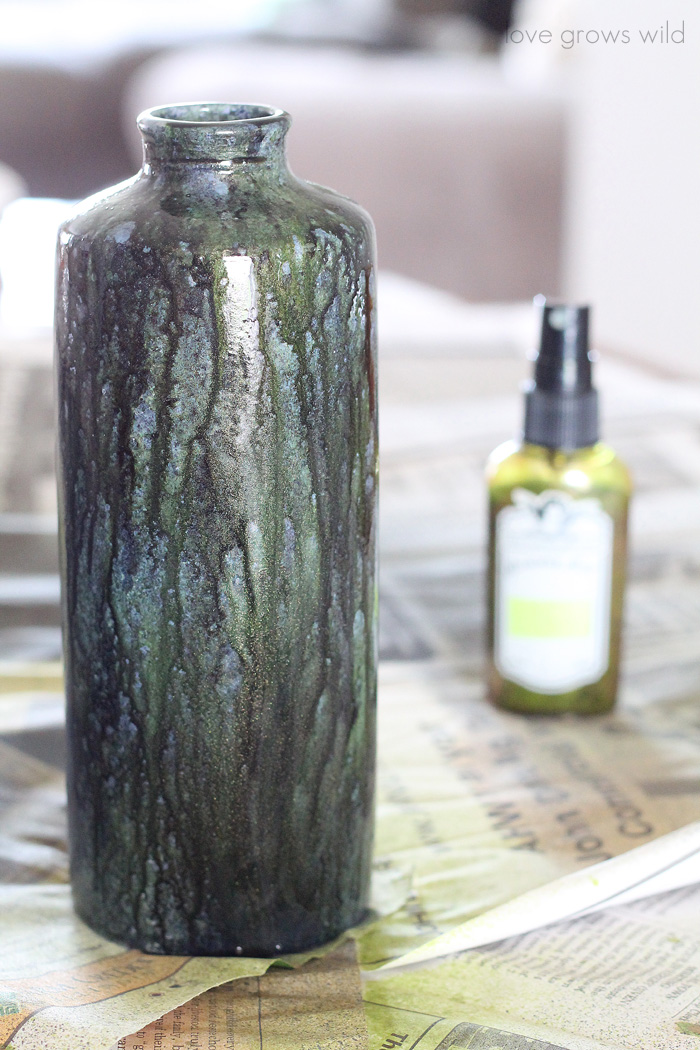 … then a flat white paint from the Weathered Birch Paint Kit to blend the colors together and make them really pop.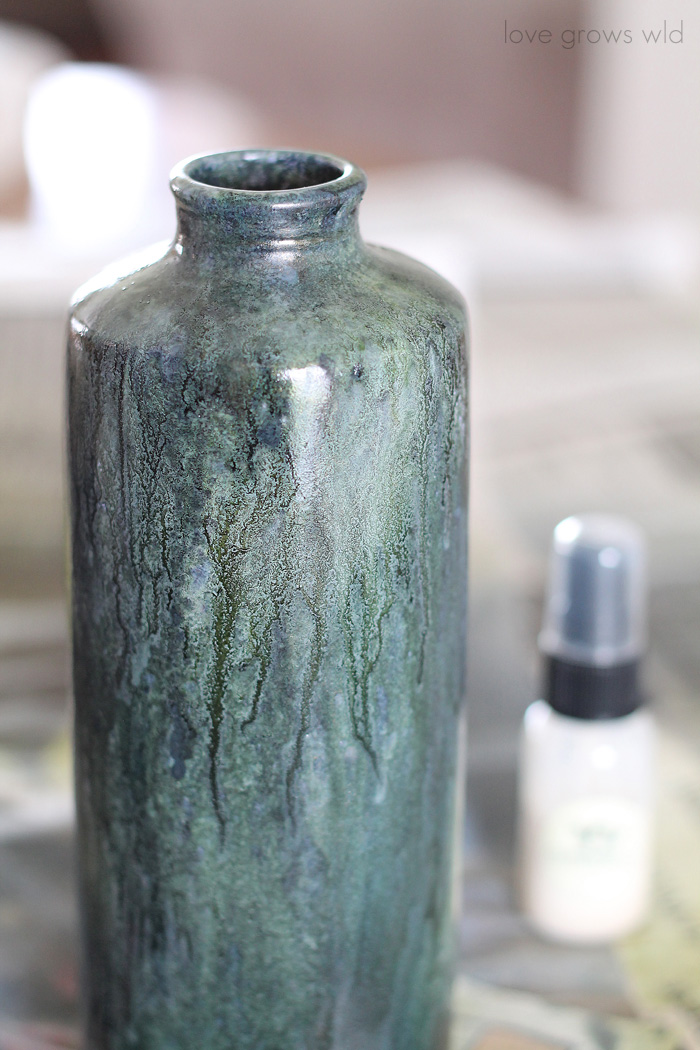 I let everything dry completely, and TA-DA! Aged Patina. In probably less than 15 minutes. Guys, I cannot tell you how pretty this color is in person! The photos simply do not do it justice!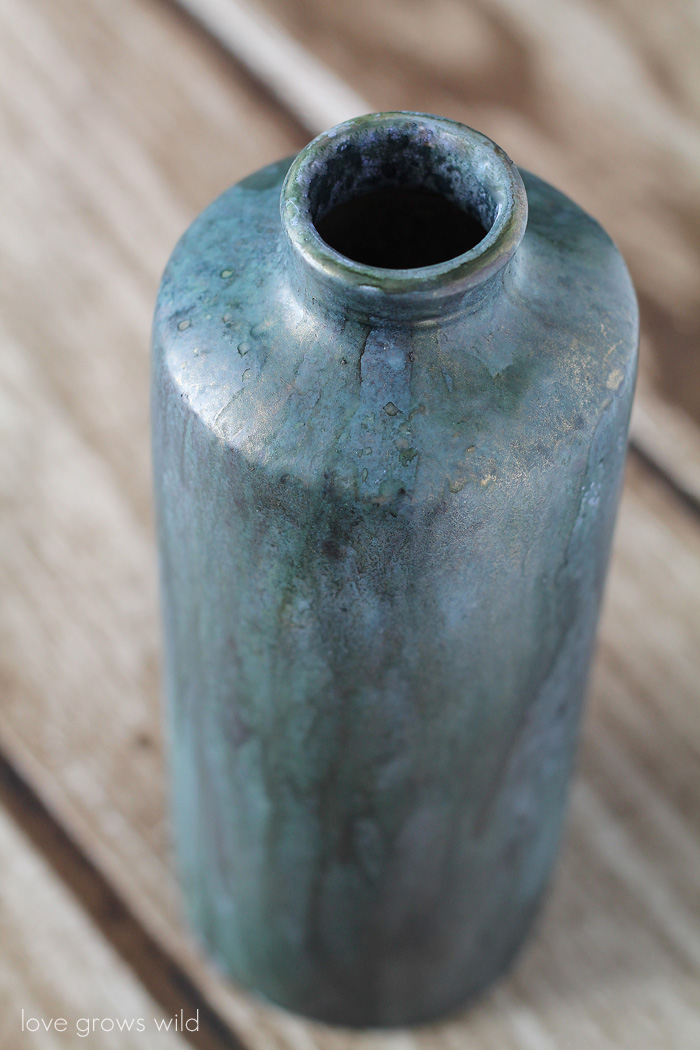 Now the vase looks anything but country or primitive, and I cannot wait to add it to a table or shelf somewhere. It adds subtle color without screaming, "HEY, I'M BRIGHT TEAL!" The finish reminds me of gorgeous aged bronze patina and has that layered, weathered-over-time look that I just love.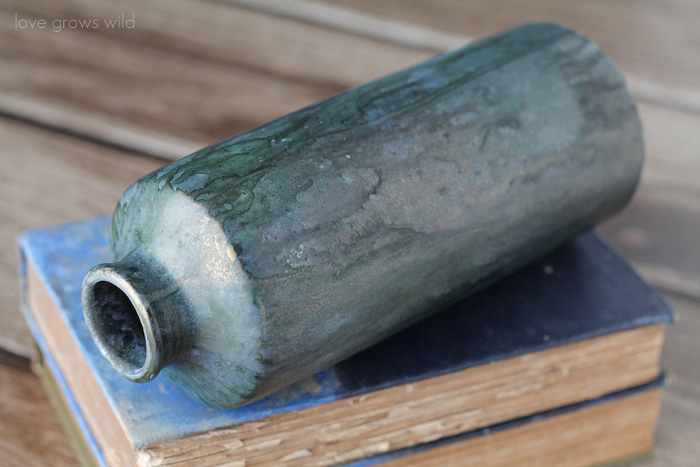 Normally my husband gives me the obligatory, "Looks great, honey!" response when I show him a finished project, but this vase got a, "Hey, that paint job would look great on my motorcycle." Whoa… I think that means this was a winner!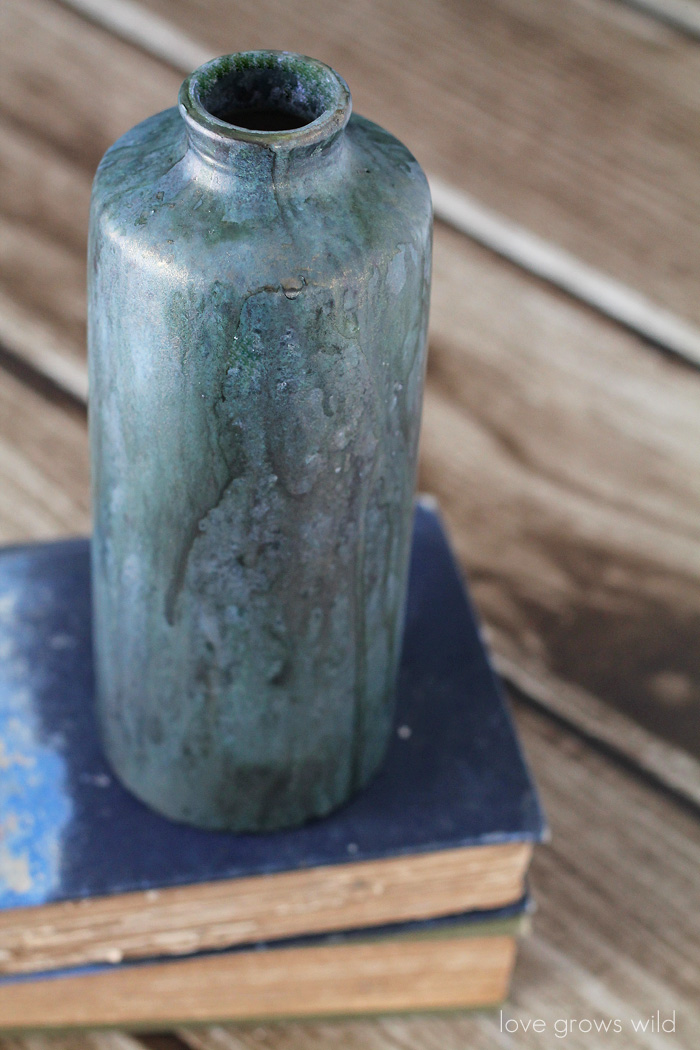 So what do YOU think? Do you like this look? Would you add this bronze patina somewhere in your home?
Thanks to Canvas Corp and Craftistas for the paints to play with!
Like what you see? Subscribe to Love Grows Wild so you'll never miss a post!
Follow along on Pinterest, Google+, Instagram, and Facebook for more fun!
More Home Decor Projects: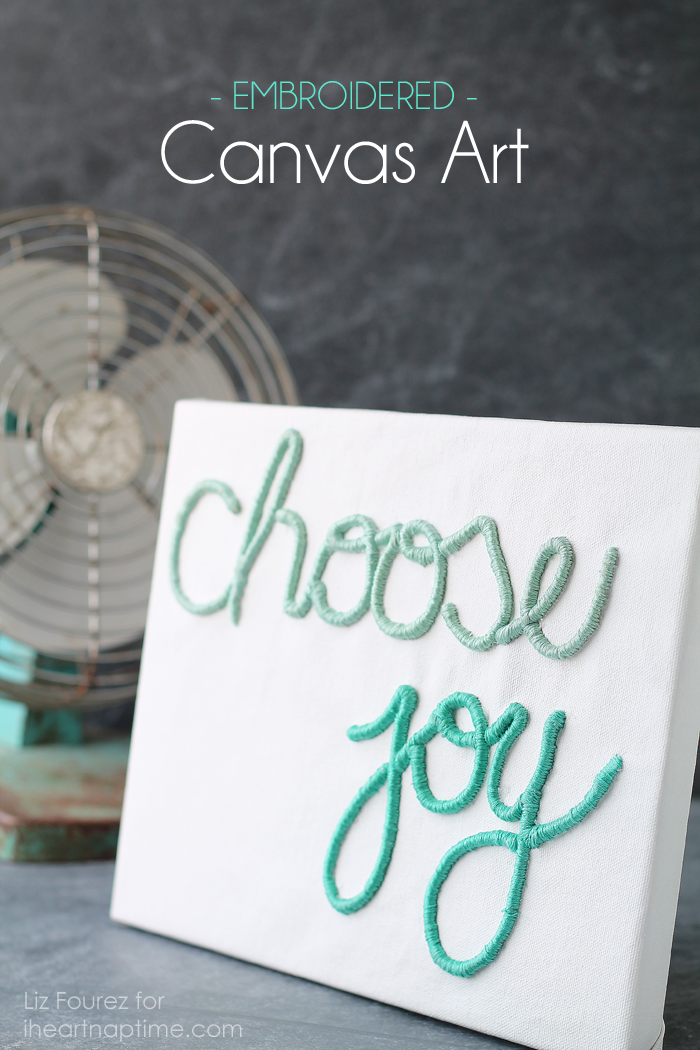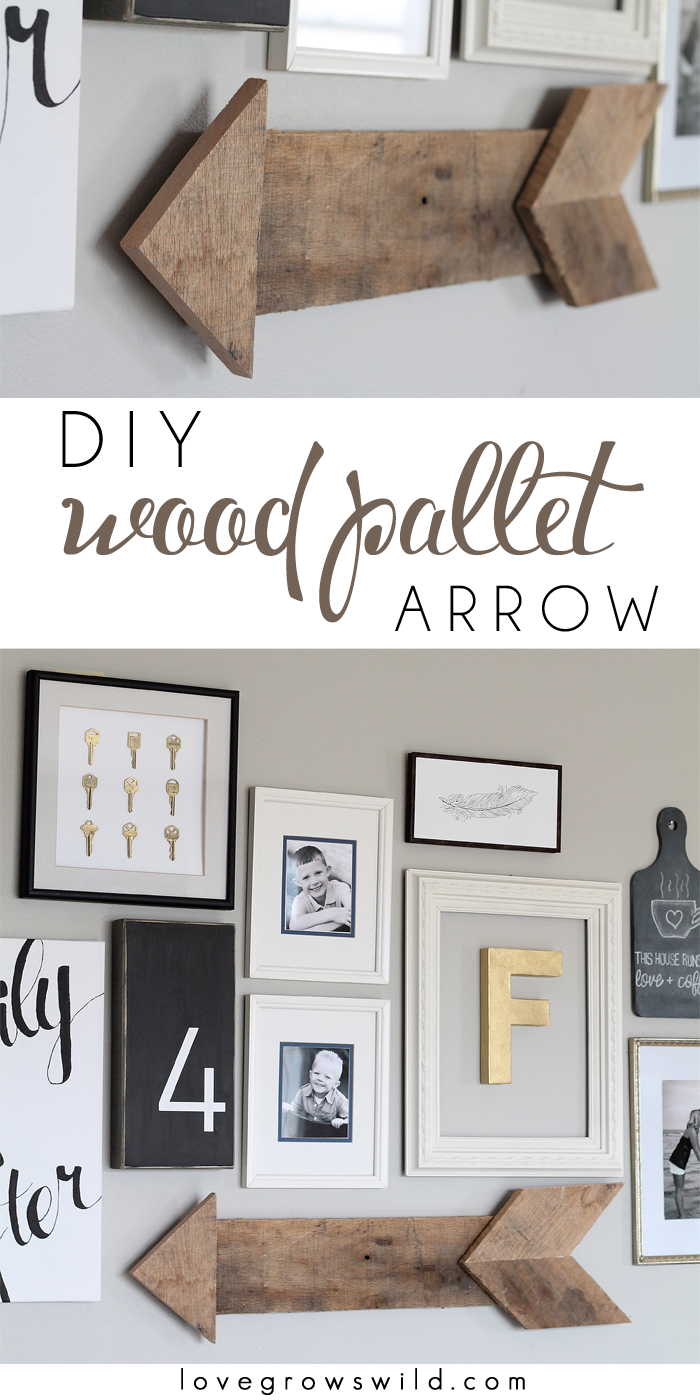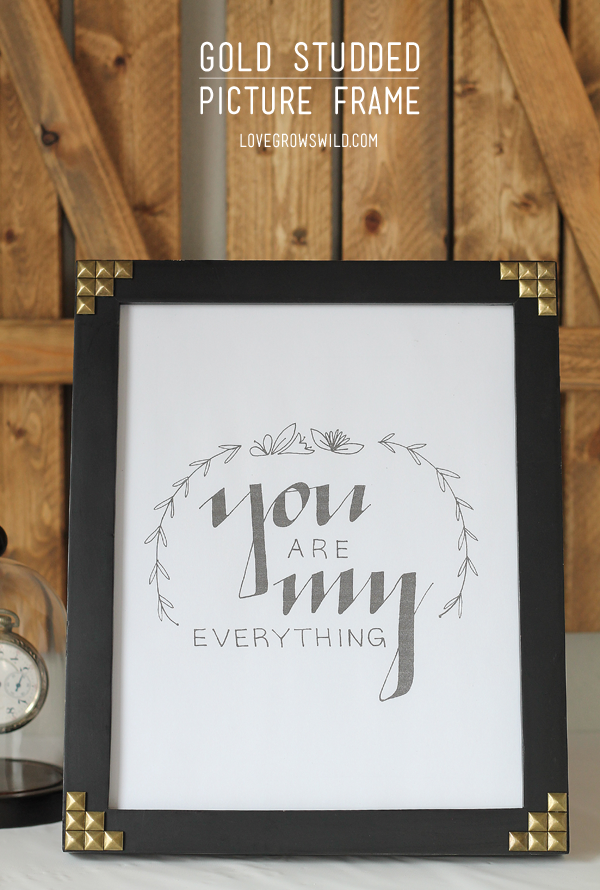 LET'S KEEP IN TOUCH!
Subscribe to Blog | Browse my Shop | Follow on Facebook | Follow on Twitter
Follow on Google+ | Follow on Pinterest | Follow on Instagram