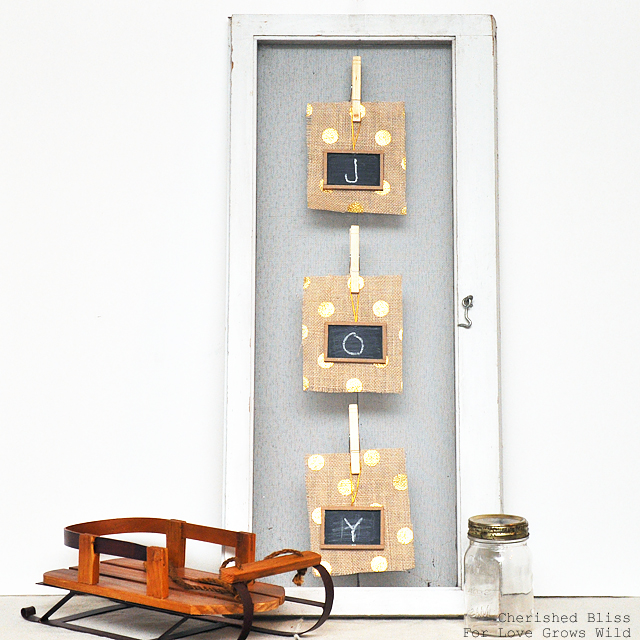 Hello everyone! Ashley from
Cherished Bliss
here again! I have something exciting for you today. My very first Christmas post, eekkkkkk! I know, it's the beginning of November, but it's not too early right? I mean we need time to prepare! : ) This year I am going with a gold and white theme with a few natural elements thrown in. Obviously there will be something chalkboard about my Christmas decor…. ok, fine, I'm sure there will be lots. I can't get one over on you! So let's take a look at my fun new sign (which includes chalkboards)!
See you're ready for Christmas too aren't you?! 😉 This is really easy to make! I started out with an old window screen that I got from a rental we lived in, but you could just as easily make this work for a regular frame too! You won't need much else for this little project.
Supplies:
– Frame
– Adorable Polka Dot Burlap (I got mine at Joann's)
– Clothespins
– Chalkboard ornaments (also at Joann's)
– Hot glue gun
Tutorial:
First just cut out some rectangles from your burlap. I just laid my chalkboard ornament on there and cut around making sure it was big enough : ) I have to say, I am in love with this burlap. I made some burlap stockings a few years ago, and I wish this existed then. Wouldn't it make adorable stockings?
Then I just applied some hot glue to the clothespins and stuck it straight on the screen. To make sure it was sturdy, I applied some glue on the back of the screen as well.
Once you have it glued on just hang your burlap and chalkboard ornament from your clothespin and write your letters on the adorable little mini chalkboard. Can't get much easier than that! I try to keep it simple these days. It seems I can barely get food on the table, much less keep the house clean, work on my blog, and decorate. These kiddos keep me busy! But with just a few extra minutes you can have a cute new Joy sign for Christmas!
I hope you enjoyed this little Joy sign tutorial. Hope to see you over at my blog,
Cherished Bliss
!
Have a fabulous day!
Connect with Ashley:
Let's Keep In Touch!