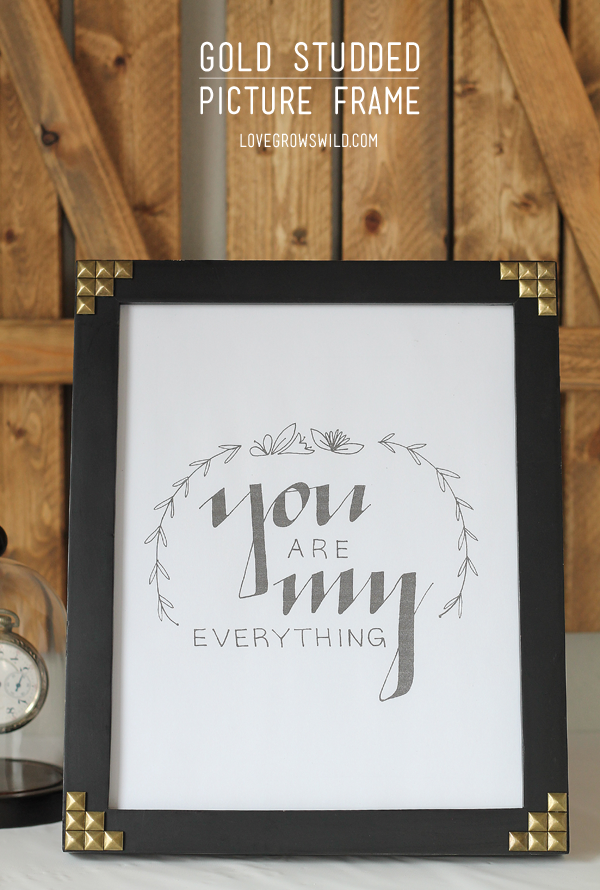 This is a Sponsored post written by me on behalf of Krazy Glue for SocialSpark. All opinions are 100% mine.
If you asked me 5 years ago if I liked gold or silver better, there would be no question. Gold seemed so outdated, and silver felt fresh and modern. Fast forward to today, and my style has changed in ways I never could have imagined, including a deep love for all things gold. Gold bangle jewelry, gold candlesticks, gold, gold, and more gold.
Another trend I'm loving right now? Studs! No, not Channing Tatum or Chris Hemsworth… although they're super yummy too. I'm talking about those little metal studs that seem to be all over in fashion and home decor right now. Studded pillows? Love 'em. Studded jeans? Love 'em too. Gold Studded anything… Yes, please! So today I'm going to show you an easy Gold Studded Picture Frame that has a trendy, high-end look for just dollars!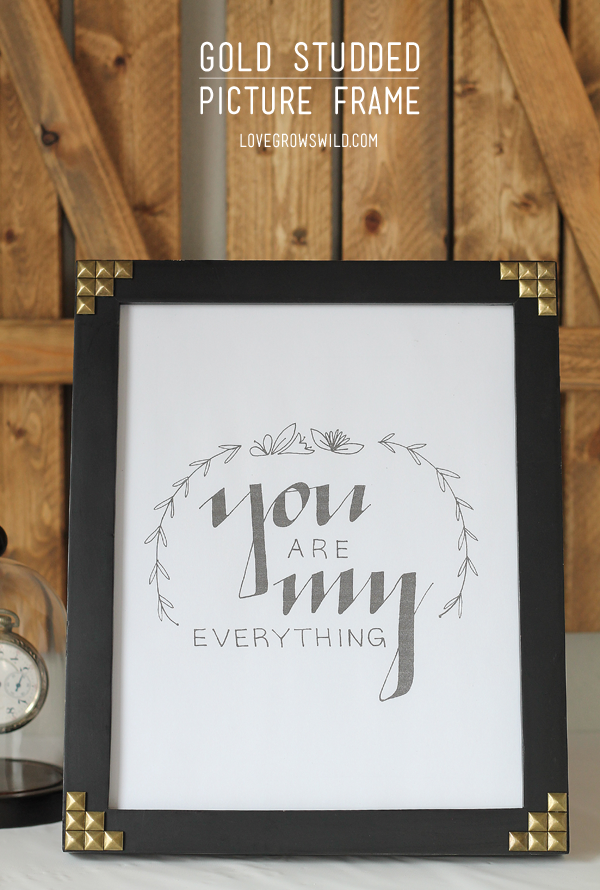 Supplies:
picture frame
gold studs
Krazy Glue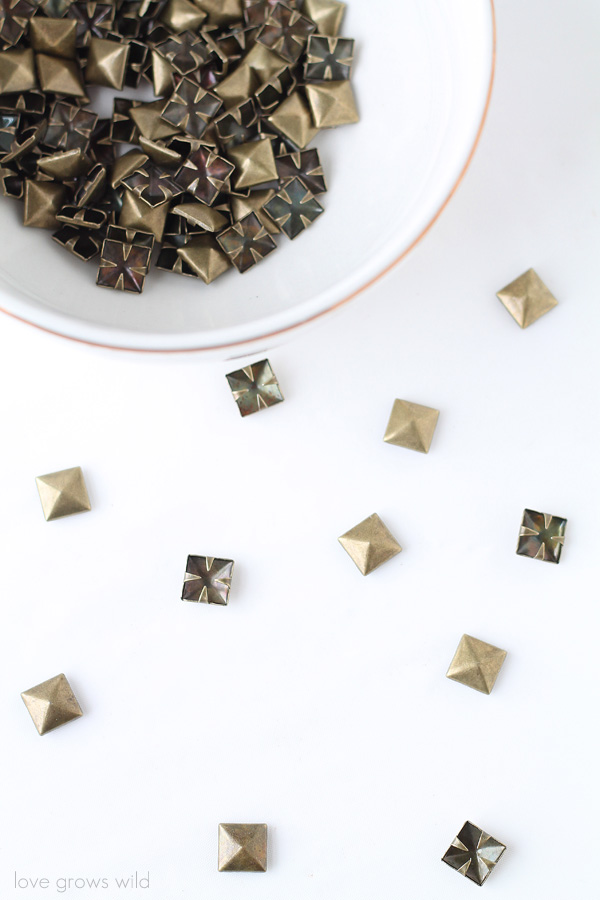 For this project, I used an old picture frame I had with a flat front (curvy, grooved frames won't work well for this). If you don't have an old frame laying around, shop thrift stores! I can always find a ton of them for pretty cheap. It literally pains me now to pay full retail price for a picture frame after making this discovery. And don't forget, if it's not the right color, you can always spray paint it!
I found packages of gold studs at my local craft store, near the clothing and wearables section. These particular studs had spikes on the back, but it was easy to bend them down flat.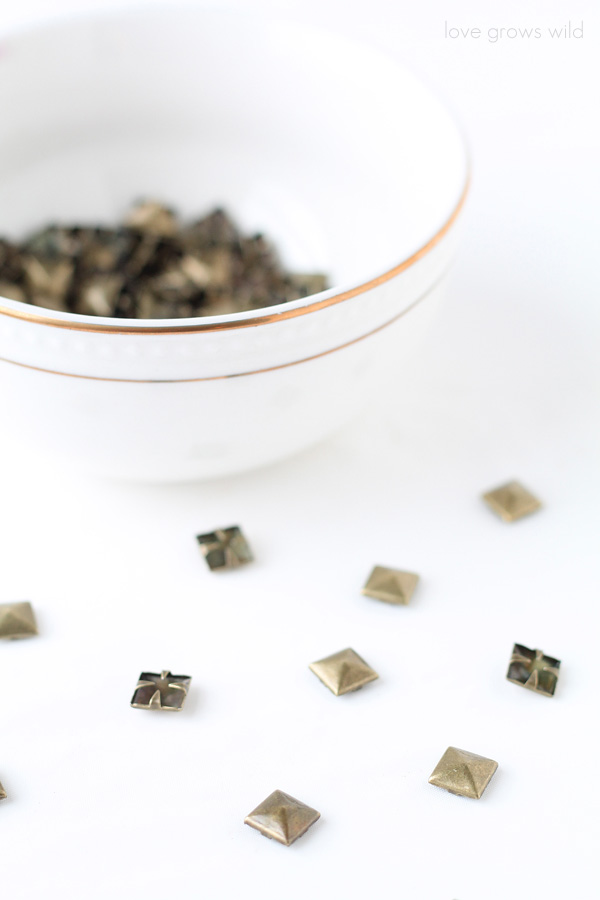 I found the easiest way to attach the studs to the picture frame was with good, old Krazy Glue. It creates a strong bond almost instantly, and the precision tip applicator makes it easy to put the glue exactly where I need it. I just dabbed a tiny amount of Krazy Glue on the back of a stud (where the spikes are bent down) and placed it right onto the picture frame.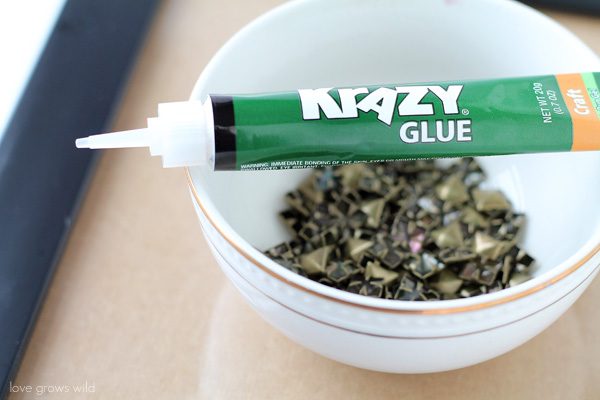 I tried two different kinds of Krazy Glue for this project: the craft Krazy Glue and maximum bond Krazy Glue. For this particular project I prefered the maximum bond because of its fantastic no-drip gel formula. It stayed exactly where I put it!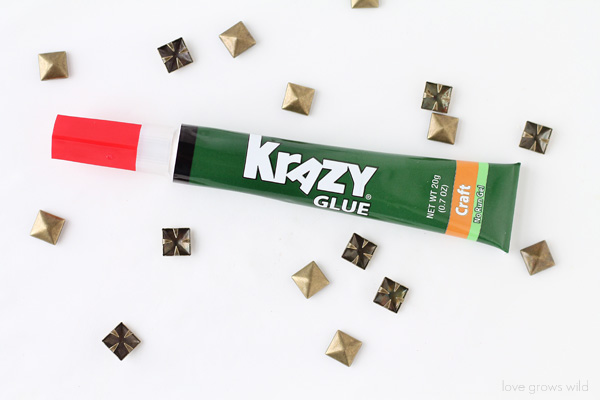 I placed 6 studs in each corner of the frame and was done in no time. I seriously finished this frame before I could have even heated up a glue gun! And the best part… no glue strands, no mess, and no burns. Yes!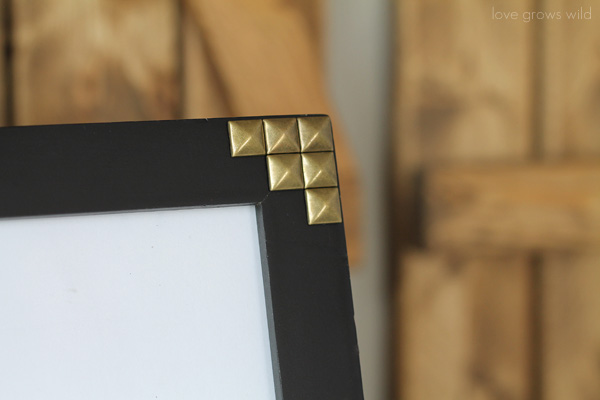 Did you know Krazy Glue even works on metal, vinyl, rubber, and glass? That opens up a whole new world of crafting possibilities!
I found this cute printable from C.R.A.F.T., and I think it's absolutely adorable in my new frame. I can't decide where to put it… bedroom, living room, office?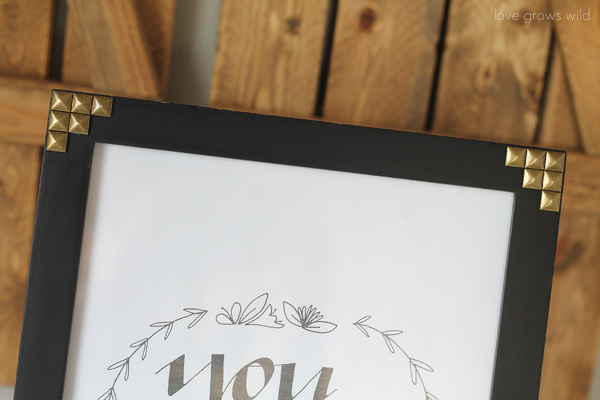 Elmer's Krazy Glue works Krazy strong, Krazy fast! Be sure to follow the Krazy Glue Pinterest page so you can create more masterpieces in minutes!
What projects would you create with Elmer's Krazy Glue?
Let's Keep In Touch!