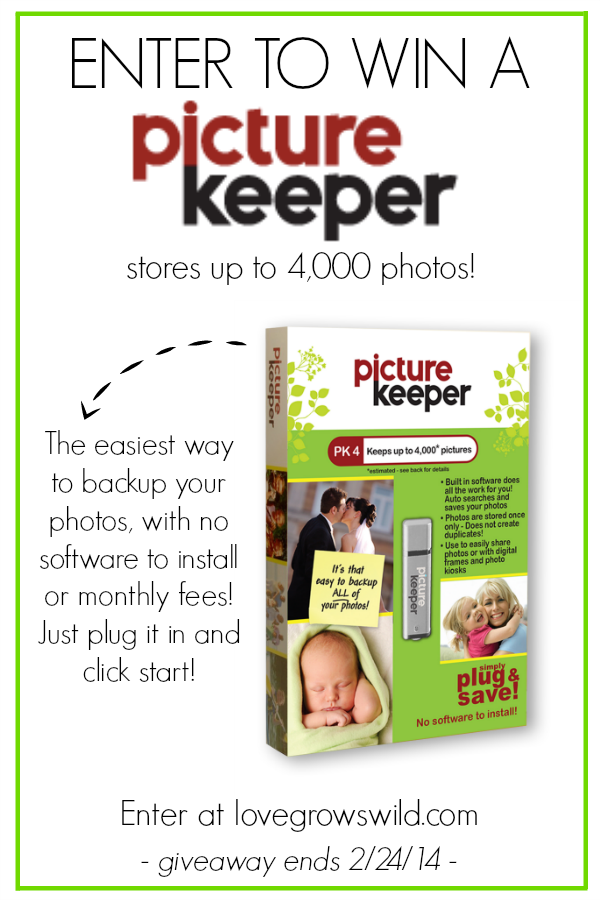 *** This giveaway has closed. Congratulations to Entry #141 Dezi A.! ***
Surprise! It's another giveaway! Today I have an awesome product to share with you that I was so excited to have the chance to review. It's called the Picture Keeper, and I get to give one away to a lucky reader!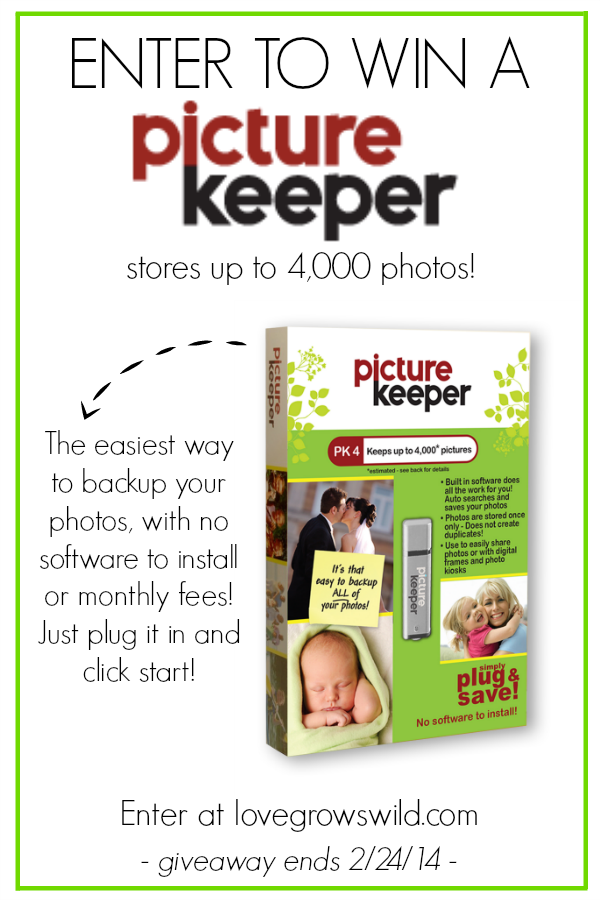 So I'm guessing most of you have pictures saved on your computer, right? Maybe it's photos of your kids or grandkids, snapshots from your travels, or maybe you have photos for your job. How many of you have all those precious photos backed up somewhere other than your computer? Don't worry, I didn't either!
As a blogger, I take hundreds of photos a day, trying to get the perfect shot of nachos dripping with cheese or the latest project I'm working on. Of course, I don't keep every single one, but all those photos add up over time! Not to mention the ridiculous amount of adorable baby photos I have of my children…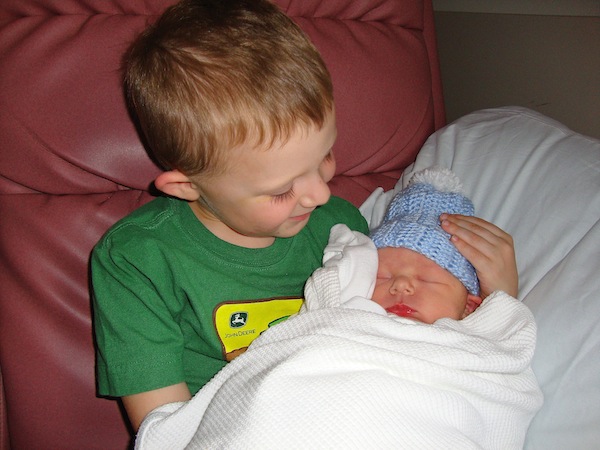 I couldn't imagine what I would do if one day I turned on my computer to find everything was gone. Probably like many of you, backing up all our photos was on a very long to-do that I never seemed to get to, and I wasn't even sure the best way to do it anyway. So when Picture Keeper contacted me to review their product, I was thrilled. And after using it, I am even more thrilled to show you how cool it is!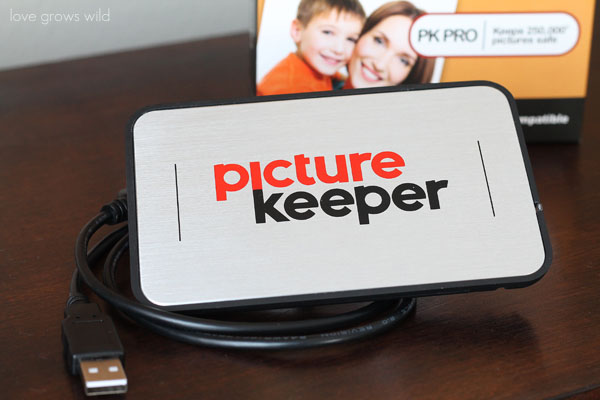 Picture Keeper is the easiest way to make a backup copy of your pictures. The device fits in the palm of your hand and has embedded software that does all of the work for you. No software to install, no wires to connect, no monthly fees, and no passwords to remember. Awesome!
With Picture Keeper you can store thousands of pictures (up to 250,000 with the PK Pro), safely and securely. Just plug it in, click start and Picture Keeper automatically finds and saves your pictures, skipping any duplicates. I love that feature! Use it in a digital picture frame, LCD TV, photo kiosks or just store it away. Picture Keeper is both PC and Mac compatible, and once one Picture Keeper is full, the second will pick up right where the first left off. Amazing!
I honestly couldn't believe how easy this handy, little device was to use. And I feel so much better knowing my pictures are now safe and sound! I stored my Picture Keeper in our fire-proof safe, just in case, and I'm so glad to cross this "project" off my to-do list!
Picture Keeper has 4 different models to choose from: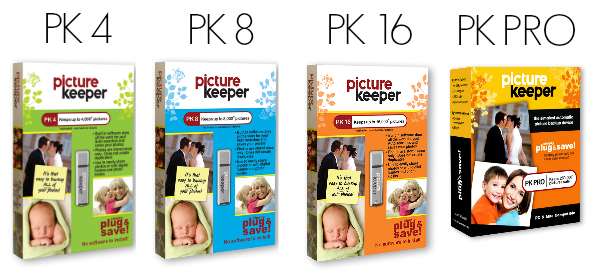 They range from $29.99 – $189.99 and store anywhere from 4,000 – 250,000 photos, depending on which model you choose.
And today I get to give away a PK 4 to one of you! This little guy holds 4,000 photos (at 1 MB per photo) and is so easy to use!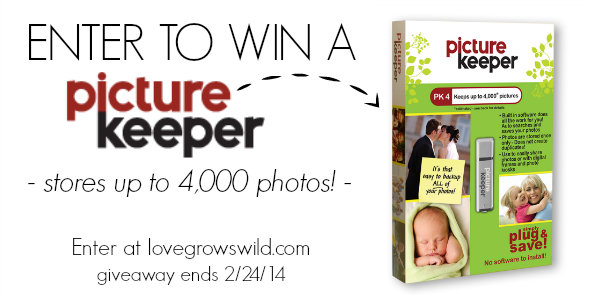 Of course, if you want to get started backing up your photos right away, you can use the coupon code: lovegrowswild314 to get a 15% discount PLUS free shipping through 3/31/14! Click HERE to shop!
Enter the giveaway below:
This post has been sponsored by Simplified IT Products, LLC – Picture Keeper, and I was sent product to review. All thoughts and opinions are 100% my own.