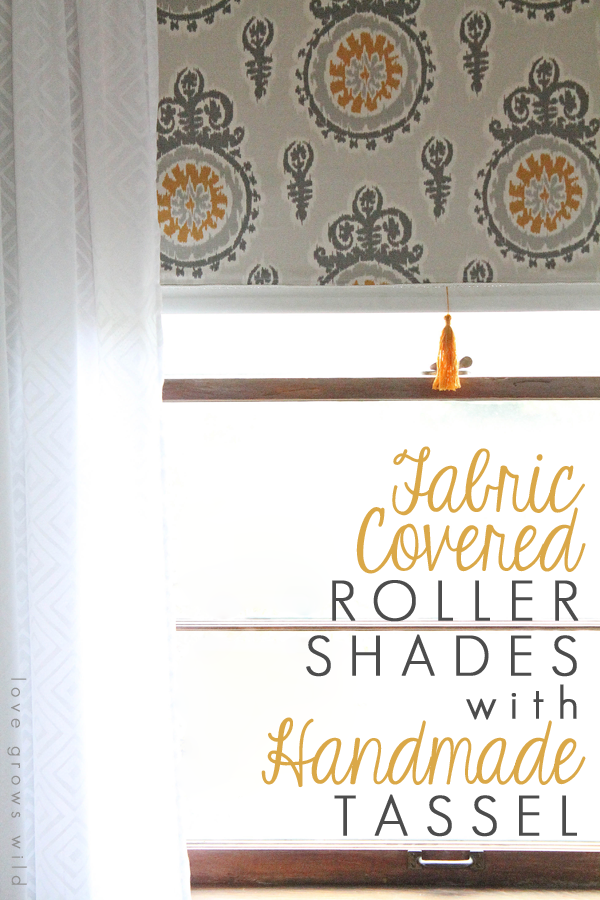 If you have roller shades anywhere in your home, you are about to become one very happy person! We currently live in a rental home that has roller shades on many of the windows, and you may have seen on
Instagram
last week when I said I'm working on special project for them! Well that mission was accomplished, and today I'm sharing the awesome transformation from plain white roller shades, to custom fabric covered roller shades complete with a handmade tassel! This easy DIY project is a great way to add color and pattern and give your home a beautiful custom look on a budget!
So here's what I started with… plain, white, boring roller shades with clearance sheer curtains from Target. We are very lucky to have tons of windows in our home, and most of them already had roller shades in them. I caught a big clearance sale at Target right before we moved in and picked up tons of packages of white sheers for $5 or less because frankly, I would go broke trying to buy nice curtains for all these windows! Oh yeah, and I used my super cheap DIY curtain rod trick on these windows too! Seriously, that trick is life-changing!
We have two big windows on the side of our living room, and I've been wanting to do something fun with them forever. I
pinned
a few ideas from
Martha Stewart
awhile back,
(okay, like 2 years ago!)
and I'm so excited to finally check this off my list! YAY for progress 🙂
I started by pulling my roller shade down to the bottom of the window and measuring… I used the width of the shade plus 1 inch and the length plus about 4 inches. I wanted to leave a half inch on each side to hem the loose edges, and I wanted the fabric to cover all of the shade that is exposed when pulled down. Make sense? I hope so!
I picked up this pretty fabric from Hobby Lobby that is the perfect mix of pattern, neutrals, and a little pop of color. I am seriously smitten with this fabric! I cut it to my measurements and hemmed each edge, only folding once, 1/2 inch in. The width of the fabric is now the exact width of the shade. Take care to make a very straight hem, or it won't line up with the straight edge of your shade! Then I ironed the fabric until I got every wrinkle out that I possibly could. Projects like this are the only time my poor iron gets used, so I tried to give it a little extra love that day 🙂
Okay, now to the fun part! I took down my roller shade and opened it up on a plastic drop cloth. I taped down the bottom edge that holds the pull bar because I didn't want that part covered in fabric. Then I laid my hemmed fabric over the shade, making sure to line up the edges starting at the bottom.
Working quickly, I applied a good amount of spray adhesive (I used Elmer's) onto the bottom 1′ of the shade and carefully smoothed the fabric over the glue, pressing out any air bubbles. Make sure you keep an eye on the sides of the shade so you stay in line with the edges! And the glue holds best when you quickly apply the fabric, so make sure you're all ready to go before you spray!
After I applied fabric to the first bottom section, I flipped the fabric backwards over the glued part and continued spraying and smoothing fabric up to the top of the shade in 1′ sections. You'll notice the very top of my shade isn't covered, but I don't pull the shade down far enough to see that part. Save your pennies on the extra fabric!
I found a few things to embellish the shade with at Hobby Lobby also, so while the adhesive was setting I added those to the shade. I hot glued some rope trim to the bottom of the fabric, which gives the shade a finished look and helps hide the fact that I can't make a straight hem 🙂
I also made my own tassel out of embroidery thread to match the yellow in the fabric. It only took one package of thread for 40 cents to make the perfect finishing touch for the shade! I seriously want to make tassels for everything in my house now… so cute!
I used a small amount of embroidery thread to attach the tassel and hung my beautiful new shade back in the window! I so so so wish I could take better window photos because these just do not show how gorgeous they are in person!
I love the pop of yellow from the fabric and tassel, and the fabric ties in the wall color perfectly! Do you ever finish a project and feel like you've conquered Mount Everest or something? That's how I feel with this project!! I used our existing shades, spent only $16 on fabric for TWO windows, added some gorgeous pattern to the room, and I can rip the fabric off and replace it with something different whenever the mood strikes! Not that I'll ever get tired of this dreamy fabric 🙂
Tassels. I love em. The end.
HUGE improvement right?? Aside from the old windows and ugly heater underneath, I say this is perfection! Now I just need to find a cute little chair to sit next to the window and some fun pillows. Uh oh… I see a living room makeover in the works!
Do you have roller shades in your home? Love em or hate em?
Let's Keep In Touch!