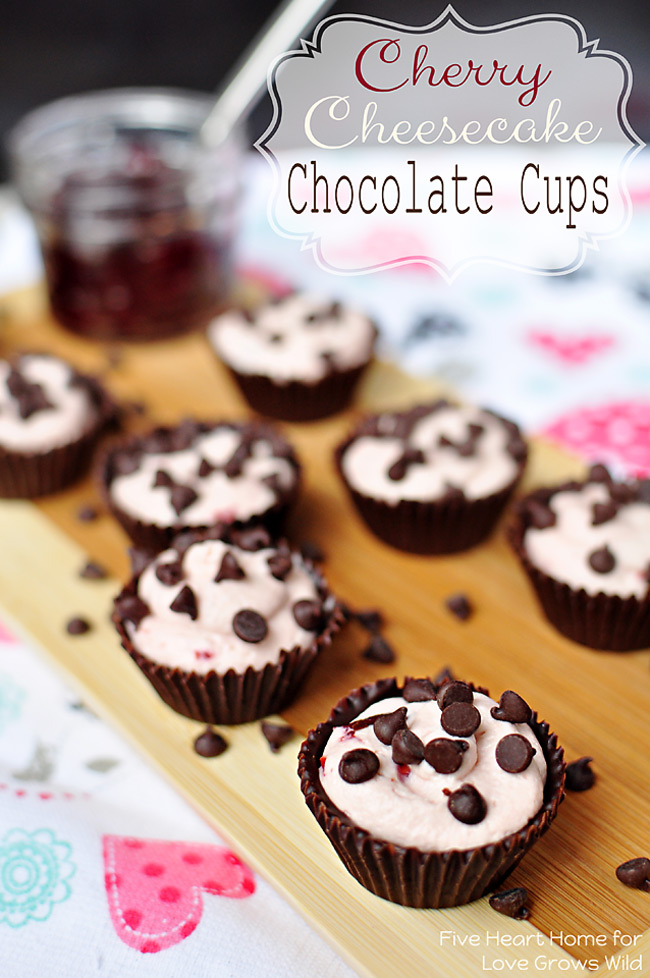 A light and creamy, cherry-infused, no-bake cheesecake filling is piped into cute, edible chocolate cups for mini treats that are just perfect for celebrating Valentine's Day!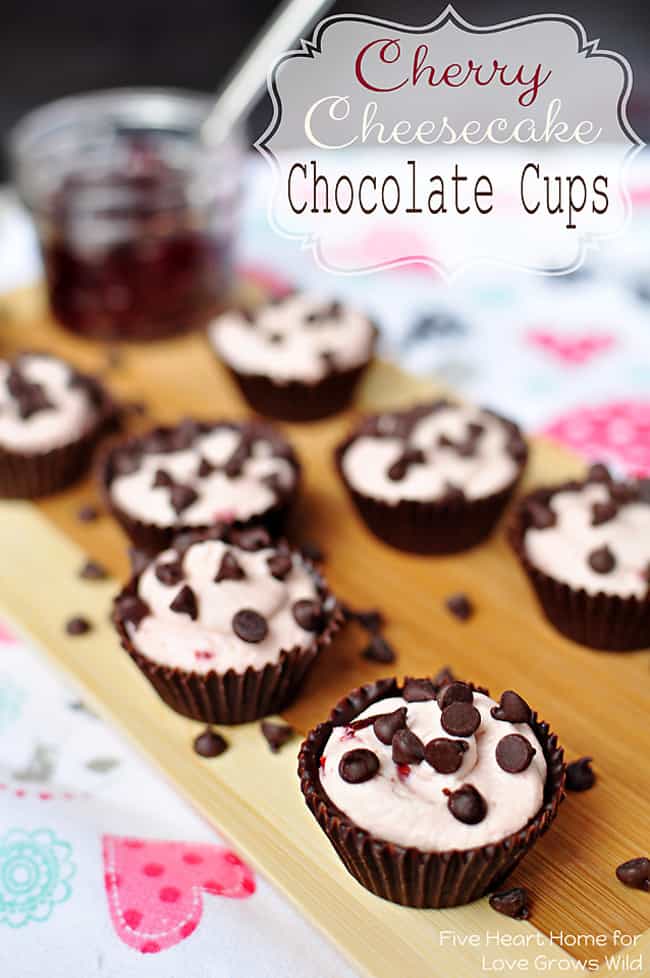 Hello, friends…and happy February! It's Samantha from Five Heart Home, and I'm very excited to be back at Love Grows Wild with another yummy, easy recipe! Valentine's Day is right around the corner, so I thought it would be fun to share a festive treat today. After all, nothing says love like chocolate, and who doesn't enjoy eating cute, miniature sweets?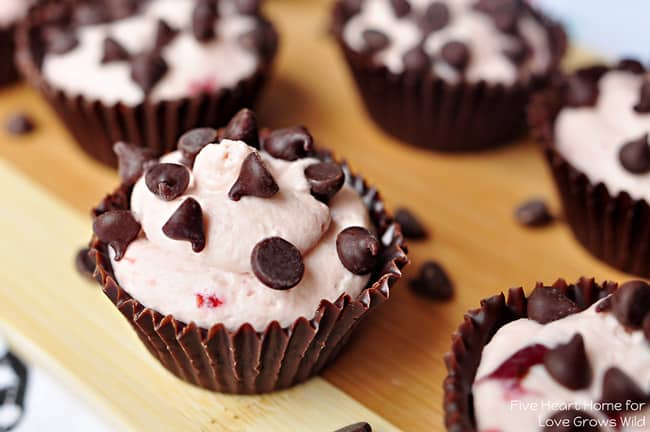 These chocolate-enveloped cheesecakes are indulgent enough to qualify as a special holiday dessert yet light enough to cap off a decadent Valentine's meal. At about two bites a pop, there is the additional bonus of built-in portion control (assuming you possess the self-control not to eat all of them in one sitting…*ahem* unlike myself *cough*). These mini treats would also be a hit with the kiddos, whether you whip up a batch to surprise you own little Valentines or you send them to school for sharing at a class V-Day party. You could even arrange some on a cute plate as a gift to your favorite teacher, friend, or neighbor!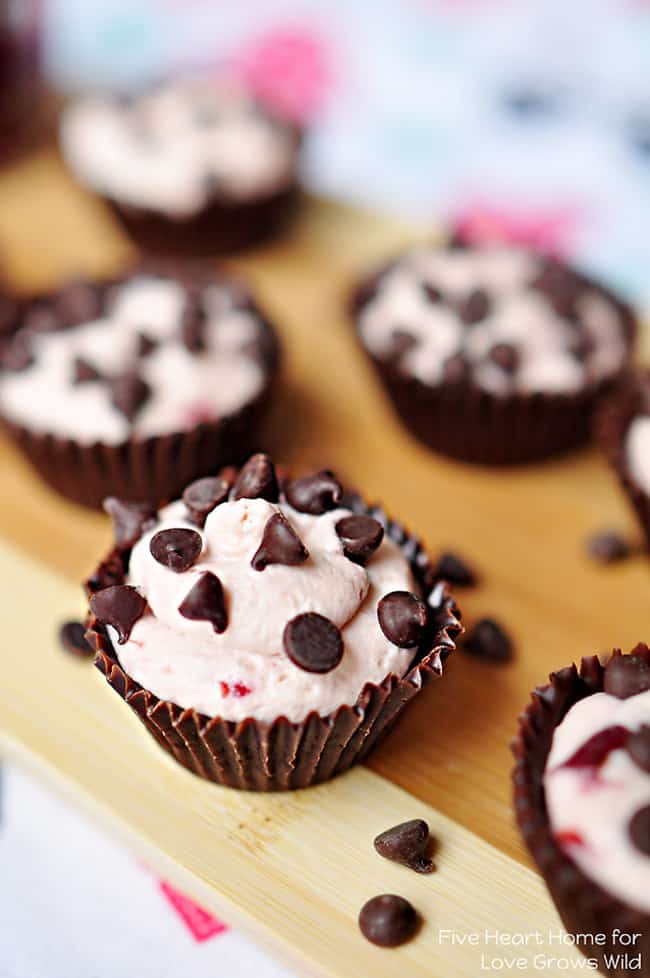 And would you like to know the best part? These chocolatey cheesecakes look fancy and they taste amazing, but they are super easy to put together! There is a bit of required wait time, since the chocolate cups need time to harden, but other than that, the steps are very straightforward. Simply coat the inside of mini muffin liners (paper or foil) with melted chocolate and pop in the fridge or freezer. Once the chocolate has hardened, mix up the no-bake cheesecake filling, pipe it into your chocolate cups, and top with some additional chocolate shavings or mini chocolate chips. Easy breezy preparation, impressive presentation, and scrumptious flavor that will make your mouth sing…my kind of dessert!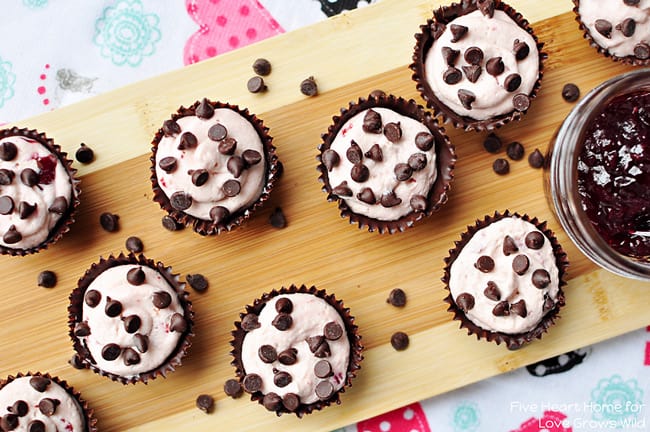 I've always thought that desserts featuring chocolate and red fruit — whether strawberries, raspberries, or cherries — are perfectly suited to Valentine's Day. Swirling cherry preserves into the cheesecake filling is a shortcut method to tint it a pretty shade of pink while giving it a fruity undertone that perfectly complements the semi-sweet chocolate. And while you may have made a no-bake cheesecake before using Cool Whip or sweetened condensed milk, this recipe relies on good ol' whipped cream instead, resulting in a filling that's particularly light and fluffy.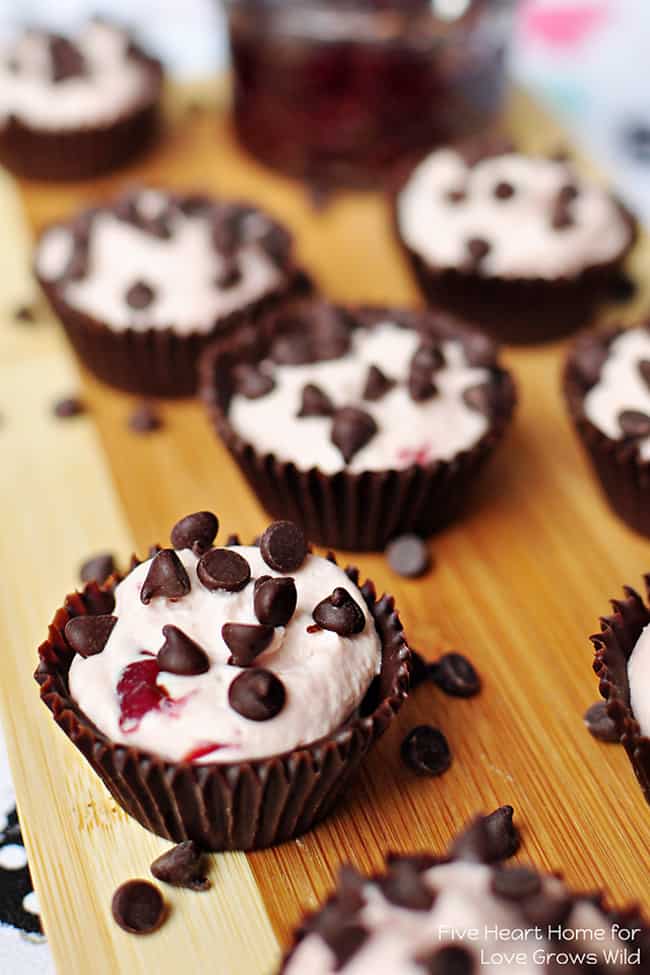 I hope you'll give this recipe a whirl in time for Valentine's Day! But guess what? These Cherry Cheesecake Chocolate Cups (say that three times fast!) don't have to be limited to just February. Wouldn't they be impressive adorning a dessert tray or darling served at a baby or bridal shower? Make them soon, and then make them again later…I can guarantee that they will be enthusiastically welcomed any day of the year!
Cherry Cheesecake Chocolate Cups
A light and creamy, cherry-infused, no-bake cheesecake filling is piped into cute, edible chocolate cups for perfect bite-size treats!

Prep Time: 30 minutes
Inactive Time: 4 hours
Total Time: 4 hours, 30 minutes
Author:
Samantha of Five Heart Home
INGREDIENTS
¾ cup semisweet chocolate chips
1½ teaspoons vegetable shortening
½ cup heavy whipping cream
1 teaspoon pure vanilla extract
¼ cup + 2 tablespoons powdered sugar, divided
4 ounces cream cheese, at room temperature
2 heaping tablespoons cherry preserves
Chocolate shavings or ½ cup mini chocolate chips, for garnish
INSTRUCTIONS
Line a miniature muffin pan with 24 paper or foil mini baking liners.
Pour ¾ cup chocolate chips and shortening into a microwave-safe bowl. Microwave for 1 minute; stir chocolate well. Microwave for another 30 seconds; stir until chocolate is smooth. (If necessary, microwave in additional 15-second increments, stirring between each one, until chocolate is completely melted and smooth.)
Use a small soft brush or a small measuring spoon to completely coat the inside of each paper or foil liner with chocolate. Place muffin pan in refrigerator for 30 minutes. Check for any thin areas in the chocolate and brush or spoon on more melted chocolate as necessary, making sure that the layer of chocolate around the top edge of the liner is thick enough. Return pan to refrigerator and chill for at least 4 hours or until firm, preferably overnight. Alternatively, you may place pan in the freezer for less time, until chocolate is completely hardened. Carefully peel the liner off of each chocolate cup.
Pour heavy cream into a large bowl along with vanilla and 2 tablespoons powdered sugar. Use an electric mixer to beat the cream until stiff peaks form. Scrape whipped cream into a separate bowl and set aside.
Without cleaning mixing bowl, beat cream cheese and ¼ cup powdered sugar until smooth. Mix in cherry preserves until well incorporated. Gently fold ¼ of whipped cream into cream cheese mixture. Repeat with remaining whipped cream, working ¼ at a time and taking care not to overmix.
Scoop cheesecake filling into a gallon-sized plastic baggie and snip off one corner. Use bag to pipe cheesecake into each chocolate cup. Sprinkle tops with chocolate shavings or mini chocolate chips. Refrigerate for at least 2 hours or until chilled, and store any leftovers in the refrigerator.
I would love for you to come visit me at Five Heart Home to see what I've been up to lately! I have more Valentine fun to share, plus some healthy treats to balance out all of the chocolate… 😉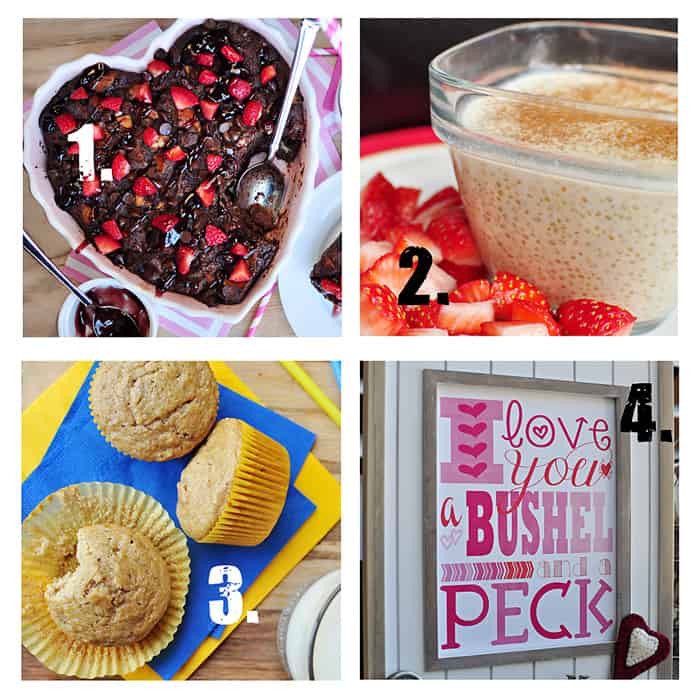 1. Chocolate Bread Pudding with Raspberry Sauce
2. Quinoa Pudding with Coconut Milk & Maple Syrup (similar to tapioca/rice pudding)
3. Healthy Whole Wheat & Honey Banana Muffins (made with coconut oil & yogurt)
4. Free Valentine Printables ~ 8×10 Print & Notecards
Connect with Samantha:
Let's Keep In Touch!