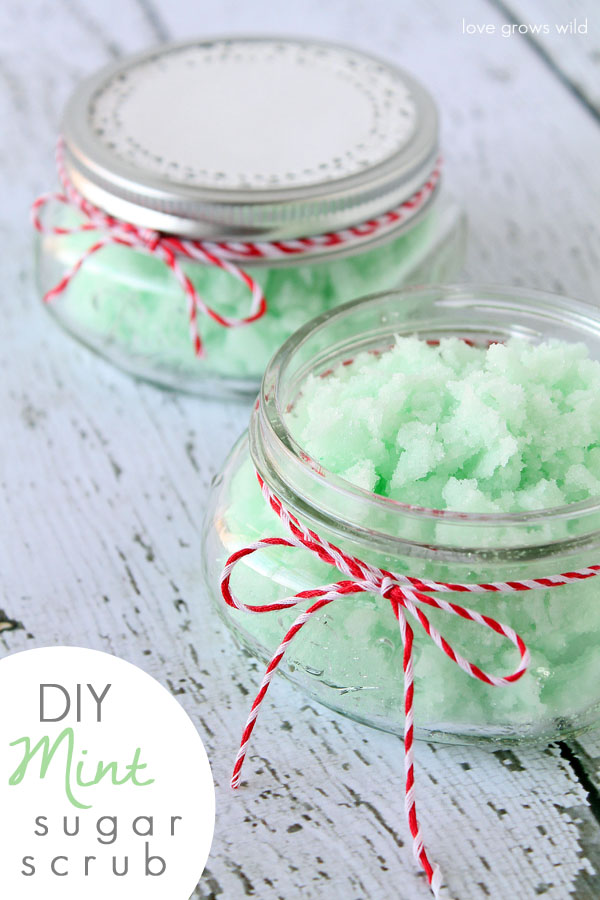 It's official! I bought my first Christmas gift of the year! It seems like I always end up cramming all my holiday shopping into the last two weeks before Christmas, and this year I'm trying (keyword being TRYING) to get it all finished early. I'd rather enjoy the weeks before Christmas baking cookies and decorating the house instead of fighting the crowds to get that last toy on the shelf. That's what the holidays should be about anyway!
I love to give DIY gifts like homemade candies or handmade blankets to my friends and family, but getting all those gifts finished before December 25th arrives is not easy! So to help me plan and organize my gift list, I've created a Pinterest board where I can dump all kinds of ideas for projects, recipes, or just things that inspire me. This year, I'm going with a "holiday flavors" theme… Anything I find with pumpkin, apple, or mint gets pinned right onto my Flavorful Holiday Ideas board!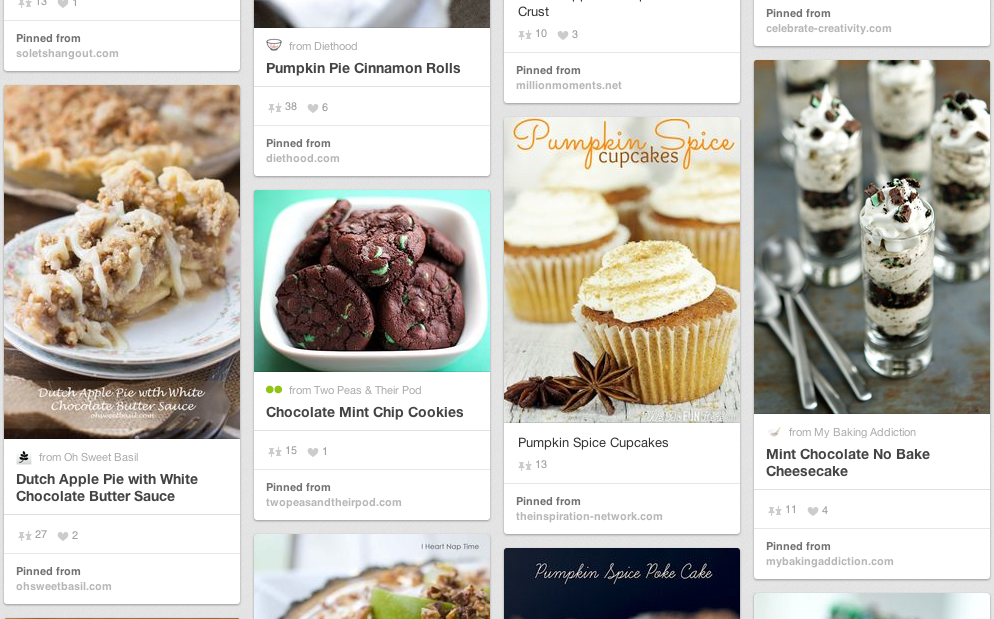 You can follow my Flavorful Holiday Ideas board too! Click here!
I've always wanted to try making my own beauty products, and the other day I mixed up a homemade mint sugar scrub that turned out fantastic! I had no idea it was so easy to make and it smells absolutely amazing!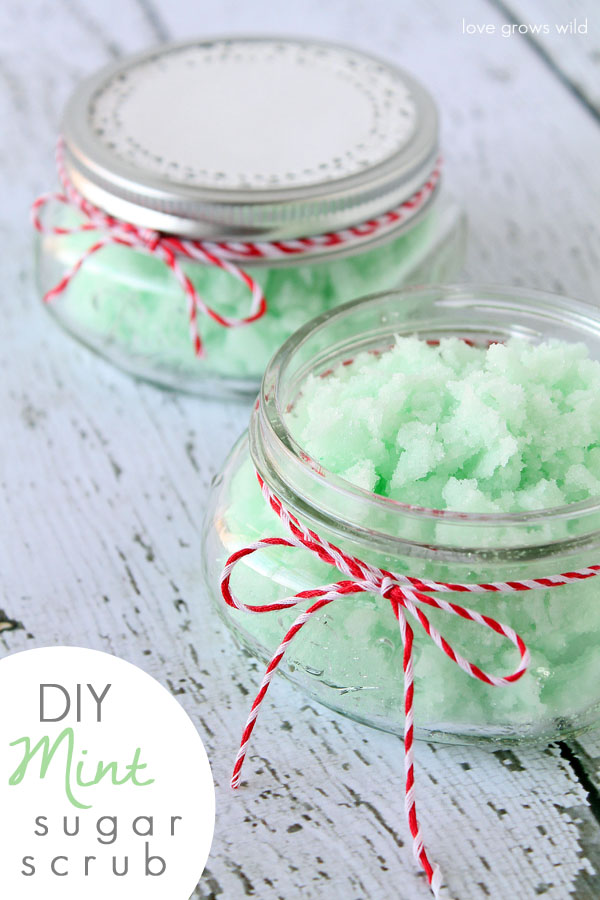 You only need a few simple ingredients to make a basic sugar scrub: your oil of choice (I used coconut), sugar, and an oil extract to scent your scrub. I was inspired by the all the "mint" ideas from my pin board, so I added some peppermint extract and a drop of green food coloring to give it that lovely minty-green look. I just adore the color mint green! I swear SOMEDAY I'm going to finally makeover my master bedroom using mint and navy. That color combo is my fave!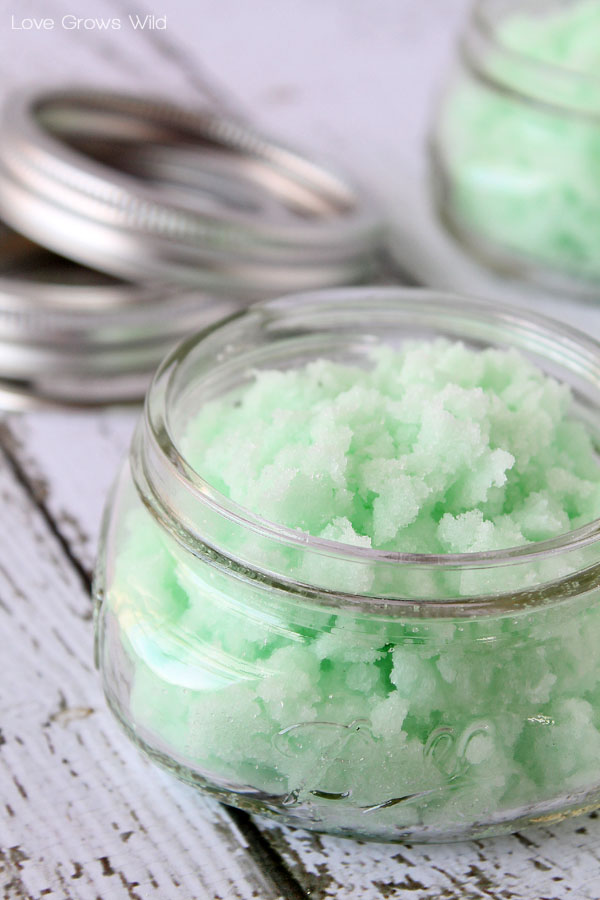 I have only recently learned about the wonders of coconut oil… Have you ever used it? My younger sister, Kristi, has become a health nut in recent years, (I WISH I could be her!) and she uses it for all sorts of things. One of which is a RIDICULOUSLY yummy popcorn recipe that I will have to share with you some day! Remind me to steal that recipe from her when I see her on Thanksgiving, mmkay?
I wasn't sure exactly where I'd be able to find coconut oil, but I spotted it right next to all the other oils in the baking section at my local grocery store. At room temperature coconut oil is solid, so I just microwaved some of the oil in a bowl until it softened, which only took about 15-25 seconds. Then I added the sugar, peppermint extract, and green food coloring and mixed it all together until I had a moist, minty-green sugar scrub! You can make your scrub with whatever ratio of ingredients you like, but I like mine to be a bit on the coarser side rather than oily, so it exfoliates really well. If your scrub is too dry, add more coconut oil. If your scrub is too wet, add more sugar. Make it however you prefer!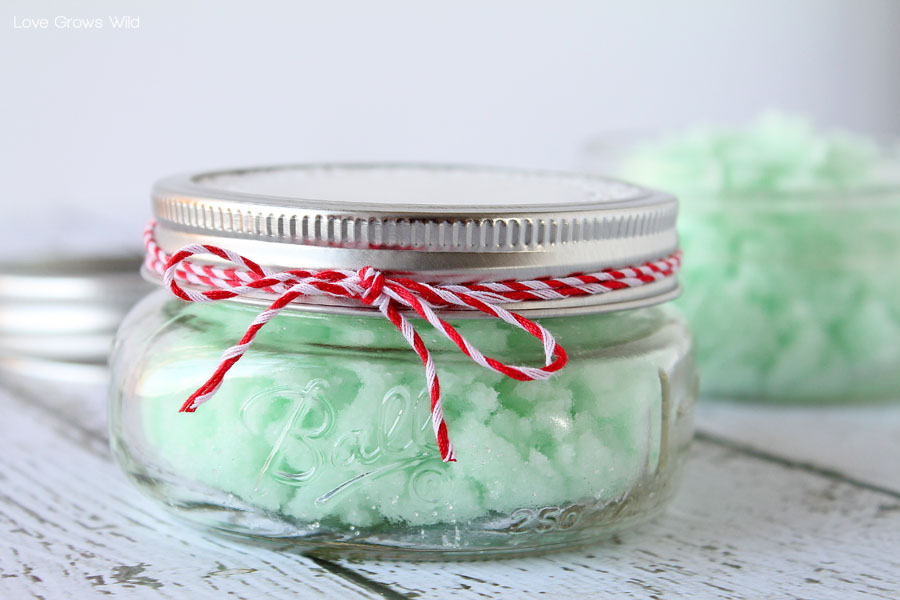 To package my mint sugar scrub to give as gifts, I spooned the scrub into wide-mouth half pint mason jars. This recipe gave me enough scrub to fill 3 of them. I made the jars extra pretty by sandwiching a paper doily between the jar lid and ring. I LOVE this detail! Then I tied some red and white twine around the jar for the perfect finishing touch. I've been using this on my hands and feet, and it makes them super soft! Even my boys wanted to get in on the action… Daddy was a little confused when he got home from work to find the boys and I having a "spa day". That's what you get for not giving me any daughters 🙂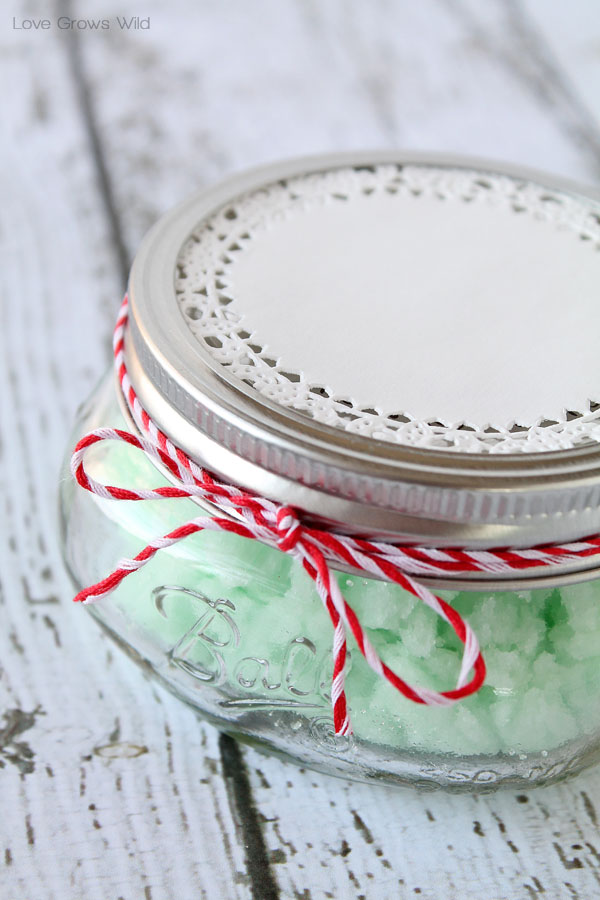 DIY Mint Sugar Scrub
This Homemade Mint Sugar Scrub is the perfect DIY gift idea! Inexpensive and easy to make!
INGREDIENTS
½ cup coconut oil
1½ - 2 cups sugar
1 tablespoon peppermint extract
1 drop green food coloring
INSTRUCTIONS
Place coconut oil in a bowl and microwave on HIGH 15-25 seconds until softened.
Start by adding 1½ cups sugar to the oil, along with the peppermint extract and green food coloring. Mix until ingredients are well combined and food coloring is evenly distributed. If mixture is too wet, add another ½ cup sugar until scrub is to desired consistency.
Spoon scrub into air-tight containers (such as a mason jar) and decorate with twine or ribbon.
– adapted from The Gunny Sack
---
Looking for more holiday ideas?
---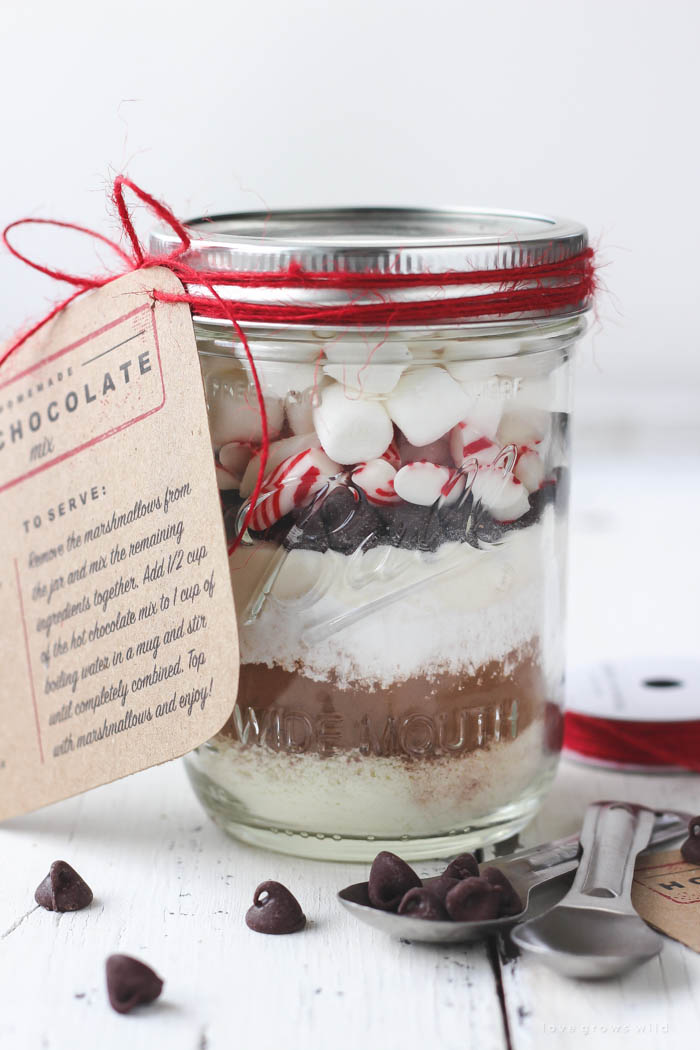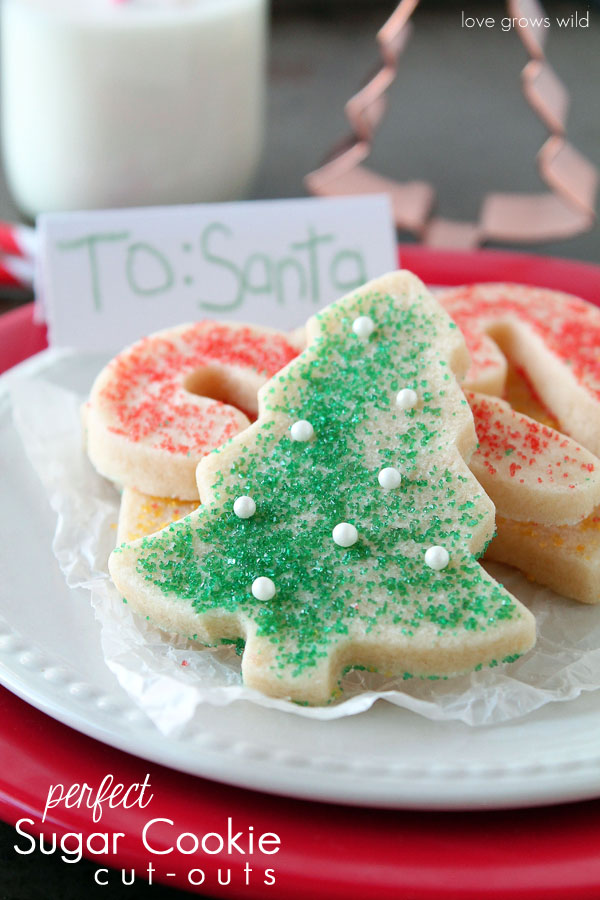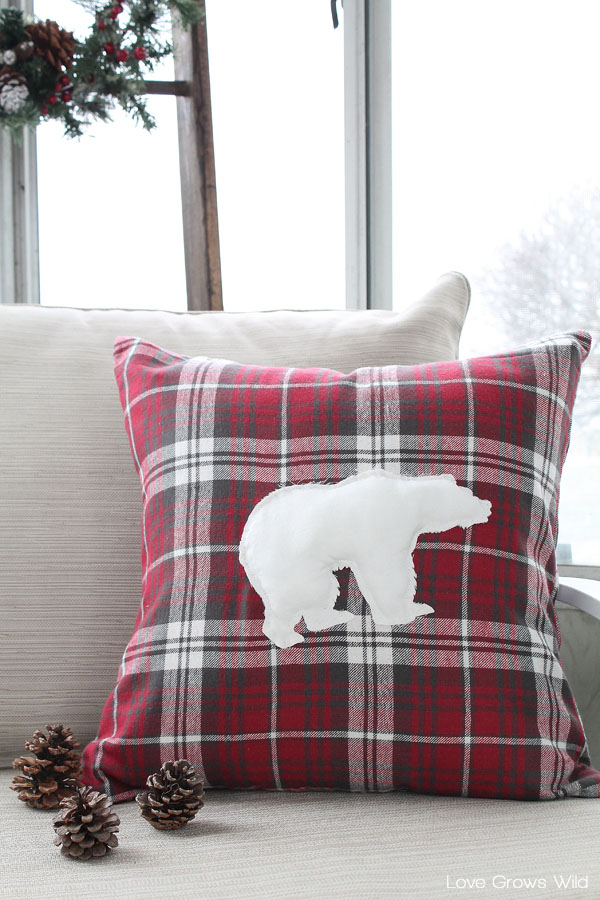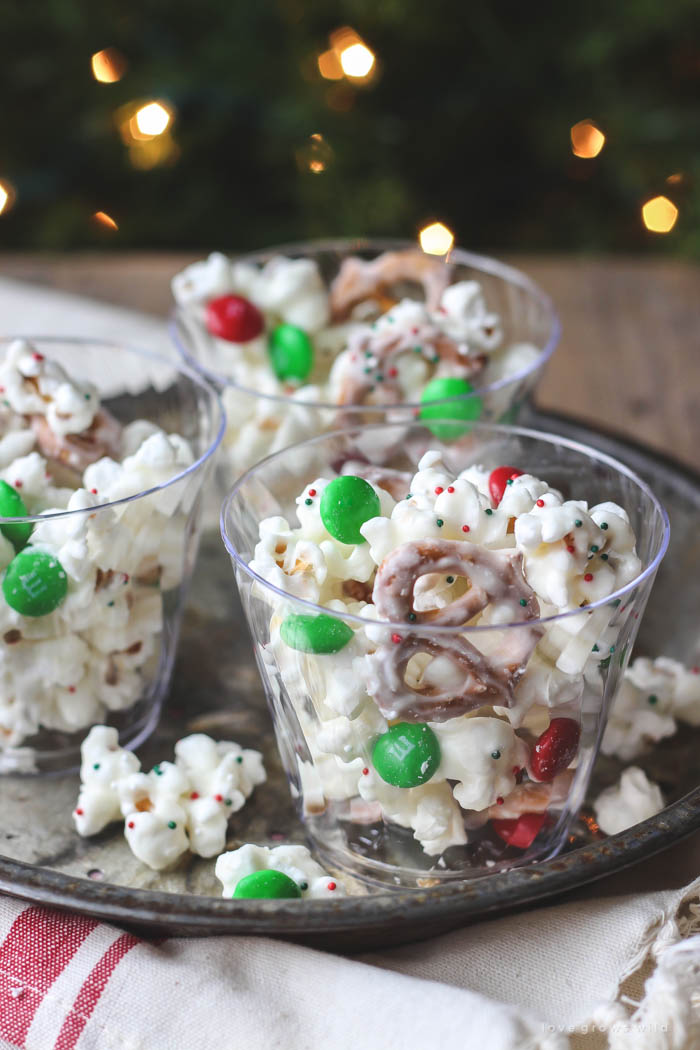 White Chocolate Holiday Popcorn Mix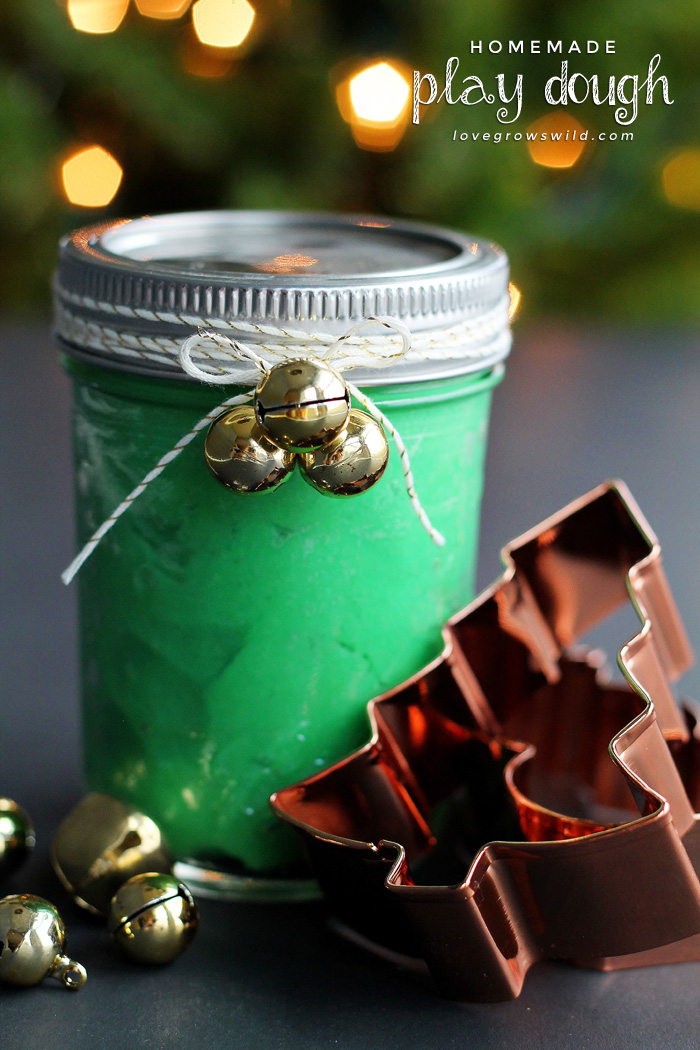 ---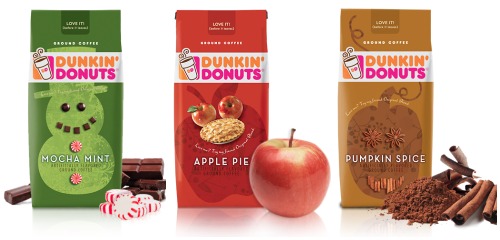 Spice up your fall and warm up your winter with new Dunkin' Donuts® seasonal coffee flavors. Enjoy a steamy mug of delicious Dunkin' Donuts® coffee now available in three new seasonal coffee flavors. Kick your day up a notch with the sweet and spicy flavor of Pumpkin Spice, satisfy your sweet tooth with the flavor of Mocha Mint or enjoy the fresh baked tasted of warm Apple Pie – in a cup! Visit http://www.dunkinathome.com/dunkin-coffees/seasonal-coffee for more information.
This is a sponsored conversation written by me on behalf of Dunkin' Donuts . The opinions and text are all mine.
Let's Keep In Touch!