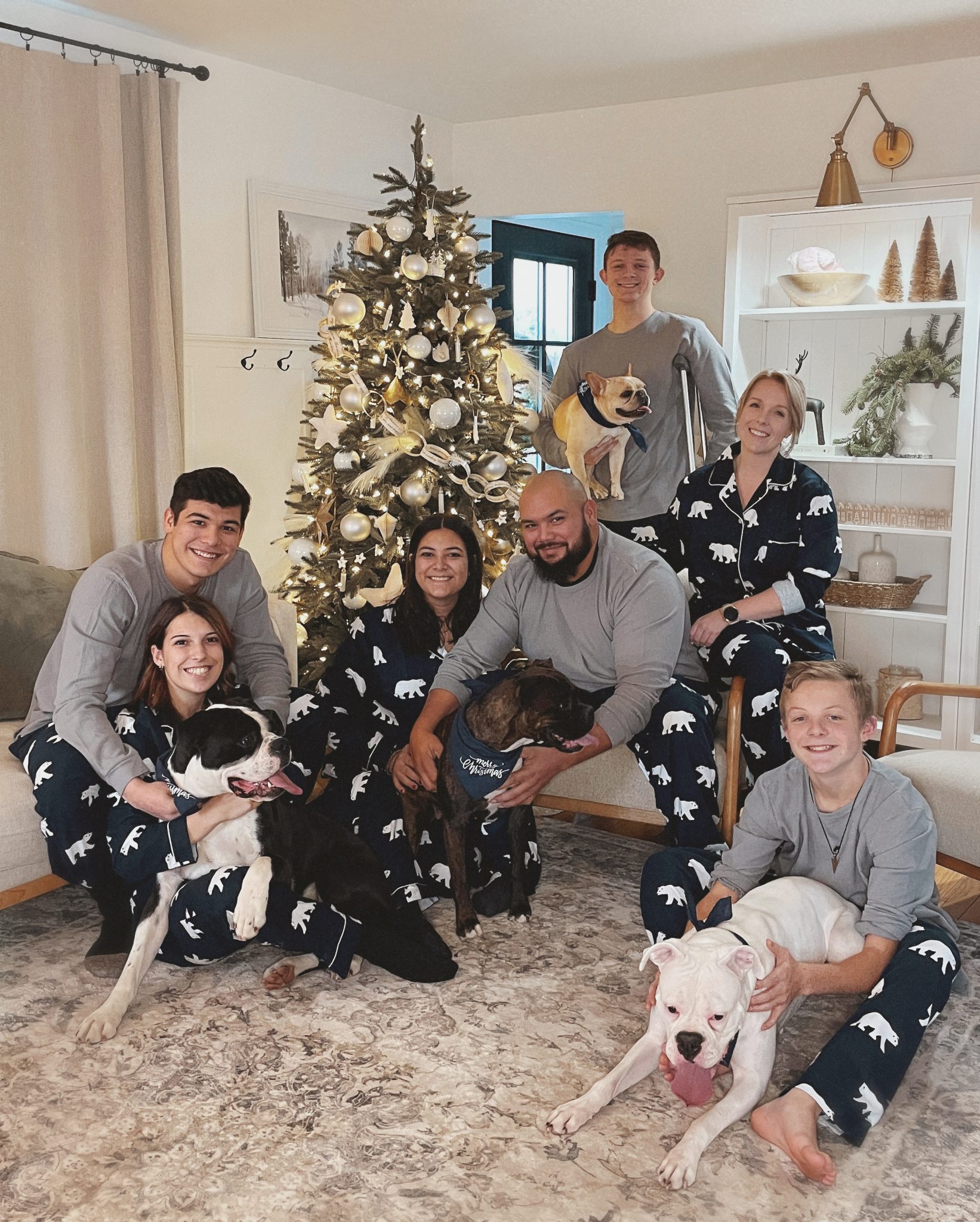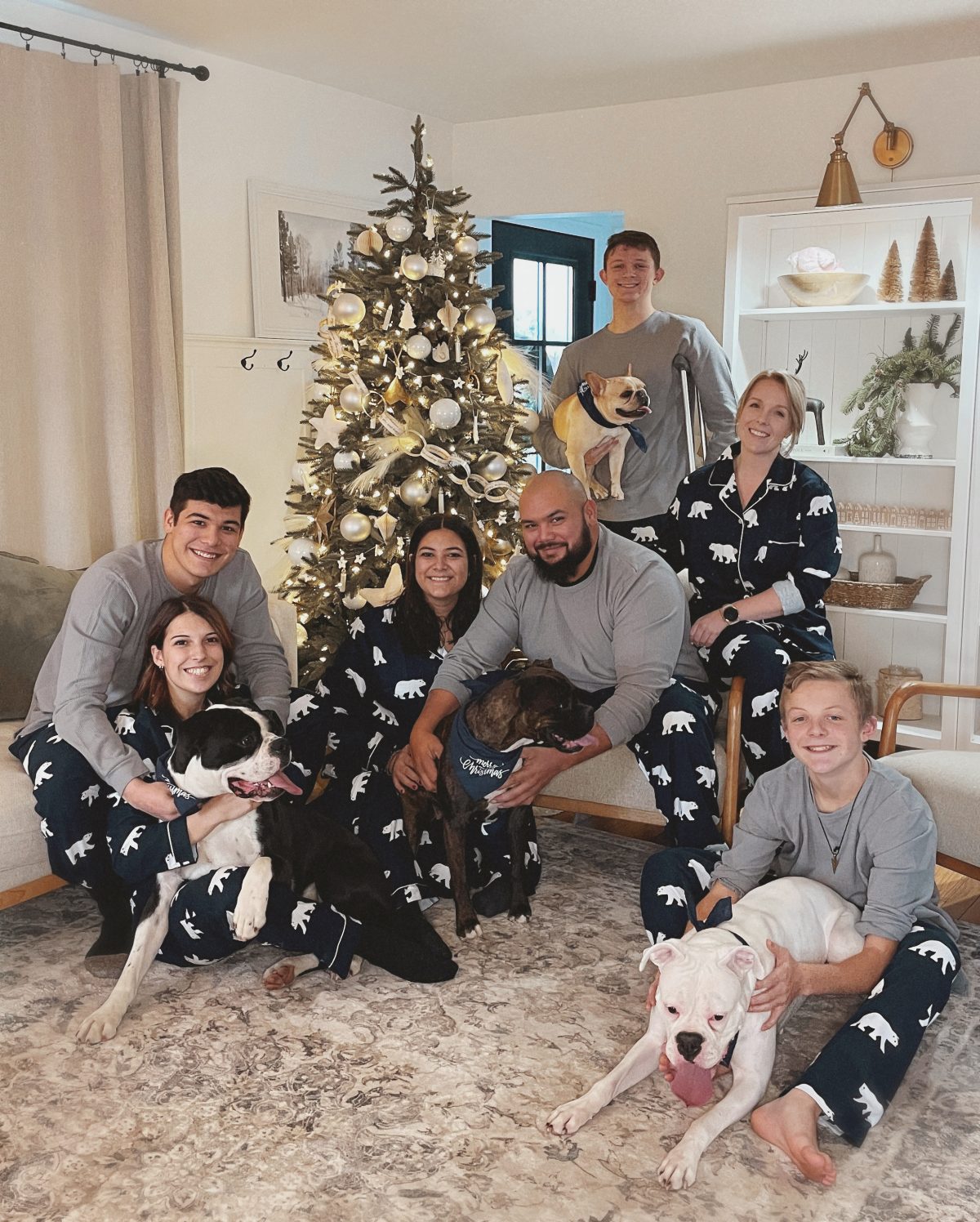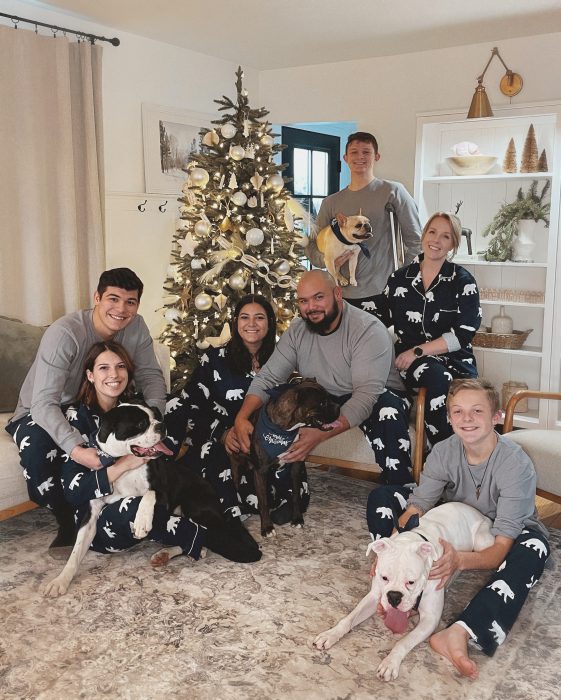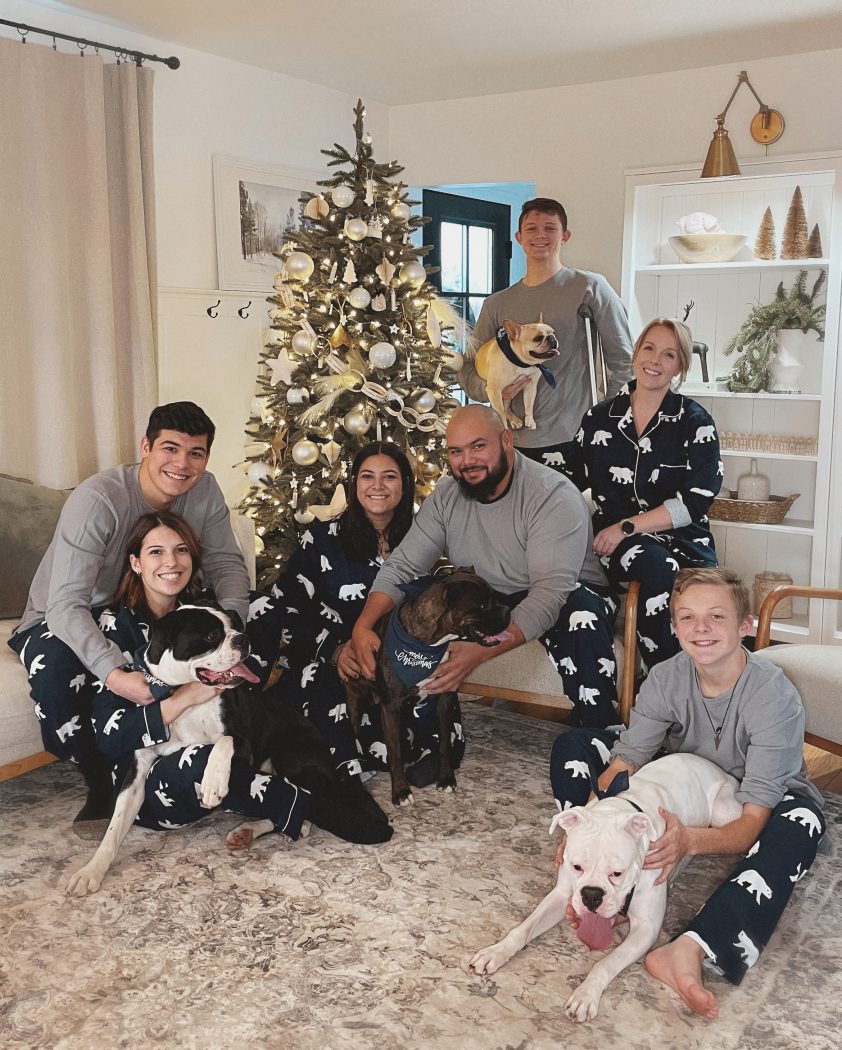 Affordable family Christmas pajamas – in partnership with Walmart // I've been thinking a lot this year about what Christmas means and feels like at this stage of life. Thirty-four years old and a mother of two teenage boys, I find that the holidays are very different as an adult with kids now closer to adulthood than childhood. I miss the years when they were so excited to make their lists for Santa and leave him sugar cookies and milk and carrots for the reindeer. I miss driving around to see pretty Christmas lights while singing our favorite Christmas carols. I miss their little faces lighting up as they rushed down the stairs to see what was waiting for them under the tree on Christmas morning. I even almost miss that certain elf that sits on a shelf… almost.
The last three years our little family has grown, and between Oscar and I we have a 13, 16, 17, and 19 year old, plus one of their girlfriends, Makaila, who also happens to be my assistant. 😊 It's a beautifully and wonderfully chaotic blended family that continues to grow, specifically in the canine department with three boxers between us – Lilly, Lady and Leo, and one French bulldog, Remy. We still have two separate houses by the way – we would be squished like sardines in this tiny house of mine.
I'm sure most of you moms can relate to the struggle of wanting to make Christmas as special and magical as it was when your kids were little, whether they are now 13, 23 or 43. Teenagers specifically can be a tough crowd to please, especially with boys who don't get nearly as excited as girls do over things like baking, shopping for gifts, or decorating the tree. I try to plan fun things to do or ways we can make memories together, and sometimes they work out, sometimes they don't. But I'm learning to just ride the wave instead of trying to perfectly orchestrate everything.
One morning this week when I was feeling extremely defeated, I came across these words: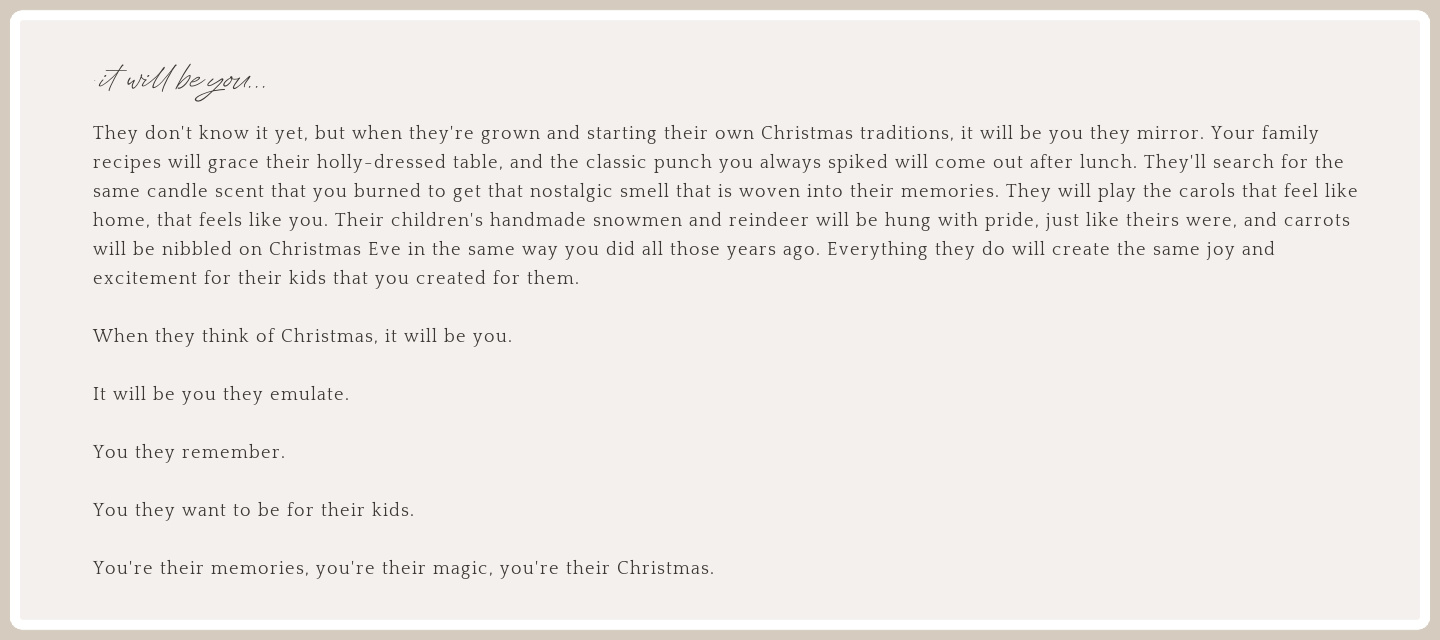 And as I suspect you may be doing now after reading those words, I sobbed for the majority of the morning. It was exactly what I needed, exactly when I needed it. And I hope sharing it with you too will bring some peace to your heart and a little Christmas spirit back to your soul. Keep doing all the little things you do, even if you don't think they notice or care. Make the time to bake the cookies. Snuggle up and watch the Christmas movies. And if you're like our family, wear the matching Christmas jammies.
I got our family Christmas pj's from Walmart this year, and I even found navy Christmas pet bandanas to match. They were super affordable, which is perfect when I have 7 humans and 4 dogs to buy for. It doesn't look like the exact ones I ordered are available on the website now, but there were several other cute, affordable options that I loved as well: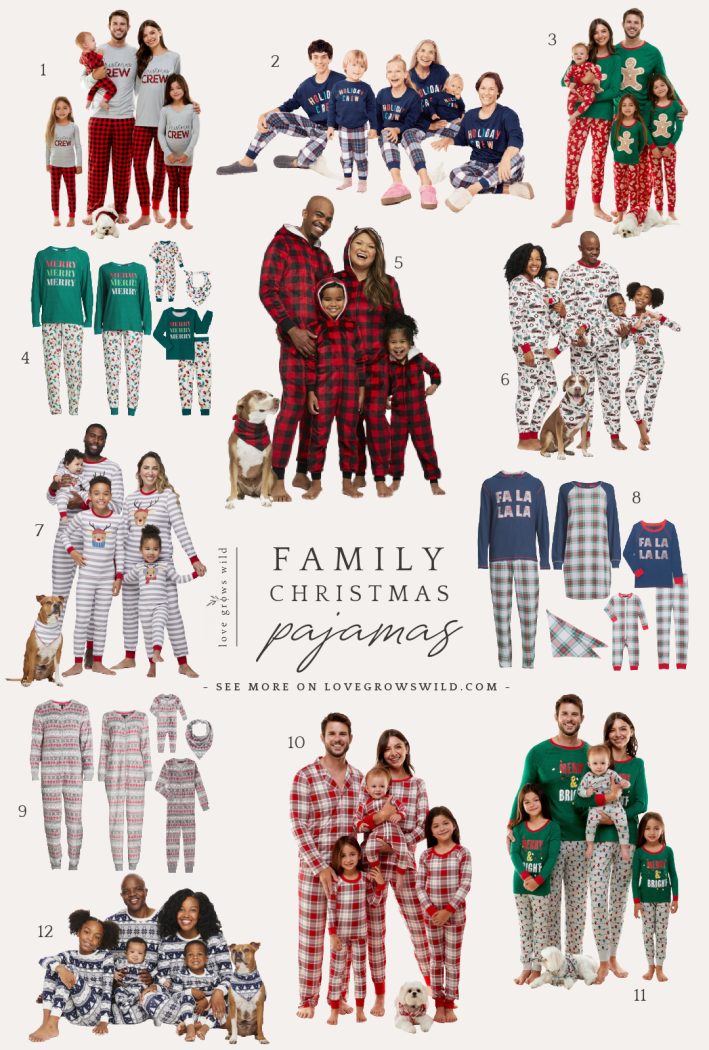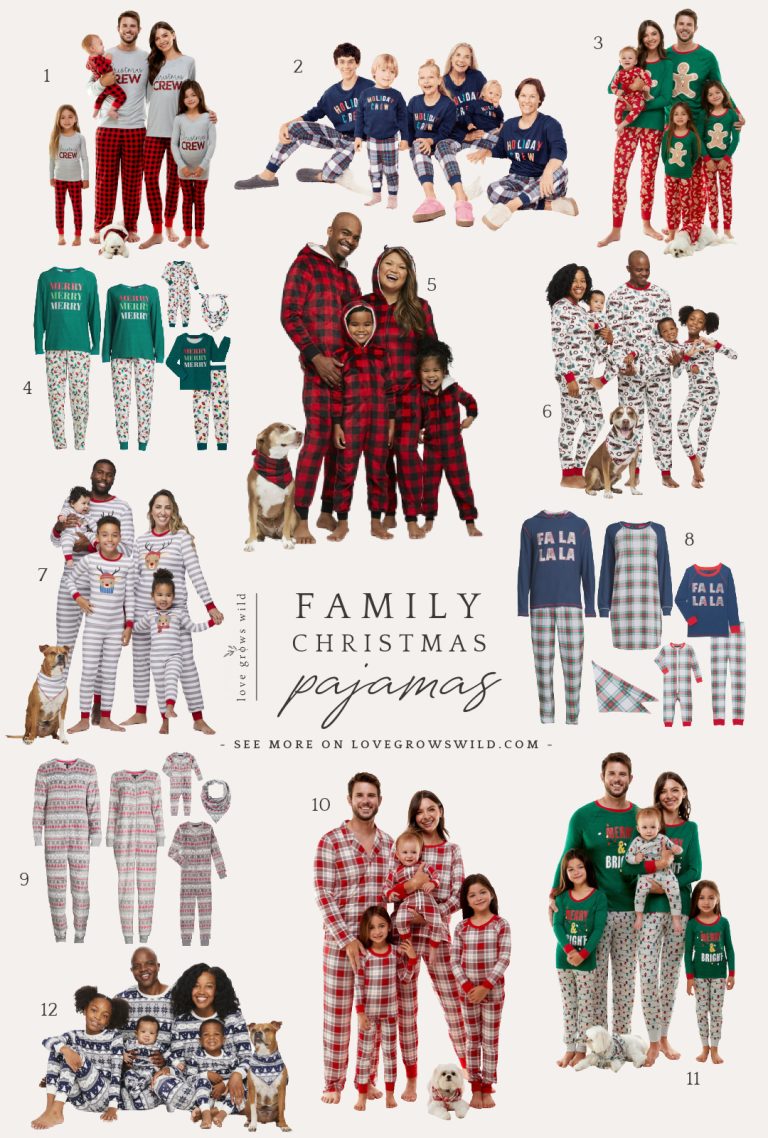 I'm curious… has your family ever done matching Christmas pj's?
SHOP FAMILY CHRISTMAS PAJAMAS:

---
I partnered with Walmart on this post, but as always the thoughts and opinions shared are 100% my own. Thank you for supporting our blog and brand partners! As always, I sincerely appreciate you shopping through the links I share, which allows me to make a small commission from your purchase while your purchase price stays the same. When you use my affiliate links, I'm better able to create content for this blog as well as support my family, and I thank you from the bottom of my heart for supporting what I do!
Shop my Posts | Shop my Amazon Store
Join our Community | Follow on Instagram
Follow on Pinterest | Follow on Facebook