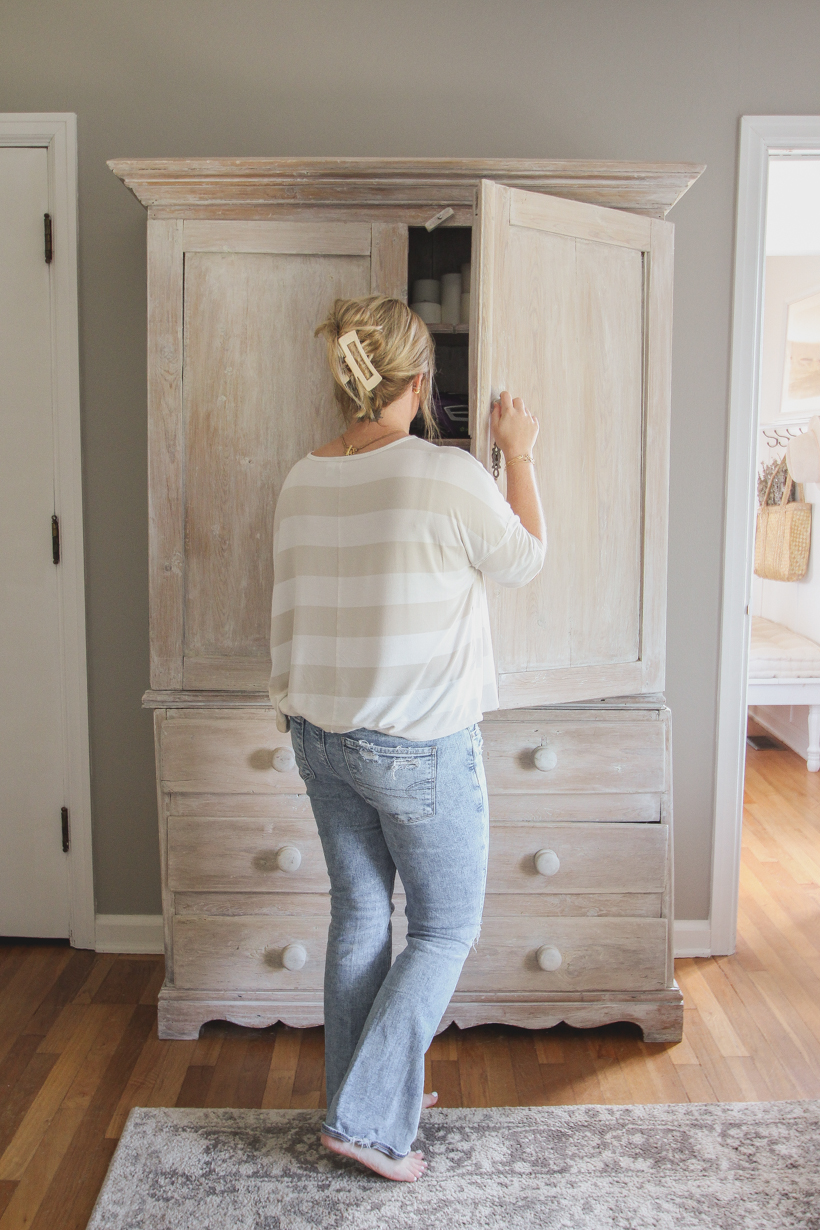 I've joked over the last few months that this has been the year of organization in my house, and the little project I'm about to share with you definitely follows suit. First it was my bedroom closet, then the pantry, and then my bathroom closet too. If your house is anything like mine, you probably have quite a few devices that need charged each day. Phones, tablets, vacuums, watches, headphones… the list goes on and on. I got tired of seeing random cords plugged in all over the house, yet still never being able to find the right one.
So I came up with a solution. It may not be perfect or the best idea out there, but it works for our family and feels SO much more manageable now. Check out how I created our concealed charging hub with this antique cabinet!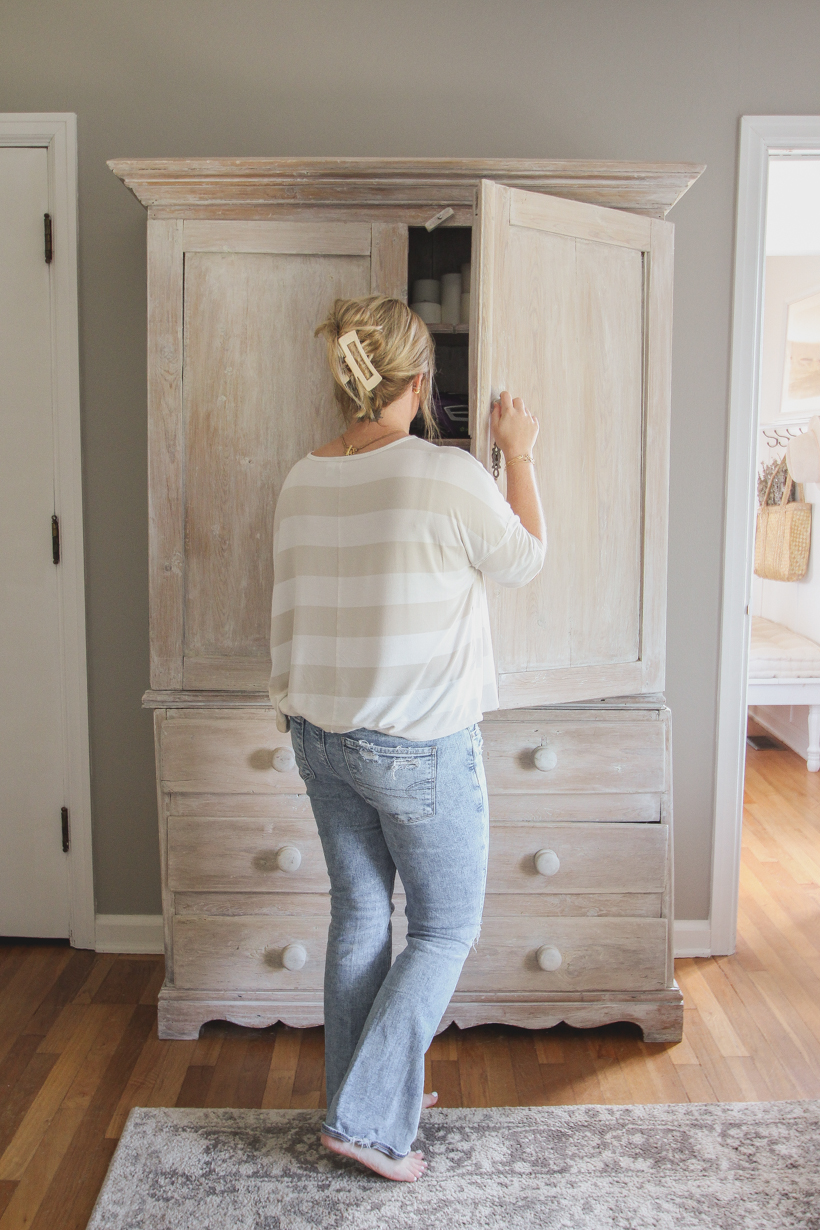 I've had this cabinet for years, and it doesn't serve much of a purpose in my office currently. When the idea popped in my head to hide all our charging devices in here, I gathered up ALL our random cords and electronics that cluttered the house daily. Once I assessed what all we have, I ordered a few things to help set up our charging station:
10-port USB charger
power strip with flat/rotating plug
tablet holder
multi-charging cable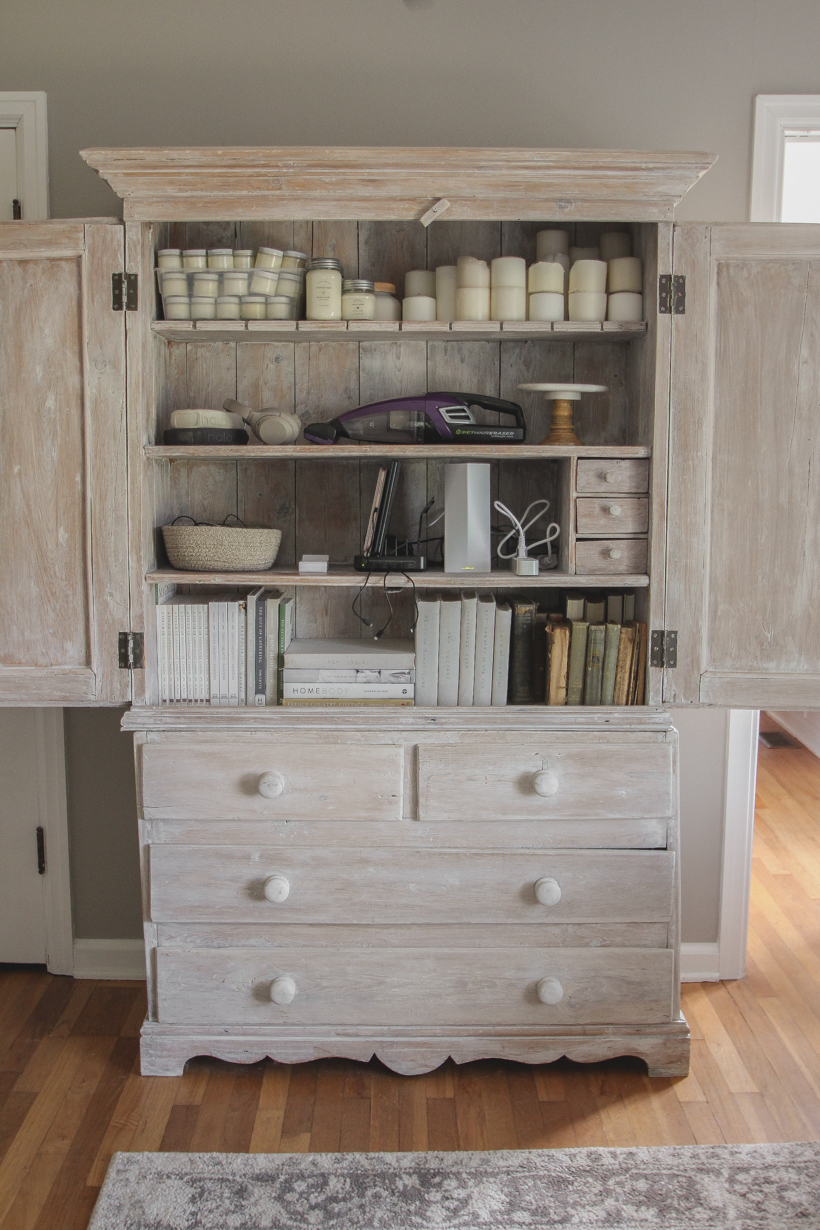 First, I cut a hole in the back of the cabinet just big enough to slip the plug of the power strips through. I used a drill to get a starter hole, then switched to a jigsaw to make the opening larger. I placed the opening just above one of the shelves so it's hidden behind the power strips. You can't see it at all.
Then I set our internet router in the cabinet and the other charging devices I bought. I did do some research on concealing a router, and the majority of what I read said the signal can pass through most materials, but the signal strength may be affected. So far I haven't noticed a difference. It is also advised to keep your router in a ventilated space, so I'm keeping a close eye on how it does in here and may end up moving just the router to another spot in my office. I would recommend doing your own research as well!
I love the tablet holder since the boys each have one for school, and I have one for work. And the multi-charging cables are so handy – just make sure you get some of these to help keep cords wrapped up and organized.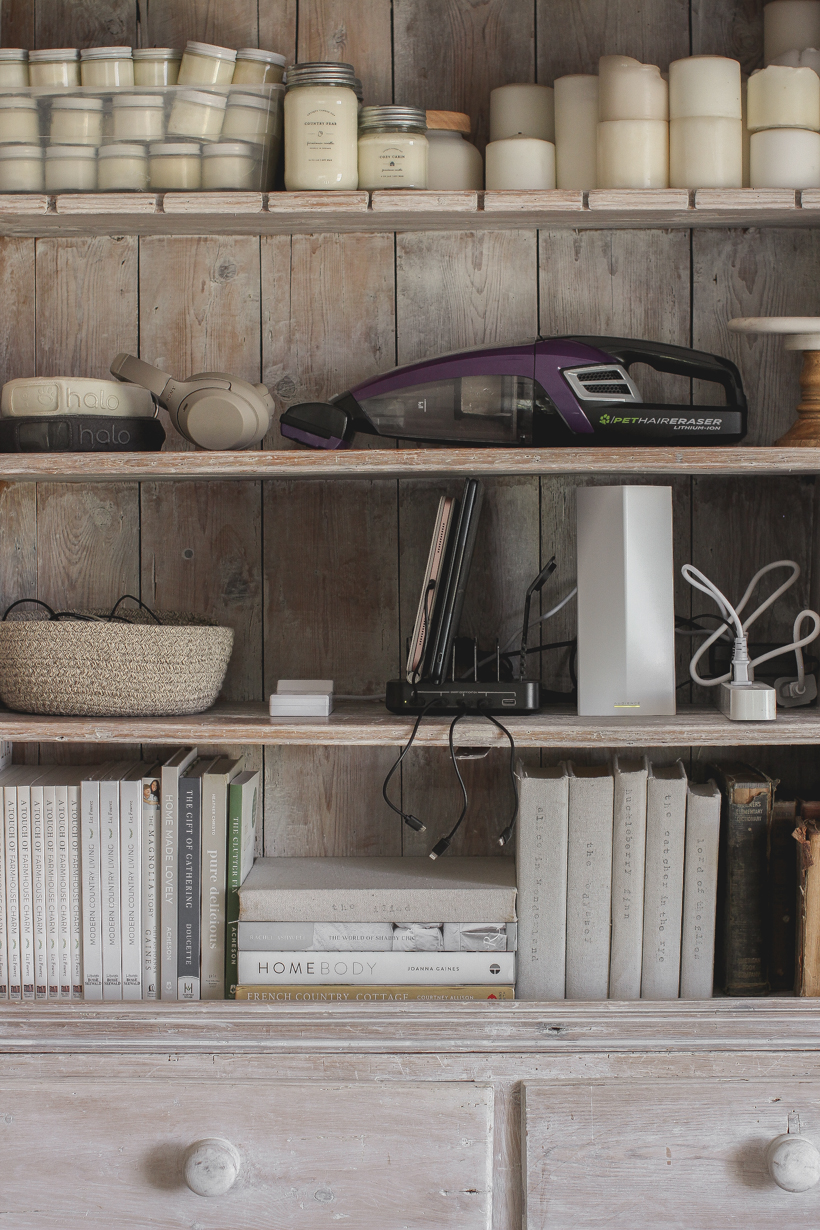 At any given time, we have our phones, tablets, smart watch, headphones, earbuds, handheld vacuum, camera battery, two electronic dog collars, and more that all need to be charged, and I'm sure I'm forgetting several things. Now I have one central place to charge everything with plenty of outlets, ports, and cords ready and waiting.
AND I can close the doors and hide it all away!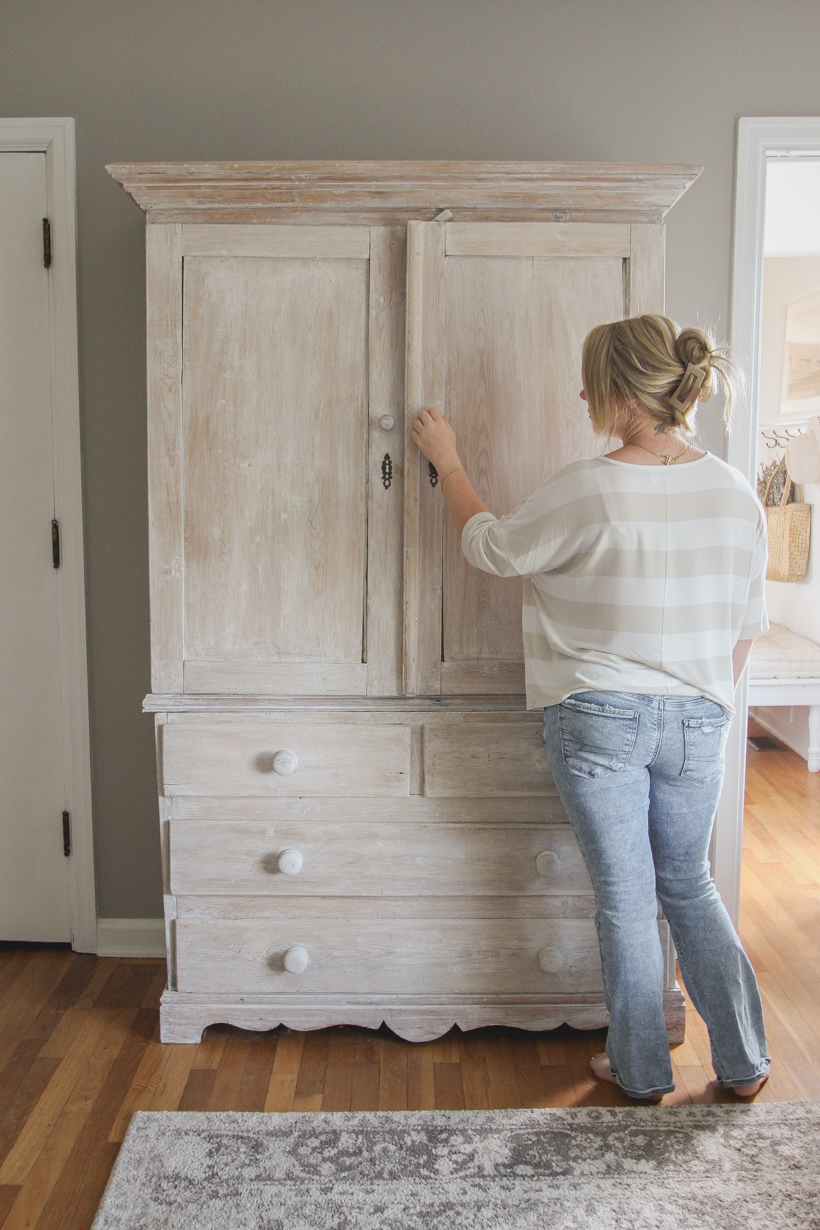 I know this isn't anything super special or beautiful to look at, but it has been really nice having one spot for all these messy cords to live where I can hide them all away. I hope sharing this little idea was helpful or sparked an idea for your own home!
What area of your home needs the most organizing right now?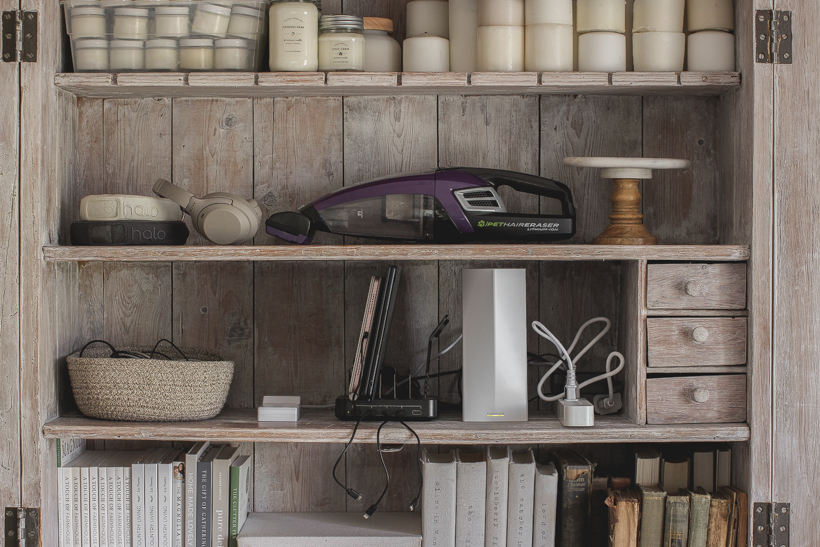 As always, I sincerely appreciate you shopping through the links I share, which allows me to make a small commission from your purchase while your purchase price stays the same. When you use my affiliate links, I'm better able to create content for this blog as well as support my family, and I thank you from the bottom of my heart for supporting what I do!
---
Shop my Posts | Shop my Amazon Store
Join our Community | Follow on Instagram
Follow on Pinterest | Follow on Facebook