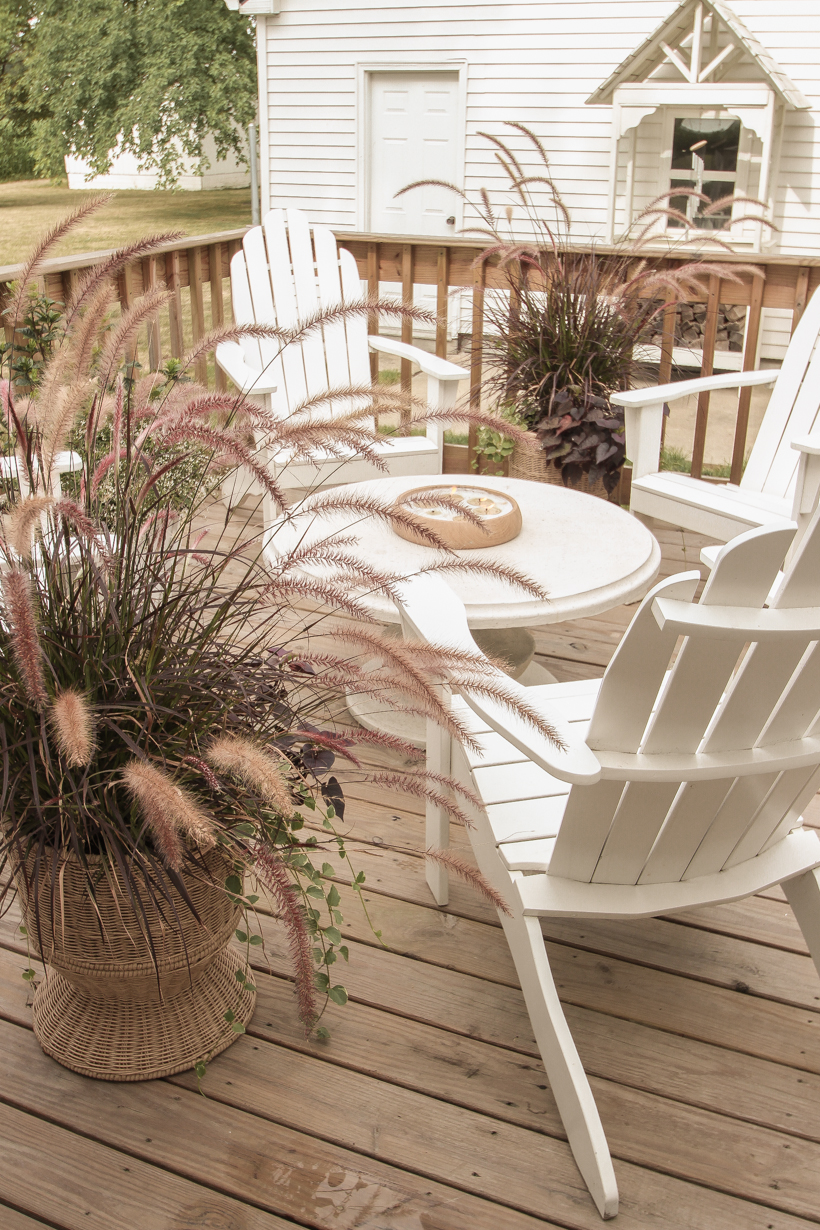 For those of you who have followed along for awhile, you've probably already seen our deck and outdoor living space in the backyard. And to be honest, not much has changed out here this year, which isn't a bad thing! I regularly share new decor ideas and design inspiration (otherwise you would get bored here quickly), but that doesn't necessarily mean I want to constantly redecorate our spaces and spend money on new, shiny things. I never want you to feel that way either!
If anything, this outdoor space is a good reminder to:
buy quality pieces that will stand the test of time – and our Indiana weather 😏
take good care of what we already have – use furniture covers in the winter, deep clean everything in the spring, and re-paint/re-stain anything that needs a fresh coat for protection
and find enjoyment and gratitude in the way your home currently looks – even if it's far from where you want it to be… it takes time!
But I know some of you haven't seen our deck before, so I finally took some updated photos of everything all bloomed and beautiful this summer. Welcome to our outdoor oasis!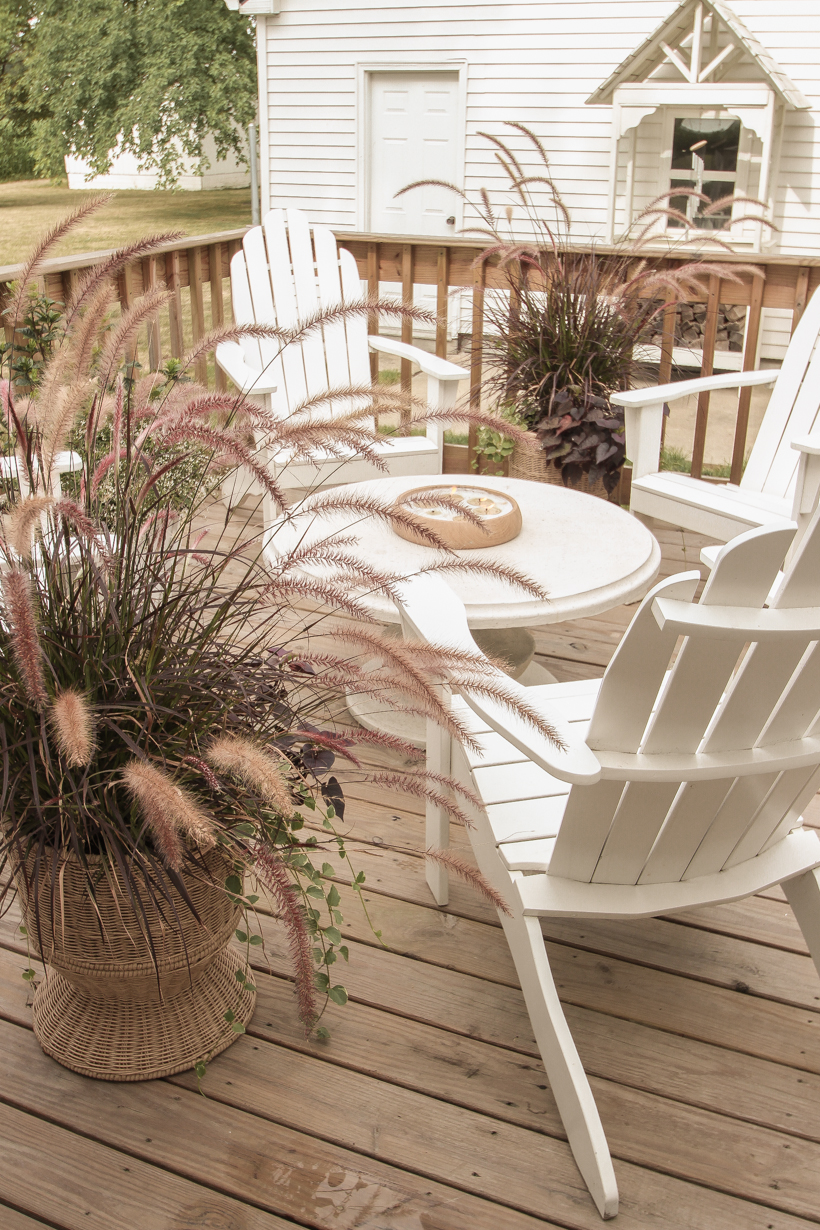 If you're interested in seeing how the deck was built, how and what stain we used, and other details about the deck itself, these posts are a great resource:
Building the Deck
The Finished Deck Reveal
Deck Addition
How to Stain a Deck – Everything You Need to Know from Prep to Finish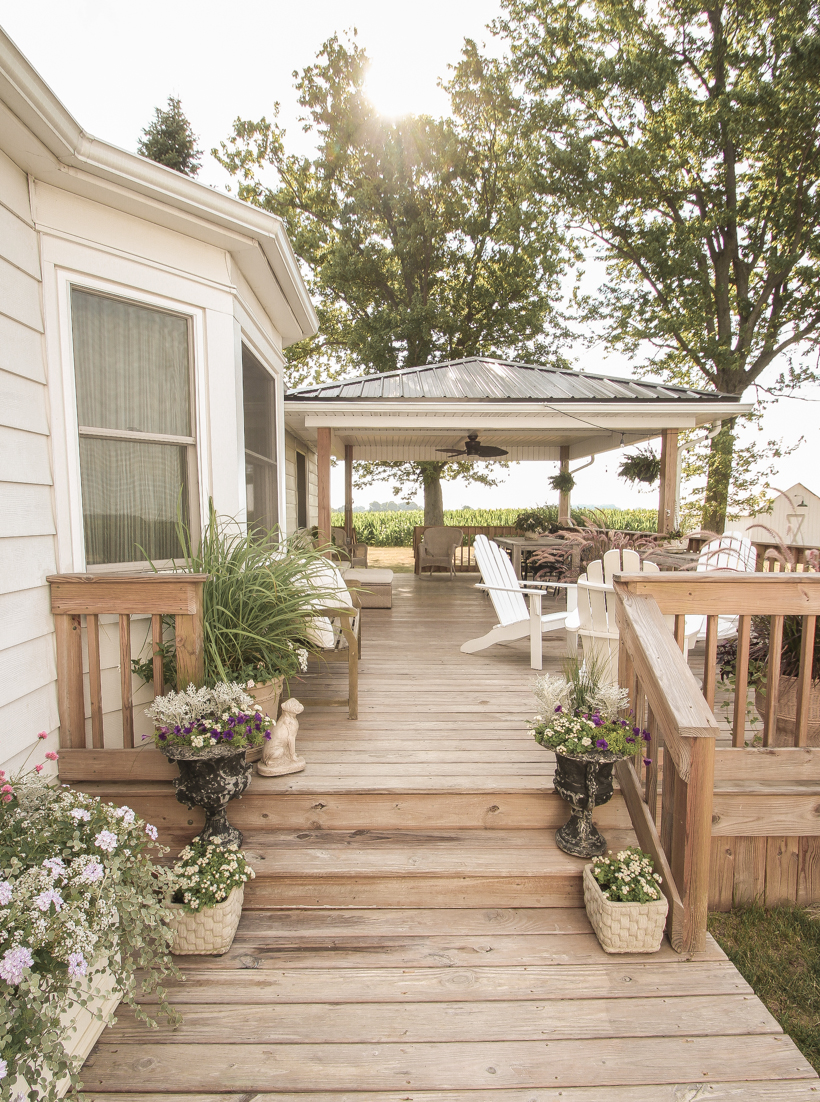 Since we built our deck three years ago, I've always arranged the furniture so the lounge/seating area was underneath the covered gazebo, and the dining table was out in the open. I wanted to use this space as much as possible, so it just made the most sense to have the outdoor sofa under the gazebo where the cushions wouldn't get rained on.
The sun has been rough on the wood dining table I have though, even with protection, and I found that we weren't using it that much because who really wants to eat a meal sitting out in the blazing sun? This year I moved the dining table under the gazebo, pushed the sofa back against the house, and created the coziest little conversation area with our adirondack chairs. We can sit out in the sunshine when we want to, eat under the gazebo with a cool breeze from the fan, and curl up on the sofa to watch the sunset at night. It's a small change, but it made a big difference in how we use the space. And I absolutely love this little slice of Heaven I get to call mine. 😍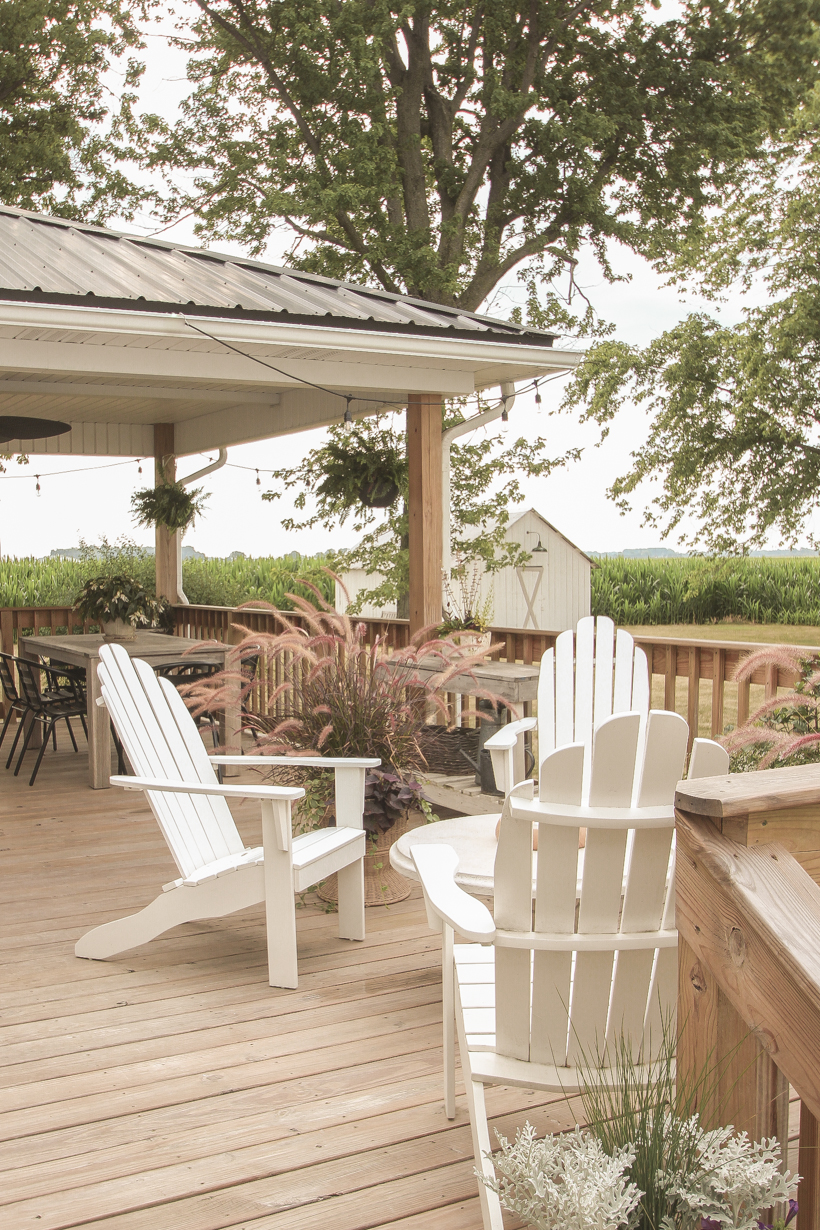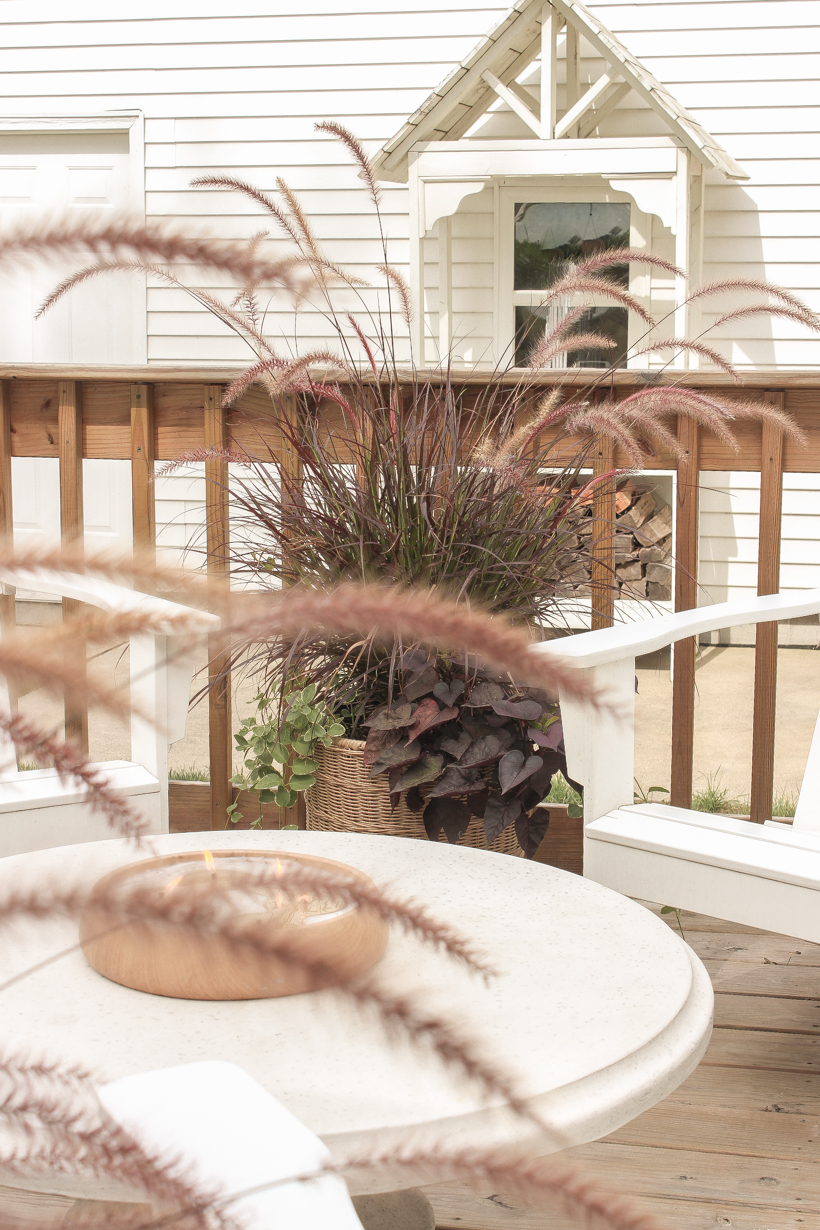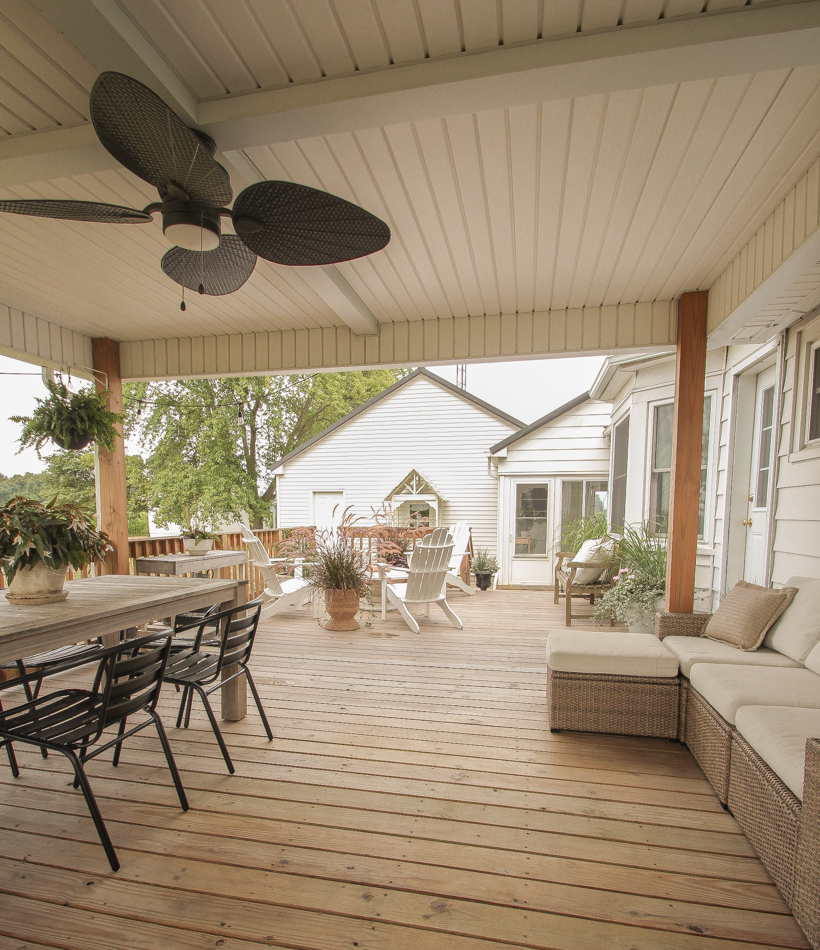 Some of the outdoor furniture I have is no longer available now three years after I bought it, but I will link what I can and similar options for what I can't!
SOURCES:
white adirondack chairs | coffee table | outdoor sofa
dining table | dining chairs | woven planters
hanging basket planters | string lights | potting bench
6-wick citronella candle | ceiling fan | watering can
dog garden statue | outdoor pillow | wood console table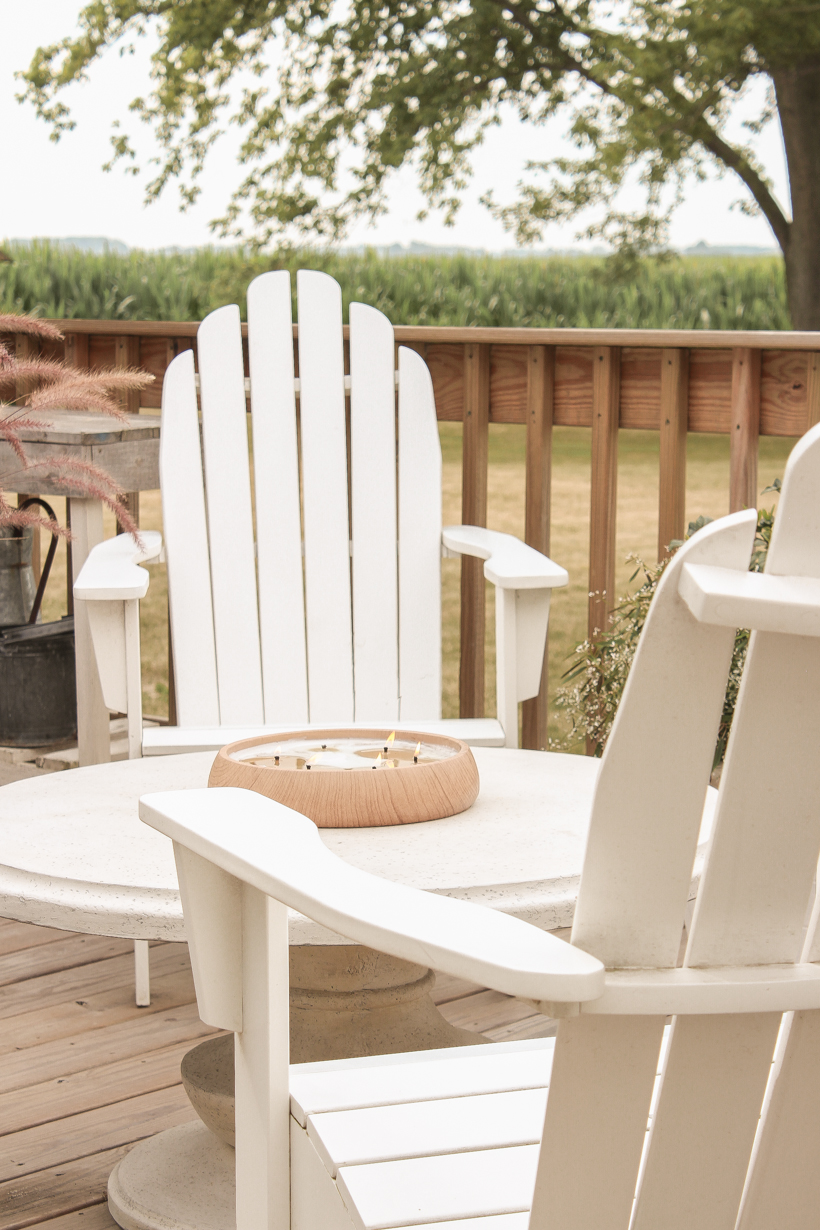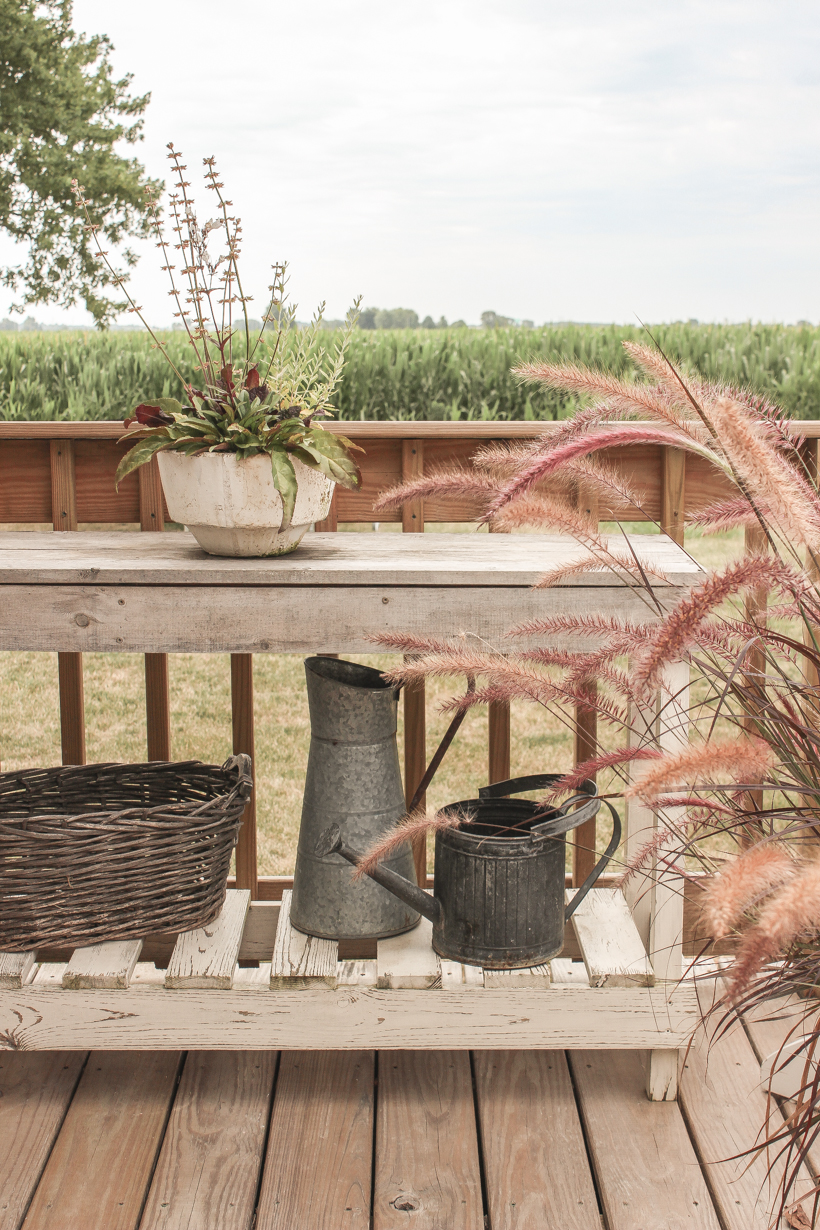 This wood console table I built four years ago now, and I love how it's aged over time. It's a beautiful contrast to the bright white adirondack chairs sitting next to it.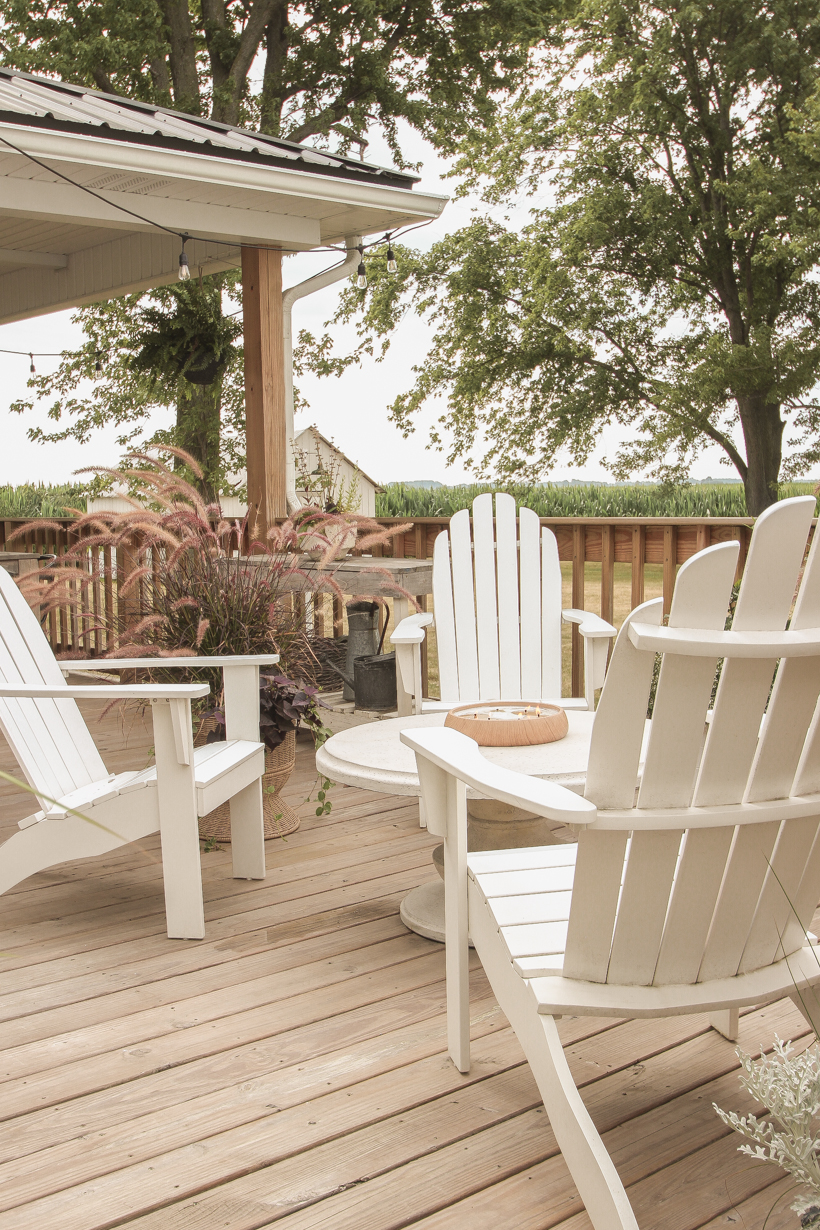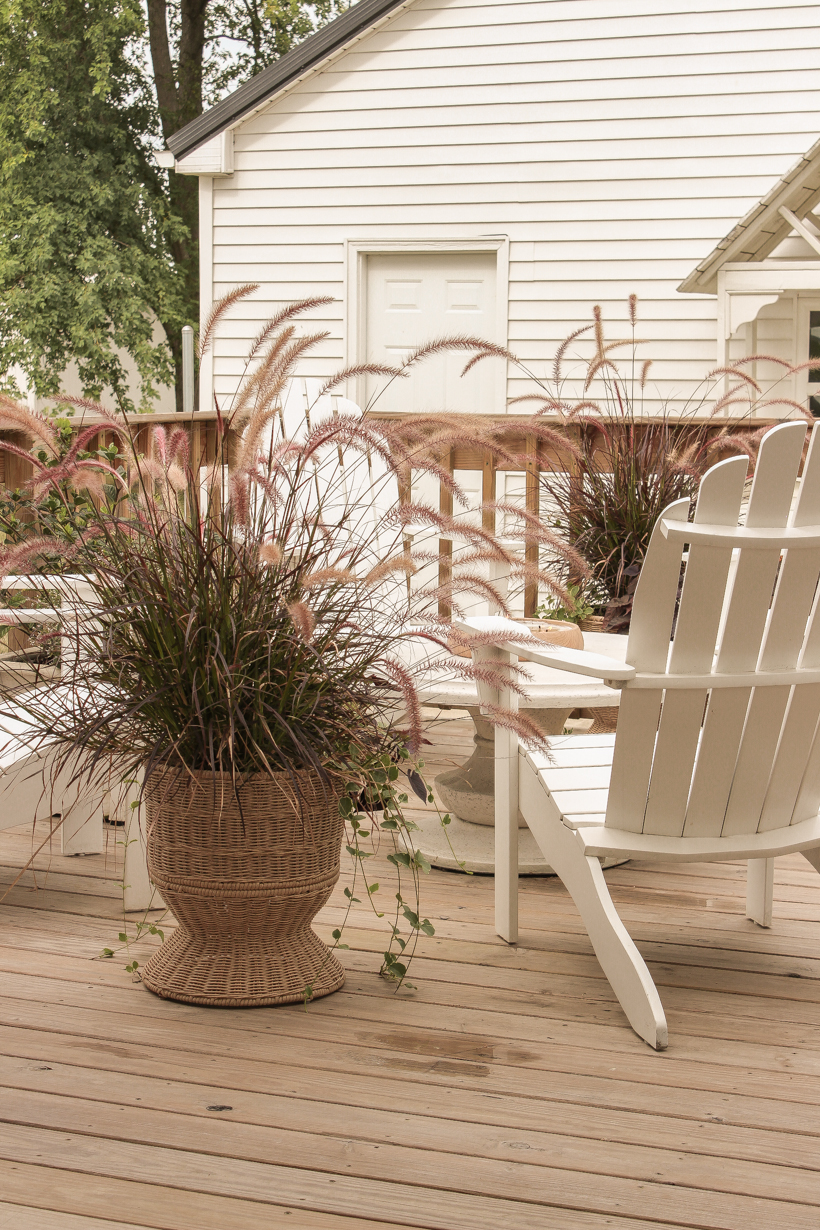 The wicker planters were a Target find a few years ago, so I can't link to these exact ones. But I love this cement basket planter that has a similar look and comes in 3 different sizes.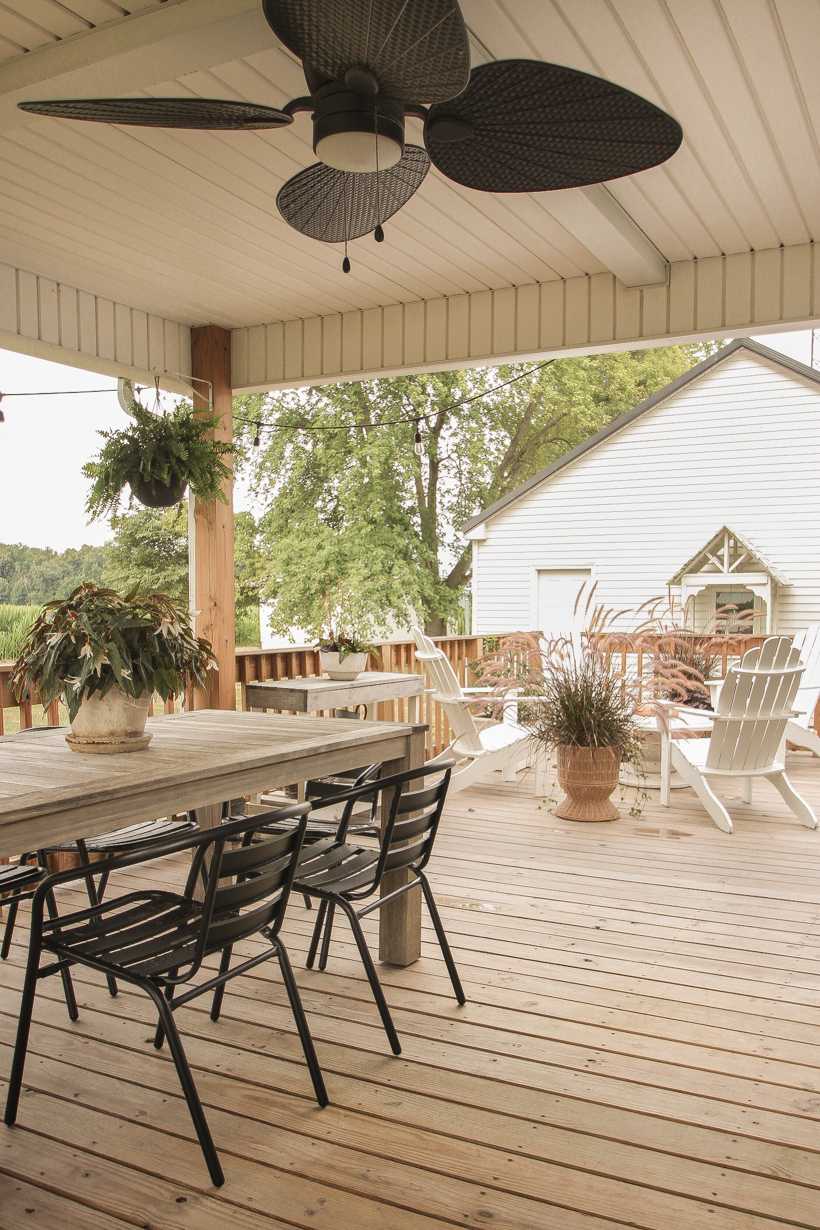 Now let's talk about all the plants I have on the deck this year…
I intentionally waited to share photos so you could see everything in full bloom later into the summer, and these are a few of my absolute favorites:
In the wicker planters by the adirondack chairs, I planted Purple Fountain Grass, Sweet Caroline Sweetheart Jet Black Sweet Potato Vine, and Vinca Variegata. The fountain grass is huge now and has such beautiful color. The sweet potato vine leaves pair perfectly with the purple plumes.
On the dining table I tried a new-to-me variety of Begonia: Bossa Nova Pure White. The dainty flowers spill down over the sides of the pot, and the leaves have such a unique shape.
I have a huge rectangular planter on the lower level of the deck, and I love filling it with a unique mix of flowers and watching it fill in and grow wild as the summer goes on. I try to find at least one plant that will grow nice and tall for the back, something that will spread and fill in nicely in the middle, and something to spill down over the front of the planter. This year I planted: Truffle Pink Globe Amaranth, Superbena Stormburst, Miniature Real Pink Rose, White Knight Sweet Alyssum, Dusty Miller, and Silver Star Helichrysum.
In the other rectangular white planter between the adirondack chairs, I planted a White Gardenia bush and Stardust White Flash Euphorbia. I haven't quite mastered how to keep the Gardenia blooming regularly, but the Euphorbia really took off and has such a pretty dainty look.
In the black urns on the steps, I have Supertunia Royal Velvet Petunia, Dusty Miller, Blue Dart Juncus, and Ageratum.
And the large planter at the top of the steps by the wood bench has Lemon Grass and Superbena Whiteout. Lemon Grass is another plant that grows big and tall and helps keep mosquitoes away!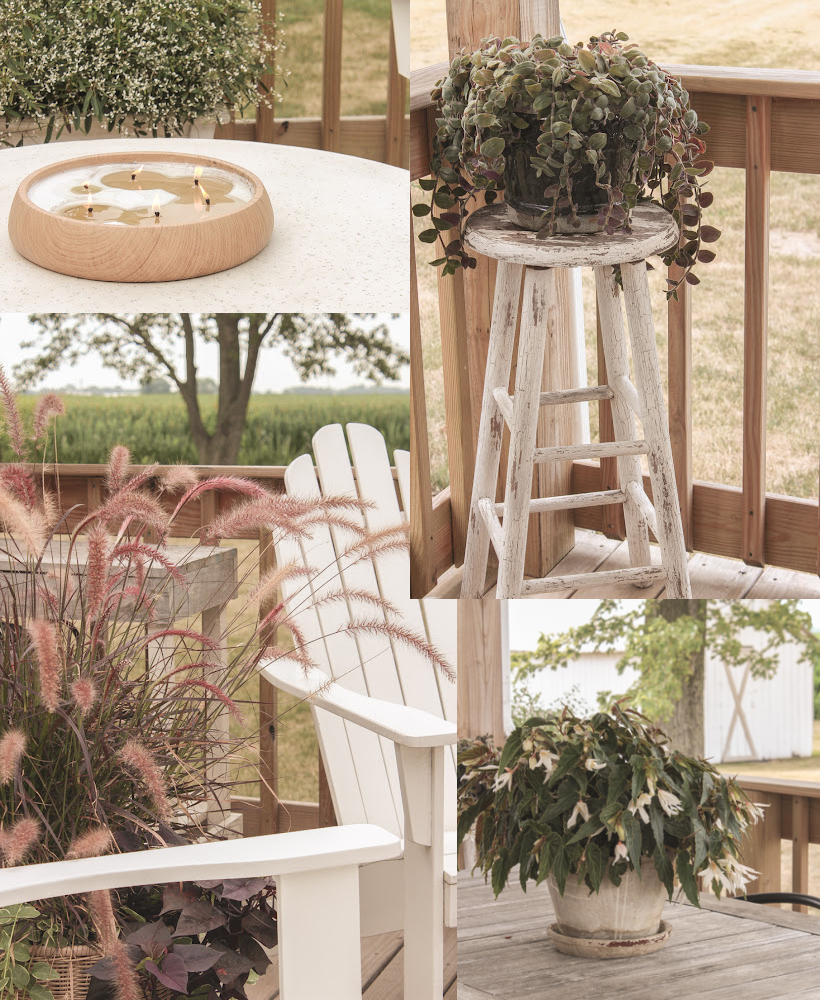 I got the boxer garden statue for Mother's Day, and he's the cutest little addition to the deck steps. I should have taken a picture of our boxer pup, Lady, sitting next to it, but dogs are almost as difficult as toddlers to get them to sit still for a picture. 😂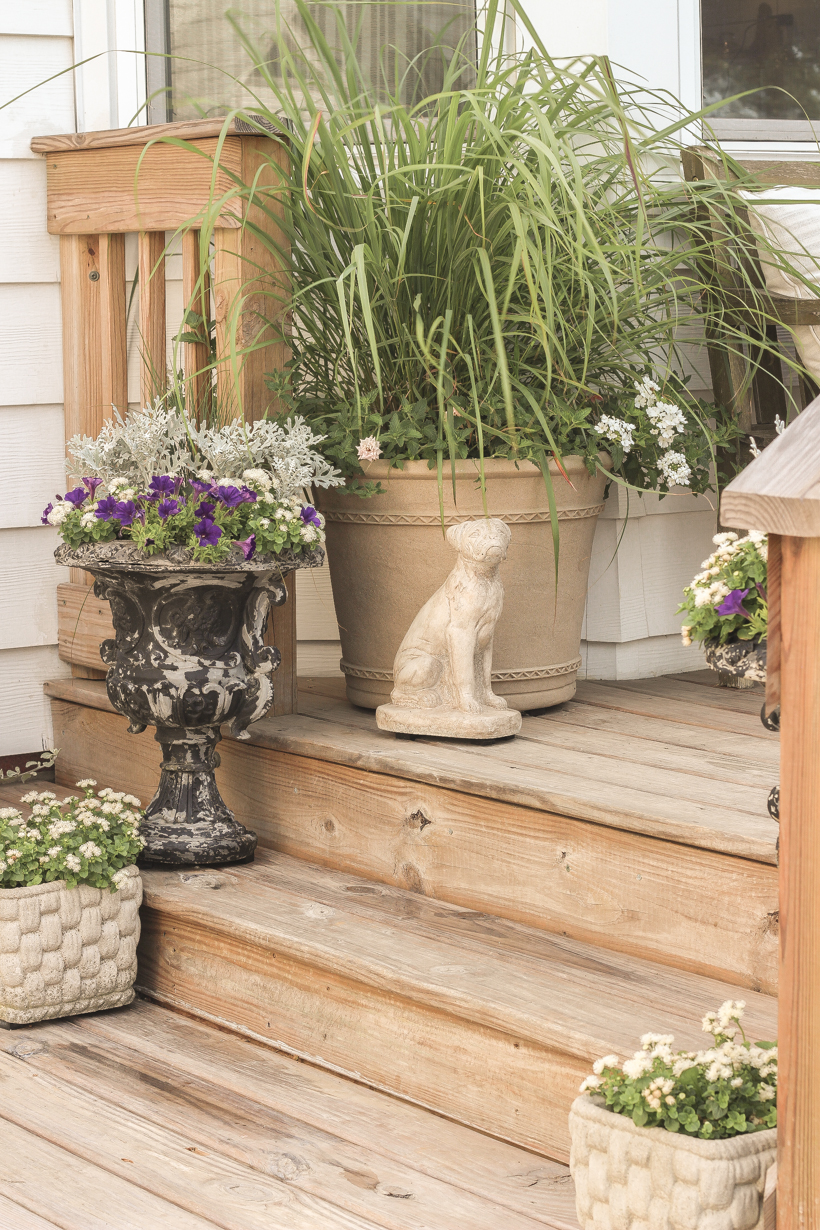 These black metal chairs are actually the only new thing I bought this year, other than all the plants. The previous white/black ones I had from Pier 1 only survived a few years before the woven material started breaking, so I tried to find something that would hold up to the outdoors long term a little better. Worst case scenario, I need to give them a fresh coat of spray paint a few years down the road. Hopefully these will last longer!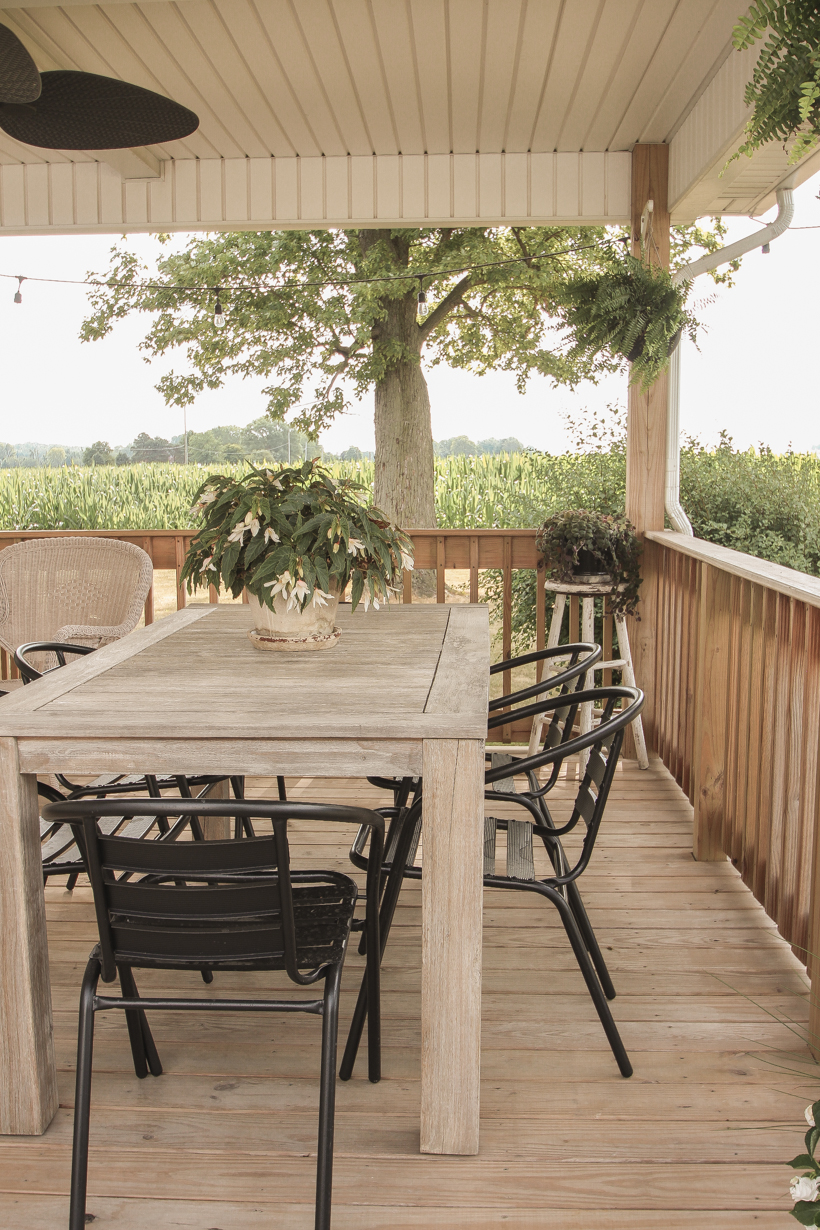 I hope you've enjoyed this little tour of our outdoor living space and are enjoying your own little outdoor oasis at home as well. If you need some inspiration, here are a few more posts you can check out!
How to Clean your Outdoor Cushions and Pillows
Tall Outdoor Cedar Planter Tutorial
Barn Makeover
Potting Bench Ideas
How to Restore and Protect Outdoor Wood Furniture
Have any questions about this space? Let me know!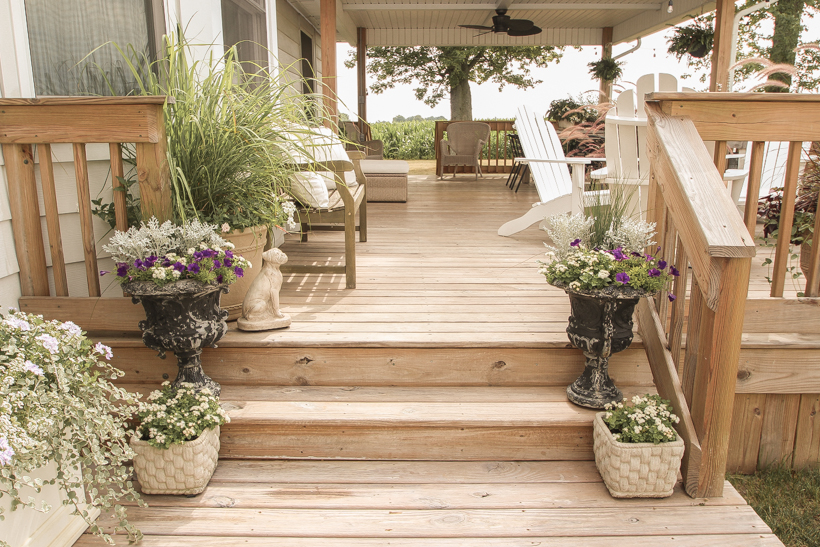 As always, I sincerely appreciate you shopping through the links I share, which allows me to make a small commission from your purchase while your purchase price stays the same. When you use my affiliate links, I'm better able to create content for this blog as well as support my family, and I thank you from the bottom of my heart for supporting what I do!
---
Shop my Posts | Shop my Amazon Store
Join our Community | Follow on Instagram
Follow on Pinterest | Follow on Facebook