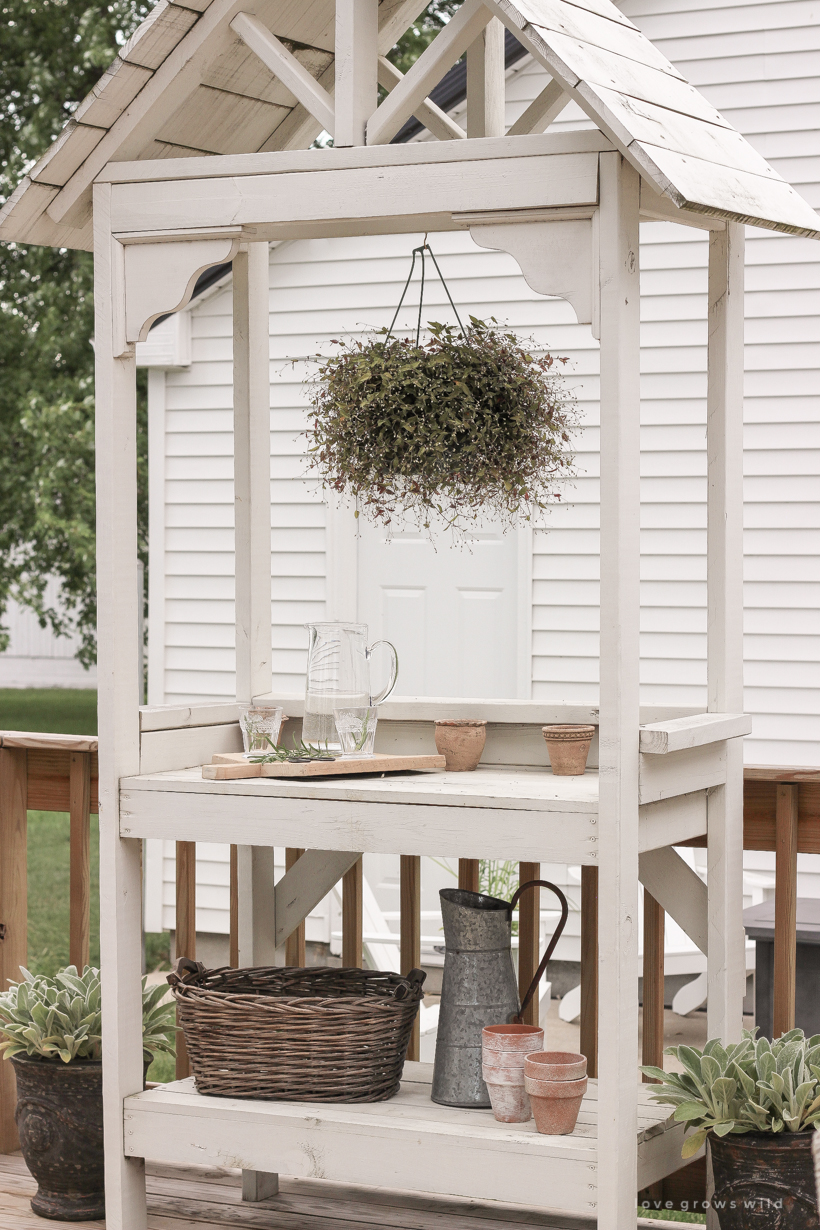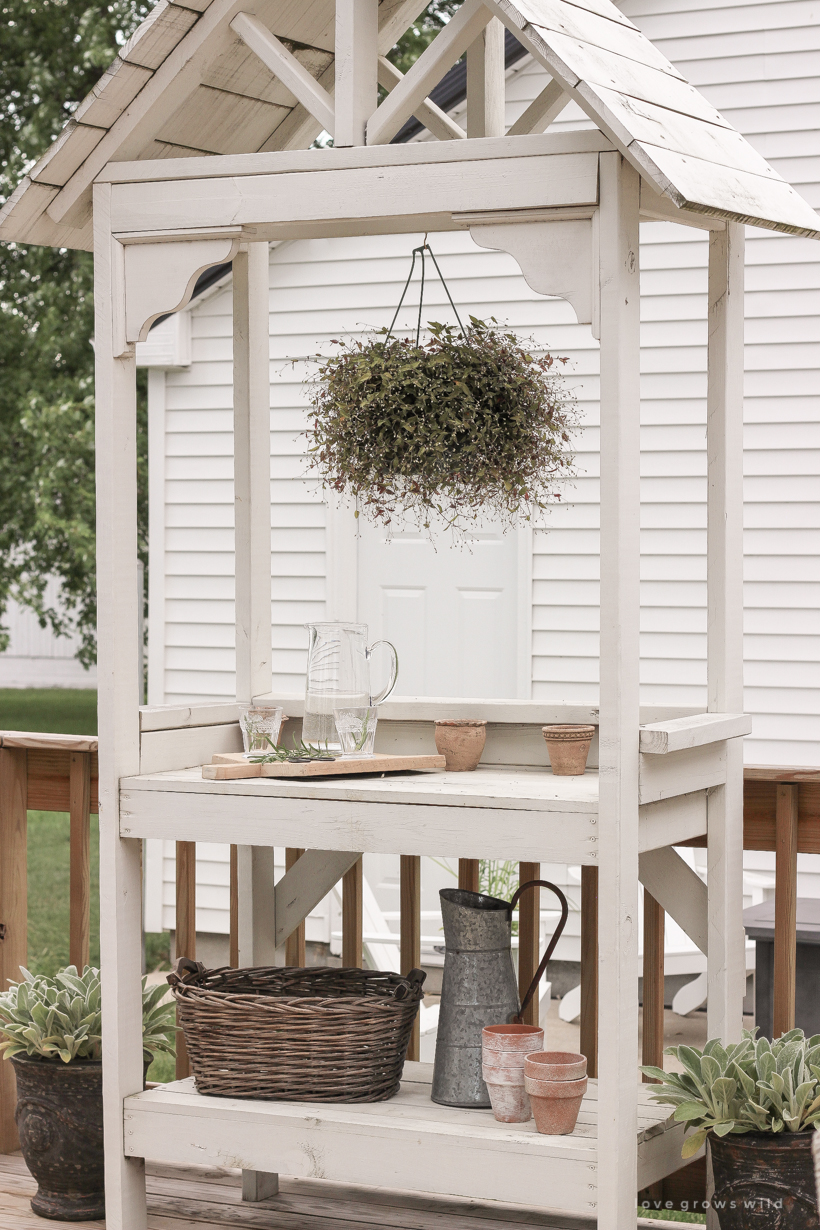 Want to know my favorite thing I've probably ever built? It has to be this potting bench from back in 2016 before I had the deck built, and the only outdoor living space I had was a tiny little concrete patio. I wanted to build something that would be a focal point in such a blank space, and I dreamed up a combination of a potting bench and an entertaining/serving piece complete with a beautiful roof and corbel details. I remember sketching out all the dimensions and lumber sizes on a piece of paper and thinking, "this might actually work… this might be the best thing I've ever built." It was back when I was still honing my woodworking and power tools skills, but I wasn't about to let such a large scale project intimidate me because I was way too excited to see my vision come to life.
Once the deck project was finished last summer, I moved all our seating onto the deck and debated what I was going to do with the little concrete patio and the potting bench. I'll be sharing soon what I ended up doing on the patio, but I found a new home for the potting bench and think I fell in love with it all over again…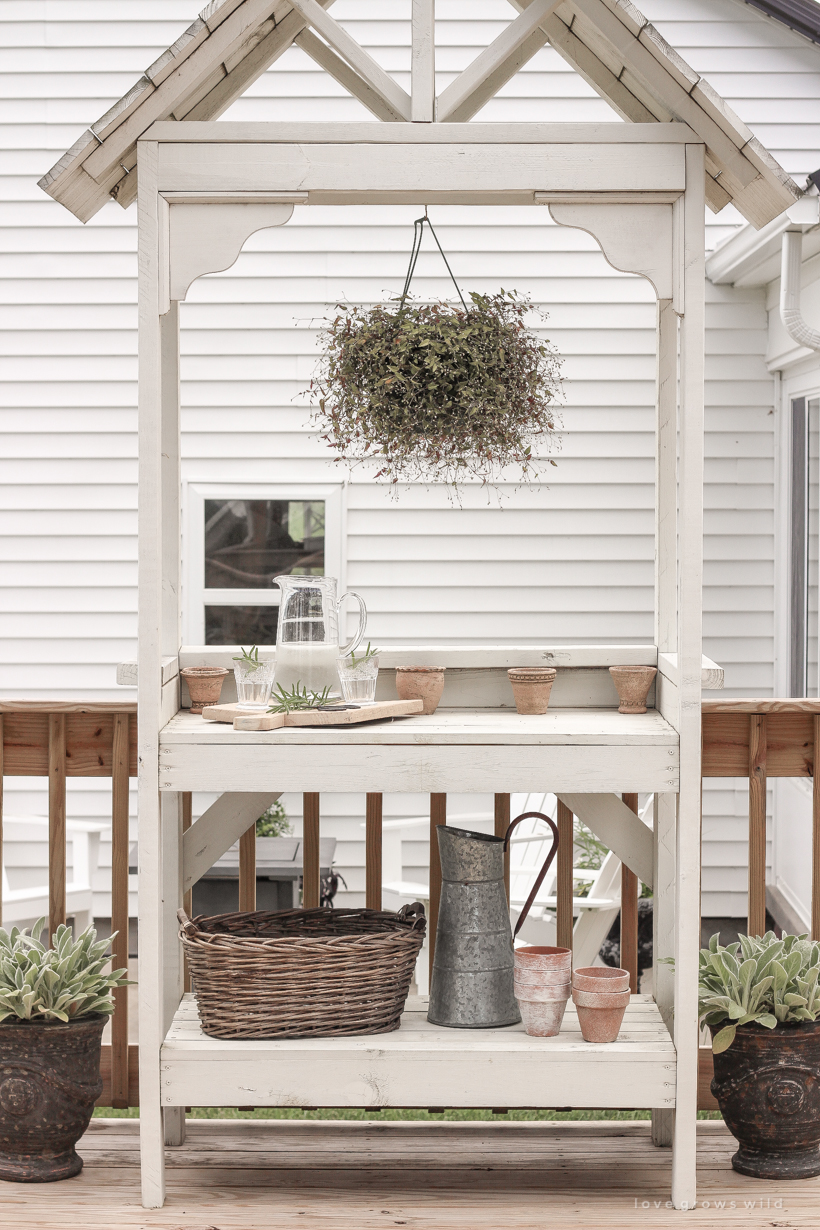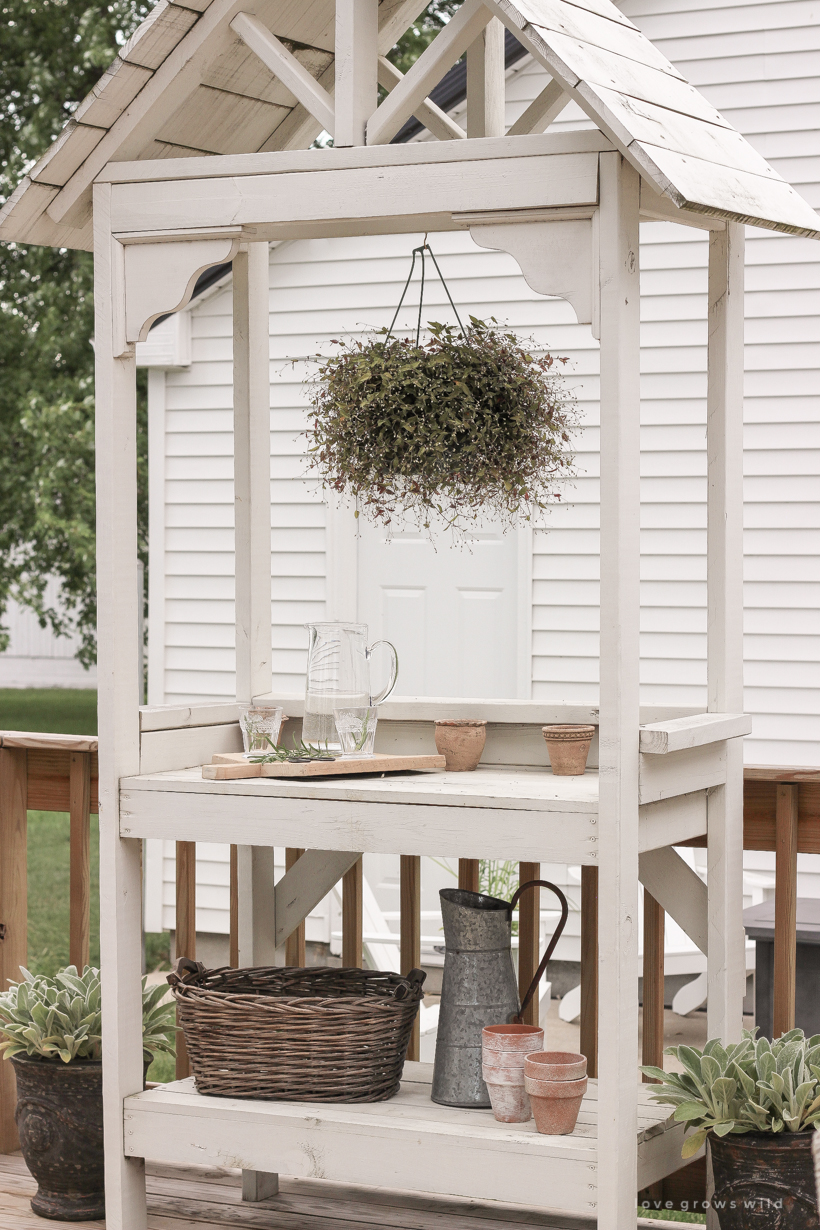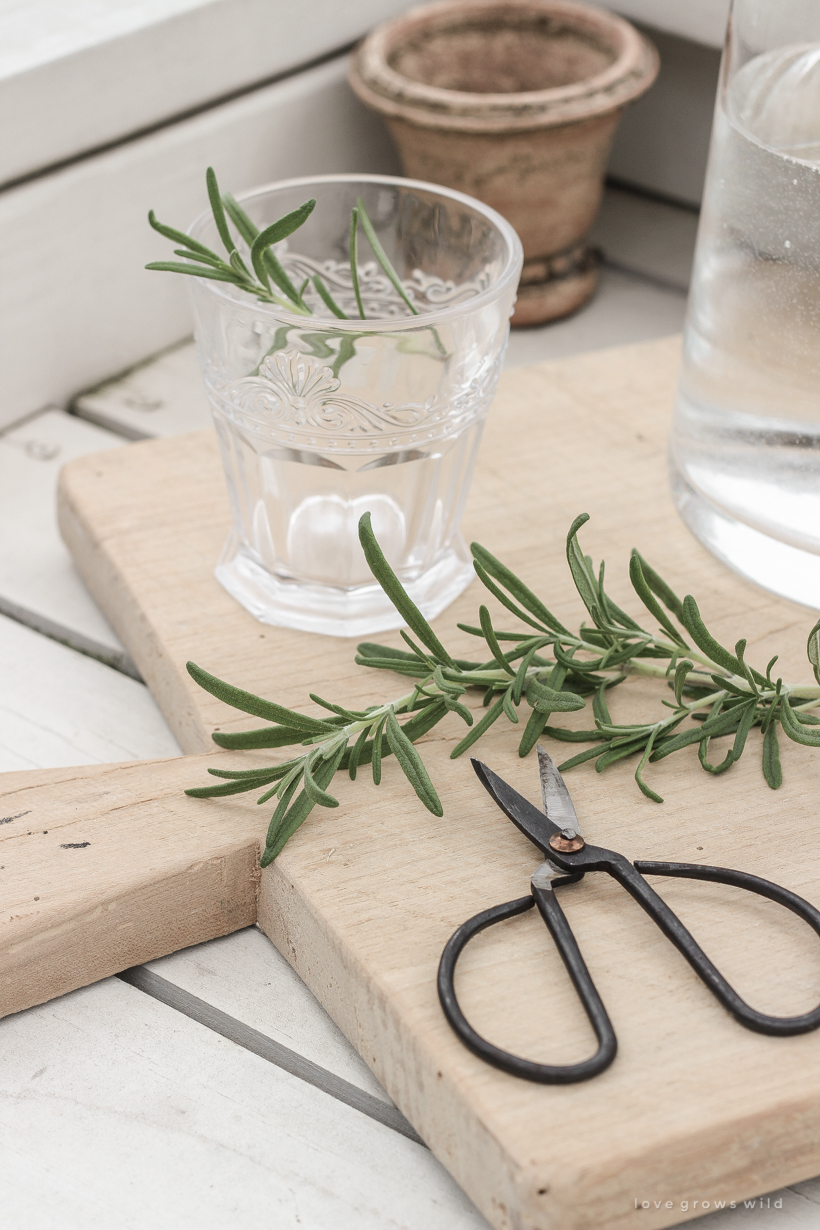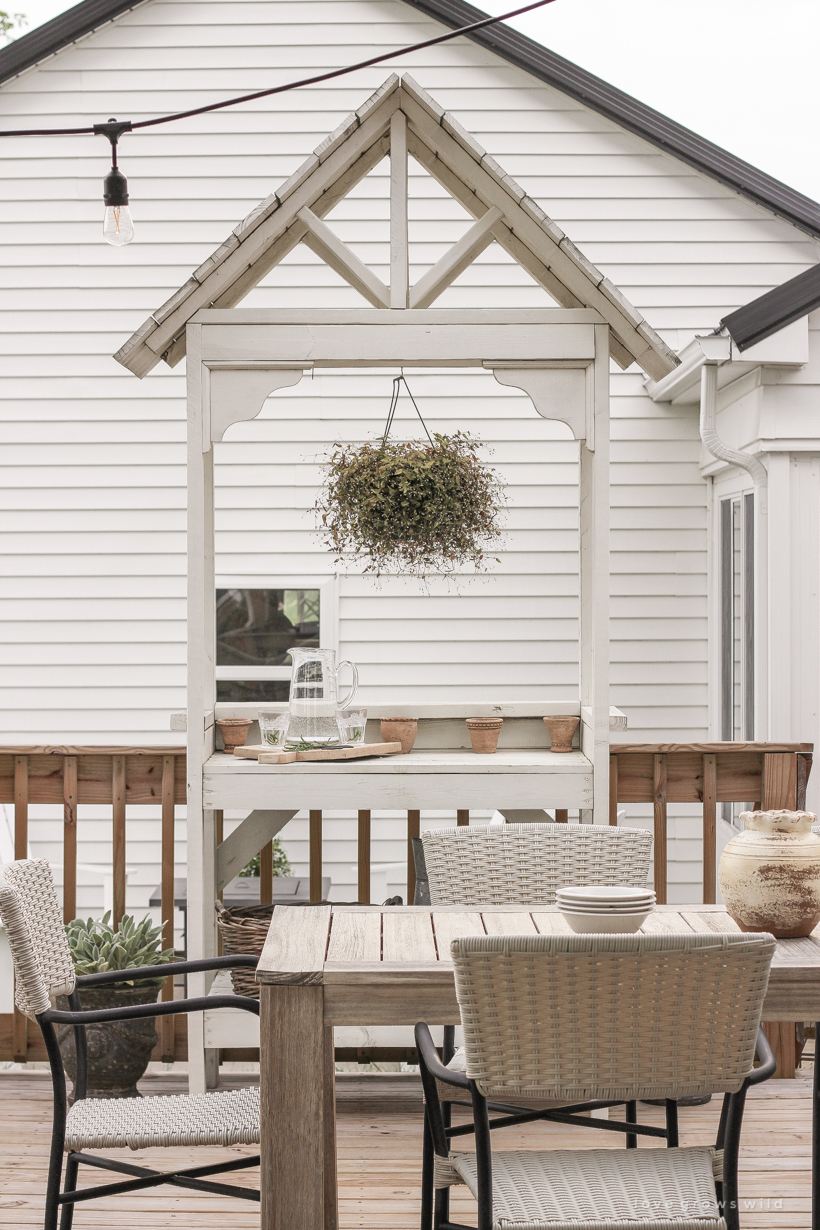 Want to see plans for building this potting bench? Click here!
I rotated the direction of our outdoor dining table to free up more floor space and placed the potting bench on the railing next to the stairs. I love that it not only serves as another beautiful focal point in our backyard, but it also provides a place to set drinks and food when I'm entertaining, store my extra pots and gardening tools, and display some pretty flowers. Right now I have a plant called bridal veil hanging from the roof of the potting bench and urns of lamb's ear on either side.
All of the little accessories I used to style this piece are things I've had for years, but I did want to share this one little tip with you:
HOW TO GET THE LOOK OF AGED TERRA COTTA POTS:
There are a variety of ways you can achieve that beautiful old patina look on terra cotta pots, but here are the main things to remember: you'll want to add some texture to the smooth surface, soften the bright orange color of the terra cotta, and add some dark spots to look like they've been out in the dirt and weather for a number of years.
For the little pots on the bottom shelf on the right, I used a textured spray like this one to create a rough, bumpy, uneven finish on the outside of the pot. Then I very lightly a mist of cream or ivory spray paint to lighten up the orange terra cotta color. Once that was dry, I went back and applied a small amount of dark wax to areas of the pot, letting it settle into small crevices where dirt would naturally build up over time. (here is another tutorial for aging pots that I like)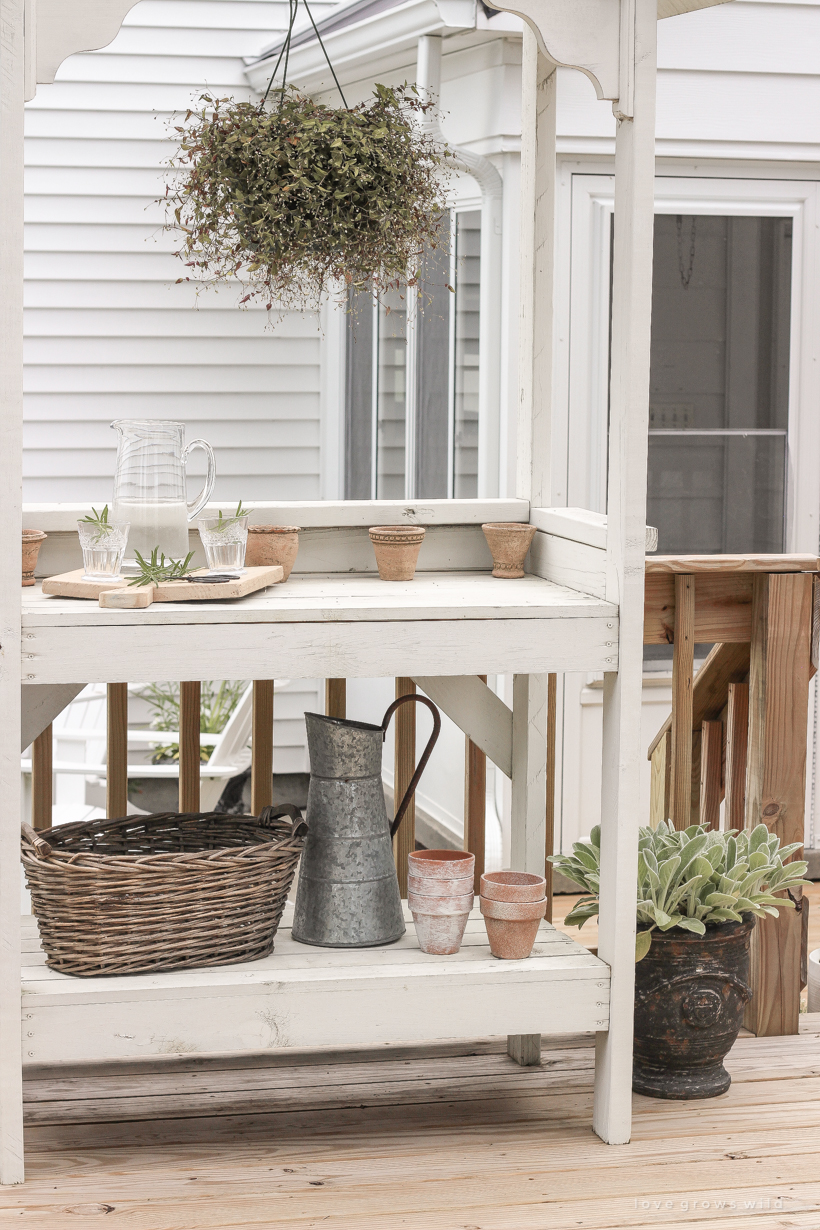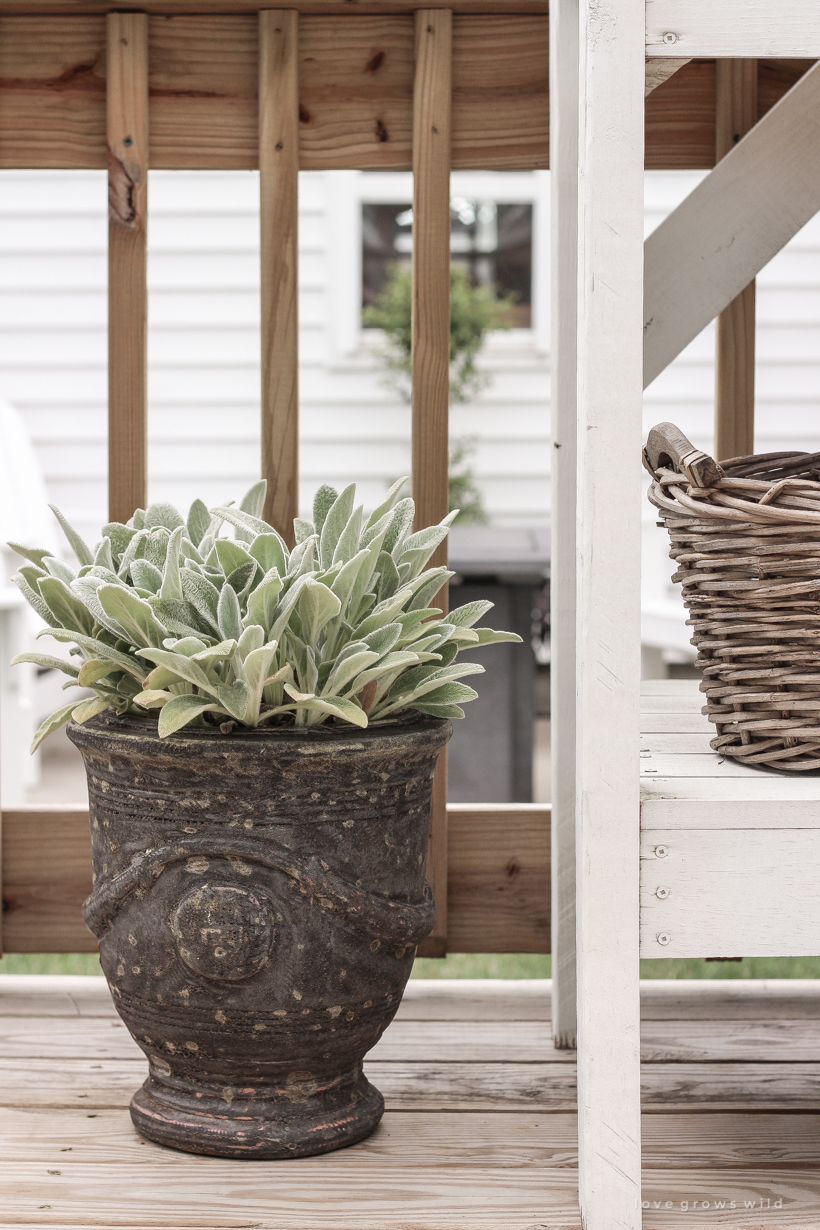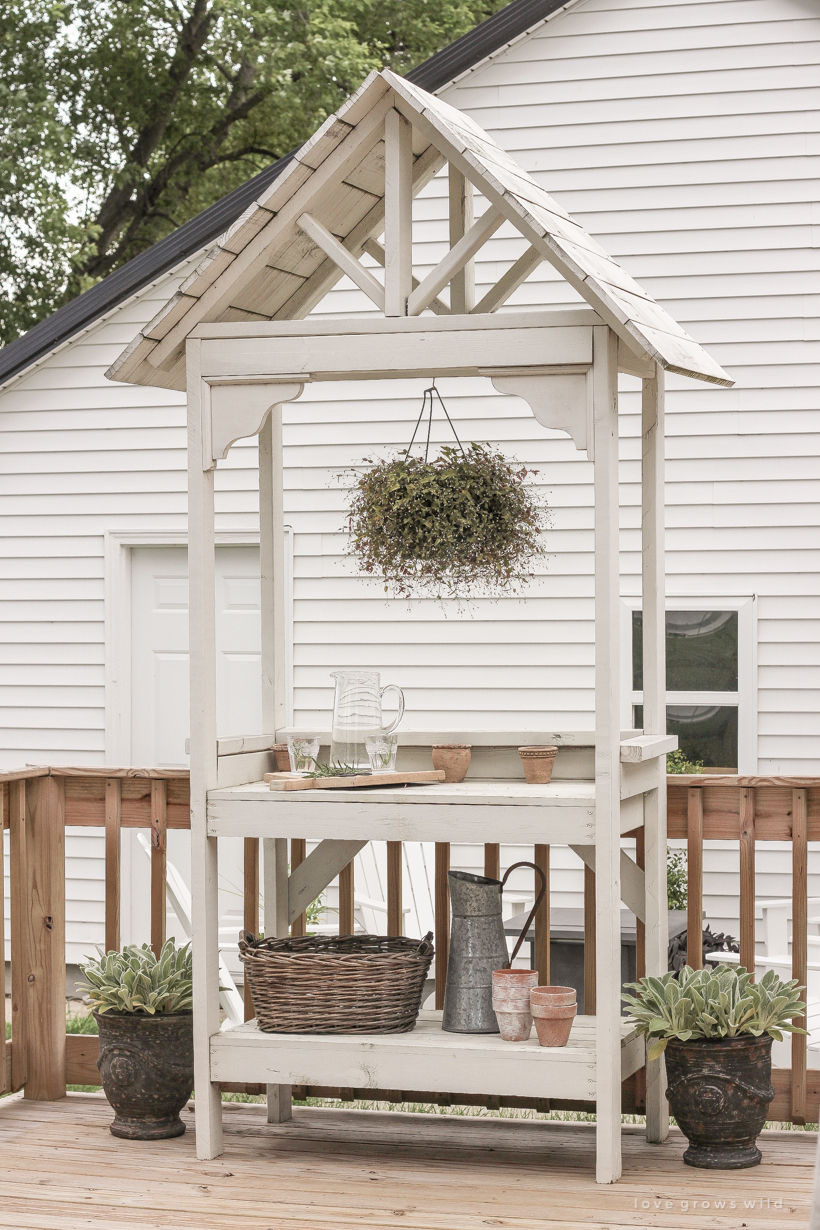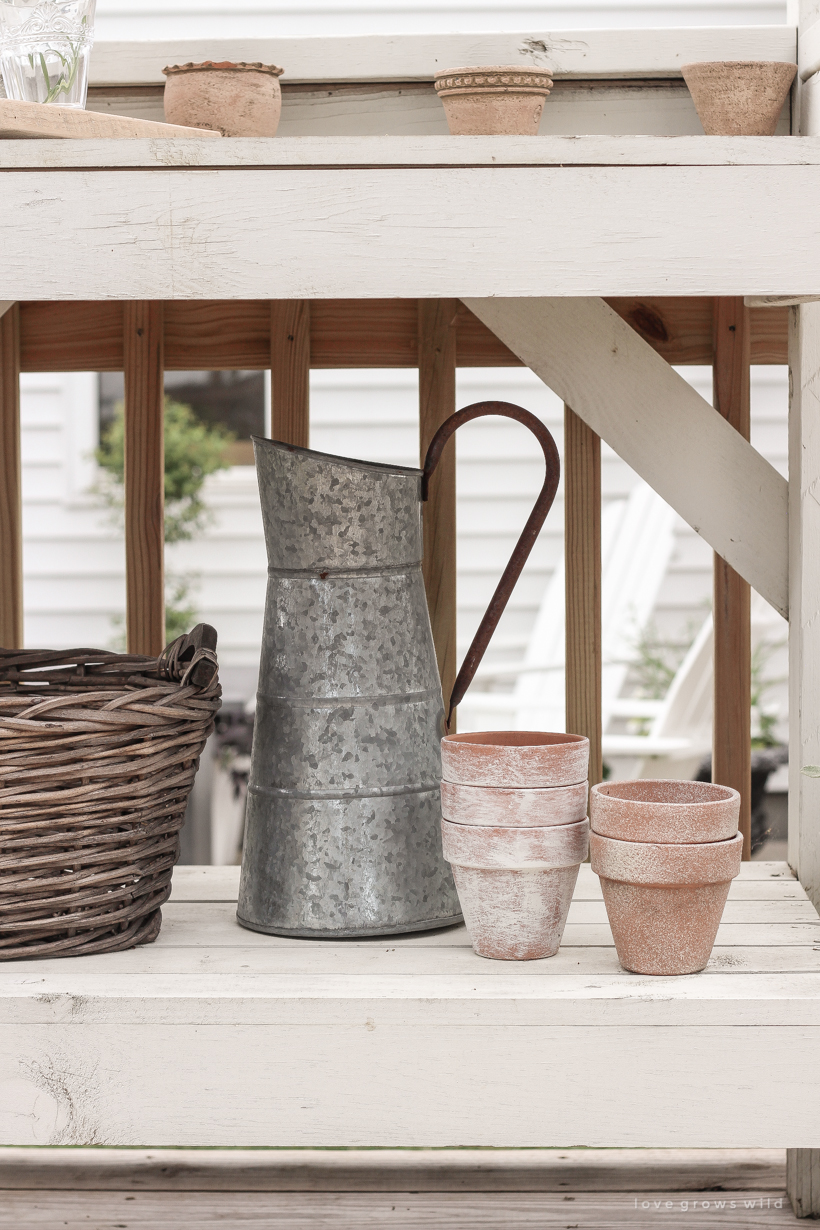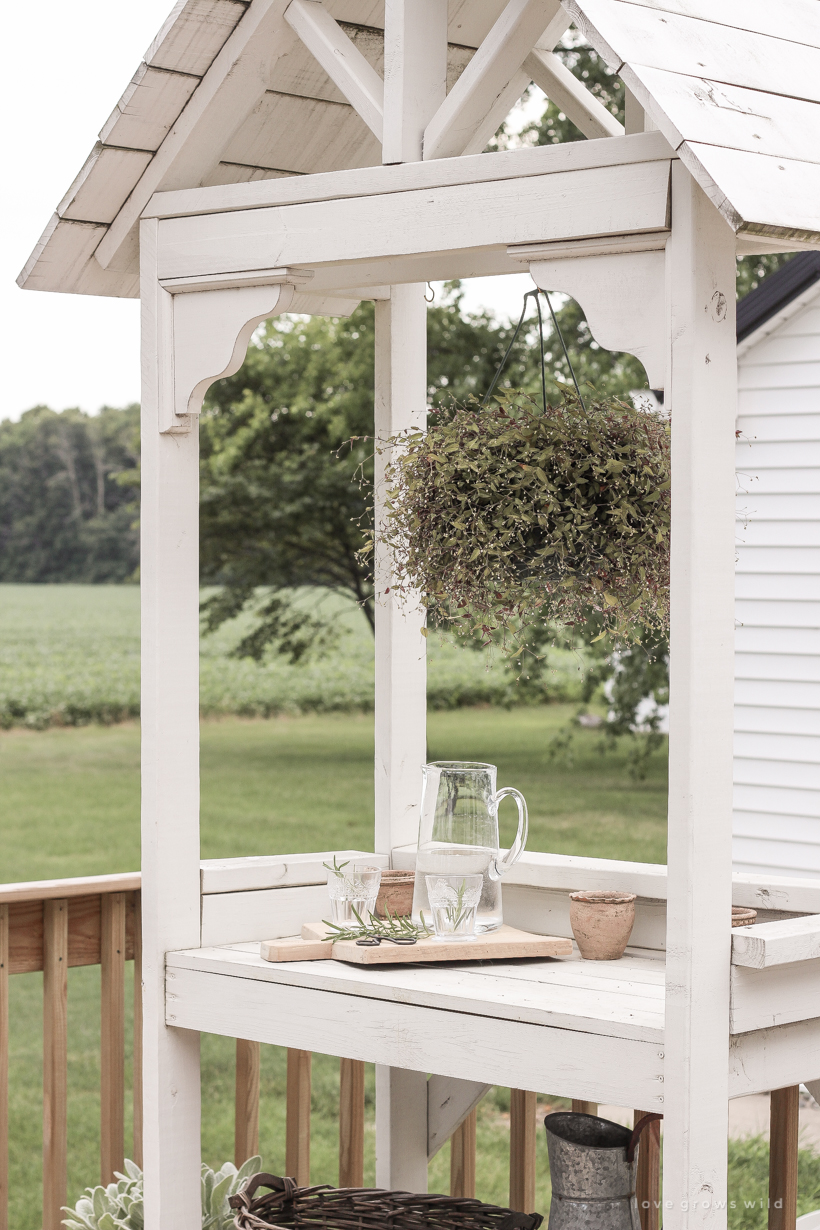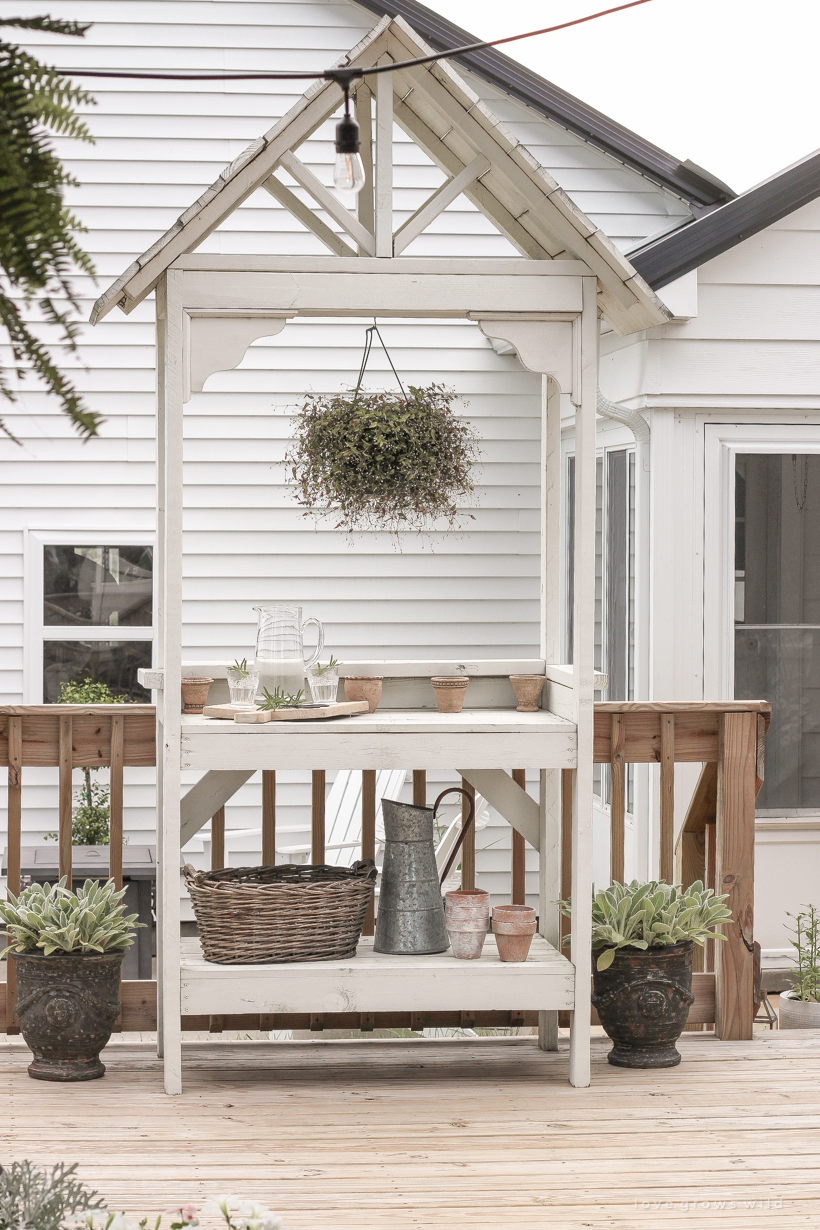 What do you think of the potting bench up on the deck now? I'd love to hear your thoughts! What do you think you would use a piece like this for?
Want to see more of our outdoor living spaces?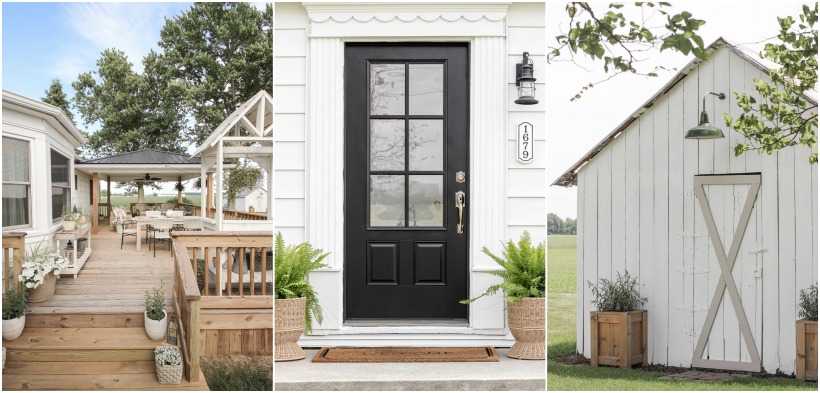 Our deck addition | New front door + front porch | Little barn makeover
---
Subscribe to Blog | Follow on Instagram
Follow on Pinterest | Follow on Facebook