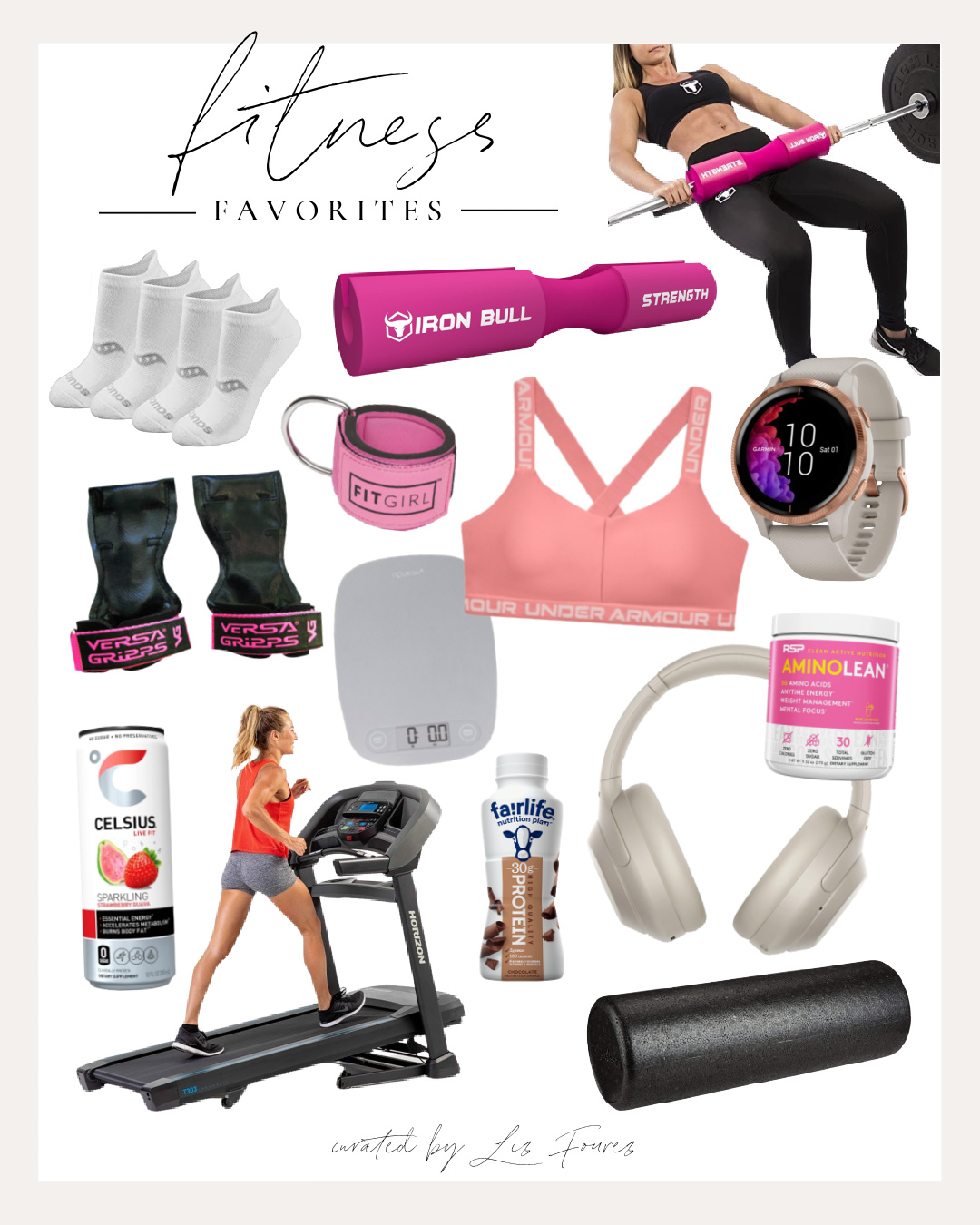 I can't tell you how overwhelmingly happy I was hearing from so many of you about your own health and fitness journeys after sharing mine a few weeks ago. I know firsthand how much our health and body image can impact multiple aspects of our lives, and although I'm in no way, shape or form an expert in this area, I think it's important to pass on knowledge to others who could benefit from my experiences. That being said, I had a lot of questions about specific tools/foods/programs that have worked for me, and I wanted to put a post together of all my favorite health and fitness related things that might be helpful.
My favorite workout clothes and accessories, supplements, apps I love, and what I keep in my gym bag at all times…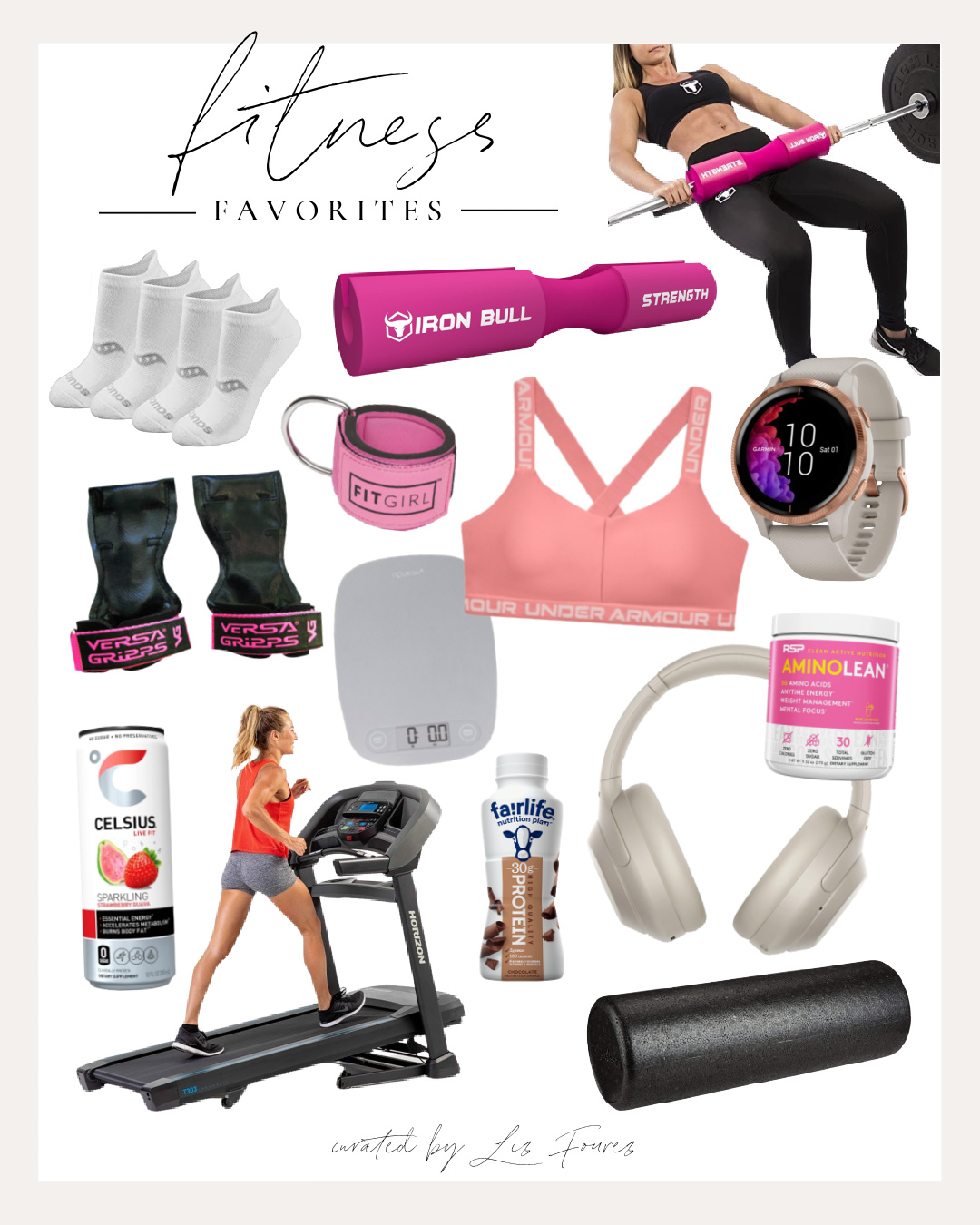 SHOP MY FITNESS FAVORITES

SAUCONY WOMEN'S PERFORMANCE ATHLETIC SOCKS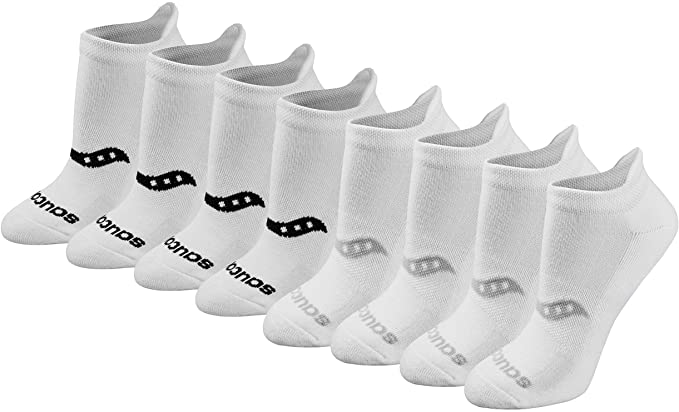 One thing I've learned over the last ten years is the importance of getting enough movement in throughout the day. Taking a walk and striving to get a certain number of steps in each day (my goal is 8-10,000) can make a huge impact on managing your weight and how your body feels overall. The more on went on walks, the more I realized I needed better socks that would cushion my feet, absorb moisture, and prevent any blisters. These socks are the best I've tried and come in a variety of colors.
---
BARBELL PAD FOR HIP THRUSTS + SQUATS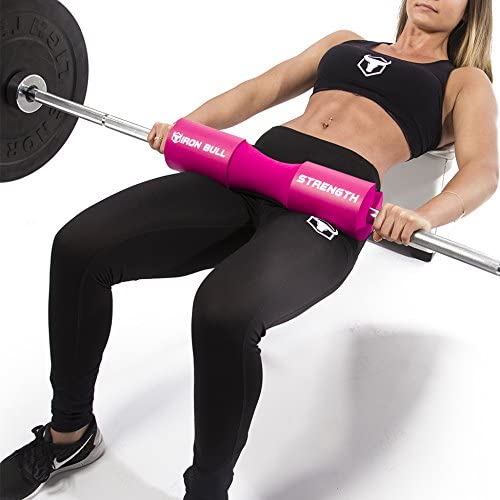 As I talked about in my fitness journey blog post, I didn't start off using all or even any of the items on this list. I slowly added them to my gym bag or kitchen as I found the need for them. So don't feel like you have to go out and buy everything to be successful in your own fitness journey! But if you are at the point where weight lifting and specifically hip thrusts/bridges are part of your workouts, this will be a game changer!
Hip thrusts and bridges are one of my favorite exercises for growing glutes, but it's impossible to rest a heavy barbell across your hips comfortably without some kind of padding. This pad easily slips on any barbell to provide thick, durable padding between the bar and your hips. It's also commonly used to during squats to protect the back of your neck, but I find that if you are doing them correctly, you really don't need it. The thick pad can actually cause your form to be out of alignment during squats. But for hip thrusts… this is a MUST. Under $20 and comes in 5 colors. I keep it in my gym duffle bag at all times.
---
CROSS BACK SPORTS BRA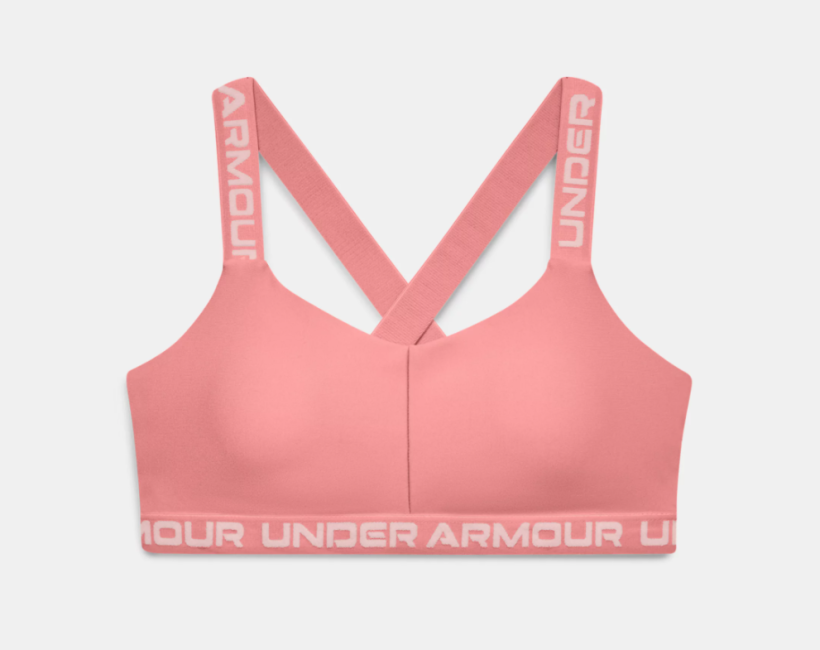 My favorite and most comfortable sports bra. The wide straps don't dig into my shoulders at all, which is a big pet peeve of mine, and the cross back detail and is really cute. The pads are removable, and I have this bra in several colors!
---
GARMIN VENU GPS SMARTWATCH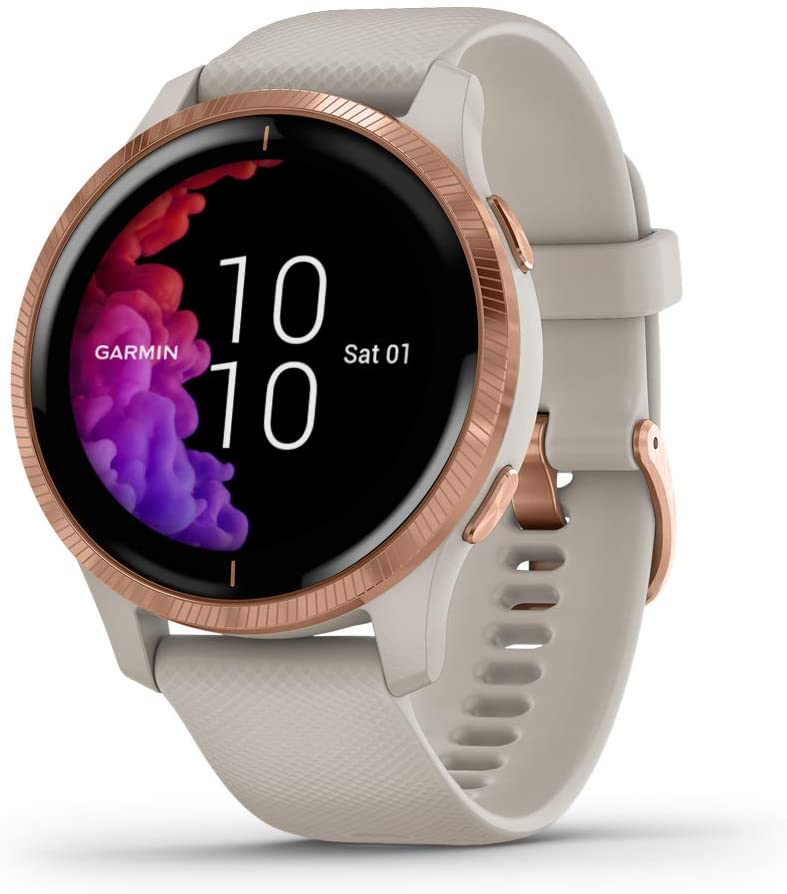 I wear this watch at all times unless it's on the charger, which is only about every 5 or so days. I use it mostly to track my steps each day, but it's also great for keeping an eye on my sleep, heart rate, and more. It's synced with my phone and shows notifications for texts, emails, incoming calls, etc. The only thing it doesn't do is allow you to text back or answer the phone like an Apple watch does, but that doesn't bother me at all. But my favorite feature? When you lose your phone, just push a button on the watch, and it rings your phone until you find it. I can't tell you how many times I've had to use that lately!
I chose this particular smartwatch for two reasons, the softer neutral colors and the extended battery life. It's SO nice to not have to charge it every day, especially so I'm able to wear it throughout the night and track my sleep patterns. Highly recommend!
---
MYFITNESSPAL APP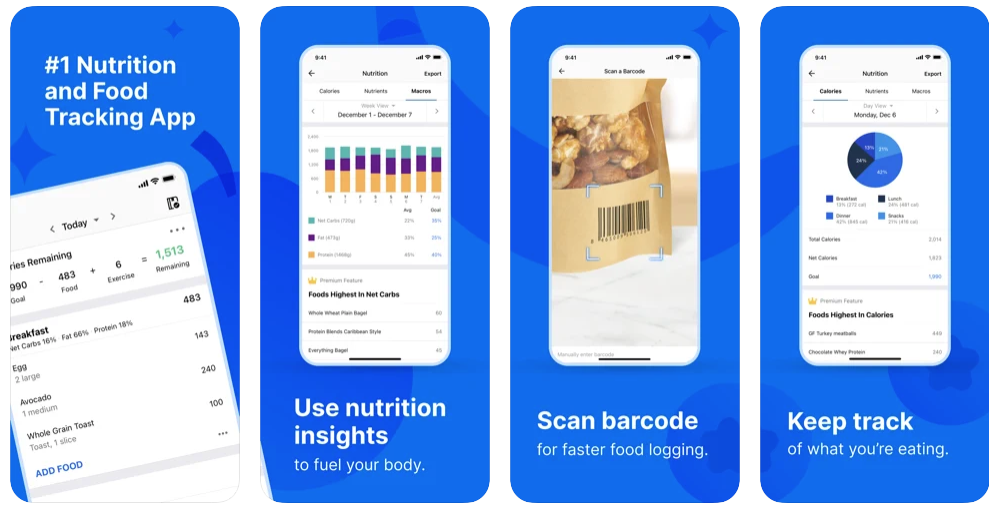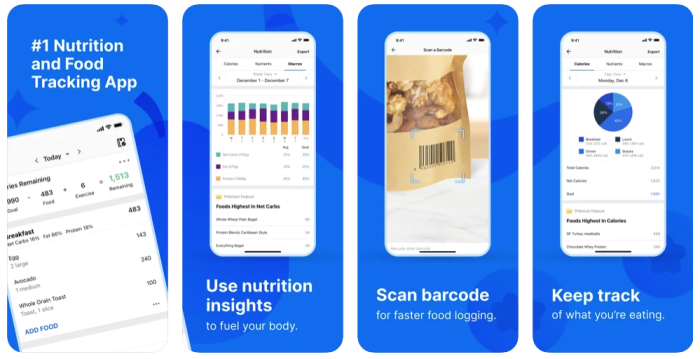 A few years ago I started paying more attention to my diet and started tracking my food with the MyFitnessPal app. It's one of the most popular apps in the health and nutrition space, and it has a million cool features that I could go on about forever. But here are the basics of how/why I use it:
I started using it to simply count my calories and make sure I was staying at or under a certain number. Then as my interest in health and fitness increased and I discovered macro counting, I used the app to help me balance the types of food I was eating and optimize my diet for my goals. There is a free version that is fantastic, but I do have the paid version, which gives you more customization for macro goals. One feature I love is the ability to scan barcodes on food packaging, and most of the time it will pull up that exact item and the nutrition information so you can log your foods with just the click of a button.
Yes, it does take a little bit of time and practice to learn how to track your food. But once you get the hang of it, you'll have invaluable data at your fingertips to see exactly where your nutrition is and what changes you might need to make. I eat a lot of the same things for breakfast and lunch, so I just copy certain foods or meals rather than entering everything individually each day! I try to track pretty closely when I'm in a cut (eating lower calories) and then use the tools I learn from tracking to eat intuitively the rest of the time without having to track daily. Download it for free, and give it a try! It's extremely eye opening to see what we actually consume in a day.
---
ANKLE STRAP FOR CABLE MACHINES + RESISTANCE BANDS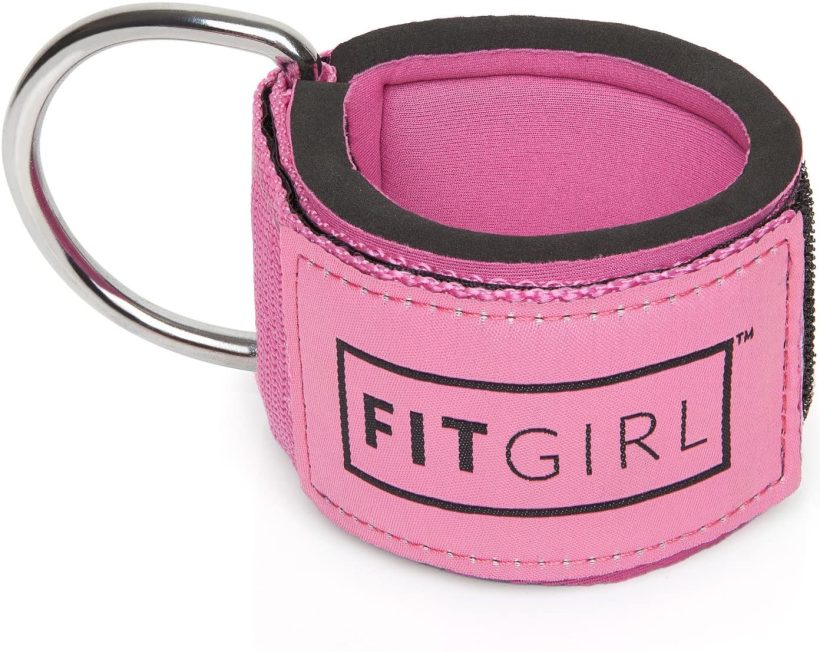 One of my favorite gym accessories for lower body day: a cable machine ankle strap. My gym has all kinds of attachments for cable machines, but nothing that works well for kickbacks to target your glutes. You attach the metal ring to the cable machine and wrap the padded cuff around your ankle (it secures with velcro for quick removal). For an example of glute kickbacks and how to target the different muscles, watch this video.
---
DIGITAL KITCHEN SCALE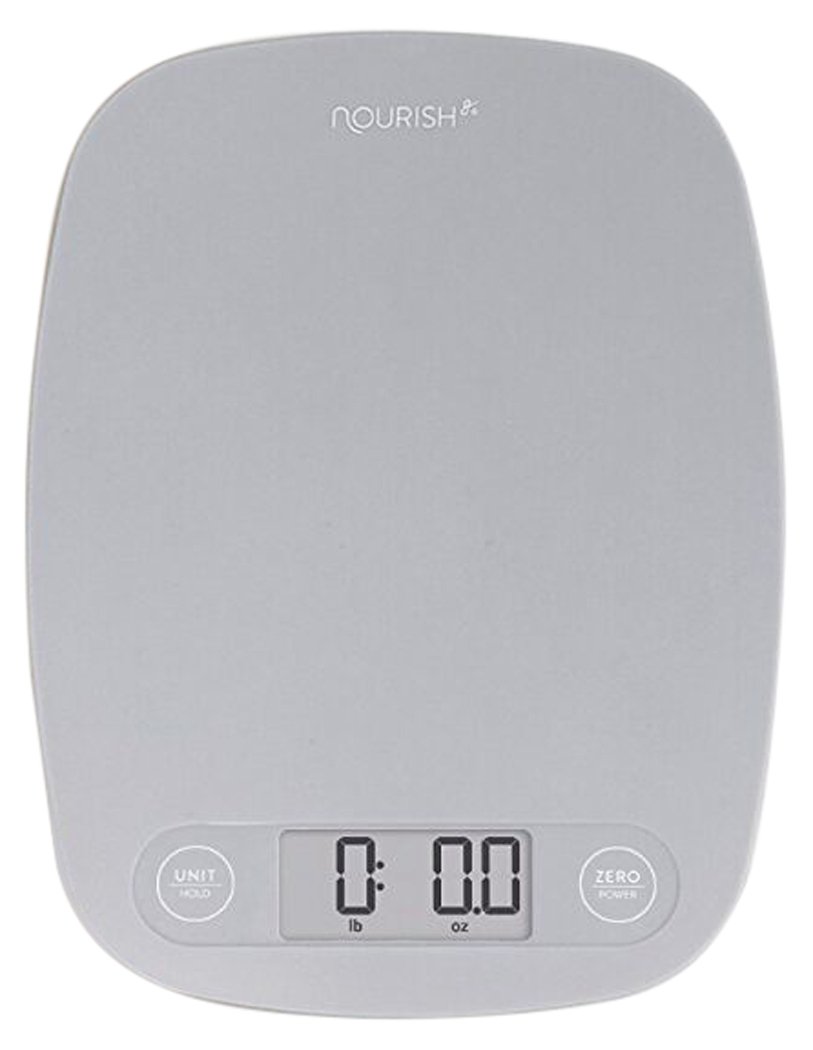 I've shared a few tools that help me be successful in the gym, but success in the kitchen is just as important. I don't follow any specific "diet", but I do count macros. Here is an article that explains the basics of what macros are and why they matter. Counting macros has helped me gain so much knowledge about the food I put in my body, portion control, and fueling myself properly. It isn't something I do consistently 365 days out of the year, but when I'm trying to lose some weight or when I know I need to be eating better, it's a great way to reevaluate my daily choices and make sure I'm on the right track.
Never in a million years did I think I would ever be weighing the food I eat, but now it sits out on my counter and I use it daily. Have you ever actually measured out the amount of cereal you pour in your bowl or what a single serving of peanut butter really is? Chances are your guesses are probably inaccurate, which can make a huge difference with something as calorie dense as peanut butter. I've had this scale for a few years now, and it works perfectly. You can measure in grams, pounds/ounces, fluid ounces, or milliliters, and it's a great small, compact size to not take up a bunch of counter space.
---
AMINOLEAN PRE WORKOUT POWDER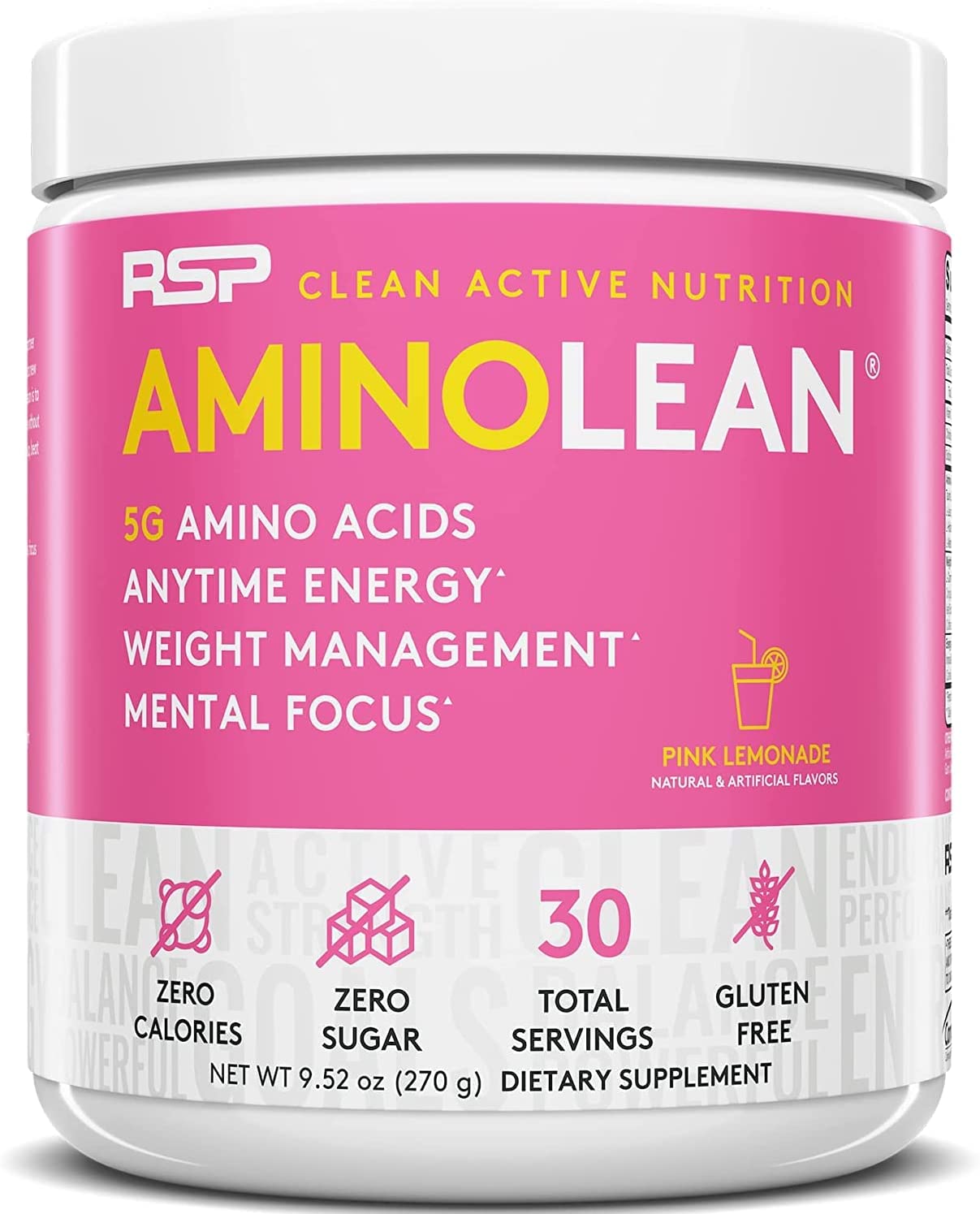 Several years into my fitness journey, I heard about "pre workout". The first one I tried, and many after that, gave me a small jolt of energy, but mostly made my face, chest and hands tingly and insanely itchy, like I wanted to just crawl out of my skin. It was not a pleasant feeling. I did a ton of research and found this AminoLean pre workout that has a reasonable amount of naturally-sourced caffeine, amino acids and BCAA, zero calories or sugar, and doesn't cause any tingle/itching sensations, jitters, or crashing. I drink two full scoops mixed with a little bit of water on my way to the gym each morning, and this pink lemonade has been my favorite flavor so far. This is an Amazon purchase I make over and over again!
---
VERSA GRIPPS FIT TRAINING ACCESSORY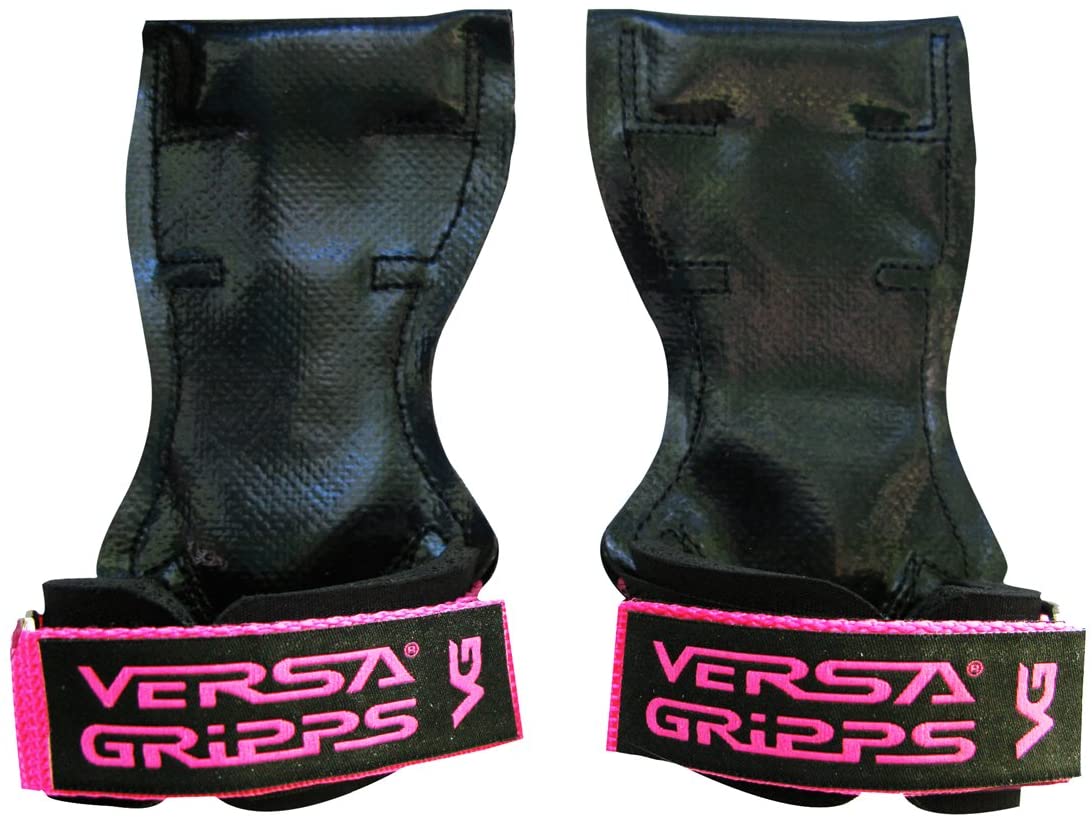 This is one of my more recent purchases since I started focusing more on strength training. When I first started lifting weights, I bought a pair of gloves because my hands would get sore and calloused. When I started to lift heavier, I found that my grip would give out before my actual muscles would on certain exercises like deadlifts or rows. Your legs and back are large muscle groups that can lift a large amount of weight, but if you find yourself being limited by your grip strength, try these!
The strap wraps around your wrist, and the black part wraps around the bar/weight allowing you to grip the weight more easily and comfortably while lifting. Versa Gripps has several different styles/sizes for men and women, but this FIT version has a shorter grip and more narrow wrist straps, which is perfect for my small hands. I've been able to push the amount of weight I can lift significantly because of these!
---
SONY WIRELESS NOISE CANCELLING HEADPHONES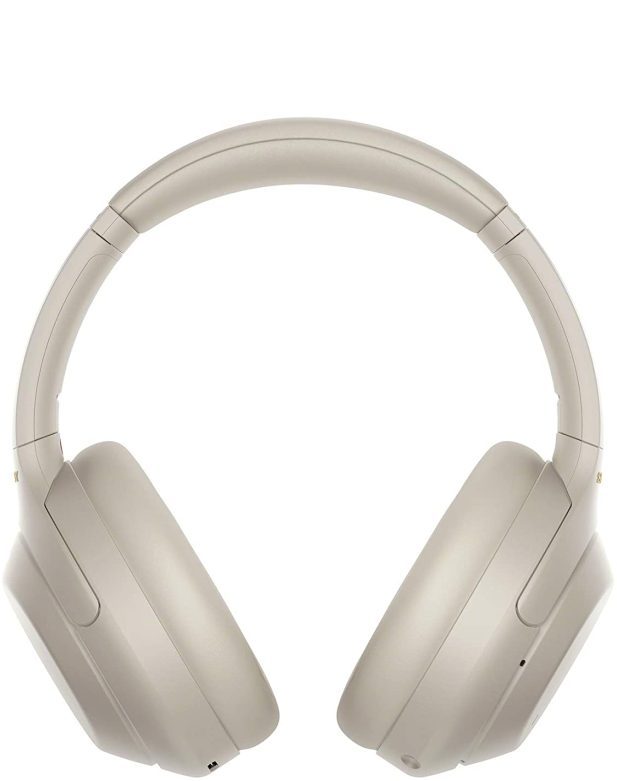 I can't tell you how many pairs of earbuds I went through before finally buying these headphones. None of them fit me well or stayed in, no matter how expensive or highly recommended they were. I finally decided to try this old school style of headphones and have never looked back. They aren't cheap, but are worth every penny and then some, in my opinion. I use them every single day at the gym, while I'm doing yard work, and when I travel. The charge lasts for WEEKS since I mostly just use them an hour at a time while I workout. You can get up to 30-hours of battery life with quick charging (10 min charge for 5 hours of playback). They are comfortable, lightweight, and come with a nice storage case. And if you've never had a pair of noise cancelling headphones before… I highly recommend that feature! You can currently get these headphones in silver, black or navy blue.
---
CELSIUS LIVE FIT ENERGY DRINK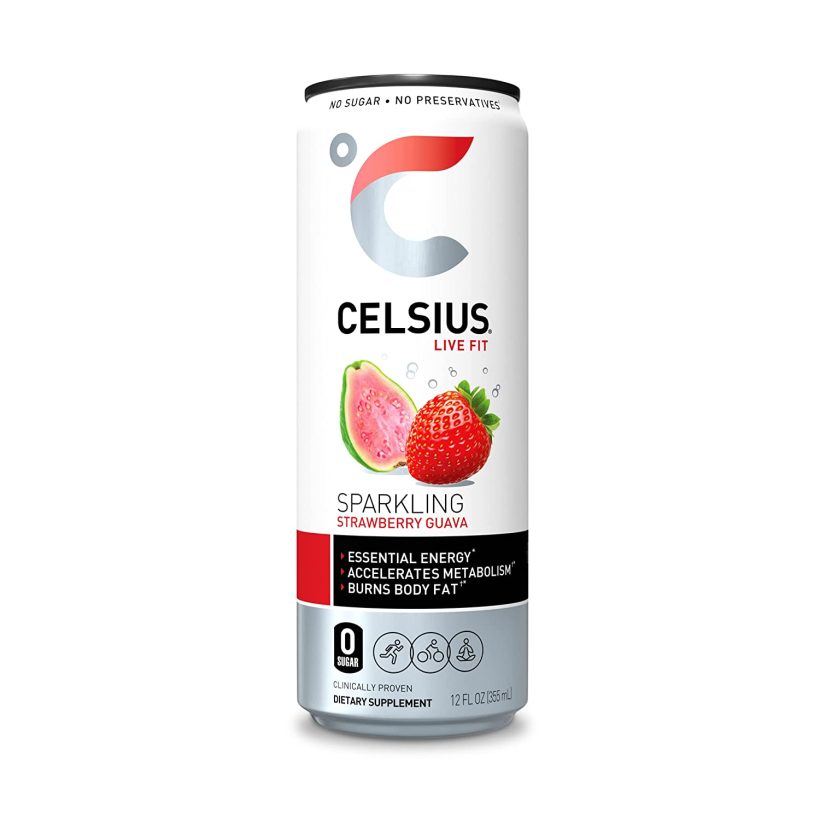 I've never been a big energy drink person. I allow myself one cup of coffee in the morning, plus my pre workout before the gym, and if I drink any more caffeine later into the afternoon, it usually means I'll have a hard time falling asleep. Most of the energy drinks on the market are filled with garbage ingredients I don't want to put in my body or have excessive amounts of sugar alcohols or caffeine. My girlfriend had me try a Celsius a few months ago, and I regularly keep these stocked in my refrigerator now! The flavors are delicious and not overly sweet. They have no sugar, preservatives, high fructose corn syrup, aspartame or artificial colors/flavors. The ingredient list is short, and I love having one of these during the afternoon work slump when my eyes start to get sleepy. Just like anything else, this is not a magic potion that will make you lose weight or a necessary supplement to fuel your body. But it is a healthier, more natural energy drink when you need a little boost. My favorite flavors are Sparkling Strawberry Guava and Sparkling Peach Vibe!
---
STRONG APP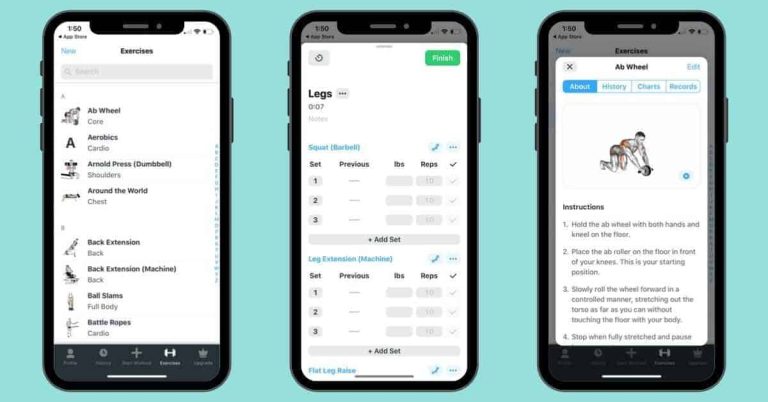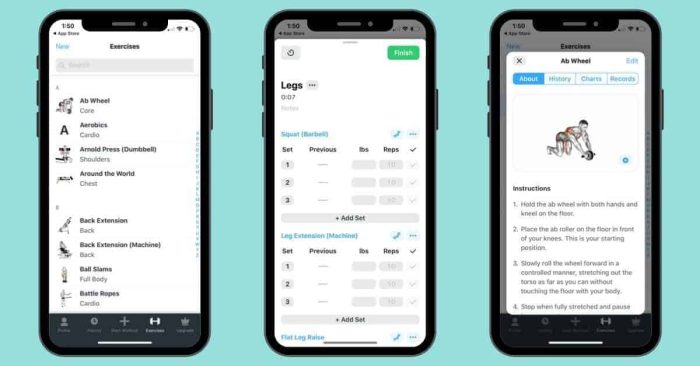 This is another app I use to track my workouts. Once I started weight training more intentionally, I realized how important it is to have a plan or a framework for your workout rather than going into the gym and making it up as you go. The Strong app allows you to create your own workouts, adding exercises from their database or adding your own. The exercises in their database show instructions for how to do each movement, as well as what muscle is being worked.
For each exercise you're able to record your weight and how many reps and sets you did. Reps are short for repetitions, or the number of times you perform an exercise, for example: one bicep curl. Sets are a series of repetitions performed between periods of rest, for example: one set of eight bicep curls. If I go in one week and use a 10 pound dumbbell for curls, then go in the next week and pick up a 7.5 pound dumbbell because I can't remember what I did before, I'm not setting myself up to progress in strength or muscle gains, which defeats the purpose. By tracking my weight, reps, and sets, I can see my previous weight during my current session and adjust my workout for progressive overload.
Another great feature is the ability to set up rest timers, so as soon as you complete one set, the app tracks the an automatic rest timer and tells you when it's time to start the next set. This is especially important when working large muscle groups or pushing for gains. Without adequate rest time between sets, your muscles won't have a chance to recover enough for progressive overload. On the other hand, it's also helpful in case you're like me and occasionally get distracted scrolling social media between sets and need that reminder to get back to work. 🙂
---
HIGH DENSITY FOAM ROLLER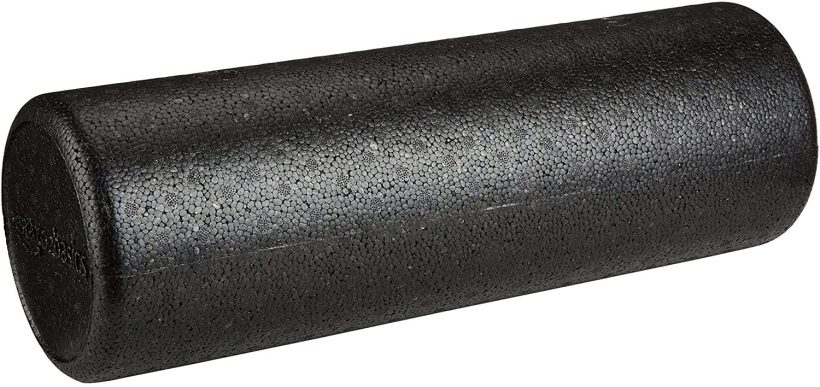 I don't have sore muscles often because my body is used to moving and working out 4-5 days a week, but occasionally I will when I switch up my lifts or do something my body isn't used to. My gym has foam rollers, but no one really wants to roll around on the floor trying to loosen up sore muscles in a room full of people, so I purchased one for at home. It feels so good to help stretch out tight muscles in my legs and back, especially when I've been sitting at the computer all day. And my kids use it often as well during their sports seasons, especially with football and wrestling. Rather than suffering through the pain or taking a pain pill, I highly recommend stretching and foam rolling!
Here are a few foam rolling exercises you can try.
---
FAIRLIFE HIGH PROTEIN SHAKE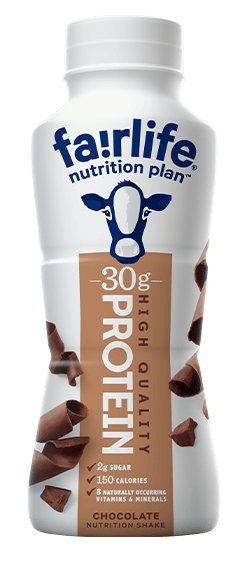 Once I started counting macros, I realized how much protein was lacking in my diet (I try to aim for .8-1 gram per pound you weigh). I went through phases where I would whip up a protein shake in my blender everyday with protein powder and sometimes a banana and peanut butter powder. But eventually that got old, and I wanted something more quick and convenient that I could just grab on the go. I've tried quite a few protein shakes over the years, and this is the best tasting one with the best macros, hands down. 30 grams of protein, 150 calories, 2.5 grams fat, and 4 grams carbohydrates. I drink one of these on the way home from the gym each morning because chocolate milk feels breakfasty to me for some reason, and later on in the day I would rather eat actual food as a snack vs. a protein shake. I can usually find these at several grocery stores where I live, but I've started buying them in bulk on Amazon because that's how quickly I go through them! My kids love them too!
---
HORIZON FITNESS T303 TREADMILL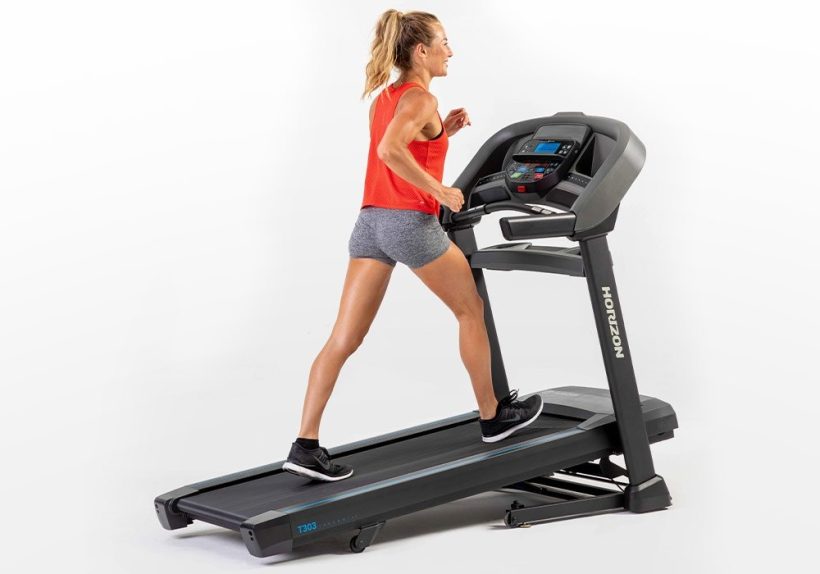 Getting enough steps in every day is a goal I try really hard to consistently meet. This year I realized the only way I can realistically do that working on a computer the majority of the day and living in the Midwest where it's not always ideal weather, is by having some kind of treadmill or piece of cardio equipment here at home. The gym I go to is on the other side of town, which is about 15 minutes away from my house. I can't stop during the middle of the work day to drive a half hour to and from the gym to get a quick walk in. But I CAN do that when the treadmill is only a few steps away from my home office.
Again I researched a ton (I'm a product research nerd), and this Horizon Fitness treadmill was the best option for my needs. I didn't want to pay and arm and a leg, but I also wanted a piece of equipment that was well made, sturdy, had incline options, and would last. The T303 has bluetooth connectivity that lets you stream through integrated speakers and has one-step hydraulic folding so you can save space and store the treadmill when you're not using it. I have used it almost daily during the cold winter months when I'm confined indoors, and I'll still probably use it this summer when I don't want to sweat my makeup off to take a quick post-lunch walk.
Want a tip to make your walk go by quickly? Grab your phone or tablet and catch up on TV while you walk. I watch Hulu on my iPad, which makes it super easy to get 30-45 minutes on the treadmill in!
---
You can read more about my health and fitness journey here.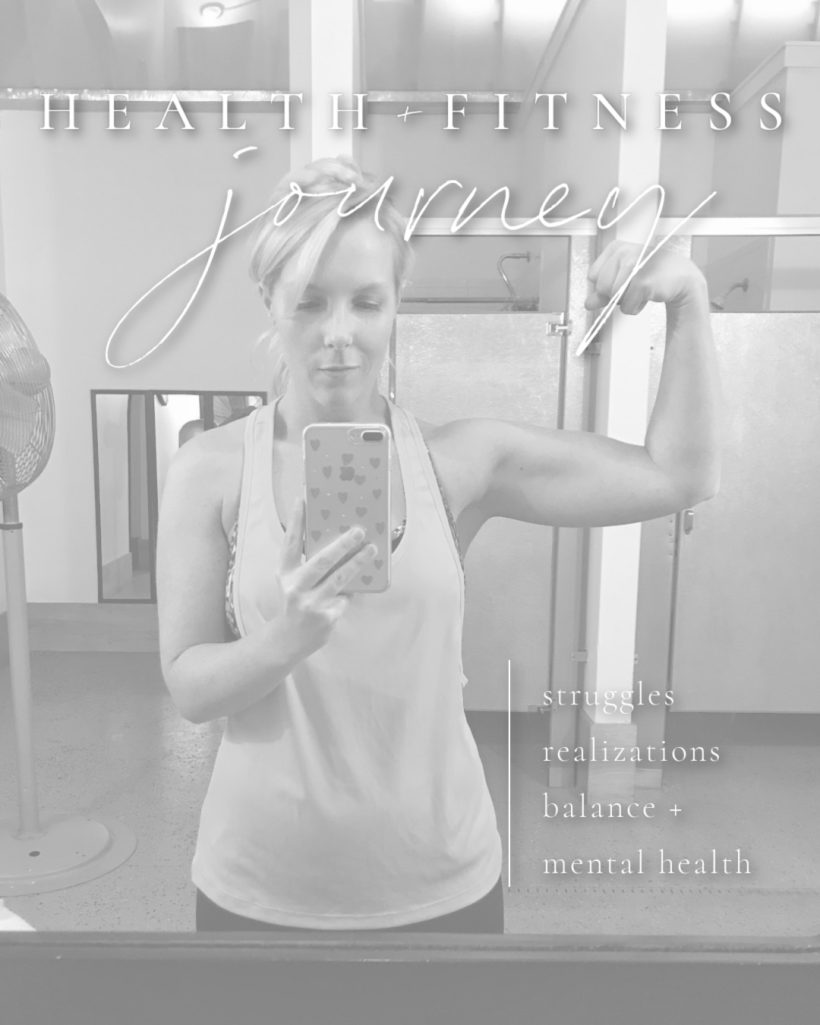 As always, I sincerely appreciate you shopping through the links I share, which allows me to make a small commission from your purchase while your purchase price stays the same. When you use my affiliate links, I'm better able to create content for this blog as well as support my family, and I thank you from the bottom of my heart for supporting what I do!
---
NEW: Join my text community
Subscribe to Blog | Follow on Instagram
Follow on Pinterest | Follow on Facebook