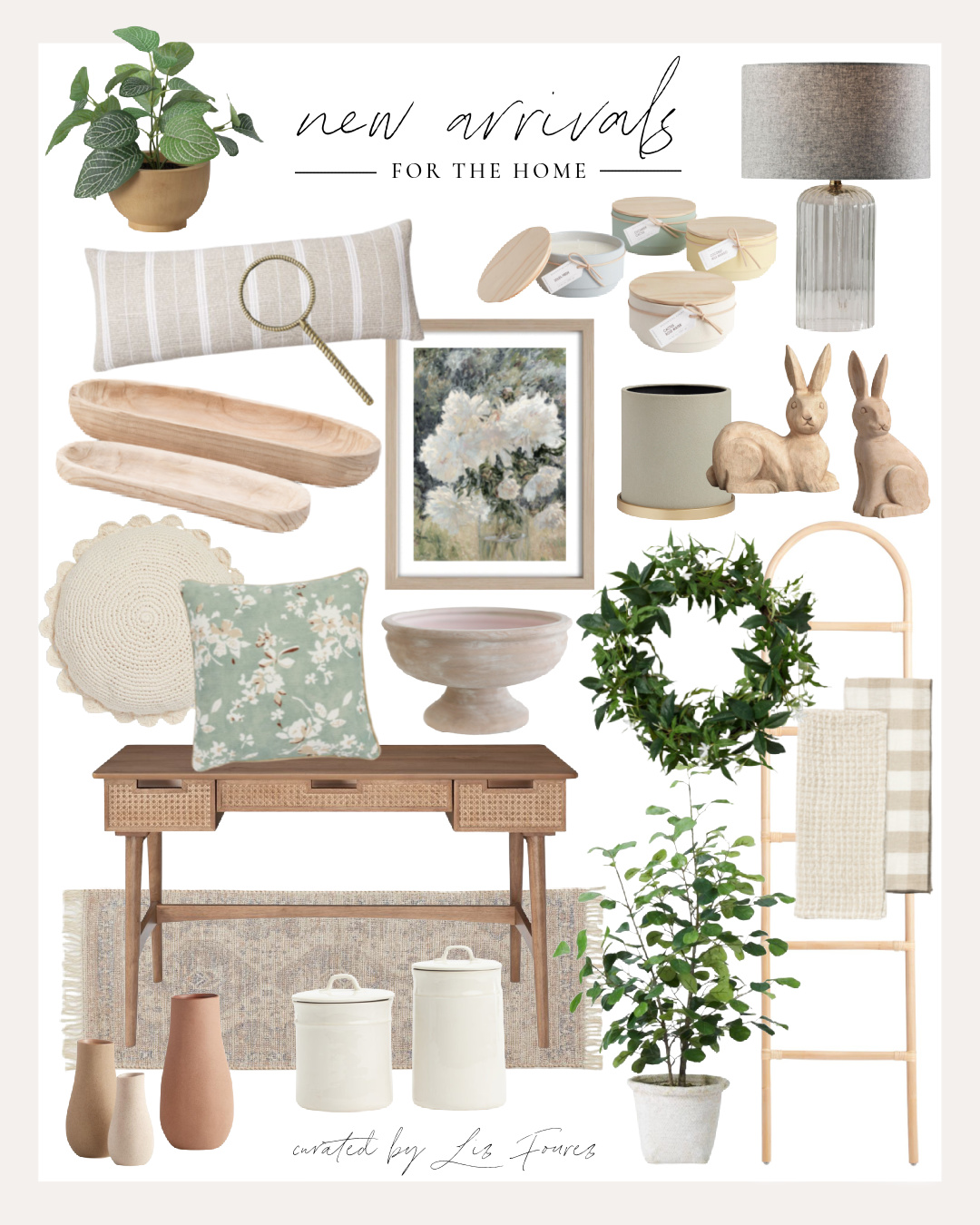 Spring is just around the corner, and I'm so excited to start freshening up the house with some of these new arrivals from my favorite home decor stores…
Furniture and decorative accents with softer, lighter wood tones.
Floral artwork and textiles.
Breezy pastel hues.
Plants, wreaths, trees, & more low maintenance greenery.
And more!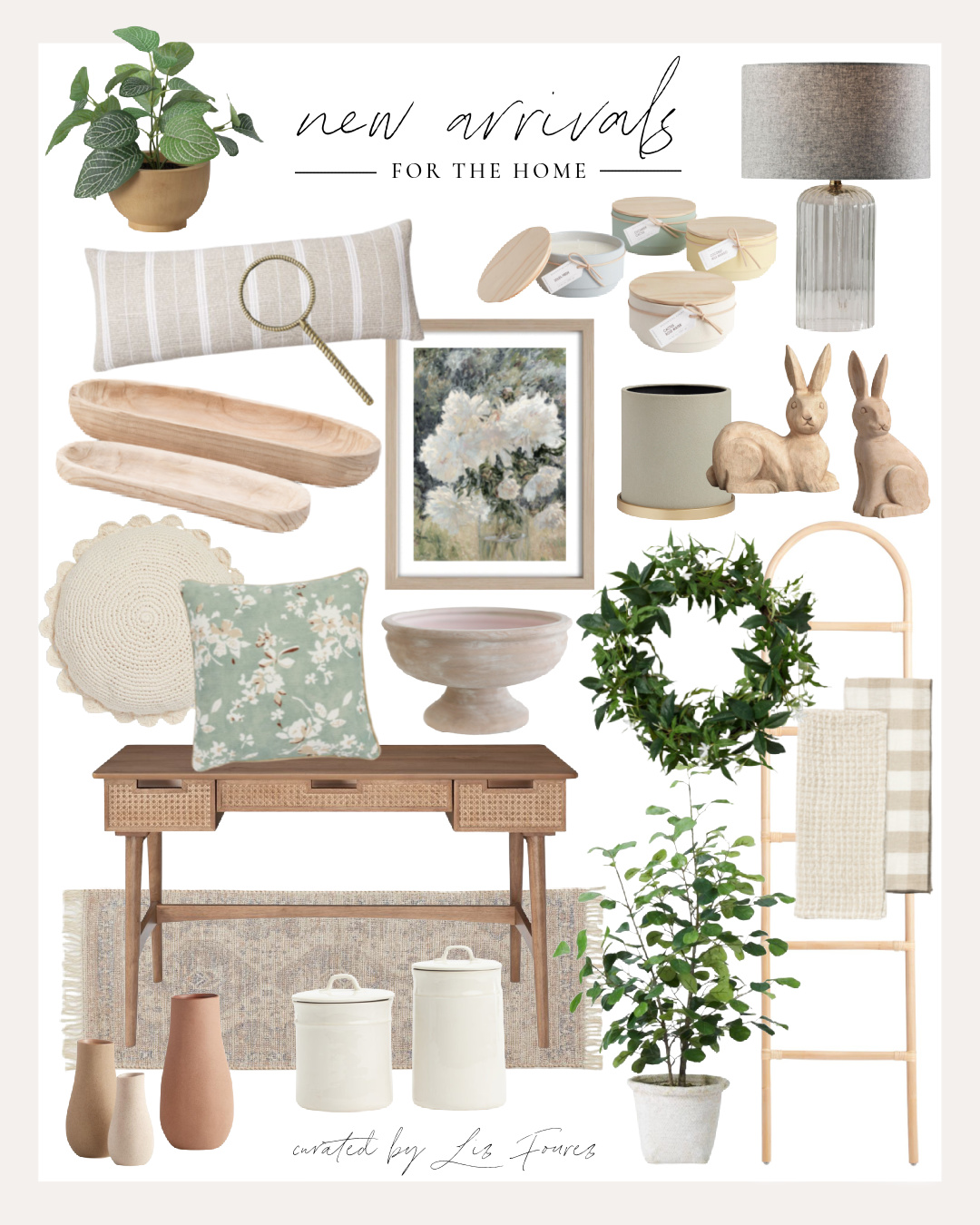 SHOP NEW ARRIVALS

---
SMALL VARIEGATED LEAF IN WOODEN POT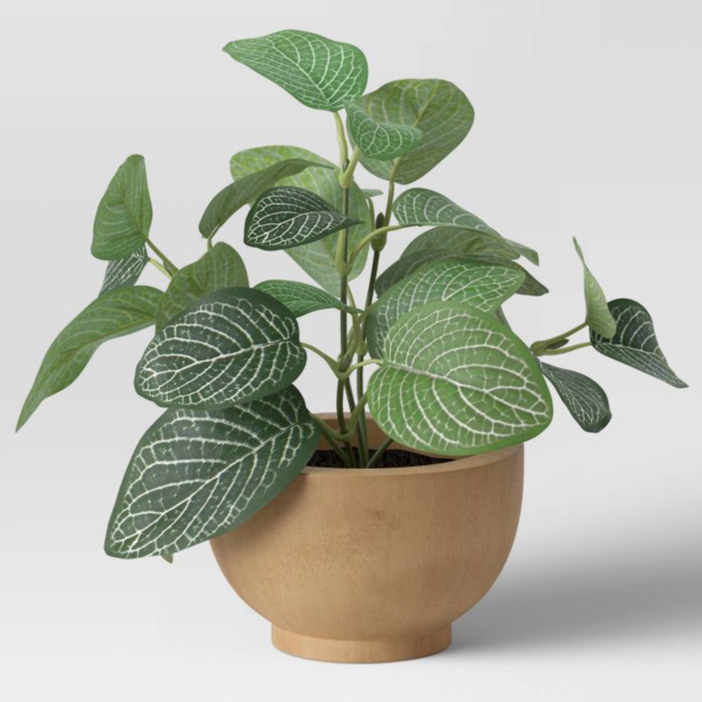 This artificial variegated leaf plant in a wooden planter is perfect for adding a natural element to any space. The small size makes it perfect for decorating a tabletop, bookshelf, or windowsill. 8″ width x 8″ height x 4.5″ depth
---
NATURAL RATTAN ARCH LADDER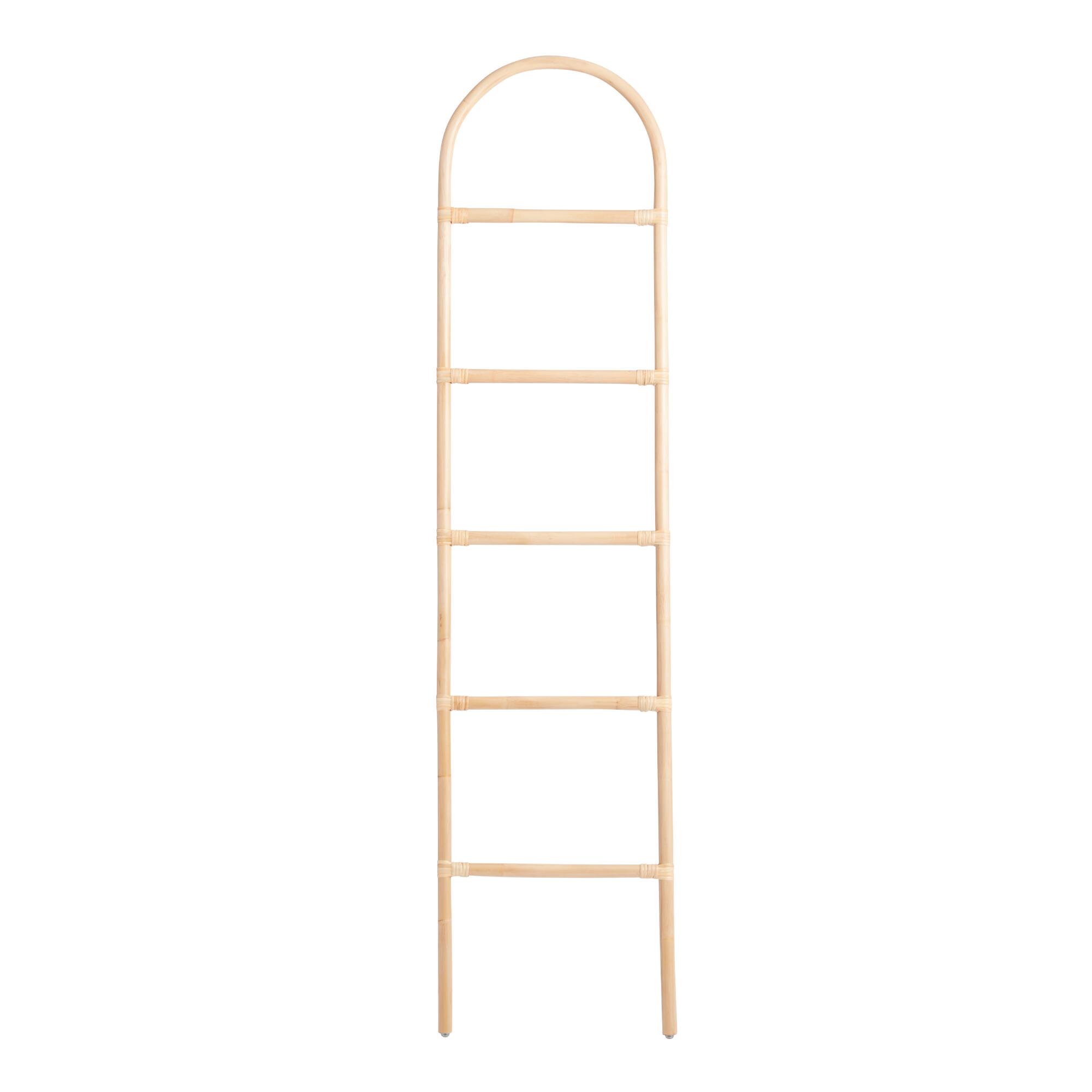 Handcrafted with natural rattan, this arch ladder blends with a range of decor styles, from boho to modern farmhouse. You can use it to store blankets in a bedroom or living room, or even as a towel rack in a bathroom. A great space-saving solution! 17″ width x 72″ height
---
OVERSIZED BOUCLE STRIPE LUMBAR PILLOW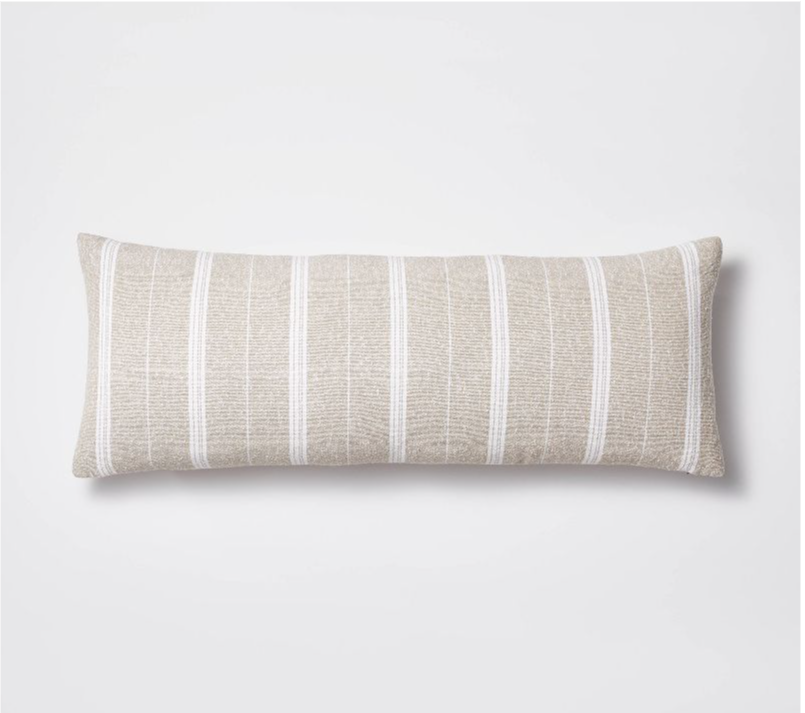 This extra long lumbar pillow with neutral khaki and white stripes is perfect for styling a bed or sofa. 100% cotton, removable cover with hidden zipper, 14″ height x 36″ width x 6.5″ depth
---
JASMINE WREATH 26″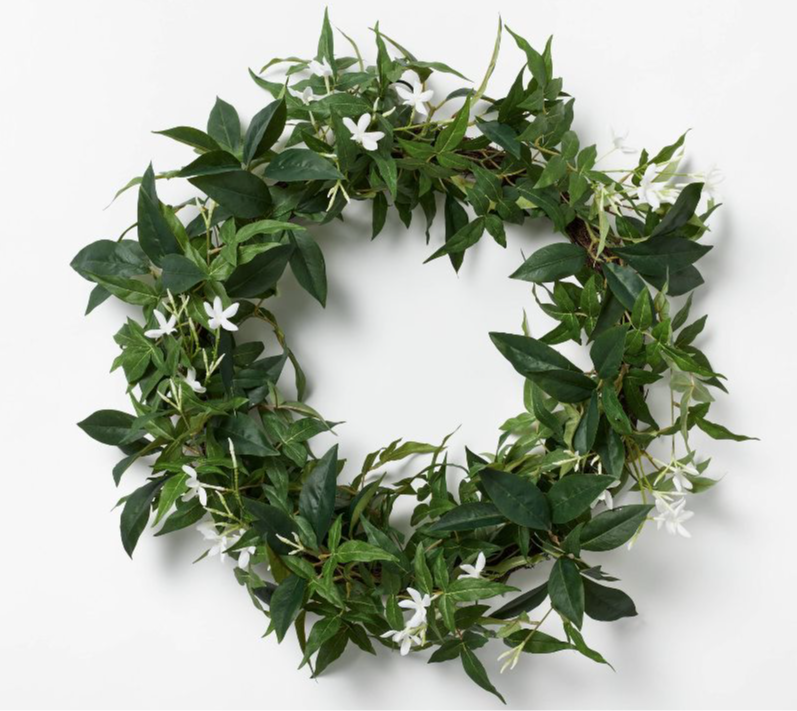 Add a fresh, natural touch to your home with this beautiful jasmine wreath intertwined with lush eucalyptus leaves. The artificial design requires zero maintenance and would look amazing over a mantel or on your front door. 26″ width x 26″ length x 7″ depth
---
WOODEN TOBAGO DESK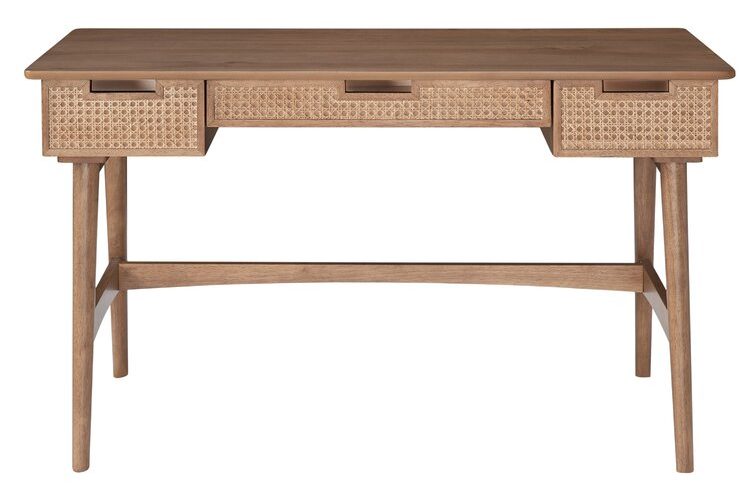 A mid-century inspired desk featuring rattan drawer fronts, a smooth natural birch finish, and cut out handles. Such a pretty piece to bring some interesting textures and simple style into your home office! 30.5″ height x 51″ width x 23.5″ depth
---
RECTANGULAR CHENILLE RUG WITH FRINGE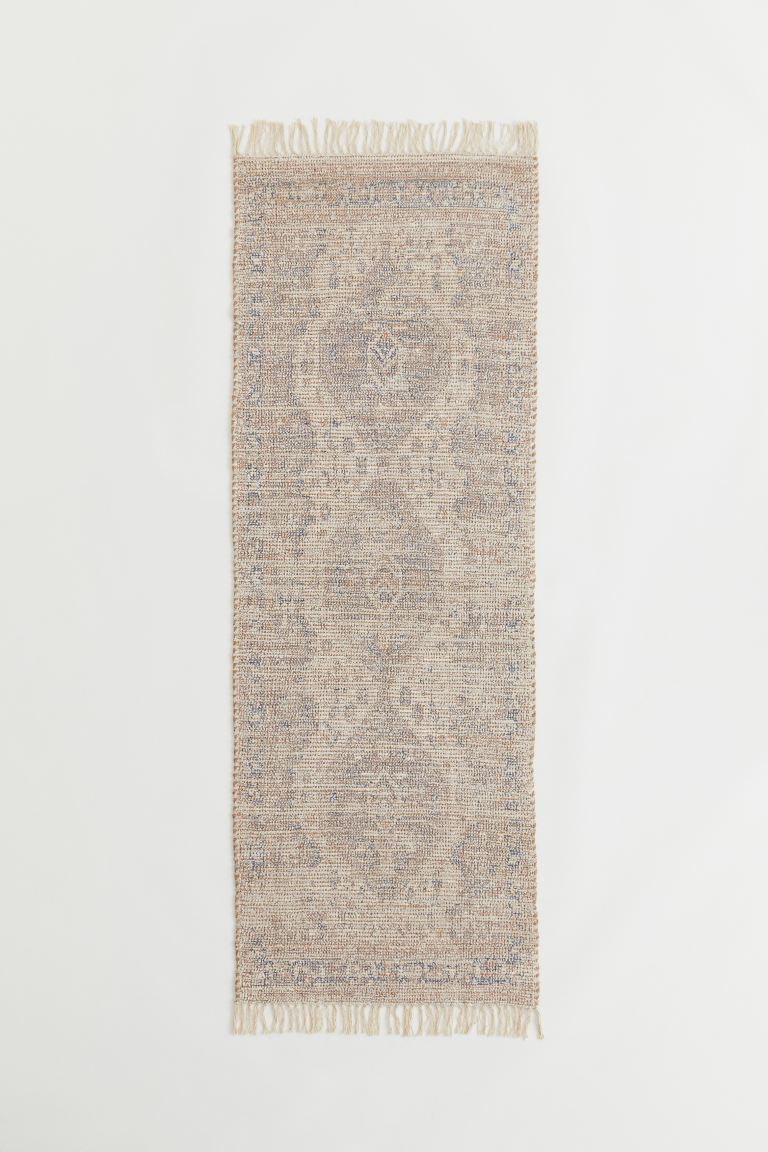 A beautiful neutral rug in soft chenille with wool, cotton, and fringe on along the short sides of the runner. Perfect for a kitchen, hallway, or entryway.
---
RIBBED GLASS TABLE LAMP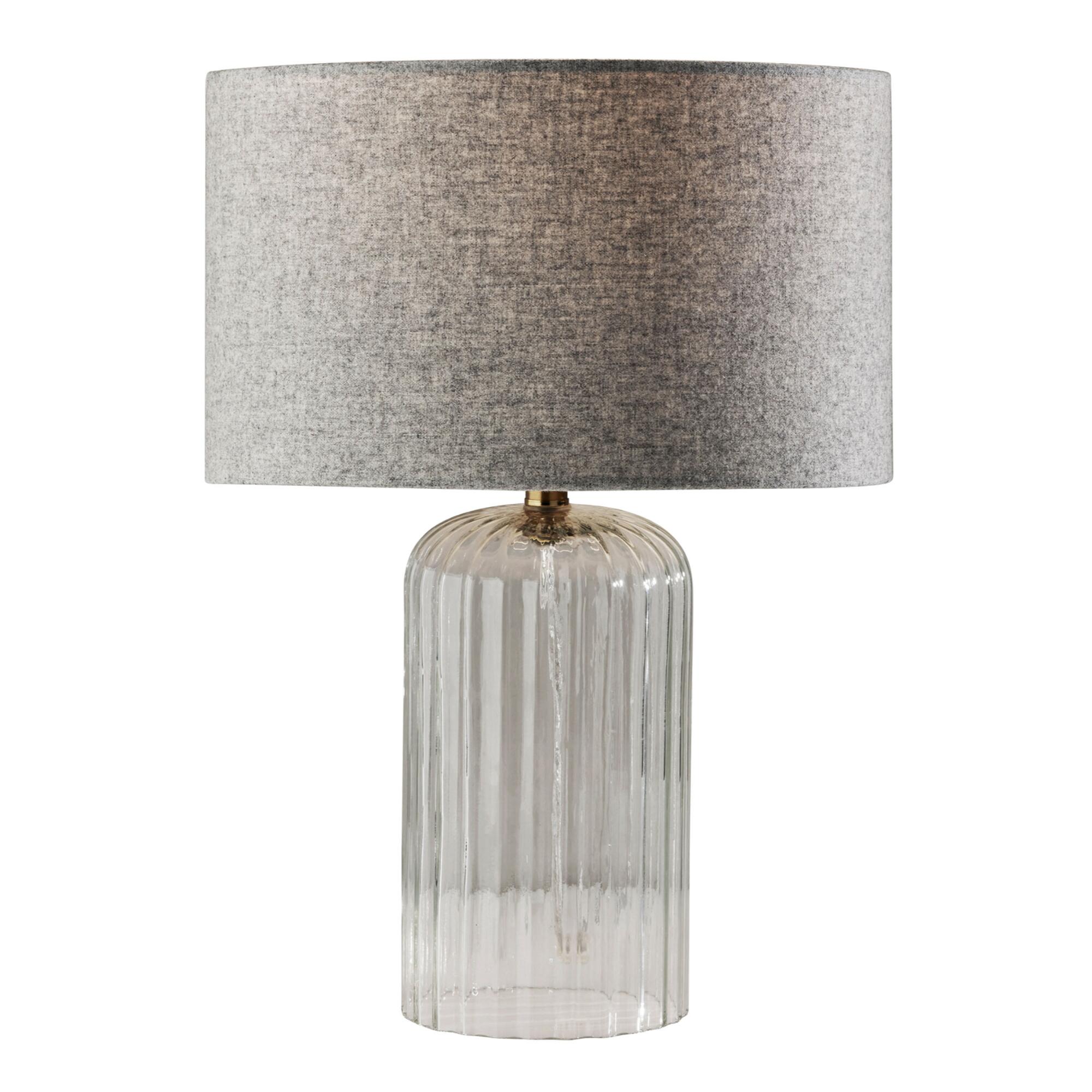 A stylish table lamp featuring ribbed glass, antique brass metal, and a gray fabric drum shade. Comes in two size options: small (12″ depth x 16.5″ height) and large (14.5 depth x 22″ height).
---
FORAGED FLOWERS ART PRINT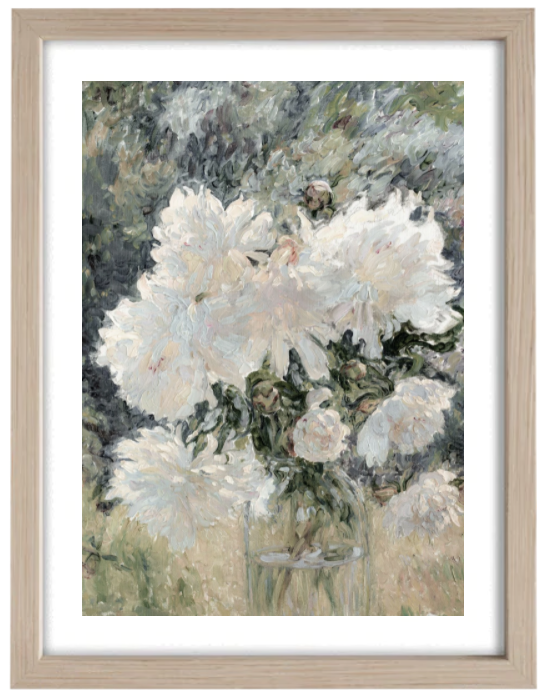 Floral art is the perfect decorative touch for spring, and this vintage-inspired print featuring a vase of fluffy white blooms is so lovely. You can purchase the art as a digital download to print yourself, on a canvas, or as a framed and matted print ready to be hung. Frame sizes range from 5 x 7 up to 40 x 60.
---
WOODEN BUNNIES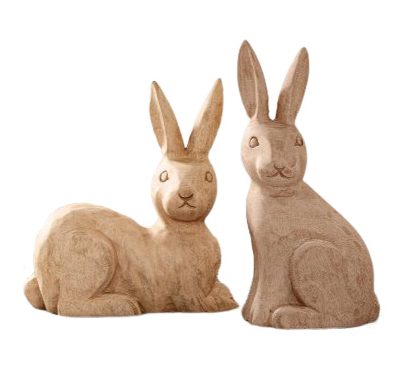 Set these sweet wooden bunnies next to a potted plant for easy spring or Easter decor. Sold separately, the sitting bunny is 9″ height x 3″ width x 4.5″ depth, and the lying bunny is 7.5″ height x 3″ width x 7″ depth.
---
FLORAL PRINTED SQUARE THROW PILLOW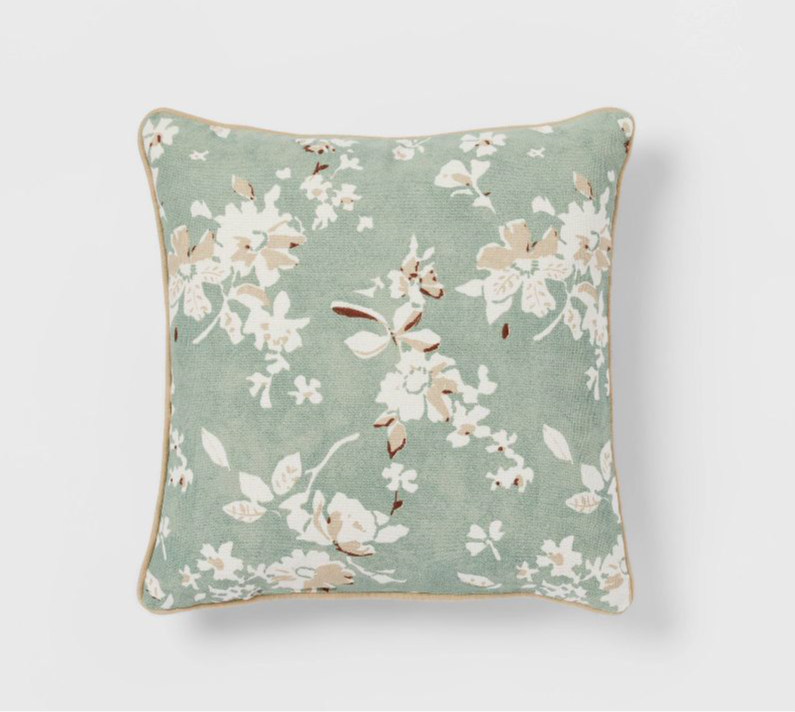 Freshen up your sofa for spring and summer with this 18″ floral printed cotton throw pillow, only $20 and available in three colors: rose pink, sage green, or soft blue.
---
HANDLED WHITE CERAMIC CANISTER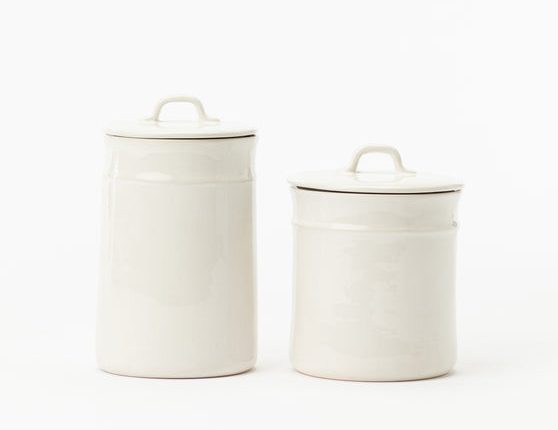 Modern design meets vintage style with this handled ceramic canister. Comes in a creamy white finish in two sizes: small (5.51″ depth x 6.89″ height) and large (5.12″ depth x 8.46″ height).
---
BRASS MAGNIFYING GLASS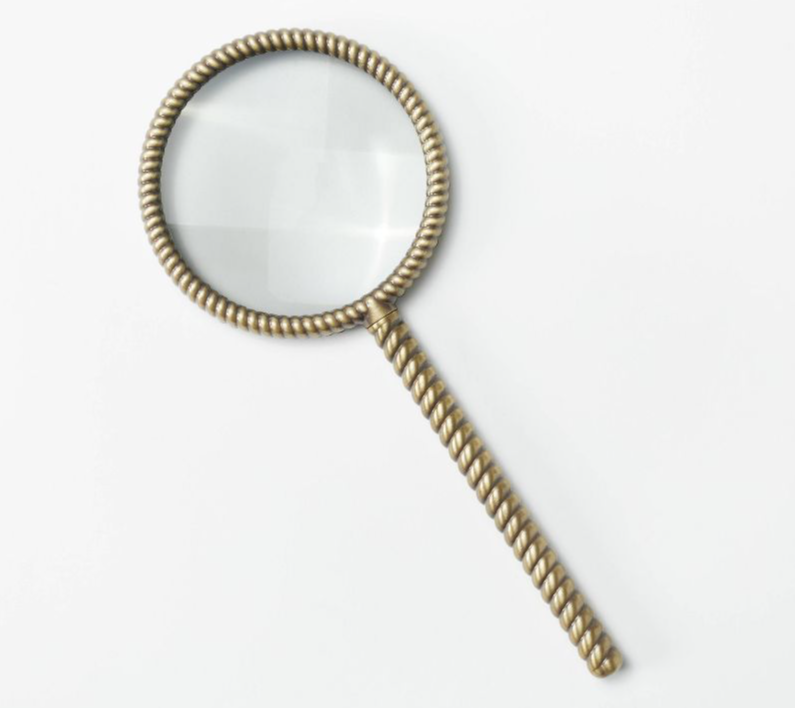 Add a touch of class and style to your home or office with this brass-finish spiral metal framed magnifying glass. Both a handy accessory as well as a stunning decor piece.
---
SPRING MATTE CERAMIC 3-WICK CANDLE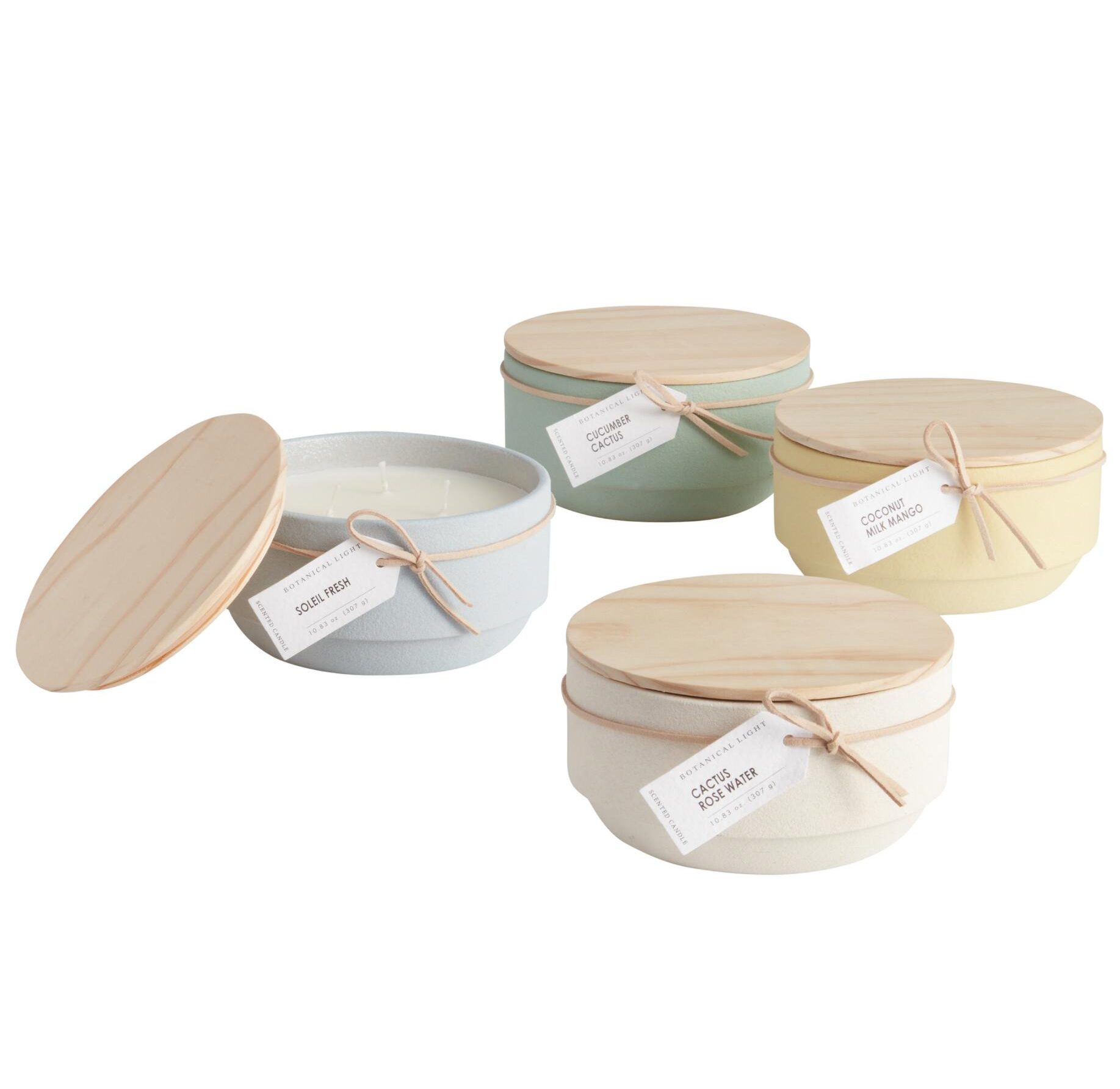 Brighten any room with a hand-poured spring scented 3-wick candle in a charming matte ceramic pot with a wooden lid and leather detail. Available in an array of spring colors and scents: Cucumber Cactus with notes of honeysuckle and fresh-cut grass; Cactus Rosewater featuring fruity and floral aromas; Soleil Fresh with notes of peach, coconut and vanilla; sweetly tropical Coconut Milk Mango.
---
SET OF 2 WOODEN BOWLS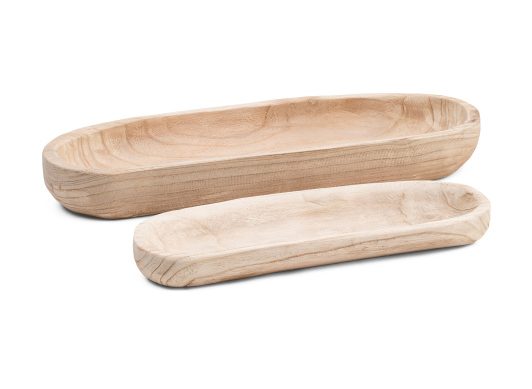 Long wooden bowls are great for making easy centerpieces for a dining or console table, and this comes as a set of two sizes: 18″ and 24″. I love the lighter wood tone and natural wood grain.
---
GRAY AND GOLD METAL TEXTURED POT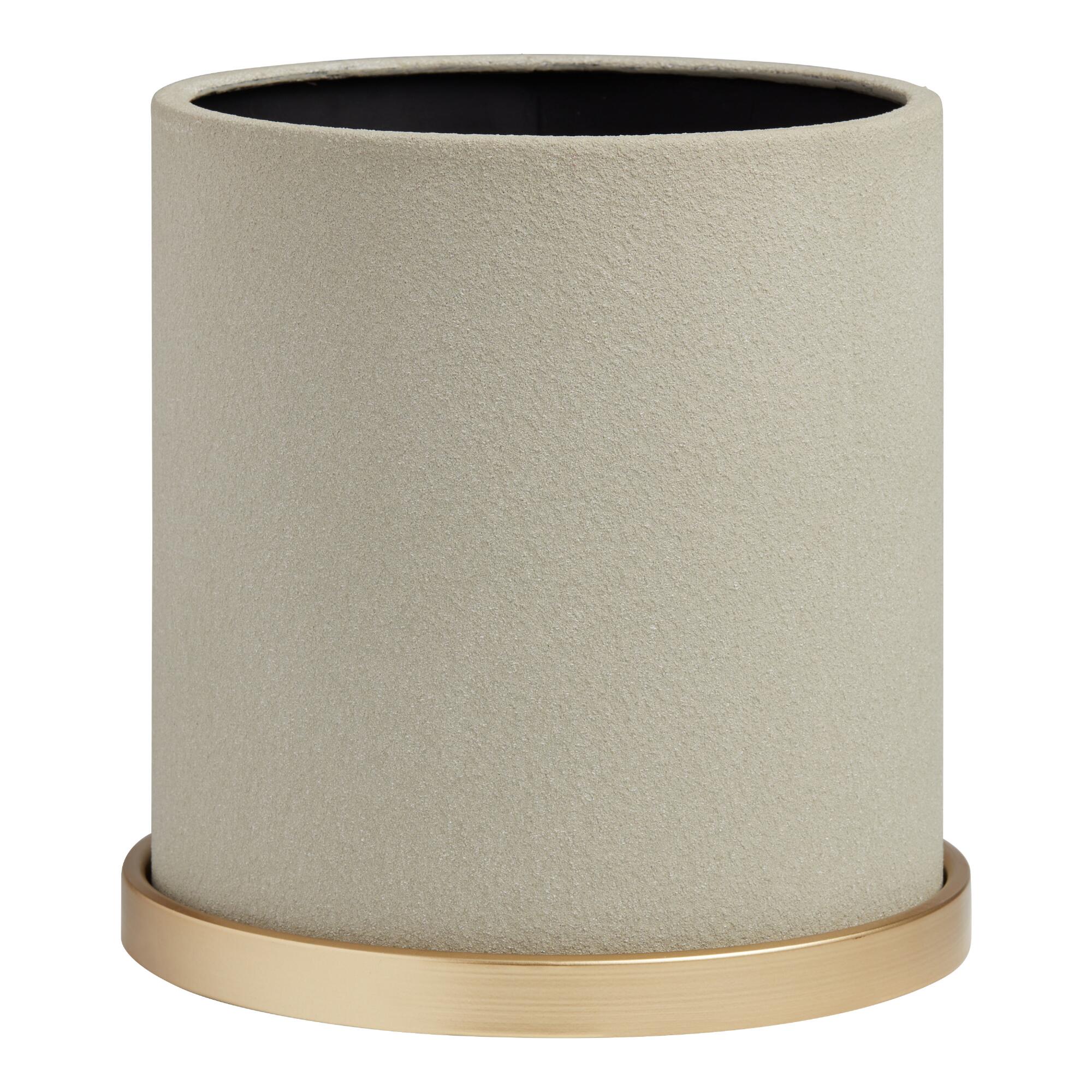 Display your favorite plants in this simple, but sturdy planter with a beautiful gray textured finish and gold metal detail. Very cozy and chic at the same time! 11″ diameter x 11″ height
---
CROCHET ROUND CREAM SCALLOPED EDGE THROW PILLOW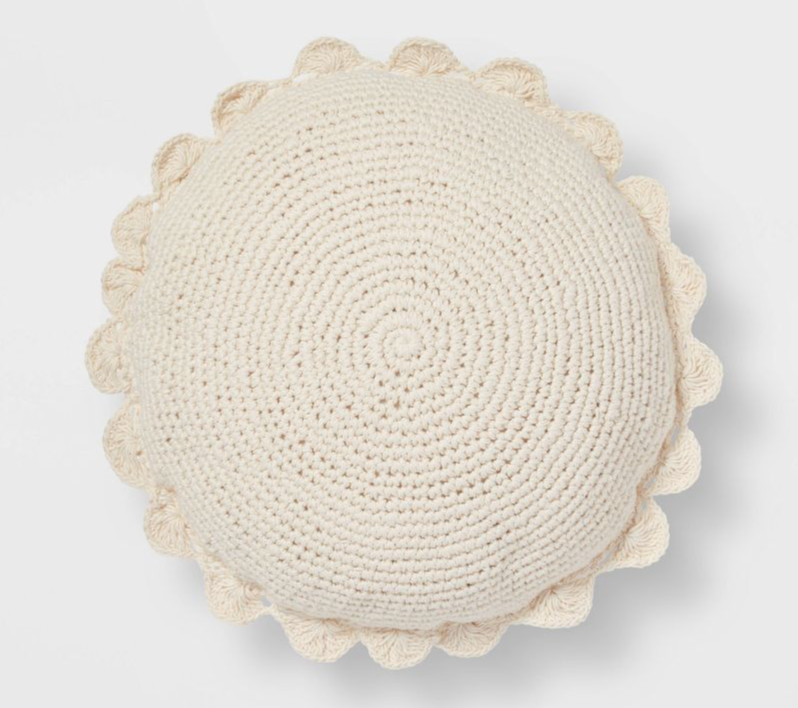 Add a soft vintage touch to your seating or bedding with this 16″ crocheted cream throw pillow featuring a sweet scalloped edge.
---
WHITEWASHED CERAMIC COMPOTE BOWL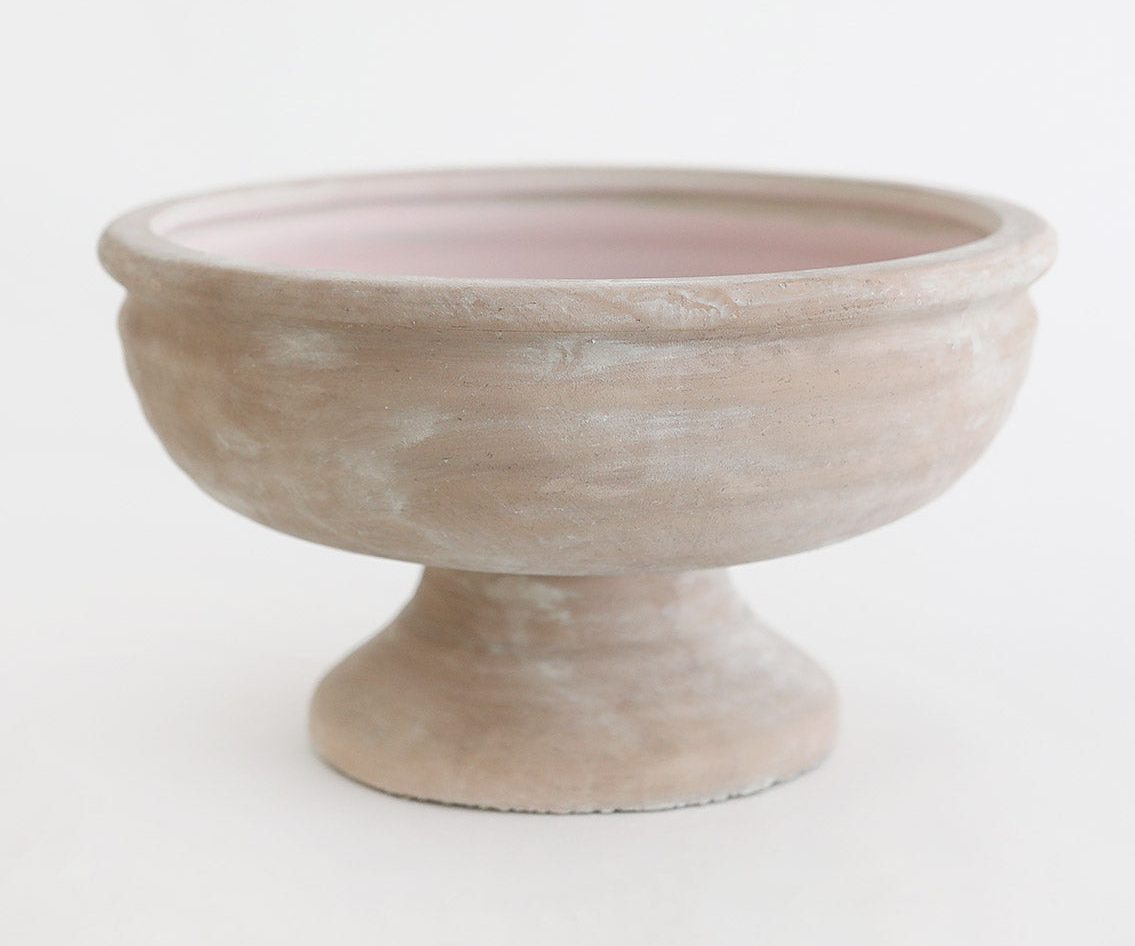 This beautiful ceramic compote bowl features a whitewashed finish on the outside and a soft mauve brown earth tone on the inside. Perfect to use as a planter or table centerpiece. 6.25″ height x 10.25″ width
---
SMALL POTTED FICUS TREE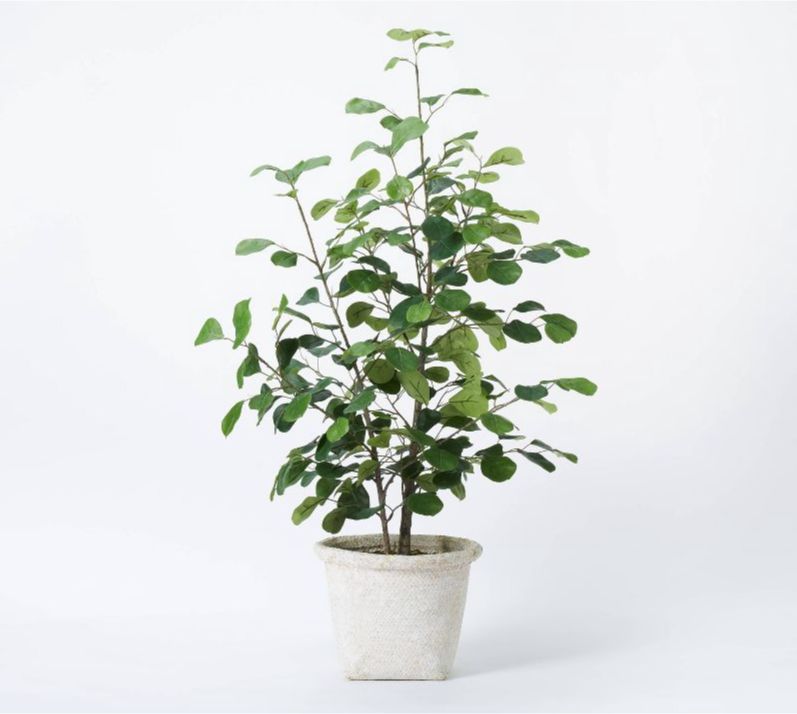 Bring a touch of greenery into your space with this lush ficus tree potted inside a woven rattan planter. With no upkeep, you'll be able to enjoy this artificial tree for years to come. 37″ height x 18″ width x 16″ depth
---
TAPERED ASYMMETRICAL TEXTURED VASE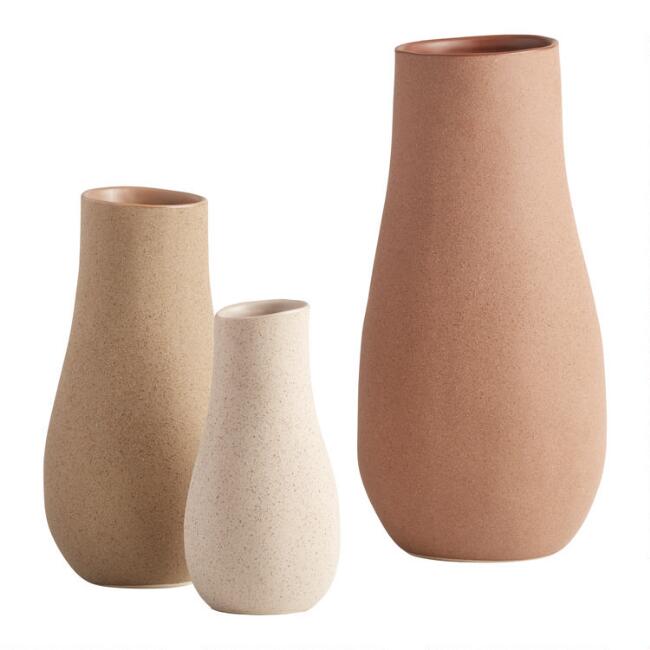 Richly textured with an asymmetrical profile and desert-inspired hues, these unique ceramic vases are available in three sizes: small (7.6″ height x 3.9″ depth), medium (9.9″ height x 5.1″ depth), and large (13.8″ height x 6.7″ depth).
---
NAME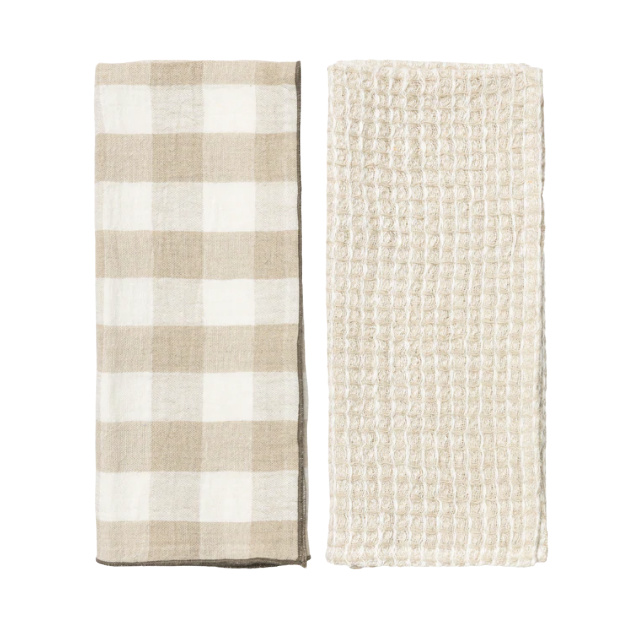 Beautiful linen tea towels are the perfect functional accessory for any kitchen, and I love the softness of these neutral textured towels.
---
Which pieces are your favorite? I just wanted to say thank you for stopping by today, and have fun shopping! You can see more New Arrivals posts here and here and here.
As always, I sincerely appreciate you shopping through the links I share, which allows me to make a small commission from your purchase while your purchase price stays the same. When you use my affiliate links, I'm better able to create content for this blog as well as support my family, and I thank you from the bottom of my heart for supporting what I do!
---
NEW: Join my text community
Subscribe to Blog | Follow on Instagram
Follow on Pinterest | Follow on Facebook