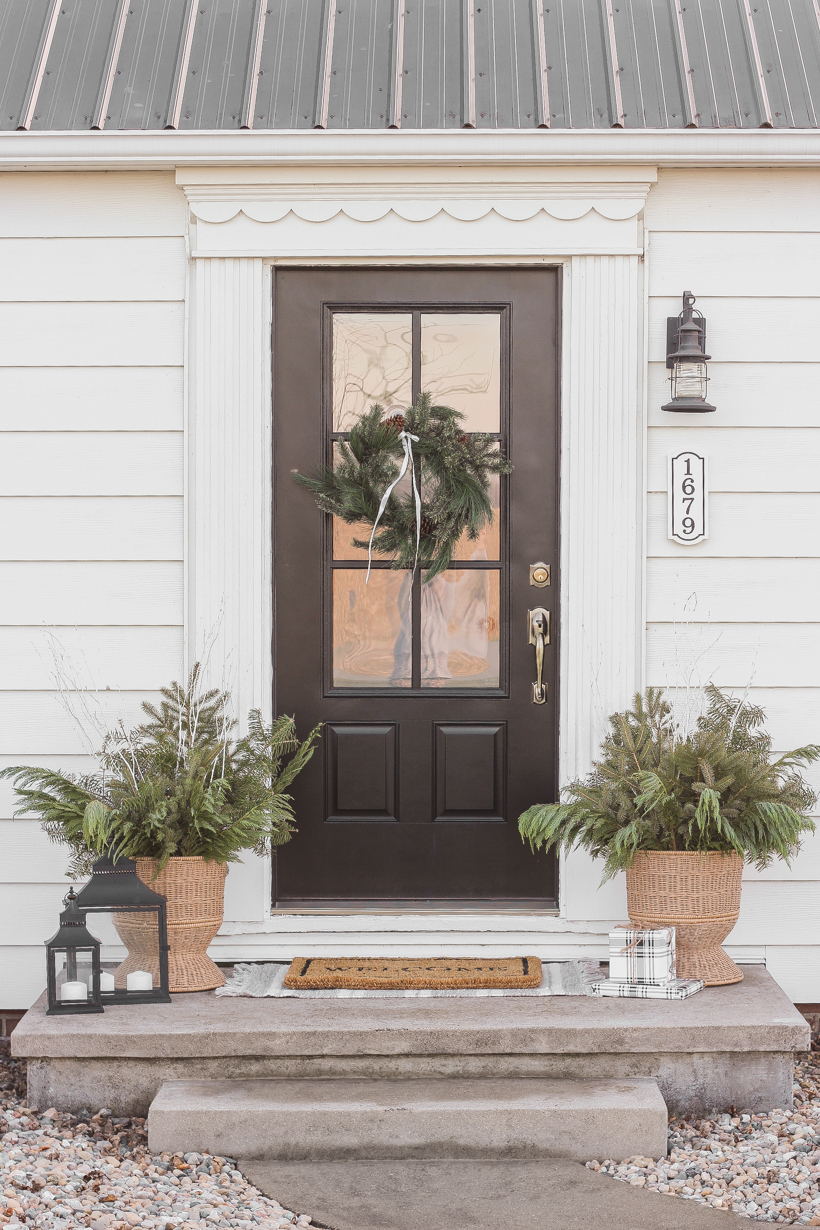 I can't believe we are already so far into December, but I finally got the weather, sunshine and timing to cooperate so I could share our front porch all decorated for Christmas with you! Most years I keep it pretty simple with some kind of a wreath and a small faux Christmas tree on either side of the door. But this year I wanted to do something a little different and utilize the beautiful woven planters I've had on my porch all summer. So I decided to create these big, beautiful winter planters with fresh greens, and I'm going to show you how easy it was to make them today!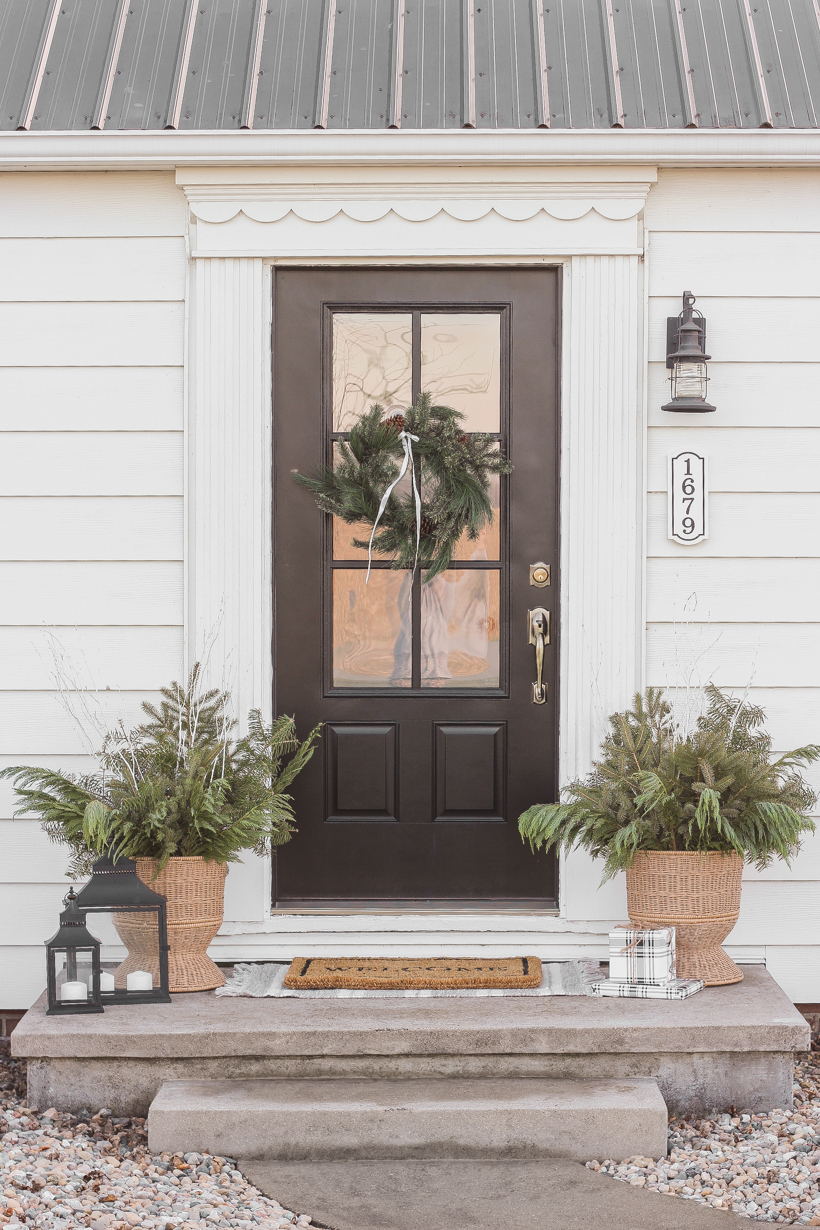 WINTER PLANTERS
SUPPLIES:
pot/planter
fresh or faux greenery stems such as: pine, spruce, juniper, fir, boxwood, or cedar
wet floral foam
soil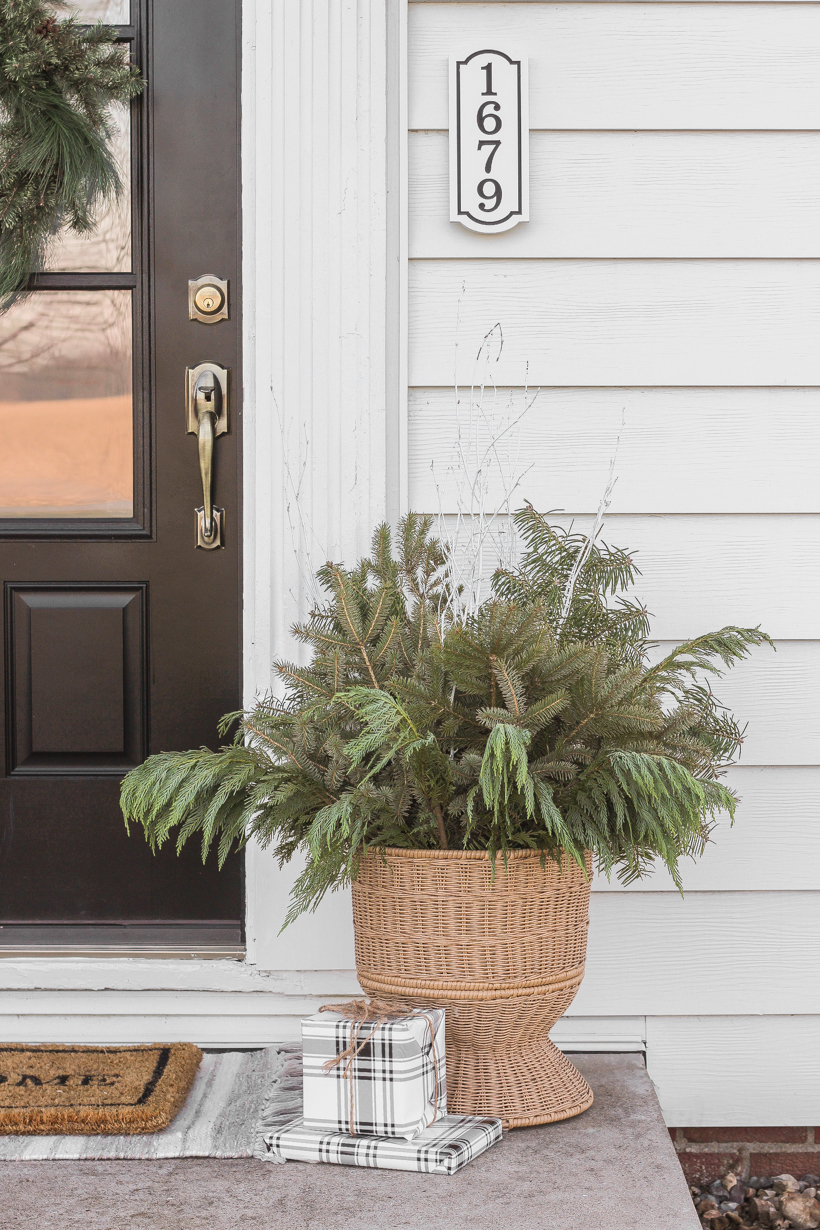 STEP 1
Add blocks of floral foam to the bottom of your planter. If your planter is deep, you may need to add some soil on the bottom so the greenery stems will reach through the foam when added to the planter. Make sure to use the type of floral foam that can absorb and hold water to keep your fresh greens looking alive and vibrant longer. Pour water over the foam until wet, then fill the rest of the planter with soil.
STEP 2
Begin adding stems to the planter, poking the bottom of the branches as far as you can into the foam. If the bottom of the stem has branches that stick out, go ahead and break those off so you have a straight, clean stem to poke into the foam. Start around the outside of the planter and work your way to the center, filling in the gaps as you go.
TIPS:
If you have evergreens growing in your yard, you can most likely make these planters without spending much, if any money. I clipped two different types of evergreens from my backyard and used those as the bulk of my planters. Then I bought a few cedar branches from a local nursery to add some interest.
I used the cedar branches around the outside of the planter because their branches are a little more flexible and droop down around the sides of the planter beautifully. Then I used the more full, upright greens to fill in the top/center of the planter.
I also picked up some white branches from the nursery to add some height to the planters, but you could easily collect some sticks in your yard and spray paint them white!
If you have some bare spots in your planter, you can use objects like large pinecones, bulb ornaments, faux poinsettia stems, or ribbon bows to fill in the spots and add a decorative touch!
Once I had the branches from my yard collected and all the supplies set out, this literally took me less than 10 minutes to put together. These winter planters are such an easy DIY that will look stunning on your front porch this Christmas, and you can leave them out all winter long!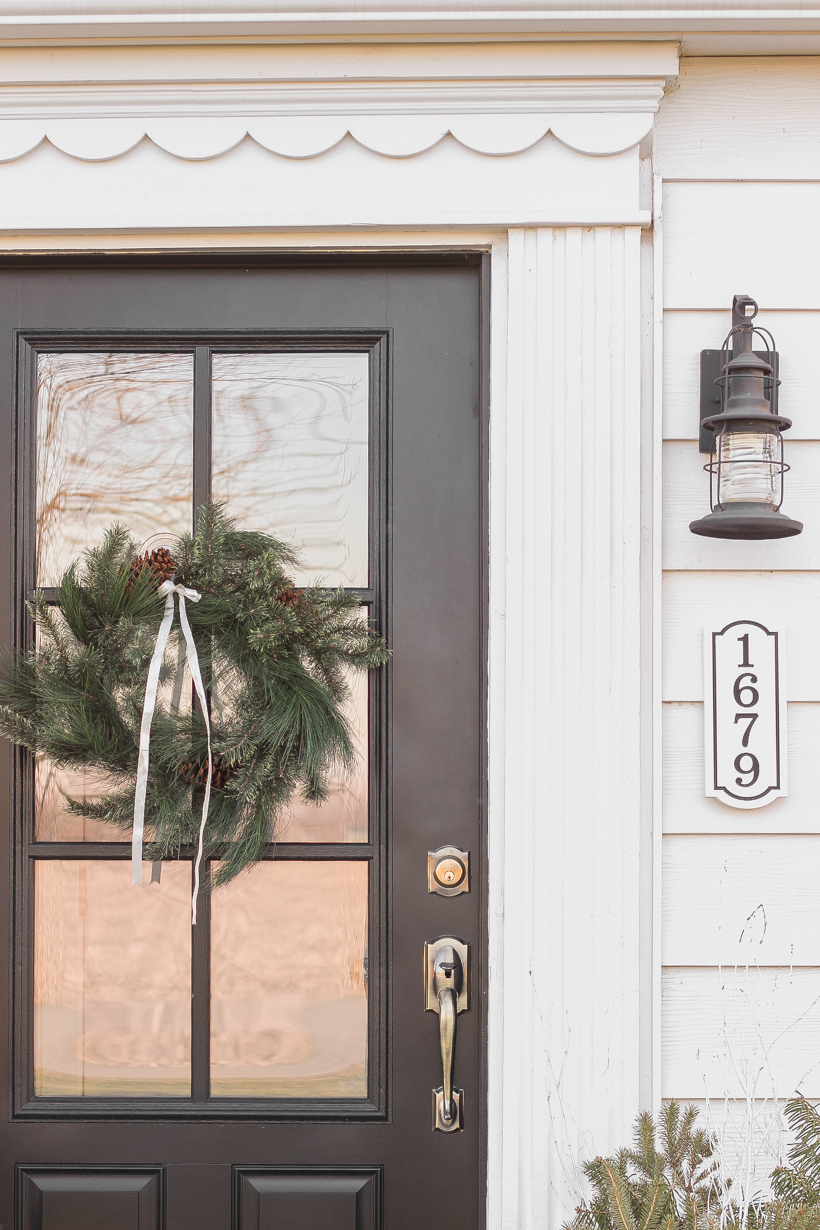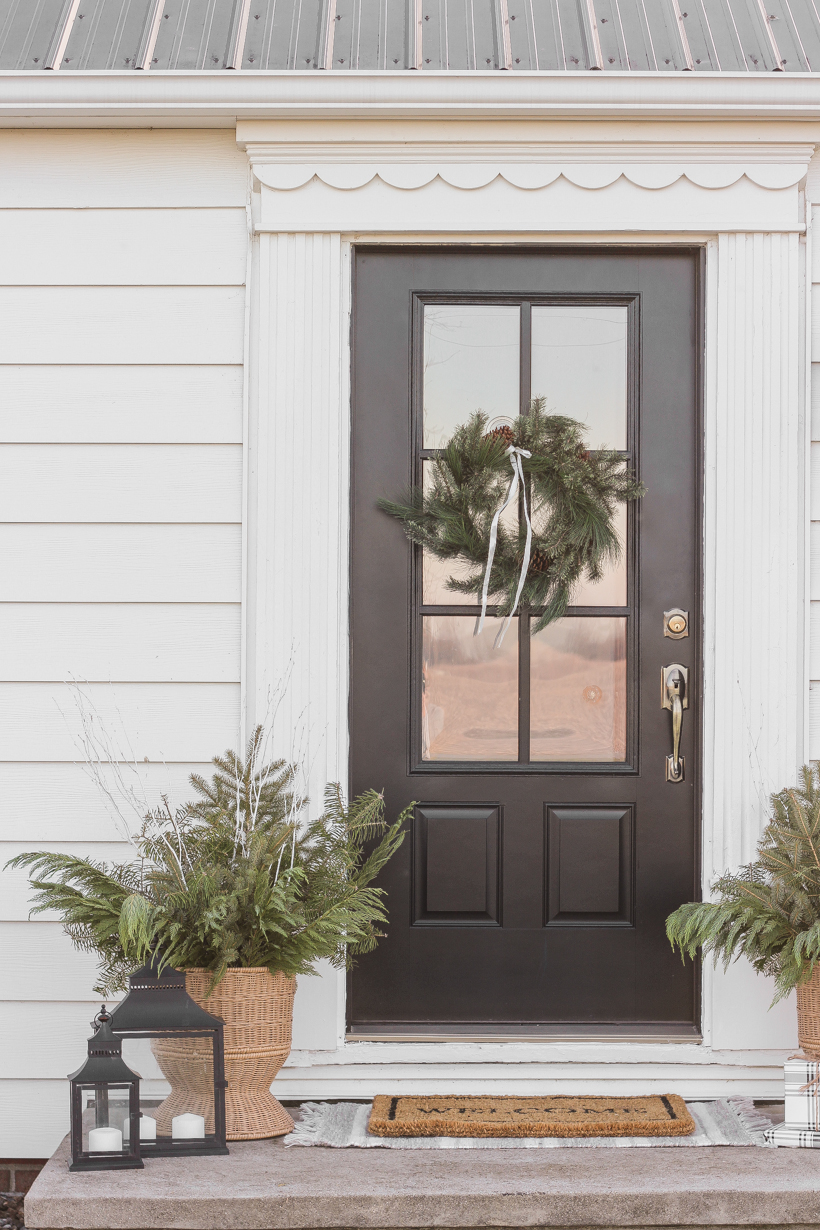 I love the simplicity of simple greens with our black and white exterior. These planters were so easy and affordable to make, and I have a feeling I will do something similar for our front porch every year! Thanks so much for stopping by, and let me know what you think of the planters in the comments! Also, I linked all sources that are still available from my front porch at the bottom of the post!
P.S. I'm showing some video on how I put these together on Instagram today, so make sure you are following me there too!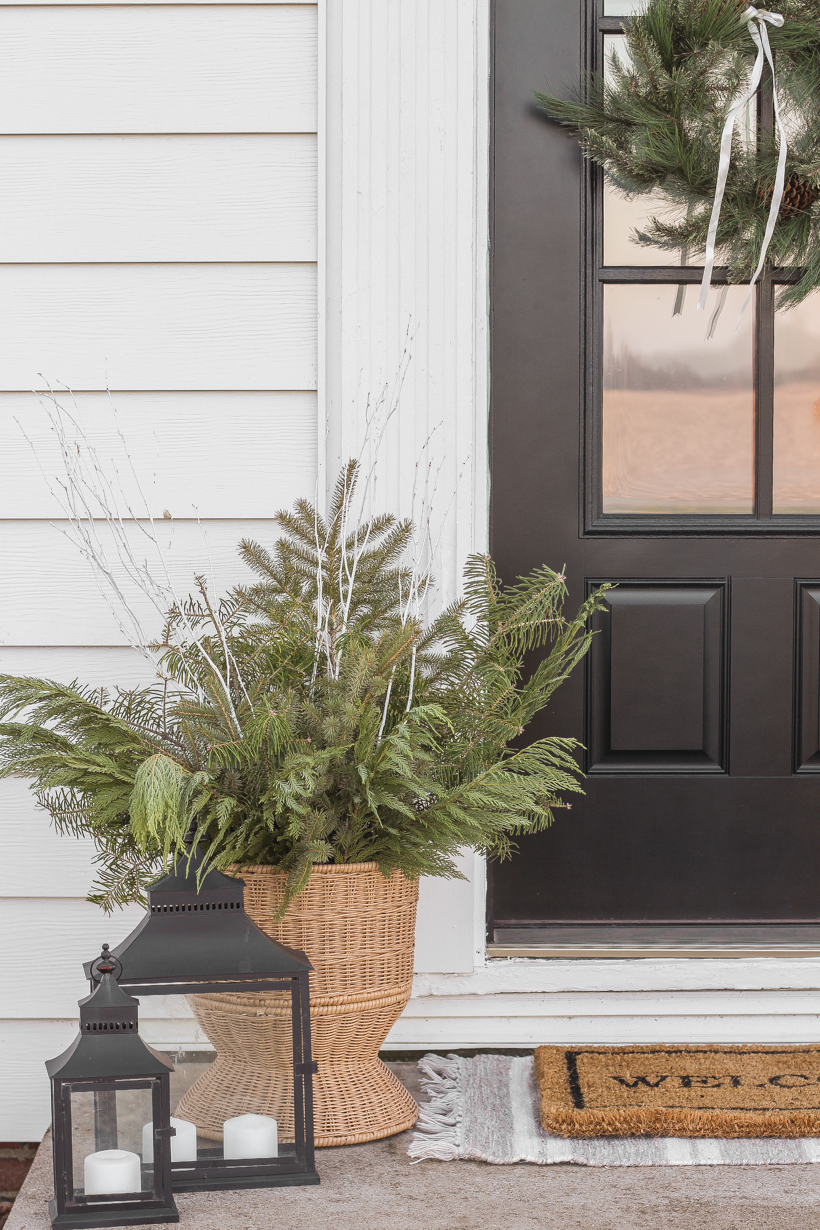 SOURCES
front door | door handle | address plaque | planter | welcome mat | stripe rug
---
Subscribe to Blog | Follow on Instagram
Follow on Pinterest | Follow on Facebook