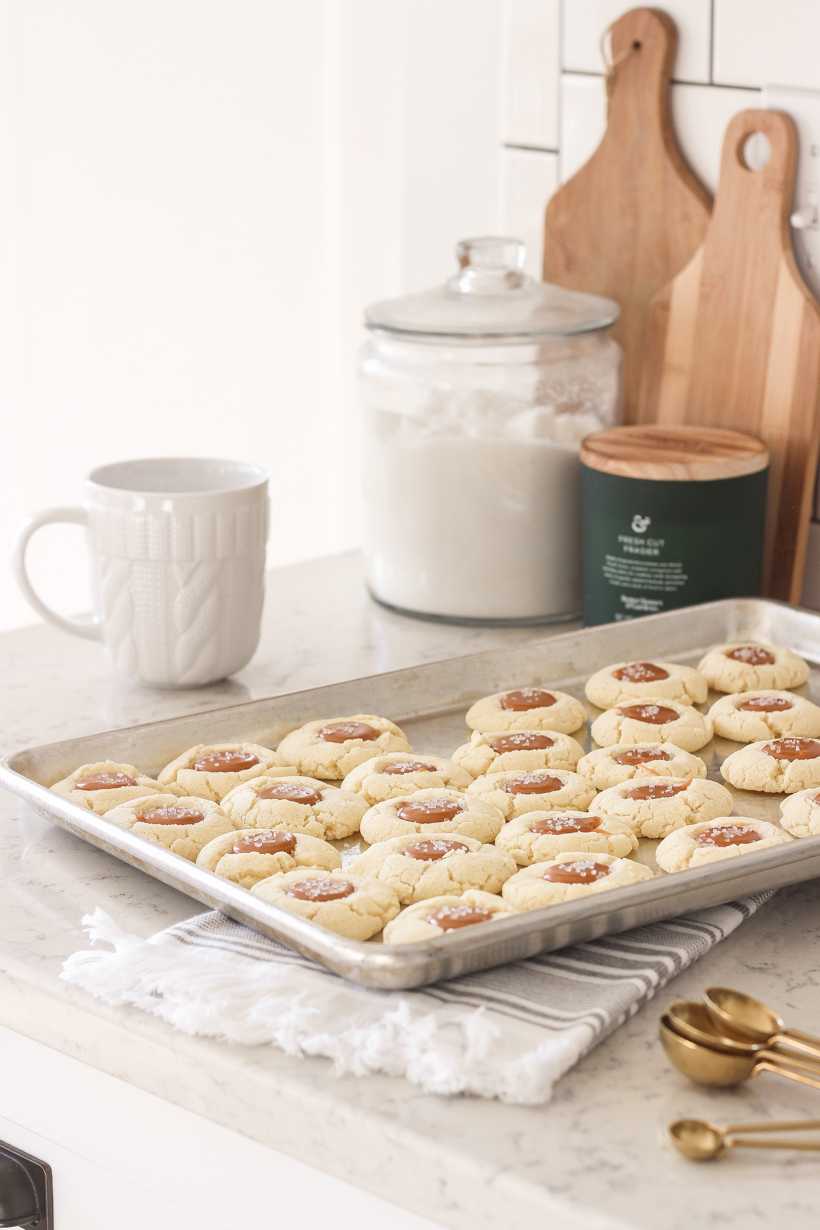 In partnership with Walmart // I have some fun & easy holiday baking ideas to share with you today that I think you and your family are going to absolutely love! Baking sugar cookies is such a nostalgic memory for me this time of year. I vividly remember picking out my favorite cookie cutters and sprinkling on all the colorful sugars. The smell in the kitchen was a delicious combination of vanilla & sugar, and I couldn't wait to pass down the tradition to my own kids one day.
The boys and I make these famous sugar cookie cut-outs every year for Christmas, but I wanted to come up with a few quick & easy cookie creations for the holidays that I could whip up quickly without all the fuss and mess of sugar cookies made from scratch. I started with a pre-packaged sugar cookie mix for all of the recipes and turned them into three different recipes for Christmas cookies with just 2-4 ingredients each (plus anything you need to prepare the cookie dough, such as butter & eggs). If you're looking for something a little easier, but still super delicious and festive, I hope you'll try one of these three yummy recipes I'm sharing today!
SALTED CARAMEL THUMBPRINTS
NUTELLA COOKIE CUPS
SNICKERDOODLE BARS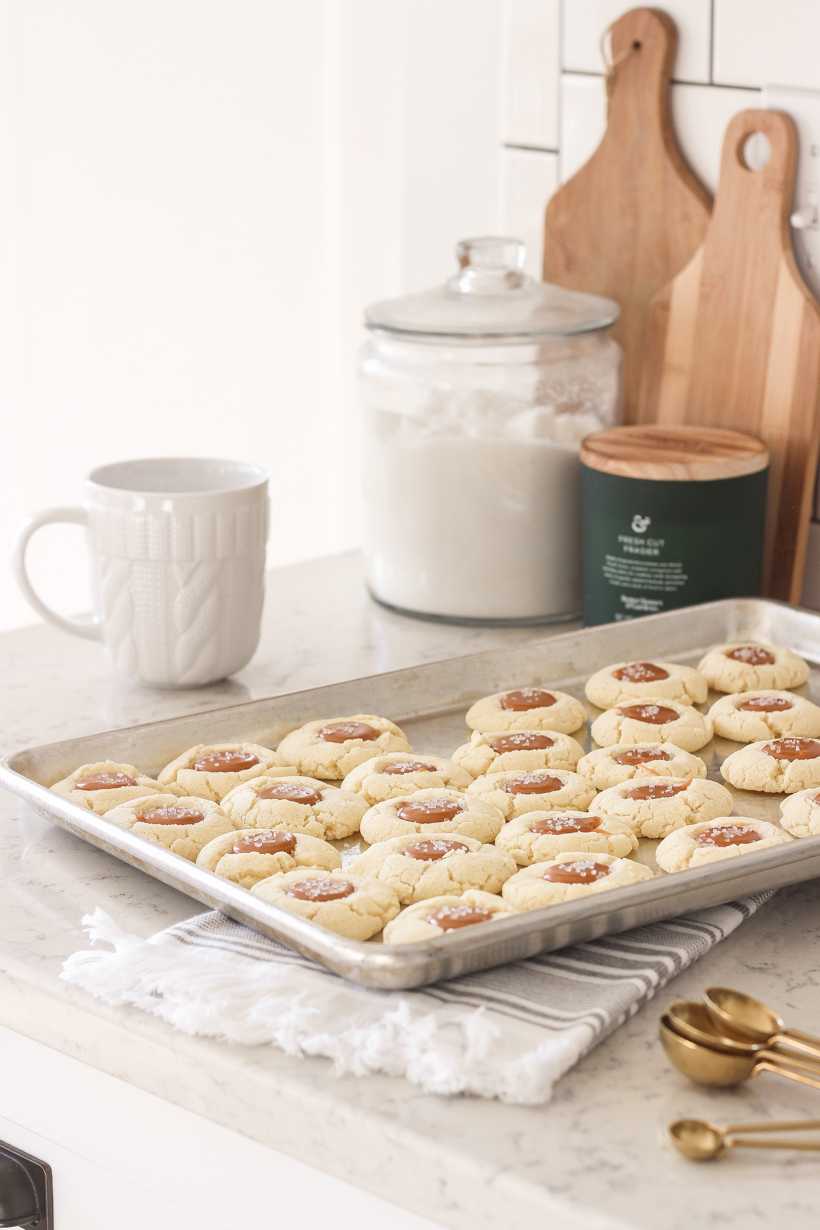 This first recipe for Salted Caramel Thumbprints is my absolute favorite. Something about a subtly sweet sugar cookie mixed with that salty bite of caramel is a combination that always leaves me craving more.
tips:
I highly recommend picking up some coarse sea salt from the grocery store for these cookies. The big flakes of salt sitting on top of the caramel not only looks pretty (like little ice crystals), but it makes the flavor so much better.
You'll need to use the back of a round metal teaspoon to make the indentation for the caramel in each cookie once they come out of the oven. I found this gorgeous set of brushed gold measuring spoons and measuring cups at Walmart that I absolutely love.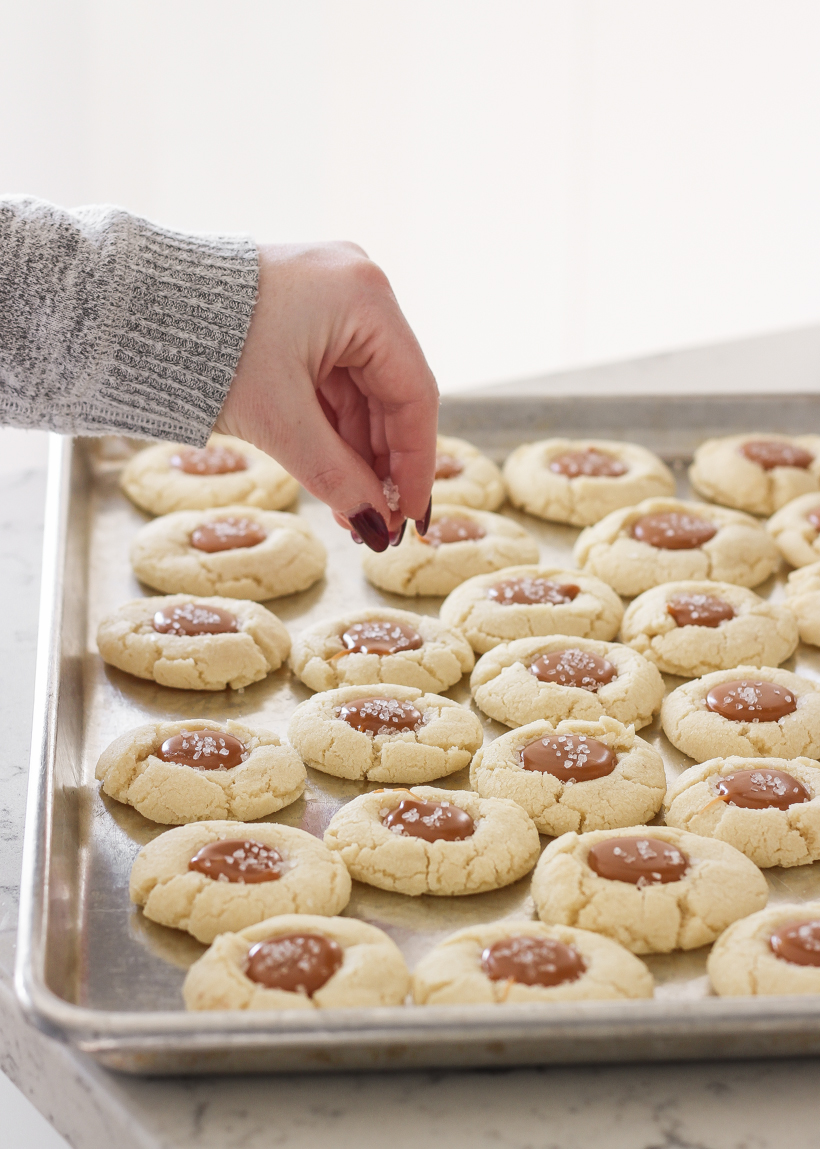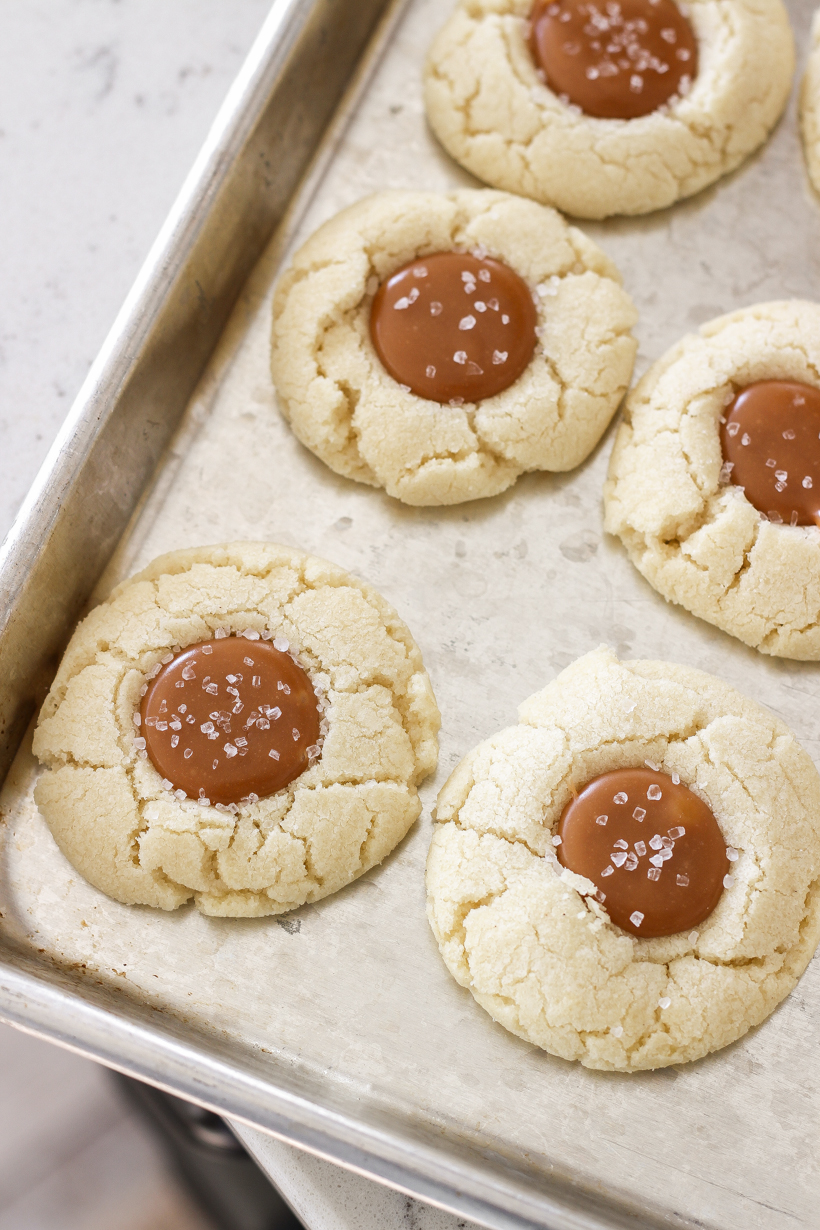 Salted Caramel Thumbprints
A sweet, chewy sugar cookie with creamy salted caramel in the center
INGREDIENTS
1 package sugar cookie baking mix (I used Betty Crocker)
¼ cup all-purpose flour
11 ounce bag caramel (I used Kraft baking bits)
2 tablespoons heavy whipping cream
1 teaspoon coarse sea salt (I used Morton)
INSTRUCTIONS
Heat oven to 350ºF. Prepare the sugar cookie mix according to package directions + ¼ cup all-purpose flour in a large bowl until well combined. Shape the dough into 1-inch balls and place 2-inches apart on an ungreased cookie sheet.
Bake for 11-13 minutes or until the edges are set, and allow to cool for 2 minutes. Using the back of a round metal teaspoon, make an indentation in the center of each cookie. Transfer the cookies to a wire rack to finish cooling at least 30 minutes.
Meanwhile, in a small microwaveable bowl, heat the caramel and heavy whipping cream in a microwave on high for 1-2 minutes, stirring after the first minute, until the caramel is melted and smooth. Spoon about half a teaspoon of caramel into the center of each cookie and sprinkle with coarse salt. Let stand for about 10 minutes until the caramel is set.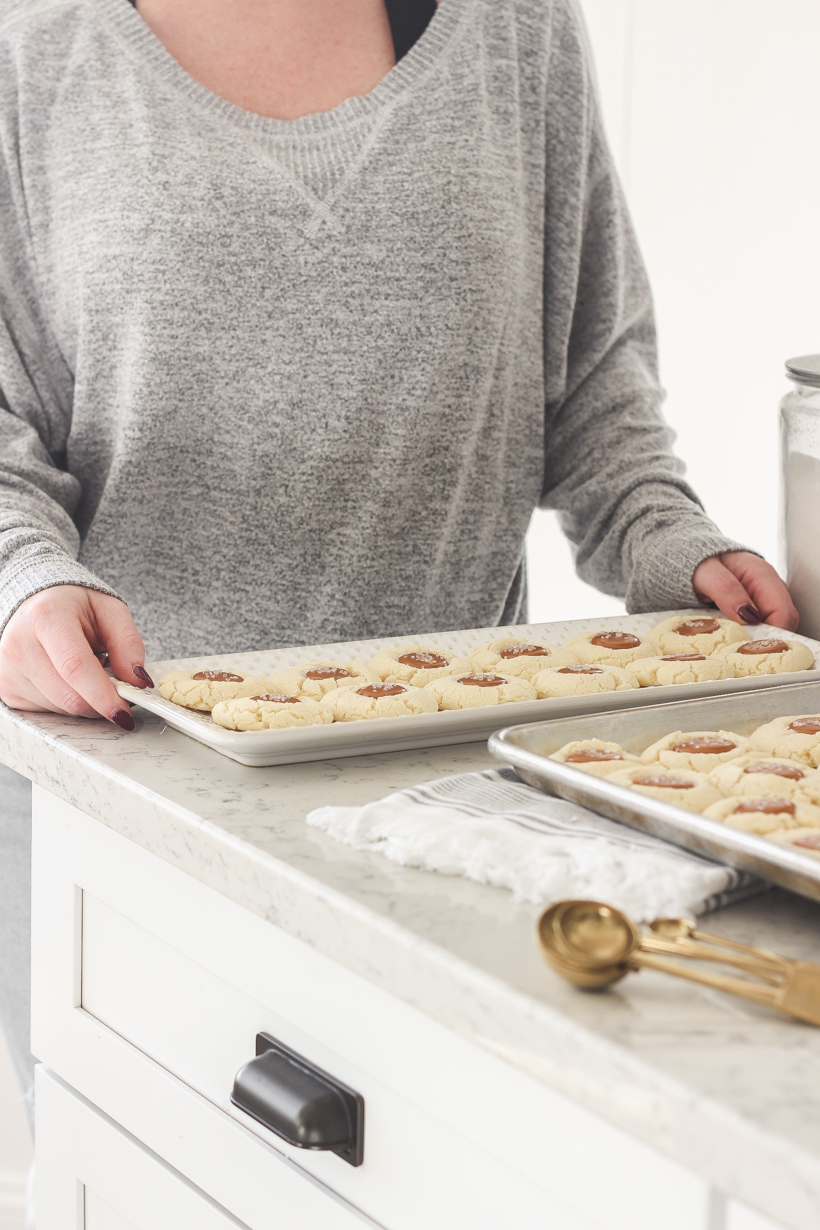 The next recipe is for Nutella Cookie Cups, and this was such a fun one for my kiddos to help with! You bake the sugar cookie dough in a mini muffin tin and make little wells in the center while they are still warm to hold a spoonful of delicious, chocolatey Nutella. But the most fun part is adding some colorful sprinkles on top!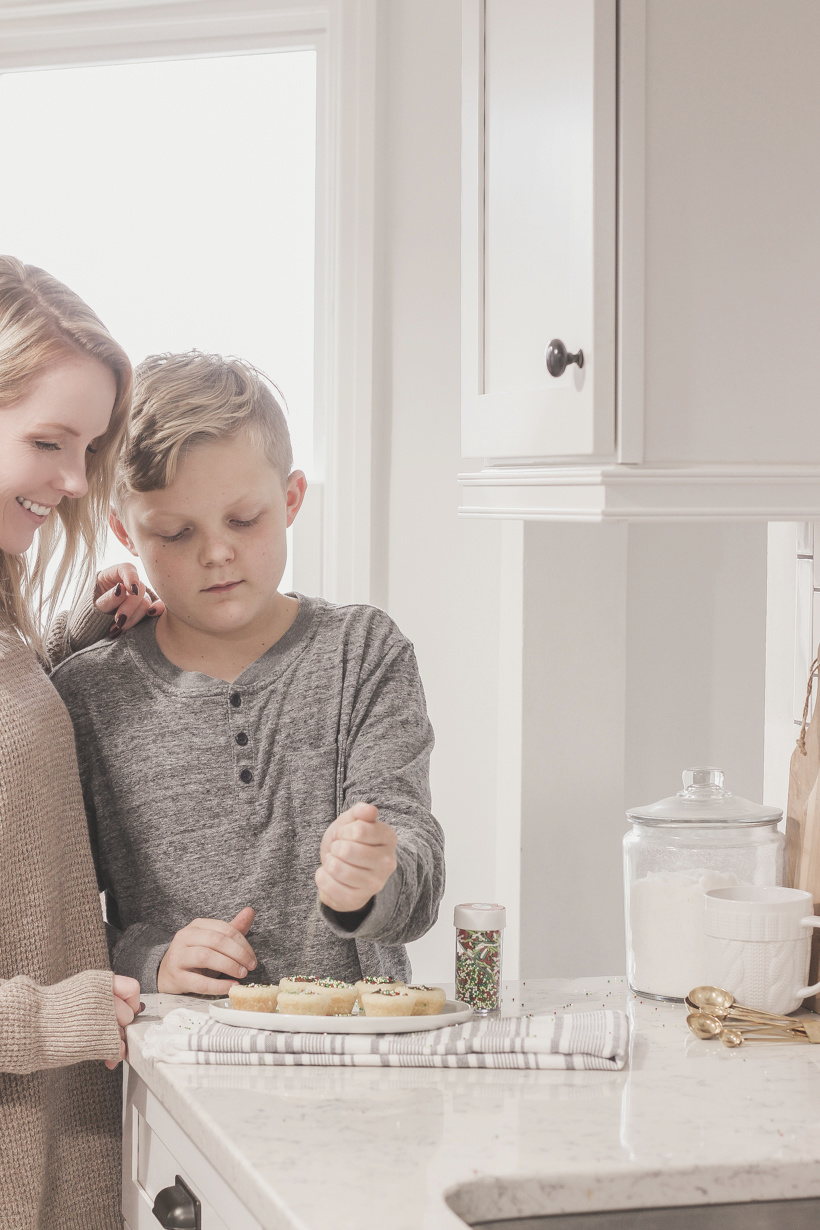 tips:
Nutella is a brand of chocolate-hazelnut spread that my kids absolutely love, but Walmart has a Great Value option that will save you a few dollars!
To make the indentation in the cookies, you could use either a skinny shot glass or something the size of a wine bottle cork would work as well.
To remove the cookie cups from the pan, gently use the tip of a fork or knife to gently loosen the sides away from the pan.
I found that the colored sugar crystals I normally use to decorate sugar cookies sort of melted right into the Nutella, but the non-pareils work great and look really pretty!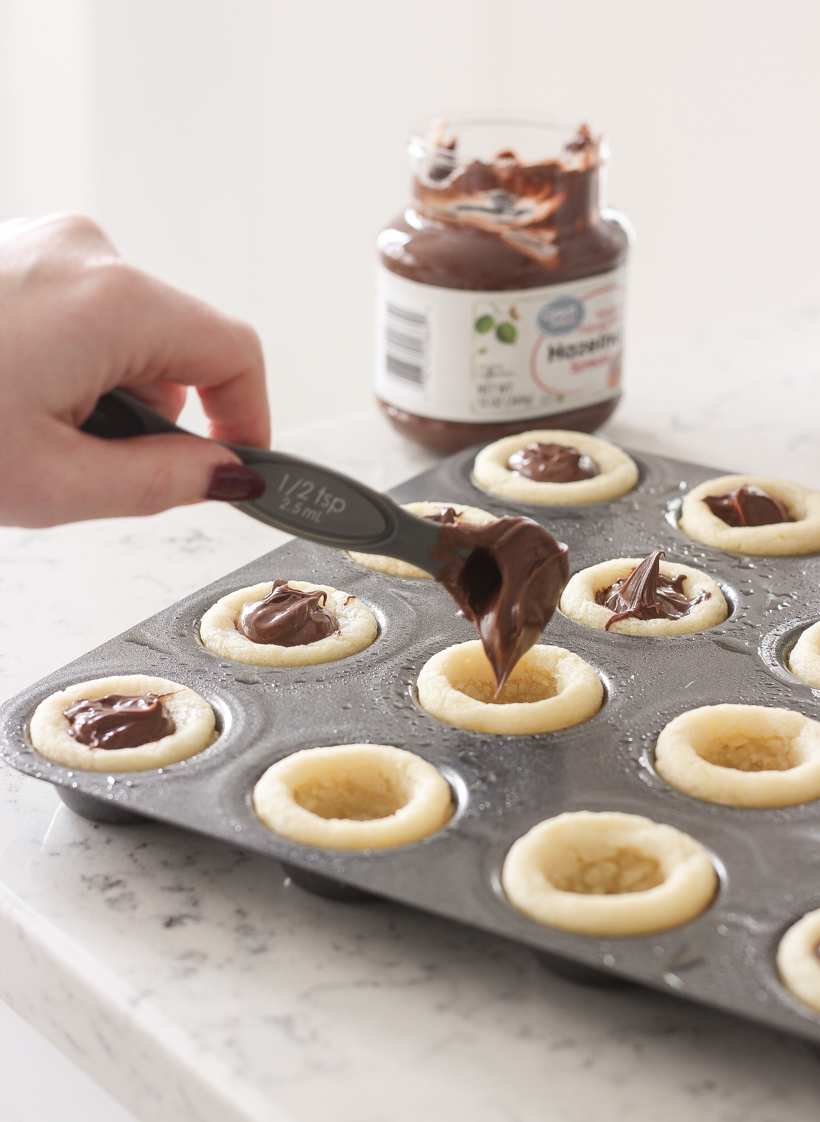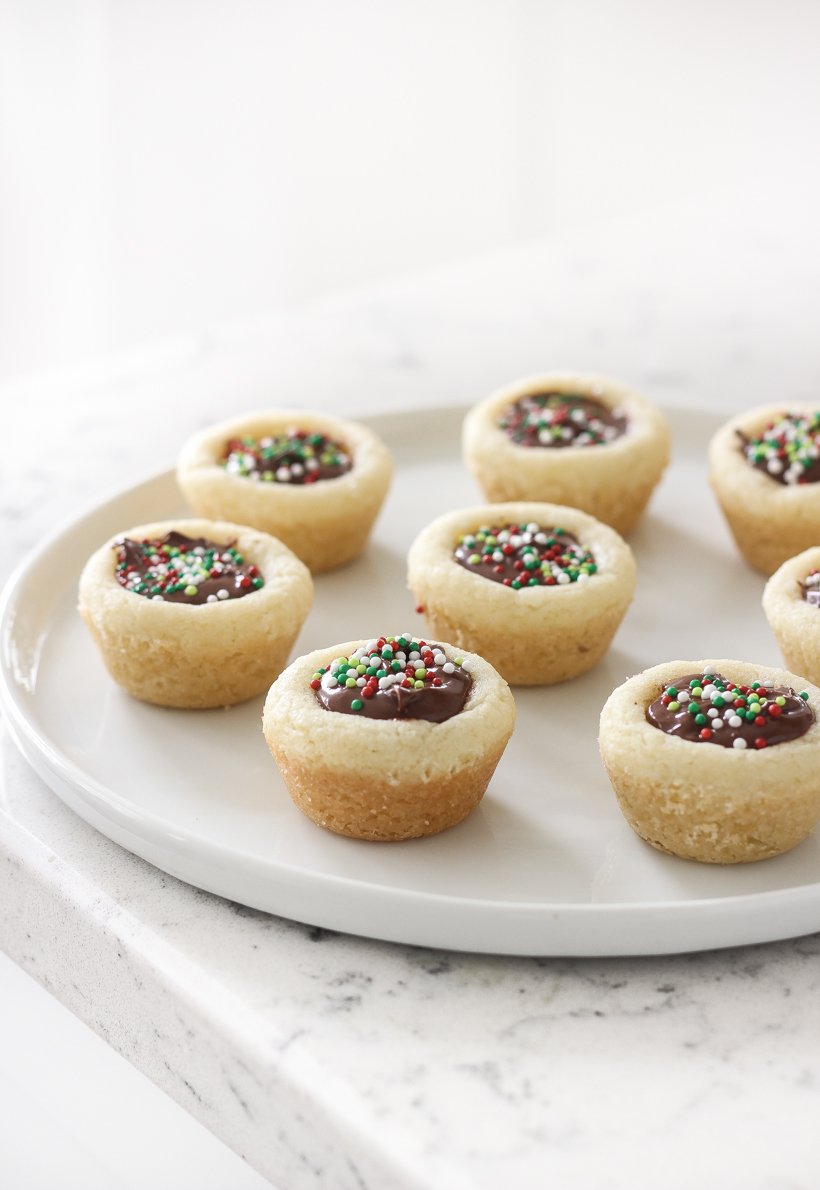 Nutella Cookie Cups
a mini sugar cookie cup filled with creamy Nutella and colorful sprinkles on top
INSTRUCTIONS
Preheat oven to 350ºF. Prepare the sugar cookie mix according to package directions. Roll the dough into 1-inch balls and place into a mini muffin tin. Bake for 9-11 minutes and allow to cool for 2 minutes.
Use the bottom of a shot glass or wine bottle cork to make a well in the center of each cookie. Add a teaspoon of Nutella into each well and finish with sprinkles on top. Let the cookie cups cool in the pan for another 20 minutes before removing them.
Can you tell someone had fun playing with all the sprinkles?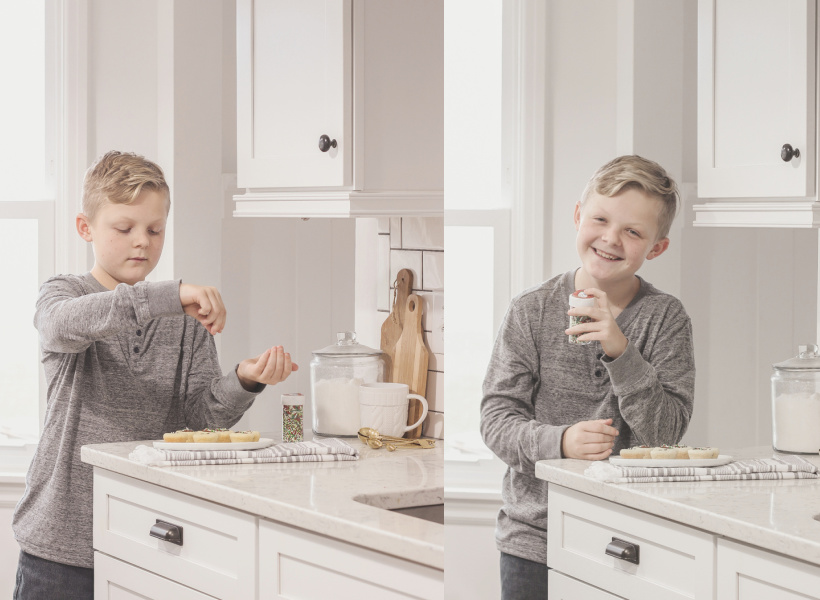 The last recipe is more of a bar than a cookie, but it starts with the same sugar cookie mix and uses a store-bought can of frosting on top! But just two simple ingredients turn this sugar cookie into something even more delicious.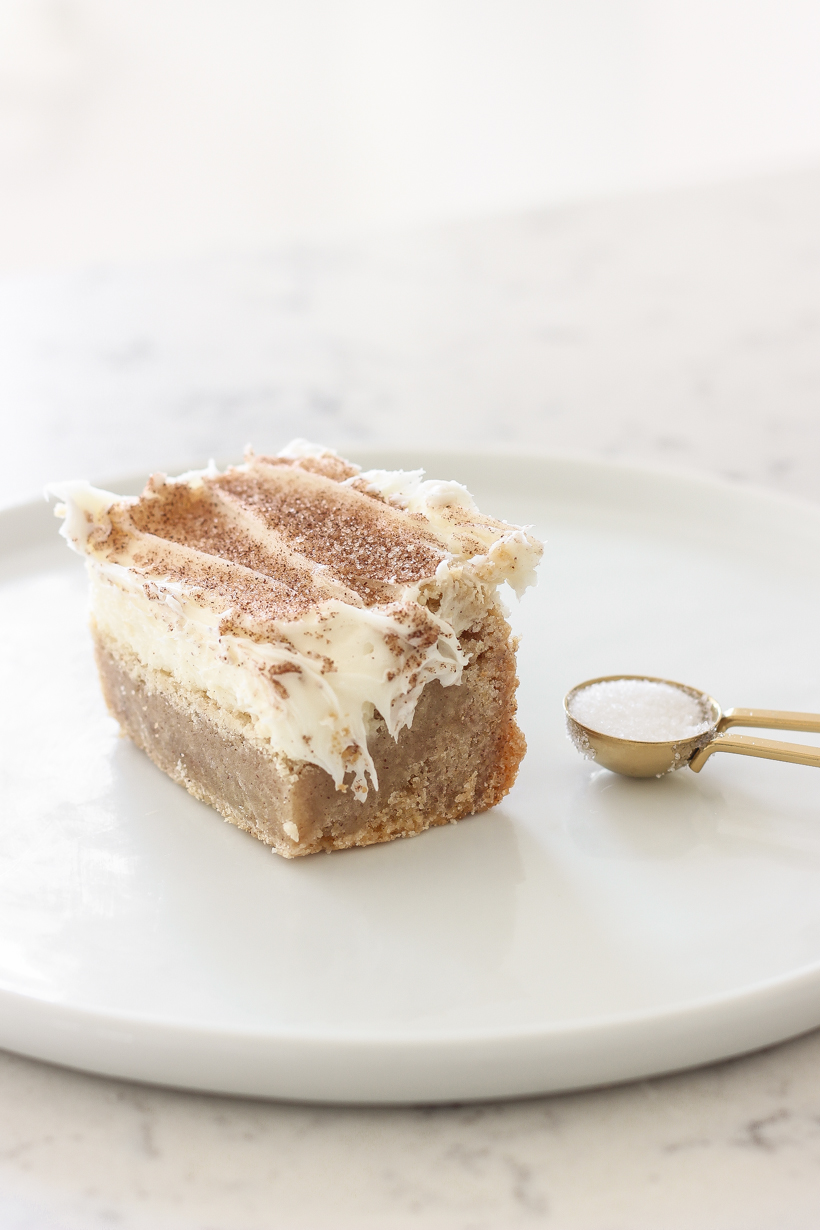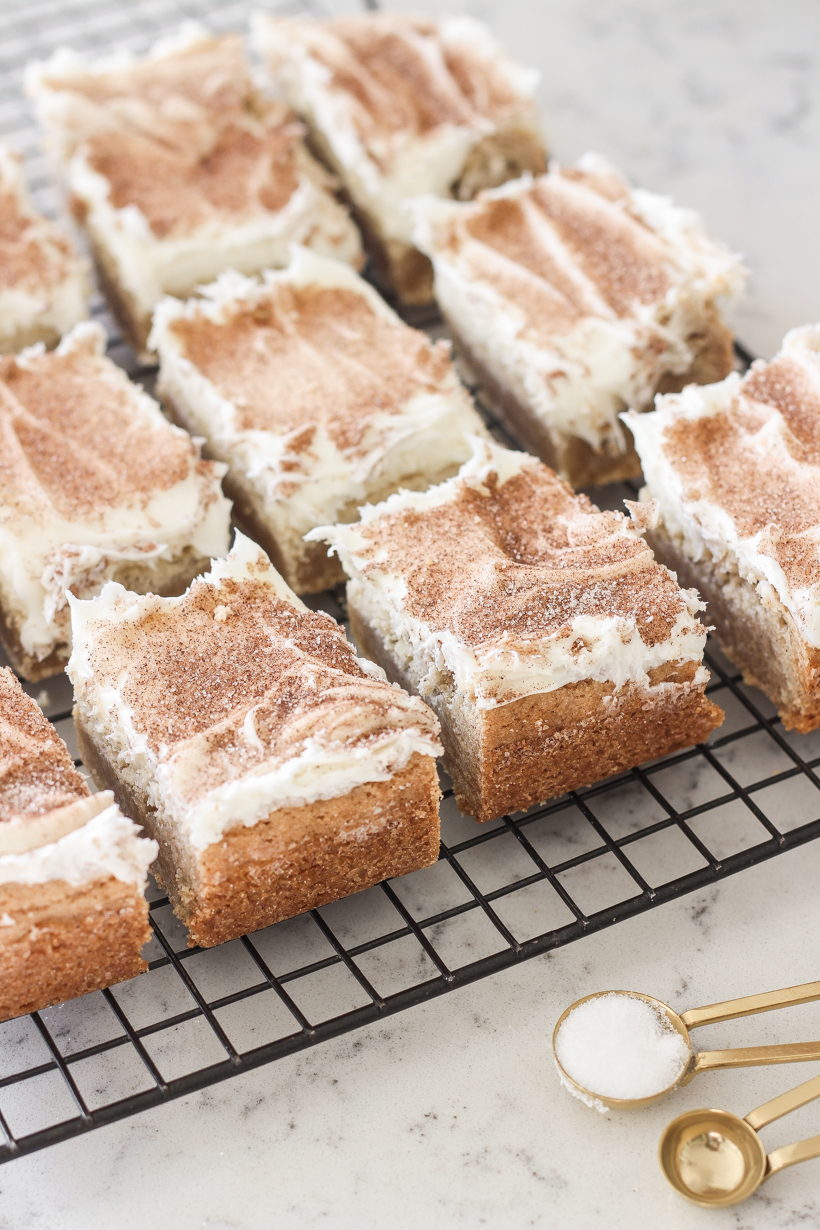 Snickerdoodle Bars
soft, chewy snickerdoodle bars with a creamy vanilla frosting and sweet cinnamon sugar topping
INSTRUCTIONS
Heat the oven to 350ºF. Spray an 8-inch pan with cooking spray. Prepare the sugar cookie mix according to package directions with 1 teaspoon of cinnamon added to the mixture. Press the dough evenly into the pan.Bake for 25-30 minutes or until the edges are light golden brown. Cool completely, about 1 hour.
Meanwhile, in a small bowl combine the remaining ¼ teaspoon cinnamon with 1 teaspoon sugar. Spread the vanilla frosting over the cooled bars and sprinkle with the cinnamon sugar mixture.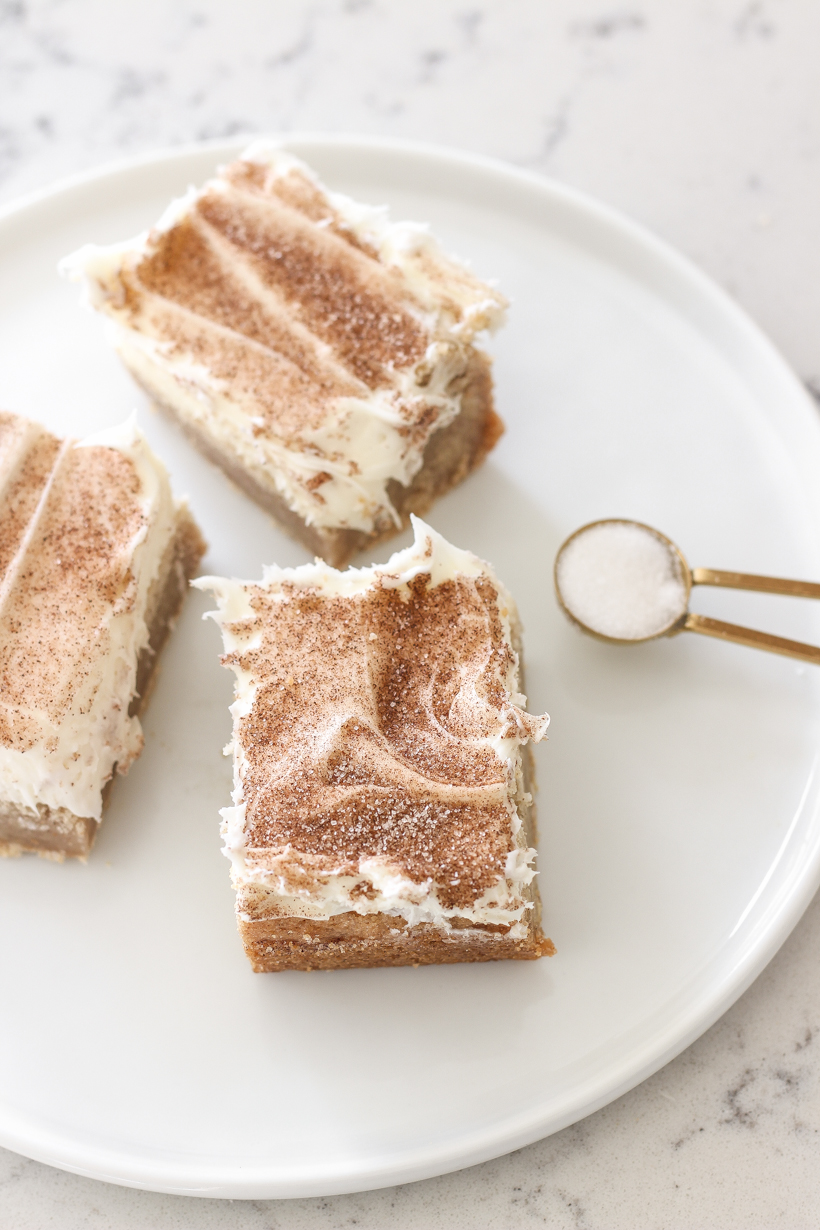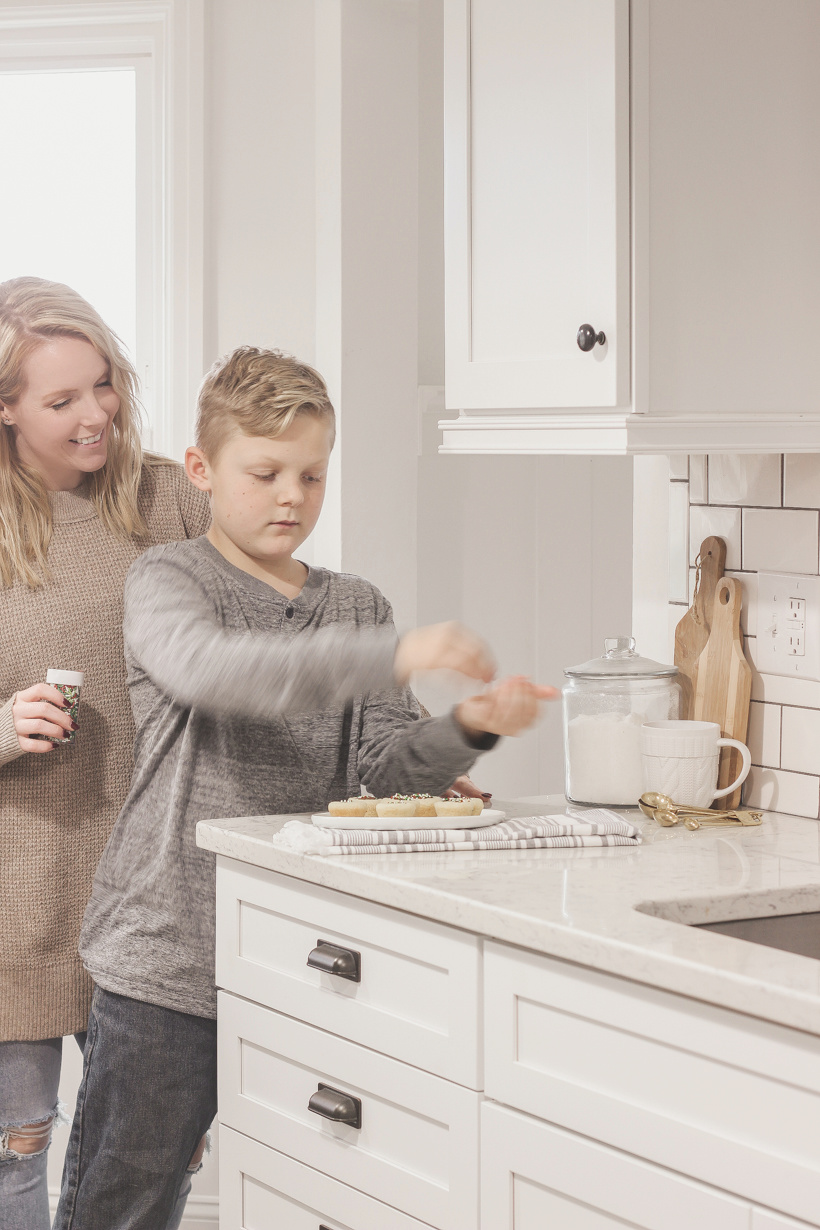 I hope you enjoy these easy treats and can't wait to hear which is your favorite! With everything I have going on this year, spending hours grocery shopping, baking or cooking from scratch, and cleaning isn't how I want to spend the holidays with my sweet babies. I'm sure many of you can relate. The fact that I was able to get everything I needed for our easy Christmas cookies at Walmart quickly and affordably means I can spend more time making memories in the kitchen with my family. I linked everything from this post below, both food and kitchen accessories!
shop the post

*The cute coffee mug and kitchen towel are also from Walmart, but I believe they are only available in store right now otherwise I would have linked those too!
I partnered with Walmart on this post, but as always the thoughts and opinions shared are 100% my own. Thank you for supporting our blog and brand partners!
---
Subscribe to Blog | Follow on Instagram
Follow on Pinterest | Follow on Facebook