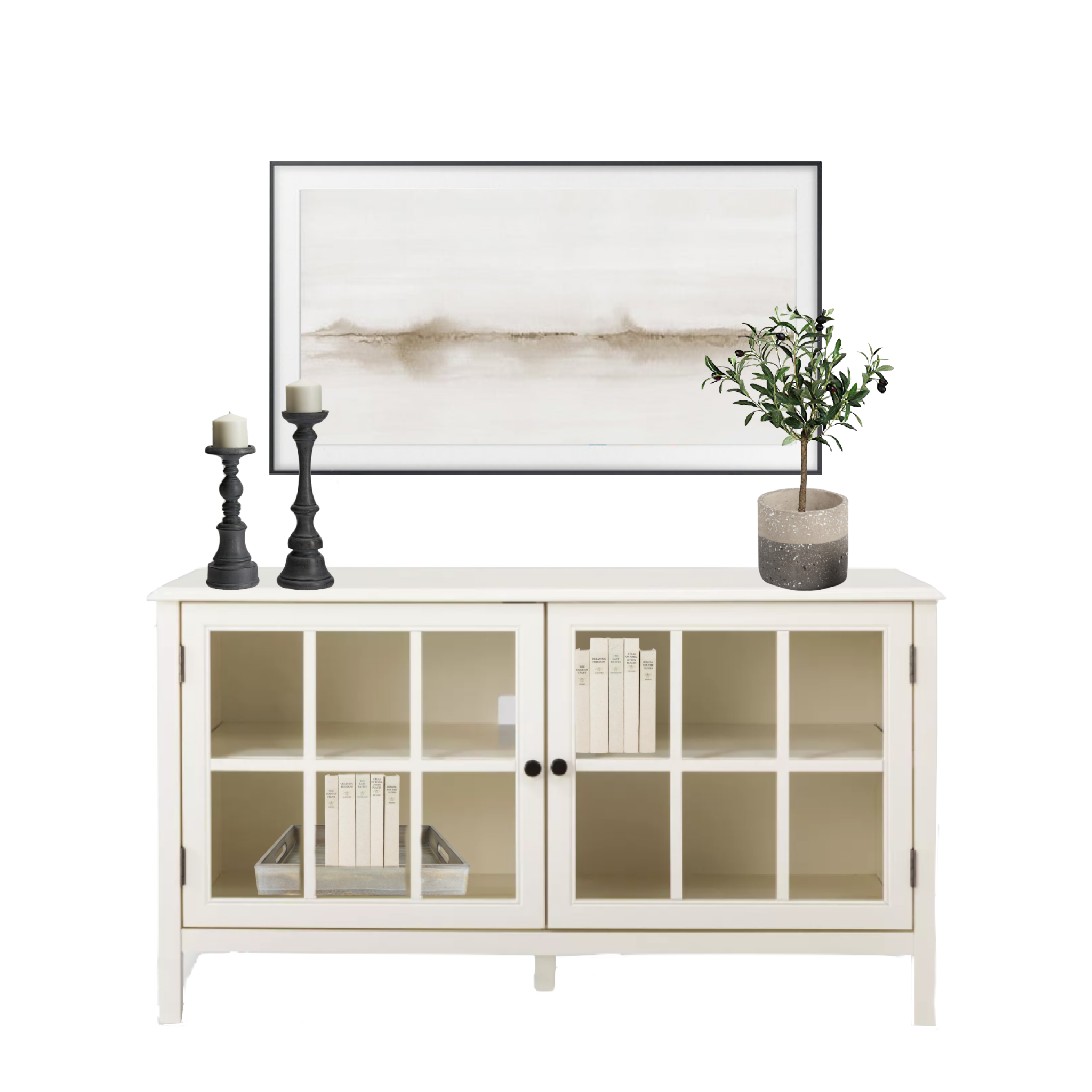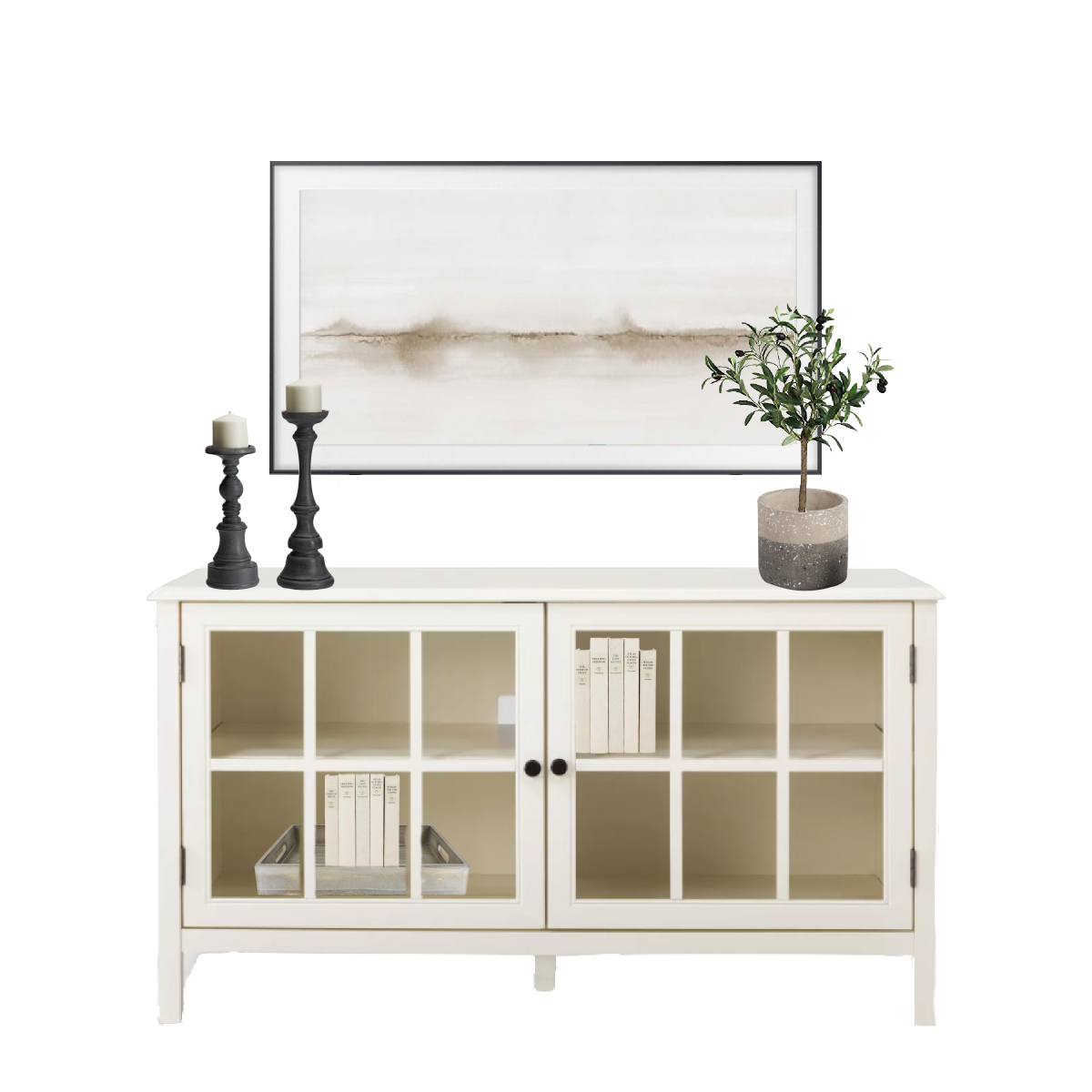 Recently I started a two part series addressing a frequently asked question I get: How do I decorate around my TV?
We all have them in our homes, yet it's a topic that isn't often touched in the world of interior decorating. Do I really want a giant black box as the focal point of my living room? Not really. But I do love our nights snuggled up together as a family watching movies more than anything, which means the TV is just as much a part of our home as the sofa, the dog, or anything else. So let's talk about ways we can make this space a little more pleasing to the eye…
If you read my first post on this topic, you got to see the strategy I used in my own home to make the TV disappear as much as possible. You can read part one here. Think: less is more.
But every home is set up differently, and what might work in my space may not work for yours. So today I'm going to give you a whole bunch of ideas, style options, and accessories you can use to make decorating around your TV easy + painless! Let's dive into 5 different looks I put together, followed by a huge collection of other options that might suit your home and taste better. Be sure to read my note at the bottom of the post too about the television itself. This is a game changer!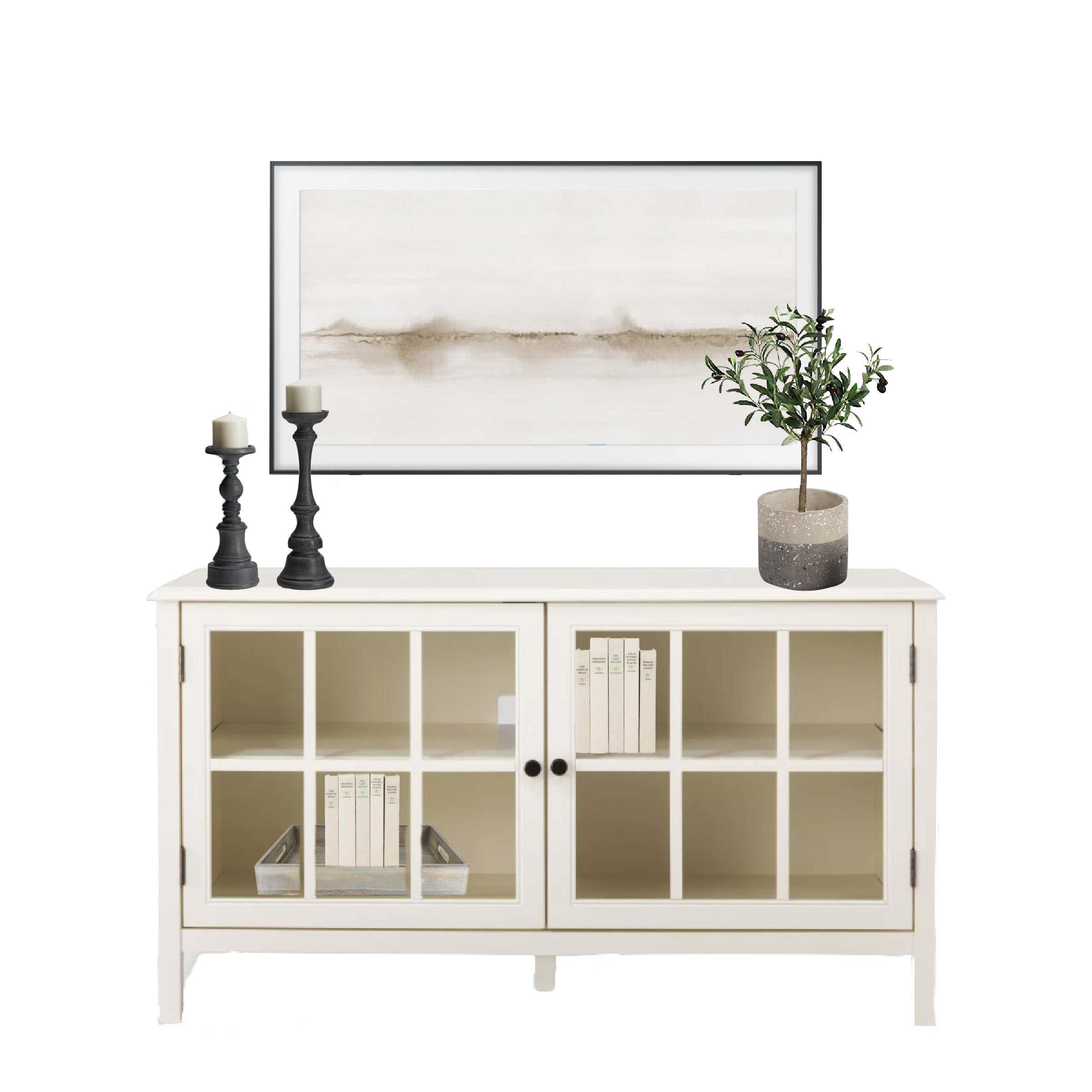 TIMELESS NEUTRAL // SHOP THE LOOK:
tv console | candlesticks | artwork
pot | plant | books | tray | frame tv
---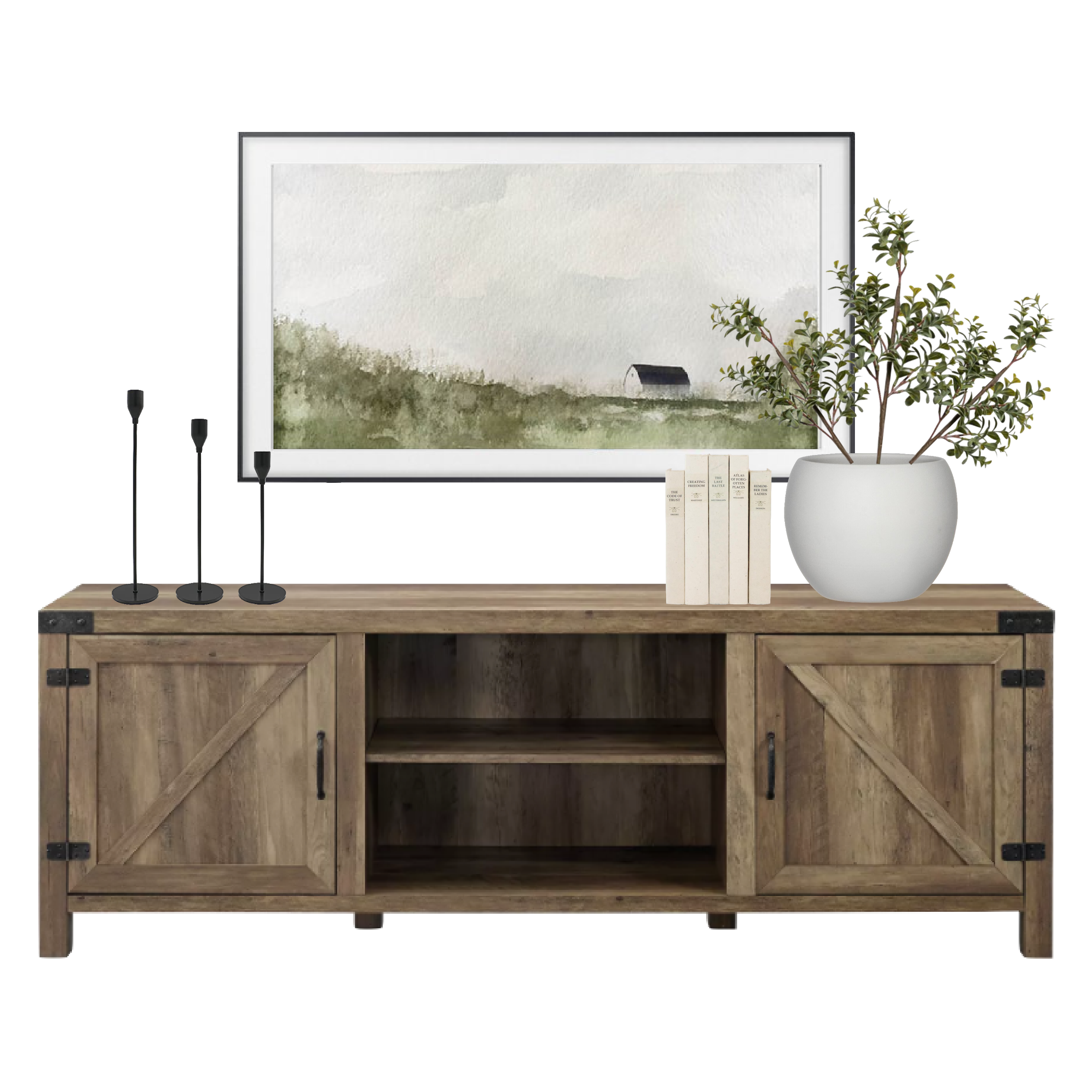 RUSTIC FARMHOUSE // SHOP THE LOOK:
tv console | candlesticks | artwork
pot | greenery stems | books | frame tv
---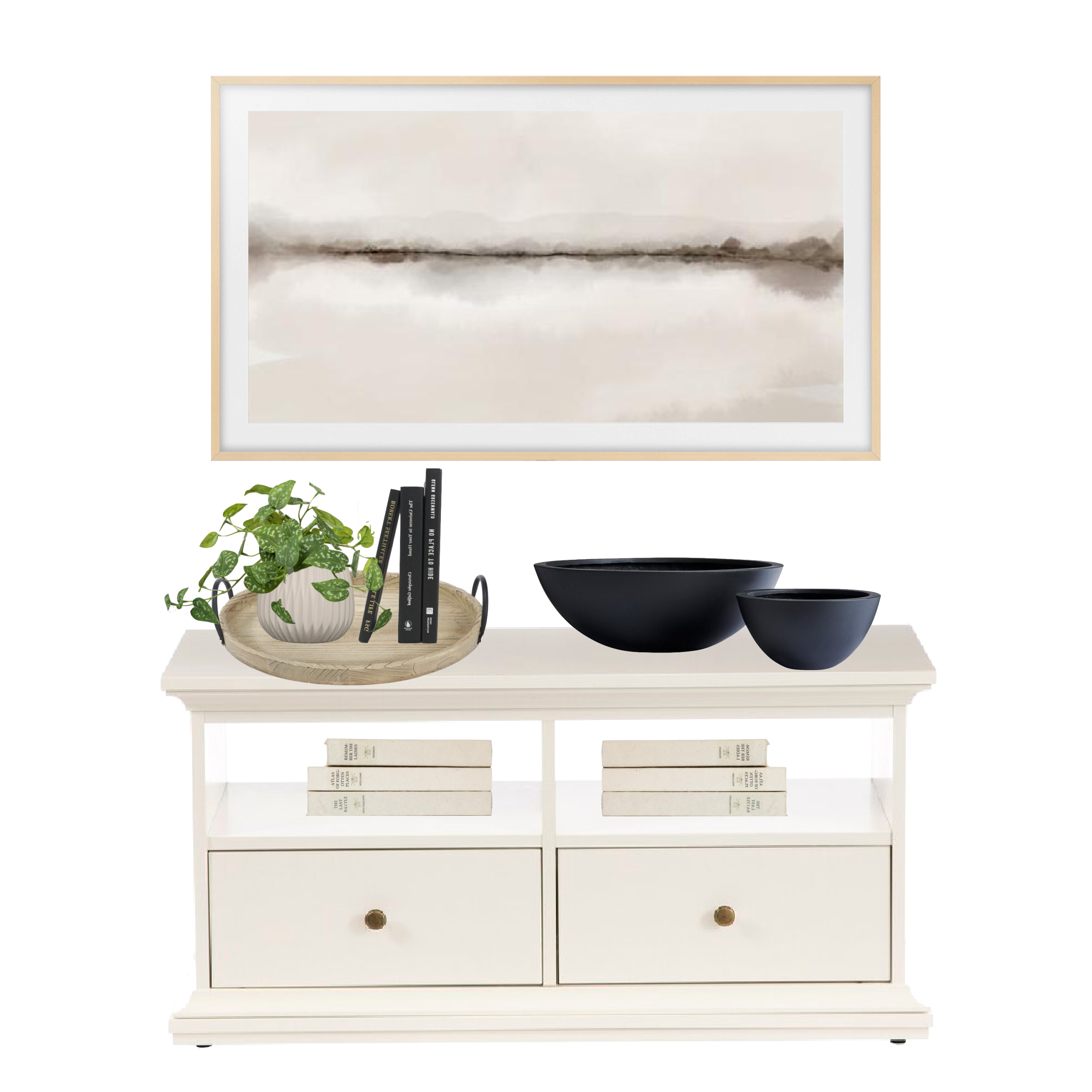 LIGHT NEUTRAL MODERN // SHOP THE LOOK:
tv console | artwork | tray | beige frame tv
planter bowls | books | white pot | plant
---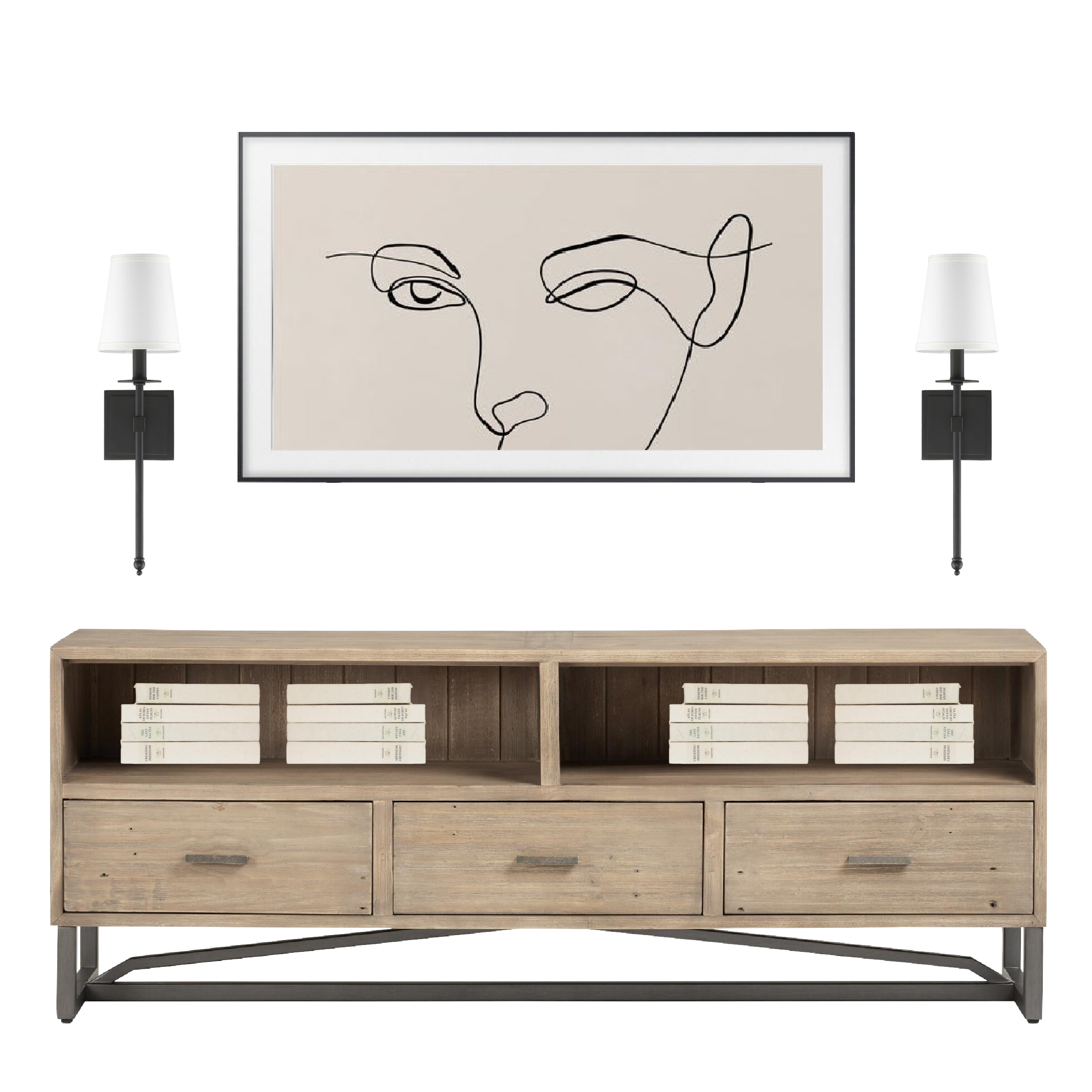 MODERN SIMPLICITY // SHOP THE LOOK:
tv console | wall sconces | artwork
books | frame tv
---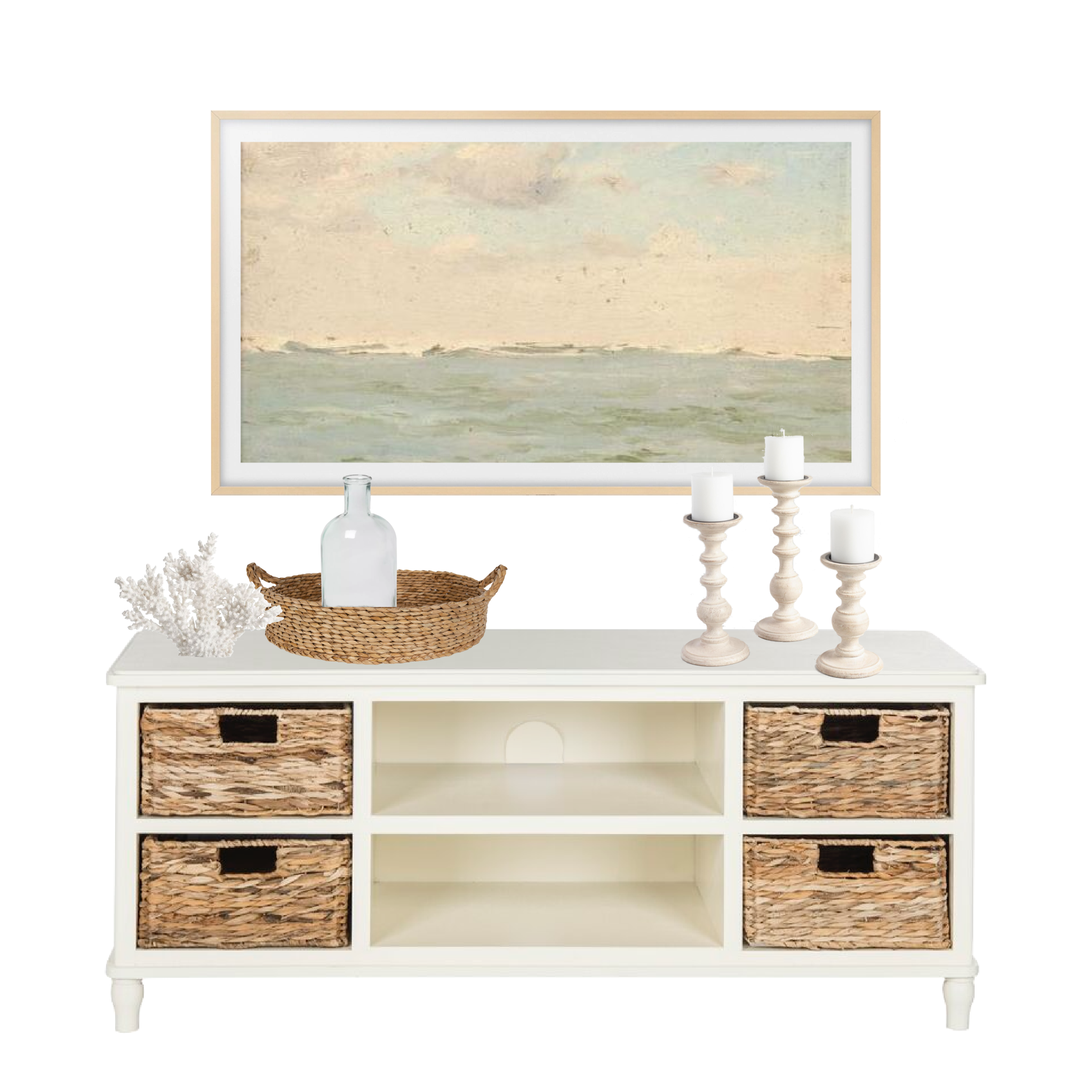 BEACHY COASTAL // SHOP THE LOOK:
tv console | candlesticks | artwork
tray | glass vase | coral | beige frame tv
---
WHAT IS A FRAME TV?
If you're wondering why I have pretty framed art displayed where the TV should go, let me introduce you to a product I've just learned about in the last year or so: Frame TV. I am far from a tech expert and am usually very much behind the times on modern electronics, but this TV is something that intrigued me right from the beginning.
Basically it is a flat screen smart TV that mounts on your wall, but it's designed to look just like a piece of framed art when the TV isn't on. So genius! You can get a black frame, beige (natural), white, or walnut (brown), and there is an art store built into the TV where you can buy artwork to display. Because of the design and added features of the art display, this TV is obviously more expensive than your typical smart TV. But I'm considering starting to save my pennies for one because I feel like the design payoff would balance the price tag. I will keep you posted! Have you heard of this kind of TV before? Do you have one yet?
ANOTHER FAQ: HOW TO HIDE ALL THE CORDS
There are plenty of ways you can hide cords with things like cord covers or by simply securing them to the back of your tv console with clear clips. But the best advice I can give for eliminating all the cord chaos is switching to a smart TV (like the Frame TV I mentioned about), which allows you to stream TV shows and movies through the internet, rather than having a separate box such as satellite TV. Many devices can connect wirelessly now, so if you find yourself still struggling with a million cords that look messy, it might be time to update some of your equipment! *Note: again, I am no expert in this field, but I was surprised when I started utilizing my smart TV's streaming and wireless capabilities how few cords I have to deal with now!
MORE OPTIONS FOR STYLING YOUR TV:

Note: As always, I sincerely appreciate you shopping through the links I share, which allows me to make a small commission from your purchase while your purchase price stays the same. When you use my affiliate links, I'm better able to create content for this blog as well as support my family, and I thank you from the bottom of my heart for supporting what I do!
---
Subscribe to Blog | Follow on Instagram
Follow on Pinterest | Follow on Facebook