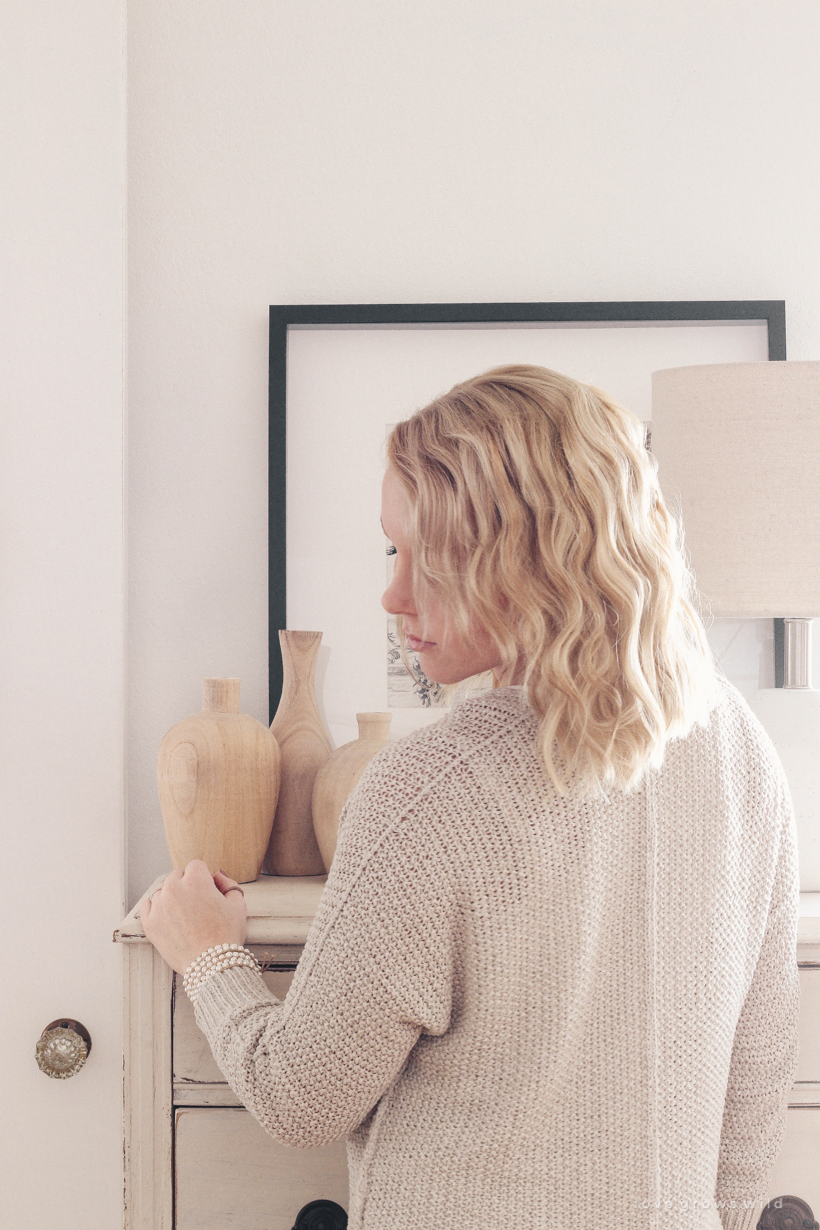 Last summer I shared one of my favorite ways to style my hair, How to Curl Hair with a Flat Iron Straightener, and I promised to share my other favorite hairstyle with you guys too. I finally had a chance to sit down and film this tutorial after getting tons and tons of questions about it on Instagram, and I am so excited to share today the easiest way to get beautiful beach waves!
I love that this style is a little messy, a little more casual than curls, and so much easier in my opinion. It's meant to look natural and not perfect, so I love doing this on days when I'm in a hurry but still want to have cute hair or even on day two or three in between shampoos! You'll need a few tools and products, but I'll go over all of that with you. Plus I have a step-by-step photo tutorial AND a video showing the entire process of me doing these waves on my hair. Let's get started!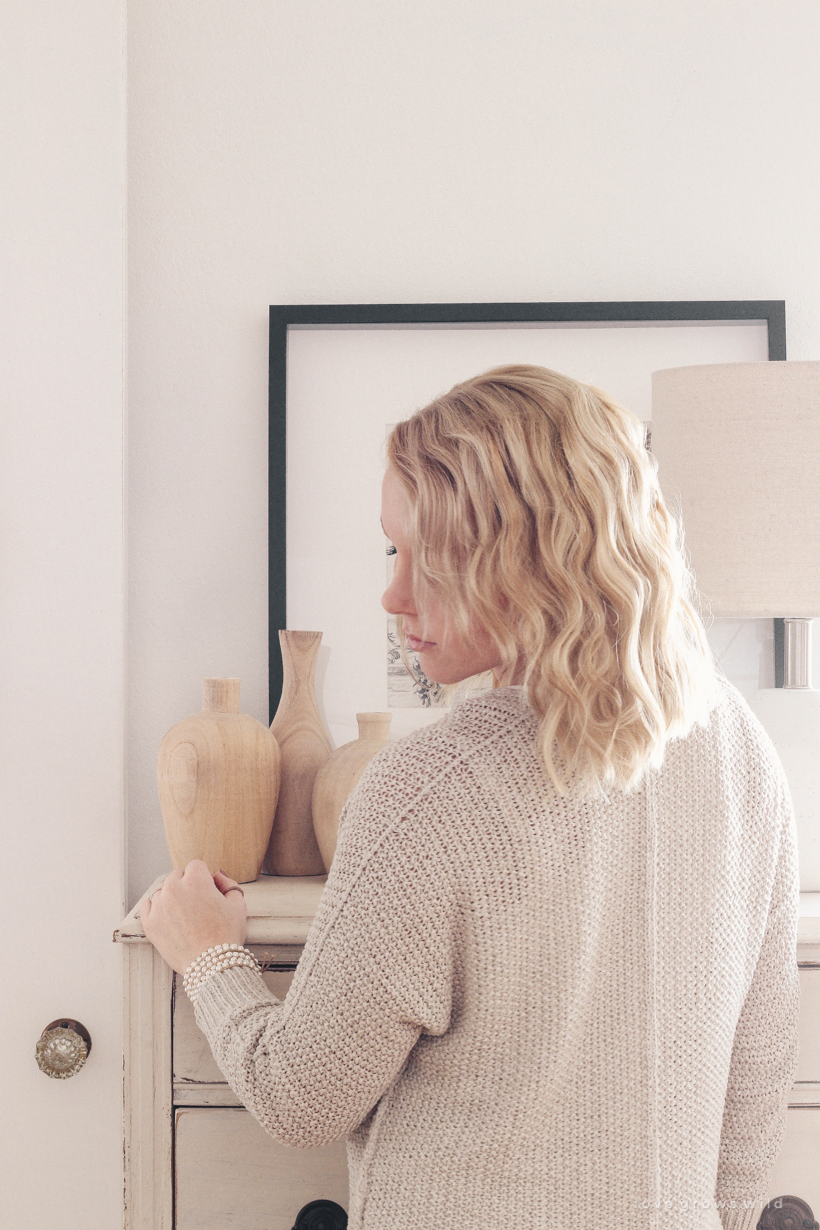 THE TOOL YOU'LL NEED…
I've owned several 3 barrel wavers and other crimper tools in the past, but I bought this Bed Head Wave Artist Deep Waver last summer and it has been one of my favorite beauty tools ever since. What's different about this particular waver is the deep barrel that creates a bigger, more sculpted curl that replicates those natural beach waves we all want to have. There are two different types of waves you can create with this tool, and I'll go over both of those in the tutorial below. It heats up to 400º, but I always keep it at the lowest heat setting to protect my hair. You can order the waver on Amazon with Prime free shipping + returns for under $30!
CLICK FOR DETAILS:

THE PRODUCTS YOU'LL NEED…
HEAT PROTECTION SPRAY
Before I dry my hair I'll spray a generous amount of Tresemme Heat Tamer to protect against heat damage. I've done a lot of research on pricier heat sprays, and this inexpensive spray does the job well and I'm not worried about using it generously to make sure my color-treated strands are protected. I just spray it all throughout my hair before blow drying and again on my dry hair before using any heat tools.
DRY SHAMPOO
Dry shampoo has many uses and benefits, but for this hairstyle I like to use it to add body, volume, and texture at my roots. Once my hair is dry, I spray the shampoo along my part and at the roots around my face and the top few layers of my hair. I like to massage the spray into my roots to help distribute the product and really work it into my hair. There are a ton of great and not-so-great dry shampoos out there in every price range you can imagine. I've found a few less expensive options that work well, and my current favorite is Not Your Mother's Beach Babe Texturizing Dry Shampoo. It smells like beachy coconut!
SHINE SERUM
I like lots of volume in my beach waves, but to prevent my ends from looking dry and frizzy, I use a shine serum to smooth just the ends of my hair. Before I start using the waver I'll apply a small amount of Tresemme Keratin Smoothing Serum to my ends and a little bit to the pieces around my face. A little goes a long way, so start with just a small pump full to avoid weighing your hair down.
TEXTURE SPRAY
Once I wave all my hair, I use Not Your Mother's Double Take Dry Finish Texture Spray to style the waves, add fullness, and blend all the waves together. The texture spray gives your hair a bit of "grip" so that even squeaky clean, silky hair can be easily styled and have tons of body. What I love most about this product is that it also is a medium hold finishing spray, so it helps hold the waves in place and still allows movement without adding a sticky hairspray.
HAIR SPRAY
Since I use the texture spray mentioned above, I don't necessarily need a hair spray all over my hair, but I do like to use a touch to smooth down any flyaways I have at the very end of styling. This is my holy grail hairspray I buy again and again: L'Oreal Elnett Satin Extra Strong Hold Hair Spray is a humidity resistant hairspray with a super fine mist that leaves my hair feeling clean and soft and not at all sticky. It holds my style and volume all day, but because the mist is so fine, you can literally brush through your hair at the end of the day and the hairspray disappears. This is especially important for anyone (including me) who goes a few days between washing their hair and needs to restyle it the next day! One thing to note, I've tried other holds from Elnett Satin, and the extra strong volume is definitely my favorite!
CLICK FOR DETAILS: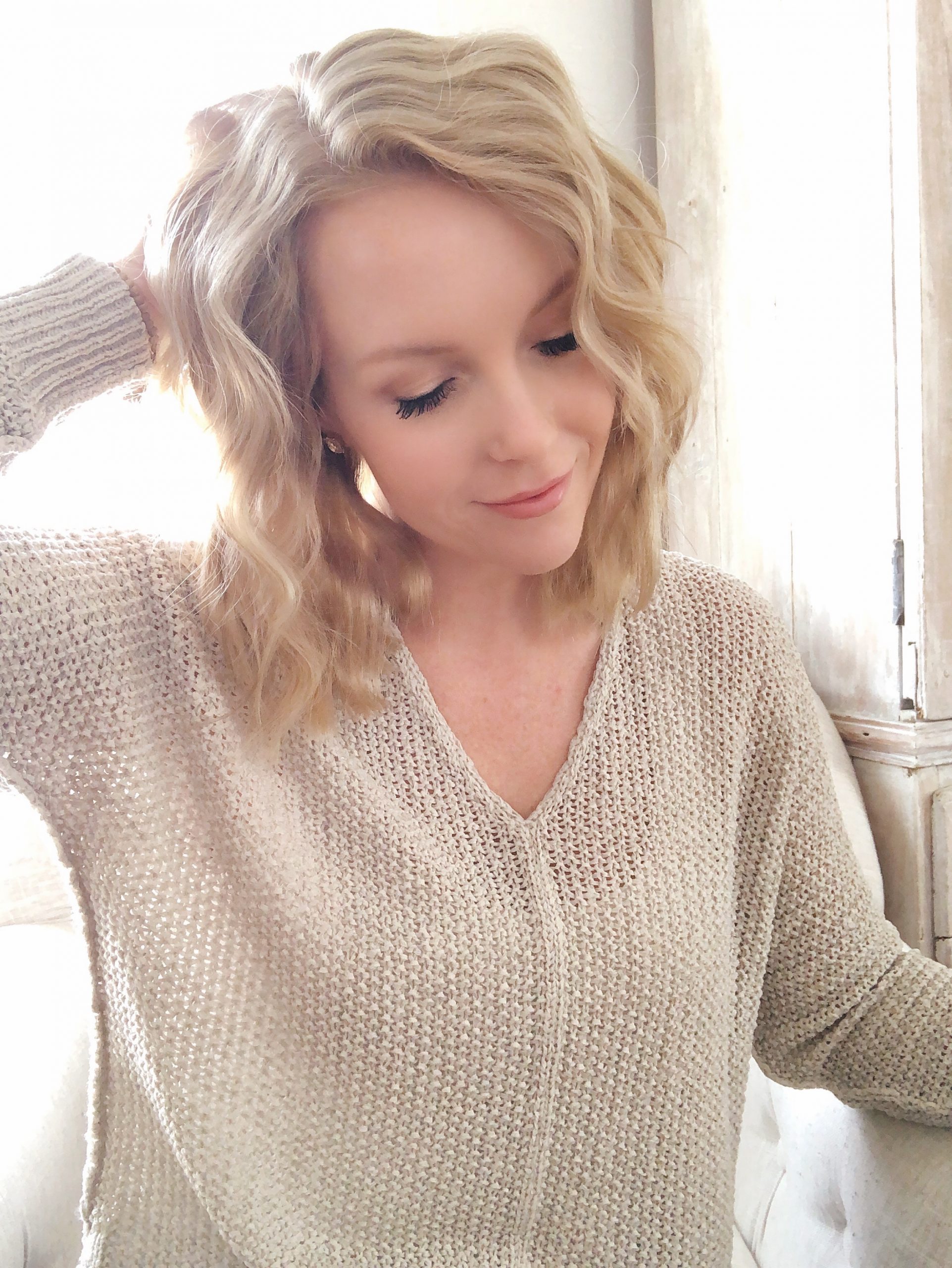 BEACH WAVES TUTORIAL
WHAT YOU'LL NEED:
deep waver
hair clip
dry shampoo
shine serum
heat protection spray
texture spray
hair spray
INSTRUCTIONS:
First, spray dry shampoo to your roots at the top of your head and around your face to build volume. Then apply a small amount of shine serum to the ends of your hair hair to tame frizziness.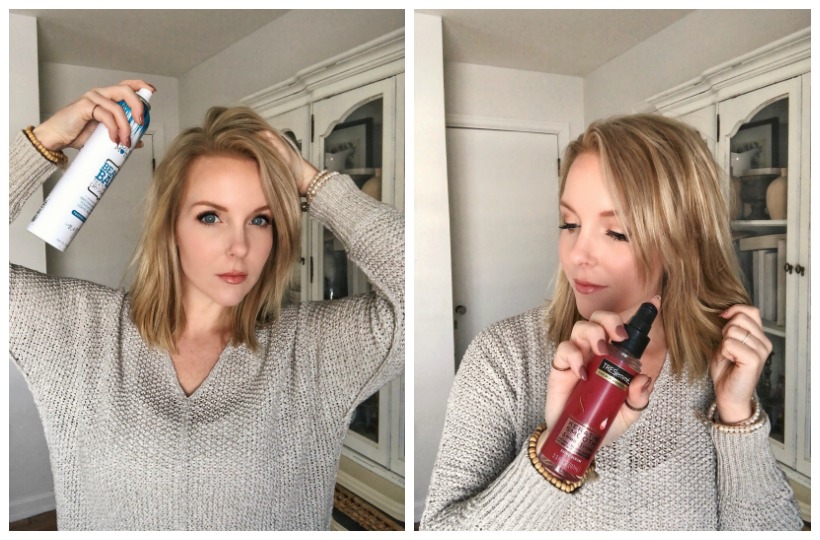 Next put the top two-thirds of your hair up in a clip, and spray a heat protector all over the bottom third of your hair.
Wave Option 1:
For a flatter, more relaxed look, hold the waver VERTICALLY as you wave your hair. Start at the roots and clamp the tool on small sections of hair, holding for just a few seconds before moving down towards your ends. This will create waves that lay flat in an S shape from side to side. For an even more loose, natural look, leave an inch or so straight at the roots and the ends.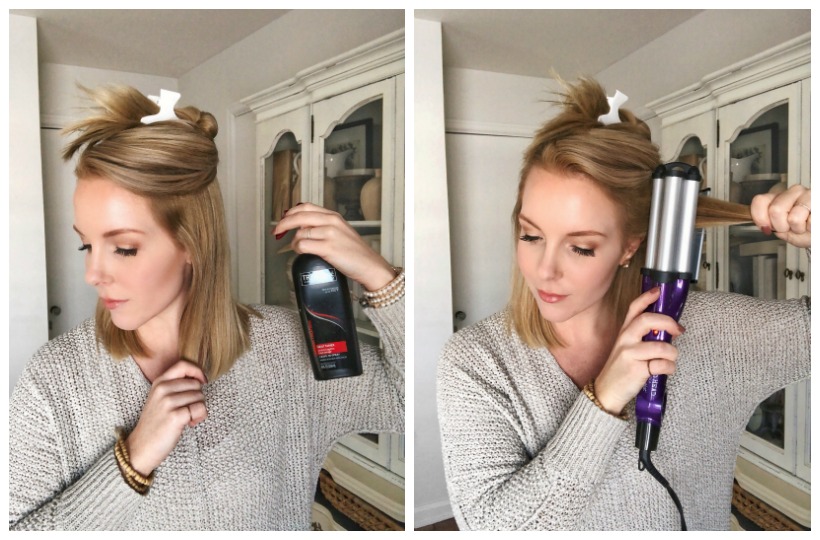 I prefer to do a vertical wave on the bottom layer of my hair so you don't see such big, defined waves underneath and this wave on the rest of my hair:
Wave Option 2:
For a bigger, more voluminous look, hold the waver HORIZONTALLY as you wave your hair. Again, start at the roots and clamp the tool on small sections of hair, holding for just a few seconds before moving down towards your ends. This creates a more defined wave that gives your hair a ton of body and movement, which I like around my face and the top of my hair.
Once you have all your hair waved, spray with the texture spray to add even more volume and blend the waves. If desired, use a little bit of hair spray to lock the style into place and tame any flyaways you see.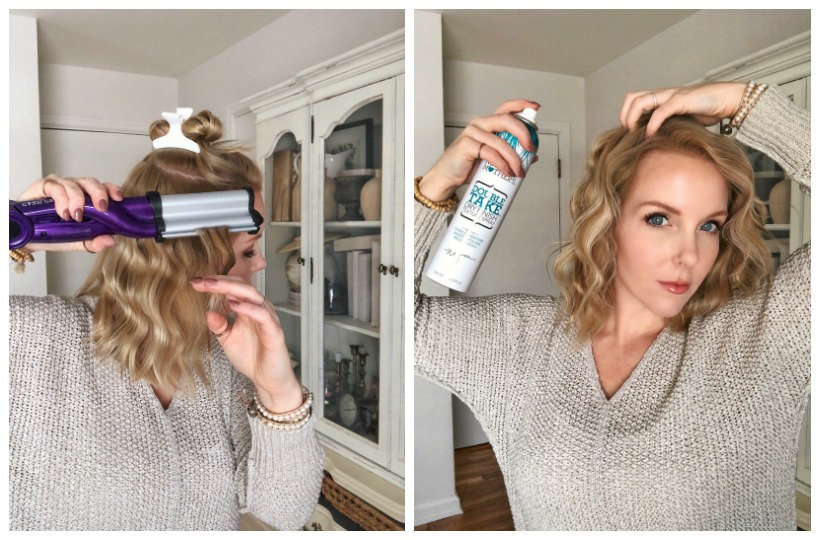 A FEW TIPS…
It's easy to change the look of your wave as soon as it comes out of the tool and is still hot. For example, I like a more relaxed look around my face, so I will gently pull the hair down to smooth and loosen the wave.
As you style your hair, check the heat setting periodically to make sure the dial hasn't slid up to high. Often I'll notice mine has accidentally been bumped up to a higher heat setting, which I definitely don't want or need on my color treated hair. I keep mine on low.
Beach waves are a great base for other hairstyles too like loose braids, pulling the top half up into a bun, or a high ponytail with beautiful textured waves cascading down. I don't wash my hair every single day, so styles like these help me get an extra day or so between each shampoo!
WATCH HOW I CREATE THESE BEACH WAVES:
And that's how I get easy, beautiful beach waves in my hair! I hope watching the video plus having the steps broken down with photos is helpful, and I really hope this gives you some new ways you can style your own hair. If you have any questions, let me know, and I will also be sharing this video on Instagram stories and saving it in my highlights for quick and easy reference, so make sure you're following me there!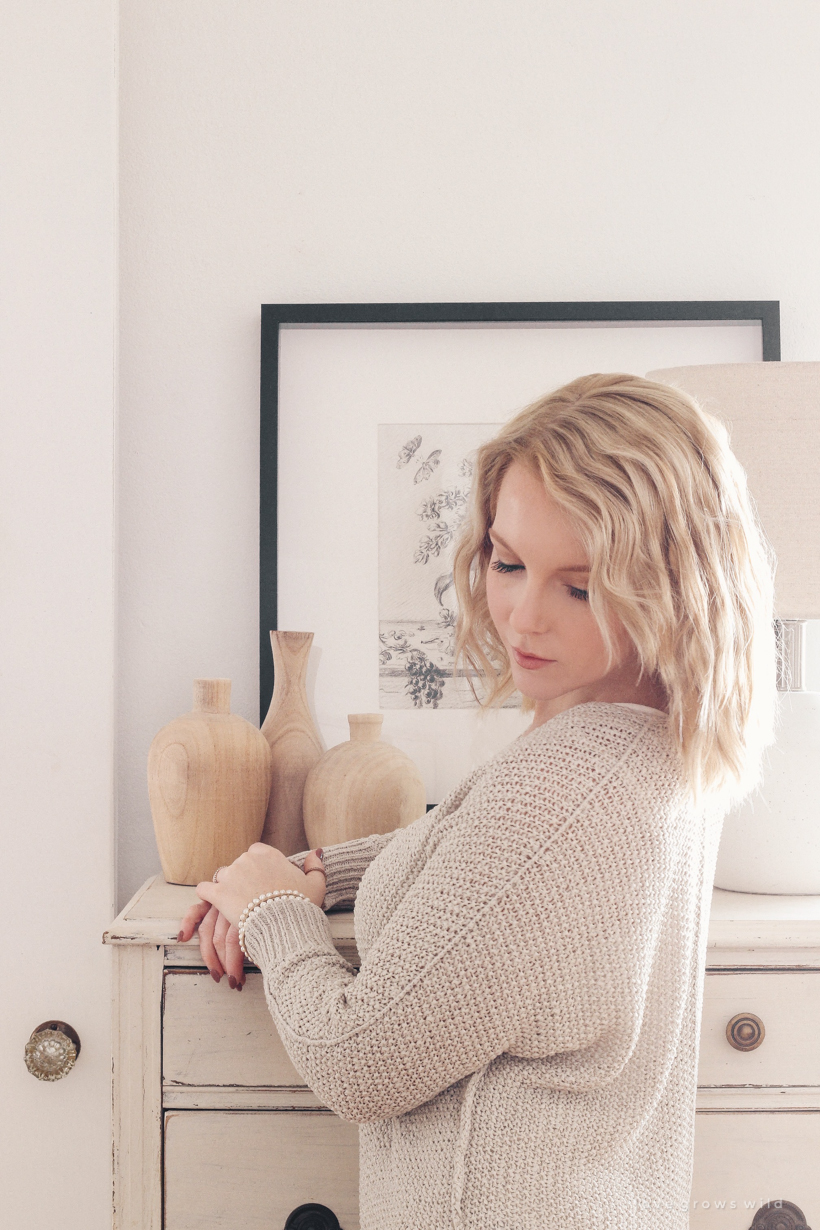 Thanks so much for visiting today, sweet friends! xoxo Liz
As always, I sincerely appreciate you shopping through the links I share, which allows me to make a small commission from your purchase while your purchase price stays the same. When you use my affiliate links, I'm better able to create content for this blog as well as support my family, and I thank you from the bottom of my heart for supporting what I do! xoxo Liz
---
Subscribe to Blog | Follow on Instagram
Follow on Pinterest | Follow on Facebook