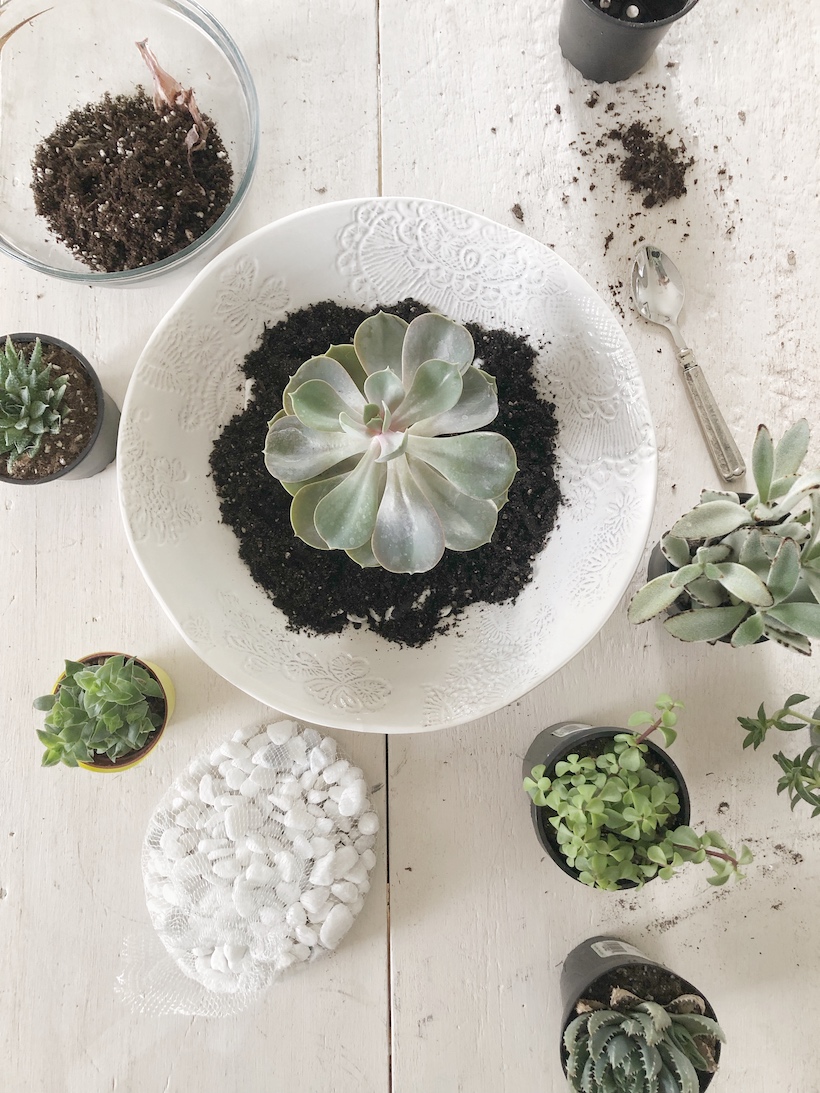 I am admittedly not the world's best gardener or an expert plant lady, but I do like having plants around the house and try my best to not let them die. There are a few house plants I love that are very low maintenance, AKA hard to kill, and succulents are pretty high up on that list. Most varieties don't need a ton of sunlight or water, making them perfect for people like me who forget to water them on a regular basis.
Lately I've been looking for low height centerpiece ideas for my coffee and dining room table because I hate not being able to see whoever is sitting across from me at the table or be able to see the tv from the couch because a big, tall centerpiece is in the way. I love the look of long branches in a pretty vase, but to be completely honest it's just not practical for our family and we are constantly moving it out of the way. So I created a succulent centerpiece using a big pretty bowl as the vessel, and I am so excited to share how I made it with you guys. It was super simple, and I love how creative you can get with the style of bowl and all the different shape and color succulent varieties that are available. I actually ended up making three different succulent bowls because I couldn't narrow down my choices to just one!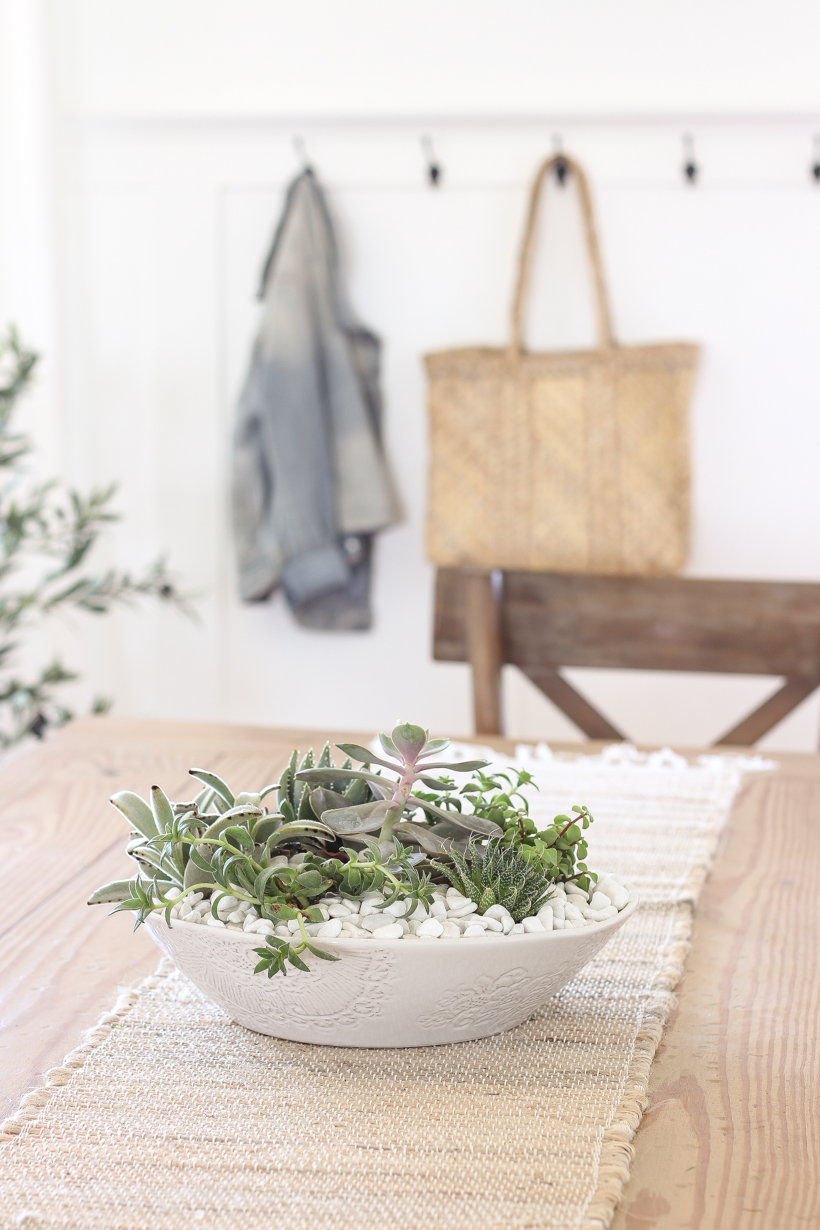 HOW TO MAKE A SUCCULENT BOWL CENTERPIECE
WHAT YOU'LL NEED:
low-sided bowl, planter or vessel
cactus potting soil
river rock
succulents
spoon
extra bowl (doesn't matter what kind)
small paint brush
plant mister
Note: Some of the links in this post are affiliate links, which allows me to make a small commission from your purchase, but your purchase price stays the same. When you use these links, I'm able to keep this blog going and make it better, so thank you from the bottom of my heart for your support!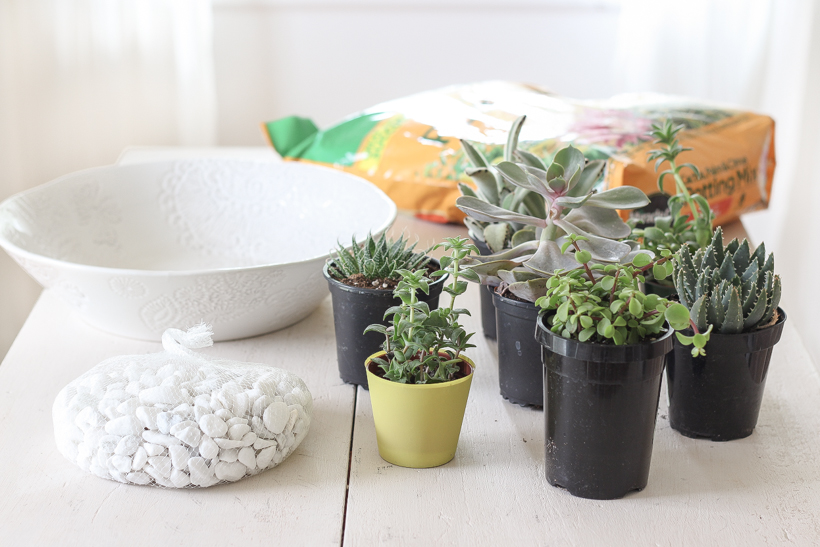 INSTRUCTIONS:
Pour a single layer of river rock in the bottom of your bowl. This will help the soil stay well drained, especially if your vessel doesn't have a drainage hole on bottom (mine doesn't). Then add a layer of dirt to cover the rocks, leaving enough space in the bowl to add your succulents.
Note: I found it easiest and least messy to pour the cactus potting soil into a separate bowl and then spoon it into the centerpiece bowl.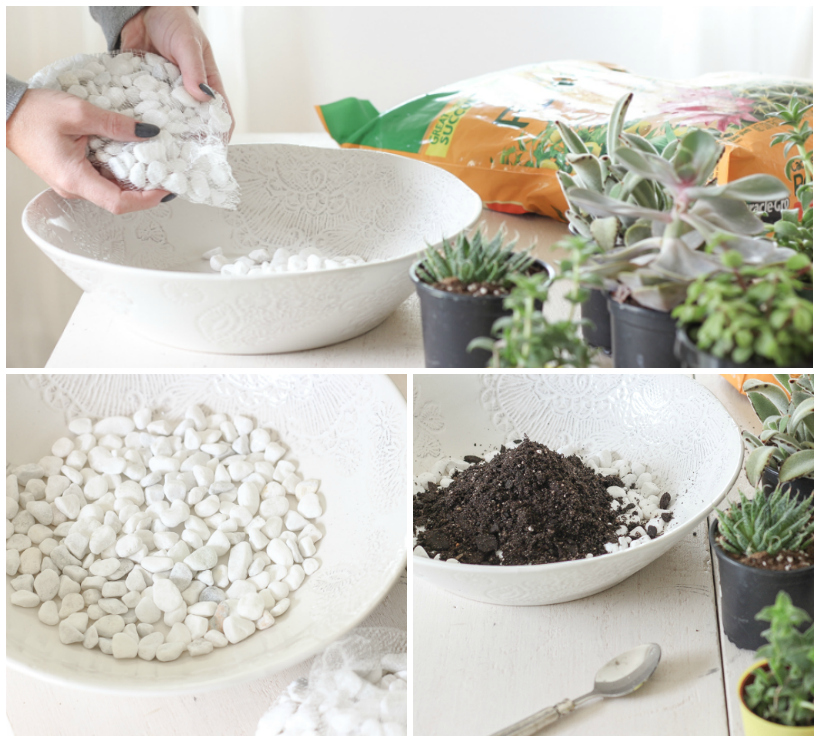 HOW TO CHOOSE SUCCULENTS FOR YOUR CENTERPIECE:
Next, think about how you want to arrange the succulents. I recommend starting with the largest plant in the middle and filling in around the edges from there. Choose succulents with a variety of shapes and textures, but a similar color palette for a cohesive look. If any of your succulents are cascading, place those around the outside edge of the bowl so they can grow out over the sides and hang down. And do not be afraid to pack lots of plants into your bowl because it will look a lot better full and lush than with bare spots!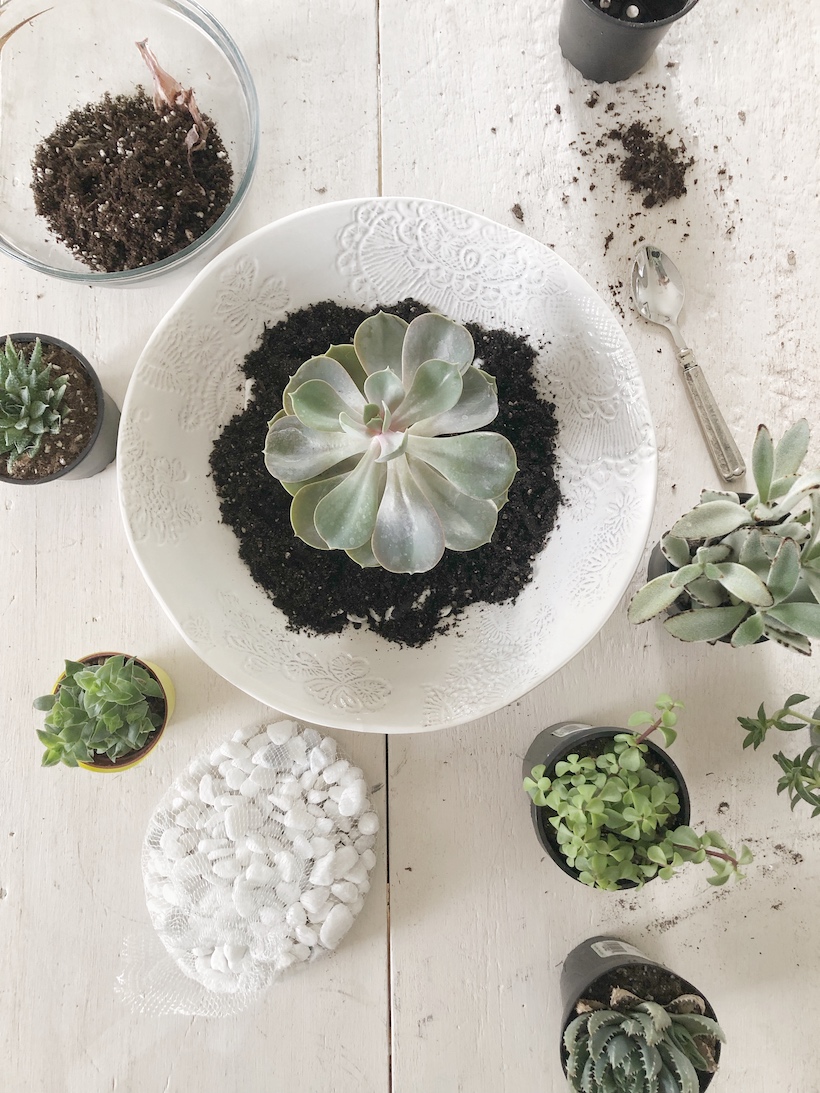 Once you have a base layer of rock and soil, start filling the bowl with your succulents. I recommend removing the plants from their pots over your extra bowl so that all the loose dirt falls in the bowl and not all over your table. Once you get all the succulents situated where you like, filling in the rest of the bowl with potting soil, but leave enough room at the top for another layer of river rock (shown in the next step). Again, using a spoon to fill dirt in between all the little plants is the easiest and least messy way to do this.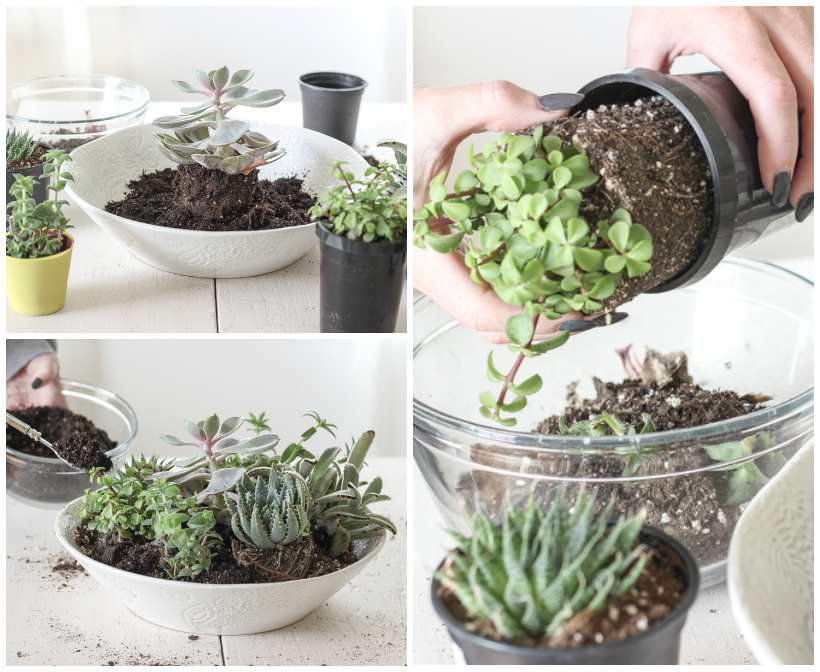 Once you are done adding soil, use a dry paintbrush to dust any dirt off the plants.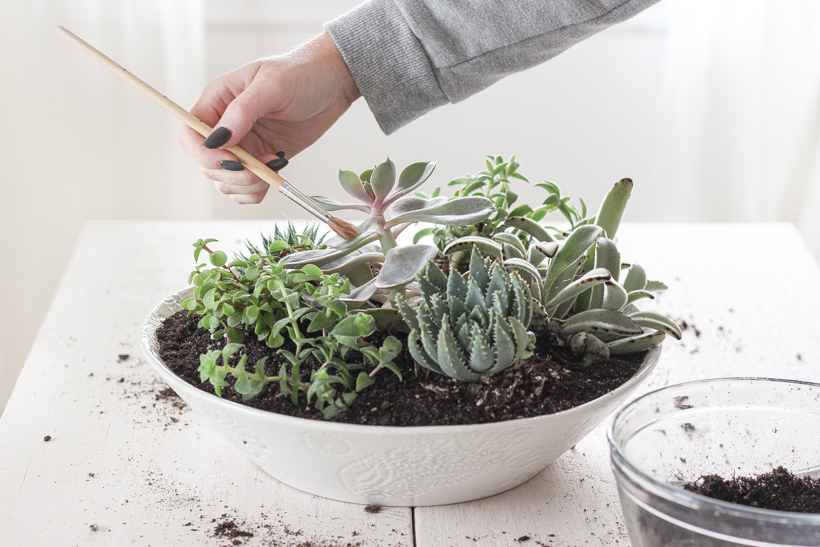 Then add one more layer of rock over the top of the dirt around all of the plants. I did this for two reasons: 1) it gives the centerpiece more of a clean, polished look and also allows you to get creative with the color of river rock you use (vs just plain dark dirt) and 2) when you water the plants, dirt won't splash up on the leaves, keeping them pretty and tidy. This step is not at all necessary, but I really like the way the centerpiece looks with the rocks added!
And the last step… give your plants a light mist of water!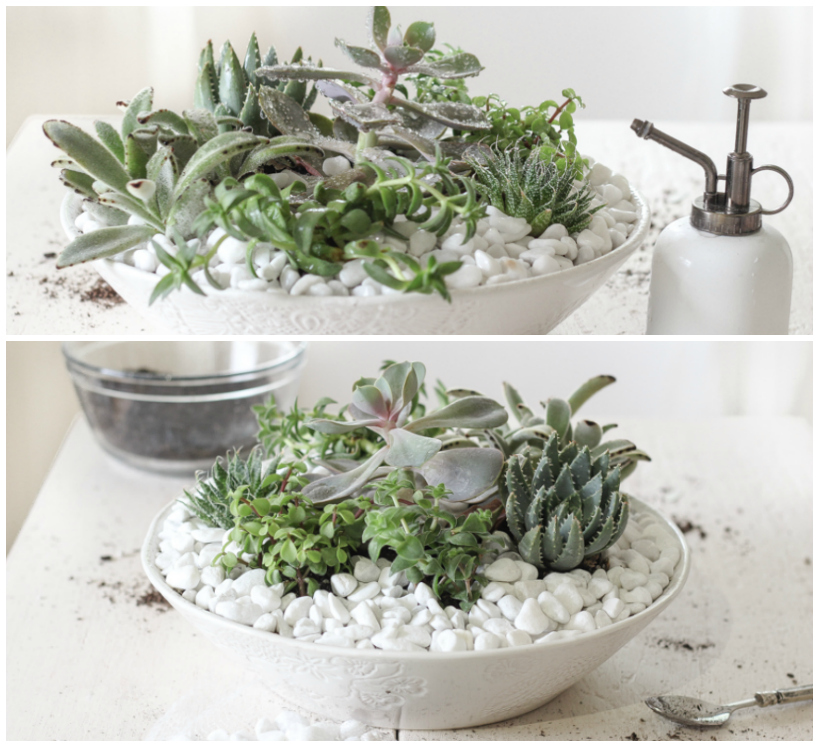 I love the way this succulent bowl looks in our dining room, especially because the candle chandelier hangs so low. You get to enjoy the pretty little plants without them getting in the way of conversation around the table.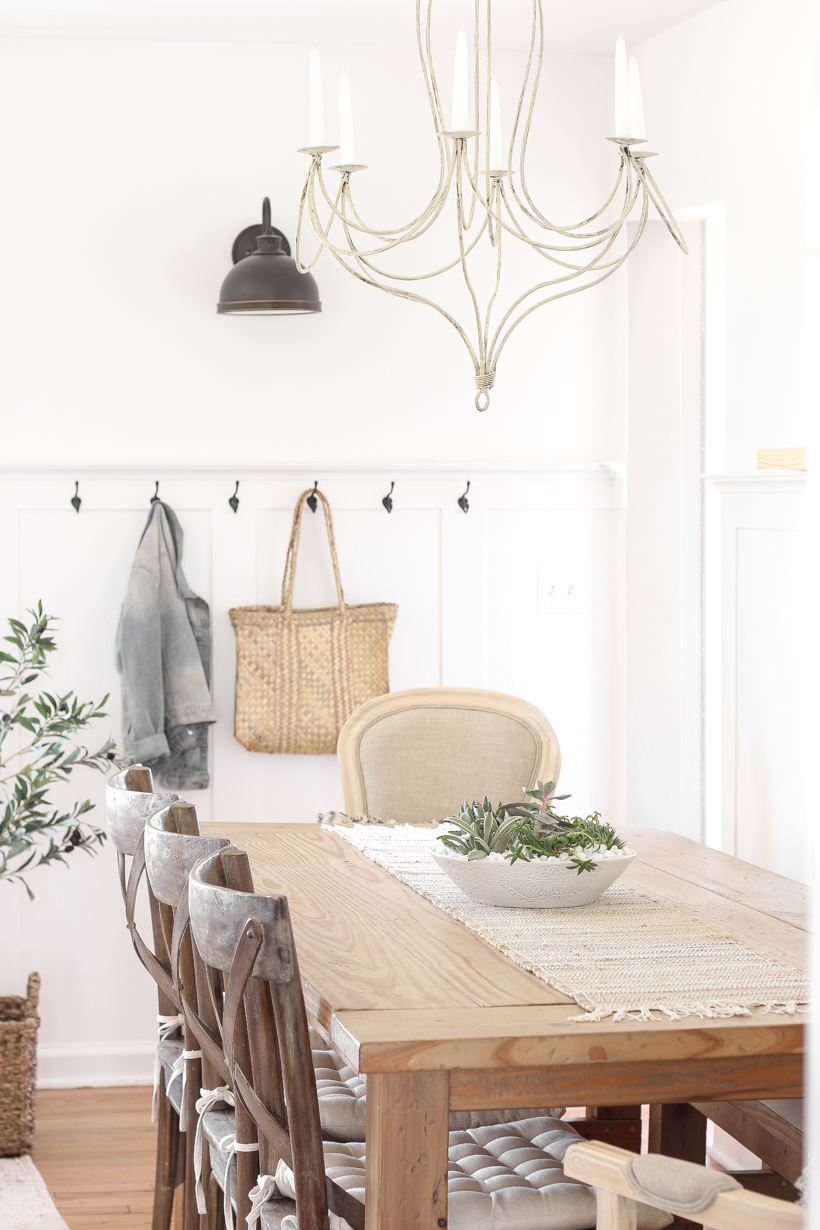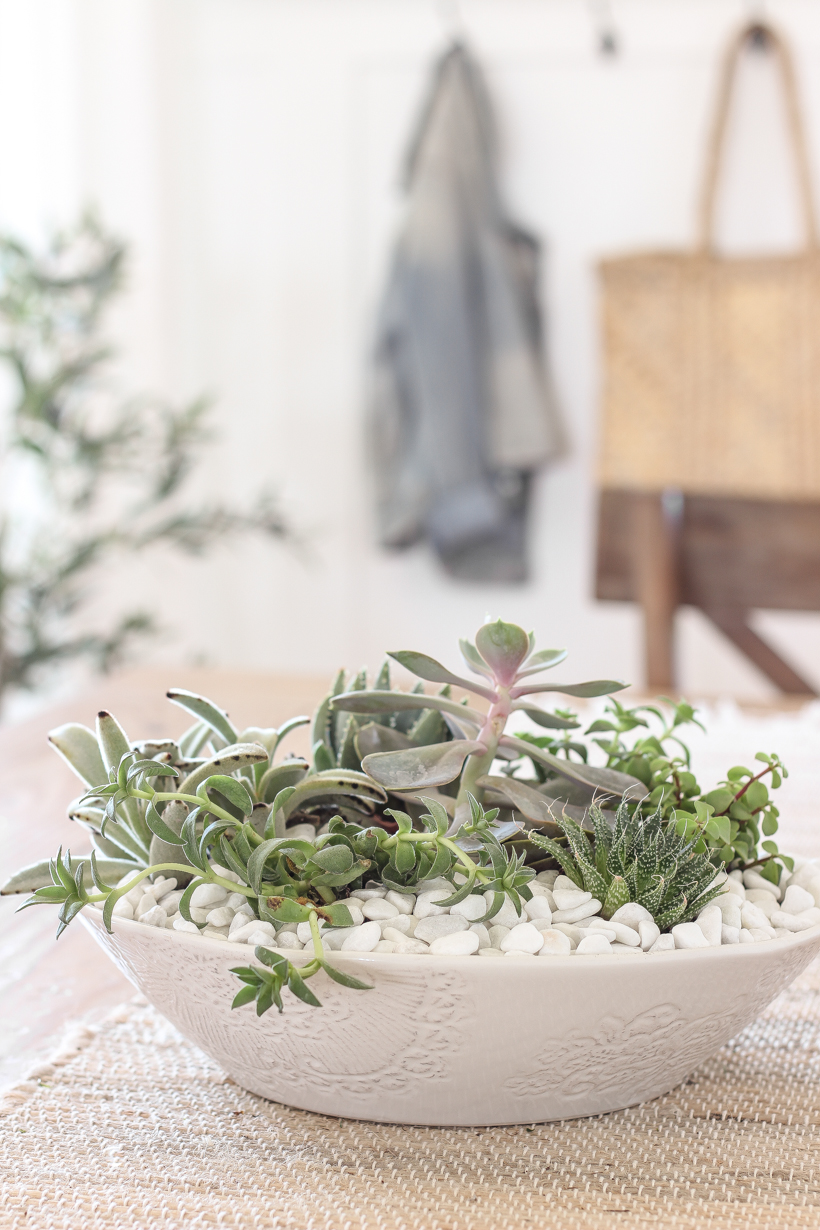 This white bowl with white rocks is very my style, but I absolutely adore the two other succulent bowls I made where I played around with different color combinations. Well… "neutral color combinations" lol!
A smaller white bowl with a single succulent and black river rock…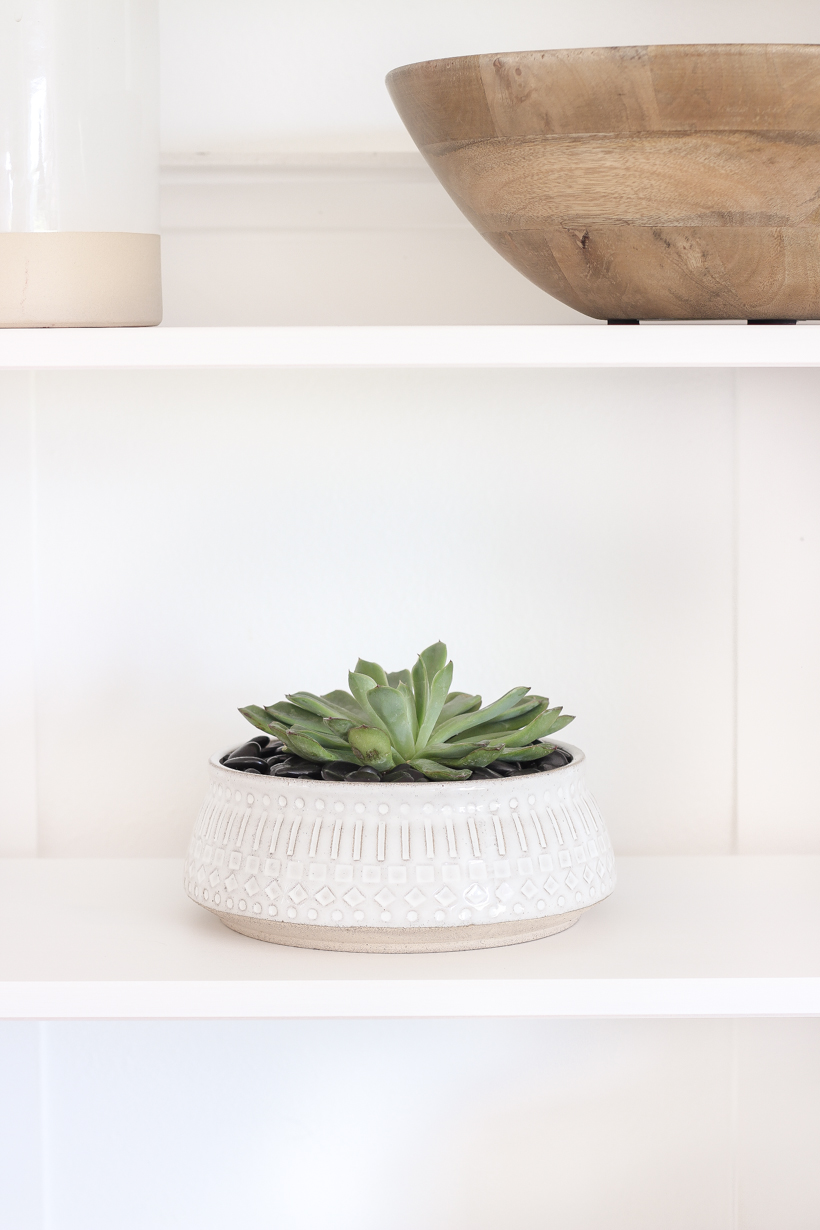 And this black bowl with natural multi-color river rock…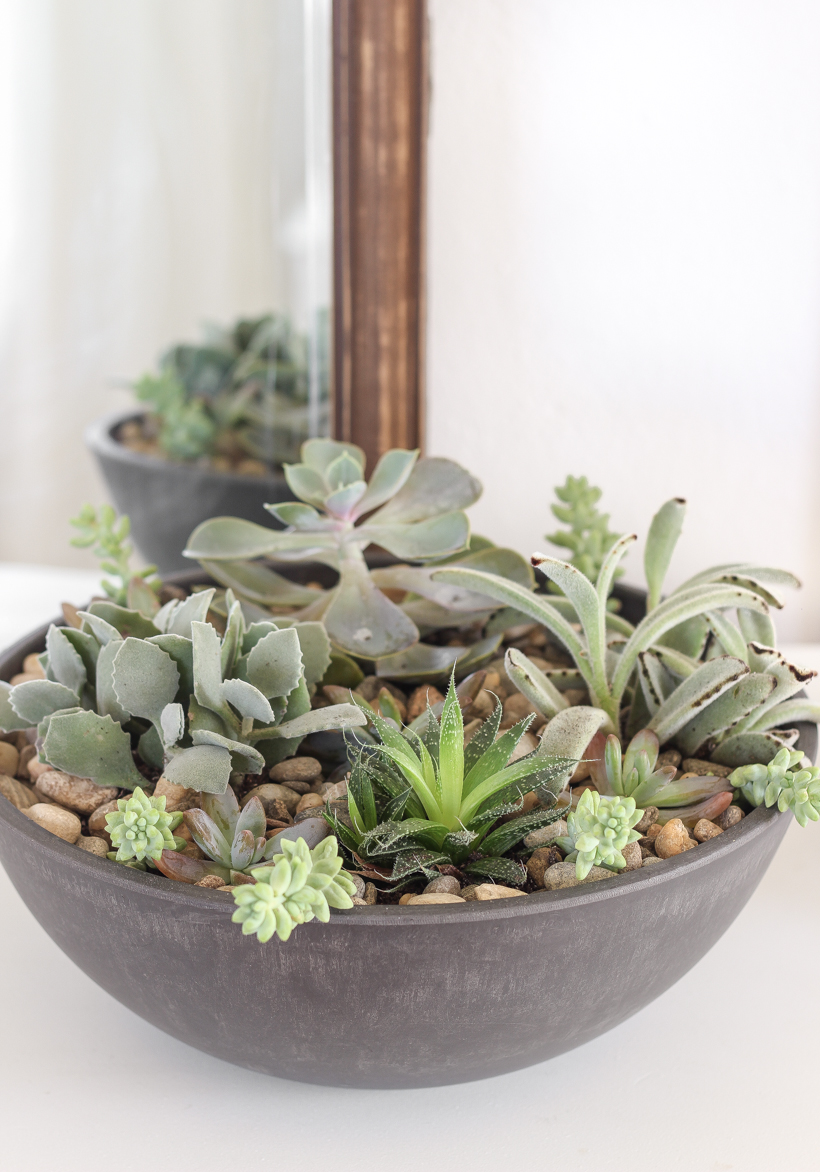 SUCCULENT CARE TIPS:
Water more less frequently – As I mentioned before, succulents don't like to have their roots sitting in waterlogged soil for long periods of time, but they do still need hydration. Instead of giving them a small amount of water frequently, let the soil dry out and then water the soil a little heavier when you do. I'm currently watering mine weekly.
Use a plant mister – If you're worried about accidentally overwatering, especially if your bowl does not have a drainage hole, use a plant mister so you can easily control how much water is going into the soil.
Lots of sunlight – Your indoor succulents will need lots of sunlight during the day, so try to find a sunny window to sit them next to. If you notice there is a lot of space between leaves and they start growing or leaning towards the sunlight, you may want to move the bowl to a sunnier spot. If you are planning on having your succulents outdoors be aware that even though they love sun and warmth, they can burn and scorch in direct sunlight, so part shade or indirect sunlight is best for outdoor plants.
Fertilize once a year – In the spring when new growth would naturally begin, go ahead and feed your plants and forget about fertilizing again till the next year.
Use a cactus potting mix that is fast-draining and best suited for succulents.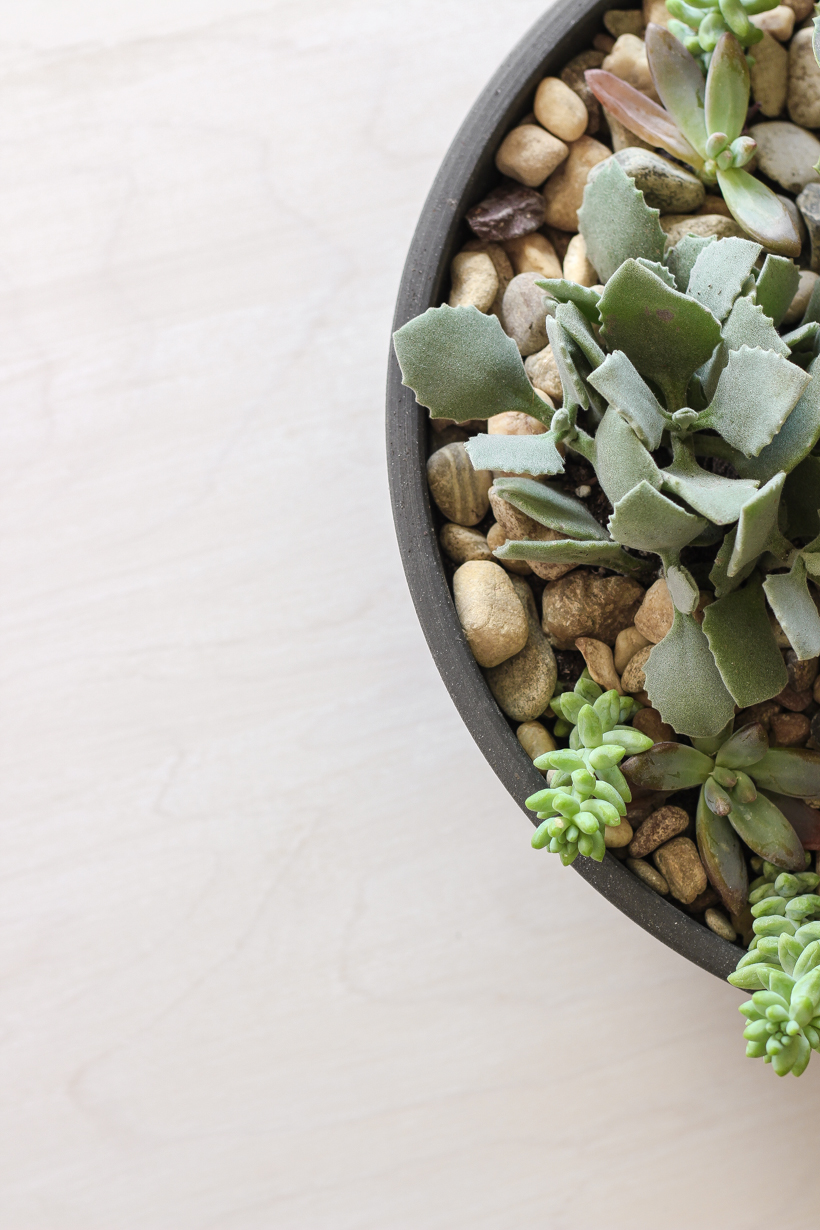 – BOWL OPTIONS –

– PLANT MISTERS –

SOURCES:
white bowl – Hobby Lobby
white + black river rock – Hobby Lobby
black bowl – Home Depot
natural multi-color river rock – IKEA
plant mister – similar here
dining table – tutorial here
dining chairs – World Market
chair cushions – World Market
wall hooks – Menard's
sconce – Wayfair discontinued (similar here)
faux olive tree – Etsy
basket for tree – HomeGoods
denim jacket – Walmart
bag – similar here
table runner – Pier 1
candle chandelier – Rustic Garden
---
Subscribe to Blog | Follow on Instagram
Follow on Pinterest | Follow on Facebook