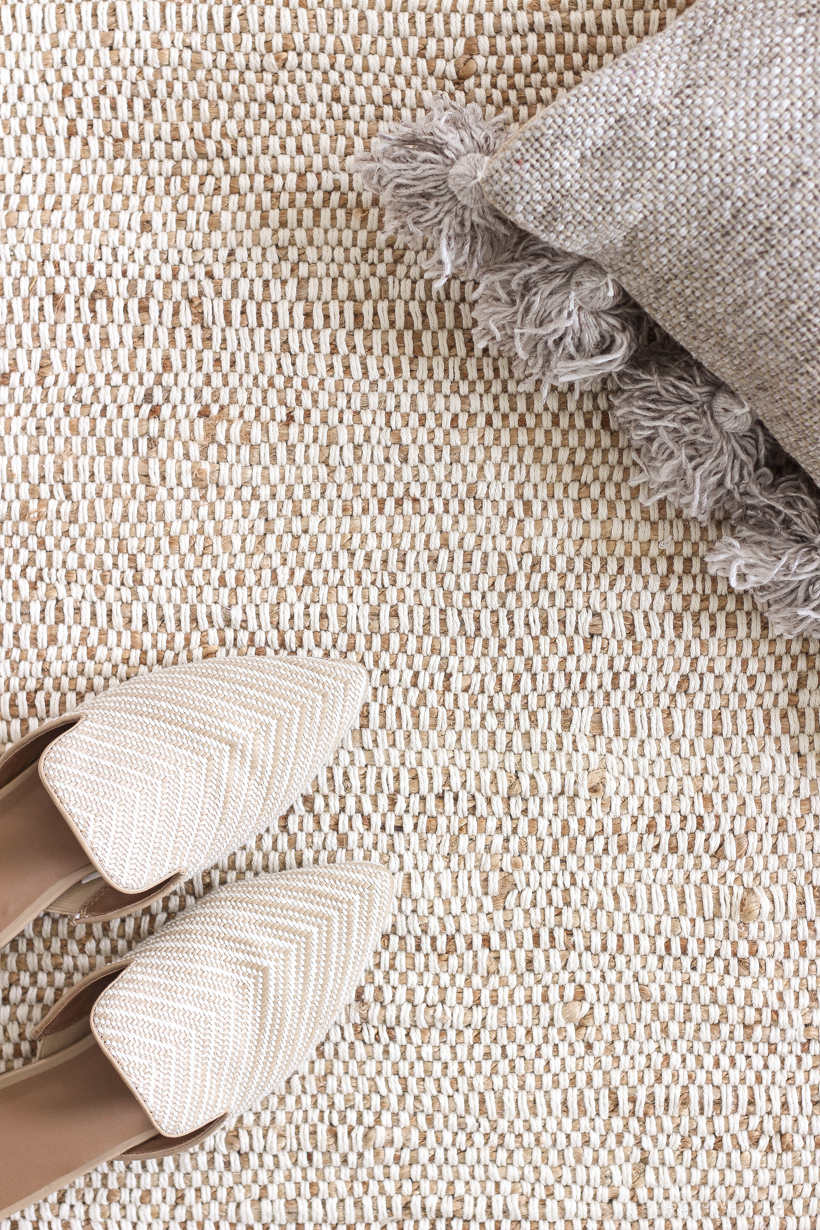 You guys know that I've been slowly updating little things in my living room, and it feels so good to really take my time making changes and finding pieces that I truly love and will stay in our home for years to come.
First I installed a wall sconce with this DIY lighting hack, added a shelf for artwork, then found the perfect pillow for our sofa and the prettiest floor lamp I've ever seen. The next item on my list was finding the perfect rug because for almost a year we didn't have any rug in here at all… just bare hardwood floors. It didn't feel very warm and cozy without a rug under the sofa, but there was a very good reason I waited so long to buy one. Normally, I know exactly what I want when it comes to decorating. Over the years I've played around with different styles and design to really know what I love, and I can usually find exactly what I want almost instantly. But finding the kind of rug I wanted in here was a bit challenging, and instead of wasting money (and rugs aren't cheap) on something I didn't love or was unsure about, I waited until I felt 100% about what I chose.
I wanted to share this with you guys in case you've ever put pressure on yourself to finish something right away instead of waiting to find the right answer. I know I've been guilty of that many times! But I am so glad I waited to find the right rug for this space and to suit our family's needs, and I could not be happier with the choice I made.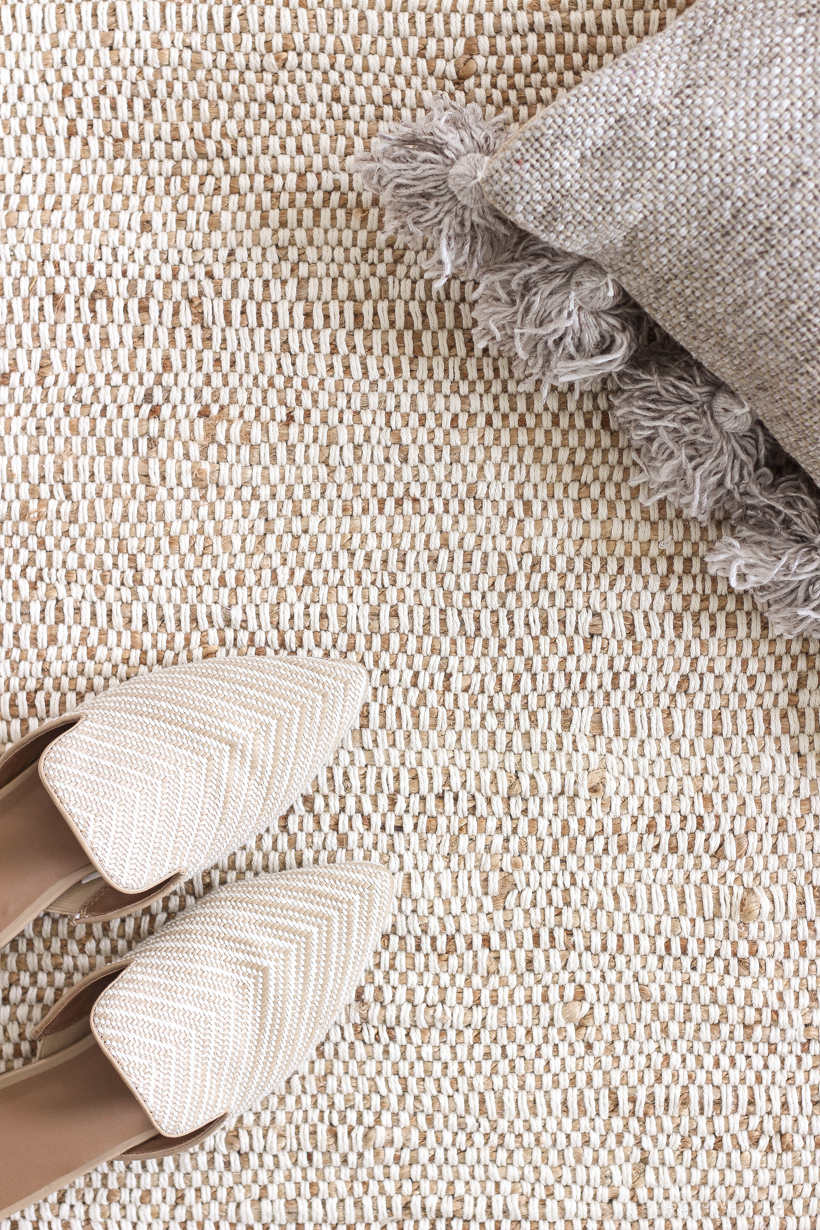 I ended up getting the Fawna Handwoven Chaste Rug from RugsUSA, which is made with a combination of jute and cotton. I love the neutral color and texture of jute rugs, but ones I've had in the past do tend to shed on the floor a bit and can sometimes feel a little bit "dirty". This one has little cream color cotton strands woven throughout the jute, which not only lightens up the look of the rug, but also adds a ton of texture. I always find that texture is key when decorating with neutrals! And this post isn't sponsored in any way, friends. I just wanted to give you sort of a behind-the-scenes look into how I decorate and choose pieces for our home and also an unbiased review of this rug! It's so good, guys… if you're in need of a new rug and don't want to do a bold pattern (that was my biggest issue in finding something I liked), this comes in multiple sizes and is currently on sale through 6/3!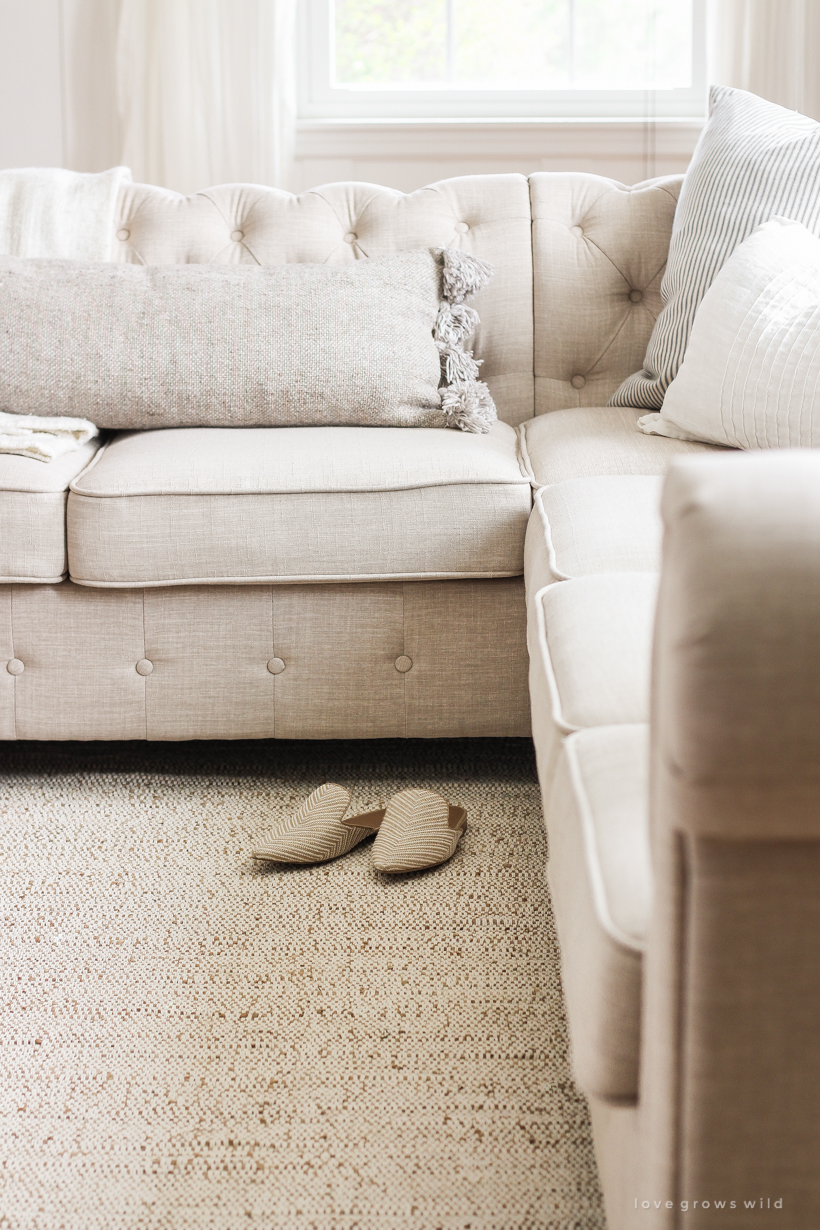 I hope you guys enjoyed seeing a little bit of my process and how I work. If you enjoy seeing this type of post or have any questions, just let me know! xoxo Liz
---
Subscribe to Blog | Follow on Instagram
Follow on Pinterest | Follow on Facebook