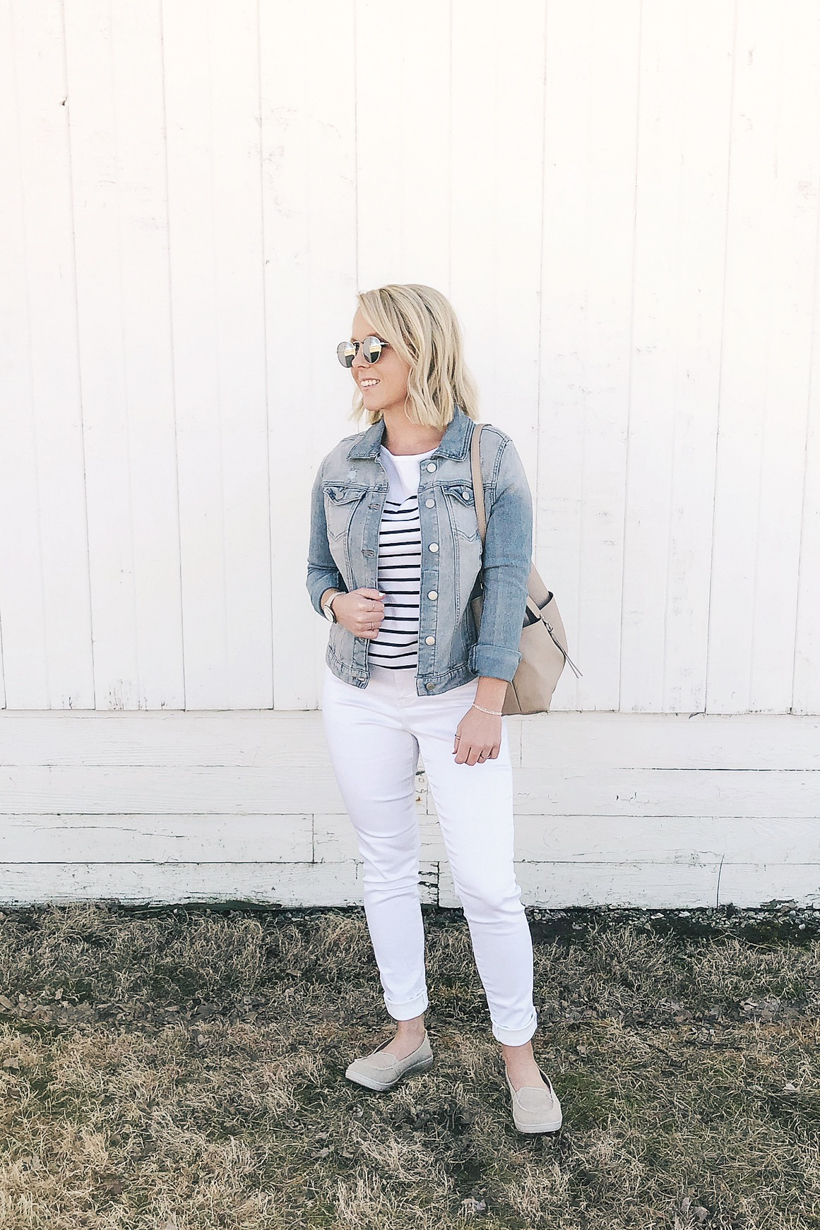 In partnership with Walmart // I don't know about you, but on days lately when the sun is shining and it warms up to feel like spring, I get in such a good mood. I think we are all very ready for a new season with less snow and cold! I've been slowly transitioning my wardrobe and picked up a few new pieces to make selecting outfits easier as the temperature begins to change. Layering is so important this time of year when the weather can be unpredictable, and I wanted to share a few staples I'm loving this spring that are really cozy, versatile, and very affordable!
Do you remember a few months ago when I shared a bunch of my favorite home decor and furniture from Walmart? I had so many of you comment on how much you loved seeing such cute and in style decor that was really affordable and so widely available, and I wanted to continue sharing more of those types of posts that hopefully help you find some new things for your home and wardrobe!
For today's post I first put together a few outfits that are head to toe Walmart fashion finds so you can get some ideas for spring outfits and how versatile these pieces can be. Then at the end of this post I have a whole collection of on-trend spring fashion pieces from Walmart that you can shop and mix and match to your style! The great thing about everything I picked is how far your dollar will stretch for your spring wardrobe… you'll see what I mean! It's also worth mentioning that you can get free 2-day shipping and returns for purchases over $35!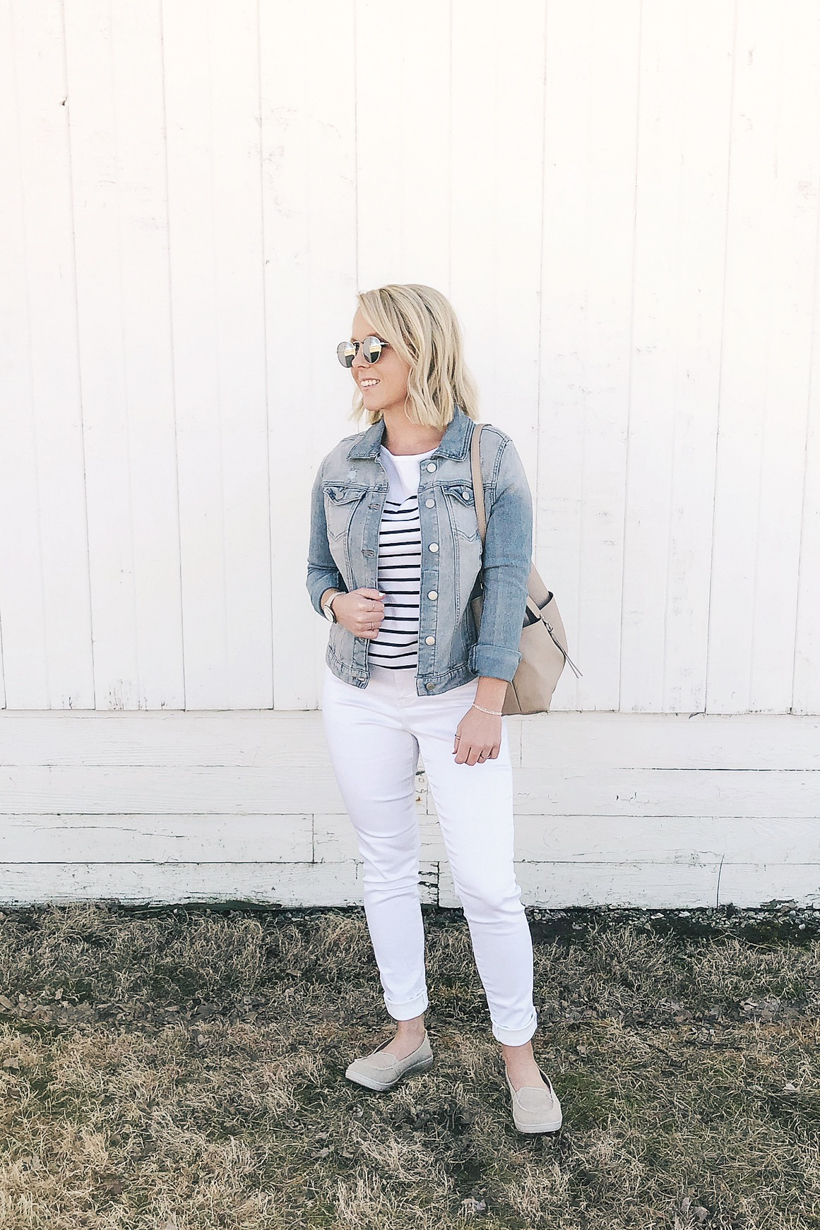 Note: Some of the links in this post are affiliate links, which allows me to make a small commission from your purchase, but your purchase price stays the same. When you use these links, I'm able to keep this blog going and make it better, so thank you from the bottom of my heart for your support!
This first outfit is a little bit dressier than the others, but still very relaxed, cozy and casual. I pretty much live in a denim jacket all spring because it's so easy to throw on over any top for an extra layer if it's chilly without feeling like you have a bulky coat on. This Time and Tru jacket (under $20!) has the perfect light wash and just the right amount of distressing. It's made with a stretchable material, so you can move around in it easily, and I personally like to roll up and cuff the sleeves to show off any jewelry I'm wearing. I tend to stay away from wearing denim-on-denim, so I'll pair the jacket with a little bit of color on bottom (either sage green or light blush) or neutrals like white, black, or khaki. These high-rise white jeggings (under $18) hit right at the ankle, but because I'm only 5'2″ I have to roll mine up once or twice to get that look. They are very comfy with a good amount of stretch, and I would recommend sizing down if you're in between sizes to avoid any bagginess.
A fun way to add some personality with an outfit like this is by wearing a stripe or some kind of pattern under the denim jacket. This white and navy stripe boatneck top (under $10!) feels very fresh and summery with a simple moccasin shoe. I completed the look with some new sunglasses, a great neutral purse (under $10!), and my one splurge this spring: this new watch.
– SHOP THIS OUTFIT –

---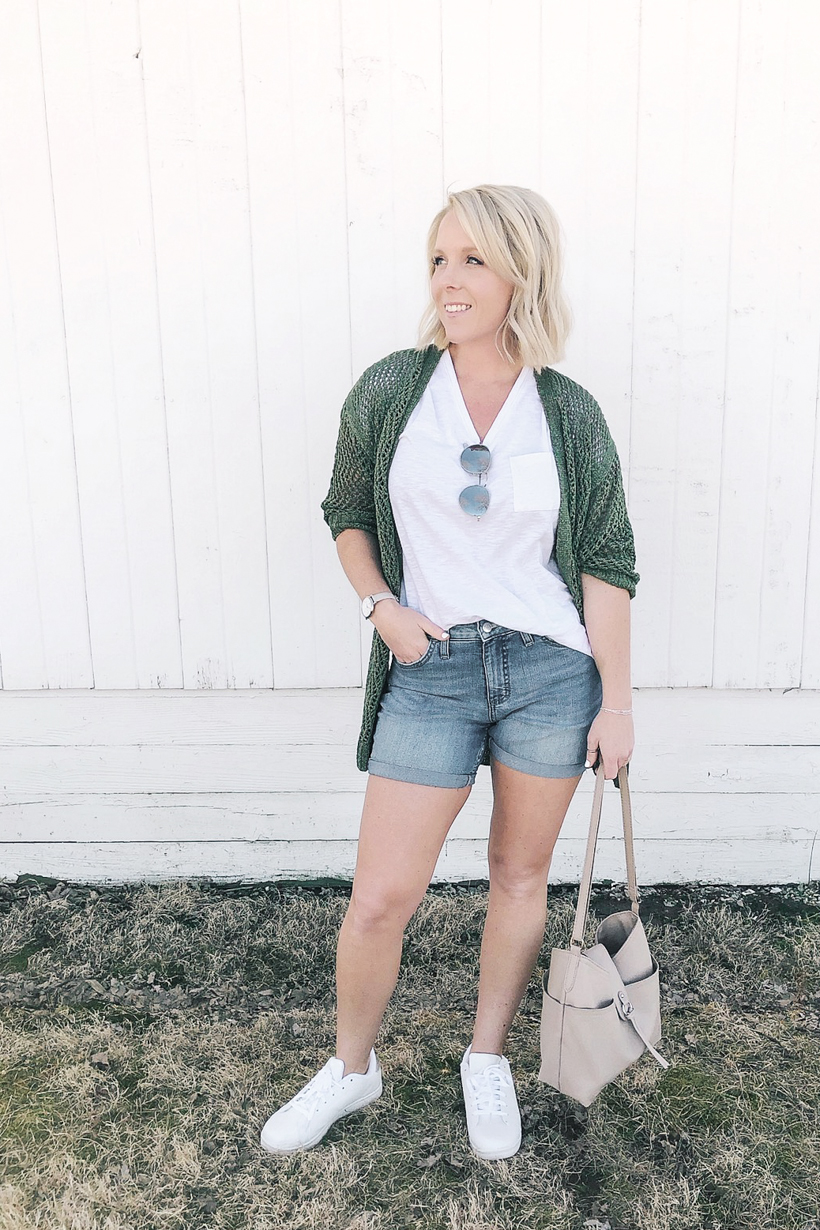 This is what I would call my go-to casual outfit as the weather starts to warm up. A denim short, basic tee, and something to cover my arms if I get chilly, and then I can just change up my shoes and accessories for a different look. I really like these denim shorts that have a longer length, which feels much more appropriate for a mom in her 30's, but can be rolled up to your liking, especially if your legs are on the short side. Very comfy and stretchable! You would laugh if you saw my closet and how many basic white and gray tees I have, but I wear them all the time! I really like this v-neck slub tee that has a relaxed fit, pocket, and is under $8!
TIP:
I always front tuck my tees! Tucking the front of your shirt helps define your waistline and lengthen the appearance of your legs and also gives your outfit a more polished look without having your entire shirt bunched down in your pants. You can also knot the bottom of your shirt if it is long enough for the same effect!
I really like this lightweight cardigan (under $18) that is the perfect length to wear with shorts or leggings and comes in several different colors. You could dress this outfit up a little more with a sandal or wedge, but I went with a basic white sneaker that is great for days I'm running errands or sitting out at the baseball field with the boys this spring. Sunglasses, my adjustable strap crossbody purse, watch, and this simple bracelet (under $15) completes the look!
– SHOP THIS OUTFIT –

---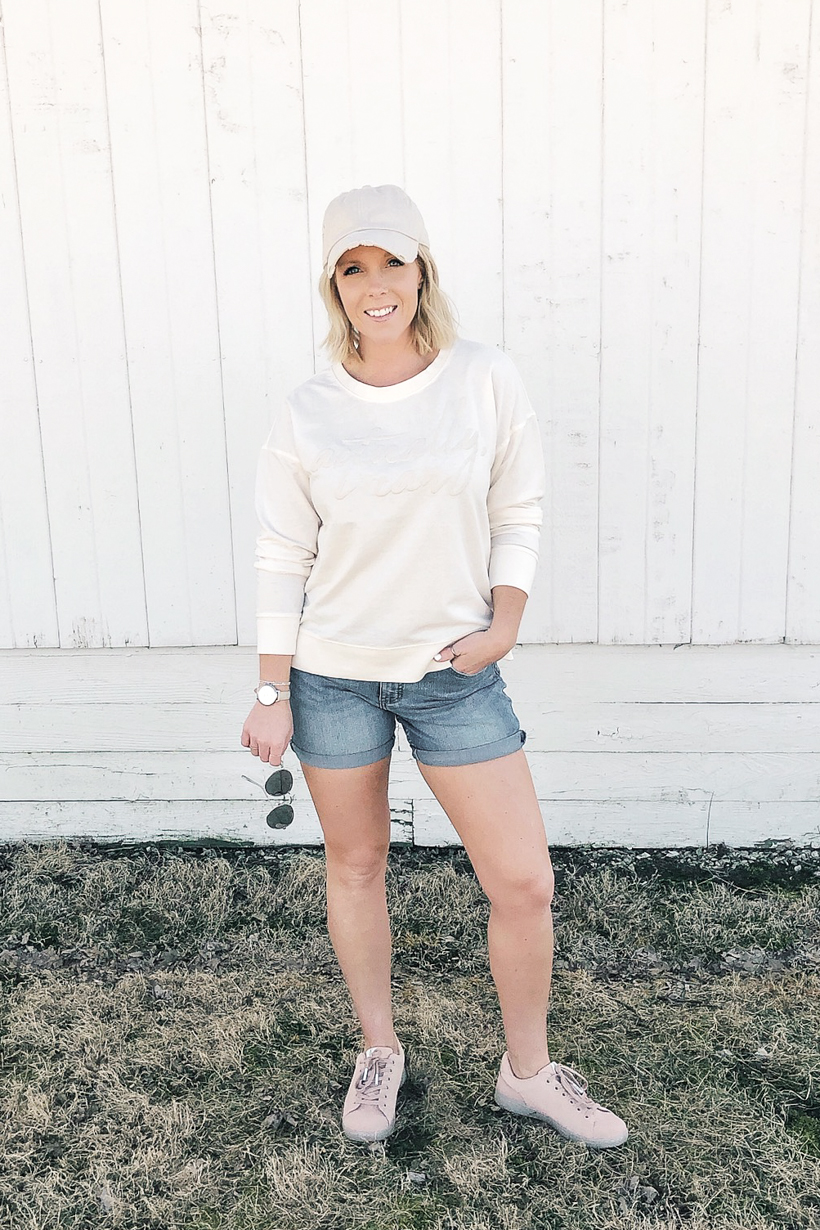 For me, this is casual comfort at it's best. While this outfit is super basic: denim shorts, a sweatshirt, sneakers, and a hat to cover my bad hair day, it's all in the details that make it feel fashionable and not frumpy. I'm obsessed with this lightweight blush/nude sweatshirt (just $24) that says, "actually, I can." If that's not the perfect shirt for my fellow women, moms, and boss babe's, I don't know what is! To play off the pink tones, I picked up this darling rose suede sneaker from Walmart's ED Ellen DeGeneres line, and I will probably live in these this spring. It's just the right amount of feminine, and they are SO comfortable. These sneakers come in several different colors/patterns, and sometimes statement shoe, even if they're just a basic sneaker in a fun color, can totally bring an outfit to life.
I also found this baseball cap for under $13 that comes in a ton of colors and has distressing around the bill and seams that is really cute. Again, I finished the outfit with my favorite sunnies, watch, and bracelet!
– SHOP THIS OUTFIT –

---
– MORE SPRING FASHION –
Note: Click on any of the photos below to see more information on that item!

So what do you think about today's post? Can you believe all of these items are from Walmart? Let me know if you enjoy seeing these types of affordable home decor and outfit idea posts! Thanks so much for stopping by today, sweet friend! xoxo Liz
I partnered with Walmart on this post, but as always the thoughts and opinions shared are 100% my own. Thank you for supporting our blog and brand partners!
---
Subscribe to Blog | Follow on Instagram
Follow on Pinterest | Follow on Facebook