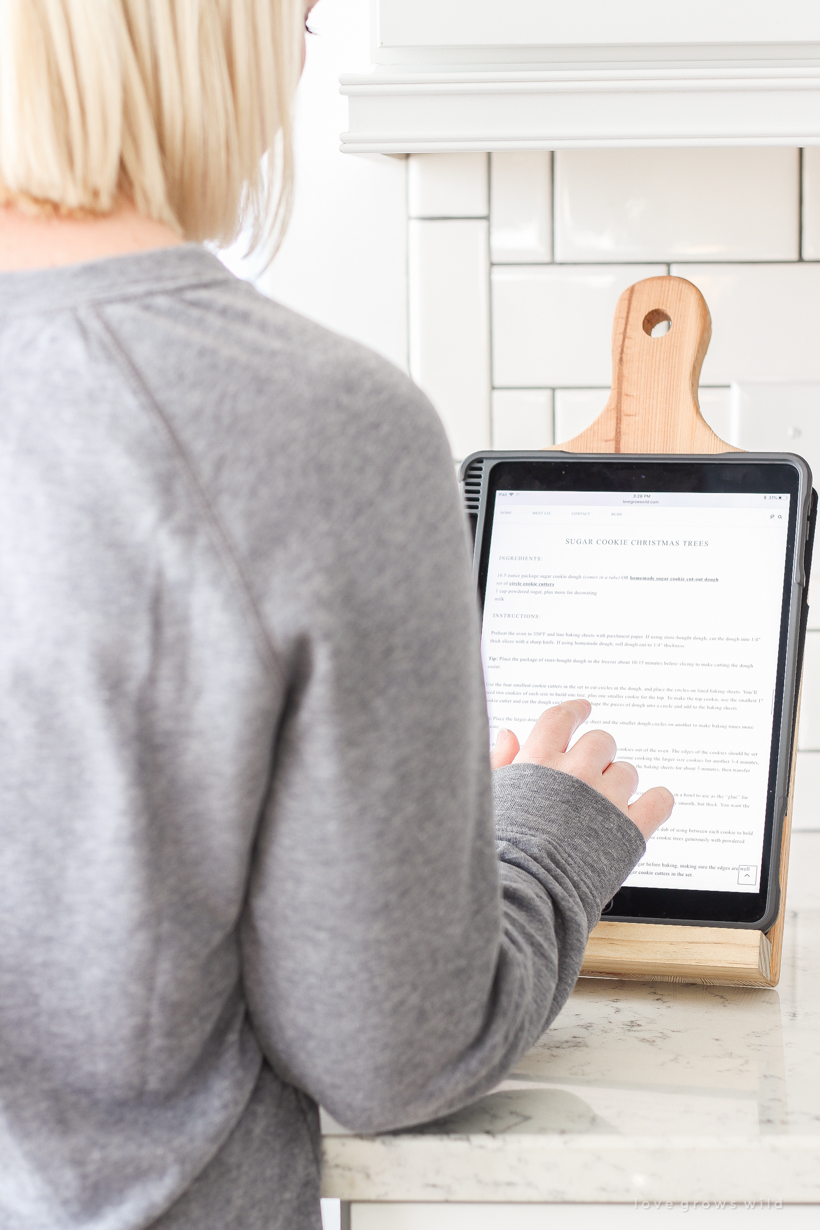 Now that the house is all decorated for Christmas, I'm starting to turn my attention towards making gifts, baking treats, and doing all the fun Christmas traditions we enjoy each year. I've already whipped up these little Sugar Cookie Christmas Trees and Nutella-Stuffed Chocolate Chip Cookies, and now I'm ready to dive into some projects that I think would be perfect gift-giving ideas, starting with this lovely DIY Cutting Board Tablet Holder.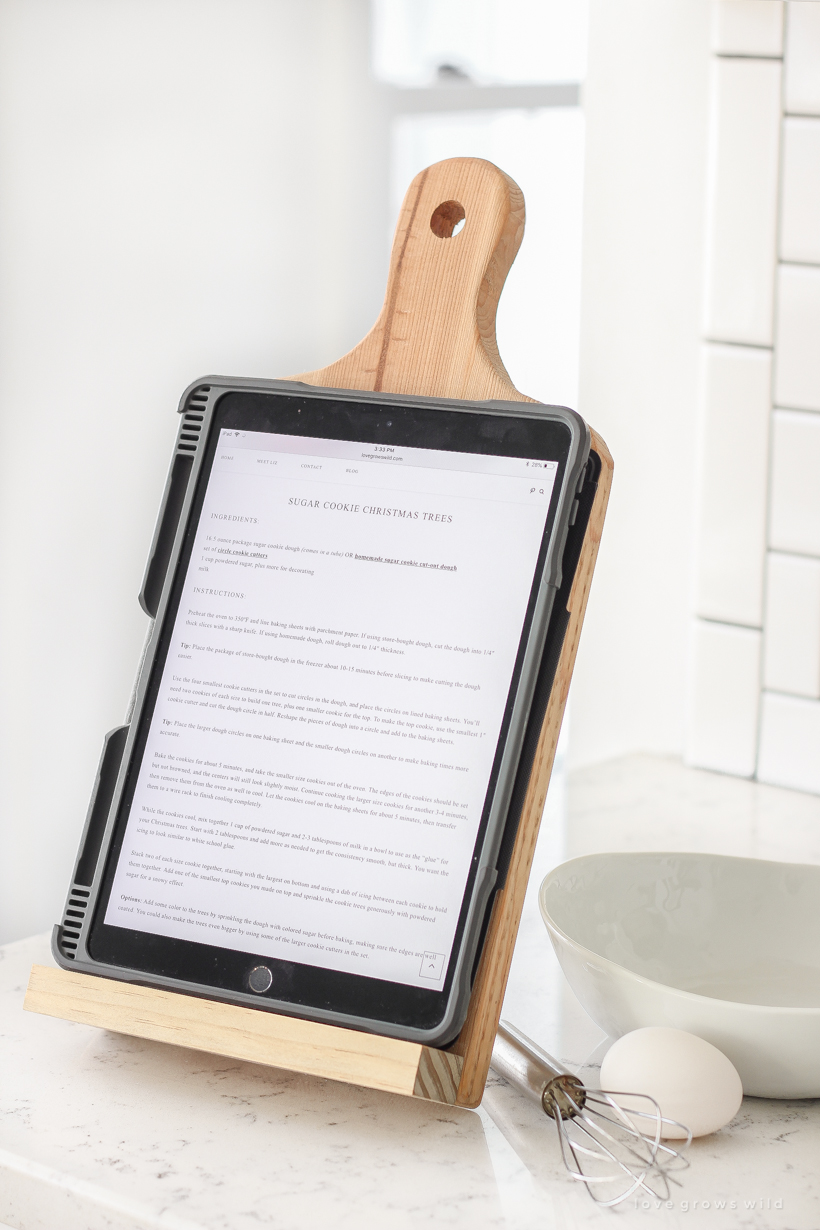 Many of you know that I have a small home decor shop in my hometown, and I got in a few of these cutting board tablet/cookbook holders for the holidays that ended up selling really quickly. I first had them in my shop earlier this spring, and they've pretty much been on backorder ever since because of how popular they are. And I can understand why… it's so convenient to have somewhere to set your tablet while you're looking up recipes and cooking in the kitchen, and the idea of turning a cutting board into a stand is so cute.
I decided to try making one on my own that would be less expensive and a thoughtful gift idea for someone who likes to cook! It turned out to be super simple and really only took me about 20 minutes to make. See what you need to create your own cutting board tablet holder below!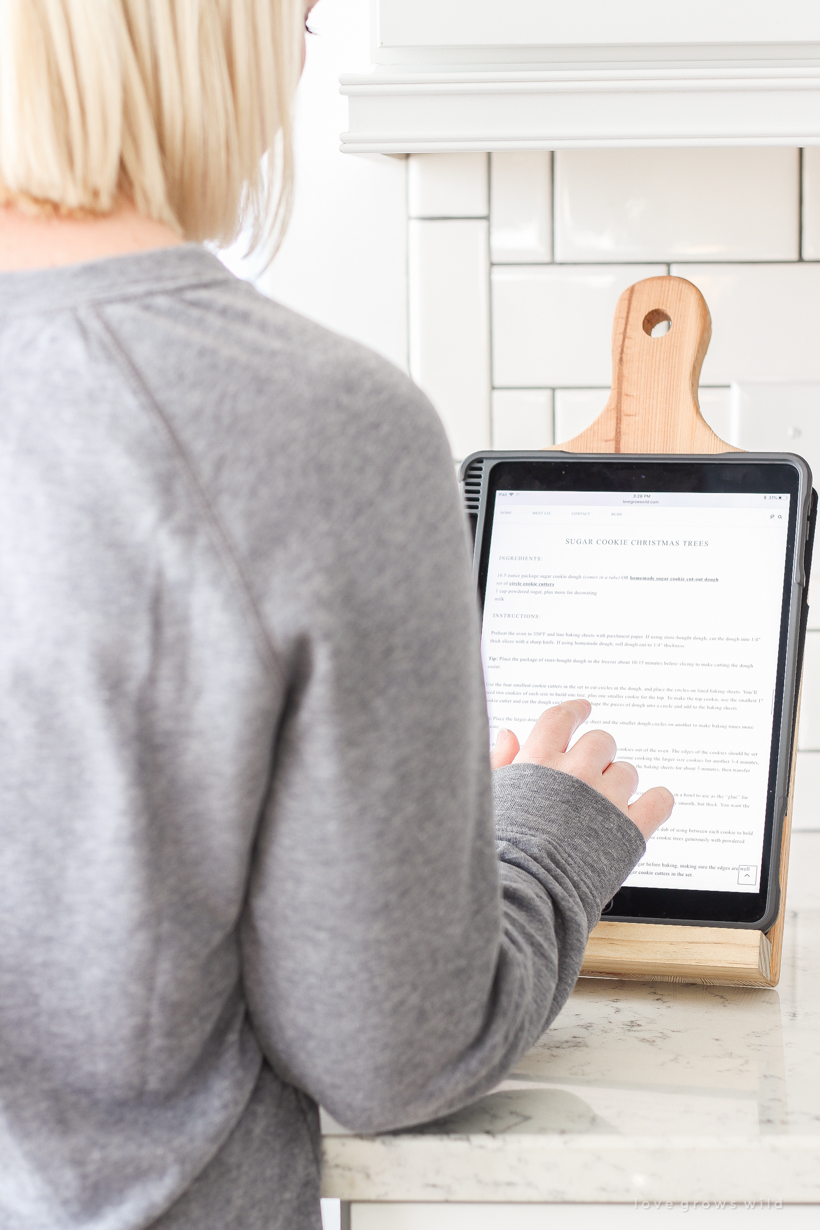 As always, I sincerely appreciate you shopping through the links I share, which allows me to make a small commission from your purchase while your purchase price stays the same. When you use my affiliate links, I'm better able to create content for this blog as well as support my family, and I thank you from the bottom of my heart for supporting what I do!
Cutting Board Tablet Holder
SUPPLIES:
cutting board
piece of 1×2 lumber
miter saw
wood stain or paint, if desired
wood glue
brad nail gun
tape measure
Note: I had scrap wood that I needed to use, so I made my own cutting board using a 1×8 and a jigsaw to cut the handle shape. But here is a cutting board you can buy in this same shape and the dimensions you need to hold a tablet. I also had scrap pieces of 1×2 leftover from another project, so this cost me NOTHING to make! Also, I used this Weathered Oak stain on the wood for a natural, slightly aged look.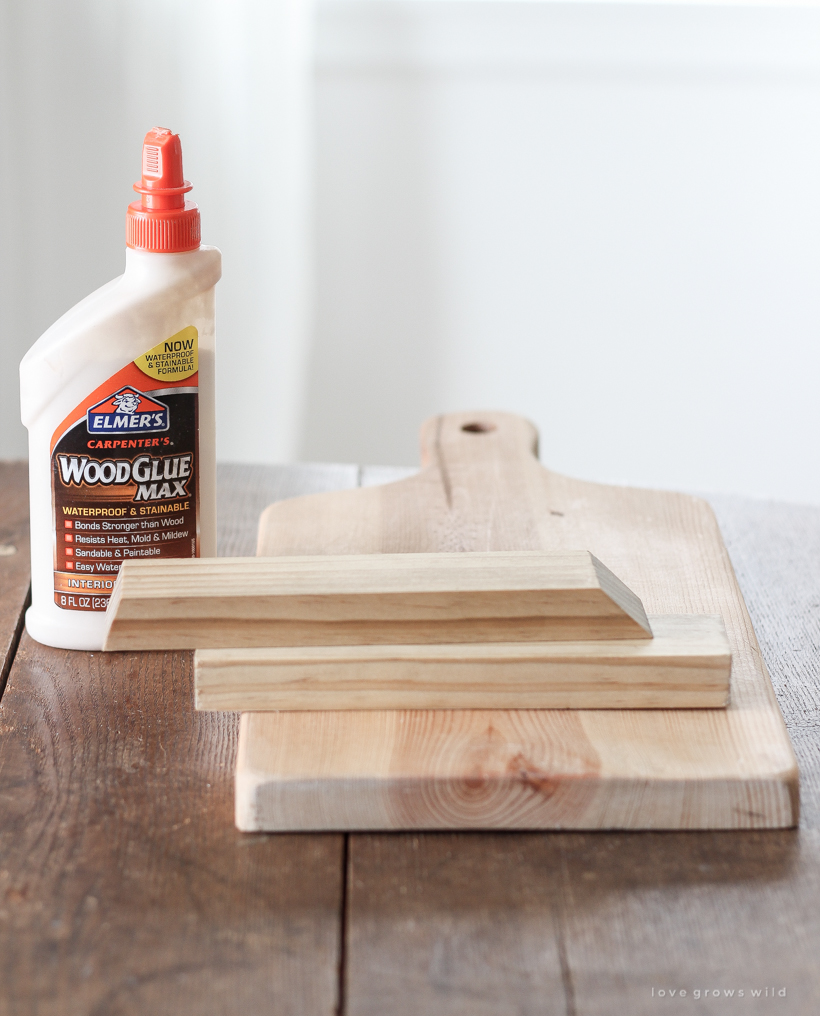 INSTRUCTIONS:
Stain or paint the cutting board and 1×2 in your desired color and allow to dry completely. Measure the width of the bottom of your cutting board and cut a piece of 1×2 to that length. Apply wood glue along one edge and attach it to the bottom of the cutting board. Secure with brad nails from the back of the cutting board. (Tip: rest the top of the cutting board on a scrap 1×2 to steady the board while you add nails.)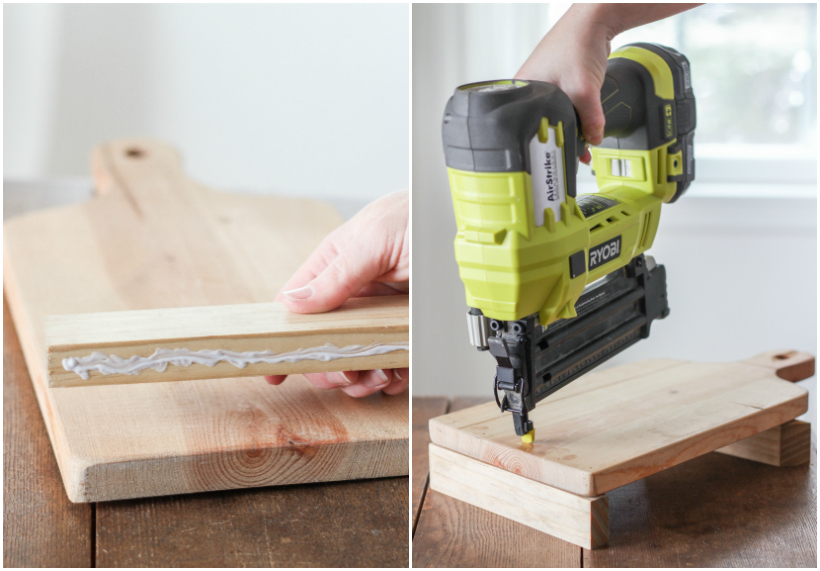 Next, cut another piece of 1×2 about 7 1/2″ long to use as the stand for the back of the cutting board. Cut one end of the 1×2 on a 45º angle. This will be the side that attaches to the cutting board. Cut the other end on a 20º angle. This will be the side that rests on the counter or table. Position the 1×2 on the back of the cutting board so that both cut angles are flat against the cutting board and table. Mark with a pencil where the 1×2 should attach to the cutting board. Apply wood glue to the 45º cut angle and attach it to the cutting board. Add 4-5 brad nails to the back of the stand going into the cutting board to secure.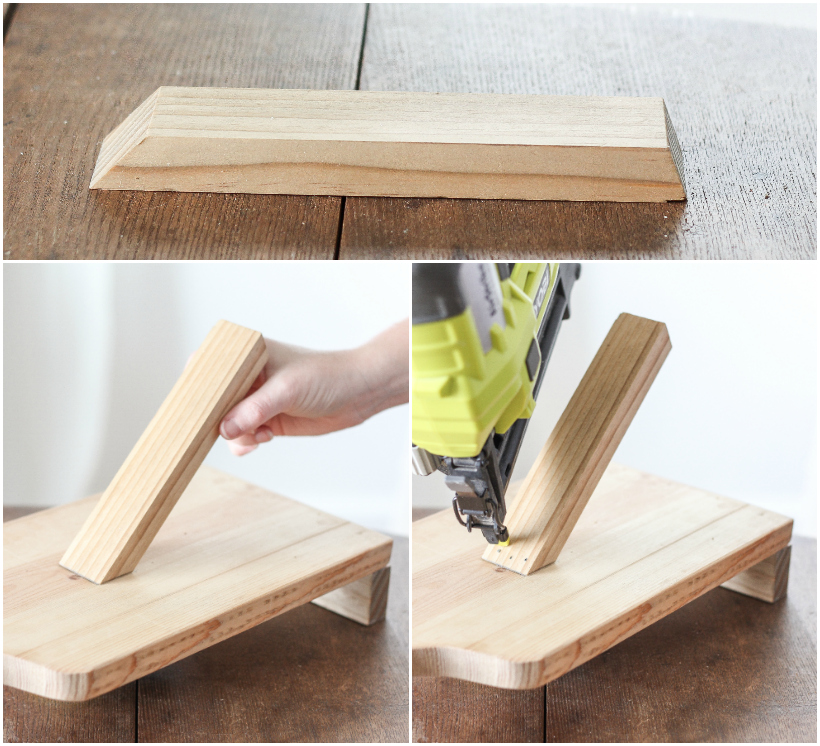 Note: The dimensions of my cutting board are 7 1/4″ wide by 15″ tall, so if your cutting board is a very different in size, you may need to adjust the length or angle of your 1×2 stand to make it fit and the whole piece sturdy. If you purchase the cutting board I linked to in the supplies, these dimensions should work fine!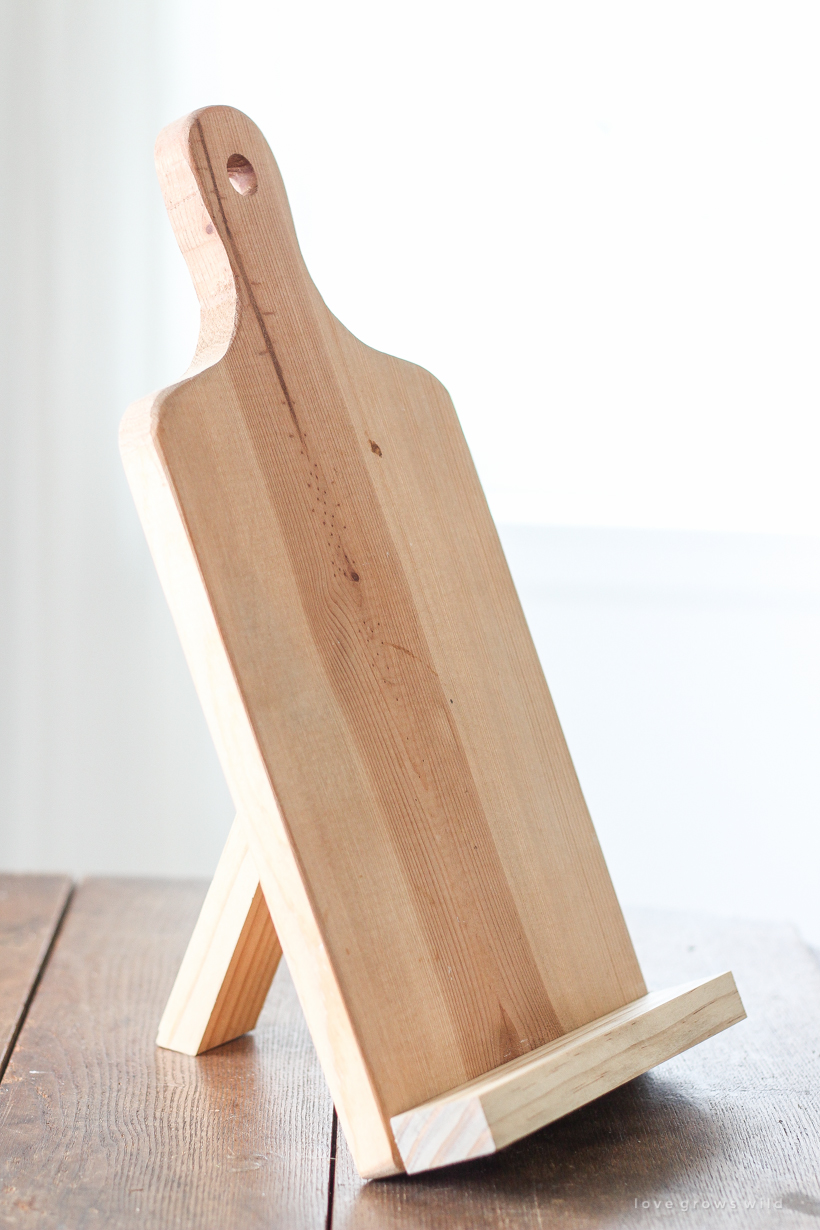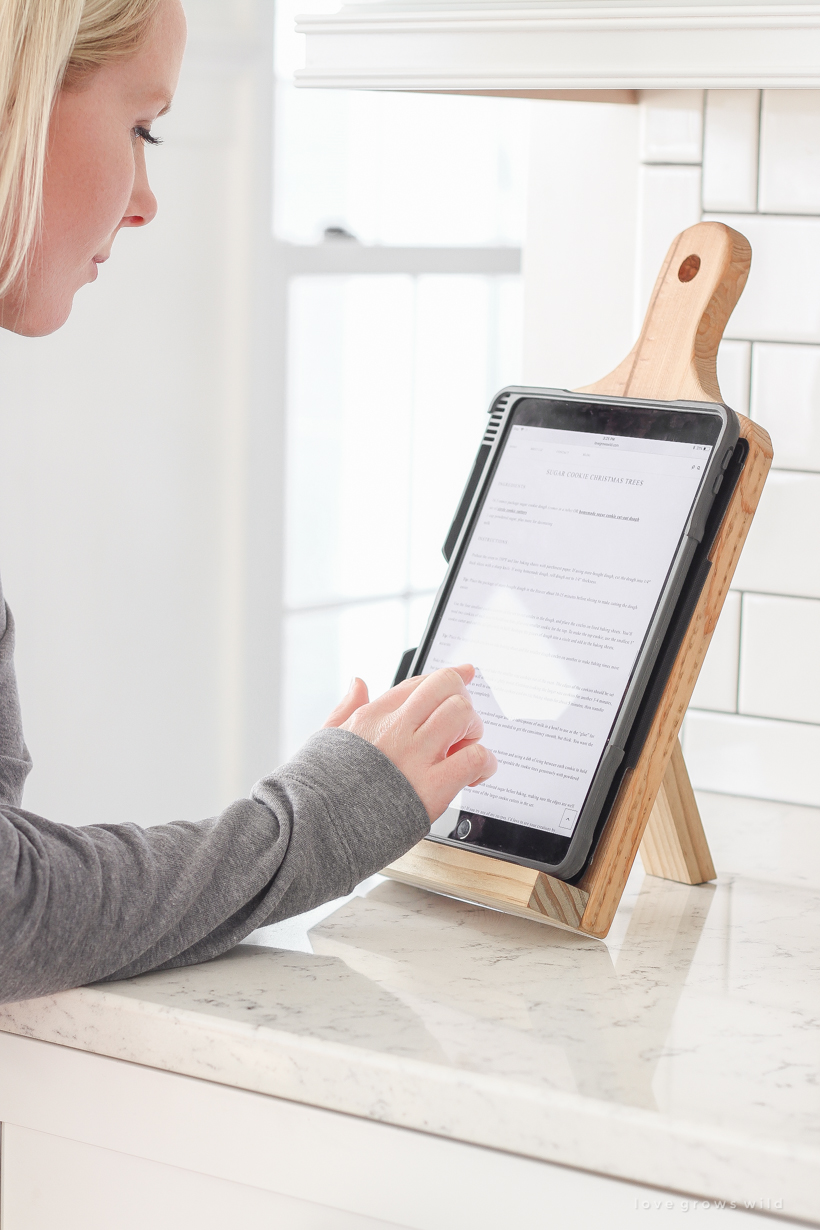 I hope you enjoy this easy DIY project whether you make one for yourself or to give as a handmade gift this Christmas! If you make this tablet holder or any other recipe or project from my blog, I'd love to see your creations so be sure to tag me on IG with @lizlovegrowswild and #lovegrowswild! Thank you for visiting me today, sweet friends! xoxo Liz
MORE CHRISTMAS POSTS FROM THIS YEAR:
Farmhouse Christmas Tour
Christmas in the Living Room
Green & Galvanized Christmas Tablescape
Vintage Winter Bedroom
One Last Christmas Tree
2018 Holiday Decorating Guide
2018 Holiday Gift Guide
How to Make Sugar Cookie Christmas Trees
---
Subscribe to Blog | Follow on Instagram
Follow on Pinterest | Follow on Facebook