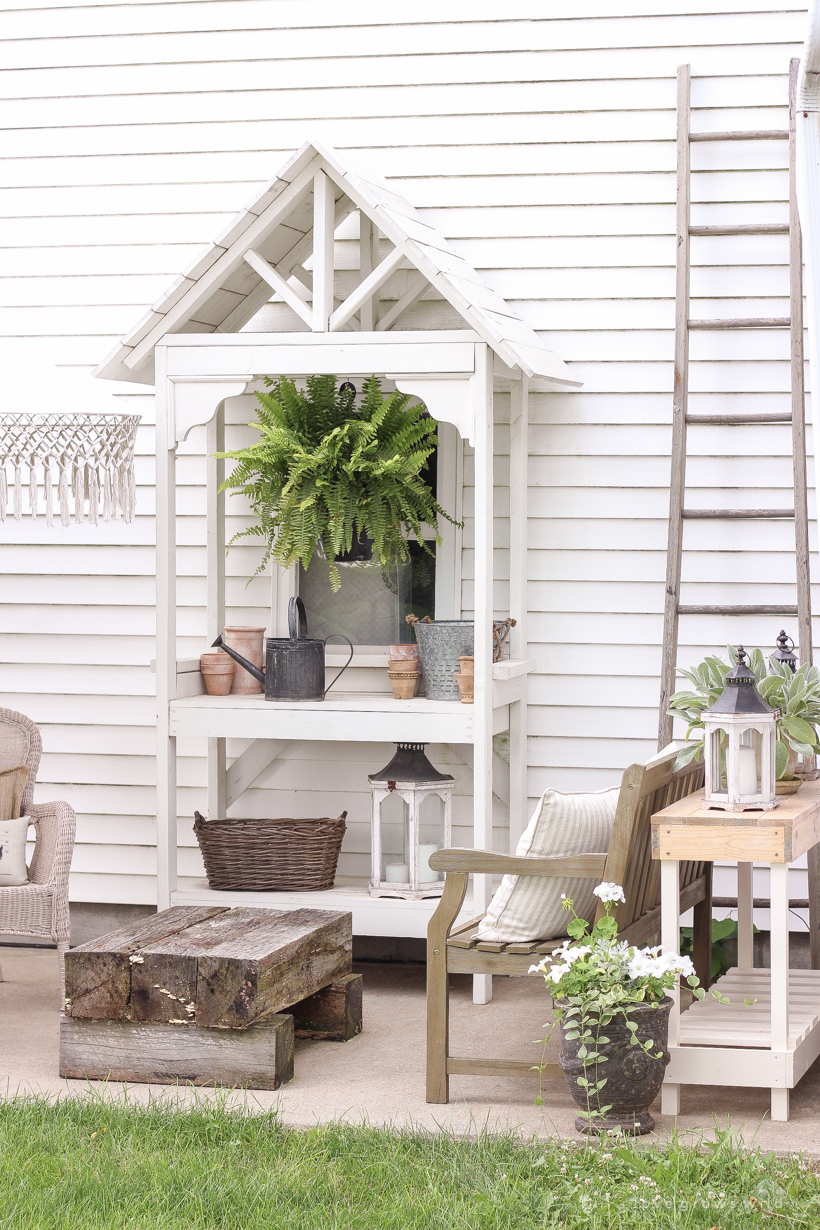 This summer has been busier than ever it seems, so when we are actually home it's nice to have little spaces like this outdoor retreat I've been working on to rest and relax in. The more time we spend outdoors, the less messy my house gets, so this little patio of ours has seen a lot of morning cups of coffee, afternoon naps, and evenings spent watching the sun go down lately.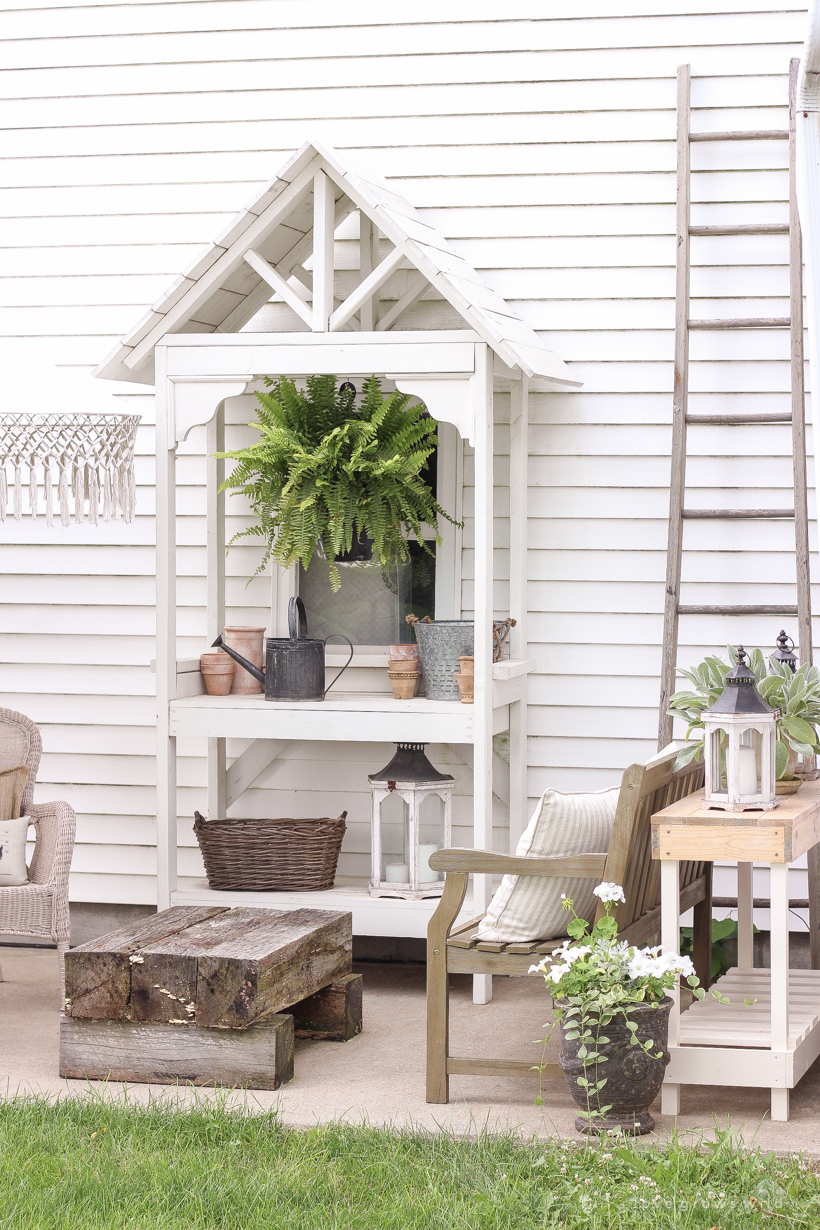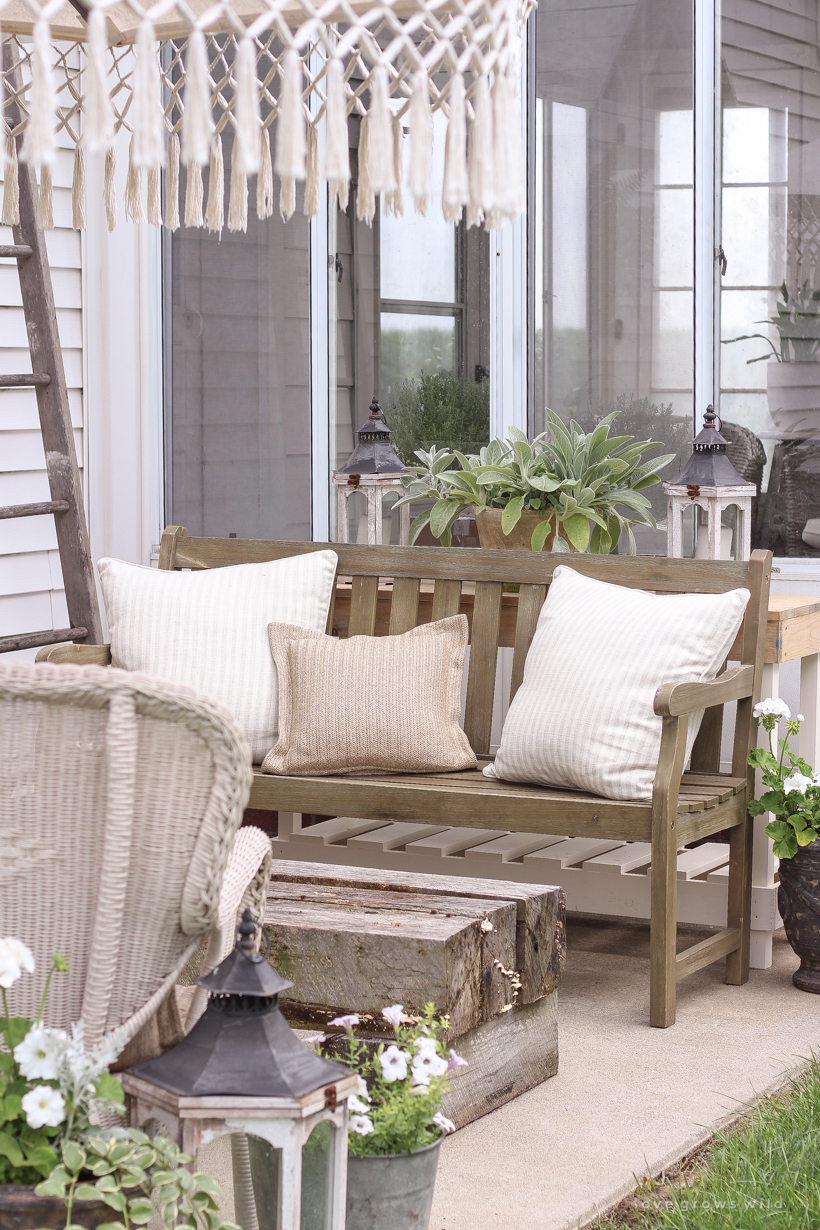 A few years ago we built the potting bench to serve as both the focal point of the patio and a place to set plants, glasses of lemonade, extra pots and watering buckets… whatever we needed it to. I know I say this about a lot of things in our little farmhouse, but this is definitely one of my favorite pieces I've ever dreamed up and built. It has so much charm with the decorative corbels and roof, and I love styling it for the changing seasons. You can see how we built the whole thing here: diy potting bench.
I also built something new for our patio this year since I had such a hard time finding an outdoor table that wasn't ridiculously expensive. The console table I made was super easy to build and is perfect for setting some plants and candle lanterns on. I just love this little addition to our seating area. You can find that tutorial here: diy outdoor console table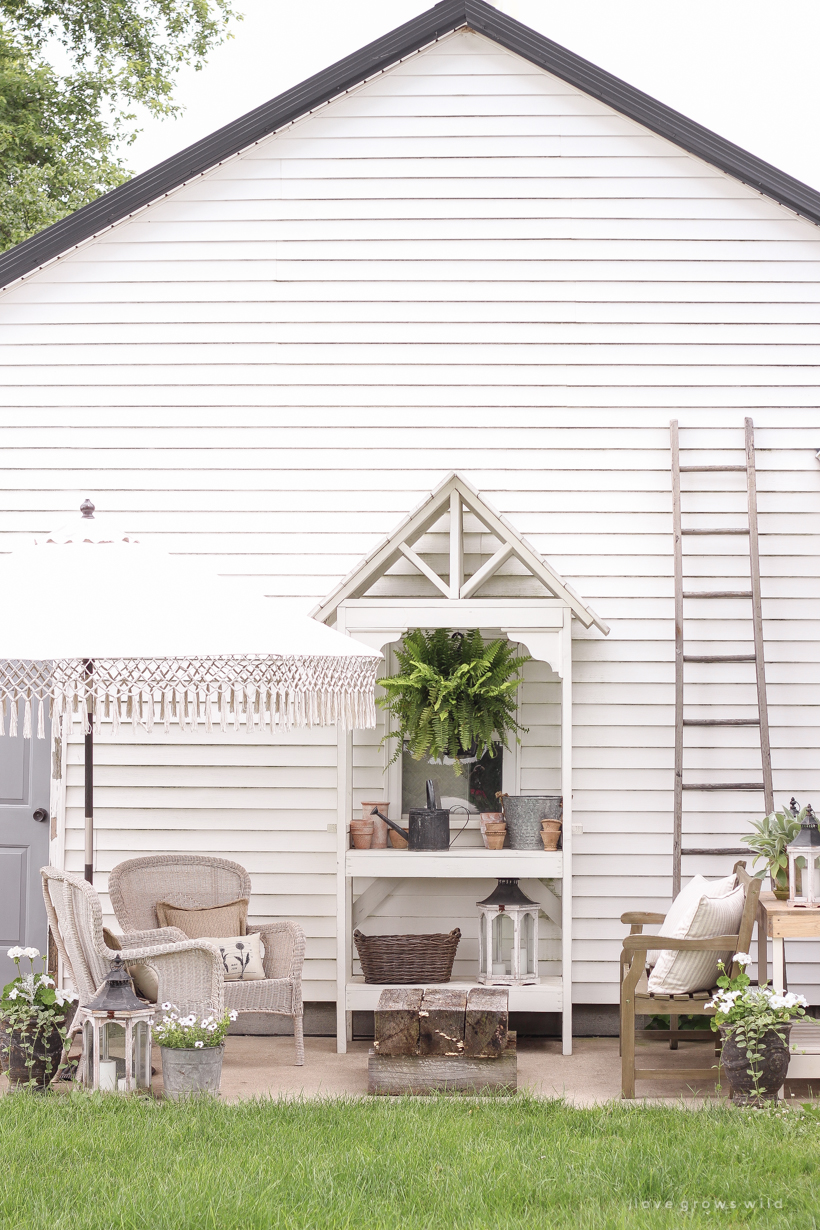 We've had some crazy hot days here in Indiana this summer, and I decided it would be really nice to have a little bit of shade on the patio, which normally is directly in the sun for most of the day. I have dreams of building a deck here and adding some kind of gazebo or pergola some day, but for now this super cute umbrella I got from here was the perfect solution. We have such strong winds blow through out here in the country, so I splurged on a heavier stand (this one) to make sure I wouldn't be constantly fixing the umbrella every time the wind blows. I haven't had any issues yet, even with some pretty serious storms, so I'm glad I upgraded to the heavier stand! I did have some trouble getting the umbrella to stretch and open up at first because it was so tight. I've pretty much left it open so the fabric could stretch out a bit, and hopefully it won't be so hard to put up and down as the summer goes on. But my goodness, does it make a difference having a little bit of shade out here and a pretty place to relax now. I just love this outdoor space so much.
Also new to the patio this year are these gorgeous wicker chairs and the console table table I built for behind the bench. If all goes as planned, I should have that tutorial for you in the next week or two! But back to the chairs… I'm obsessed with them. They're big and comfortable and have a vintage look to the design and a darker parchment color finish, rather than the standard bright white, which I love. It seems like they are made with a good quality all-weather wicker, so the chairs should hold up well outdoors. I can't tell you how many cups of coffee have been sipped out here in those chairs already this summer! I ordered the chairs from Pier 1, and it looks like they might have either discontinued this style or are just out of stock, but they do currently have an armchair, dining chair, hanging chair, settee, porch swing, rocking chair, and dining table in this same style and parchment finish.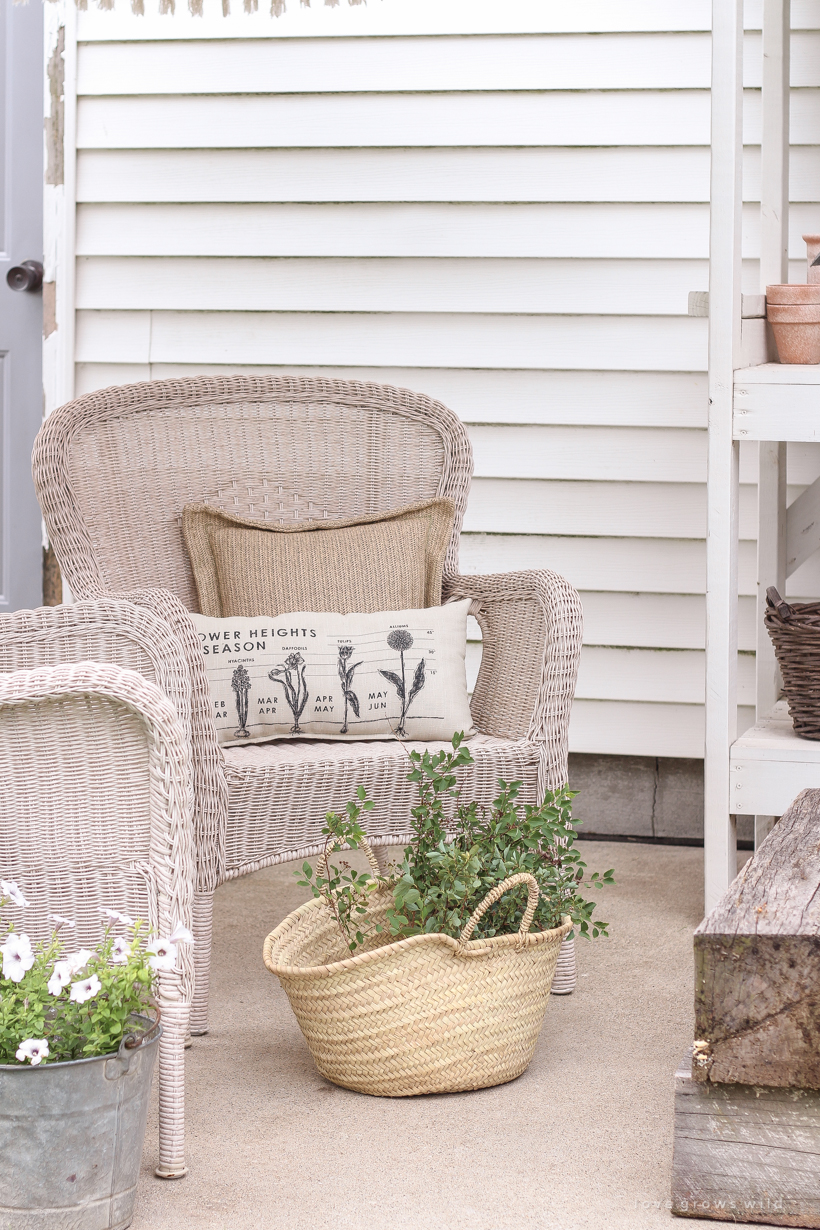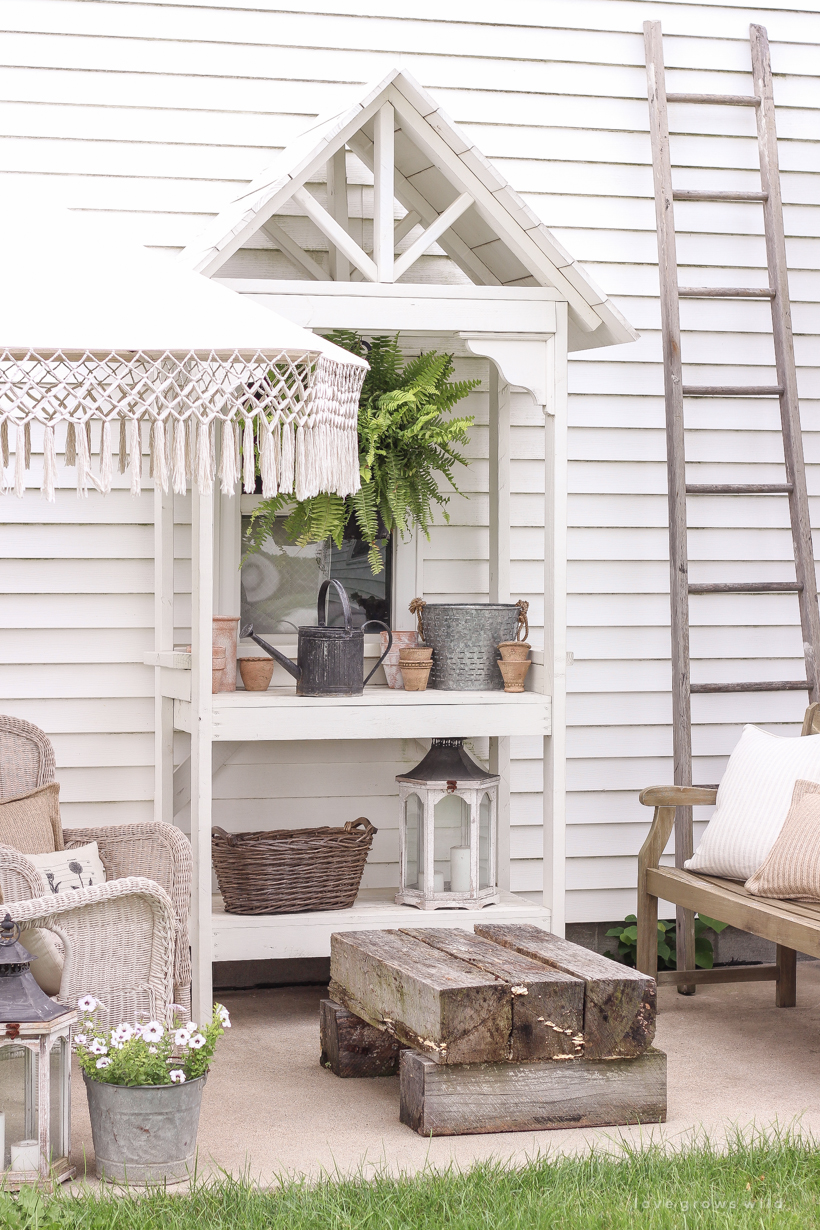 I kept the decor simple with lanterns for ambiance, a few throw pillows for coziness, and of course some plants and flowers to bring the patio to life. You can never go wrong with a hanging fern basket, and I love the lamb's ear I planted in a vintage pot on the console table. If you've never felt a lamb's ear leaf, it is so soft and almost fur-like that it doesn't even seem like a real plant. I love adding a few to our patio each year when I can find them! I was also really happy with how my mixed planters turned out with a combination of white geraniums, white petunias, dusty miller, and trailing vinca vines.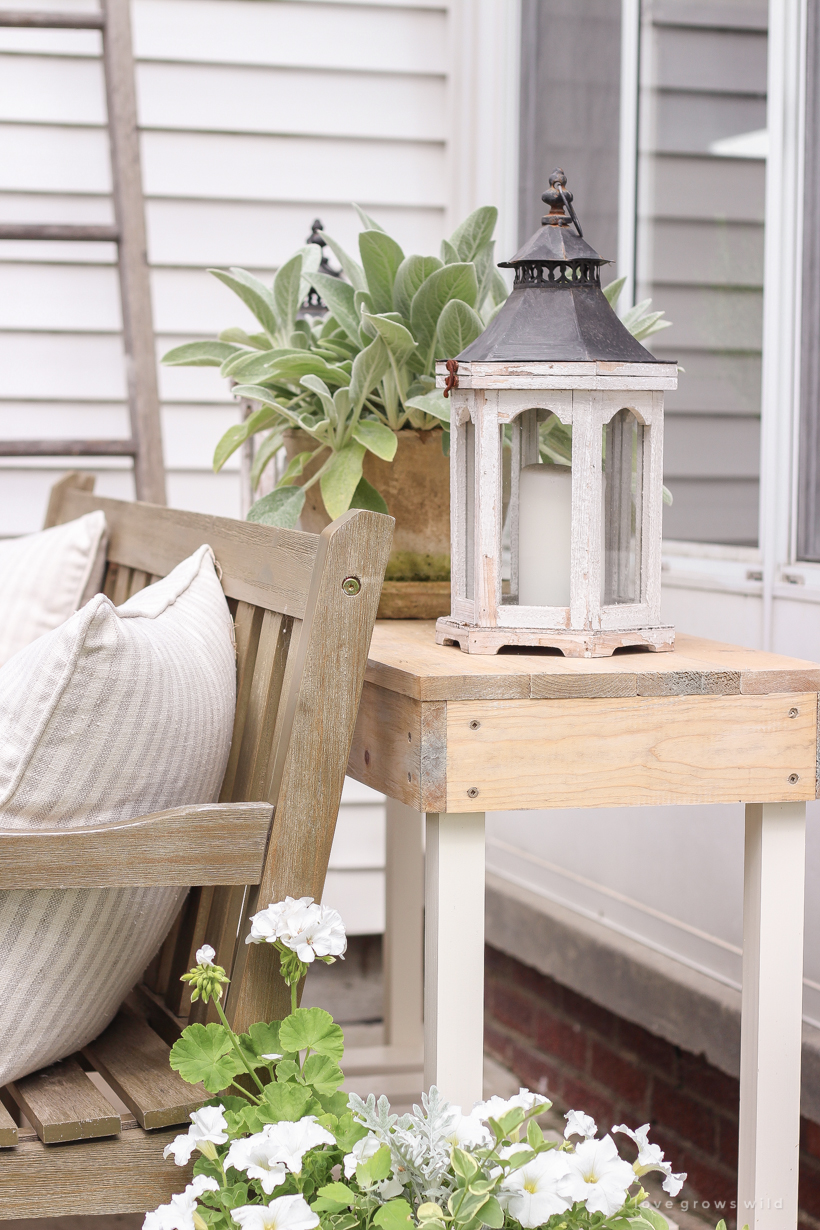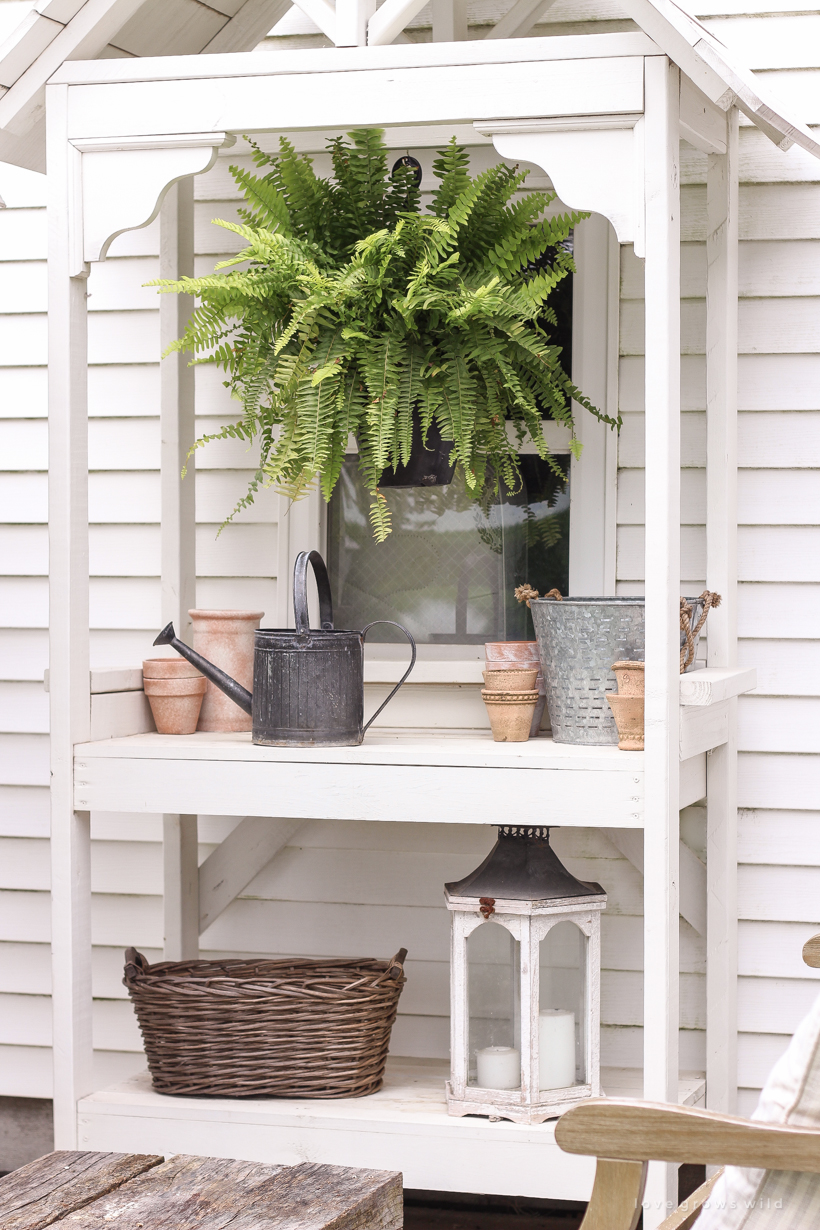 Fun fact… we pulled that wooden ladder out of one of our barns a few years ago, and while sometimes I decorate it, I love the way it looks all by itself too. And the old barn beams we pulled out of another barn and made a coffee table with just keep getting better and better as each season goes by. So much age and history hidden in those cracks and crevices!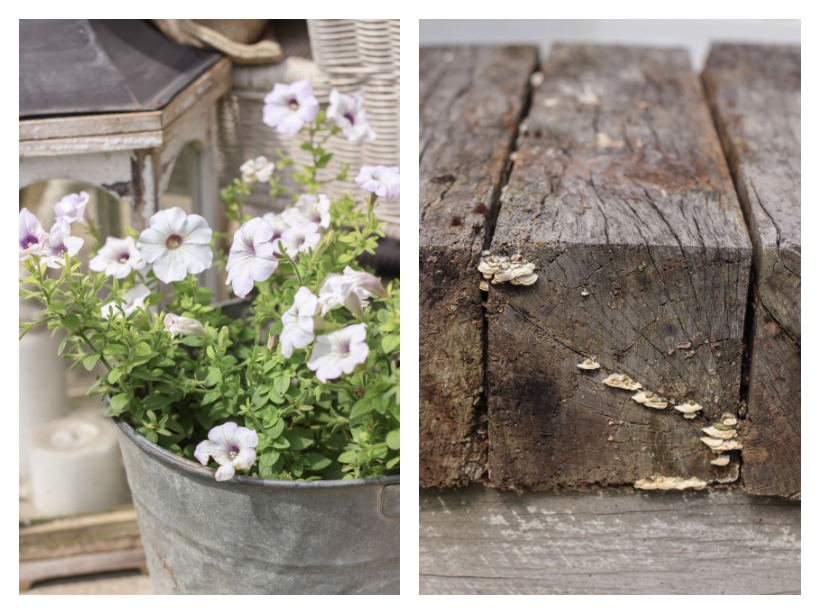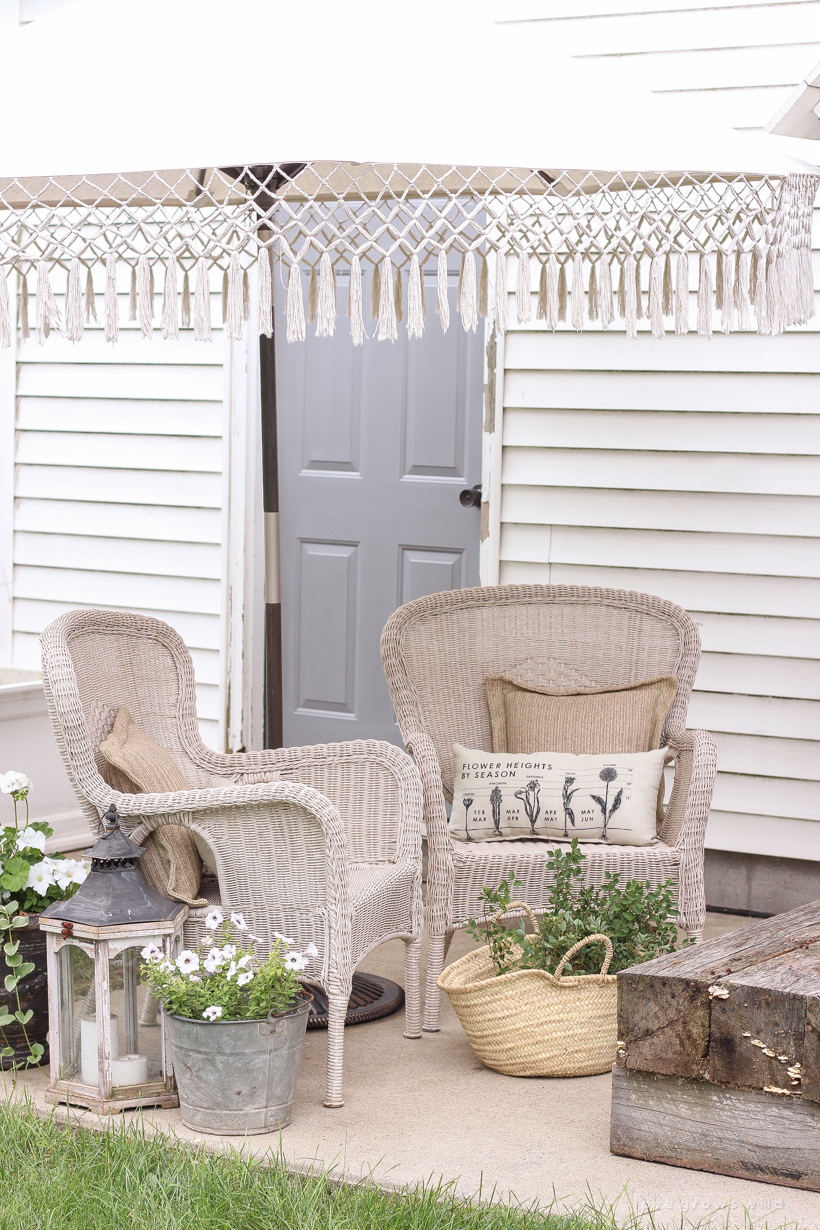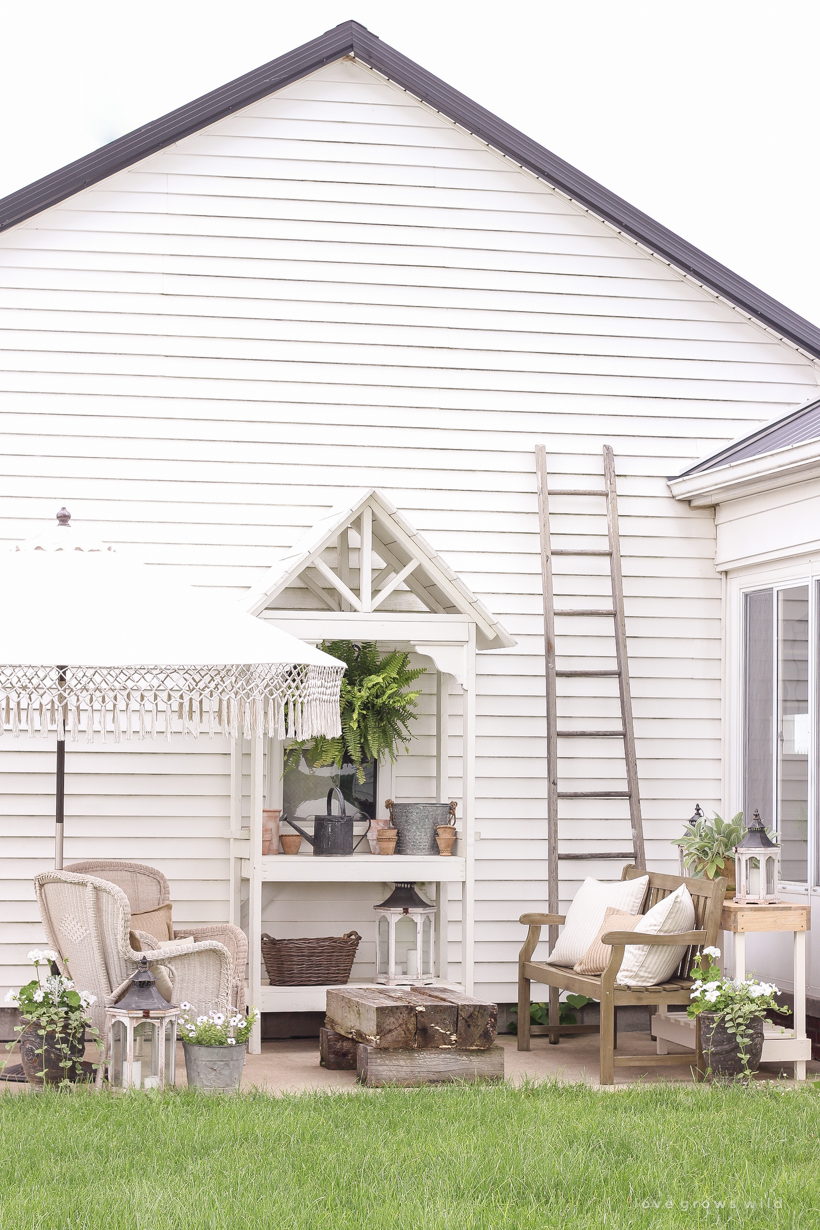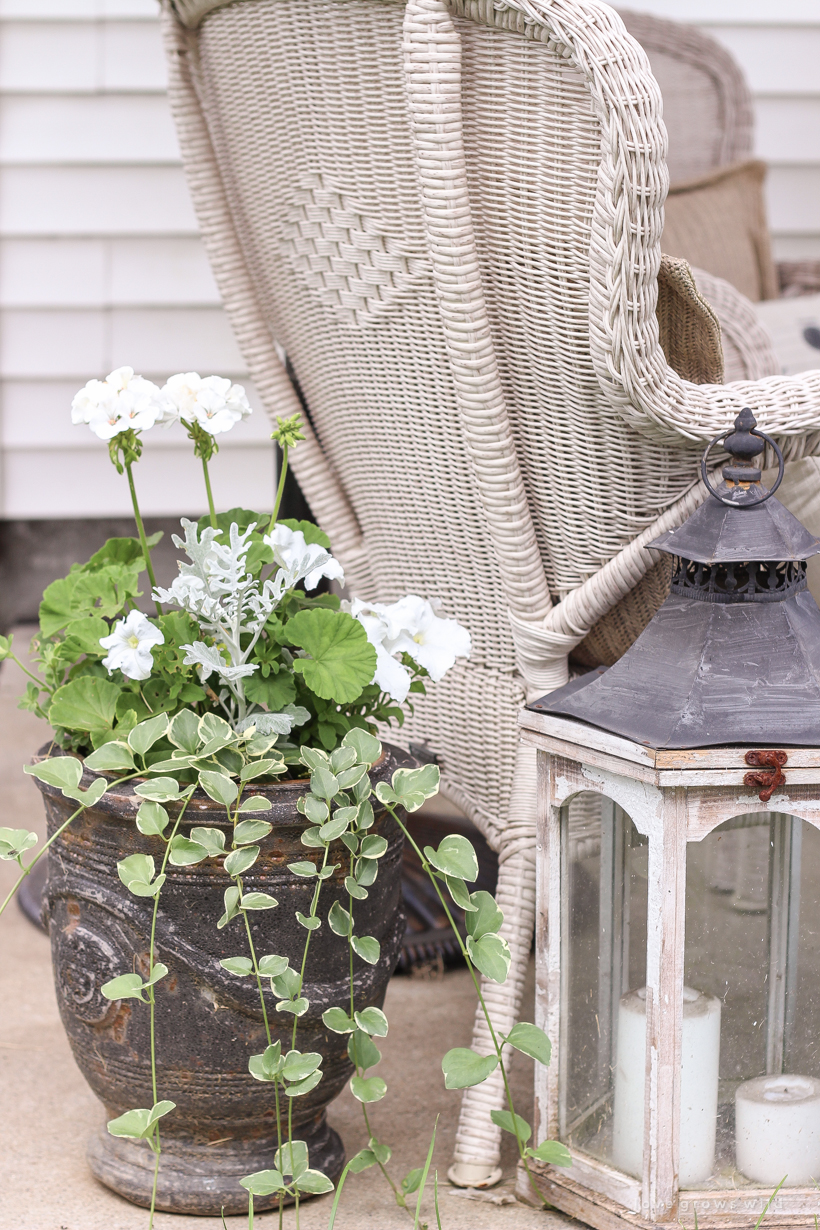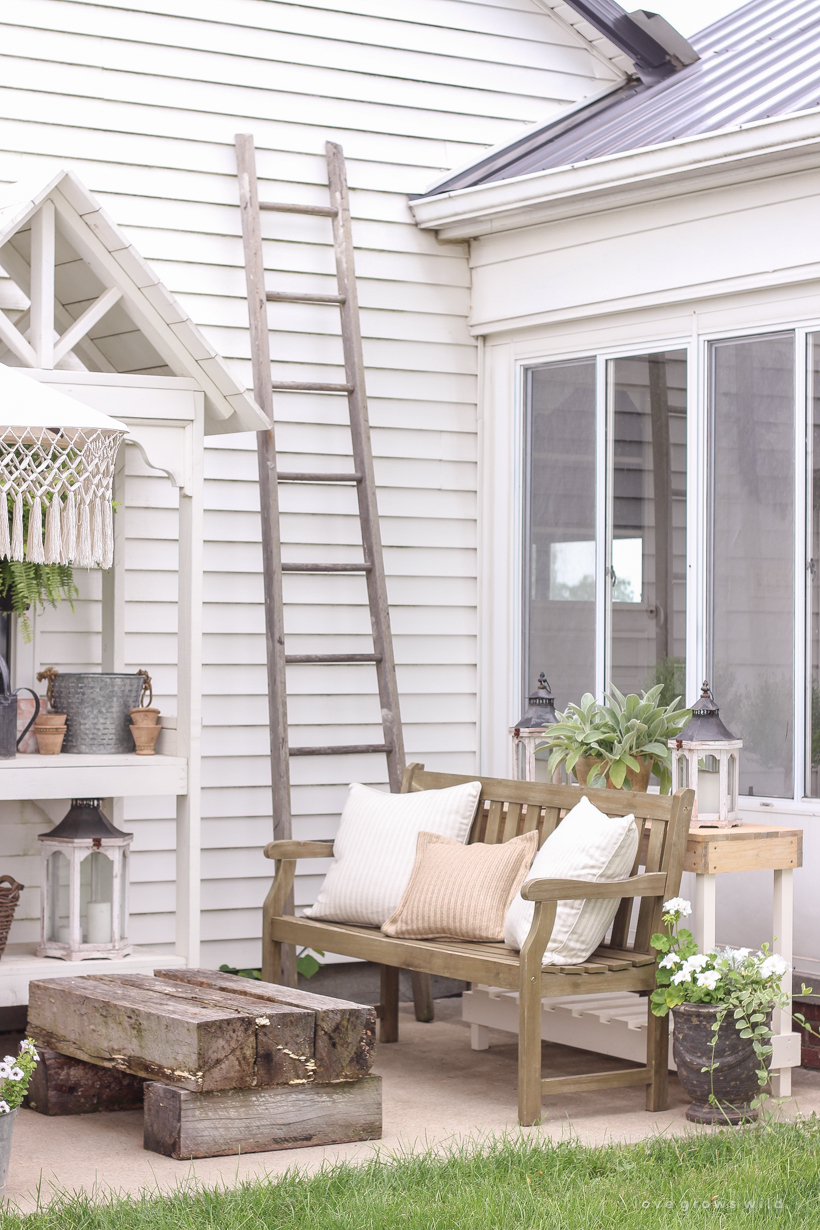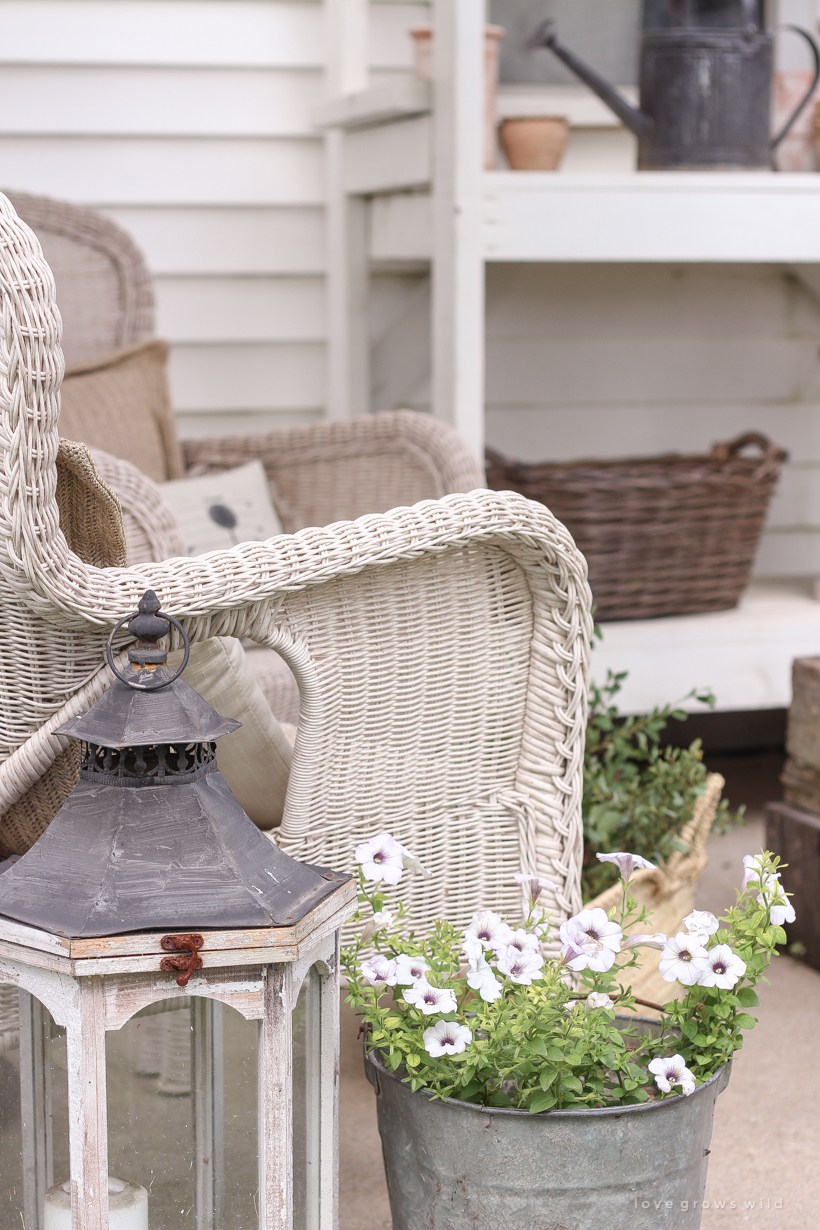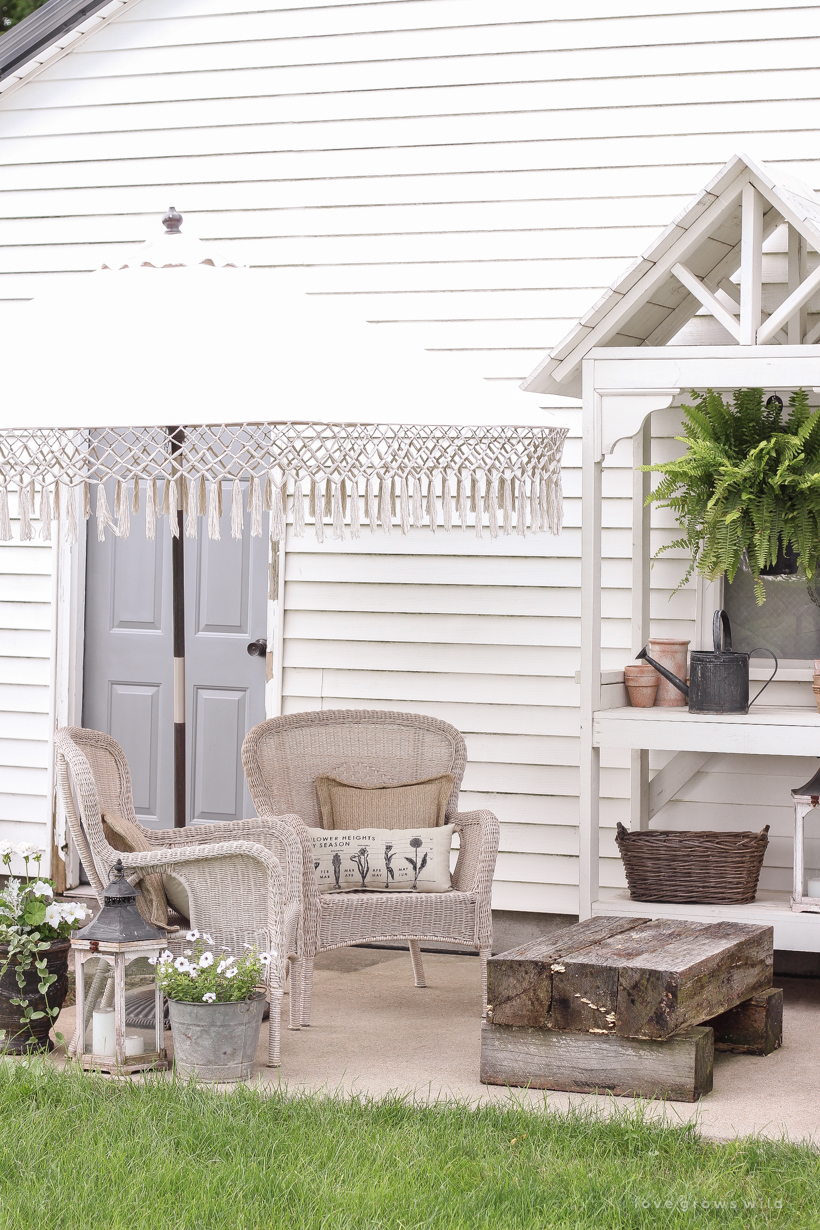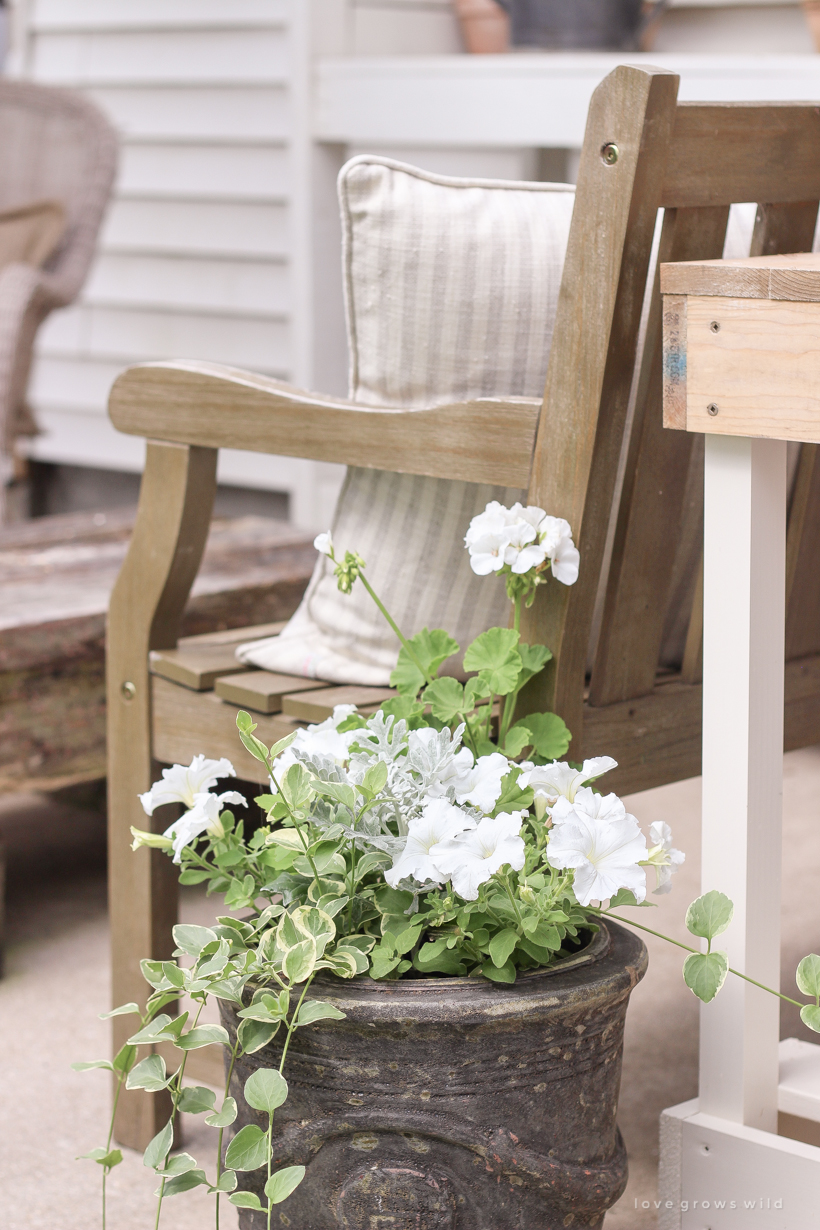 Thank you so much for visiting today, and I hope you enjoyed a look at my little outdoor retreat on the patio. I hope you're enjoying summer so far, sweet friends!
– SHOP THIS POST –

---
LET'S KEEP IN TOUCH!
Subscribe to Blog | Follow on Instagram
Follow on Pinterest | Follow on Facebook