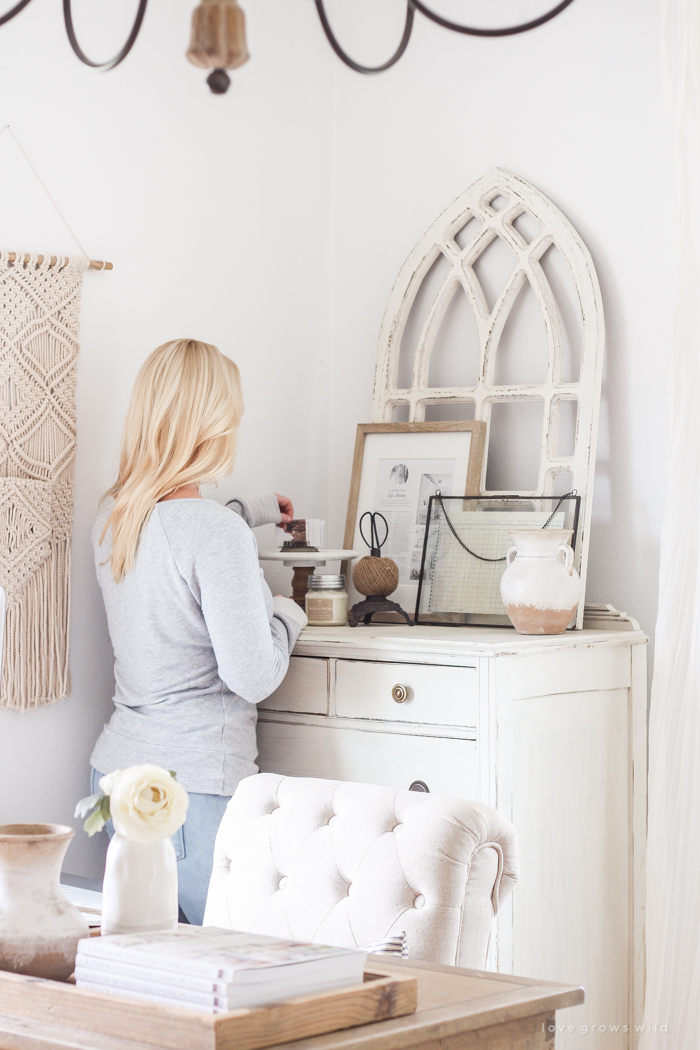 I don't know where time has gone, but it's been a full two years since I've shown my office on the blog! I'm not all that surprised because my poor office has somehow become more of an all-purpose storage room for anything that doesn't have a home, and since I opened up my shop last summer, my office is usually stacked with boxes and piles of stuff to refinish, price, and haul over to the shop. It certainly hasn't been anything to decorate, look pretty, and show you guys! But I'm a firm believer that in order to have a calming, productive space to work in, you have to make it a space you LOVE to be in, so I've slowly been working on cleaning, organizing, re-arranging, and decorating my office over the last few months, and here is the current state of my office conveniently located just 37 steps away from my bed.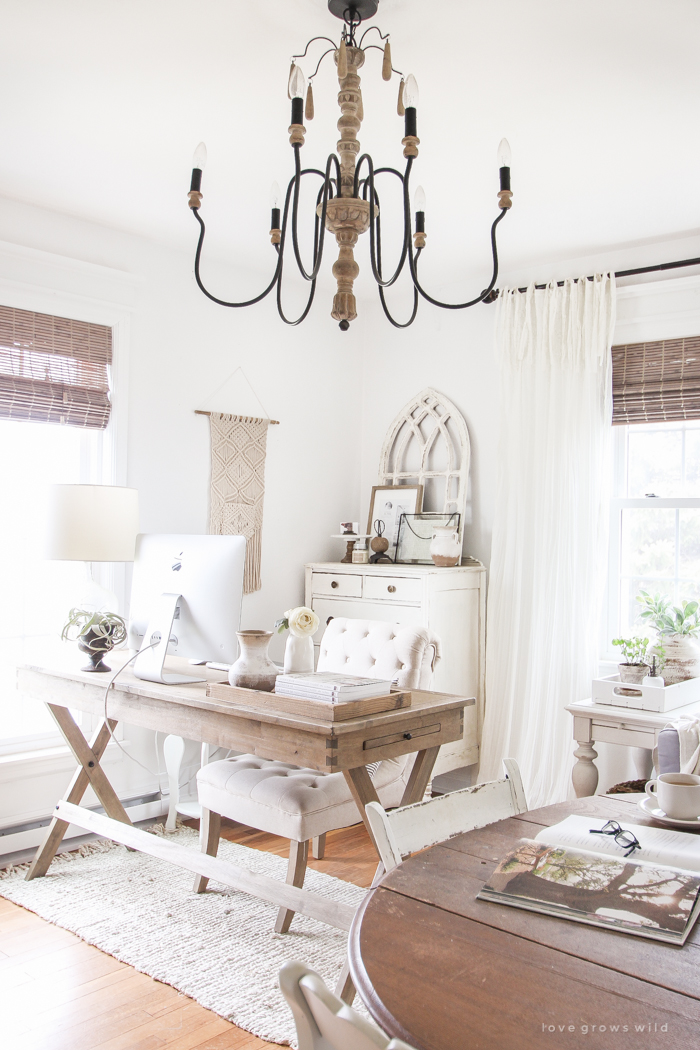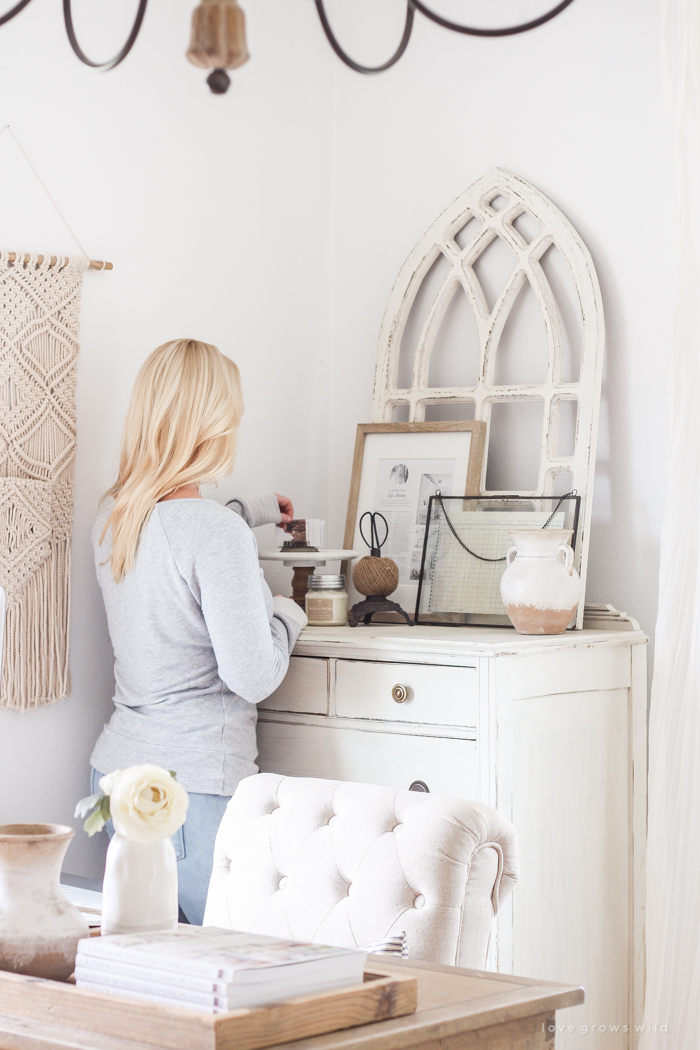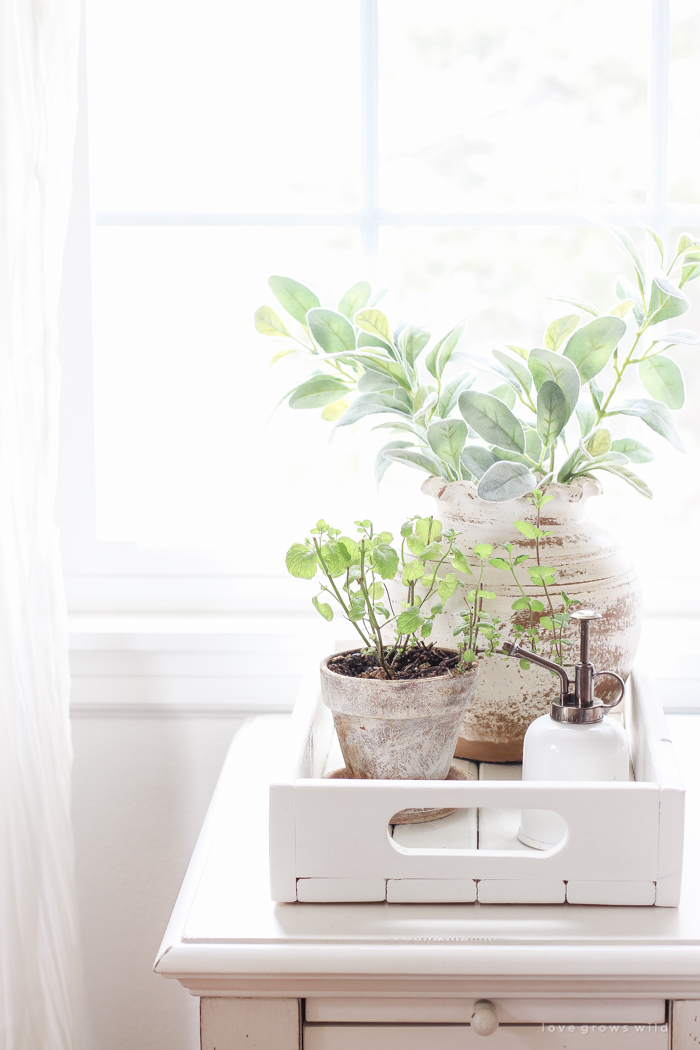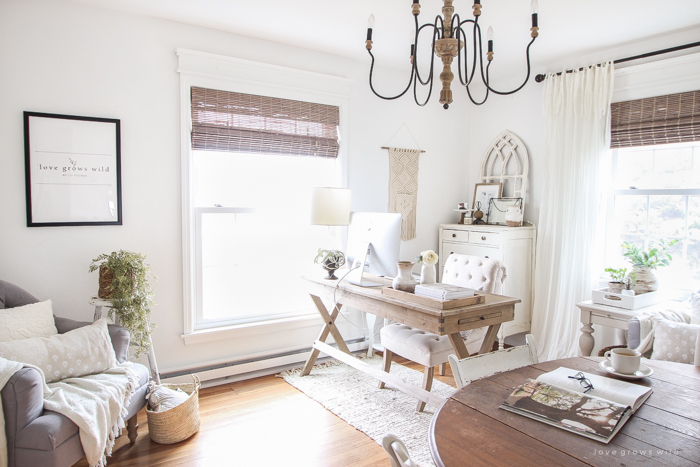 You can find sources for all the items in my office or similar products at the bottom of this post.
The last time you saw my office, my desk was pushed up against the window on the right so I was facing the window while I worked. A desk with a view is great, but all I can see is two giant evergreens right outside that window, and I didn't like having my back to the rest of the room. I think it's a natural instinct to place your furniture against the walls in a room, but I've learned that anytime I can pull furniture off the walls and float them in the center, it creates a more cozy, intimate space that feels so much more inviting. So I moved my desk next to the other window, which gives me a prettier view of the front yard and driveway so I can see when the UPS and FedEx guys deliver a package… lol just kidding, kind of. : )
I bought a tall white dresser for storage from the antique store where my shop is, but all the other furniture stayed the same, just re-arranged slightly. I love having comfy seating in here where I can sit and make lists for the week and plan out my schedule while I drink my coffee in the morning, and the work table is great for projects, meetings, and kiddos who need help with math homework and studying spelling lists. That's one of the best parts of working from home – being here with the boys when they stay home from school sick or have a snow day or a field trip they want me to go on. I'm so very lucky to have the ability to be here for all those moments with them, and even when work gets crazy, I'm happy to be in the comfort of my home with my family. And staying in my pj's all day is most definitely a perk of the job too! lol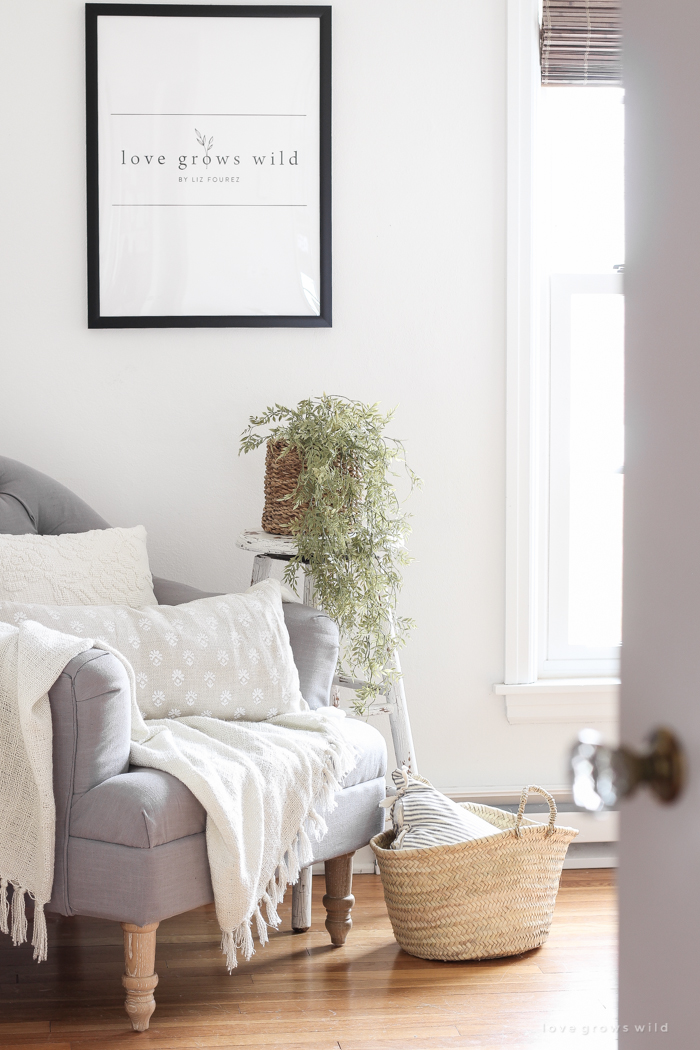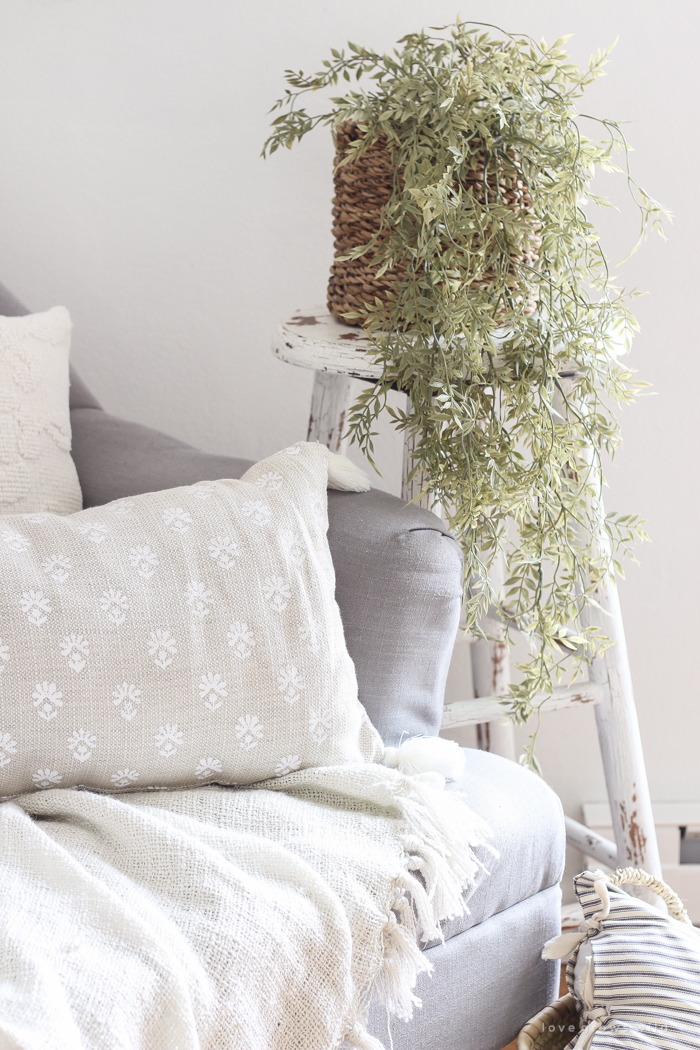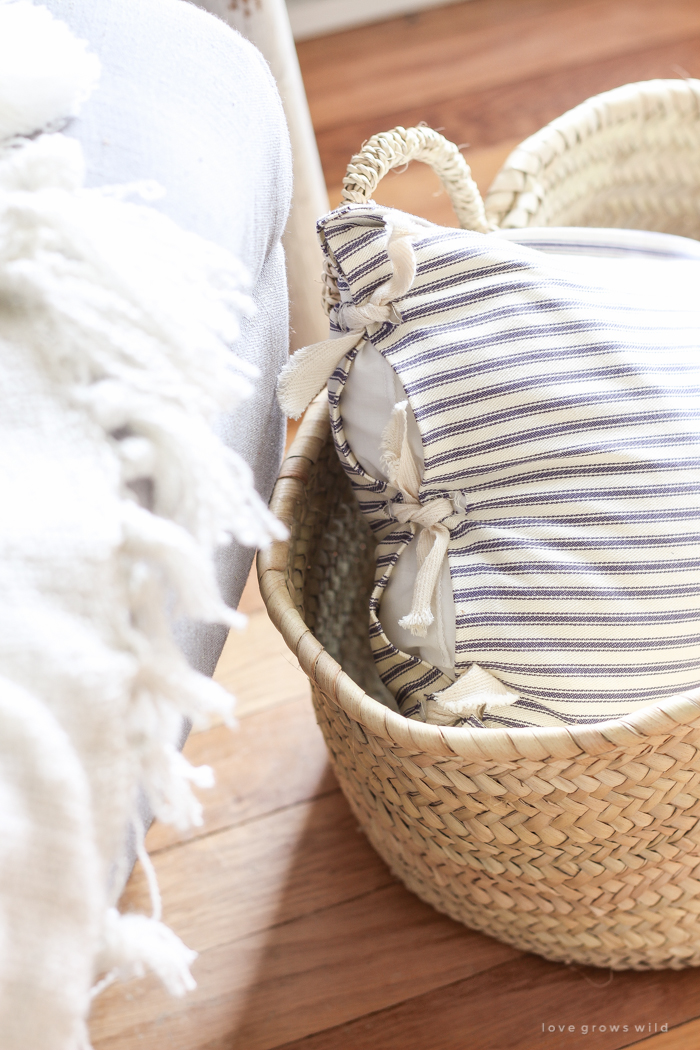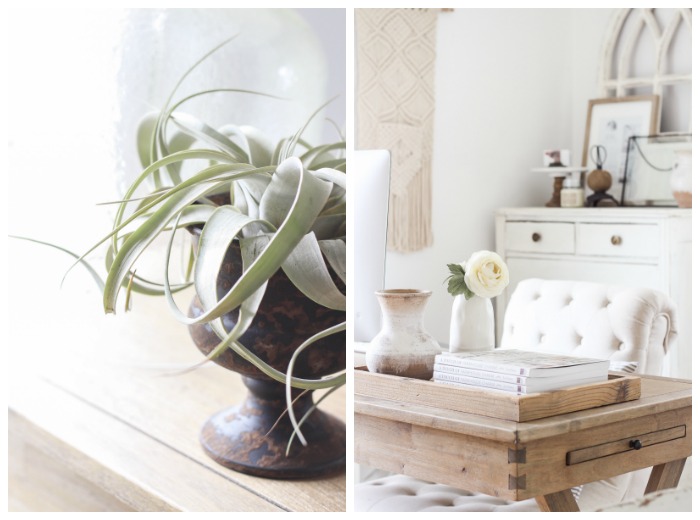 For the smaller decorative aspects of the room, I used some pieces from my shop, like the arched window frame and macrame wall hanging, some pillows and frames I just found at Target the other day, pottery from TJMaxx, and plenty of greenery (both faux and fresh) to make my office feel fresh and spring-like.
Very, very soon I'll be launching an updated version of my blog, which I have been working on for months and am SO excited about, and I decided to frame my new Love Grows Wild logo to celebrate the milestone and make my office feel a little more personalized and "me".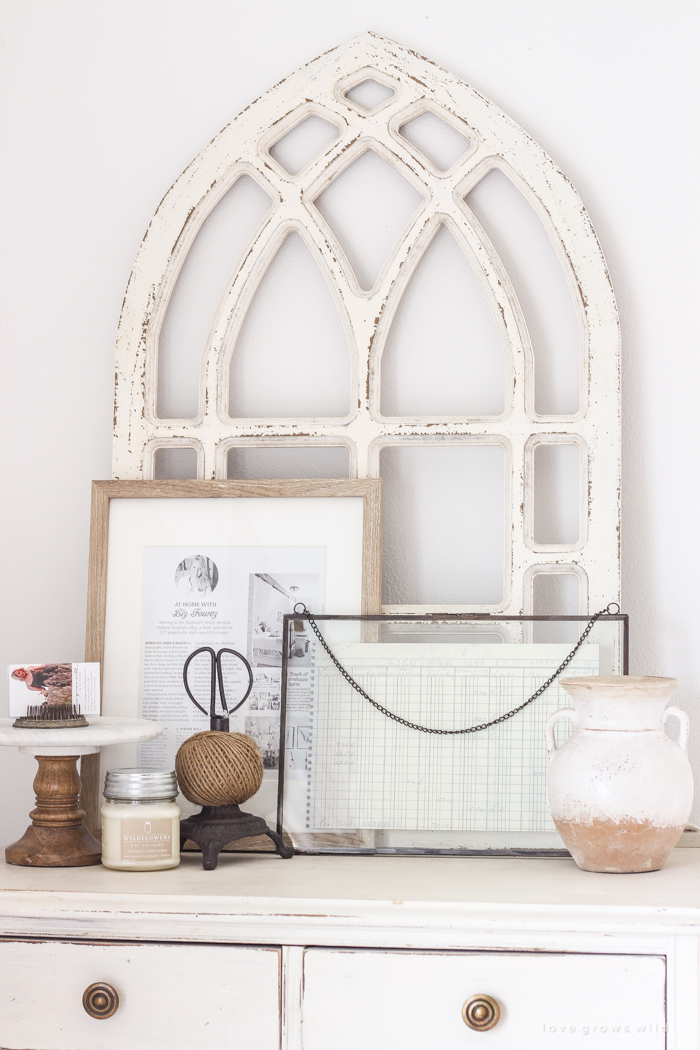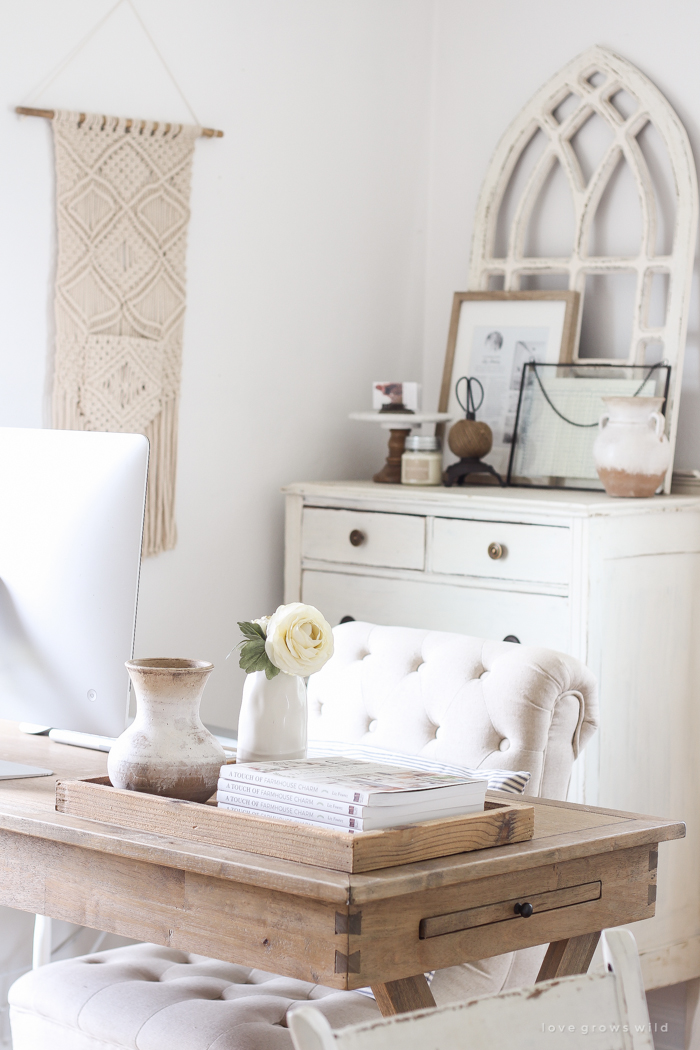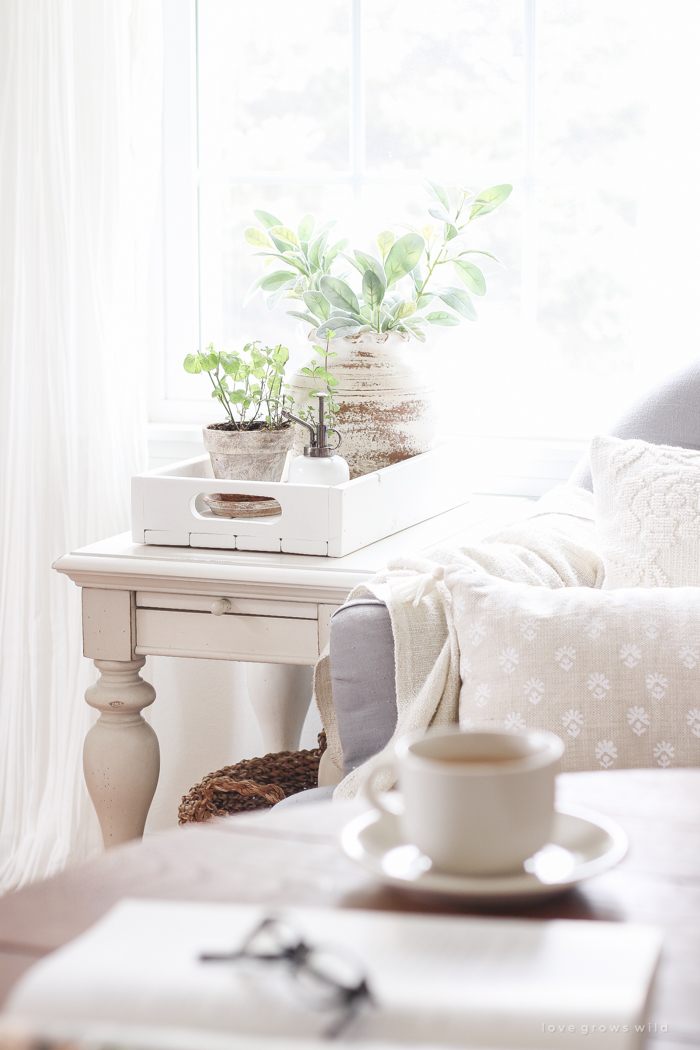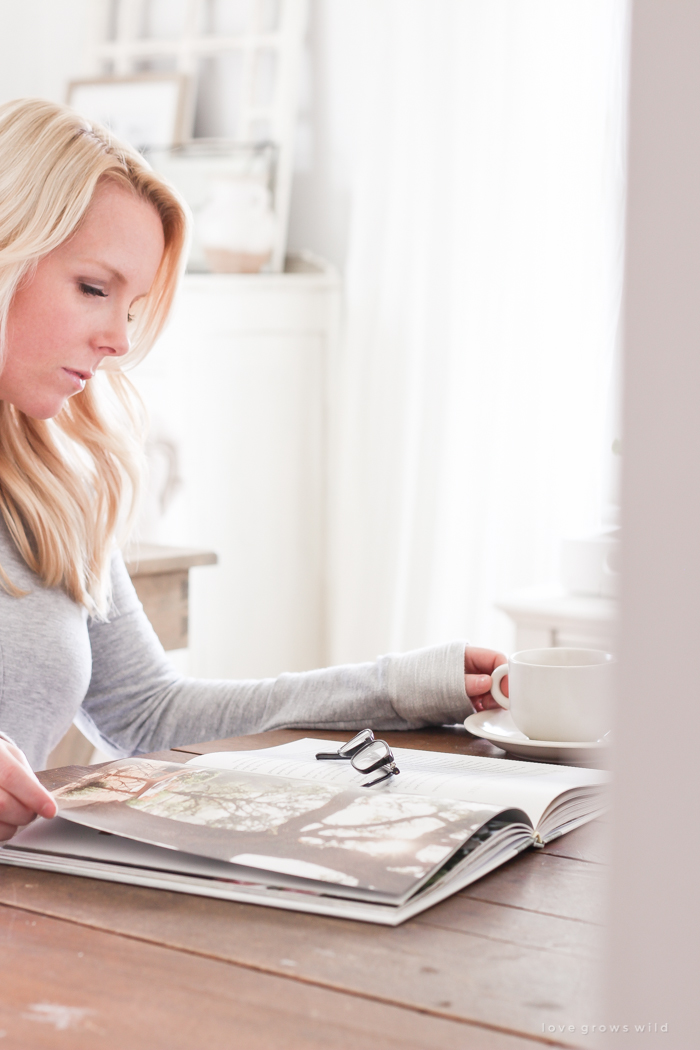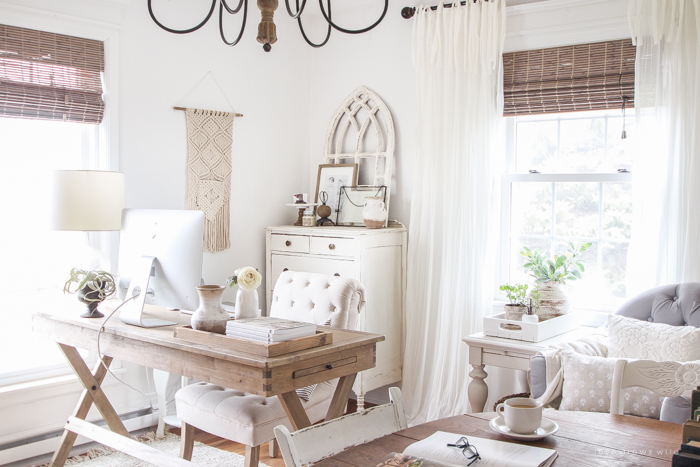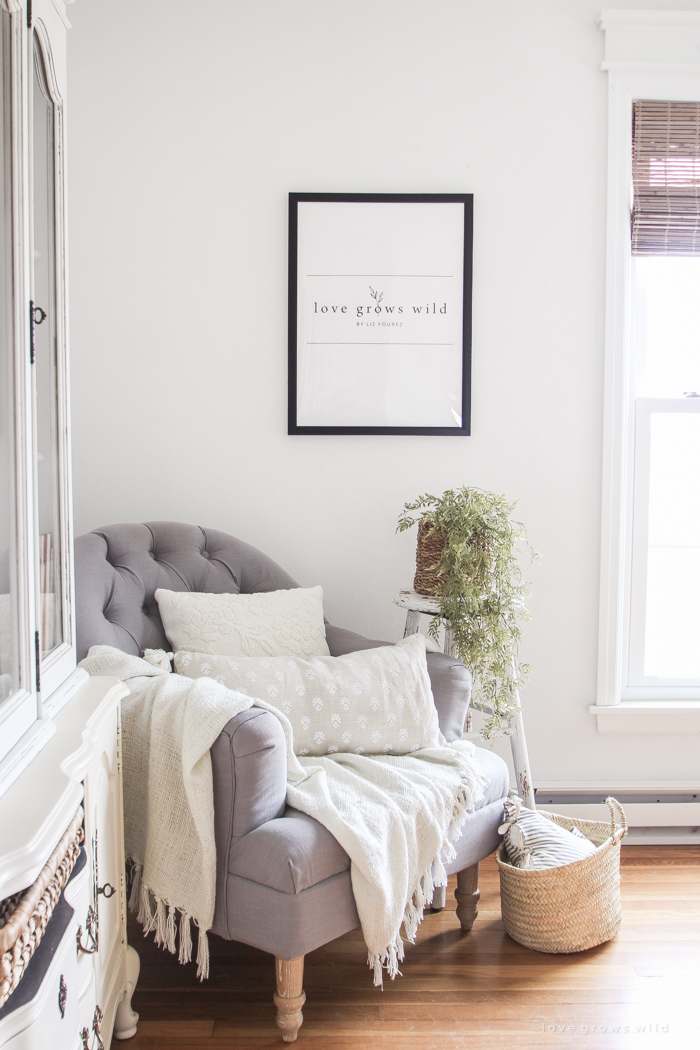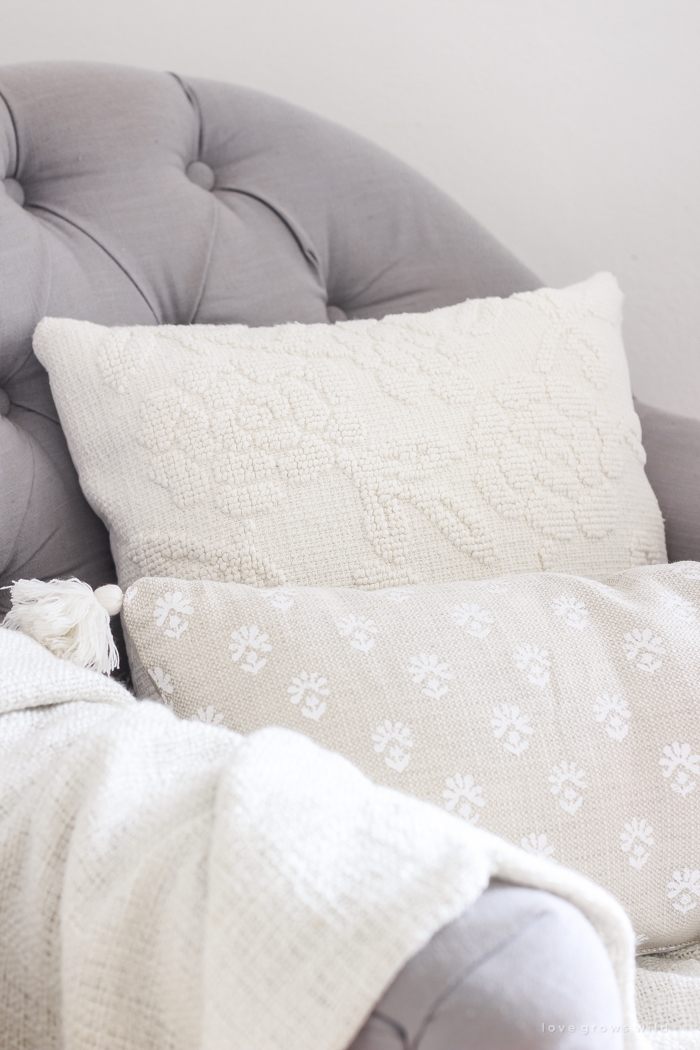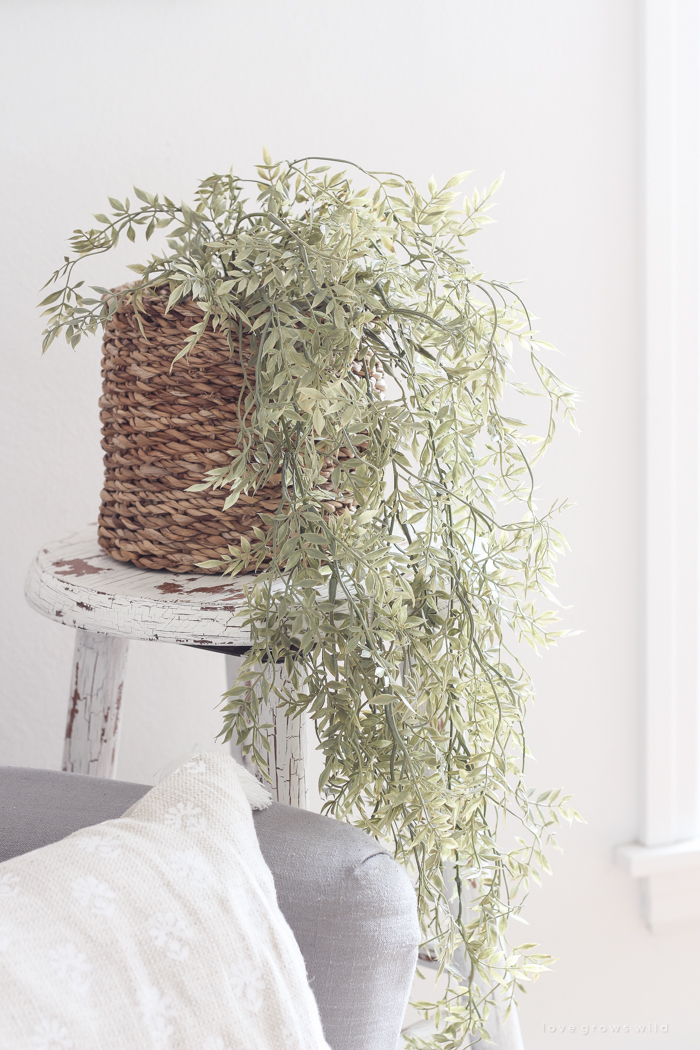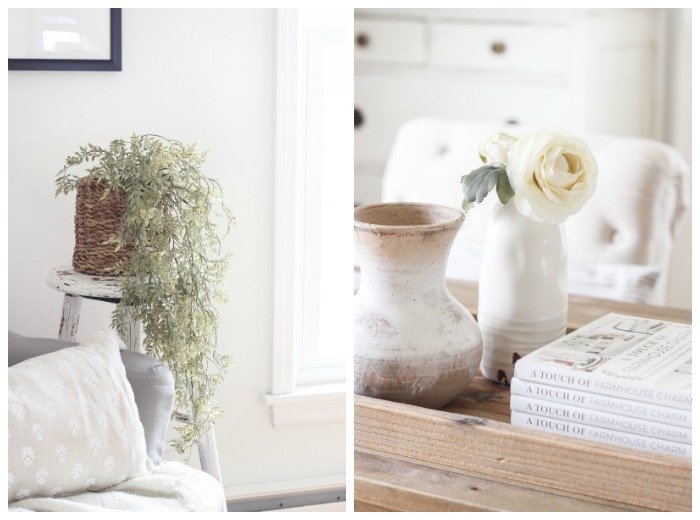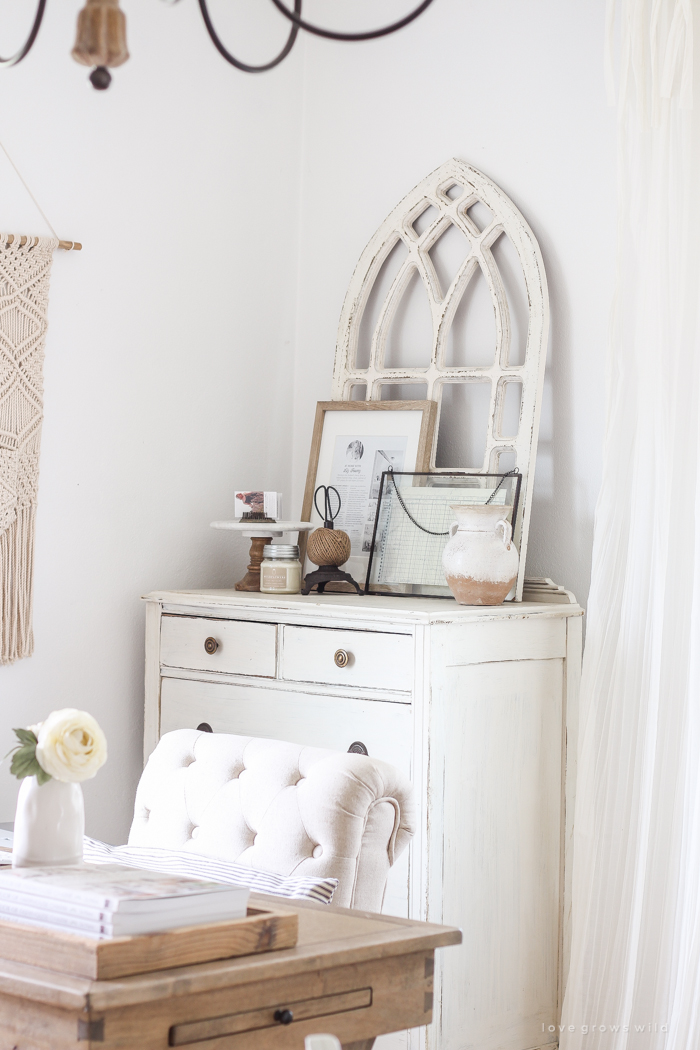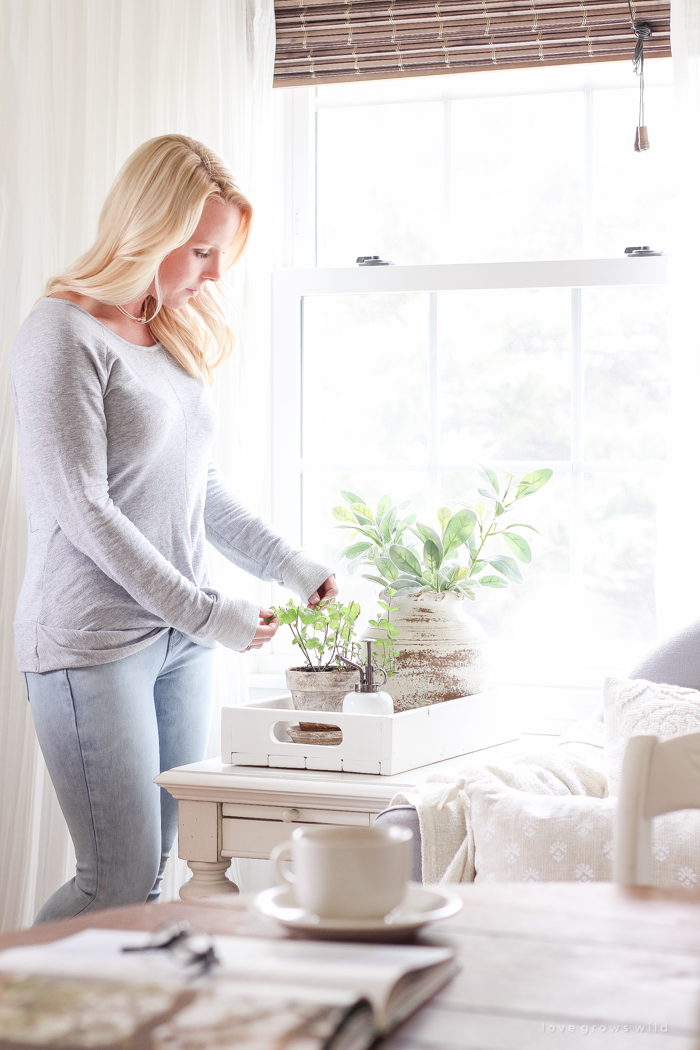 Fun fact: I painted this white tray that holds my plants by the window last February when I met Chip and Joanna for the launch of their Magnolia Home Chalk Style Paint. Every time I water my plants I think back on that experience and smile, and that's what I love most about decorating a home – creating little moments bring back memories and joy.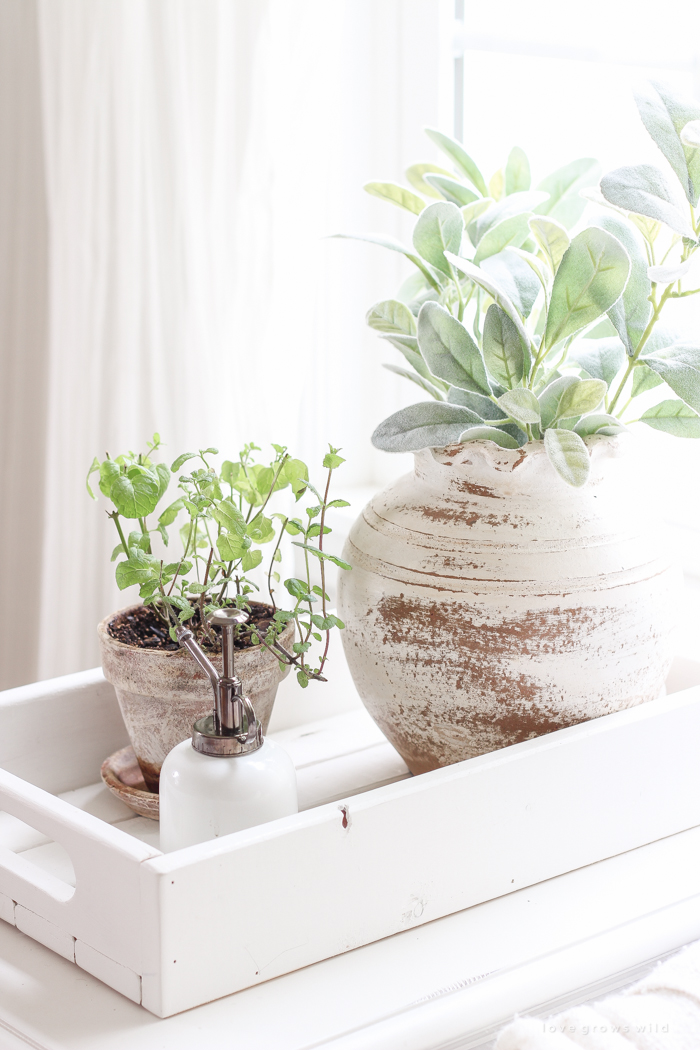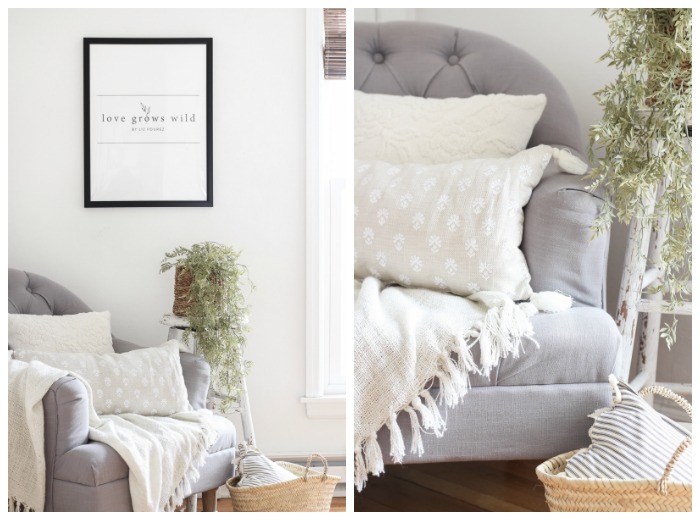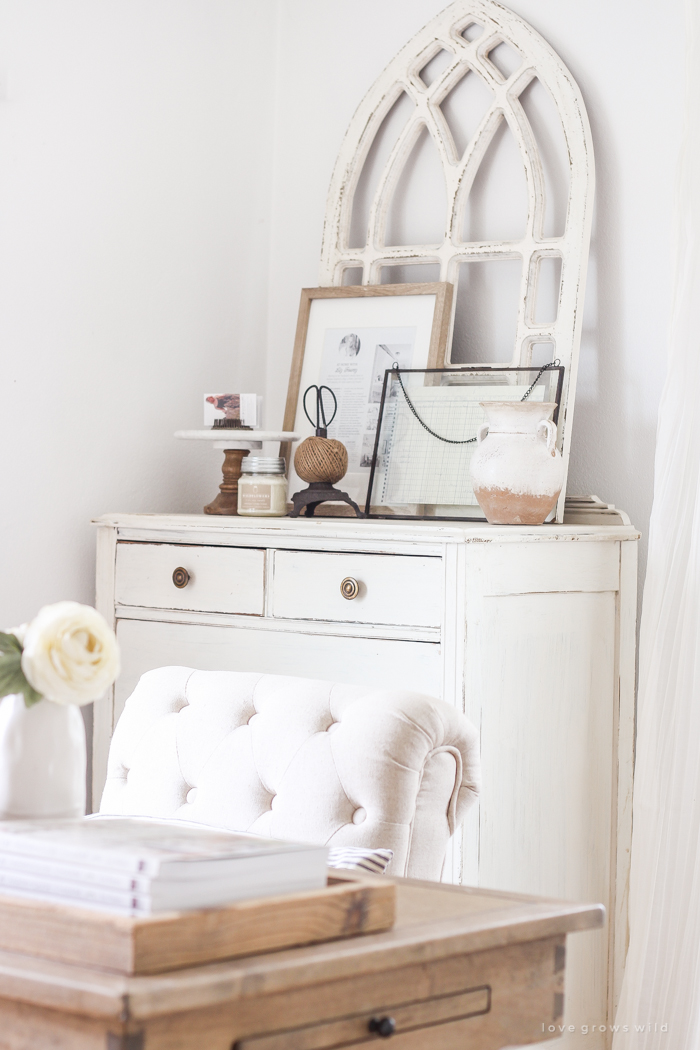 I hope you've enjoyed this long overdue update on my office, and I'd love to hear what you think! Do you have an office space in your home? What are your thoughts on working in a space you love to be in?
Some links in this post are affiliate links, which allows me to make a small commission from your purchase, but your purchase price stays the same. Thank you for helping support our blog and keep it going!
– SHOP THIS POST –

---
LET'S KEEP IN TOUCH!
Subscribe to Blog | Follow on Instagram
Follow on Pinterest | Follow on Facebook