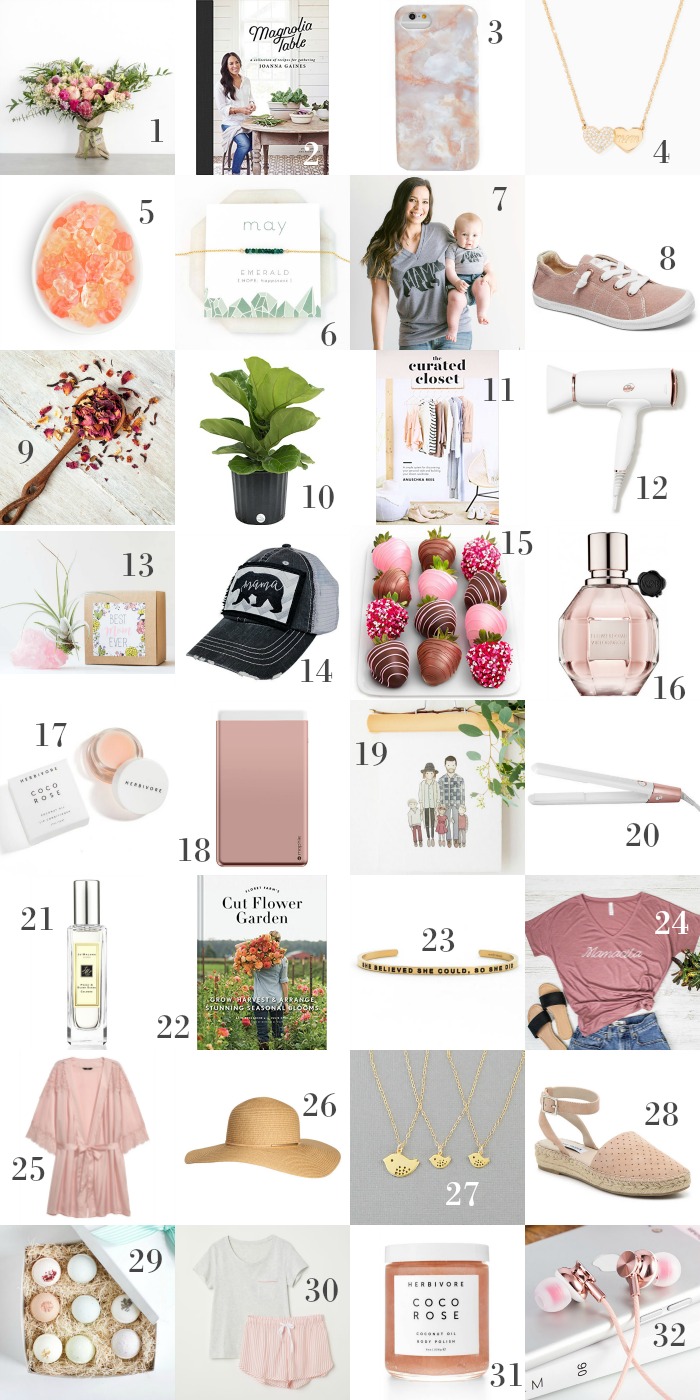 Hi, friends! Mother's Day is just around the corner, and whether you are looking for the perfect gift to buy your mom, needing ideas to tell your hubby, or just want to spoil yourself or a special woman in your life, I have rounded up my top gift ideas that are sure to make someone smile. I have everything from beautiful flowers and house plants, to yummy sweet treats, cute jewelry and accessories, books, top-selling beauty products, and even some special personalized gifts that may bring some happy tears for whoever receives them. Women, and especially moms, are super heroes in my eyes, and they deserve to be pampered and appreciated not just on Mother's Day, but every day. I hope these ideas inspire you to celebrate the special women in your life, and ladies, share this post with your hubby as a little hint! Enjoy these fun, adorable gifts for mom!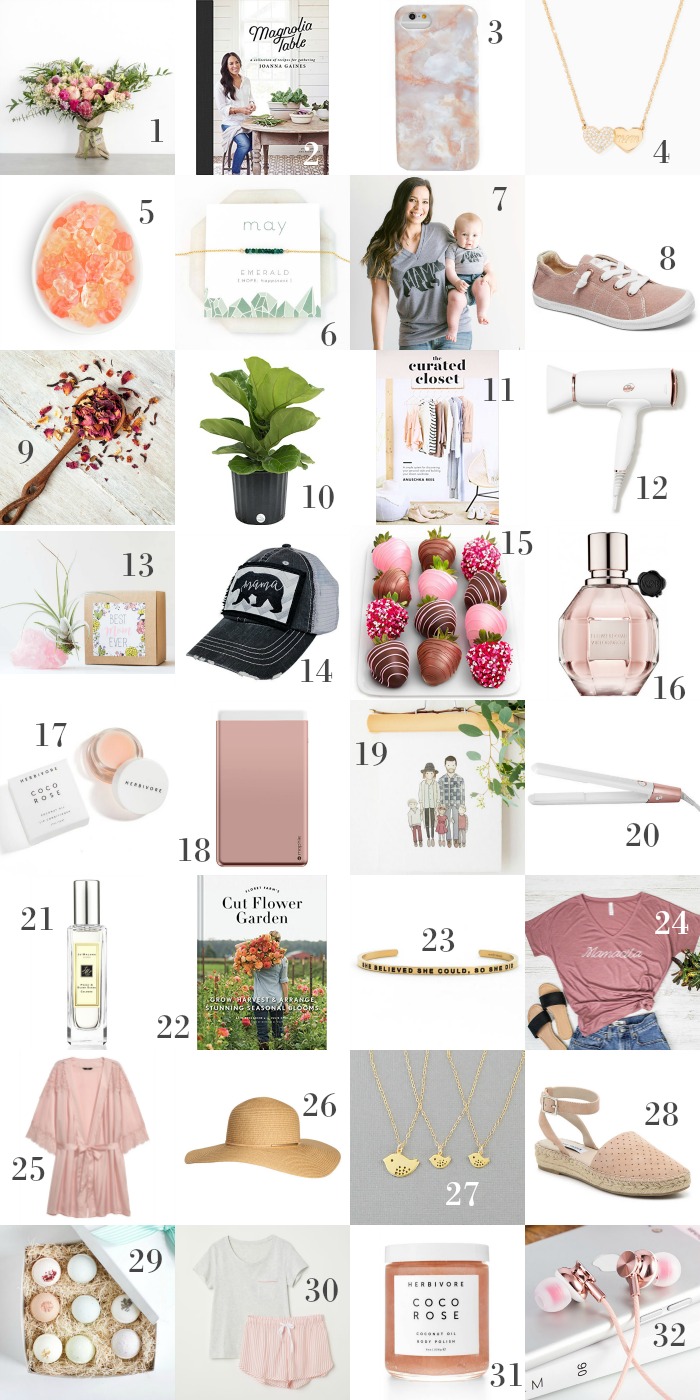 Stunning flowers delivered right to your door from Farmgirl Flowers. I adore their burlap-wrapped bouquets!
Joanna Gaines' new cookbook, Magnolia Table, which features 125 family favorite recipes and comfort food classics. I asked for this book myself!
A cute pink marble phone case to protect and style your phone.
The prettiest mom heart pendant necklace – so sweet!
Champagne. Gummy. Bears. – I'm dying! Gummy bears are already a favorite of mine, and these cuties made with Dom Perignon are perfect for spoiling mom.
Love this birthstone necklace to celebrate mommy's little miracle!
A momma bear tee + matching baby bear outfit for the new momma.
These blush slip-on sneakers are absolutely my favorite comfy, casual shoe. I pair them with a simple tee and ball cap for my go-to summer outfit!
For the tea lovers, this rose petal raspberry herbal tea is perfect!
Did you know you can order plants on Amazon? This fiddle-leaf fig will make any plant momma happy.
The Curated Closet book will help you get your spring and summer wardrobe ready to go. I'm dying to read this book!
Mommas don't often splurge on themselves, so this is the perfect time to ask for the T3 Cura hair dryer. This will be the next dryer I buy!
The sweetest little air plant with a rose quartz crystal planter.
A cute momma bear ball cap for bad hair days!
Sometimes moms don't want or need anything, so try these pretty pink chocolate-covered strawberries instead!
This popular Flowerbomb fragrance is perfect for spring.
Coco Rose lip conditioner with organic virgin coconut oil, sugar, and Moroccan rose for the perfect pucker.
Mommas are always running their phones low on battery, so this rose gold external battery for smartphones and tablets is sure to be appreciated.
What could be more precious than a custom watercolor family portrait? Grab the tissues for this one!
For fast, silky, frizz-free style, get this T3 straightening and styling iron!
A great spring scent – Jo Malone London Peony & Blush
Learn how to have beautiful, bountiful flower gardens with Floret Farm's Cut Flower Garden book.
She Believed She Could, So She Did – get this gold cuff for the strongest mommas you know!
Love this feminine loose fit v neck tee!
Feel extra pretty drinking your morning coffee in this satin blush kimono.
The perfect straw hat for beach days!
Momma bird + baby bird matching gold necklaces for mom and daughter!
I love these super cute, yet comfy Steve Madden sandals. I'm going to have to get myself a pair!
Pretty bath bombs to give mom some relaxation!
New pajamas are always on mom's list, and these are perfect for warm summer nights.
Get skin summer ready with a coconut and rose hydrating body polish.
If you're like me, you go through headphones like candy. These are top rated and rose gold!
I hope my Mother's Day picks gave you some fun ideas, and whether you are a mom, grandma, pet mom, mom-to-be, or anything in between… I hope you are loved and celebrated and appreciated on Mother's Day! xoxo
Note: Some of the links in this post are affiliate links, which allows me to make a small commission from your purchase, but your purchase price stays the same. When you use these links, I'm able to keep this blog going and make it better, so thank you from the bottom of my heart for support!