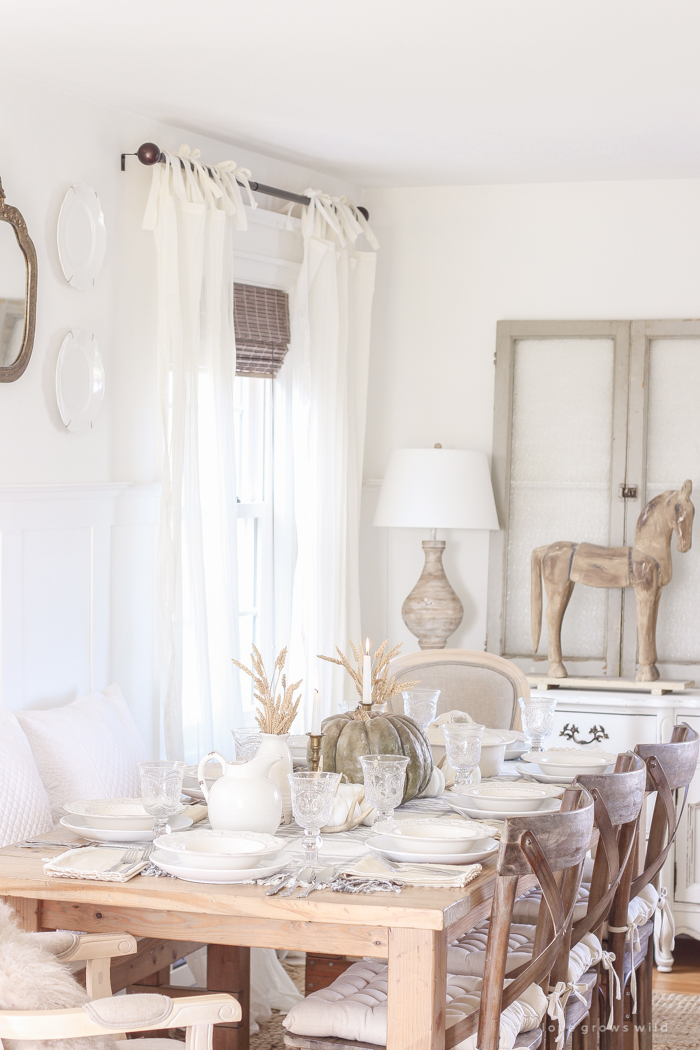 Now that Thanksgiving is just a couple short weeks away, my mind is set on turkey and pumpkin pie and spending time with family and making our home feel extra cozy for this special time of year. I love coming up with new ways to decorate our table for the big Thanksgiving feast, and this year I wanted to go with something that would be easy to put together and look special for the holiday without feeling overly fussy. I came up with this cozy, neutral fall-inspired tablescape that I absolutely love, and I wanted to share a few table decorating tips with you since Thanksgiving is right around the corner! I mixed some of my staples like simple round white plates and silverware with a few elements to give the table that wow factor, and I found the most beautiful ivory soup bowls and decorative glasses at Stein Mart while I was out shopping the other day. These were the perfect addition to add some elegance to the table and make my friends and family feel extra special! Let's dive into the details so I can show you how simple this table was to create…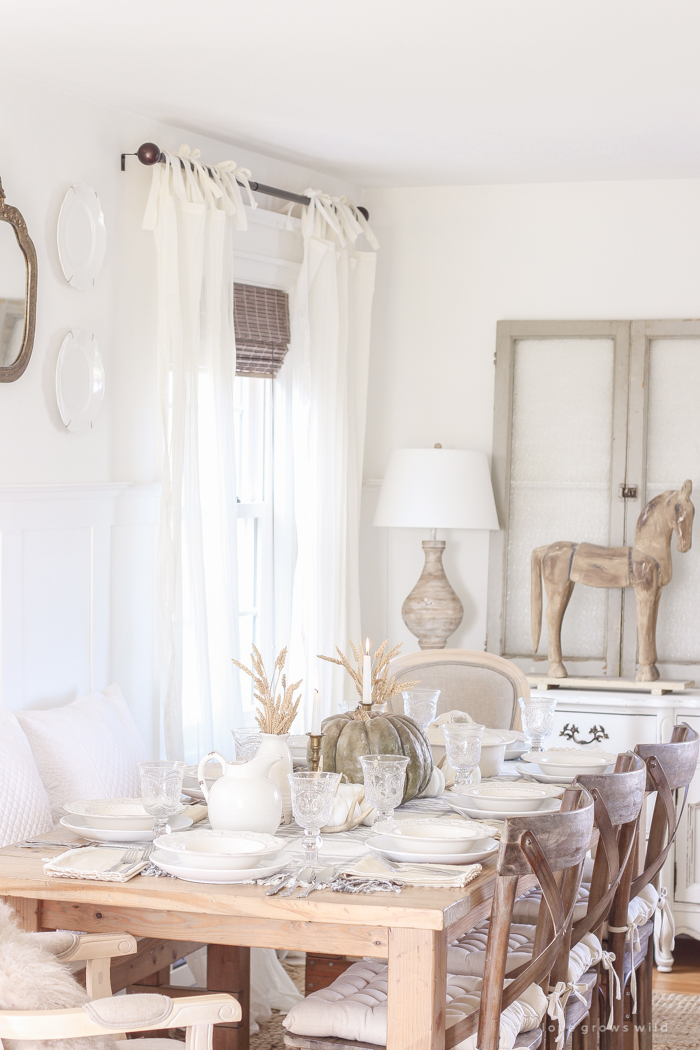 I started with the table linens and decided on using a table runner of sorts instead of a full tablecloth to keep the look more simple and less formal. This farmhouse table I built is SO large (which I love for seating all our family!), and it's hard to find the right size table linens to fit it completely. So I improvised and grabbed one of my favorite fall blankets to use as the table runner! It is still shorter than the table, but I love that you can see that beautiful wood underneath the fabric. The gray and white plaid design gives the table a pop of pattern, and the fringe details on the ends are fun too. When I can't find what I'm looking for or don't want to spend extra money, shopping the house is a great way to think outside of the box and make use of what I have!
Speaking of using what I have… this year I was able to find some of the most beautiful pumpkins I've ever seen at a local farmer's market and used them on my fall patio that I shared here a few weeks ago. When I was trying to come up with a centerpiece idea, I realized one of those gorgeous pumpkins was all I needed! I picked out my favorite that was this smoky green color and set it right in the center of the table. To continue the cozy fall theme, I added some small white faux pumpkins, antlers, wheat stems in a vase, and candlesticks on either side of the pumpkin, which filled out the table beautifully. Again, all of these I already had around the house!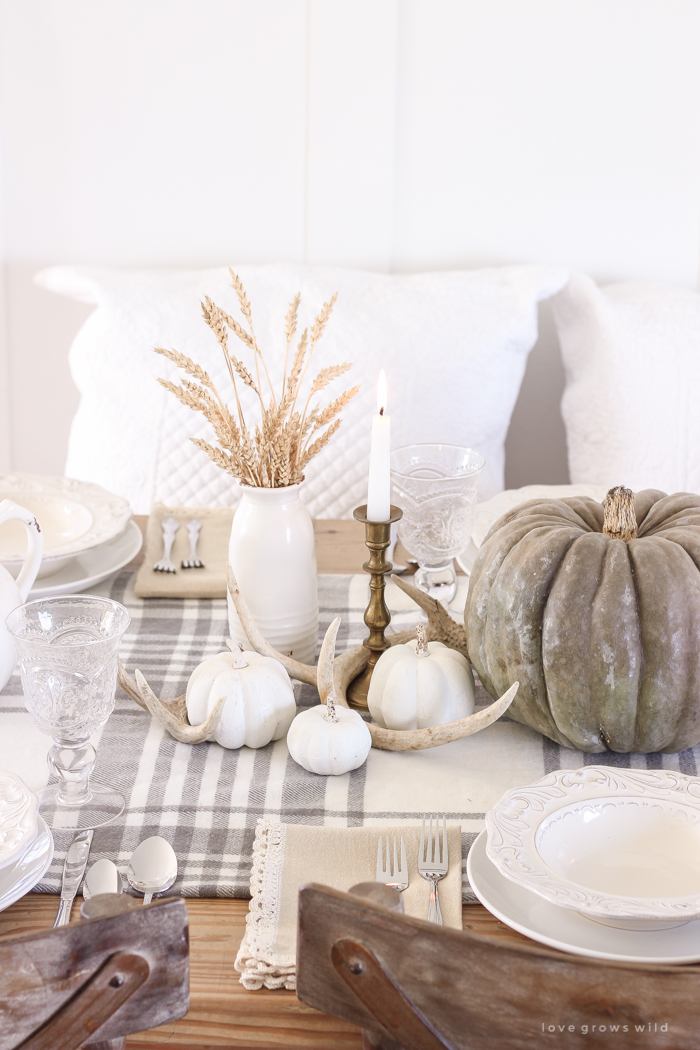 For the table settings, I layered my new ivory bowls from Stein Mart on top of round white plates that I already had and added my monogram silverware, these gorgeous Stein Mart glasses, and neutral, crochet-edged napkins. I love the way the details on the edge of the bowls match the gray plaid in the blanket… so much lovely texture and pattern when it all comes together!
I also bought an ivory covered baking dish that matches the soup bowls, and I love that it obviously can be used to serve some of that yummy Thanksgiving food, but also looks gorgeous sitting out on the table too! I am seriously considering going back to Stein Mart to pick of more of these Firenze Ivory pieces, and it was so hard not to fill my cart up with the beautiful mugs, platters, and pitchers while I was there! Next time maybe. I also had my eye on some lamps, pillows, and bedding in their home section, so I have a feeling I will be back soon!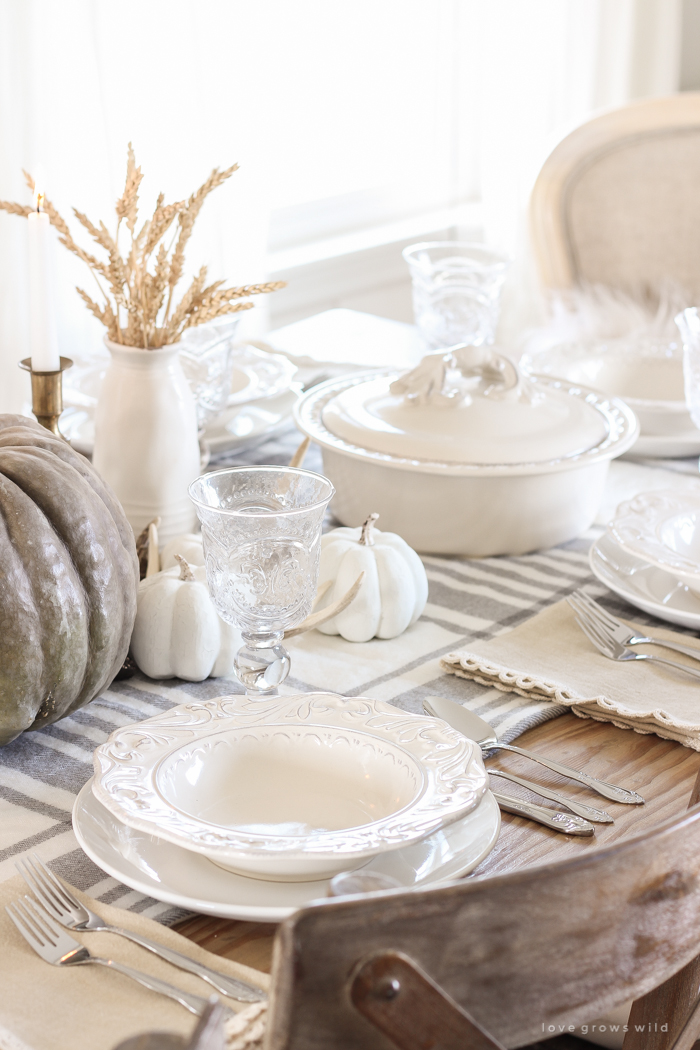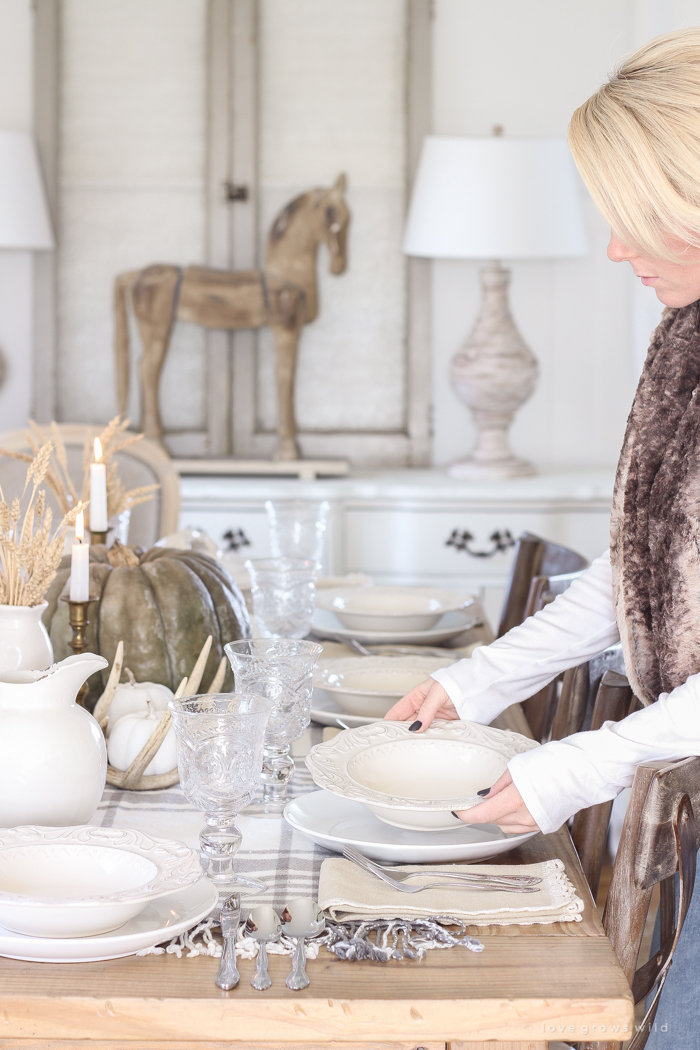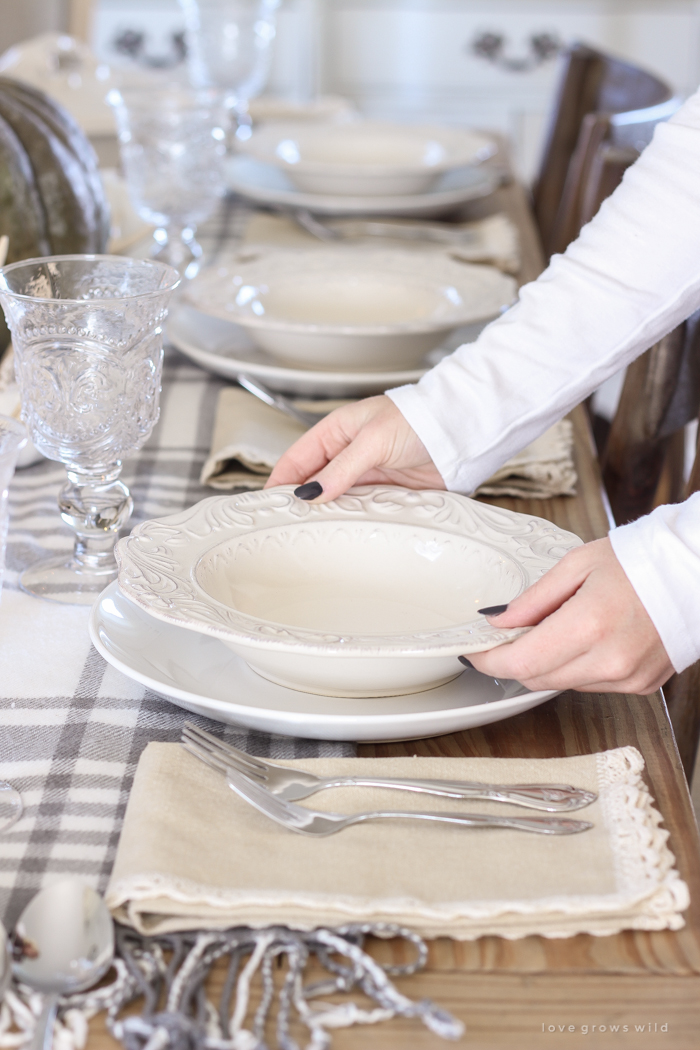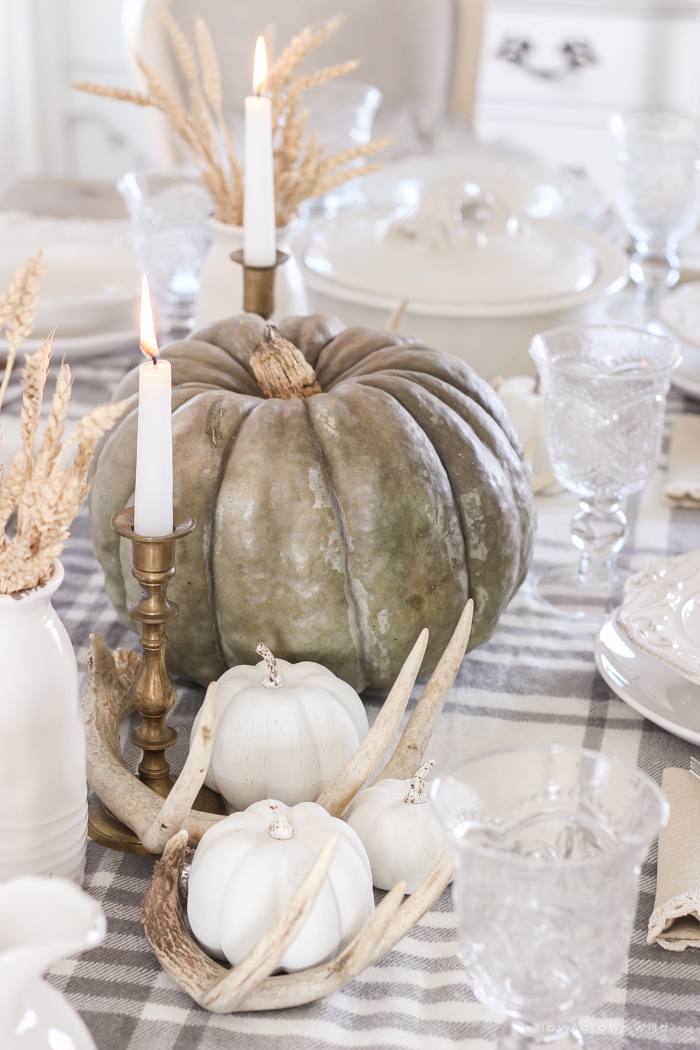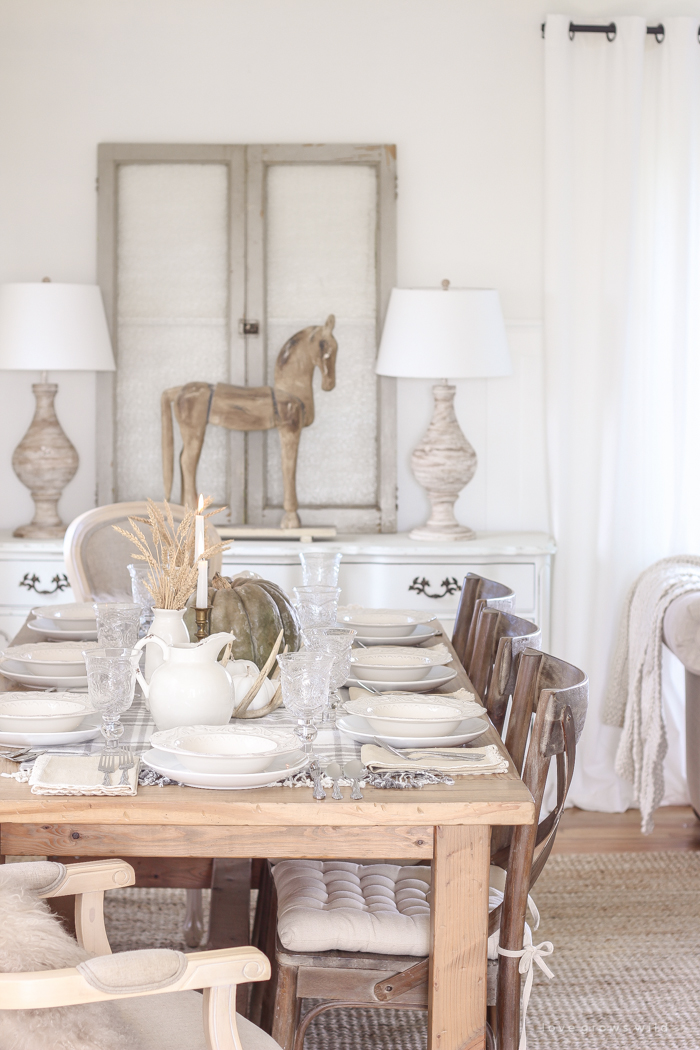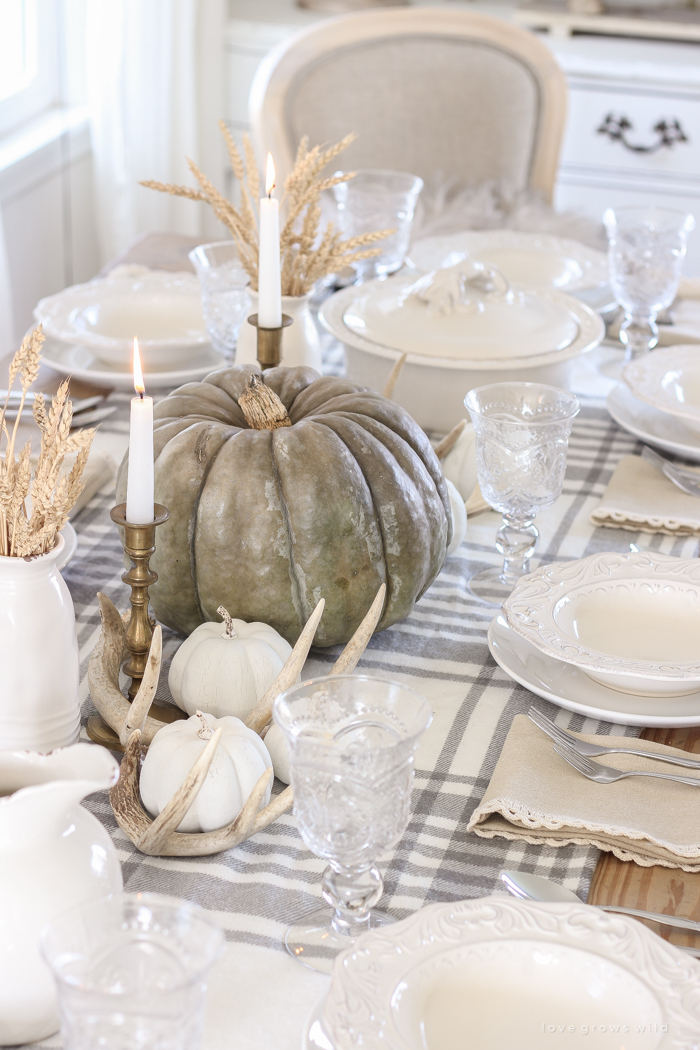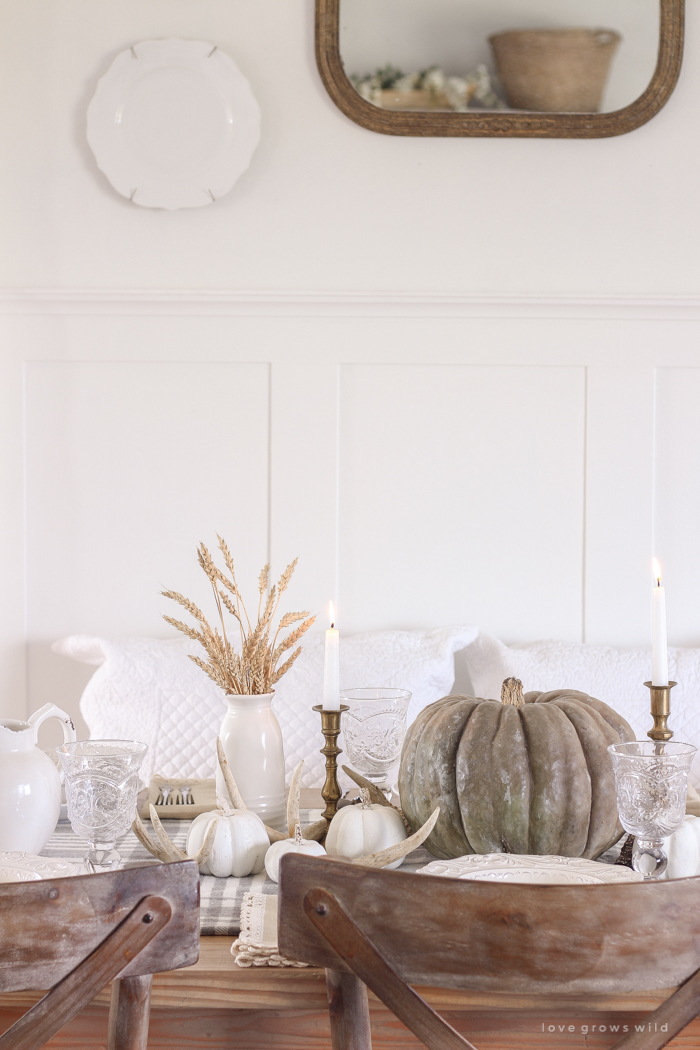 I love the combination of rustic natural elements like the antlers, wheat and pumpkins…
the coziness of the plaid blanket and candlelight…
and the simple elegance of the dishes and glassware…
It all comes together to create a beautiful tablescape for our family to gather around this Thanksgiving.
I even picked out my outfit already, which somewhat goes with the theme of the table… I know, I couldn't help myself! I fell in love with this faux fur vest at Stein Mart, and paired with a simple white shirt, jeans, and a cute pair of boots, I think this fits right in with the rustic, natural, cozy vibe. Stein Mart had a great selection of sweaters and dresses and outfit options for the holidays, along with tons of accessories like purses, scarves and jewelry. But after coming up with my ideas for styling the table, this cute, cozy vest fit right in with my selections!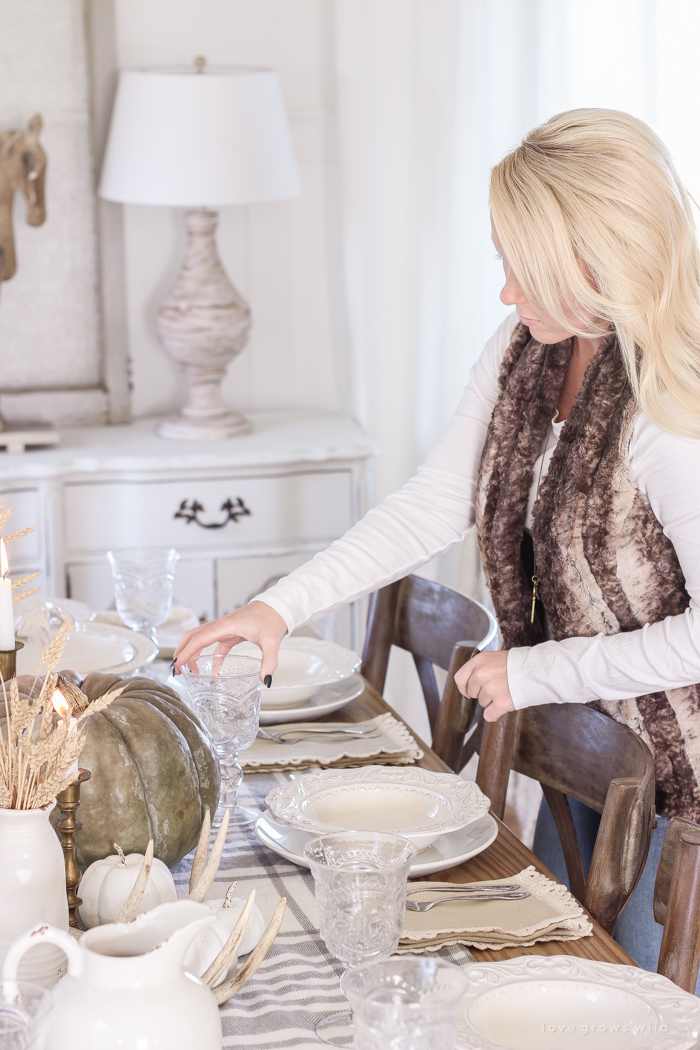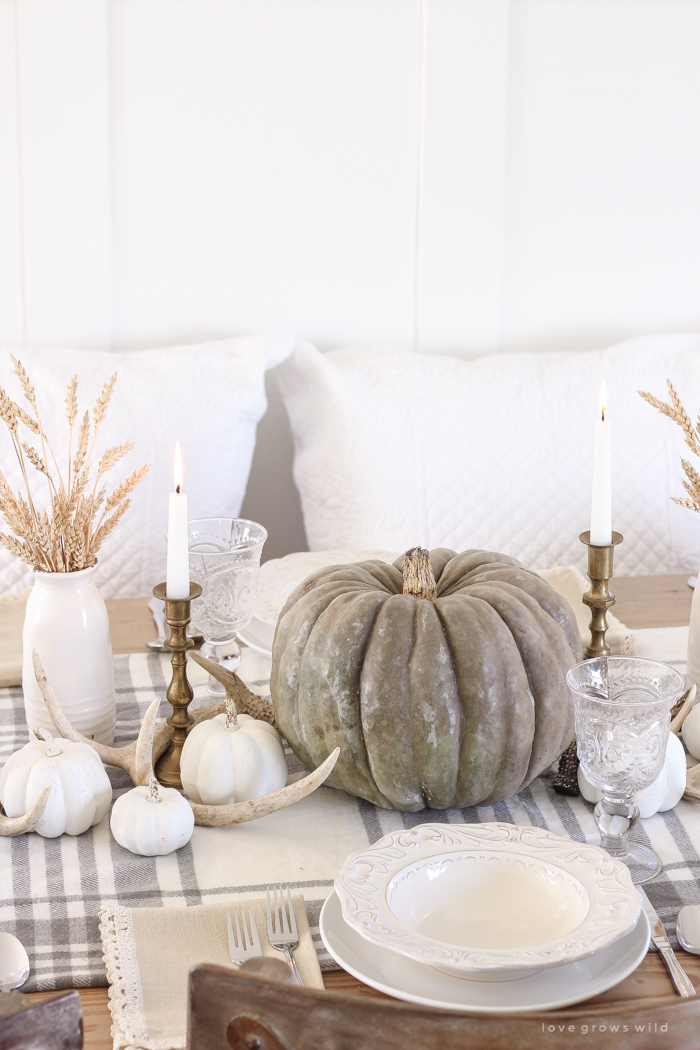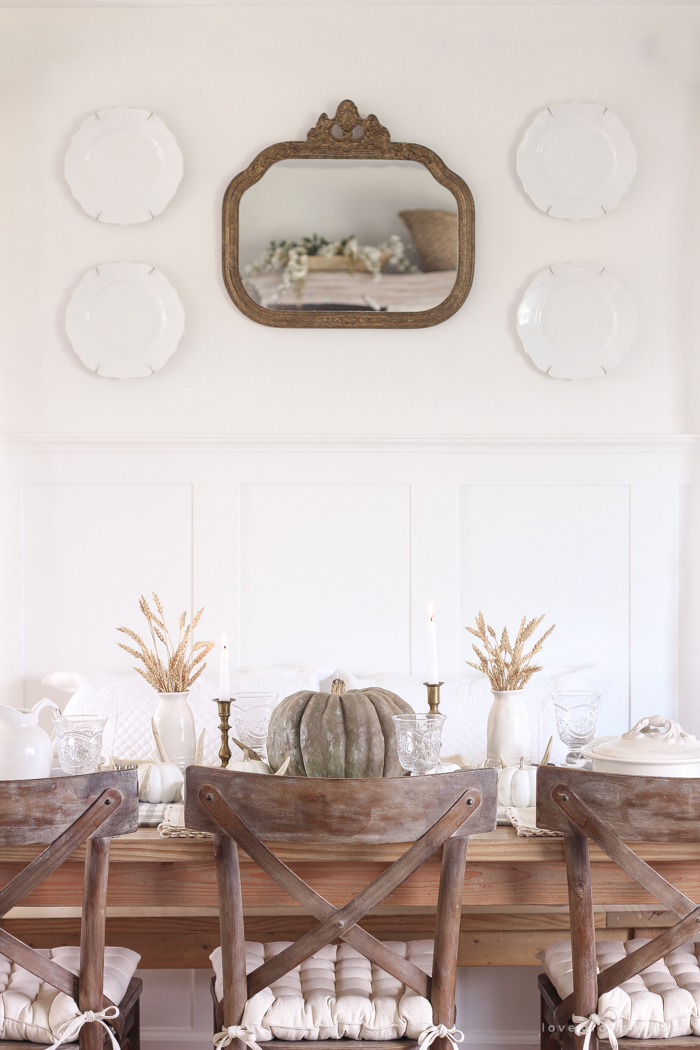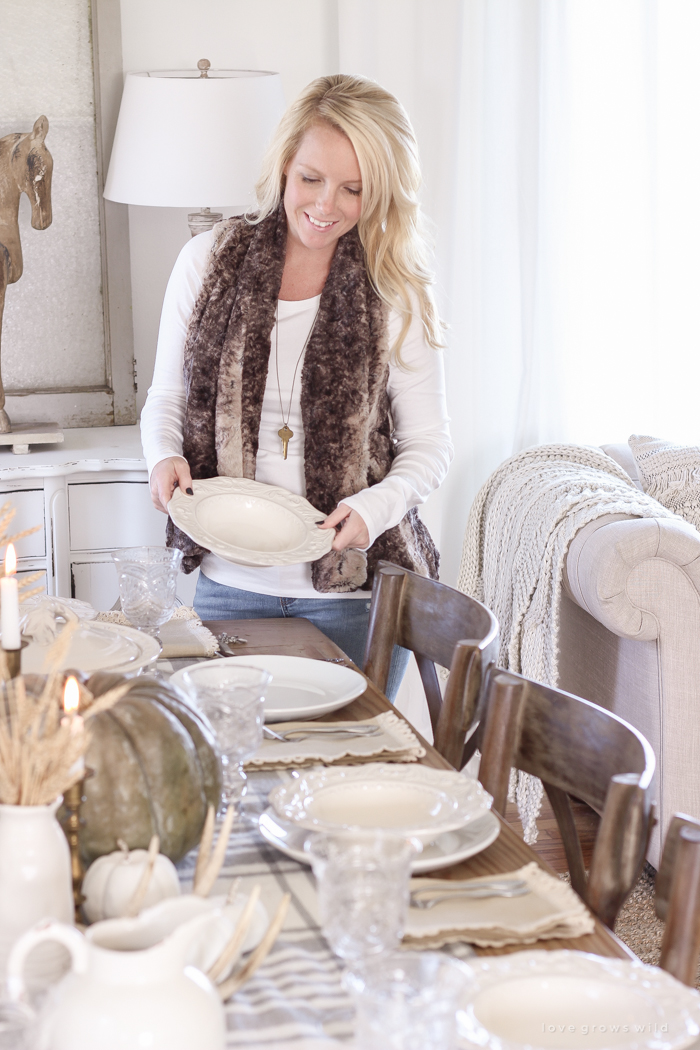 Now that the decorating is done, all I have left to focus on is the food! I hope you found some great ideas and tips for decorating your table this Thanksgiving, and be sure to stop by Stein Mart for all your holiday needs!
This is a sponsored conversation written by me on behalf of Stein Mart. The opinions and text are all mine. Thank you for supporting the brands that make this blog possible!

---
LET'S KEEP IN TOUCH!
---
Subscribe to Blog | Follow on Instagram
Follow on Pinterest | Follow on Facebook