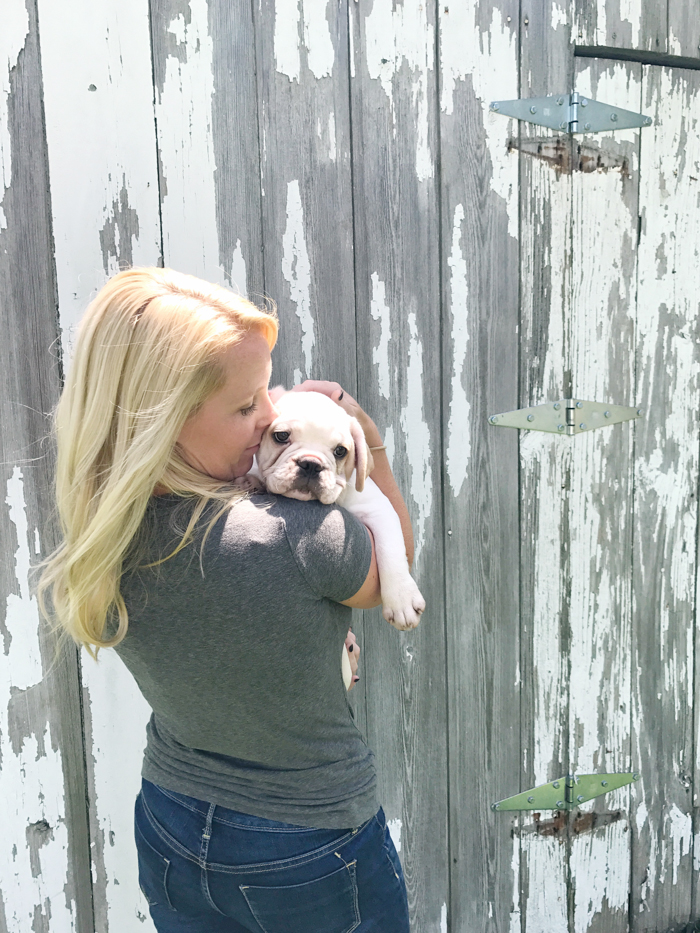 This has been a year of big changes for our family, and life just got a whole lot more exciting around here when we brought home a four month old French bulldog puppy to the farmhouse! Meet the happiest, laziest, cutest little guy you've ever laid eyes on…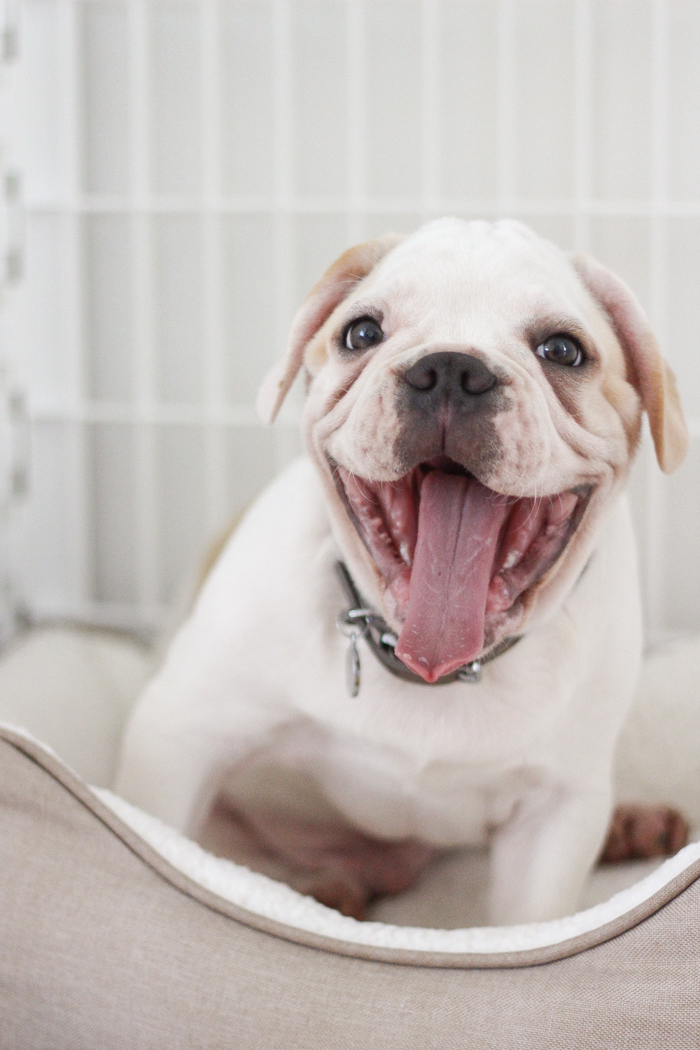 I have been dreaming of a sweet, little French bulldog for so long, and I can hardly believe he's here with us now. Let me rewind and tell you the whole story from the beginning of how this little guy found his way to the farmhouse. Earlier this year our 12 year old cocker spaniel's health started to rapidly decline, and after many tears and trips to the vet, I had to make the decision to end his misery and put him to sleep. He's been in my life since I was a young pup myself, and having him here with me through the divorce and on days when the boys are with their dad now made it much easier to get through the tough days. The boys wanted him buried in our backyard of course, and they even dug the hole for our sweet, old boy under a tiny peach tree where he liked to lay. I'm sure many of you can relate when I say that losing an animal is like losing a member of your family, and the house felt way too lonely and quiet after he was gone.
I always knew another dog would come into our lives when the time was right, but I had no idea how long that would be. Fast forward a few months, and I found myself Googling French bulldog puppies in our area. I told myself I was "just looking" to see if I was ready yet, but I think I knew deep down inside that my heart was ready to let another puppy in. I set up an appointment with the breeder, and the boys and I took a short road trip to meet a few pups we were interested in from photos we saw online.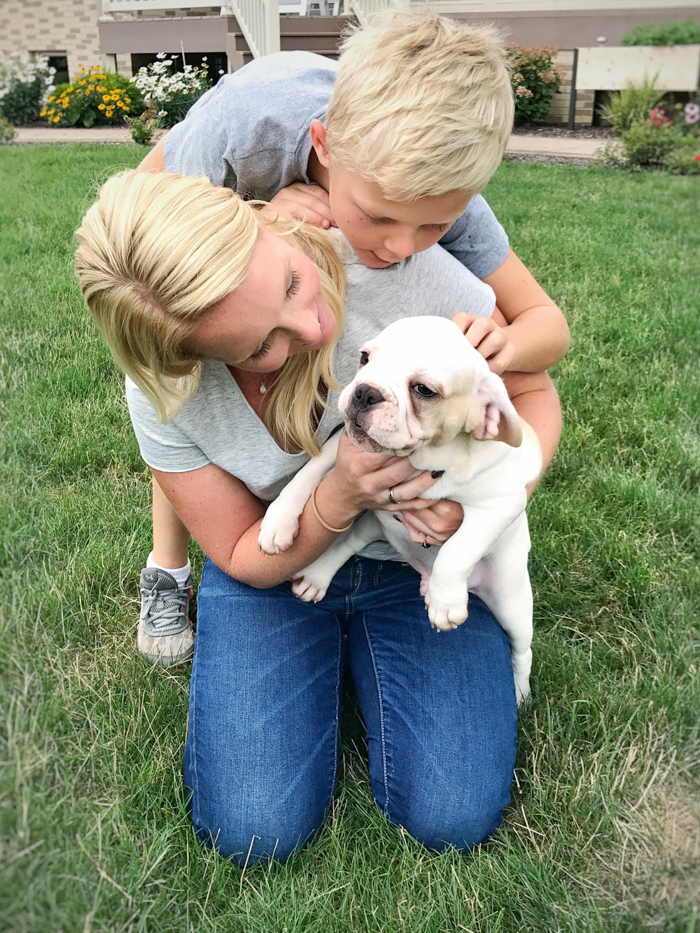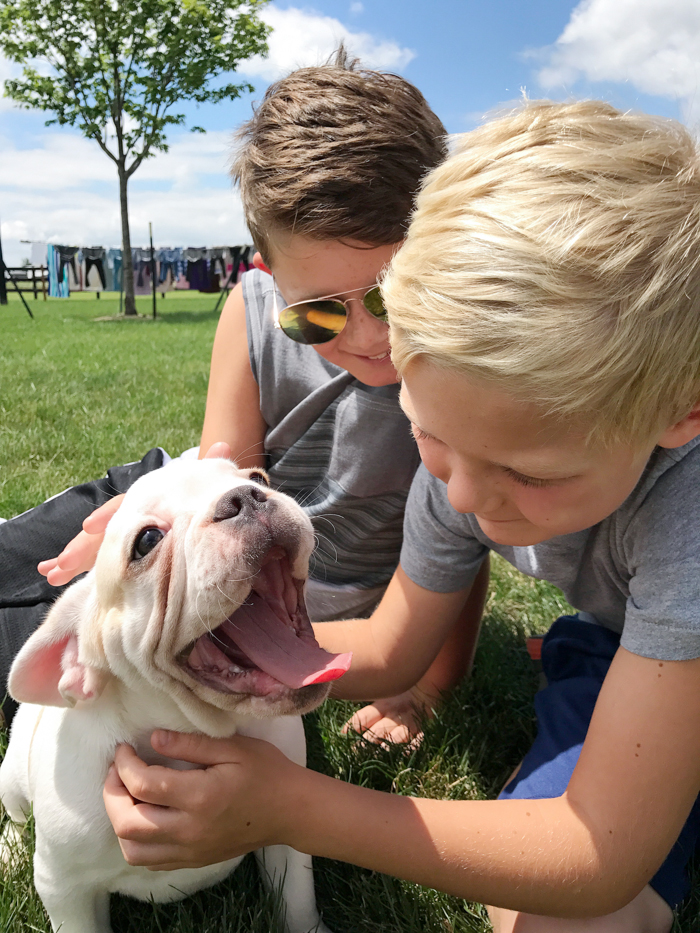 As we got out of the Jeep and walked up to the house, I instantly spotted the black and white Frenchie we had picked out. His name was Nick, and he was sitting next to one of his brothers that I hadn't seen before, a white Frenchie with tan spots. The breeder told us to play with them for a little while and see if we thought either of them would be a good match. Nick was very curious and ran all over the place sniffing and trying to escape. But the white puppy sat there calm as could be and just watched every move I made with the biggest puppy dog eyes. I don't think it took more than a few seconds of staring into each other's eyes to realize that I was completely in love with this little guy and wanted him to be part of our family. He was just SO sweet! The boys played with a few other pups just to be sure they thought the white one was the right choice, but I couldn't pull myself away from his soft, floppy ears, big yawns, or wet kisses.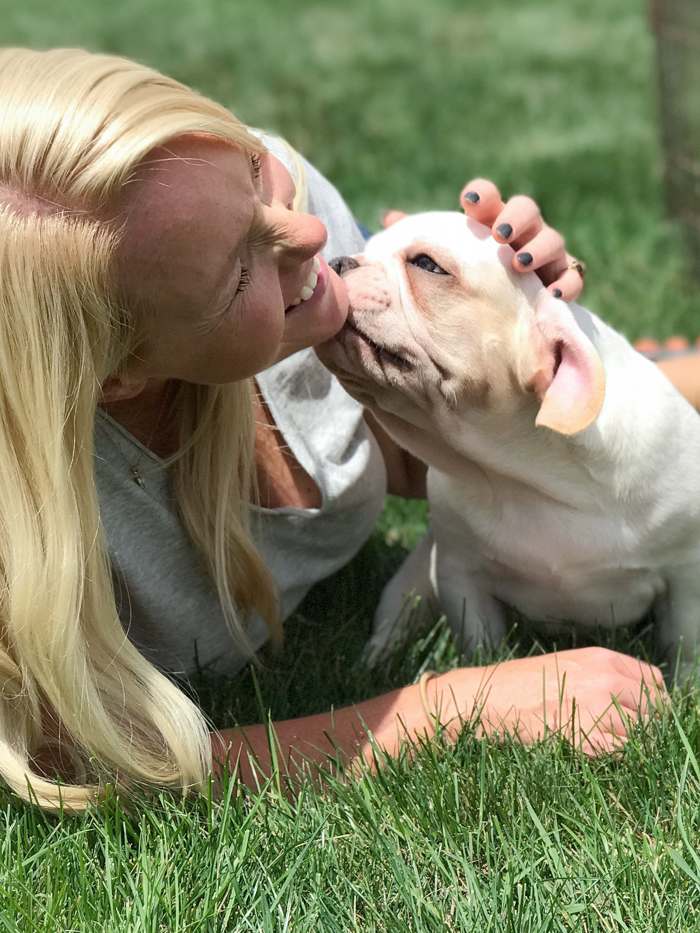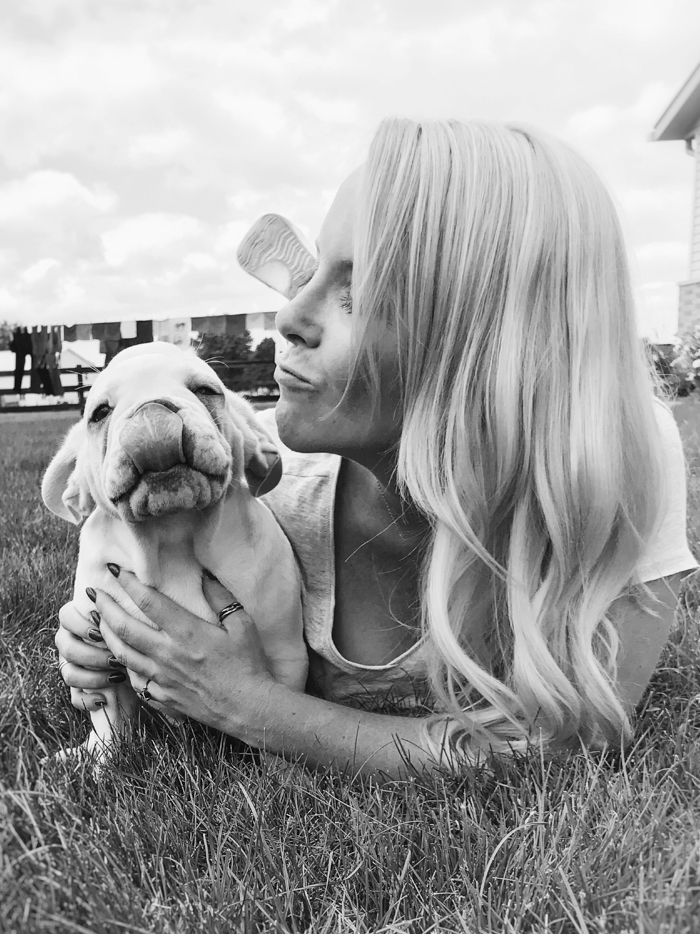 The breeder told us this particular puppy is actually 3/4 French bulldog and 1/4 beagle, and that the name they gave him was Gunnar. I had a whole list of dog names saved in my phone because I assumed we would want to pick our own, but as soon as he said Gunnar, the boys and I looked at each other and thought, PERFECT! He was so meant to be ours! We were getting ready to leave in just a few short days to head up to Silver Beach in Michigan for a last minute vacation before school started, and I knew we couldn't bring Gunnar home with us and turn around and leave him. That just wouldn't be fair. So we smothered him in enough hugs and kisses to last a week and promised we would come back to bring him to his forever home very soon!
It broke my heart driving away from that sweet face we just fell head-over-heels in love with, but I knew we needed a few days to get the house and ourselves ready for a puppy anyway. I studied up on puppy training, shopped the pet store for everything he would need (plus a few things he probably wouldn't… like a bow tie), and patiently waited till I could go pick our boy up and bring him home.
When we came back to get him, he was much more animated and seemed excited to see us! Maybe he remembered us and maybe he didn't, but either way he already felt like a part of our family.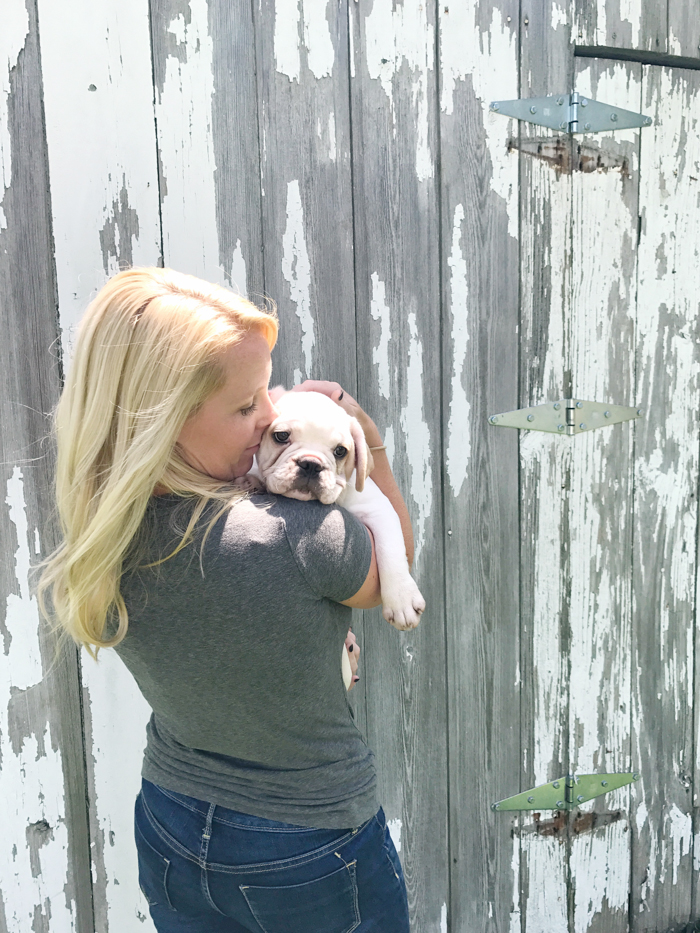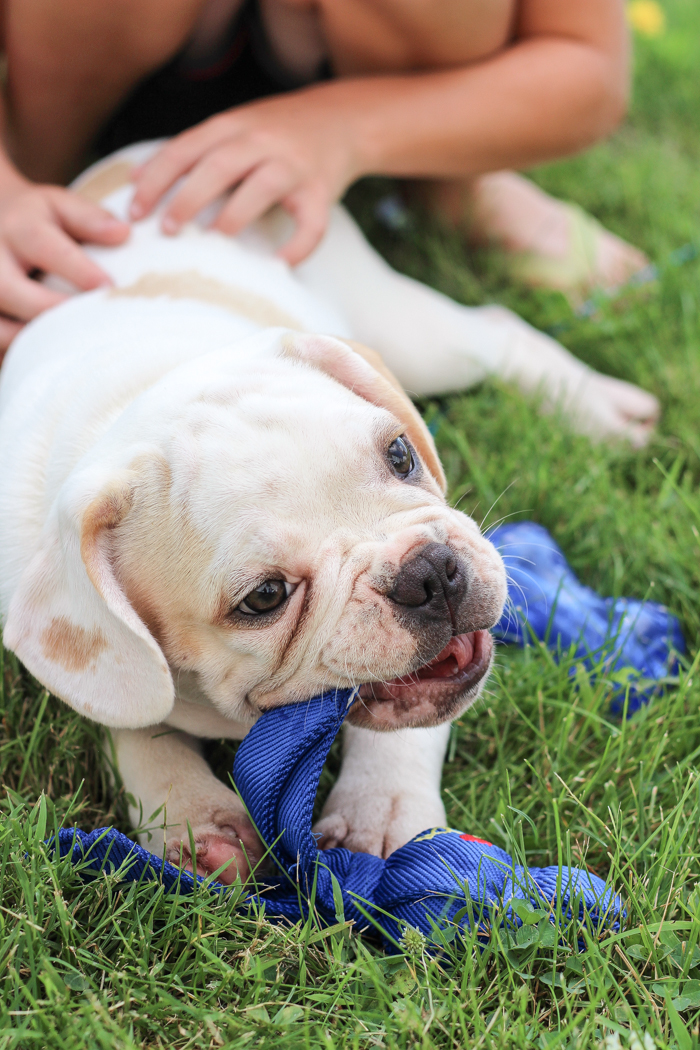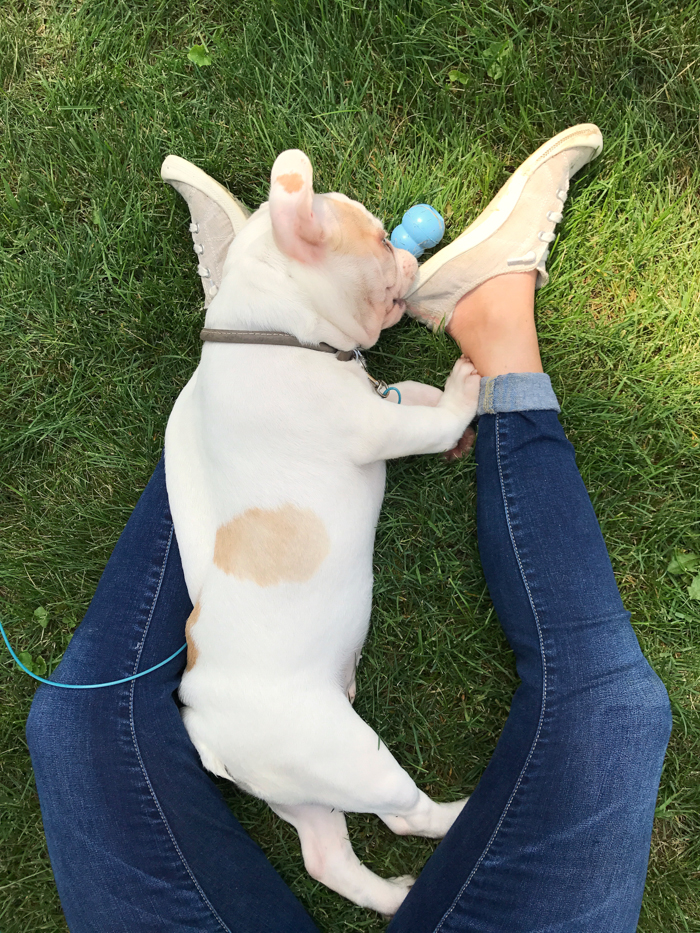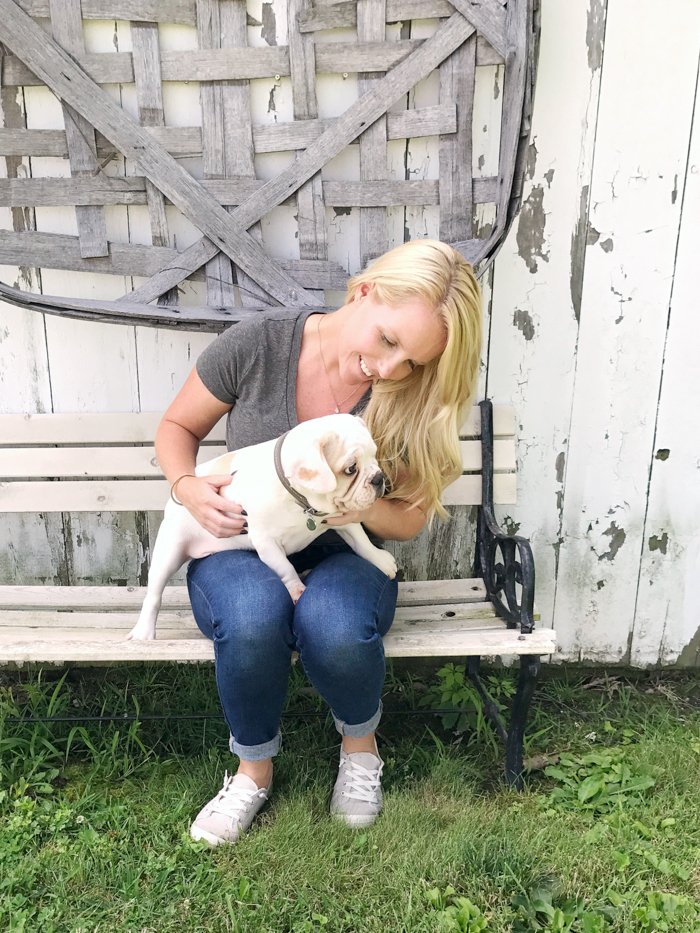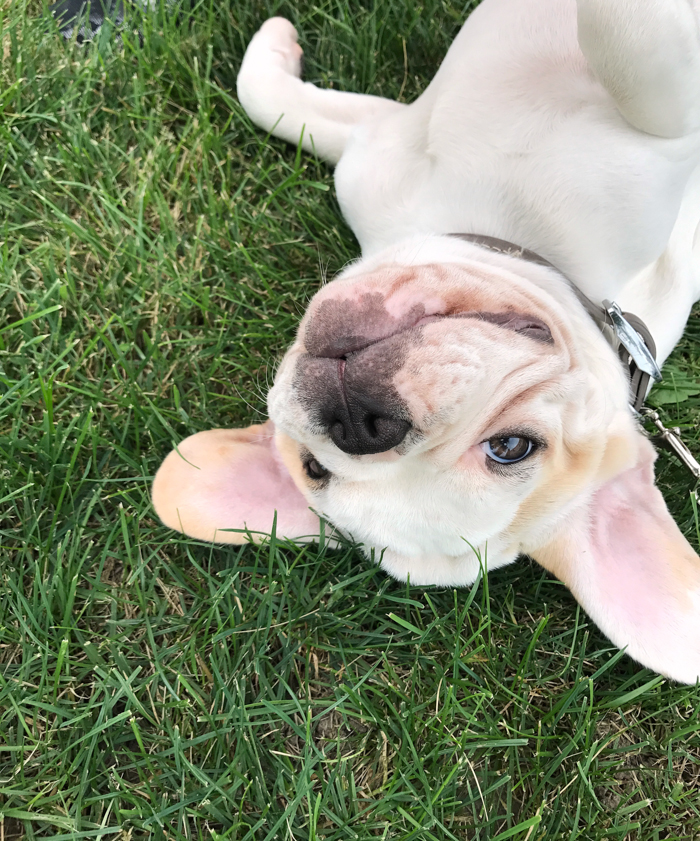 The first few days having Gunnar home required a lot of attention and adjustments. He was very nervous and had to get used to his new surroundings. His short legs wouldn't allow him to get up and down the back steps to go outside and certainly not upstairs where he would sleep at night. He was too busy exploring to eat his food, and even though he did a good job going potty outside when we let him (actually, CARRIED him) out, he did have a few accidents in the house when we weren't looking. But he also loved puppy naps and snuggles and following the boys and I everywhere we went.
It didn't take more than a few days for all of us to get used to our new routine, and Gunnar now is brave enough to jump up the steps and happily eats when we put out his food. He is obsessed with the toys we picked out for him, and he's learning to chew on those instead of rugs, pillows, shoes and blankets. Gunnar is extremely laid back and doesn't whine at all when we have to put him in his crate when we're gone or if we're busy with dinner or homework and can't watch him closely. Since he's only four months old, naps are still a huge priority for our little guy, but I've heard that French bulldogs can be pretty lazy by nature too. I don't mind one bit because he makes a great snuggle buddy to watch tv with in the evenings! But when Gunnar is feeling frisky and gets a burst of energy, he will run as fast as his little legs will take him around the house or the yard until his legs can't keep up with the momentum and he does a tumbling front flip.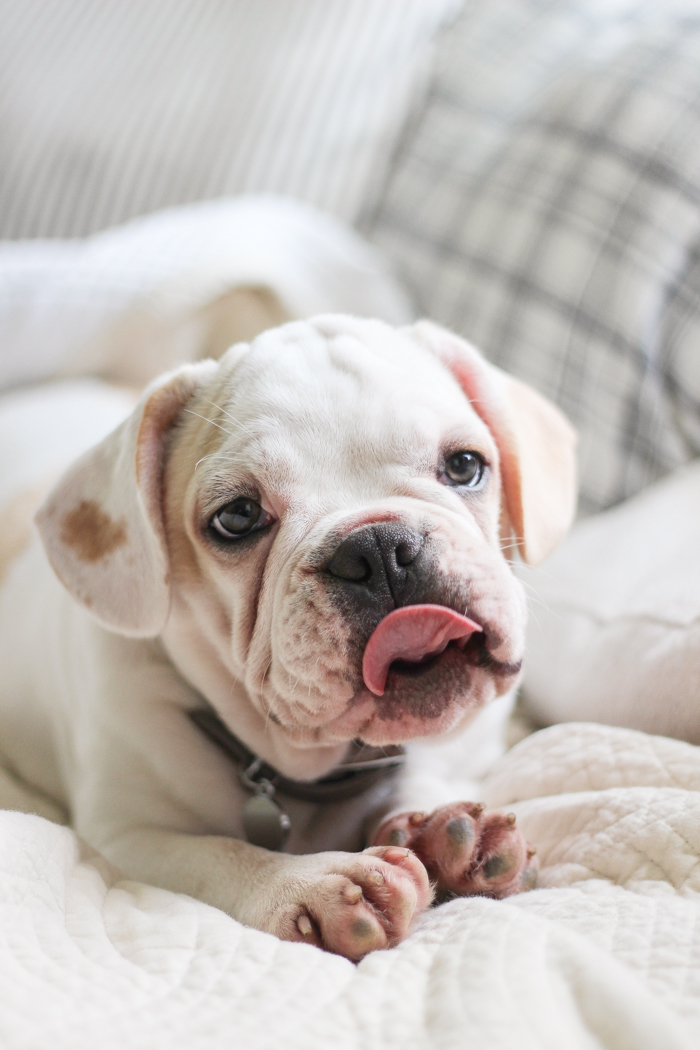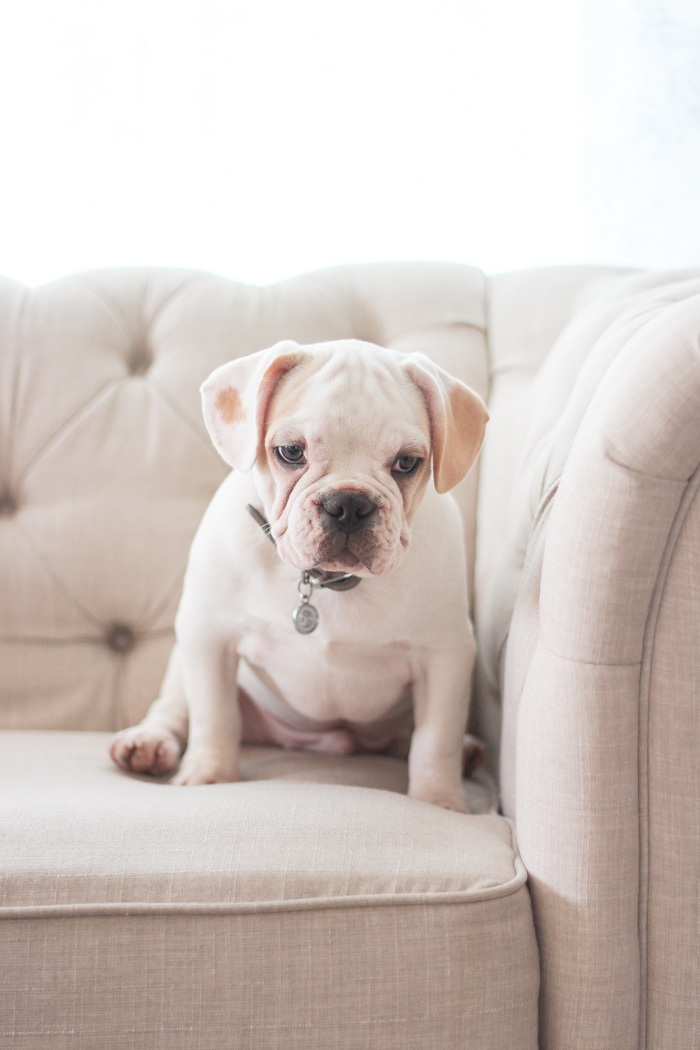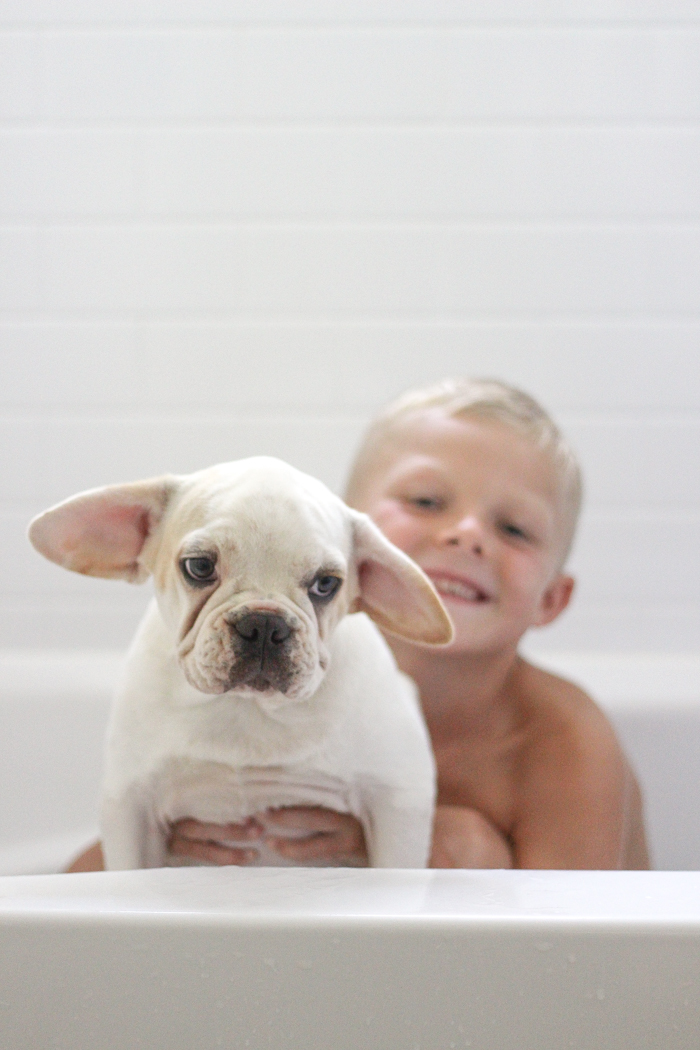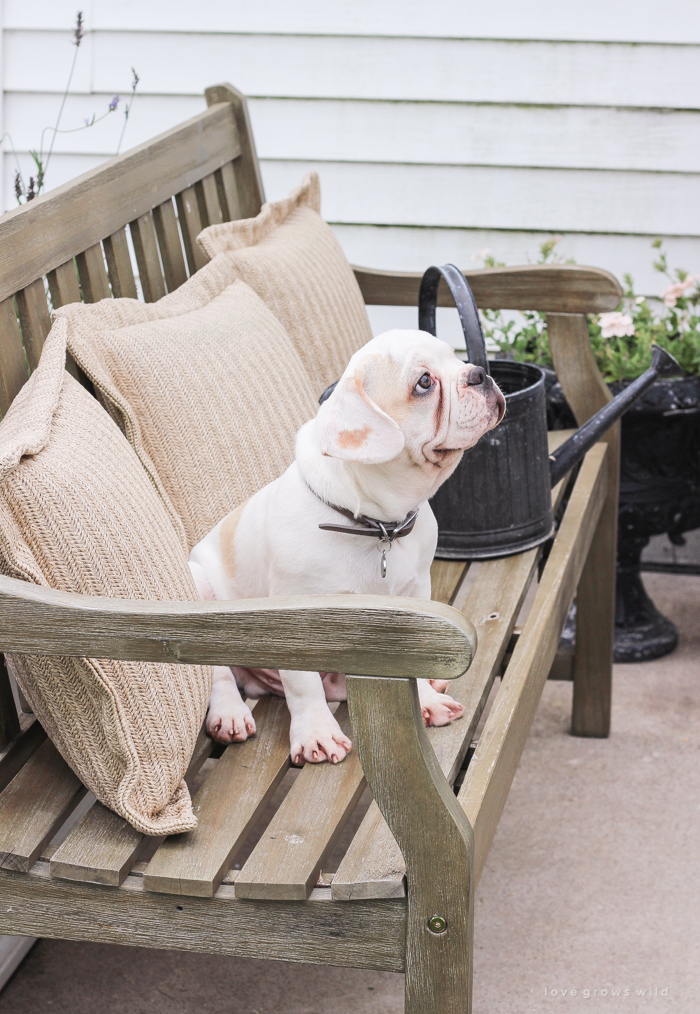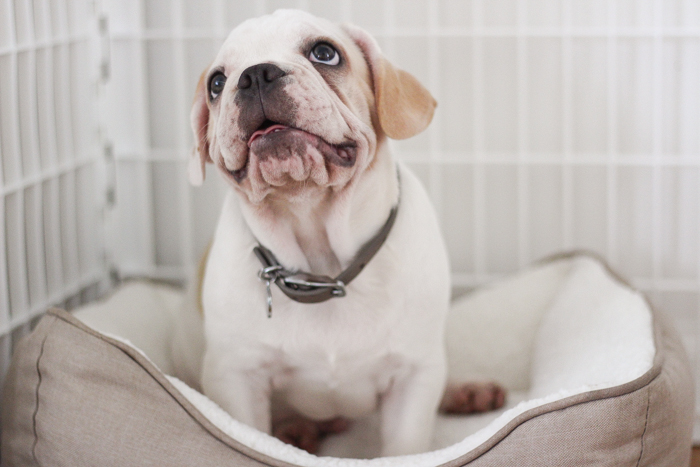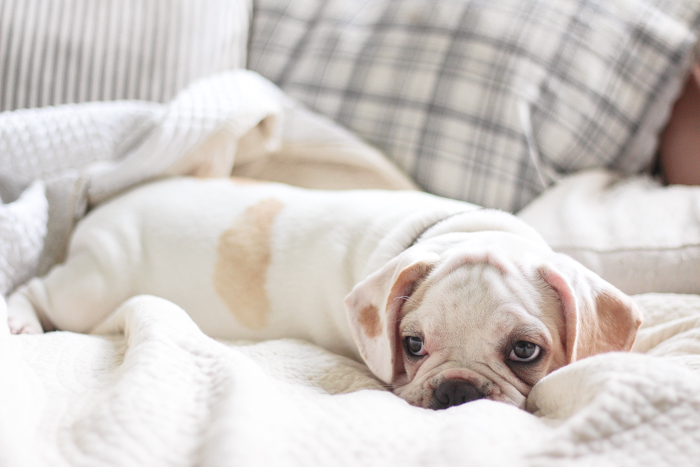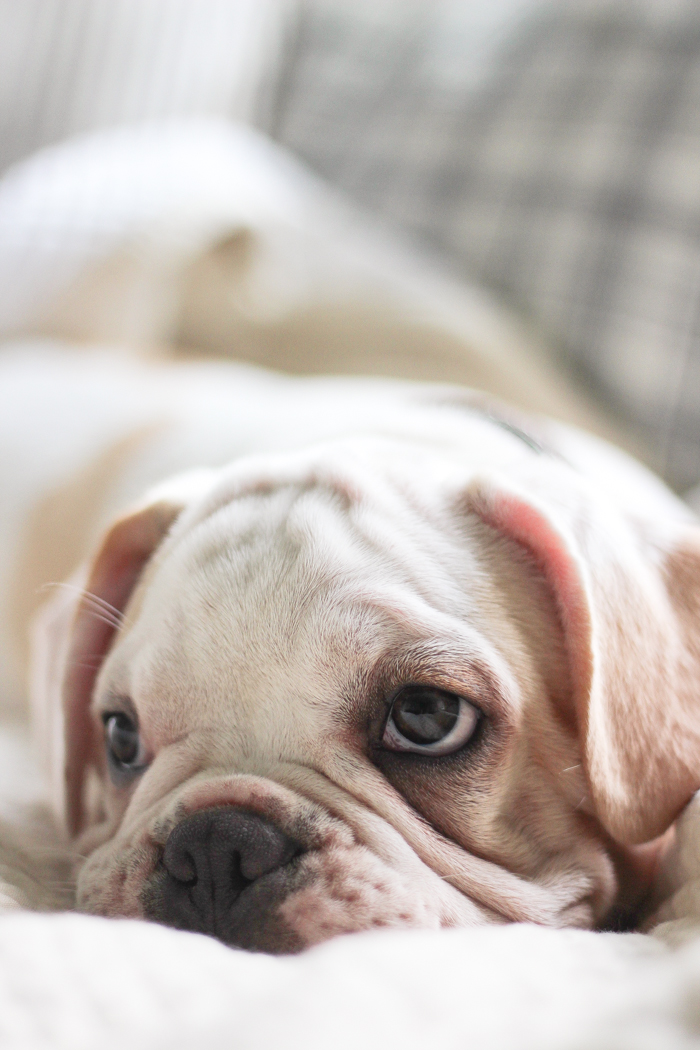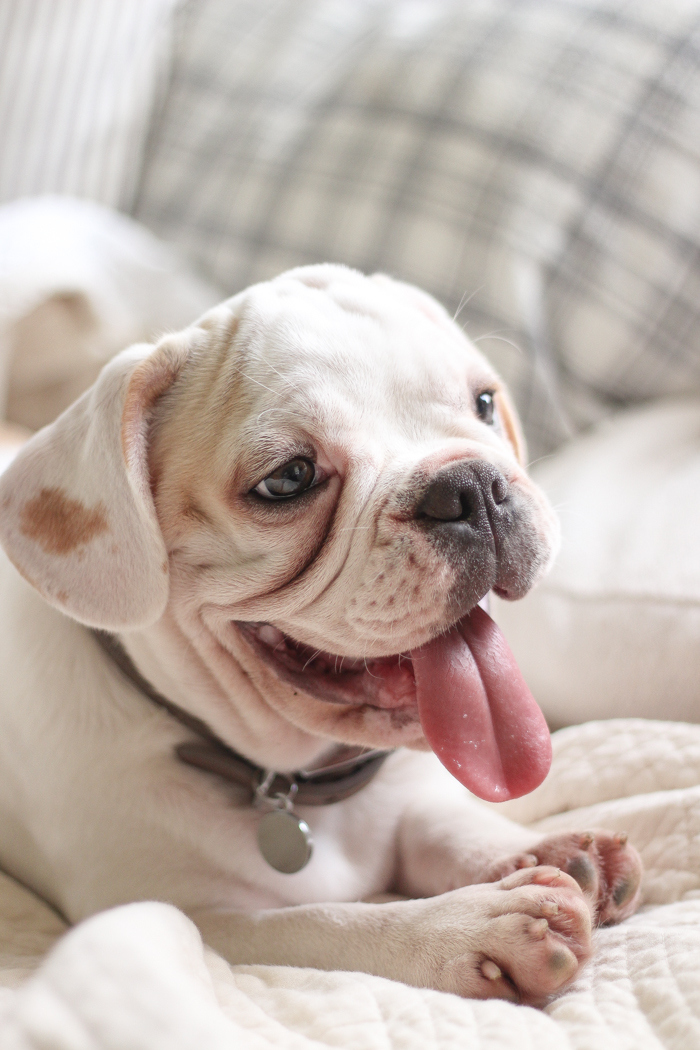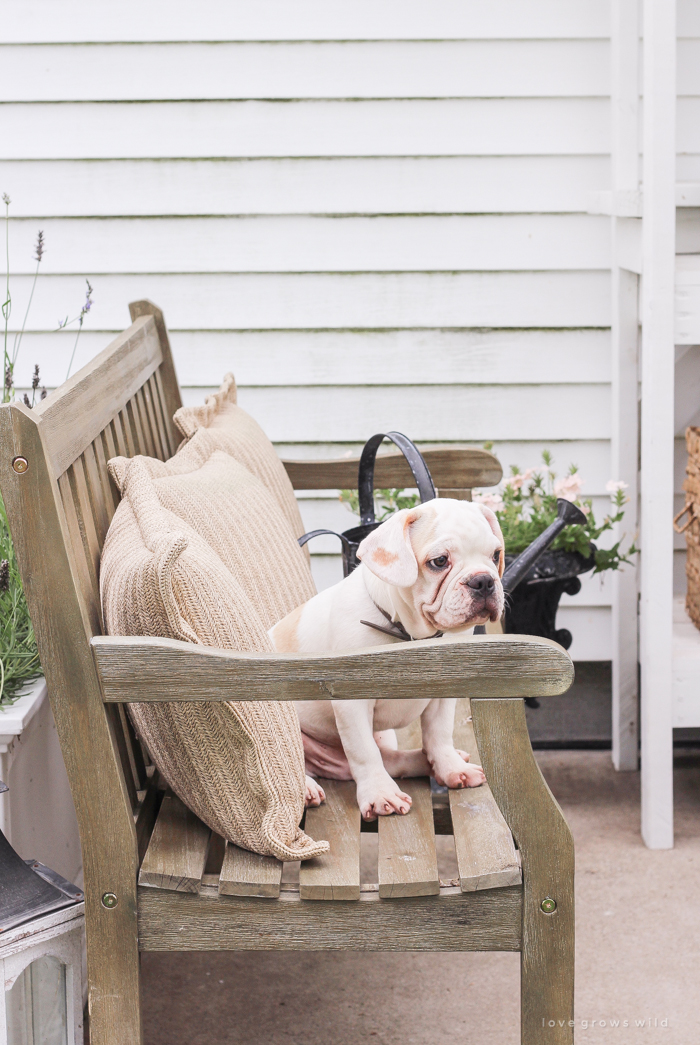 In a nutshell, Gunnar is absolutely perfect, and I feel like we needed him even more than he needed us. The boys can't wait to get off the bus every day and play with him. I know they missed having a dog here so much. He's my little buddy when the boys are gone and never lets me get far from his sight. He makes me laugh and smile and fills the loneliness that was in my heart, and I hope you guys look forward to plenty of puppy pictures here on the blog and even more on Instagram!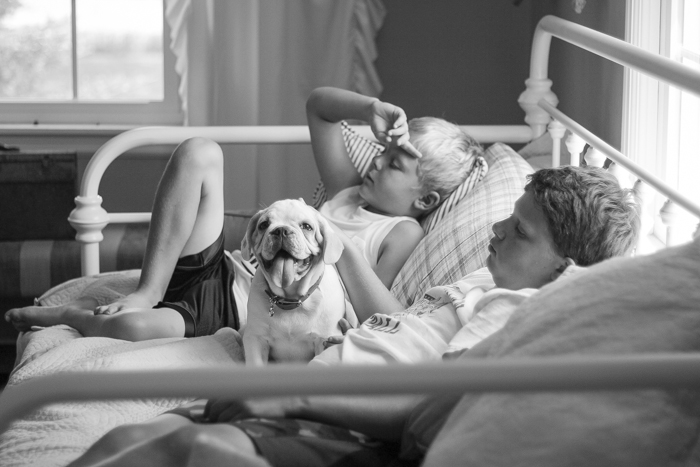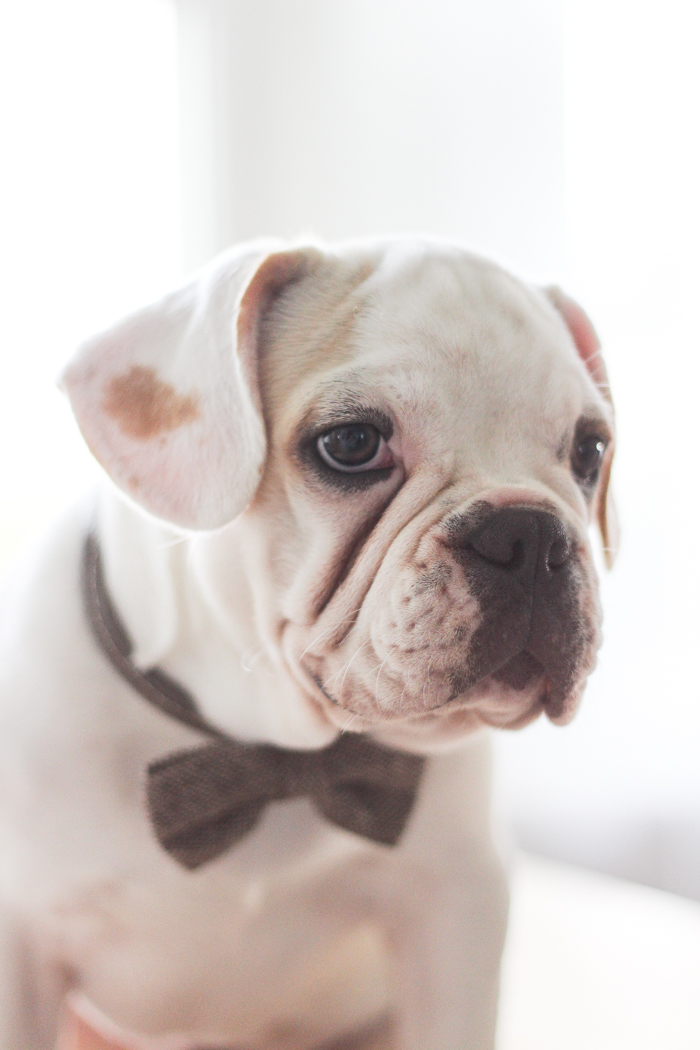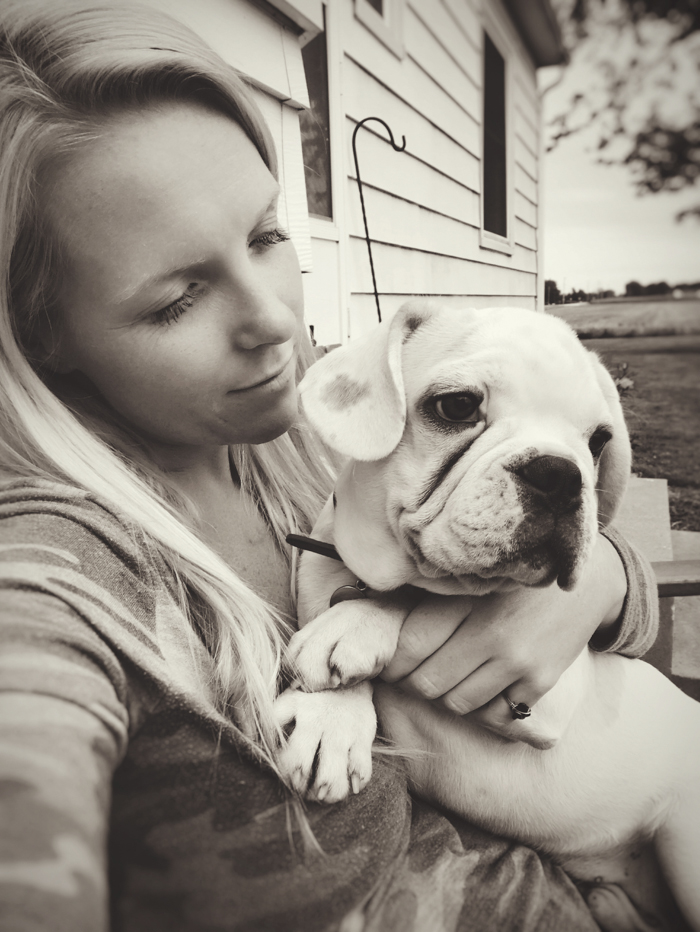 Welcome home, Gunnar boy.

---
---
Subscribe to Blog | Follow on Instagram
Follow on Pinterest | Follow on Facebook