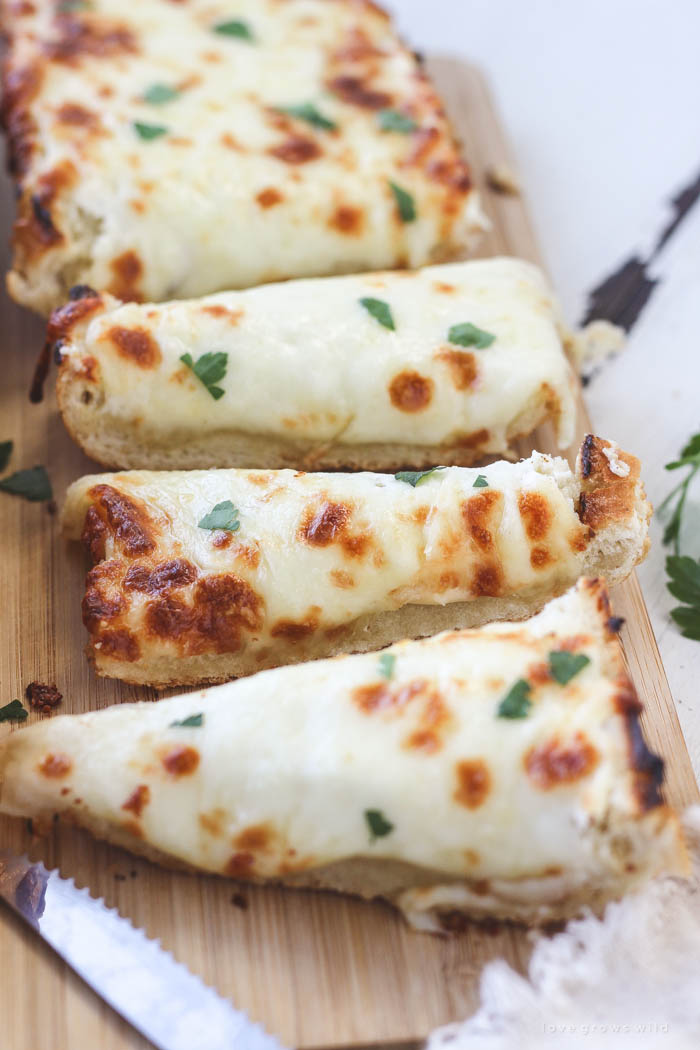 Delicious cheesy garlic bread that is perfectly crusty on the outside and soft and tender on the inside! Find out my secret ingredient for the BEST cheesy garlic bread you've ever tasted!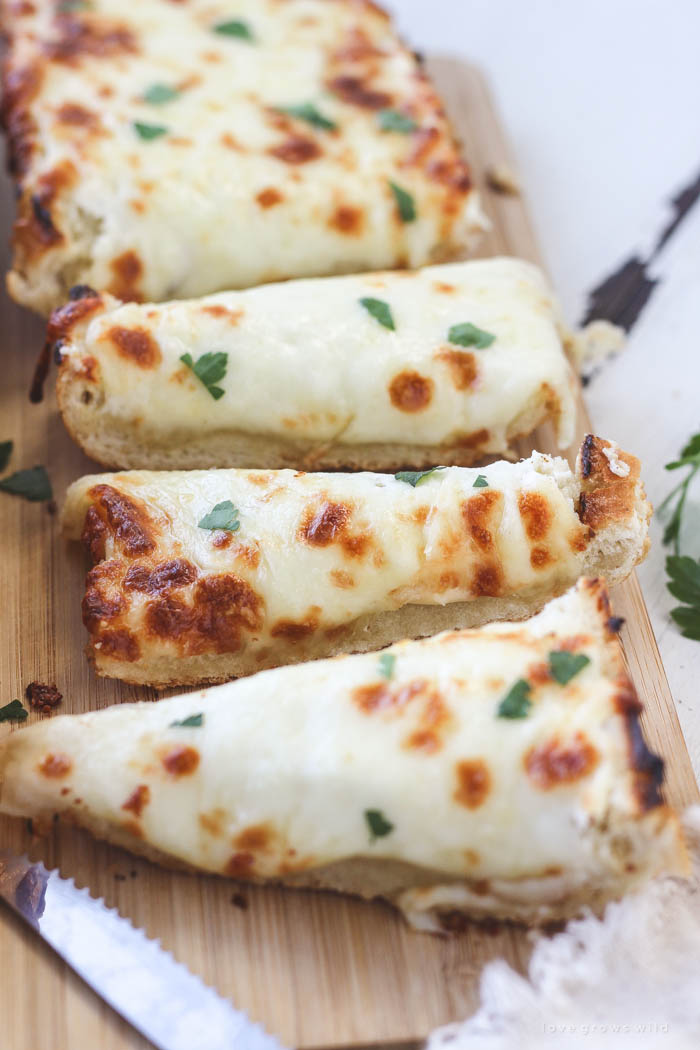 Hold the phone… is November really already halfway over? It seems like just yesterday the farmhouse was filled with jack-o-lanterns and Halloween candy, and now I'm getting all the Christmas decorations out! Yes, I know it's still WAY early for Christmas stuff, but in order to have holiday posts ready for the blog in time, I have to give myself a few extra weeks. Holiday decorating is a process for me… one day I'll work on our big tree in the living room… the next day I'll work on our front porch… then I'll do the smaller stuff around the house.
Luckily, we don't host Thanksgiving at our house, so I can get started on our Christmas stuff as early as I need to. Jeremy's only request is it has to be AFTER Halloween and nothing outdoors until after Thanksgiving. I think he's worried that people driving by will think we're the Griswold's 2.0 or something. 🙂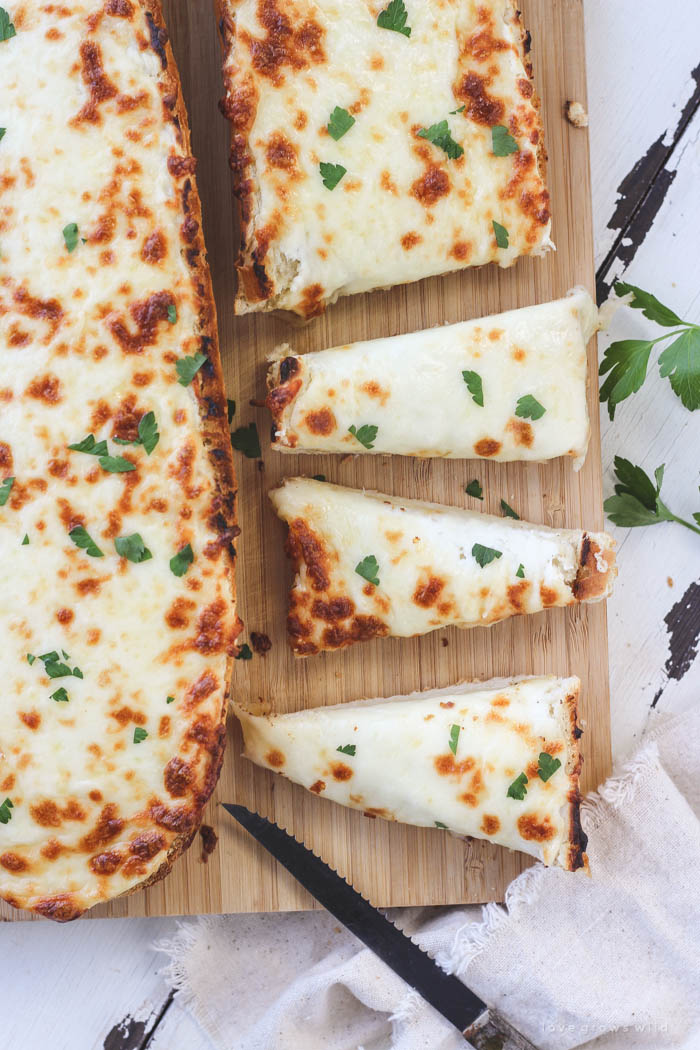 Anyway, between working on projects for the book and traveling to Chicago for the BlogHer Food Conference last week, November is just flying by. But I had SUCH a good time at the conference, you guys.
Over the last month, I've shared a few new recipes here on the blog as part of my partnership with the American Dairy Association Mideast, and the conference was the big culminating event where we served samples of my Hot Ham and Swiss Dip and Cauliflower Mac and Cheese Bites to anyone who stopped by the ADA Mideast booth. My sweet friend, Katrina, from In Katrina's Kitchen also served her Dessert Pizza Pinwheels and Honey Brie Bites with Candied Walnuts, which were absolutely divine!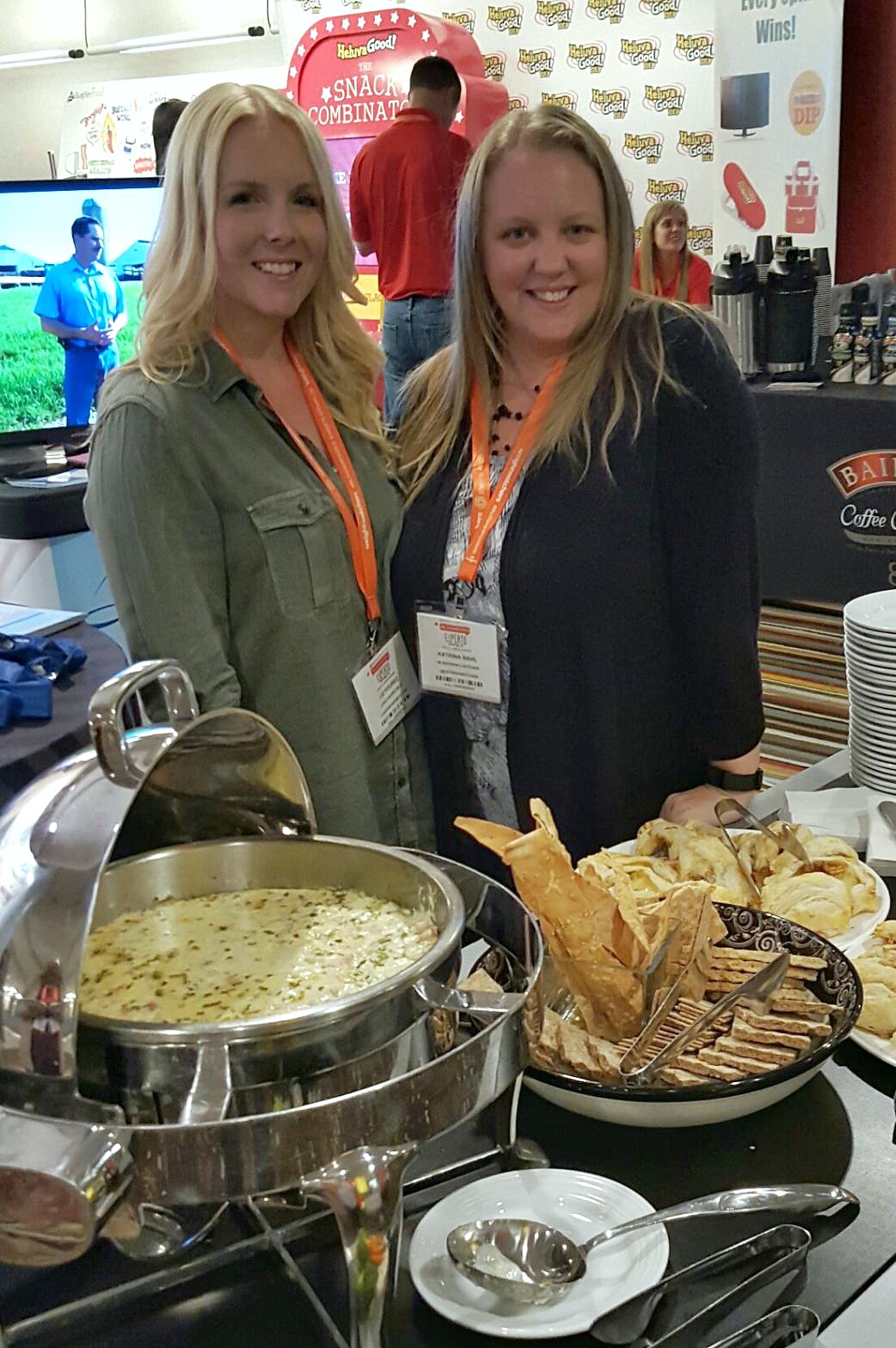 Most of my time is spent stuck behind a computer in my office at home, so it was such a welcome change of pace to be out meeting new friends and reconnecting with old ones. I'll be honest, I was pretty nervous having all these AMAZING food bloggers try my recipes. But after a couple minutes of serving our samples and overhearing a few people saying, "Oh, is this THE cheese dip I've been hearing about?", I felt much better about it! The dip bowl was pretty much scraped clean, and I was able to connect quite a few people with the wonderful ladies from ADA Mideast. I have truly enjoyed working with them over the last year or so (have you seen the video series we did this summer), and I cannot wait to share the holiday recipes we have in store for you guys soon! Be sure to follow ADA Mideast on Facebook, Twitter and Pinterest for more recipe ideas!
Speeeeeeaking of cheese and dairy… let's indulge in some EXTRA cheesy garlic bread now!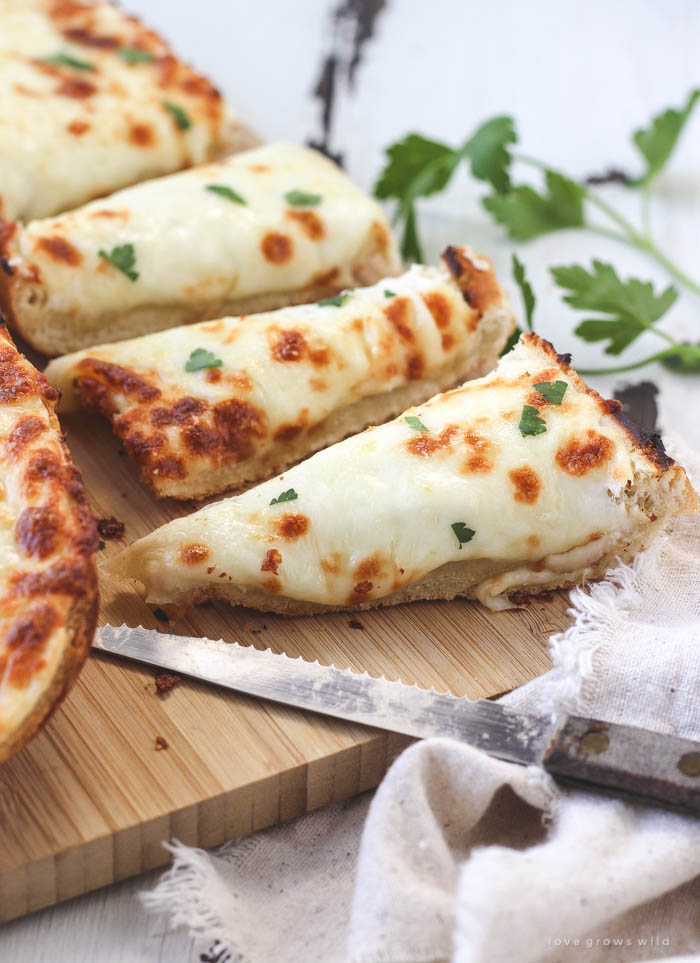 How'd you like that transition? One of my all-time favorite appetizers that I serve at parties, the holidays, and definitely during football is my famous Ranch Bread. If you haven't tried it yet, you simply must! I used the basic idea behind that recipe as the foundation for this amazing garlic bread. It is SO easy to make and has a secret ingredient that sets it apart from any other garlic bread you've tried…
Cream cheese.
A nice, thin layer of garlic-infused cream cheese underneath a big pile of gooey, melty shredded cheese makes this garlic bread so creamy, so cheesy, and SO stinkin' delicious. Try it along with your favorite pasta, soup, salad, or just about any meal! Enjoy, sweet friends!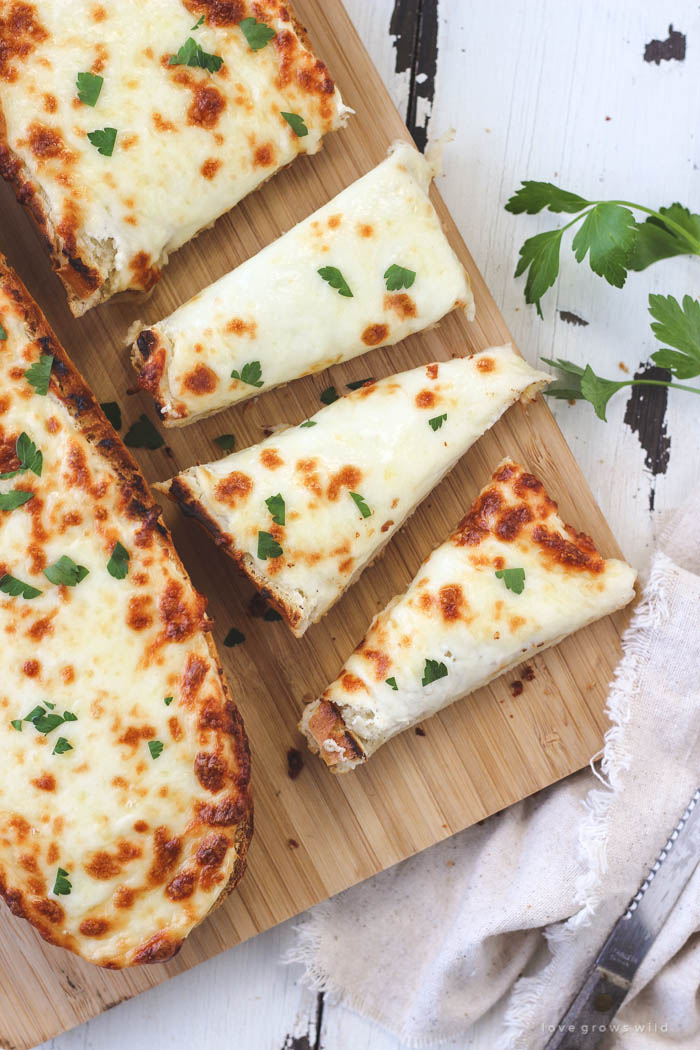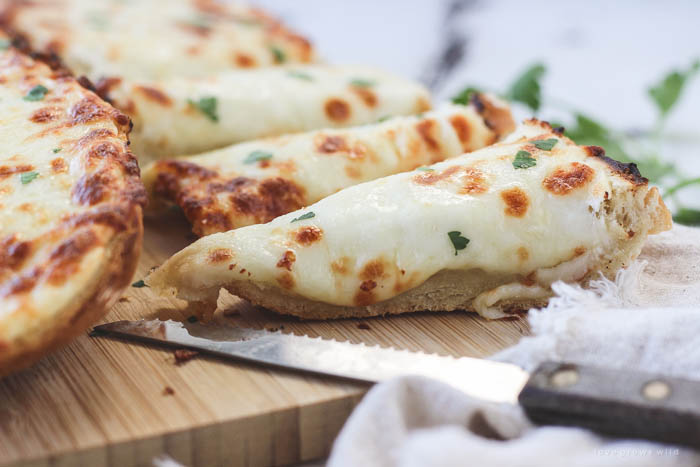 Easy Extra Cheesy Garlic Bread
Delicious, extra cheesy garlic bread that is perfectly crusty on the outside and soft and tender on the inside!
INGREDIENTS
1 loaf Italian bread
8 ounce package cream cheese, room temperature
2 tablespoons unsalted butter, room temperature
1 teaspoon garlic powder
1 teaspoon garlic salt
8 ounces Mozzarella cheese, shredded
INSTRUCTIONS
Preheat oven to 425ºF. Slice the loaf of bread in half lengthwise (creating a top and bottom) and place both halves on a baking sheet, cut side up. Spread a thin layer of butter on both pieces of bread.
Place the softened cream cheese, garlic powder and garlic salt in a medium bowl and stir until completely combined. Spread a thin layer of the cream cheese mixture over the butter and top with the shredded Mozzarella cheese. Bake the bread for 10-12 minutes until the cheese is melted and lightly golden. Cool for a minute or two, then slice the bread into 2-inch pieces.
NOTES
- Don't feel like you need to use every bit of the garlic cream cheese mixture. All you need is a nice, thin layer on the bread, and you might even be able to make a second loaf with the rest of the cream cheese.
- If you want your cheese to be really toasted when it comes out of the oven, put it under the broiler for a minute or two after the bread is done baking. The cheese can burn quickly though, so watch it carefully!
---
LET'S KEEP IN TOUCH!
---
Subscribe to Blog | Browse my Shop | Follow on Facebook | Follow on Twitter
Follow on Google+ | Follow on Pinterest | Follow on Instagram
This post is sponsored by our partner, the American Dairy Association Mideast, but all thoughts and opinions are 100% my own. Thank you for helping support the brands that make this blog possible!