Easy Extra Cheesy Garlic Bread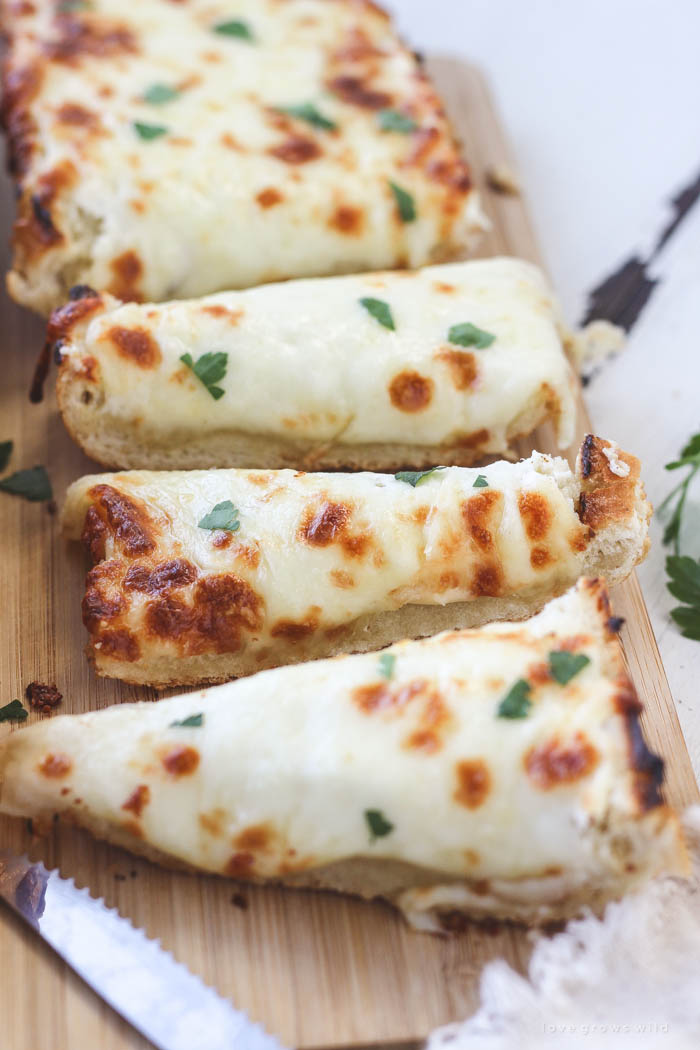 1 loaf Italian bread
8 ounce package cream cheese, room temperature
2 tablespoons unsalted butter, room temperature
1 teaspoon garlic powder
1 teaspoon garlic salt
8 ounces Mozzarella cheese, shredded
Preheat oven to 425ºF. Slice the loaf of bread in half lengthwise (creating a top and bottom) and place both halves on a baking sheet, cut side up. Spread a thin layer of butter on both pieces of bread.
Place the softened cream cheese, garlic powder and garlic salt in a medium bowl and stir until completely combined. Spread a thin layer of the cream cheese mixture over the butter and top with the shredded Mozzarella cheese. Bake the bread for 10-12 minutes until the cheese is melted and lightly golden. Cool for a minute or two, then slice the bread into 2-inch pieces.
- Don't feel like you need to use every bit of the garlic cream cheese mixture. All you need is a nice, thin layer on the bread, and you might even be able to make a second loaf with the rest of the cream cheese.
- If you want your cheese to be really toasted when it comes out of the oven, put it under the broiler for a minute or two after the bread is done baking. The cheese can burn quickly though, so watch it carefully!
Recipe by
Love Grows Wild
at https://lovegrowswild.com/2015/11/easy-extra-cheesy-garlic-bread/