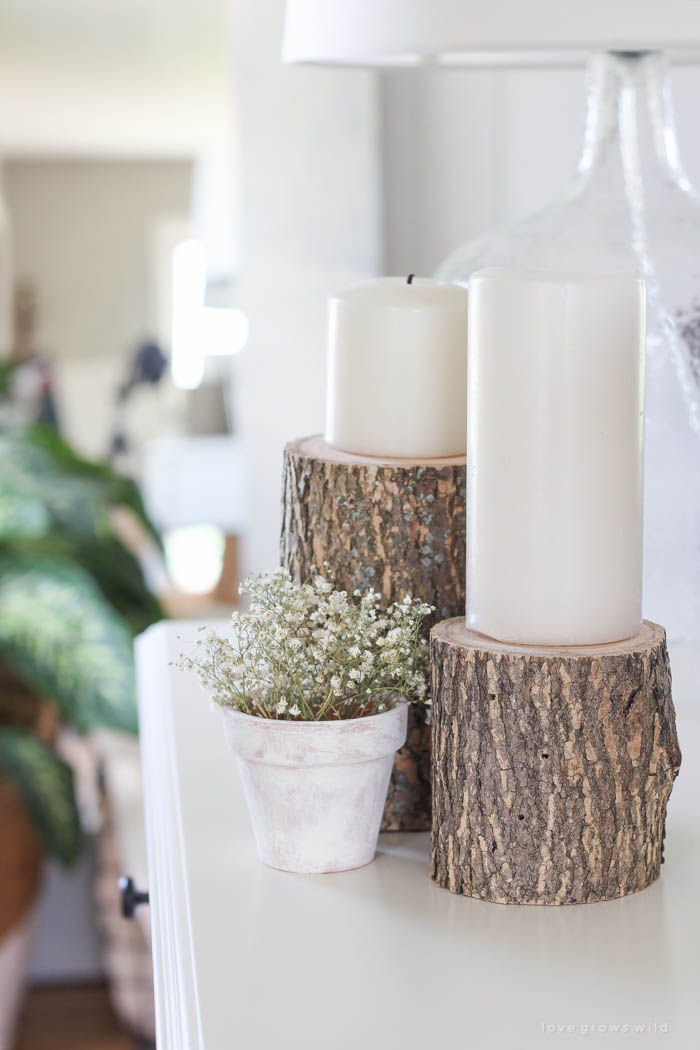 Decorating your home doesn't have to be expensive and complicated. Some of the best items to decorate with can be found right outside your front door! Keep reading to see how I made a couple easy candlestick holders from our wood pile AND hear about a new book from one of my favorite bloggers!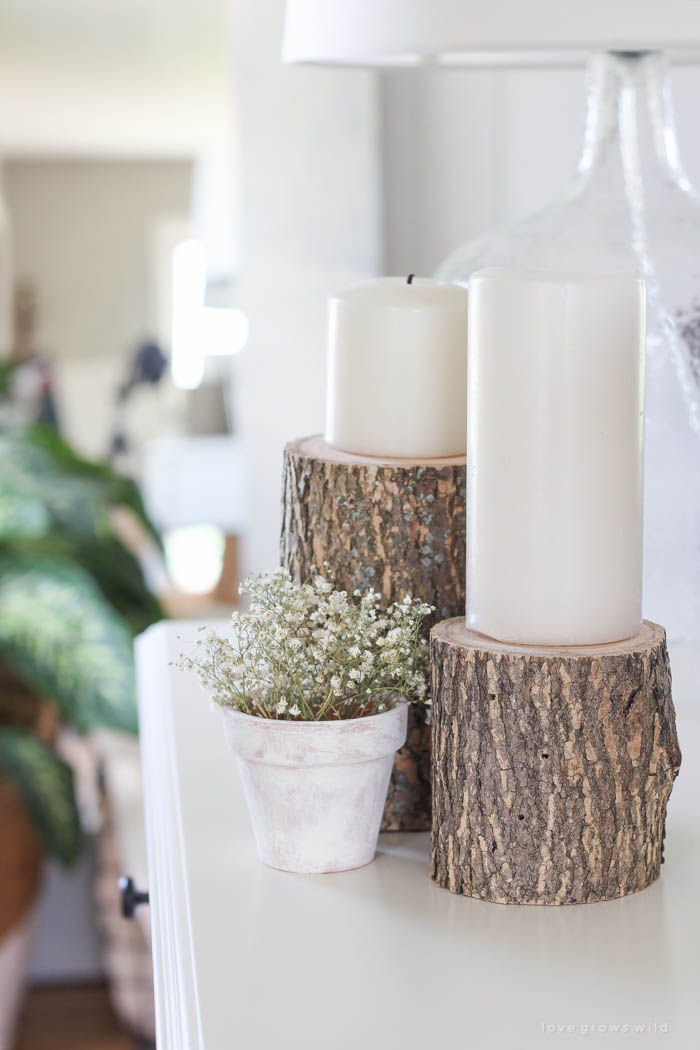 If you've been following this blog for a little while and saw our living room/dining room makeover or recent office makeover, you already know that my decorating style is pretty clean and simple. I don't like a lot of extra "stuff" hanging around the house (clutter makes me crazy!), but I do crave a lot of texture and dimension to make each room cozy and inviting. Want to know one of the best ways to add natural texture and life to your space?
Just look outside! I know it probably sounds overly simple, but whenever I get stuck trying to style my shelves or decorate my coffee table, I usually find that the answer lies in the simple things… a few clipped branches set in a tall vase… a bowl full of fresh lemons or apples… some fresh flowers from our garden…
These simple natural accents usually cost absolutely nothing and instantly bring any space to life. I was looking for a couple wood candlesticks for the white sofa table in our living room and happened to be reading my friend, Stacy Risenmay's, new book called Natural Accents. SUCH a good read! For one of the projects in her book, she used a log to create a simple flower vase. It was so beautiful, and I happened to have a large pile of logs in the backyard for bonfires, so I grabbed two of them to use as candleholders!
Some of the links in this post are affiliate links. When you make a purchase using them, you help us keep this blog running! We thank you so much for your support!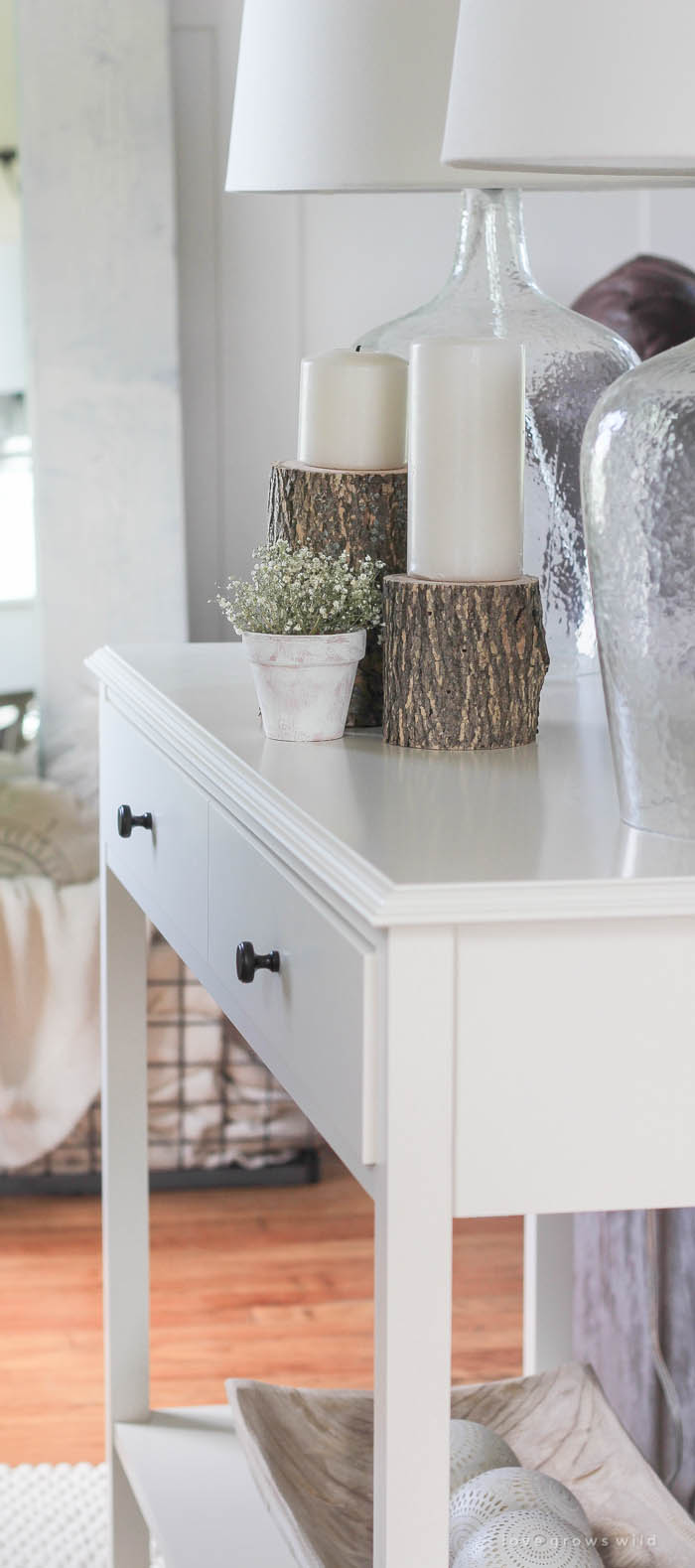 I cut the logs on my miter saw to two different lengths and scraped a little bit of the rough bark off with a putty knife. I am kind of obsessed with the texture, and of course neutral color, these added to our living room! A 5 minute project that cost me absolutely nothing… so awesome. In the middle of all the big projects we're doing in our master bedroom, this easy afternoon project felt so good to accomplish!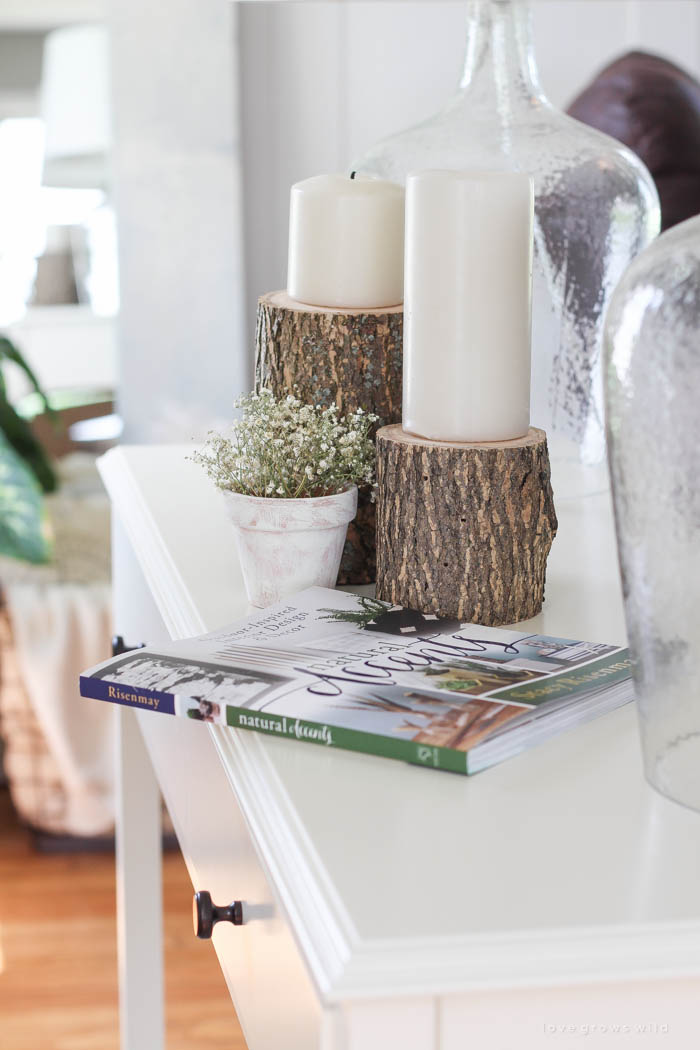 Stacy's book inspired me in so many ways, and I cannot wait to tackle some of the other projects from Natural Accents. A driftwood vase, geode drawer pulls, tree stump planter, and terrarium side table… so many fun things in this book! Not only is Stacy the amazing blogger behind the DIY site Not Just a Housewife, but she's also a dear friend who brings me to tears with her huge heart and kind soul and laugh till I nearly pee my pants… one of the best types of friends, in my opinion.
Natural Accents is now available for purchase, and I think you're really going to enjoy it! You can get your copy right here.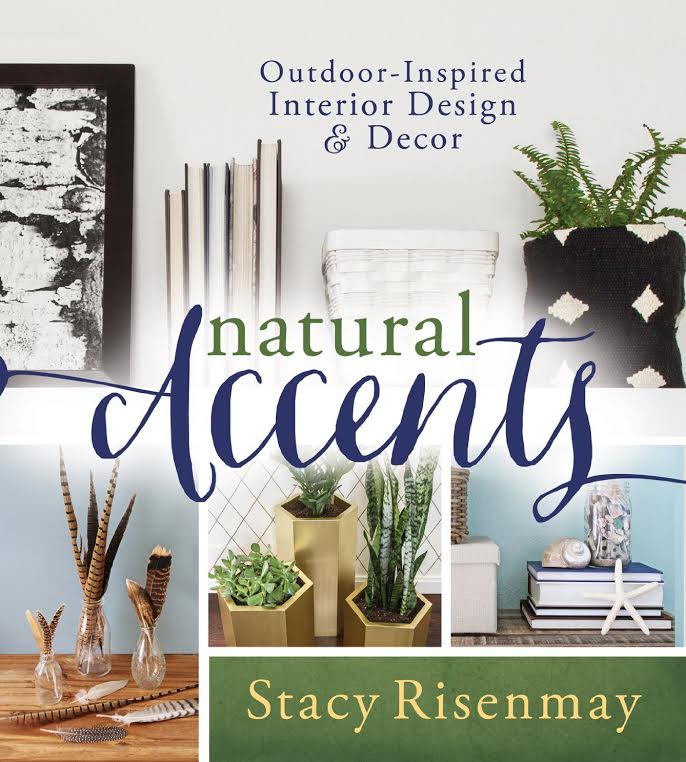 I was provided with a book to review, but all thoughts and opinions are 100% my own.
LET'S KEEP IN TOUCH!
Subscribe to Blog | Browse my Shop | Follow on Facebook | Follow on Twitter
Follow on Google+ | Follow on Pinterest | Follow on Instagram