Three Cheese Shrimp Macaroni and Cheese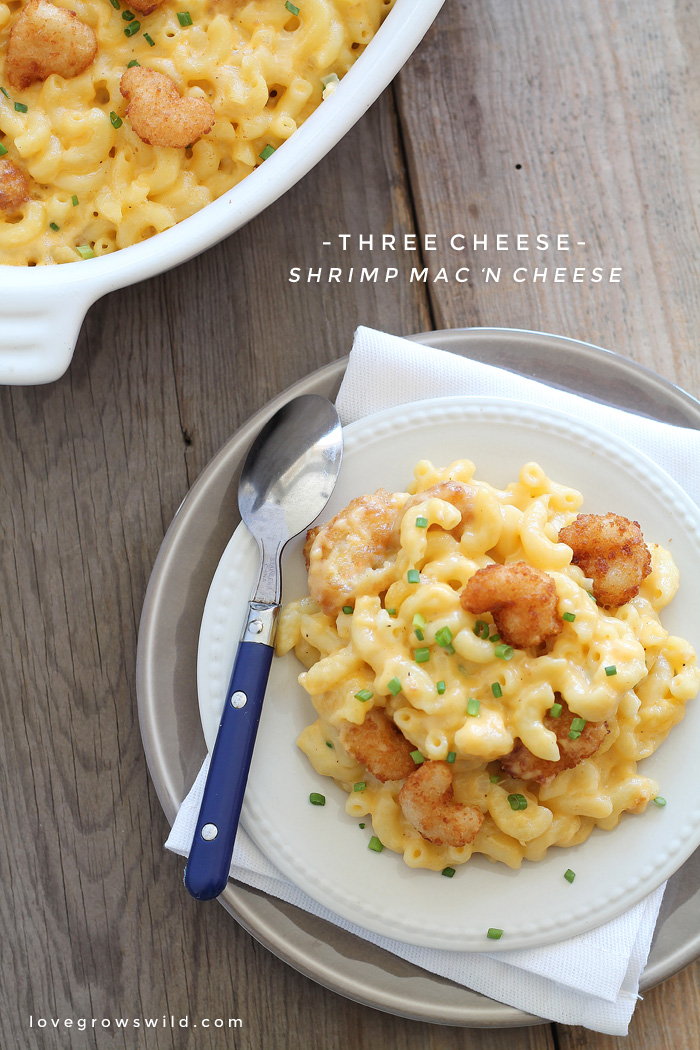 12 ounce package frozen popcorn shrimp (I used SeaPak)
Nonstick cooking spray
1 pound elbow macaroni
3 tablespoons unsalted butter
⅓ cup onion, finely diced
3 tablespoons all-purpose flour
2½ cups milk (I used 2%)
8 ounces sharp cheddar cheese, shredded
8 ounces white cheddar cheese, shredded
4 ounces Gruyere cheese, shredded
2 teaspoons Dijon mustard
½ teaspoon salt
¼ teaspoon pepper
2 tablespoons chopped chives, for garnish
Cook shrimp according to package directions and set aside. Preheat oven to 350°F and spray a 3 quart baking dish with nonstick cooking spray. Cook the elbow macaroni in salted boiling water to al dente, according to directions on package. Drain and set aside.
Meanwhile, melt butter over medium heat in a large saucepan. Add onion and cook, stirring, for 3 minutes or until tender. Stir in the flour and cook for 1 minute. Add the milk and cook, whisking constantly, until thickened and bubbly. Remove from heat. Add the cheeses, mustard, salt, and pepper, and whisk until cheese is melted and the sauce is smooth.
Pour the cheese sauce over the cooked pasta and add half of the cooked shrimp. Stir gently to combine and pour into prepared baking dish. Bake uncovered for 20 minutes. Top with remaining shrimp and bake another 5 minutes until top is golden and bubbly. Sprinkle with chopped chives and serve.
Recipe by
Love Grows Wild
at https://lovegrowswild.com/2014/10/three-cheese-shrimp-macaroni-cheese/