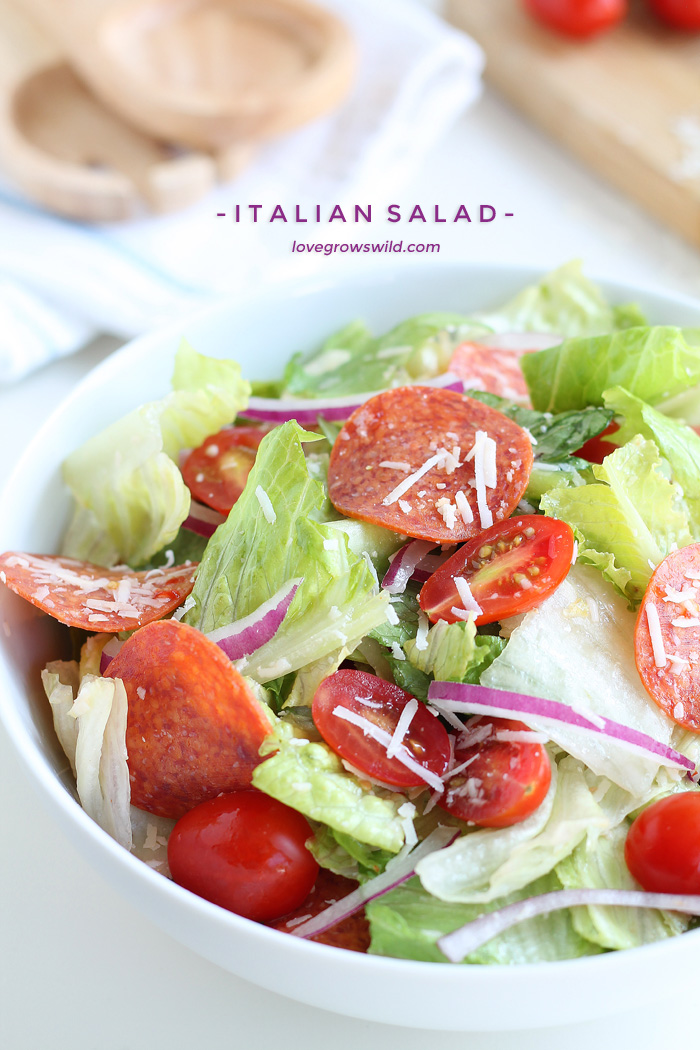 As I'm sure I've shared with you before, my house is full of ranch dressing lovers. Ranch with their salad, ranch with their pizza, ranch with their vegetables, and my personal favorite, cheesy, creamy ranch bread. It's true… these boys don't often stray from their beloved salad dressing of choice, but the other day I served them a yummy Italian Salad for lunch and got quite a few compliments on the dish.
It started off as a… "You know, Mom, this salad isn't that bad."
Then it moved to a… "Actually, it's really good!"
I watched them all clean up their bowl full of crisp lettuce, spicy pepperoni, juicy tomatoes, and the perfect Italian dressing with big smiles on their faces, and I knew this recipe was a winner. It's a great quick meal when you're short on time and the simple, nutritious ingredients make this a meal you can feel good about feeding your family!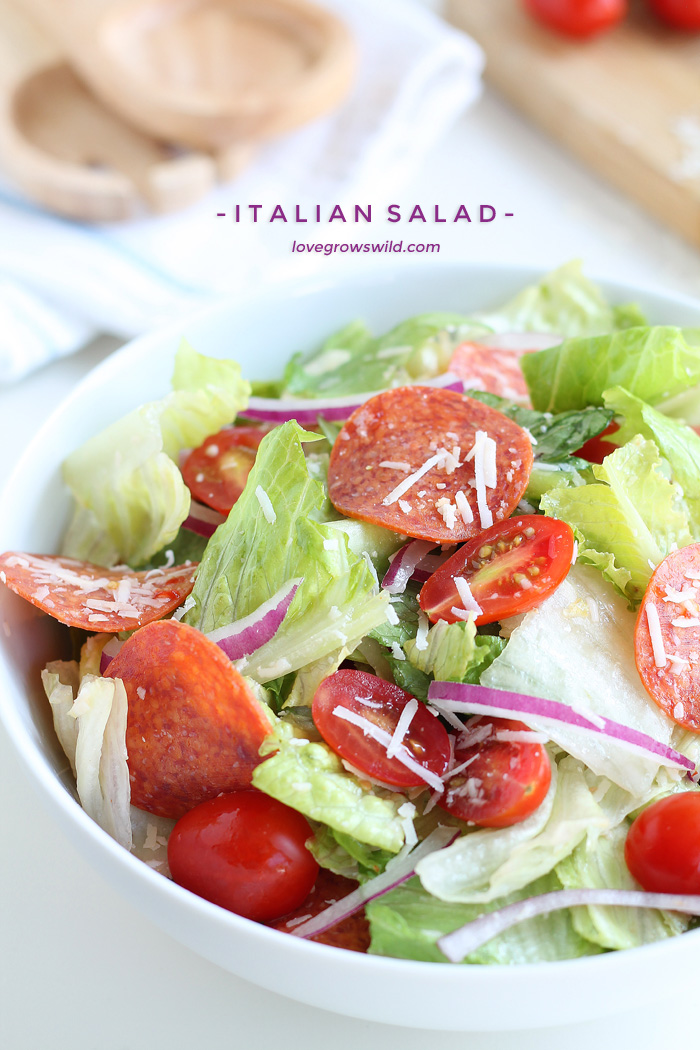 Where I grew up, one of my favorite restaurants had a salad with pepperoni and a delicious house Italian dressing that I just loved. In fact, every time we head back home, I try to find an excuse to dine there just so I can enjoy this tasty salad from my childhood. Those visits back home are few and far between these days, with two boys in school and a blog that keeps me busy, so I decided to try and recreate this salad with a few upgrades.
Let's start with the lettuce. I love using a mix of romaine and iceberg because it gives you some good, hearty greens plus a nice crunch from the iceberg. The pepperoni was non-negotiable and some juicy cherry tomatoes bumped up the vegetables in the salad. No Italian meal would be complete without a little cheese, and a sprinkle of Parmiagiano Reggiano was a delicious addition to the meal. For the salad dressing, I went to my standby favorite, Kraft House Italian Lite dressing. It's tangy and flavorful and the perfect compliment to the pepperoni and cheese. Mix it all together, and you have yourself a delicious Italian Salad to enjoy!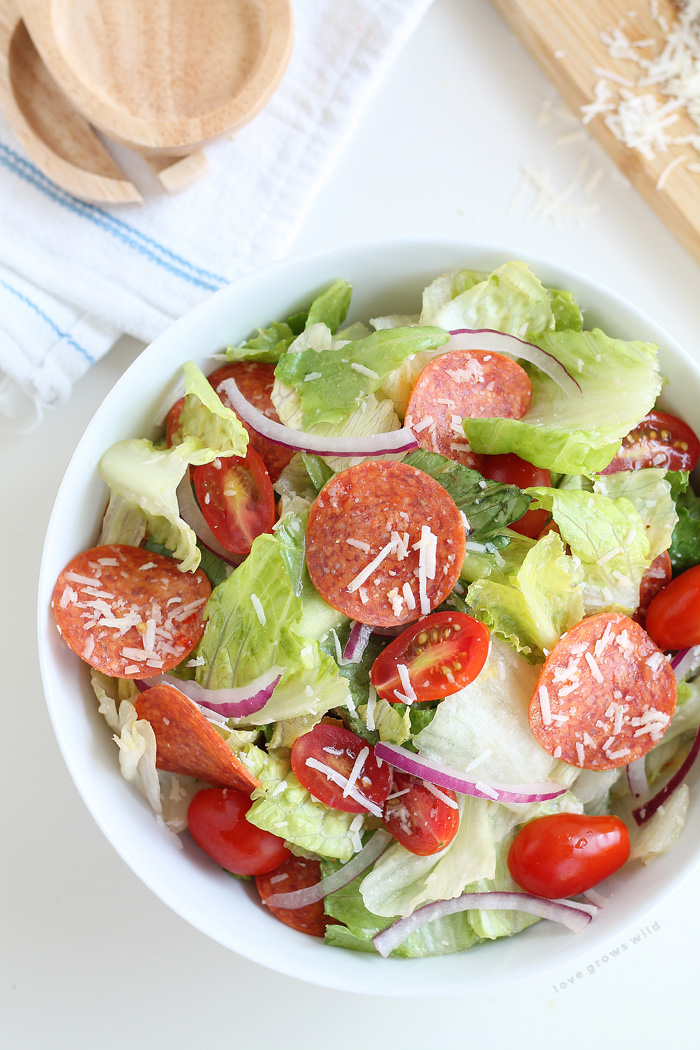 This recipe turned out even better than the original I can remember from my childhood, and I love how quick and easy this is to put together. In under 10 minutes, I can have dinner (or lunch!) ready and hardly any dishes to clean up. I love meals like that!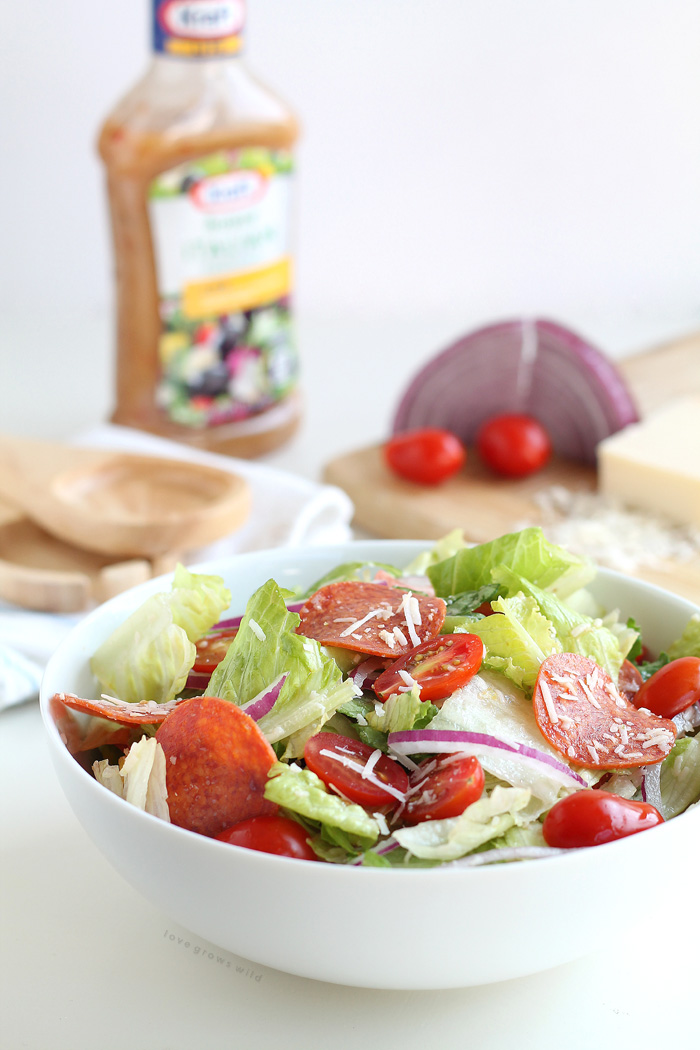 Like what you see? Subscribe to Love Grows Wild so you'll never miss a post!
Follow along on Pinterest, Google+, Instagram, and Facebook for more fun!
Italian Salad
A simple, fresh Italian Salad is an easy meal on busy days! Crisp lettuce, spicy pepperoni, juicy tomatoes, and the perfect Italian dressing!
INGREDIENTS
1 heart romaine lettuce, chopped
½ head iceberg lettuce, chopped
1 pint cherry tomatoes, sliced in half
1 cup pepperoni slices
1 cup red onion, sliced
4 ounces Parmigiano Reggiano cheese, grated
¼ cup Kraft House Italian Lite dressing
INSTRUCTIONS
Place the first 5 ingredients in a large bowl and toss gently to combine. Drizzle the salad with Italian dressing and toss to coat all the ingredients. Start with 2-3 tablespoons of dressing at first and add more if necessary. Sprinkle salad with Parmigiano Reggiano cheese and serve immediately. Makes 4-6 servings
NOTES
- To prep this salad ahead of time, combine the first 5 ingredients and refrigerate up to 3 hours before serving. Add the dressing and cheese when you're ready to eat!
– inspired by a Turtle's Tap recipe
Are you making this recipe? I'd LOVE to see it! Post a photo on Instagram and use the hashtag #MyLGWRecipe. It may just get featured!
---
Change up your dinner routine with Kraft. Visit KraftRecipes.com for great recipes and meal ideas, featuring Kraft. Because food deserves delicious.
This is a sponsored conversation written by me on behalf of Kraft. The opinions and text are all mine.
---
LET'S KEEP IN TOUCH!
Subscribe to Blog | Browse my Shop | Follow on Facebook | Follow on Twitter
Follow on Google+ | Follow on Pinterest | Follow on Instagram