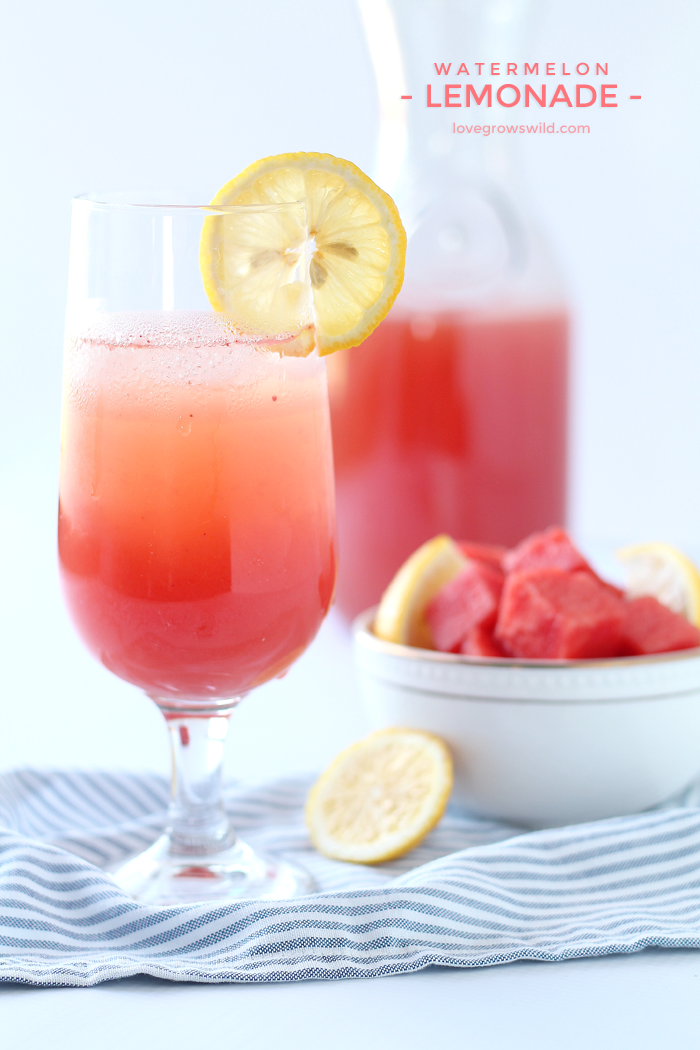 Picture this…
You're sitting poolside on a perfectly sunny day. Your children are playing together harmoniously while you relax reading your favorite new novel… or celebrity gossip magazine… or whatever floats your boat. Your stud muffin husband walks over and hands you a delicious chilled beverage. It's pink and fruity with a bright yellow slice of lemon hanging on the edge of the glass. You take a sip of the colorful drink and taste a sweet, fruity, and very refreshing watermelon lemonade.
This drink, my friends, is the perfect sip of summer! While I can't promise you that your kids will get along harmoniously or that your hunk of a husband will wait on you hand and foot (sorry, guys. I wish!), I can promise you that this Watermelon Lemonade will become your favorite new way to quench your thirst this summer! It mixes up quickly in a blender and is bursting with sweet, fruity watermelon flavor. Serve it chilled with some lemon slices, and you have a delicious drink to enjoy!
*Spoiler Alert: I'm giving away the same KitchenAid Diamond Blender I use for this recipe to one lucky reader!! Details at the bottom of this post!
Summertime is all about fresh fruits and veggies for me. Fresh sweet corn, just-picked strawberries, and giant, juicy watermelon all top my list! You can almost always find a pitcher of lemonade in my fridge during these hot summer months, and I love experimenting with different flavors… strawberry lemonade, mint lemonade, and my new favorite, Watermelon Lemonade!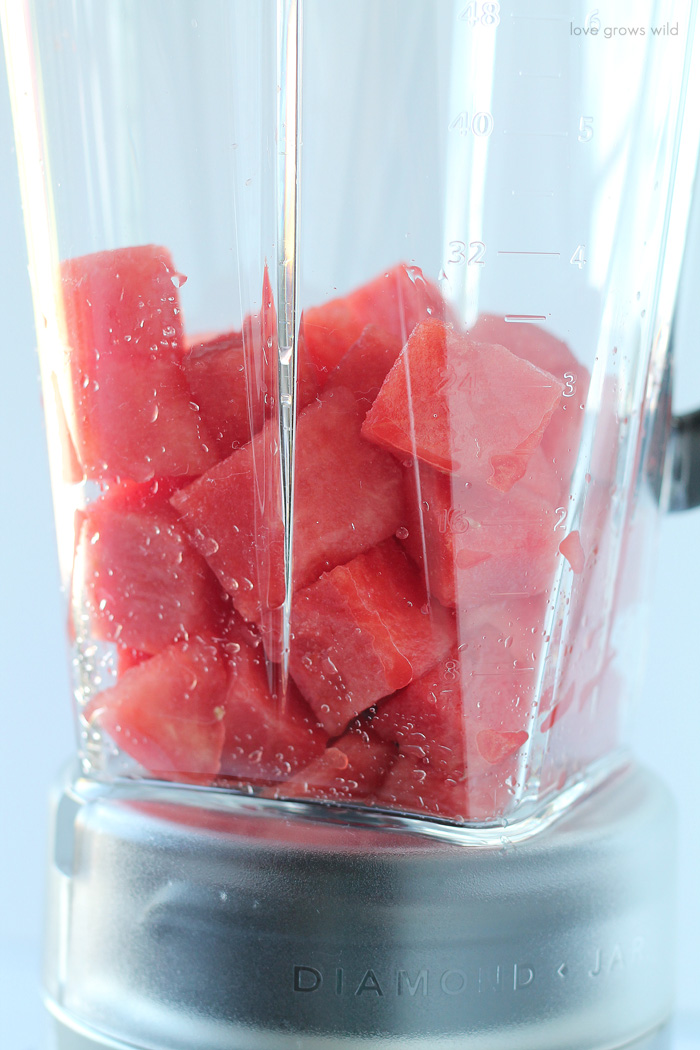 I add about 3 cups of cubed watermelon into a blender and puree it until smooth. The KitchenAid Diamond Blender I use has a nice, big pitcher that can handle making a large batch of lemonade. With 5 different speed settings to stir, chop, mix, puree, and liquify, plus an ice-crushing mode, I have all the options I need to get the job done.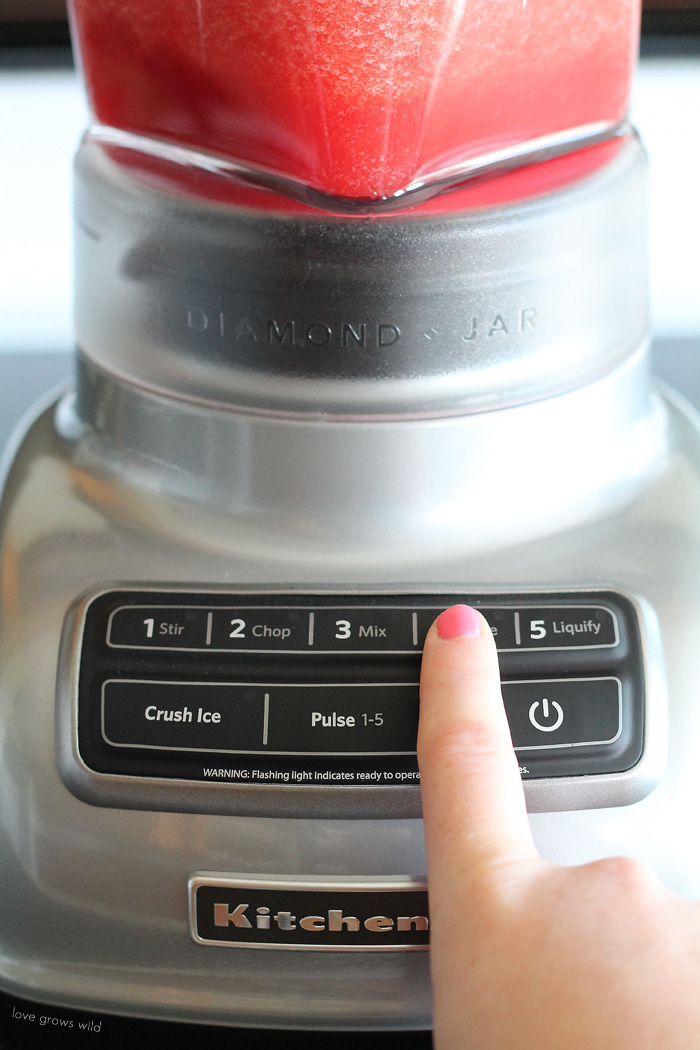 After the watermelon is pureed, I like to run it through a strainer to pull out any pulp and leave just the juice behind. If you don't mind a pulpy drink, you don't have to worry about this step, but I definitely prefer this strained version.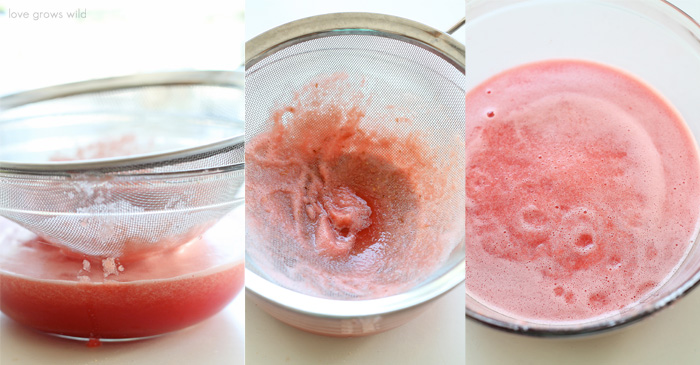 Then I pour the watermelon juice back into the blender and add the rest of the ingredients: water, ice, and lemonade mix! I always have quick lemonade mix on hand for my thirsty family, so this is a great kitchen shortcut for this recipe. Each brand of lemonade mix is different, so make sure you read the instructions and add enough mix to make 2 quarts (or 8 cups) of lemonade.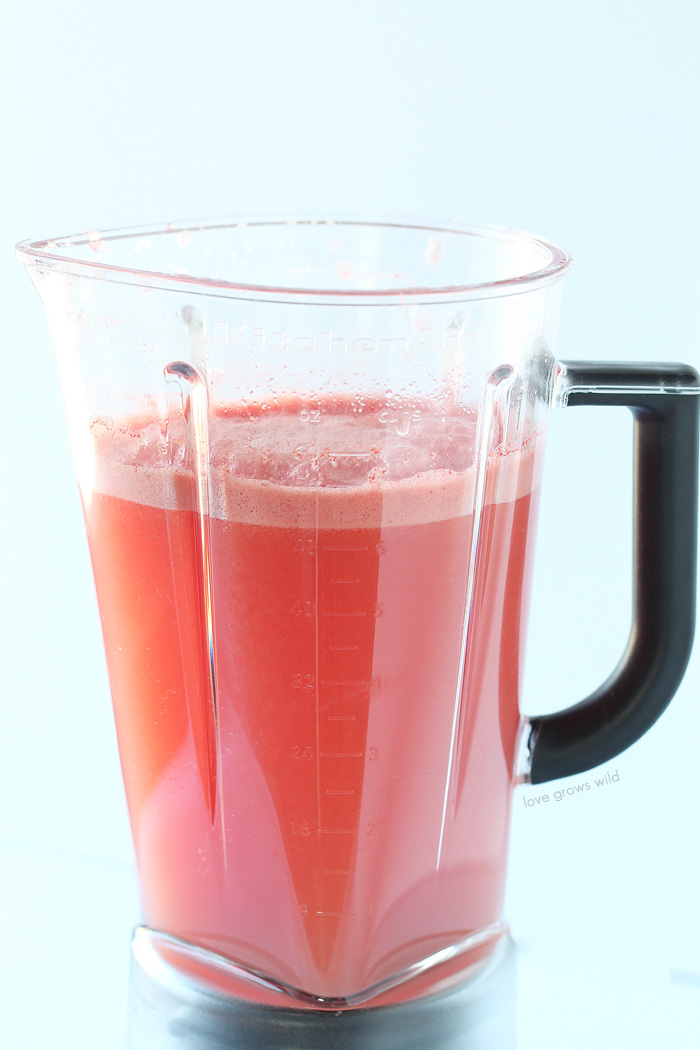 Blend it all together and pour yourself a glass! Don't forget to add some lemon slices for garnish and maybe even a drink umbrella, just for fun. You can feel like you're sipping this somewhere on a tropical beach from the comfort of your own backyard! ENJOY!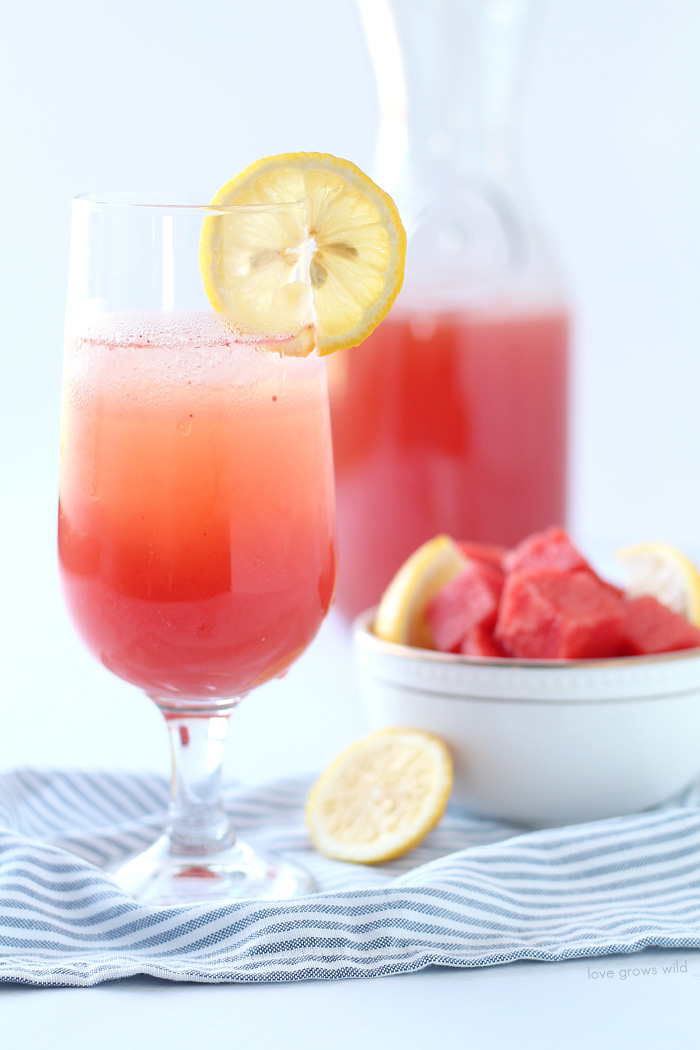 Like what you see? Subscribe to Love Grows Wild so you'll never miss a post!
Follow along on Pinterest, Google+, Instagram, and Facebook for more fun!
Watermelon Lemonade
Watermelon Lemonade is easy to make and super refreshing! Go ahead and pour yourself a glass of this sweet and fruity drink!
INGREDIENTS
3 cups seedless watermelon, cut into cubes
4 cups cold water
10 ice cubes
lemonade mix
2 tablespoons sugar (or other sweetener), if desired
INSTRUCTIONS
Add cubed watermelon to a blender and puree until smooth. Strain the watermelon to remove any pulp, and pour the juice back into the blender.
Add 10 ice cubes, 4 cups water (or enough to make 8 cups of liquid total), and lemonade mix measured to make 2 quarts of lemonade (it will vary by brand). Blend ingredients until combined. Taste the lemonade and add 1-2 tablespoons of sugar (or other sweetener), if desired.
GIVEAWAY TIME! KitchenAid was kind enough to let me test out their amazing 5-Speed Diamond Blender, and even more generous to give me a second blender to share with one of you!! The best part… YOU get to pick the color of your new blender!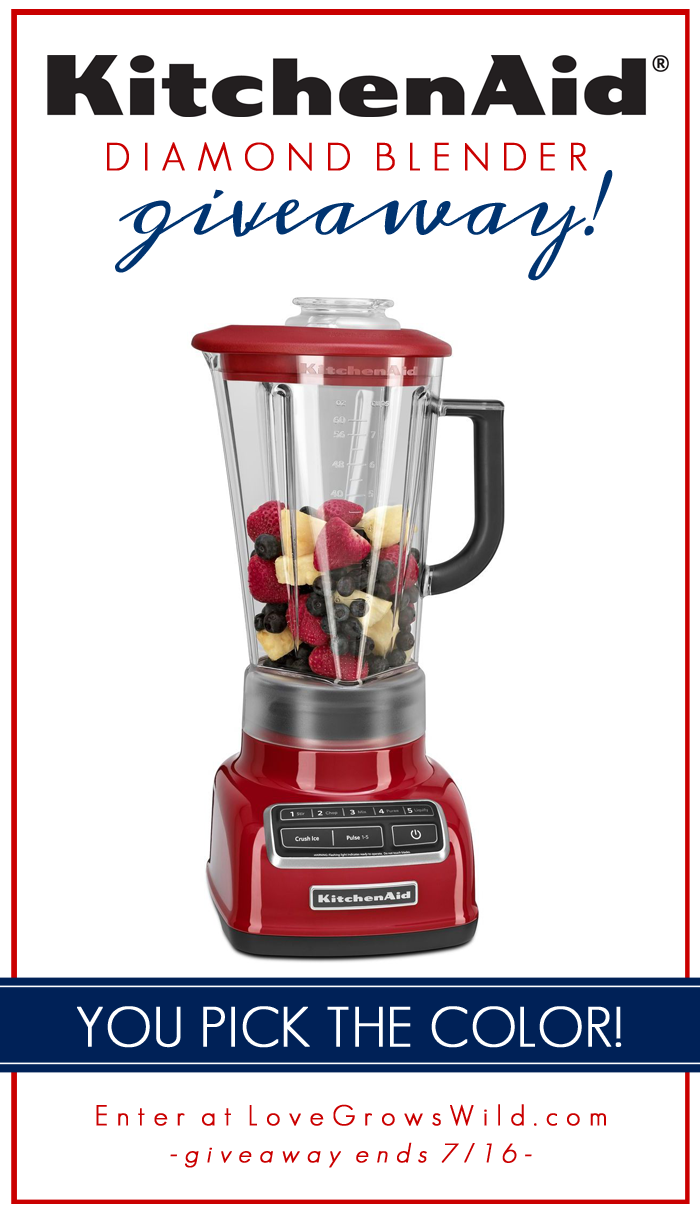 So who wants blend up some lemonade this summer in their new KitchenAid blender?? Just use the giveaway form below to enter. You can also connect with KitchenAid on Facebook, Twitter, and Instagram. Best of luck!!
a Rafflecopter giveaway

KitchenAid provided a blender for this giveaway and for me to review free of charge, but all thoughts and opinions are 100% my own. This giveaway is not endorsed or affiliated with Pinterest, Facebook, or Instagram in any way. Giveaway begins on July 8th and ends at midnight EST on July 16th. Winner must be a United States resident, will be chosen at random by Rafflecopter, and notified by email.
---
LET'S KEEP IN TOUCH!
Subscribe to Blog | Browse my Shop | Follow on Facebook | Follow on Twitter
Follow on Google+ | Follow on Pinterest | Follow on Instagram