Hello there Love Grows Wild Readers! Ashley here from Cherished Bliss again! I sure hope you are enjoying the weather where you are! It has officially warmed up to spray paint weather here in Wisconsin. Now I just have to beat the rain ; ) At least it's not snow… I'll take what I can get. I have had this mason jar sitting in my kitchen holding my wooden spoons for a while now and I just knew it needed something! It was too plain. So as soon as I could get myself and a bottle of chalkboard spray paint outside, I did!
I didn't necessarily use the chalkboard because I want to write things on my mason jar utensil holder, but rather just rub chalk on it to give it that "slate" look. I think I accomplished my mission!
Are you eyeing those Wood Burned Spoons? You can check out my tutorial for those here.
Our kitchen is probably the most used room in the house. My kids are always hungry, it's where snack time takes place, obviously it's where I cook, and we have our family meals every night in this room. Our kitchen doesn't have a lot of drawer space, and I prefer to not have a lot of stuff on the counters. So if I have to have some things on the counter I would like it to be
a) painted (cause I paint everything)
b) a chalkboard < this isn't totally necessary, haha
c) in a mason jar
ok ok, I kid! but not really.
Ok, let's get started on this! Here is what you will need…
Supplies:
– Mason Jar
– Painter's Tape
– Chalkboard Spray Paint
– Wooden Spoons – so you don't have an empty mason jar ; )
Tutorial:
First clean your mason jar so you can prepare to turn this little guy into something awesome! Tape it off so that you can create your "paint dipped" style however you would like.
Then you can take this bad boy outside and whip out your spray paint. Note to self – create a holster for spray paint cans! You will need two coats of your chalkboard paint. Follow the directions on the can on re-coating! You can prime it first if you want. I didn't because well… I'm impatient and I'll just re spray paint it if necessary ; )
If for any reason your tap didn't leave you a straight line, let dry, and then you can use a razor blade to scrap off any unwanted paint. Next up, just take a piece of chalk and condition the chalkboard paint. (you typically should wait 24 hours for this)
Now, just wipe off the chalk, slip in your spoons and skip a night of cooking! You deserved it, and you should probably sit down and admire your work ; ) Pizza night anyone?! : )
My kitchen is a work in progress, I hope to be getting some remodeling done soon. Here are a few other accessories I have made in preparation! : )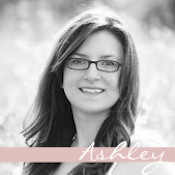 Connect with Ashley:
Blog | Facebook | Twitter | Pinterest
LET'S KEEP IN TOUCH!