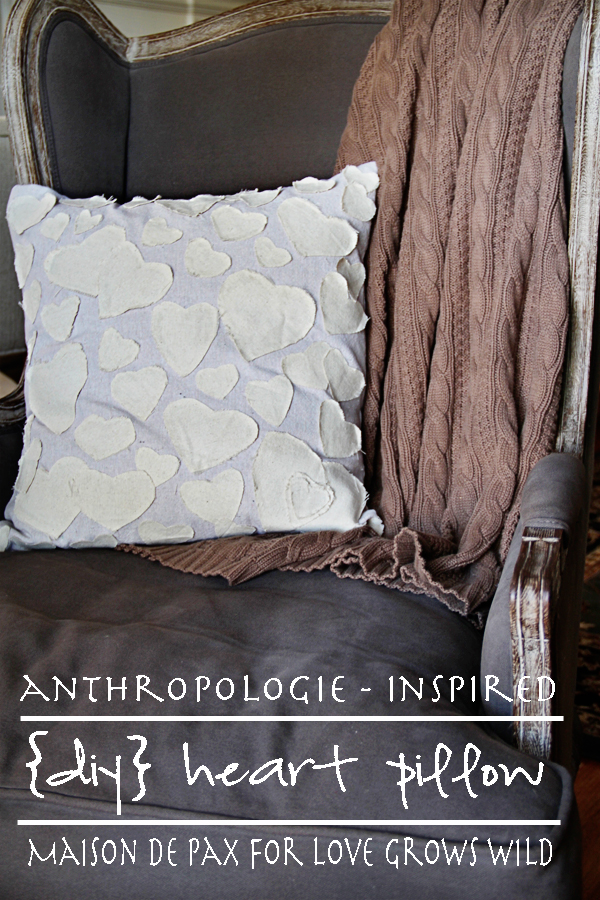 Hi Love Grows Wild readers! It's Rachel again from Maison de Pax. After all the flurry of Christmas decorating and celebrating, I hope you are able to enjoy the calm and quiet of winter. It may be 70 degrees right now in Texas (don't be jealous, it hardly ever gets below 95 here in the summers!), but I am basking in the peacefulness of winter, nonetheless. And while I don't tend to fill my house with frilly Valentine's decorations (I have a house full of boys, after all!), I'm enjoying the extra time to make a few simple and subtle projects to celebrate a little love.

I made several Anthropologie-inspired pillows this season, like these hugs and kisses I shared last week (you can find the XO pillow tutorial here):
But this pillow was SO easy to make, it's almost scandalous. I came across this beautiful pillow from Anthropologie when I was looking for some Valentine's inspiration, but at $198, I couldn't quite justify the expense. Instead, I made one for free! I had one drop cloth envelope pillow cover leftover from my DIY Sharpie pillows at Christmas, and I had some other drop cloth scraps that were a slightly different color. In case you haven't figured it out yet, drop cloth is an excellent investment. 😉 I am still using small scraps from my DIY smocked living room curtains (after a roman shade, crib skirt, and other pillows!). I love this stuff.
All you need:
a drop cloth pillow cover (see how I made my own quick covers at Christmas)
drop cloth scraps of a slightly different color than the pillow cover
scissors
paper or cardboard a little smaller than your pillow cover
fabric glue
Make your own 15 minute Anthropologie pillow!
Cut out 40-50 little hearts of varying sizes (mine varied from ~1-4″). Don't forget your elementary school training: fold the fabric in half to create symmetrical hearts.
Place a layer of paper or cardboard inside your pillow cover (I used parchment paper) so that you don't accidentally glue your cover together!
Lay out your hearts on the front of the cover until you like the look.
Glue each heart to the cover: place a thin bead of fabric glue ~1/4″ inside the edge of each heart.
Let dry.
Using only a small bead of glue keep your pillow from getting too heavy, and putting the glue 1/4 inch from the edge allows that 1/4″ of heart to fray, giving the pillow the texture that makes it especially beautiful.
I added a little layered element in the bottom right corner, just for fun.
The inspiration pillow actually sewed on each little heart, but I didn't think it was worth the challenge (especially for a novice seamstress like me!)… Can't be NO SEW and 15 minutes of effort, right?!?!
I think these pillows are a perfect touch for Valentine's Day, especially given how easy (and affordable!) they were. Even better, they're subtle enough that they don't have to be put away on February 15. Enjoy them as long as you'd like!
I hope your life is filled with love this week and always!!
Connect with Rachel: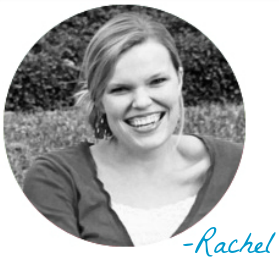 Blog | Facebook | Twitter | Pinterest

Let's Keep in Touch!
Subscribe to Blog | Browse my Shop | Follow on Facebook | Follow on Twitter
Follow on Google+ | Follow on Pinterest | Follow on Instagram