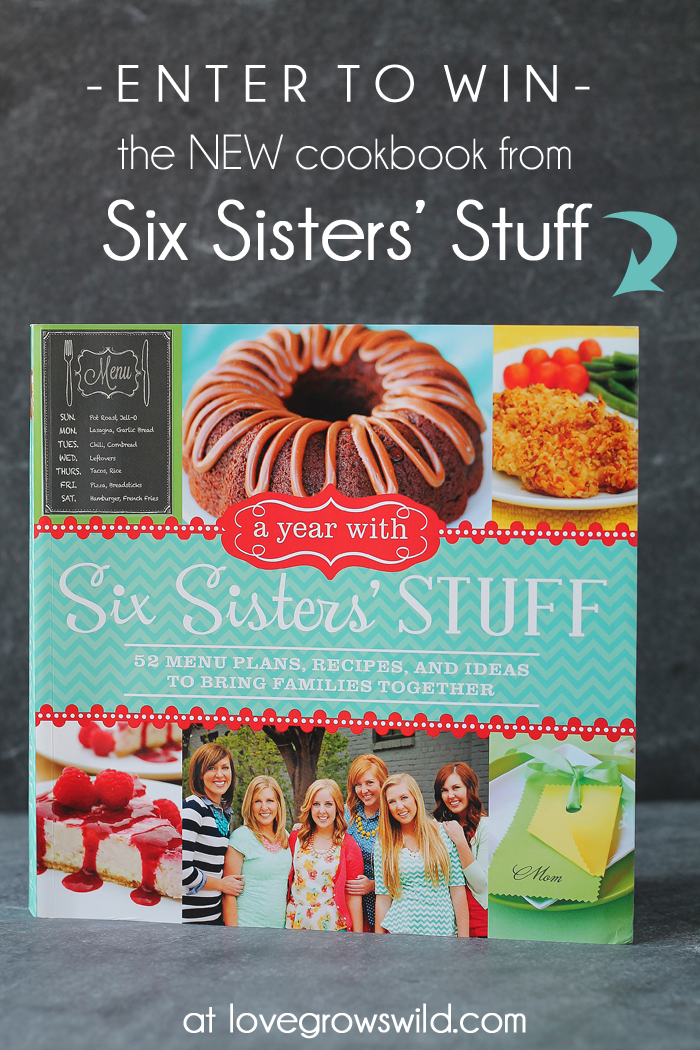 Thanks to Deseret Book/Shadow Mountain for sponsoring today's giveaway!
– This giveaway has ended and the winner has been contacted. Congratulations on your new cookbook, Holly! –
Do you love cookbooks as much as I do? There's nothing more exciting than opening up a brand new cookbook to discover page after page of mouth-watering new recipes to try. I was SO excited to receive a copy of the fantastic NEW cookbook from Six Sisters' Stuff: A Year with Six Sisters' Stuff – 52 menu plans, recipes, and ideas to bring families together. And today I'm sharing the cookbook love with one lucky reader too!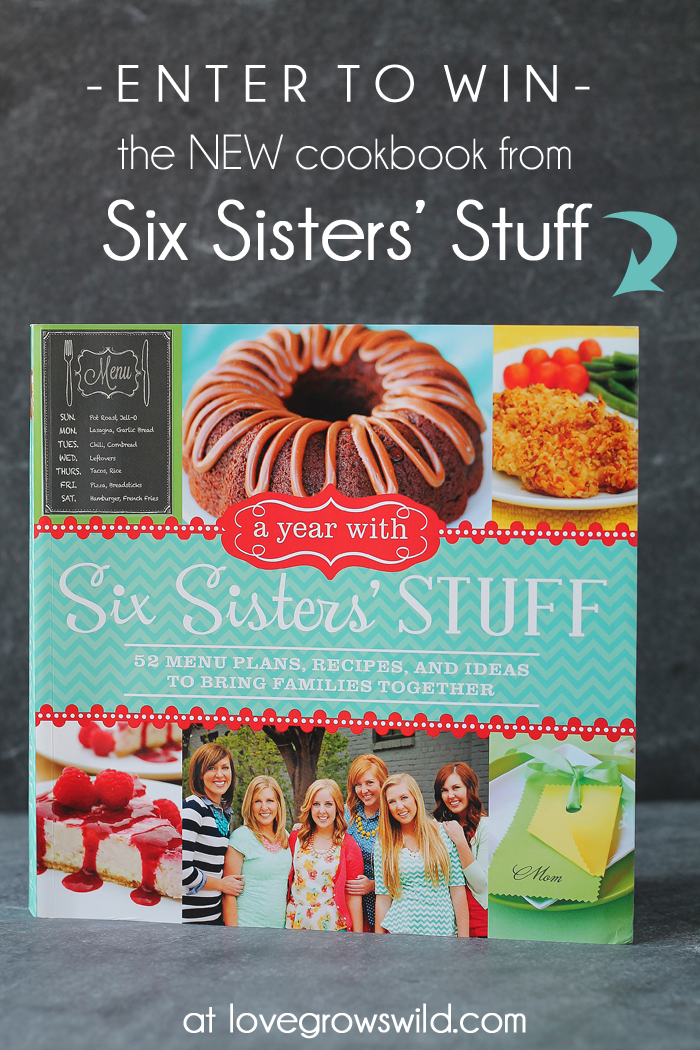 If you've ever browsed Pinterest for recipes, I'm willing to bet you've come across Six Sisters' before. With over 350,000 followers on Pinterest and 9 million + viewers to their site per month, these talented ladies are taking the blogging world by storm.
Last February, I got a call from one of my sweet blog friends, Jocelyn, who had an extra ticket to the upcoming Build Your Blog Conference in Utah hosted by Six Sisters'. With less than a week to book a flight, come up with business cards and media kits, find some clothes that didn't resemble yoga pants and t-shirts, and prepare for my first ever blog conference, I nervously accepted the ticket and made the trip out to Utah. I had a chance to meet many of my fellow bloggers from across the country and learn a ton from the classes during the conference. But my biggest takeaway from that whirlwind weekend was meeting the beautiful women behind Six Sisters' Stuff.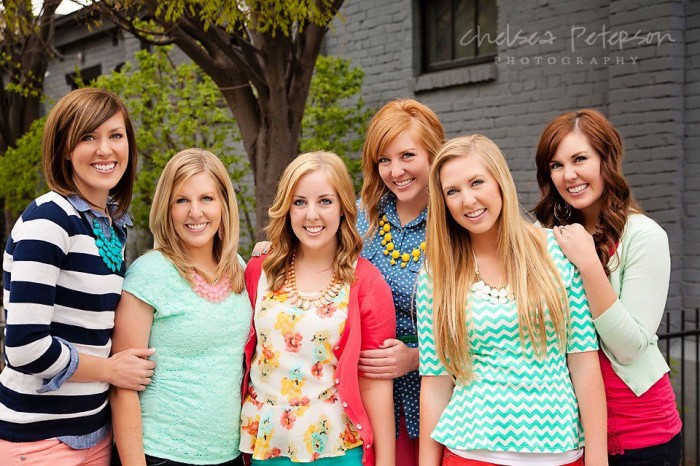 The night before the conference, we stopped by the hotel pool where a few of the sisters were hanging out in the hot tub. We laughed and talked, and you couldn't help but smile as they would tease each other and tell hilarious embarrassing stories. You could instantly sense how close their family bond was, and they made you feel as though you were part of their family too. Even though I was such a tiny blogger compared to them, they asked me questions and wanted to hear my story and made me feel important. There's a saying, "People may not remember exactly what you did, or what you said, but they will always remember how you made them feel." I'll always remember how kind they were and how special they made me feel!
And I totally walked out of that pool room and texted my husband, "squeal! I just hot tubbed with Six Sisters!" Lol 🙂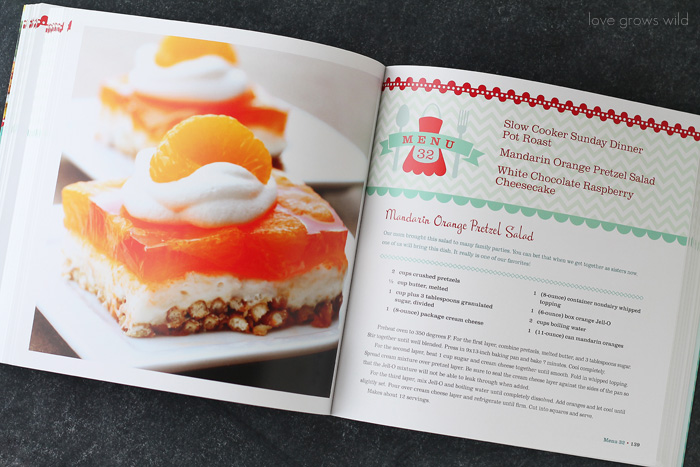 Okay, so enough of the story telling, let's get to this cookbook! The book contains 52 menus, each with a main dish, a side, and a sweet treat. Is that easy meal planning, or what?
Here's a few of my favorite menus from the book:
Menu #2
– Honey-Lime Chicken Enchiladas
– Easy Mexican Salsa Rice
– Pina Colada Cake
Menu #21
– Honey BBQ Meatloaf
– Creamy Slow Cooker Mashed Potatoes
– Butterfinger Blondies
We made the Korean Beef recipe from this cookbook the other night, and it was a huge hit! The beef was so flavorful, and I loved that it used such simple, inexpensive ingredients. I can't wait to try more!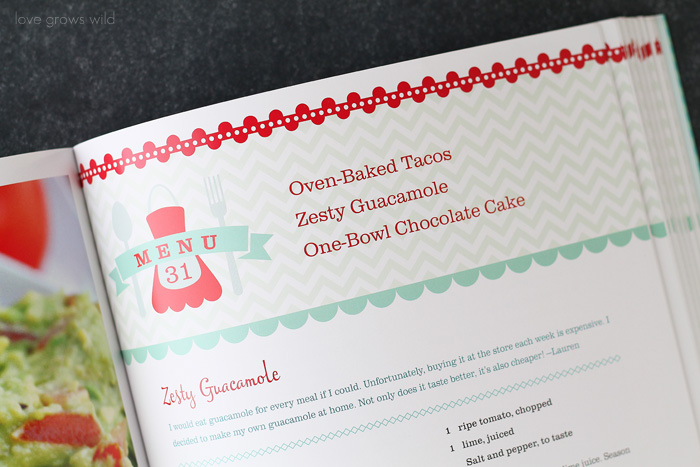 Not only do the recipes included in this book sound amazing, but they have gorgeous, full color photos to go along with them. We eat with our eyes first, right? Well this M&M's Cookie Pie definitely caught my attention!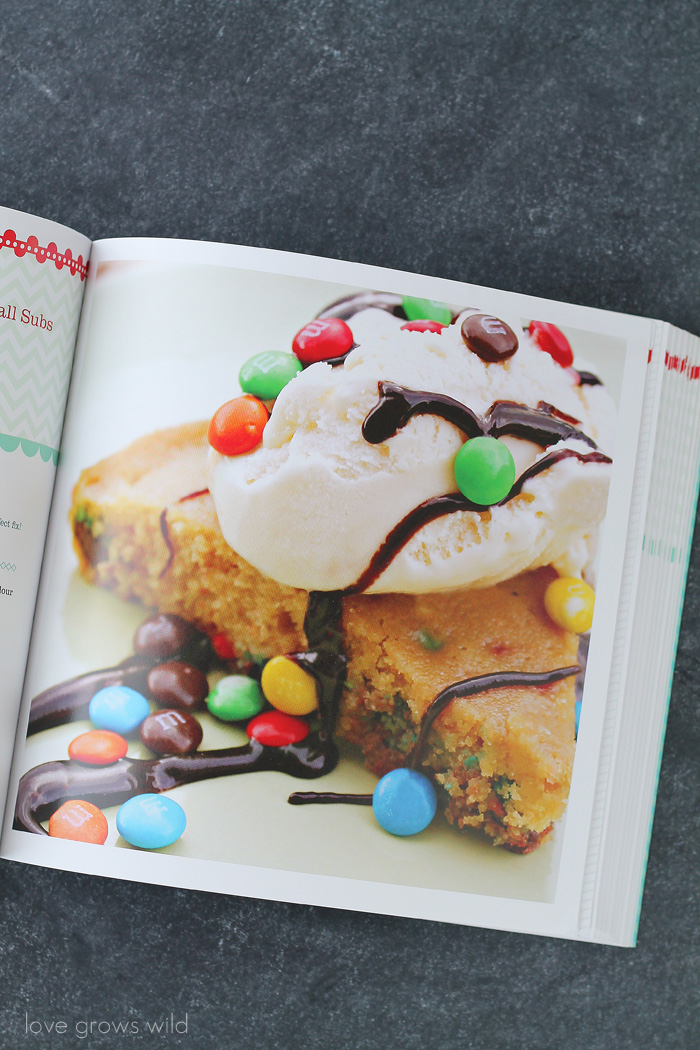 All the recipes have simple ingredients and easy instructions, and provide an entire year's worth of delicious meal ideas. They have also included a fun, little story with each recipe and ideas to make mealtime special with your family, which I absolutely love. I've heard about their "Crazy Dinner" tradition before, and it's definitely on my bucket list to do with my family now!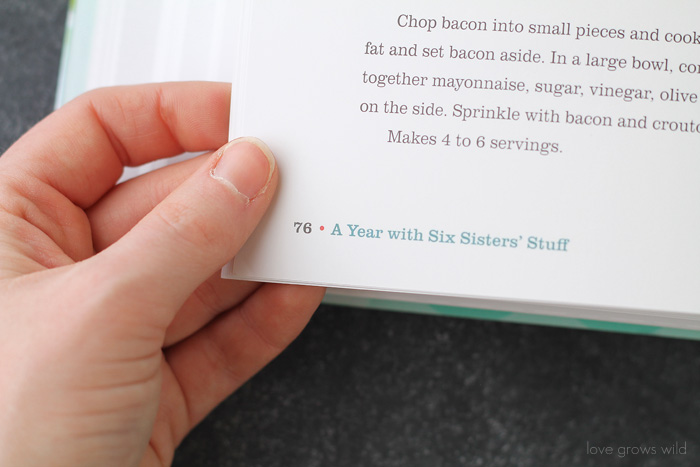 There are some cookbooks I have that end up sitting on a shelf forever, and there are some that get used every week, and this will definitely be one of those well-loved books! Their first book was huge hit, and now you can buy their second book, A Year with Six Sisters' Stuff, for a great price!
Now here's my favorite part: Who wants to win a copy of this fantastic new cookbook from Six Sisters' Stuff? I have one copy to give away to a lucky reader!! Just enter the giveaway using the form below:
a Rafflecopter giveaway

Thanks to Deseret Book/Shadow Mountain for sponsoring this giveaway and for the cookbook to review!