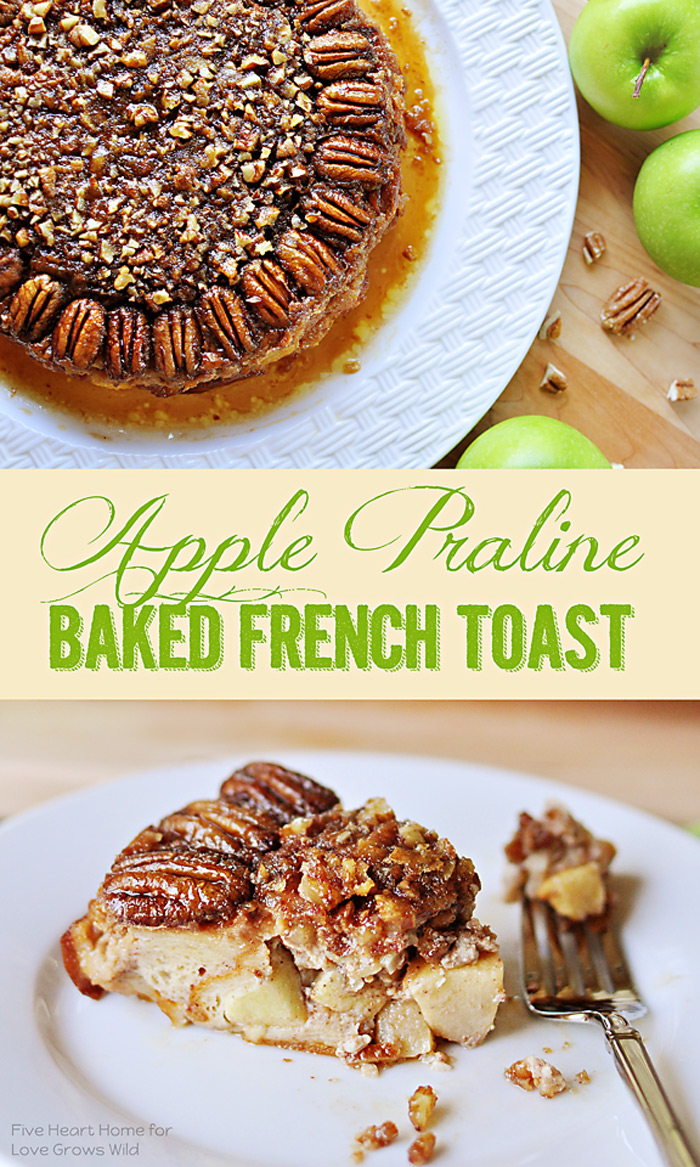 Have you all enjoyed seeing some new faces here at Love Grows Wild? Our new contributors have had some fabulous recipes and projects for you, and this one from Five Heart Home is no exception! I cannot wait to try her amazing french toast recipe! Help me in welcoming Samantha to the team:
Hi, everyone! It's Samantha from
Five Heart Home
, and I'm
so
excited to be a contributor here at Love Grows Wild! Today I'm visiting with a beautiful and delicious breakfast idea that boasts the flavors of fall. This pleasing recipe is perfect for just about any occasion, from making an everyday family breakfast special, to impressing overnight guests, to dazzling on a brunch buffet.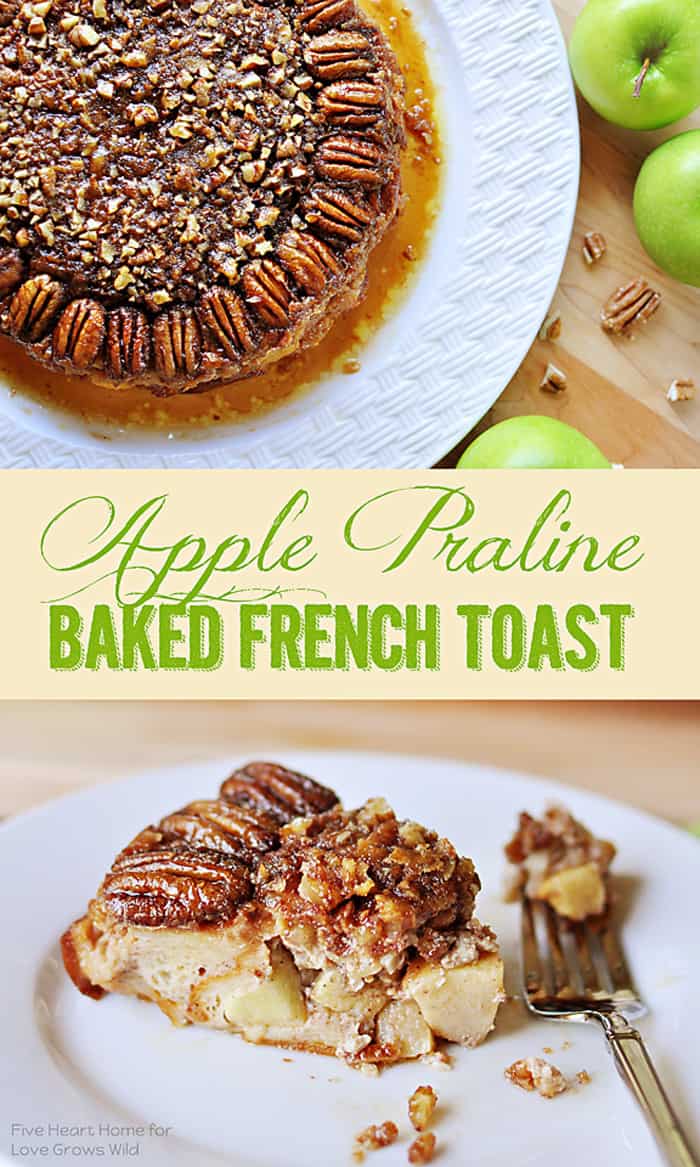 I don't know anyone who doesn't love French toast, but when you have a lot of mouths to feed or tummies that are already rumbling, baking it up in the oven is much quicker and easier than cooking it one piece at a time on the stove. Enter baked French toast, which is basically your milk and egg-soaked, cinnamon-spiced bread in casserole form.
However, this is not your ordinary baked French toast. This version takes the concept and gives it an upside-down cake sort of twist. What results is a breakfast dish that's not only scrumptious, but also makes for quite the impressive presentation.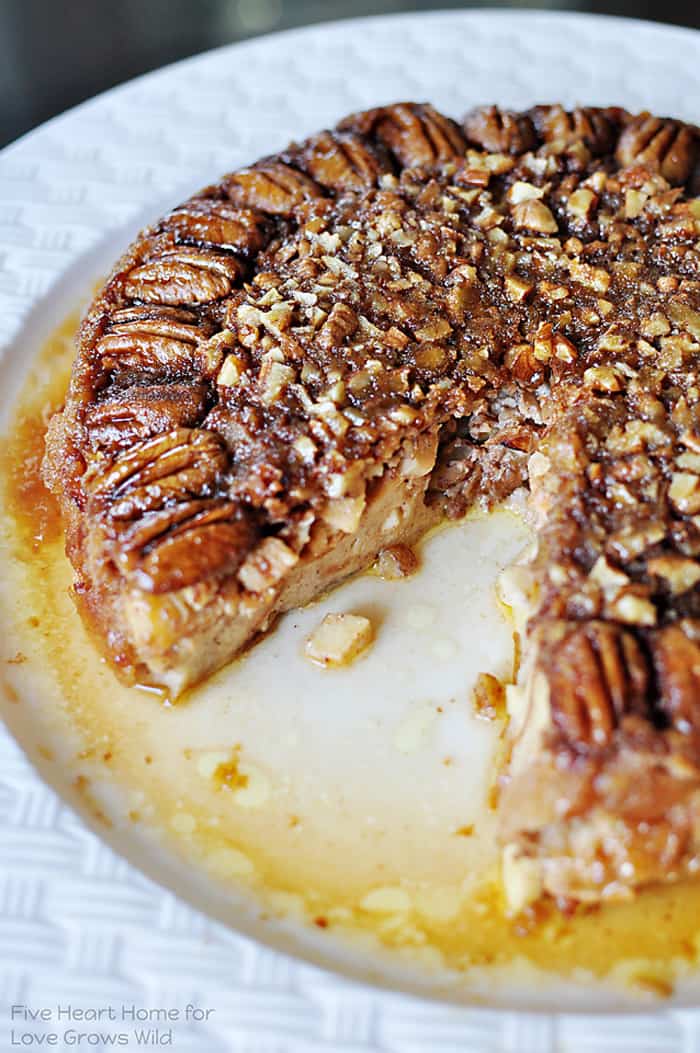 First off, let's talk about all of the tastes and textures going on here, folks. You have moist, tender pieces of bread, laden with a hint of cinnamon and vanilla. You have bright pops of flavor from soft chunks of sweet-tart apples. And best of all, you have a sticky, crunchy, buttery veneer of pecans.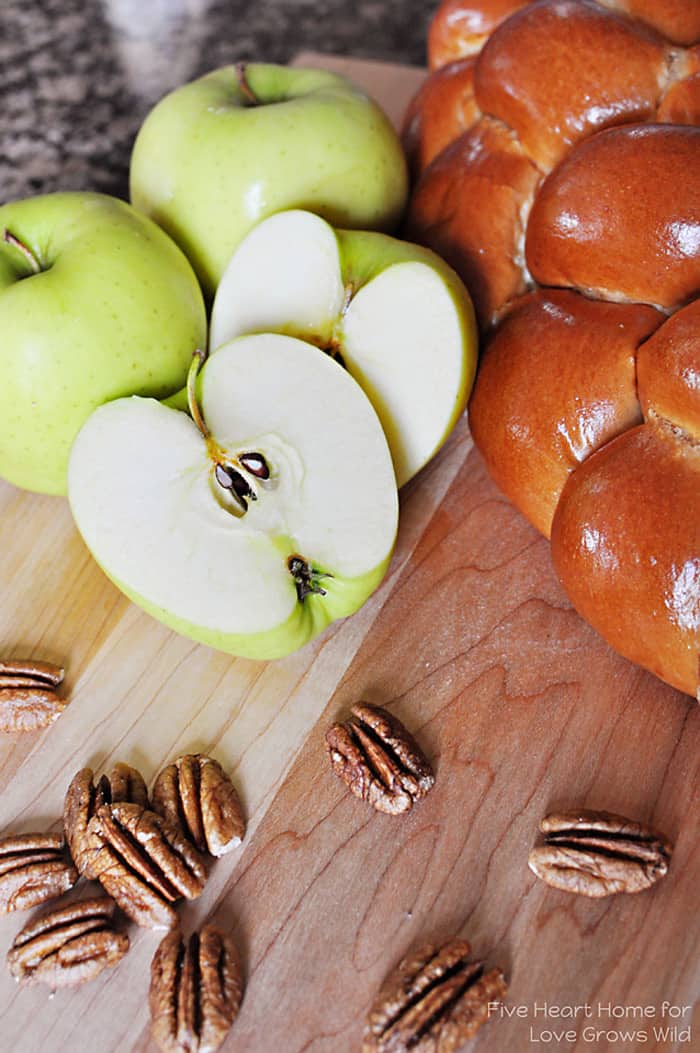 But in addition to all of that deliciousness, the whole thing is assembled in a way that's almost too pretty to eat. (Notice I said almost.) By arranging the pecans at the bottom of the dish, pouring the custard-soaked bread and apple filling on top, and then turning the whole thing upside down once it comes out of the oven, you're able to serve this baked French toast in eye-appealing slices that will make any breakfast or brunch feel a bit more special.
If you don't want to fuss with thoughtfully arranging the pecans and flipping the whole concoction over, you can always go with a more traditional baked French toast treatment…just serve as is! It's still rustically beautiful, and when you scoop out servings, you'll find a fun pecan praline surprise down at the bottom.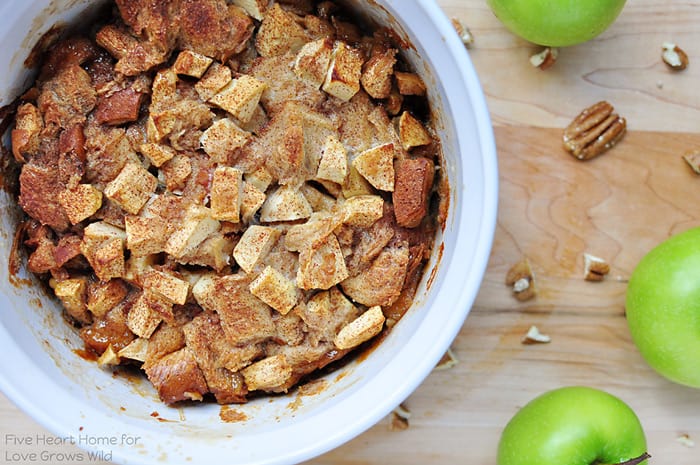 This recipe is nice and flexible based on the ingredients you have available to you. It's wonderful with egg bread, but you can use any good-quality bread. I found a gorgeous loaf of challah for a good price, but it was so large that I only ended up using half of it. Furthermore, you can use your favorite type of cooking apple. I prefer Golden Delicious apples since they bake up a bit softer than Granny Smiths, but either would be delicious. And for the custard, I used whole milk, but if you're going for extra decadence, you could certainly substitute half-and-half or heavy cream. Since the buttery praline already negates any chance of this dish being diet food, I say go for the cream if it's a special occasion. 😉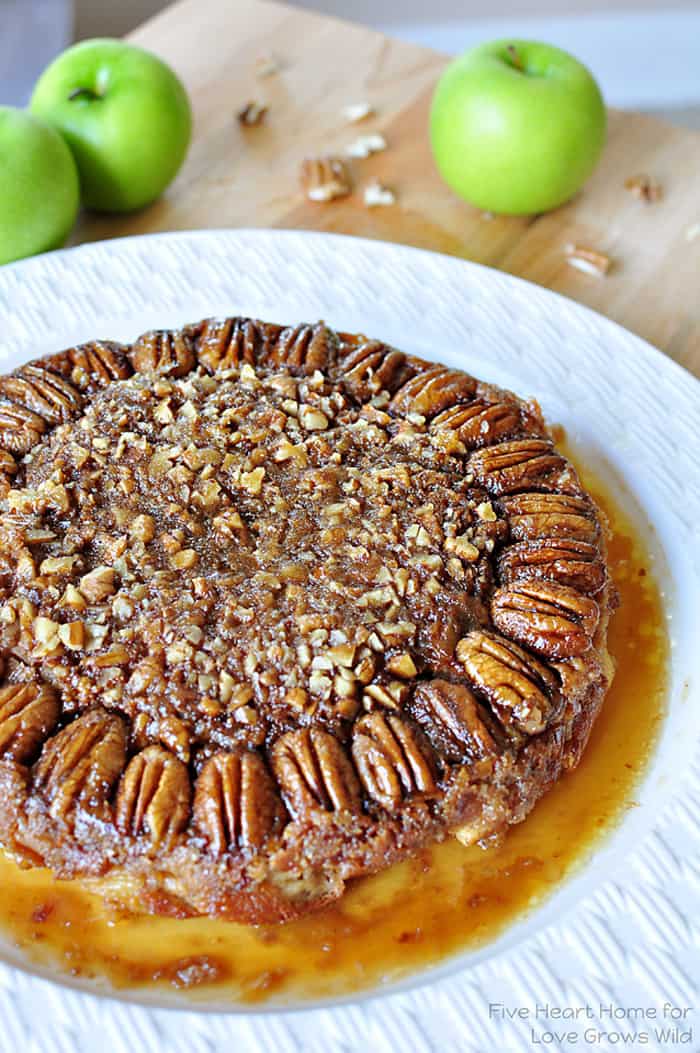 The holiday season is right around the corner, and it's never too early to start thinking about ways to make holiday mornings special or serve overnight houseguests with maximum pizazz yet minimal effort. One of my favorite aspects of this recipe is that it can be prepared the evening before, popped in the fridge overnight, and then baked off in the morning. This means that, not only do you end up with a breakfast that wows, but you also don't have to wake up at the crack of dawn to accomplish it. That, my friends, is called a win-win!
A breakfast this lovely has a way of turning any morning into a special occasion, and I can promise you that this Apple Praline Baked French Toast will be a welcome addition to your breakfast table. I hope you enjoy it as much as my family does!
Apple Praline Baked French Toast
This elegant dish, with its soft, cinnamon-laced bread and bright pops of apple, can be prepped the night before, baked off in the morning, and then served upside-down to reveal a beautiful veneer of pecan praline.
INGREDIENTS
¾ cup (1½ sticks) unsalted butter, melted
½ cup sugar
⅔ cup packed brown sugar
2 cups pecan halves
6 cups cubed egg bread or good quality, soft-crusted white bread (1-inch cubes)
3 Golden Delicious apples, peeled, cored, and chopped into ½-inch pieces
6 large eggs
2 cups whole milk
¼ cup maple syrup
1 tablespoon pure vanilla extract
2 teaspoons ground cinnamon
INSTRUCTIONS
Coat two 9-inch round (and at least 2½-inches deep) pie pans (OR a 9 by 13-inch baking dish) with butter or nonstick cooking spray.
In a medium bowl, mix melted butter, sugar, and brown sugar. Divide butter mixture between prepared pans and tilt so that it evenly coats the bottom of each pan. Arrange pecan halves in an attractive pattern at the bottom of your pans. Cover and refrigerate pans until you're ready to assemble baked French toast.
Place bread and apple pieces in a large bowl. In a medium bowl, whisk together eggs, milk, syrup, vanilla, and cinnamon. Pour egg mixture over bread mixture and stir until all bread and apples are coated. **At this point, you may cover and refrigerate overnight. Remove from refrigerator 30 minutes before assembling and baking.**
Preheat oven to 350°F. Pour the bread and apple mixture over the pecan praline layer. Bake for 45 to 55 minutes or until golden and puffed. If you used pie pans, allow to rest for 5 minutes before turning out onto serving platters.
NOTES
- You may chop your pecans or leave them whole. I find that chopped pecans are easier to cut and eat but whole pecans make for a nicer presentation, so I use a combination of the two.
- I used challah bread for this recipe. About 11 to 12 ounces gave me 6 cups of cubed bread. However, any soft-crusted bread -- brioche, croissants, a loaf of white French bread -- would be wonderful. You may tear your bread instead of cubing it if that's easier.
- Golden Delicious apples bake up softer than Granny Smiths, but feel free to use your favorite cooking apple.
- For extra decadence, half-and-half or heavy cream may be substituted for milk.
Adapted from Perfect Party Food.
Let's Keep In Touch!