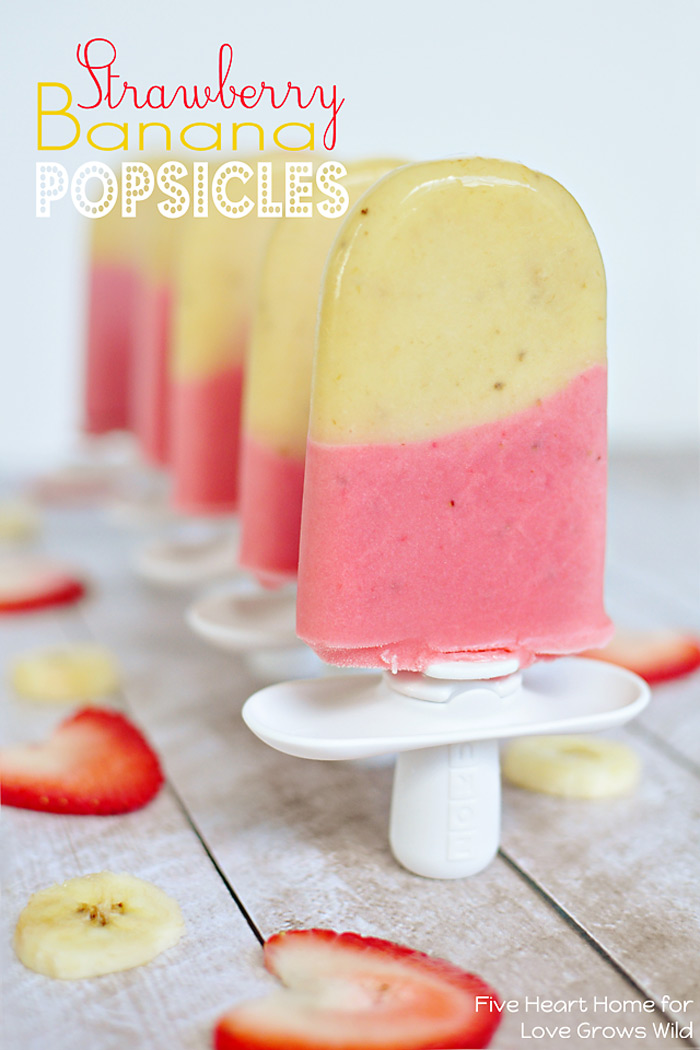 Creamy Strawberry Banana Popsicles — made with fresh fruit and a touch of vanilla yogurt — are the perfect summertime treat!
Hello again, Love Grows Wild friends! It's Samantha from Five Heart Home, and I just love visiting y'all each month with a favorite seasonal recipe!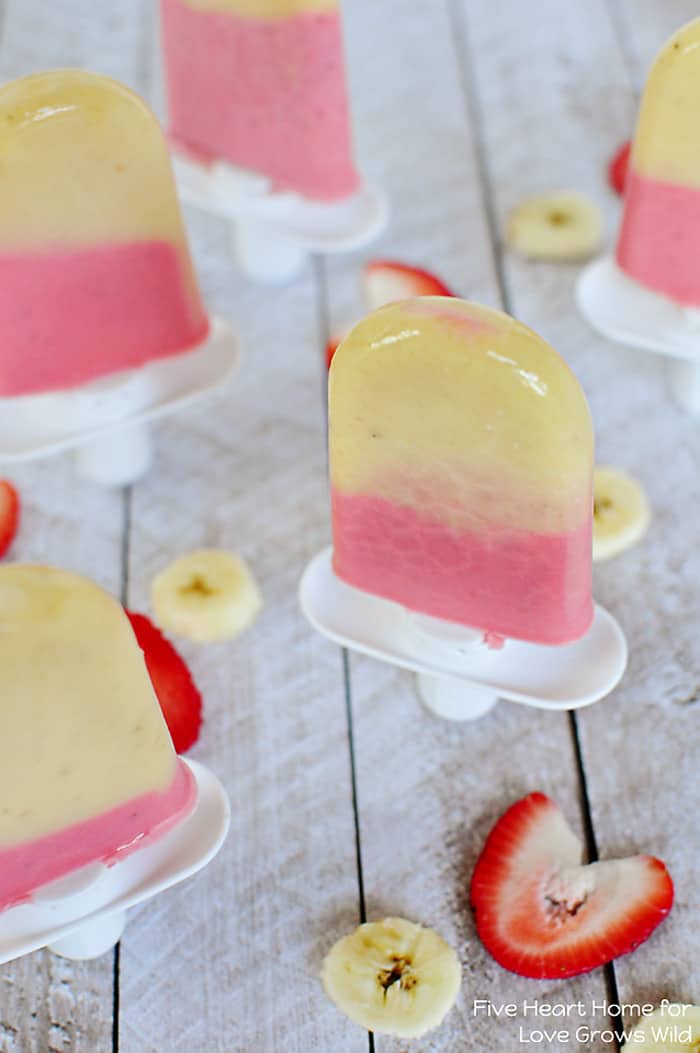 So who enjoys cooling down with a frosty treat when the temps outside are boiling? I'm no stranger to that scenario living in Texas, so I have a few frozen desserts up my sleeve each summer to make sure my family doesn't melt. At the very least, shouting How 'bout a popsicle? is a surefire way to stop any It's so hot! whining right in its tracks. 😉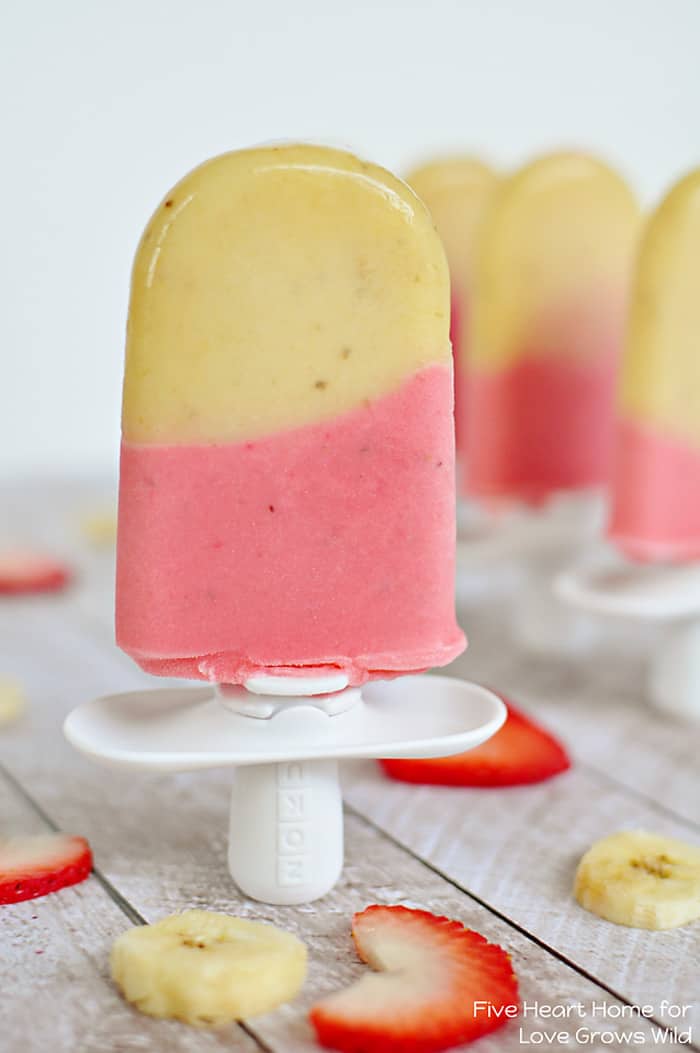 I happen to love, love, LOVE the combination of strawberries and bananas! When I was a little girl, one of my favorite things to eat at the local cafeteria-style dining establishment was a bowl of strawberry halves and sliced bananas glazed with a touch of simple syrup. As simple as it sounds, something about the semi-tart berries combined with the sweet, soft bananas was just so delicious. It's a pairing that I regularly serve for breakfast even today, and it totally inspired today's dreamy popsicle recipe!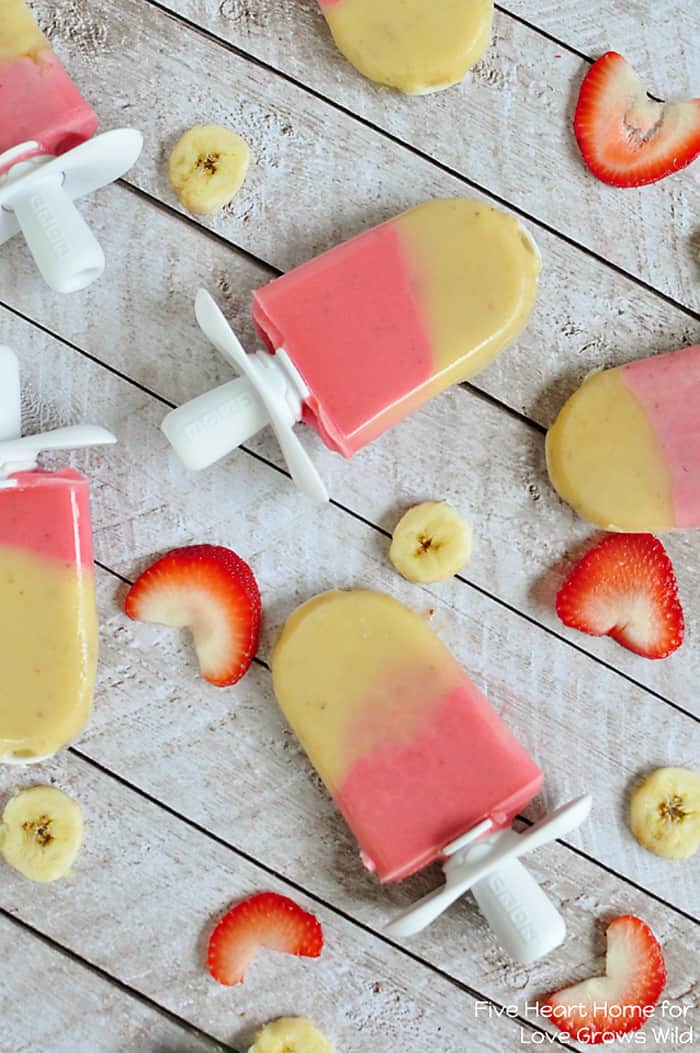 It doesn't get much simpler than homemade popsicles, folks. And while making straight-up fruit juice ice pops is certainly quick and no-fail, just a few extra minutes will yield popsicles that are soft and creamy as opposed to hard and icy. For these particular beauties, simply purée your fruit in two batches with a bit of lemon juice, vanilla yogurt, milk, and sugar. The strawberry mixture will need to be strained for a smooth purée, but the banana mixture is ready to go as-is. Pour the first layer into your ice pop molds, briefly freeze, add the second layer, freeze until solid, and voilà! Homemade popsicles that are as attractive as they are tasty.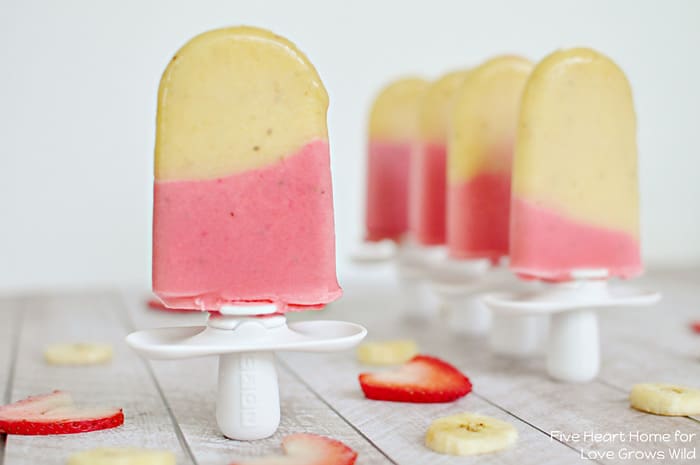 These are also totally customizable. Substitute your favorite berries or soft fruit to come up with a new combo. Raspberry Peach! Blueberry Banana! The possibilities are endless. And depending on the natural sweetness of your fruit, you can even choose to forgo the additional sugar in this recipe.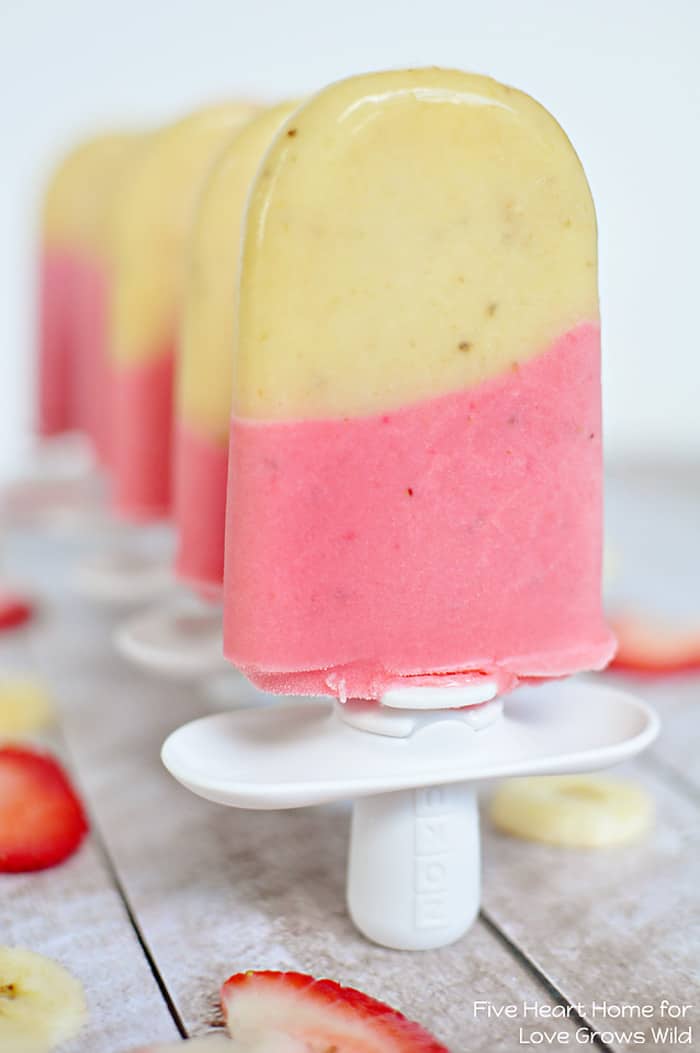 So what are you waiting for? It's not getting any cooler outside (yet)…but I guarantee that you can summon frosty thoughts any day of the year with a homemade Strawberry Banana Popsicle. 😉

Strawberry Banana Popsicles
Creamy Strawberry Banana Popsicles --made with fresh fruit and a touch of vanilla yogurt -- are the perfect summertime treat!
Author:
Samantha from Five Heart Home
INGREDIENTS
For the Strawberry Layer:
6 ounces hulled, quartered strawberries
1 tablespoon lemon juice
2 tablespoons vanilla yogurt
1 tablespoon milk
2 tablespoons sugar

For the Banana Layer:
6 ounces (about ¾ cup) mashed ripe banana
2 tablespoons milk
1½ tablespoons lemon juice
1 tablespoon sugar
INSTRUCTIONS
Make the Strawberry Layer by combing strawberries and lemon juice in a blender or mini food processor. Purée until smooth. Set a fine mesh sieve over a medium bowl and strain the mixture, using the back of a spoon to push the purée through the sieve; discard solids. Whisk in yogurt, milk, and sugar until mixture is smooth. Divide strawberry mixture between six (3-ounce) ice pop molds, so that each mold is halfway full. Freeze for 30 to 60 minutes or until firm.
Make the Banana Layer by combining all ingredients in clean blender or mini food processor. Purée until smooth. Pour banana mixture on top of strawberry mixture in ice pop molds. Freeze for at least 3 hours or until solid. Unmold popsicles and enjoy!
NOTES
- Feel free to switch the layers if you prefer the banana on top.
– Adapted from Zoku Quick Pops Recipe Book.

CONNECT WITH SAMANTHA:
Hop over to Five Heart Home to see what else I'm making this summer!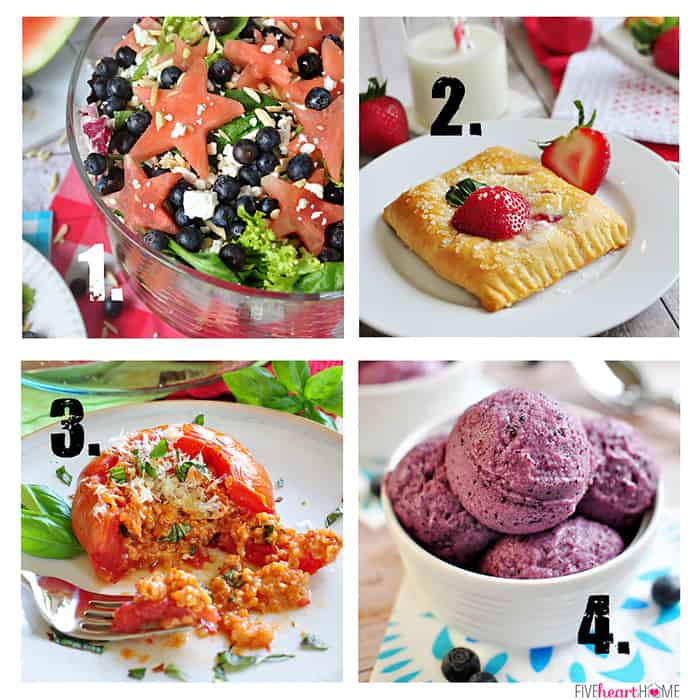 1. Red, White, & Blue Watermelon Salad
2. Easy Strawberry Cream Cheese Pastries
3. Caprese Quinoa Stuffed Tomatoes
4. Blueberry Buttermilk Sherbet
---