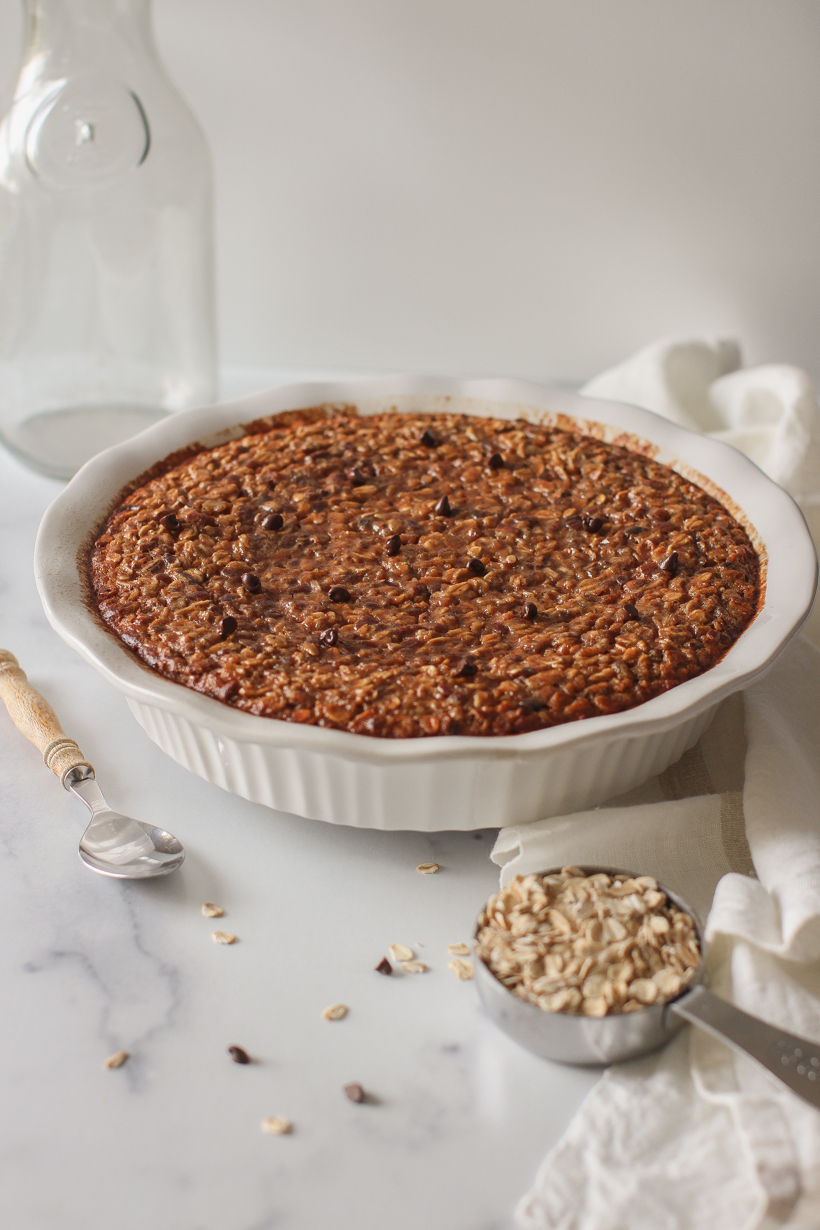 The best fall flavors in an easy, delicious breakfast – Maple Pumpkin Pecan Baked Oatmeal
in partnership with Walmart
I eat oatmeal for breakfast probably 90% of my mornings because it's quick, easy and can be doctored up in a million different ways. With the beginning of fall just around the corner, my mind is on flavors like pumpkin, caramel, cinnamon, and maple, and I wanted to make a big batch of baked oatmeal to last throughout my busy week. This fall-inspired recipe is so delicious and almost tastes like dessert with additions of pecans and chocolate chips (totally optional, but highly encouraged!). I think you're going to love this easy breakfast idea!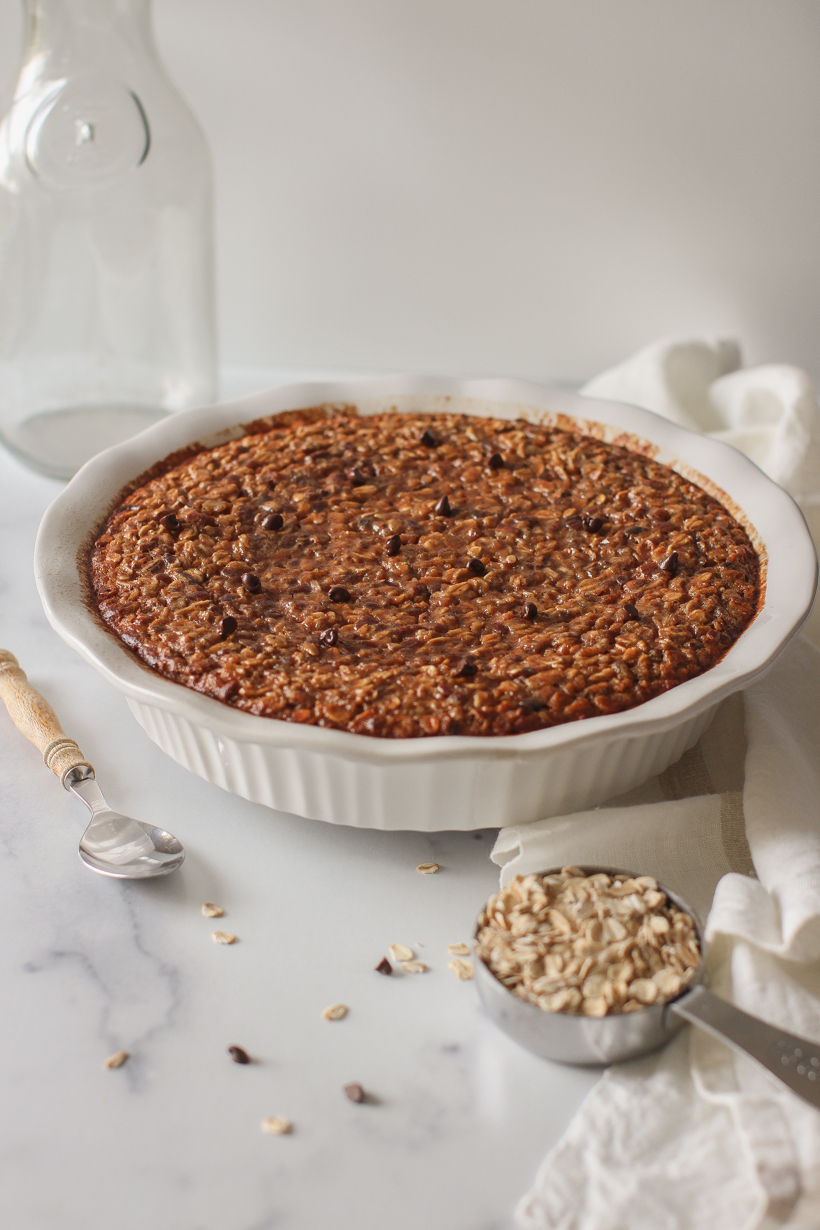 If you've never made a baked oatmeal before, it's basically just an easy way to make a big batch of oatmeal in the oven, which is great for serving to a crowd when you're entertaining or prepping your breakfasts for the week ahead of time. Leftovers are delicious; just pop them in the microwave to reheat.
I save even more time by using Walmart online grocery service, so all I have to do is order my groceries online or on their app and let the personal shoppers do all the hard work for me. I literally just pull up to the designated pick-up parking spots, and they bring my groceries out and load them in the back of my car for me. Where was this service when my kids were little? 😂 I also love their private brands that help us save money without sacrificing quality.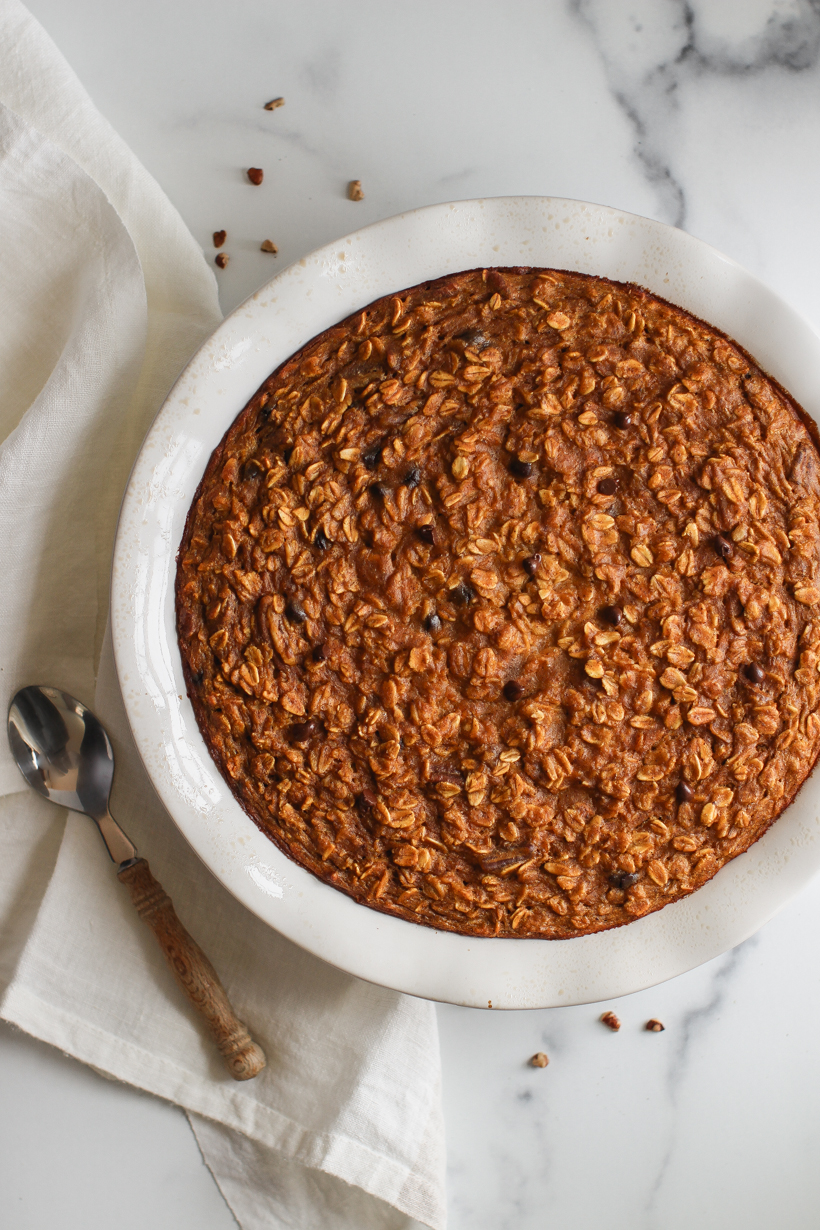 Before we get to the recipe, I have just one last note to share. I've found that the way people like to eat their oatmeal is VERY different. Some like it super thick and chewable, while some like it extremely runny, almost like a soup with oats in it. This baked oatmeal recipe works for both preferences, and you can just adjust the cooking time get your desired consistency. I took photos of two different batches of oatmeal while I was recipe testing, and you can see the differences in the photos above and below.
👆🏻In photo above, I cooked the oatmeal all the way through (about 45 minutes), and it was nice and dense. You could cut this one into pie slices or squares (depending on the dish you use) to serve if you wanted to.
👇🏻 In the photo below, I cooked it about 10 minutes less, and you can see that the middle is still moist and able to be eaten with a spoon. You know when you bake a cake and you want the center to be all the way cooked through? That's not what you want here; you want the center to still be jiggly and look undercooked. If you're planning on reheating the oatmeal another day, this also helps keep it from drying out too much. This is the way I prefer to cook mine.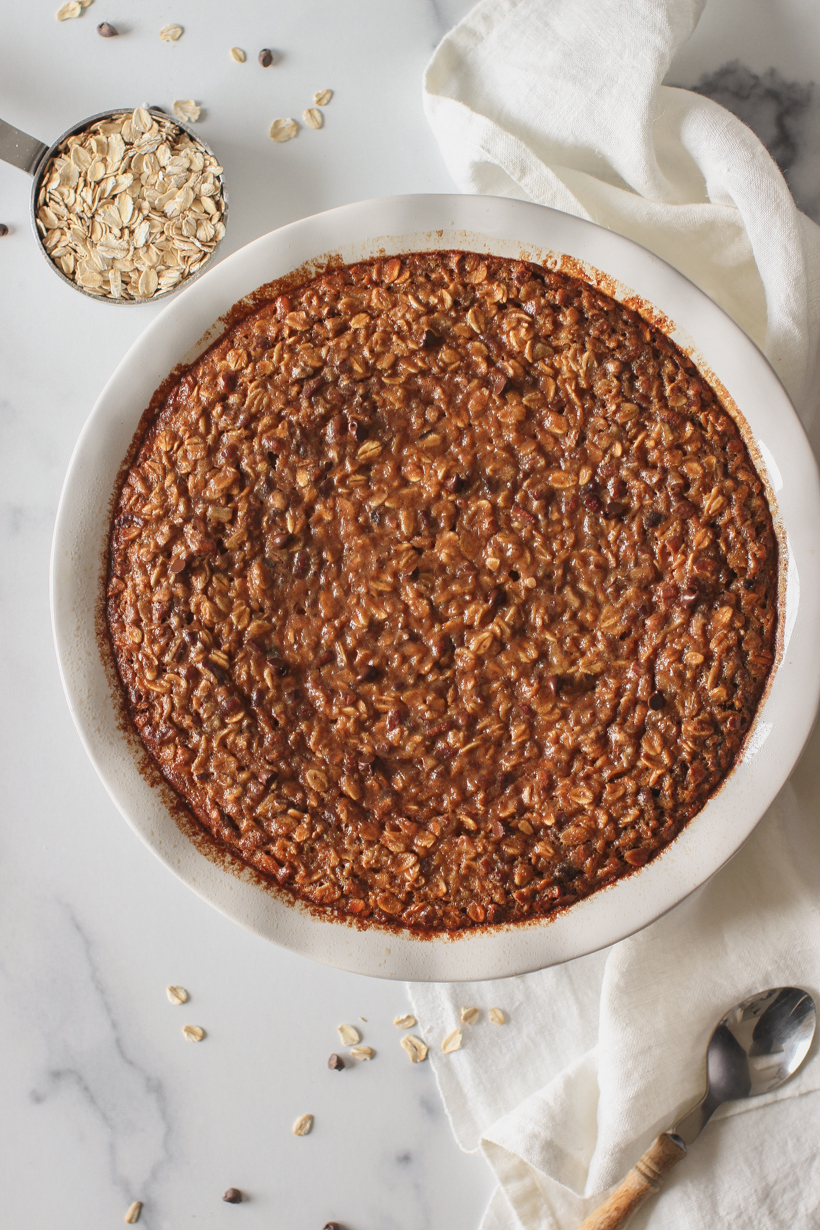 Maple Pumpkin Pecan Baked Oatmeal
INGREDIENTS
2 ½ cups old-fashioned rolled oats
½ cup chopped pecans
optional: ¼ cup mini semi-sweet chocolate chips
1 tablespoon pumpkin pie spice
1 teaspoon baking powder
¼ teaspoon salt
1 ¾ cup milk - regular, almond, any kind is fine
1 cup pumpkin puree
½ cup maple syrup
¼ cup brown sugar
2 eggs, lightly beaten
1 teaspoon vanilla extract
2 tablespoons of unsalted butter, melted and cooled to room temperature
INSTRUCTIONS
Preheat the oven to 350ºF and spray an 8 or 9" square baking dish or pie plate with nonstick cooking spray. Set aside.
Add the oats, pecans, chocolate chips (if using), pumpkin pie spice, baking powder, and salt to a medium bowl and stir to combine. In another bowl, whisk together the milk, pumpkin puree, maple syrup, brown sugar, eggs, cooled butter, and vanilla.
Pour the wet ingredients over the oat mixture and stir to combine. Transfer the mixture to the prepared baking dish. Bake for 30-35 minutes for a more spoonable oatmeal or 40-45 minutes for a thicker oatmeal you can cut into pieces. Cool just slightly before serving.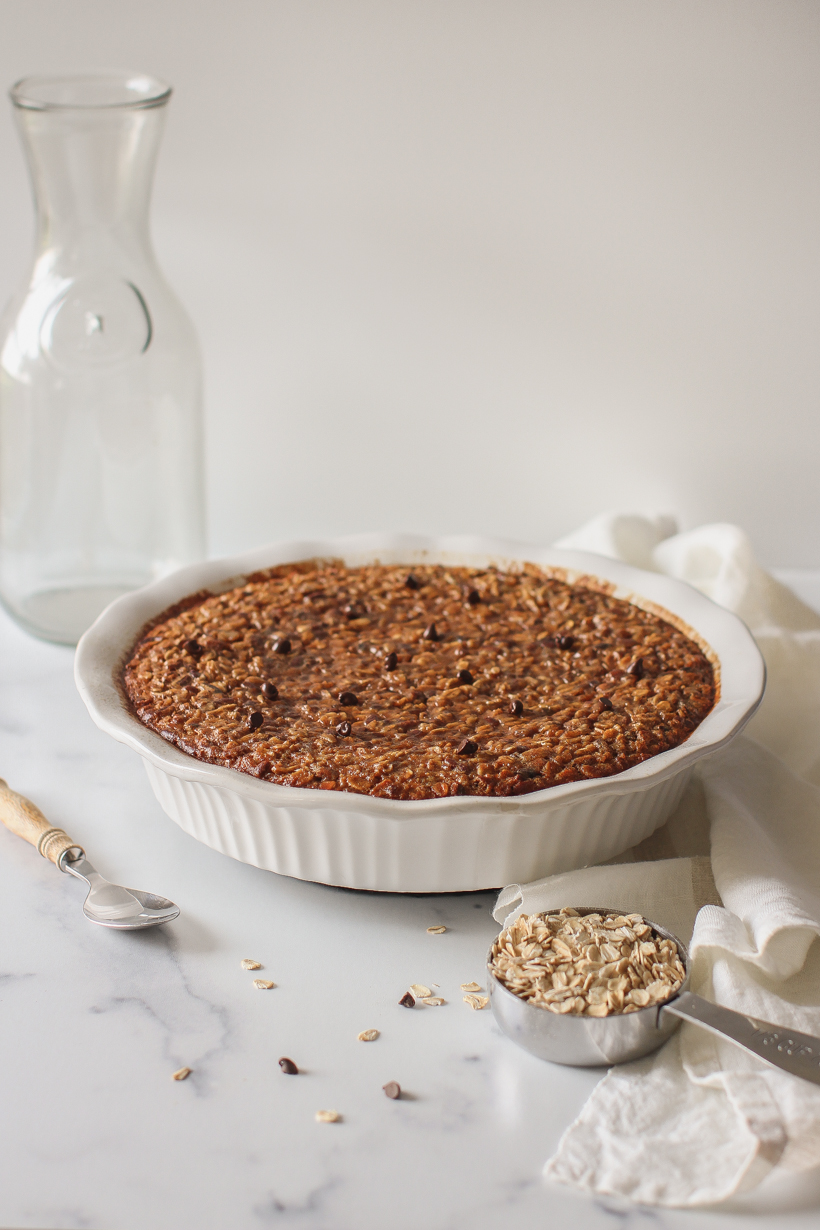 Find everything you need for this recipe at Walmart:

Click HERE to start your Walmart pick-up or delivery order. Right now new customers can use promo code TRIPLE10 to save $10 off your first three pick-up or delivery orders! ($50 minimum)
---
I partnered with Walmart on this post, but as always the thoughts and opinions shared are 100% my own. Thank you for supporting our blog and brand partners! As always, I sincerely appreciate you shopping through the links I share, which allows me to make a small commission from your purchase while your purchase price stays the same. When you use my affiliate links, I'm better able to create content for this blog as well as support my family, and I thank you from the bottom of my heart for supporting what I do!
Shop my Posts | Shop my Amazon Store
Join our Community | Follow on Instagram
Follow on Pinterest | Follow on Facebook